Maybe you want to connect with Florida's natural beauty, save a little money on your accommodations, or just have a unique experience. For some guests, getting away means escaping to a place surrounded by nature.
Is it possible to camp in Orlando or stay in a cabin near Walt Disney World and Universal Orlando Resorts? It sure is! If you're looking to combine a rustic getaway with the excitement of Orlando's theme parks, there are quite a few options – you just have to know where to look.
Camping and cabins near Walt Disney World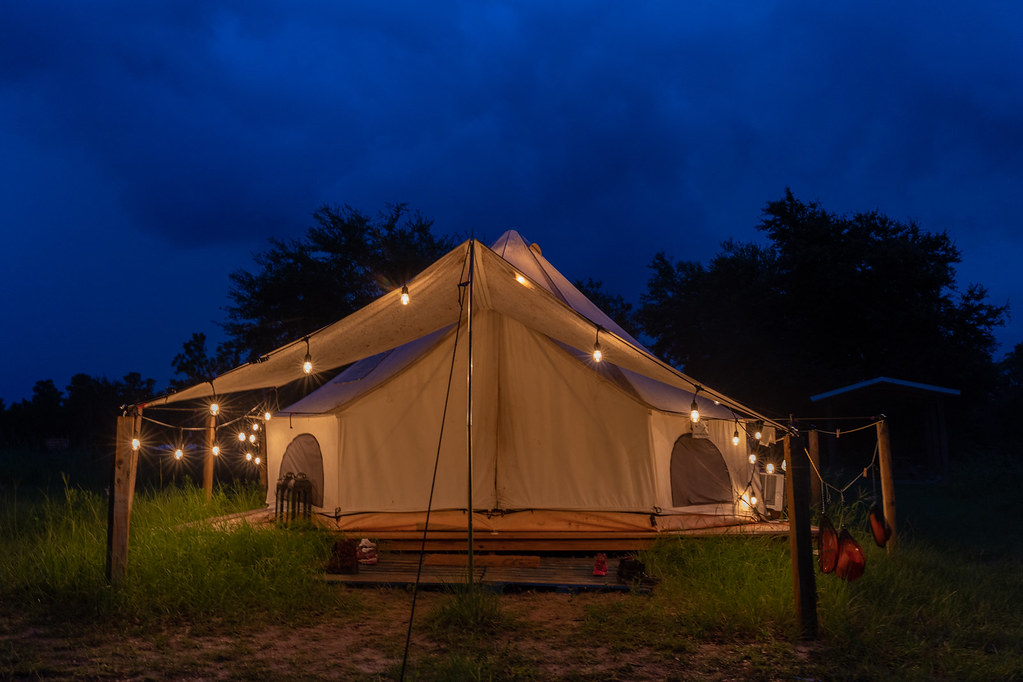 Perhaps the most well-known place to camp near Disney is actually at Walt Disney World. An iconic campground, Disney's Fort Wilderness Resort has been a part of the Vacation Kingdom since 1971. You can stay in a charming cabin, pull up and hook up your own RV, or enjoy the simplicity of being in a tent at one of the primitive campsites.
The free-standing cabins here can sleep six people. There is a bedroom, which has a queen bed and bunk beds. A large bathroom sports a tub and shower combination. And a fully equipped kitchen, small dining area, and a living area with a sleeper sofa give you all the comforts of home. For many visitors, the cabins at Fort Wilderness are their favorite accommodations at Disney World.
If you choose to use a RV or go rustic in a tent, you'll still enjoy all the wonderful amenities of the resort. Besides complimentary Disney transportation, including a lovely boat ride to Magic Kingdom, there's lots of recreation. Two pools make for a great way to cool off (all while being surround by Florida's beautiful nature). You can rent a canoe or book a fishing charter. Outdoor movies are accompanied by a campfire. Pony rides for little ones make for precious memories, and trail rides with older kids and adults give you views of the campground you can't access any other way.
Just about 15 minutes from Walt Disney World is Tropical Palms RV Resort. As the name indicates, this lush retreat is home to plenty of RV sites, but they've also added a full neighborhood of tiny homes (which many families rent while on vacation). It's similar to staying in a cabin, but in Orlando, tiny houses offer tropical touches and home-like amenities – with a small price tag.
Tropical Palms has lots of amenities, including a pool, mini-golf, fishing, shuffleboard, bocce ball, horseshoes, live entertainment, and more. Each tiny home – or vacation cottage, as they call them – has a fully equipped kitchen, small porch area, and other features. These accommodations range in size from studio-/loft-style all the way up to three bedrooms. Finally, there is a variety of RV sites to match your budget and needs, as well.
A similar location can be found at Orlando RV Resort. This resort-style campground is 20 minutes from Disney and offers RV sites as well as fully furnished cottages. Conveniences here include a pool, playground, mini golf, fishing, shuffleboard, boat rental, and more.
If you'd rather have less of a resort feel and focus purely on nature, then consider Moss Park. This Orange County public park has tent campsites and RV sites, and it's only 30 minutes from Disney World (and roughly the same for Universal Orlando). This is "roughing it," but in a wonderful way – Moss Park is all about nature. It's 1,500 acres large! There are two playgrounds and two lakes, one of which offers a beach and swimming. Additionally, all campsites have fire rings, grills, picnic tables, and water and electric hook-ups.
Finally, a crown jewel for camping near Walt Disney World Resort is Lake Luisa State Park. Located about a half-hour away, this massive park is host to events throughout the year. Explore the seven miles of paved roads on a bicycle. Enjoy the tranquil peace at each of the three lakes. Best of all, you can find the camping style that best fits your needs, from primitive campsites, RV sites, and two-bedroom cabins to glamping sites (that's right – you can camp glamorously here). Lake Luisa's camping options are quite popular, so be sure to look into making your reservations early. (Just note that there is a a minimum two-night stay in cabins and certain campsites on weekends and holidays.)
Camping and cabins near Universal Orlando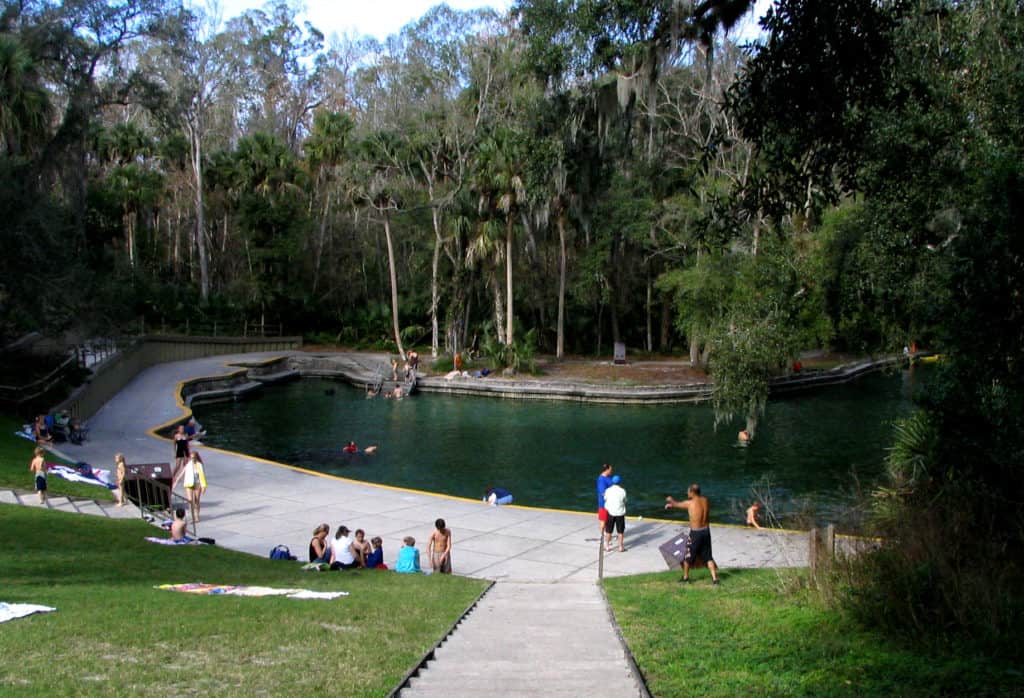 At around 10 minutes away, the closest place to camp near Universal Orlando Resort is Bill Frederick Park, located along Turkey Lake. This 183-acre park features campsites and cabins that are quite rustic. There's only a handful of cabins available, and they sleep up to five people, with bunk beds, air conditioning, and an outdoor patio that comes with a picnic table and grill. The amenities are very basic, but Bill Frederick is near lots of restaurants and shopping, as it is located close to Metro Orlando. (The park is also well known for its various events.)
North of Orange County is Seminole County (my hometown, actually). It is a somewhat shorter ride from here to Universal than it is to Disney, so if you're interested in camping near Universal Orlando, looking in this area can help. A popular place to start is Wekiwa Springs State Park, which is a popular swimming hole for locals, so expect crowds on the weekends. For camping, there are 60 campsites available. Each site has water and electrical hook-ups, a fire ring with a grill, and a picnic table. (Some even have sewer hook-ups!) If you want to experience Central Florida at a favorite spot among locals, this is a great choice.
If being equidistant to both theme-park resorts is more important to you, then check out Mill Creek RV Resort. This spot offers vacation cottages as well as RV sites, and it's home to full-time residents and visitors alike. There are only one-bedroom cottages available, which sleep up to four, but they are fully furnished with a nice amount of space. Not only is Mill Creek situated 20 minutes away from Universal Orlando and Disney World, but it's the same distance away from SeaWorld Orlando, too! You can have it all here.
Other alternative accommodations in Orlando
There are plenty of other places to camp in the Orlando area. Some of them are about 45 minutes away from the attractions area and may not be the right fit for anyone looking to be near the theme parks, but if you wish to enjoy natural places around Central Florida, they may be worth considering:
There are a few tiny-home communities in Orlando, as well as houseboat options. These are worth looking into if you want the comforts of home, with your own dedicated space, and still be able to stick to your budget:
If you have an RV, there are quite a few resorts for you near the attractions area:
---
With plenty of options for camping near Orlando's attractions and throughout Central Florida, you can enjoy the excitement of Orlando's theme parks, then kick back at one of the many relaxing retreats in the area.
Which of these is your favorite? Share your thoughts with 125,000+ other theme-park fans in our Orlando Informer Community on Facebook. And then be sure to follow Orlando Informer on Facebook, Twitter, and Instagram for the latest news and tips at Universal Orlando, Walt Disney World, and other Orlando destinations.