Welcome to THE BIG 5, a definitive top five list of various Orlando related, uh, stuff. THE BIG 5 is wide ranging, and will run the gamut from the top five "hidden mickeys" at Universal, to the top five entertainment features at the Orlando International Airport, to the top five monorail wraps, and everything in between.
To view all of THE BIG 5 posts so far, click here.
This week's list is the top five Extreme Eats at the Walt Disney World. We here at the BIG 5 are huge fans of extreme snacks in Orlando, and after putting together our list of the top Extreme Eats at Universal, it was time to head over to the Mouse House and check out what they have to offer. With four theme parks, two water parks, over 20 on-site resort hotels and the Downtown Disney area, we knew there would be some interesting choices, and we weren't disappointed. On to the list!
#5 – The King Cupcake at Pop Century
Cupcakes are all the rage, and you can certainly find many of them throughout Walt Disney World. But none can compare to the unique King Cupcake found at Pop Century's Everything Pop food court. Named after "the king" himself, Elvis Pressley, this cupcake has all the elements that Elvis liked to put in his legendary sandwiches. That's right, you're going to find peanut butter frosting, banana pudding filling, and candied bacon sprinkled on top. The cupcake itself is made out of chocolate cake and there is also chocolate drizzled over the top.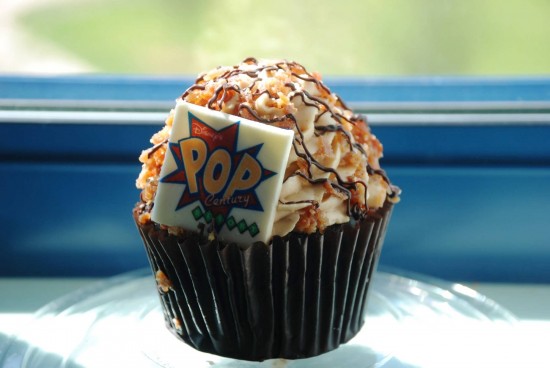 This is less a "snack" and more of a work of art. There is Michelangelo's David, Da Vinci's Mona Lisa, Monet's Water Lilies and the King Cupcake, and not necessarily in that order. The chocolate base is wonderful. The peanut butter frosting is among the best I've ever tasted. The candied bacon is odd to wrap you're head around at first but it is a perfect compliment to all the other flavors going on. I literally felt like Remy from Ratatouille eating this cupcake as there was a symphony going on in my mouth even after I finished it.
If there is one thing that can be improved, it is the very small dollop of banana pudding inside. Maybe it could use a little more banana pudding, and maybe the Sistine Chapel could use another fig leaf. Who knows and who cares because what we have is glorious!
#4 – The Triple Stack at Babycakes NYC
Everyone knows that the first rule of fight club is that you don't talk about fight club, but one rule not everyone knows is to ask for the Triple Stack at Babycakes NYC in Downtown Disney.
The Cookie Sandwich at Babycakes NYC is already one of the best snacks on Disney property. It takes two of the bakery's chocolate chip cookies and throws a generous helping of their signature frosting in the middle. Adventurous souls can ask for the Double Stack, which adds another cookie and a second layer of frosting to the sandwich but to truly experience an Extreme Eat you need to ask for a Triple Stack. Comprised of four chocolate chip cookies and three layers of frosting, this off-menu item is not just delicious, but is also dairy free, egg free, and gluten free along with the rest of Babycake NYC's baked goods.
#3 – Turkey Leg Rice Krispies Treat at Goofy's Candy Company
What is it about Disney and the turkey leg?! Not only are they all around the parks, but t-shirts, hats, magnets and even air-fresheners have been dedicated to this snack. Yes, air fresheners! I understand the appeal of a Dole Whip, but a turkey leg? I just don't get it. So imagine my surprise when walking into Goofy's Candy Company at Downtown Disney and seeing a turkey leg treat!
I was told by the cast members that the Turkey Leg Rice Krispies Treats originally were only going to be a seasonal item available during the holidays, but they were so popular that they stayed on to the menu.
#2 – Doh Bar at Cookes of Dublin
We here at the BIG 5 have been huge fans of Downtown Disney for years. We love shopping at the World of Disney, enjoy dinner and a movie at the AMC Fork & Screen, and love the food and atmosphere in the new Splitsville bowling alley. But it came to our attention this week that Downtown Disney contained not only a fried Snickers bar, but a fried Snickers bar encased in donut batter. We cried tears of joy the entire ride over.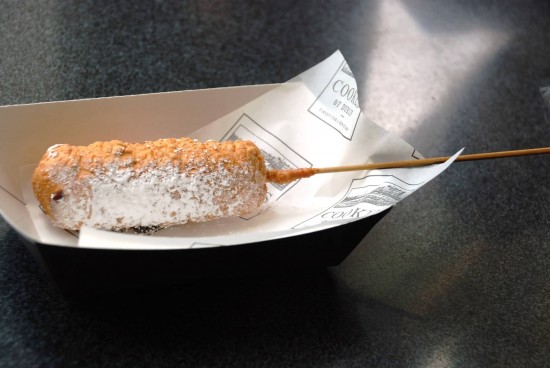 Found at Cookes of Dublin, located directly next to popular eatery Raglan Road, the Doh Bar was everything we could have hoped for and more. Made fresh to order, the Doh Bar comes out warm on a stick and coated with powdered sugar. Picking it up gave us a feeling of excitement that can only be compared to picking up Thor's hammer or pulling King Arthur's sword out of the stone. Pure bliss. A destination snack worth going out of your way to try.
#1 – The Kitchen Sink at Beaches & Cream
Having already battled — and been bested by — one Kitchen Sink Cake at Hard Rock Hotel, I was wary to take on another. But the temptation of trying a dessert that includes eight scoops of ice cream, two cupcakes, four Oreo cookies, one candy bar, one brownie, and entire can of whipped cream became too much. And if you think that is a lot of ingredients for a sundae, well there's even more stuff in it including toasted almonds, chocolate chips, peanut butter chips, fudge topping, maraschino cherries!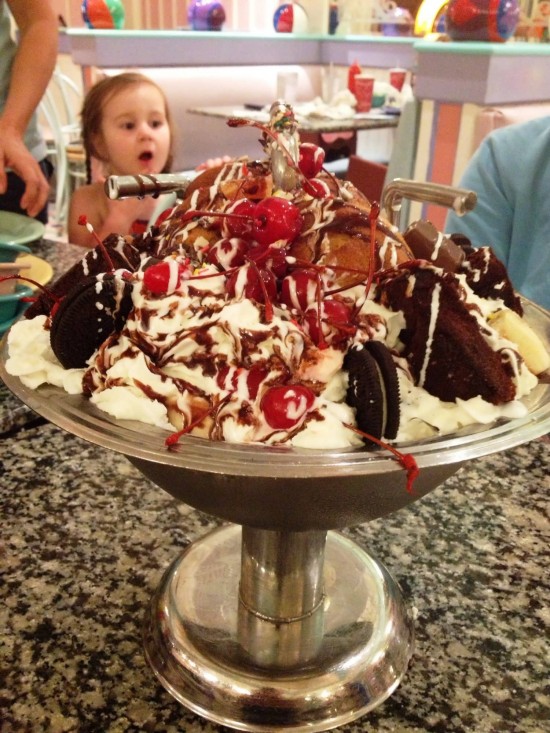 Available exclusively at Beaches & Cream at Disney's Yacht & Beach Club Resort, what sets The Kitchen Sink apart from everything else is not just the enormity of the dessert but all the flair that goes into the presentation. While we were at our table waiting for it to arrive, the lights in the restaurant dimmed and flashing lights started to go off. Our waitress talked about what was in The Kitchen Sink and the entire staff yelled "and one whole can of whipped cream" at the end. When the lights came back on, the monstrous sundae was in front of us in the fantastic bowl shaped exactly like a kitchen sink, with handles and faucet included.
At least five other guests came over to our table to take a picture of The Kitchen Sink. It was a pretty surreal experience, and I have to admit it looks impressive when it comes out. The menu says that The Kitchen Sink serves four people, but we finished it off with only three.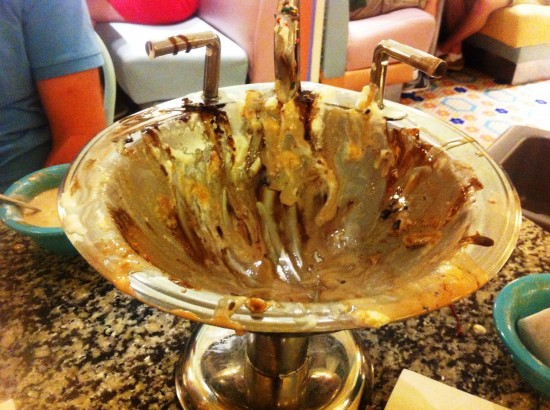 The brownie and cupcakes tossed on top were big hits and tasted great. The weird part is when you get to last quarter of the dessert, as by then everything left has melted together to become one big "ice cream soup".
Honorable mention – Tie-Dye Cheesecake at Pop Century
At the BIG 5 we like all kinds of desserts, but our favorite after dinner snack is — hands down — a piece of cheesecake. We've sampled various versions around Disney property including marble cheesecake at Disney Hollywood Studio's Backlot Express and tribal cheesecake at Downtown Disney's Rainforest Café. However, when we walked into the, our jaws dropped to the floor.
The multi-colored Tie-Dye Cheesecake is a visual treat. It reminded me of when Heinz tried to put out purple and green colored ketchup back in the early 2000s. That is, something I've eaten a million times, done in a completely different and unique way. Instead of the usual graham cracker crust, the Tie-Dye cheesecake has a layer of red velvet cake that supports all the wildly colored cheesecake above. A major success in every way as the light cake mixes perfectly with the dense cheesecake.
That's it for this edition of the BIG 5! We'll see you again real soon.
[sws_author_bio user="derekburgan" size="105″ authorposts="More OI posts by Derek" name_format="About the author"] [/sws_author_bio]