Kings Bowl Orlando is a retro-style bowling alley, full-service lounge and restaurant, swanky bar and entertainment center all rolled into one 30,000 square foot building. Orlando Informer was invited to Kings for an evening of great food, fresh cocktails, facility tours, bowling, and the Kings sign raising before their doors officially open on Monday, April 15.
Even though I'm not much of a bowler, I spent three hours at Kings without ever feeling bored, and the only time I set foot near the bowling lanes was to take pictures. For those of us not inclined to rent bowling shoes, it is great that we can spend an entire evening at Kings fully entertained. However, if you are an avid bowler or just enjoy bowling for a little fun, they have 22 ten-pin lanes in their facility for you to use.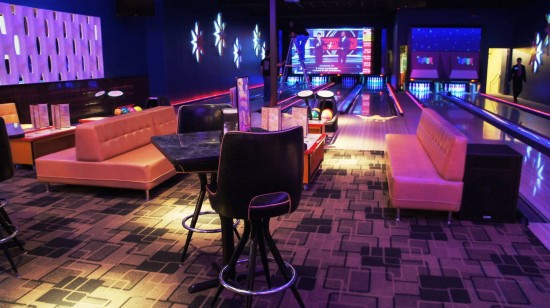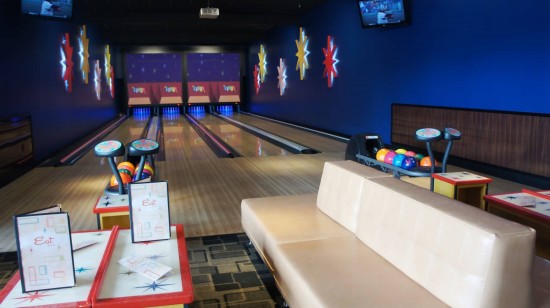 They also have private bowling areas, like their King Pin Room see just above, which can be reserved for large groups or any kind of party. I got the chance to speak to the event planning staff at Kings, and their other venues in Massachusetts and Illinois have hosted everything from birthday parties to bachelorette parties to rehearsal dinners in the King Pin Rooms and private sections.
Moving along from the bowling and onto the food, the staff at Kings leave nothing to be desired. Their menu is extensive and features all kinds of fare from burgers and wings to steak, seafood and barbeque ribs. I got to sample quite a few different items from the menu and it was all delicious.
I also had the opportunity to speak to Kings executive Chef Andre Bautista about his cooking process and some of the inspiration behind his crafted meals. Chef Bautista takes pride in creating menu items that infuse different cultural tastes and ingredients as well as putting a fancy spin on some old classics. "Everything is prepared fresh from the best ingredients," said Chef Bautista. "Nothing I serve ever comes out of the freezer!"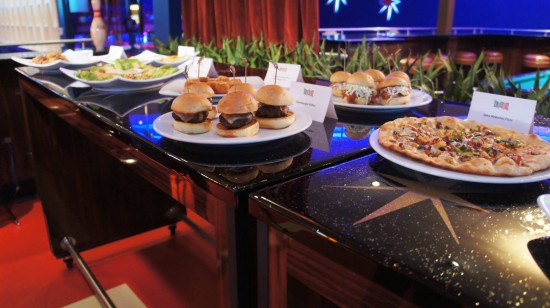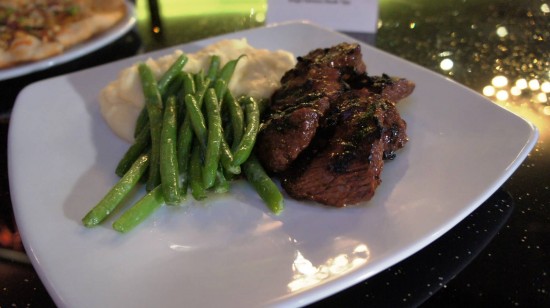 One of my favorite dishes was the barbeque ribs, and for me to admit that is a very big deal. I grew up in Memphis, Tennessee, which means I grew up eating at all kinds of amazing barbeque restaurants, some of which are the best in the country. I'm very picky about my barbeque outside of Memphis and it is very rare that I find a restaurant outside of Tennessee where I will actually enjoy the barbeque served there. I've got to hand it to the culinary staff at Kings. The ribs had great flavor, the meat came right off the bones, and that barbeque sauce recipe had to have come from a Memphis joint, it just had to!
Some other dishes I thoroughly enjoyed and would recommend are the Buffalo Wontons, Fried Mac & Cheese Bites, Kings Famous Steak Tips and the Chocolate, Banana & Coconut Spring Roll Sundae.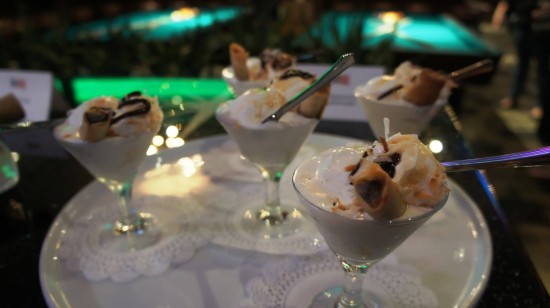 The sundae was by far my favorite item to sample. If you have a sweet tooth, this is the dessert for you. They also have great pizzas and tons of seafood options as well like savory fish stews. They have so many other amazing dishes, but my stomach just isn't big enough! Obviously that means I'll have to go back again.
Kings boasts an impressive cocktail list and tap tables in their restaurant. What are tap tables you may ask? Well, they are tables with taps attached in the center. I know, I was quite awed by the marvel of these. The way it works is that you pre-order your beers, they are programmed into the digital tap, and you can pour fresh glasses of ice cold beer from the tap right at your own table. The cocktails are truly inventive and taste great as well!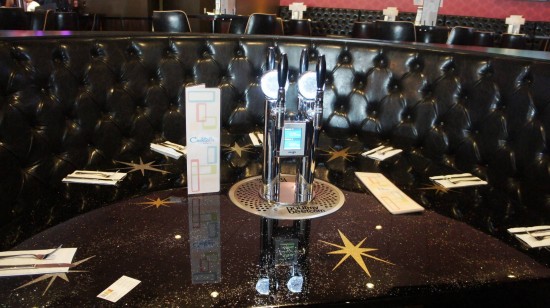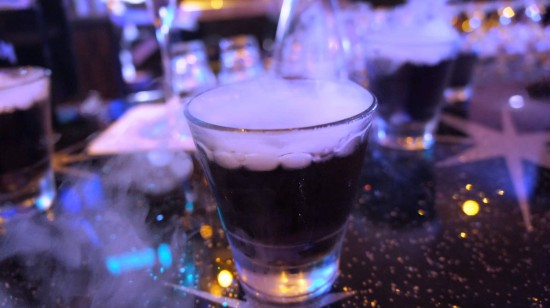 My favorite sampling of the night was the Fizzy Lifting Drink, see above. It tastes like an Everlasting Gobstopper and has a cool fizzing and smoking effect when served. They also have home made sangria and an orange creamsicle cocktail that really tastes like a push pop. Their Raspberry Lime Ricky is a monster cocktail that can serve multiple people at once and is sure to keep the party rolling as well as the bowling balls.
Kings is now a must-visit for those vacationing in Orlando. Also, a cool perk for locals is that if you live anywhere in the Central Florida area you can get a Kings locals card, which gives you discounts on everything without restrictions. You can go anytime during their hours of operation, show your locals card, and receive great discounts!
Ask any staff member at Kings and they will tell you the focus of the décor is to recapture the vibe of a swanky bowling alley from the heyday of bowling in the 1950s and 60s, and they did just that. The feel inside Kings is luxurious. It almost feels like you're walking into a casino in Vegas on the set of a James Bond movie. The place is thrilling and the décor and ambiance really adds to the overall experience that Kings aims for. The staff is fantastic and the atmosphere is relaxed, comfortable and enjoyable from the minute you walk in the door.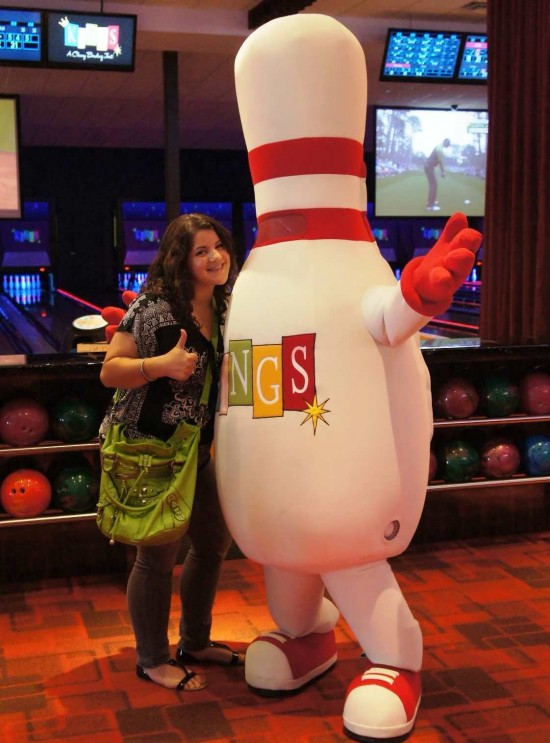 Kings Bowl Orlando is located at 8255 International Drive in the plaza between Ripley's Believe it or Not and Charley's Steakhouse. They are open 7 days a week from 11am-2am. After 6pm Kings becomes a 21 and over venue.
Doors open for regular hours on Monday, April 15, so get excited Orlando!
Kings Bowl Orlando – map & links
Click any marker to display the attraction or venue name. To scroll or zoom, use the controls on the top-left of the map. You may also switch to different map views by using the buttons on the top-right of the map.
Official website: http://kingsorlando.com/
Facebook: https://www.facebook.com/KingsBowlOrlando
Kings Bowl Orlando – photo gallery
Click any image to view it full-screen. When the full-screen image is open, click to the right or use the right arrow on your keyboard to advance through the gallery.
[sws_author_bio user="DinaFayeMagdovitz" size="105″ authorposts="More OI posts by Dina" name_format="About the author"] [/sws_author_bio]