Welcome to THE BIG 5, a definitive top five list of various Orlando-related, uh, stuff. THE BIG 5 is wide-ranging and will run the gamut from the top five drink options at Universal Studios Florida, to the top five mini-golf courses in Orlando, to the top five reasons Art of Animation is Orlando's top hotel for families, and everything in between.
This week's list is the Top Five Extreme Eats at Universal Orlando. That's right – the five craziest edible products that you can find at the parks, CityWalk, and the four on-site hotels.
#5 – King Donut from the Hard Rock Hotel
There are donuts, and then there are donuts. This is the latter. Found at Emack and Bolio's in the bottom level of the Hard Rock Hotel, the King Donut is the monster breakfast of champions for those enjoying a vacation at Universal Orlando. The $6.00 donuts are available as honey glazed or, for those needing an even bigger sugar rush, chocolate frosted. Regular sized donuts can also be purchased for those of sound mind.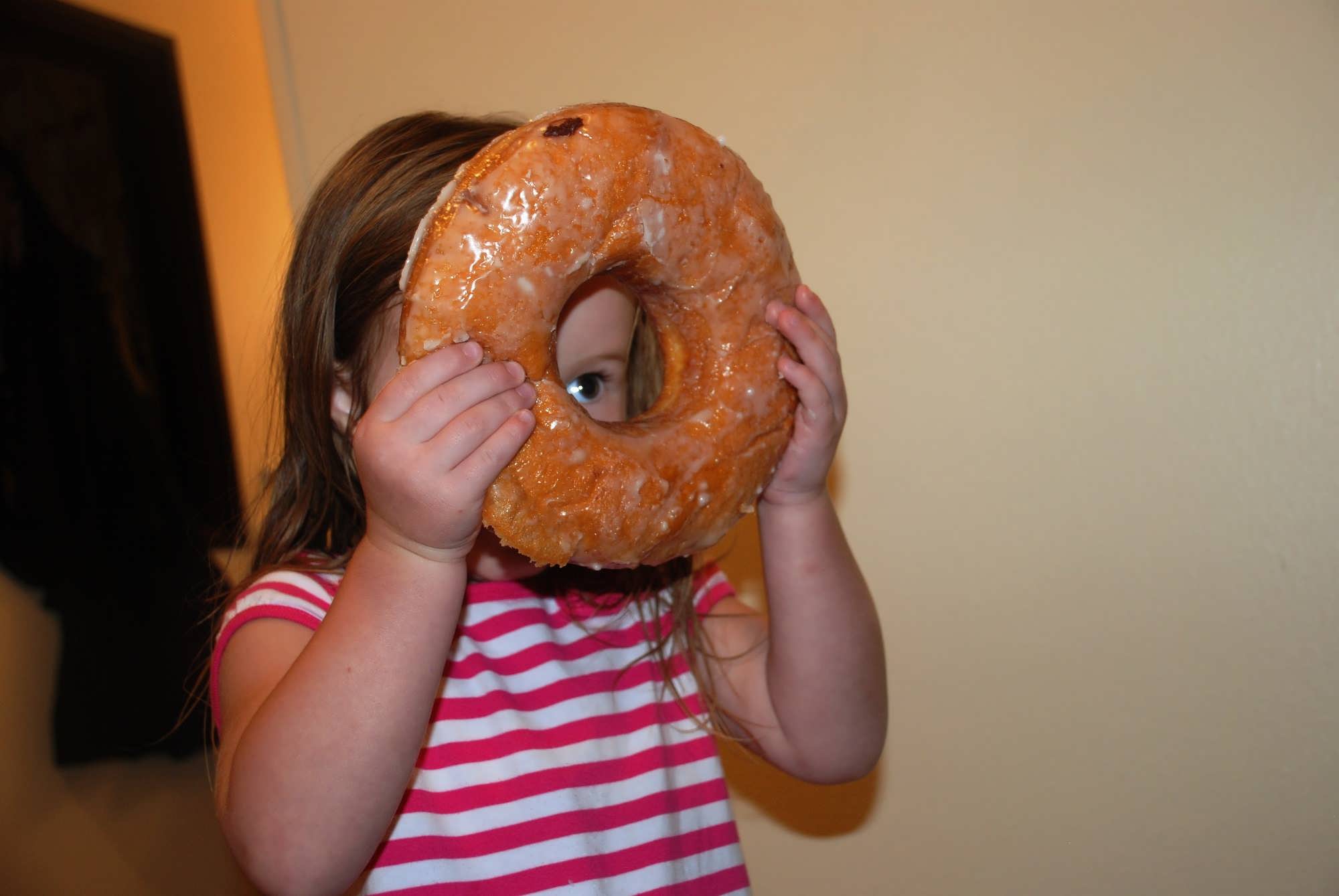 #4 – Giant gummy bear
This particular gummy bear was bought for $6.95 at the San Francisco Candy Factor at Universal Studios Florida.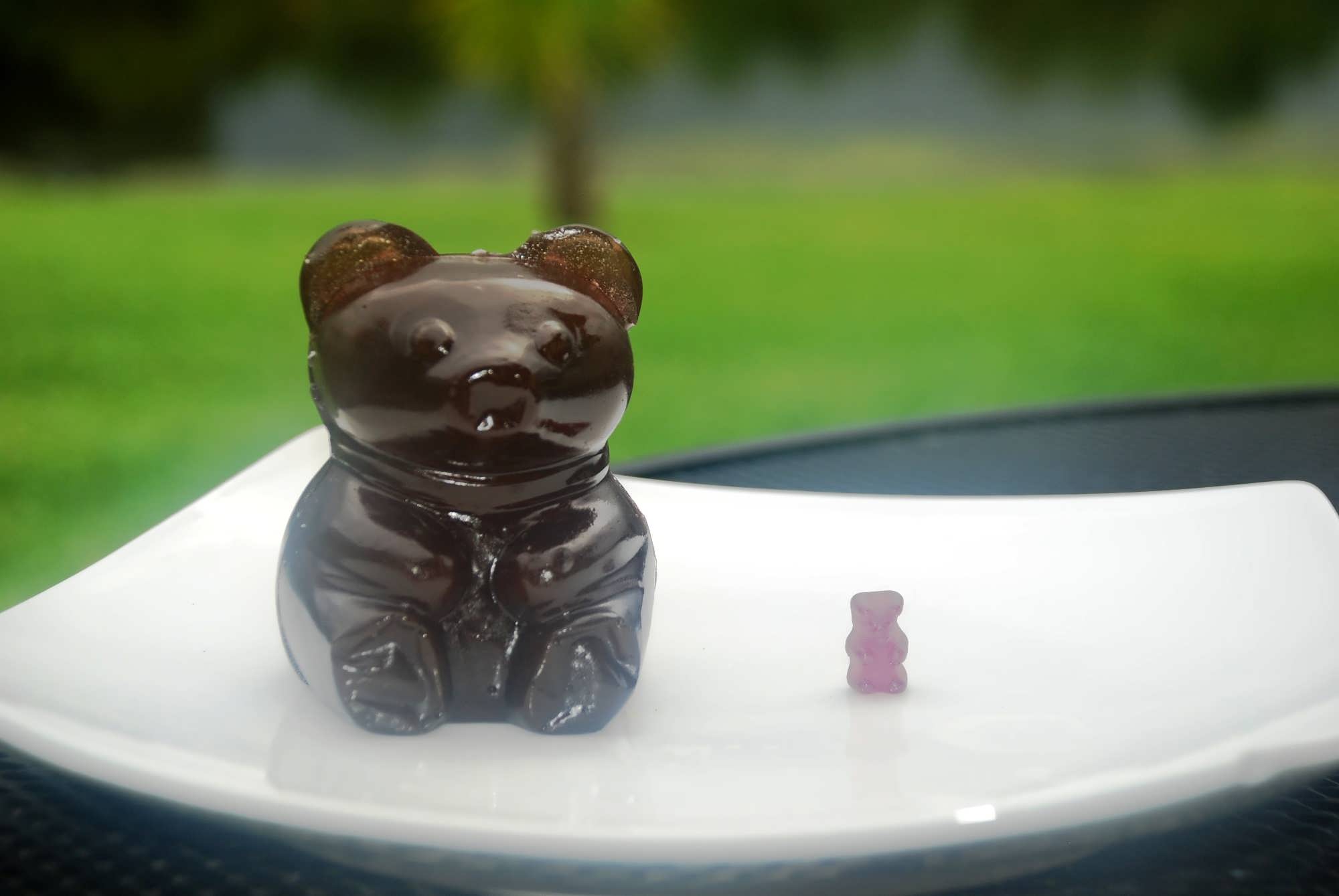 Unfortunately, I was informed that if I tried to give the super sized gummy bear to the three year old in our party, I would be thrown into the park's lagoon and left to drown, my spirit haunting the Cinematic Spectacular for years to come.
<script async src="//pagead2.googlesyndication.com/pagead/js/adsbygoogle.js"></script>
#3 – Scorpion lollipop
This "treat" was bought in the gift shop at the Revenge of the Mummy attraction, but you'd be surprised how many stores on Universal property carry candy made out of actual bugs and insects. It is actually kind of disturbing that it's much easier to find a piece of "amber" candy with ants in it than a Butterfinger or Kit Kat. There were members in our party who refused to believe these were actual bugs, but on the ingredient list for this lollipop it listed "scorpion." It was banana flavored, and even the three-year-old in our party enjoyed licking the lollipop until she started getting too close to the scorpion.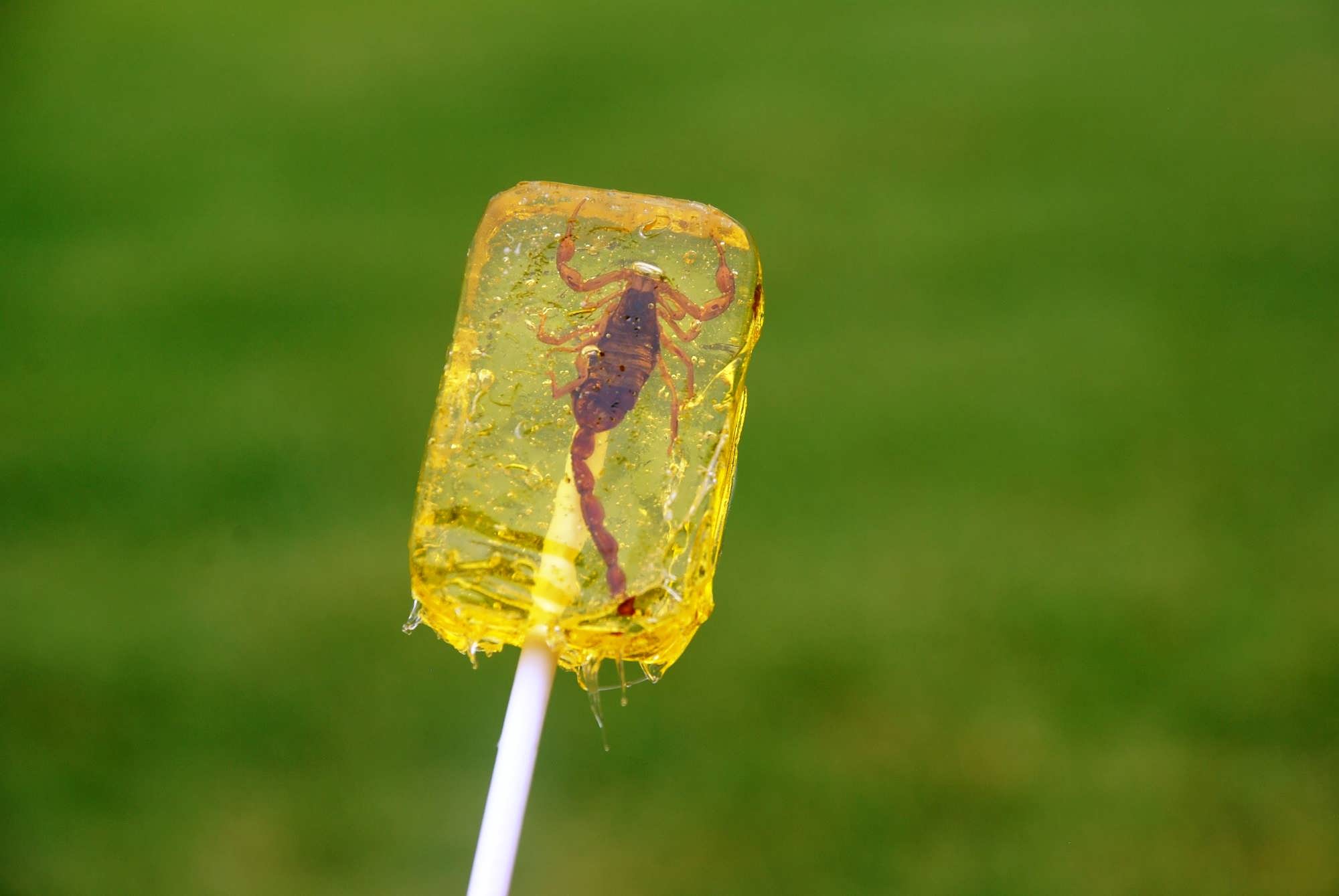 Because the scorpion was encased in a banana-flavored lollipop, it actually tasted like banana for those of us who were brave enough to eat it.
#2 – Rocky Road Gourmet Apple
I passed by a lot of bakeries at Universal on my quest to find the most Extreme Eats, and I kept coming back to the Rocky Road Gourmet Apple. This particular one was obtained at the Croissant Moon Bakery in Island of Adventure's Port of Entry. The sheer size and weight of this apple is crazy once it is in your hands. It's a huge granny smith apple, covered in caramel, then covered in chocolate, with pecans and seemingly thousands of marshmallows liberally applied on top. Then there was a chocolate and caramel drizzle to top it all off.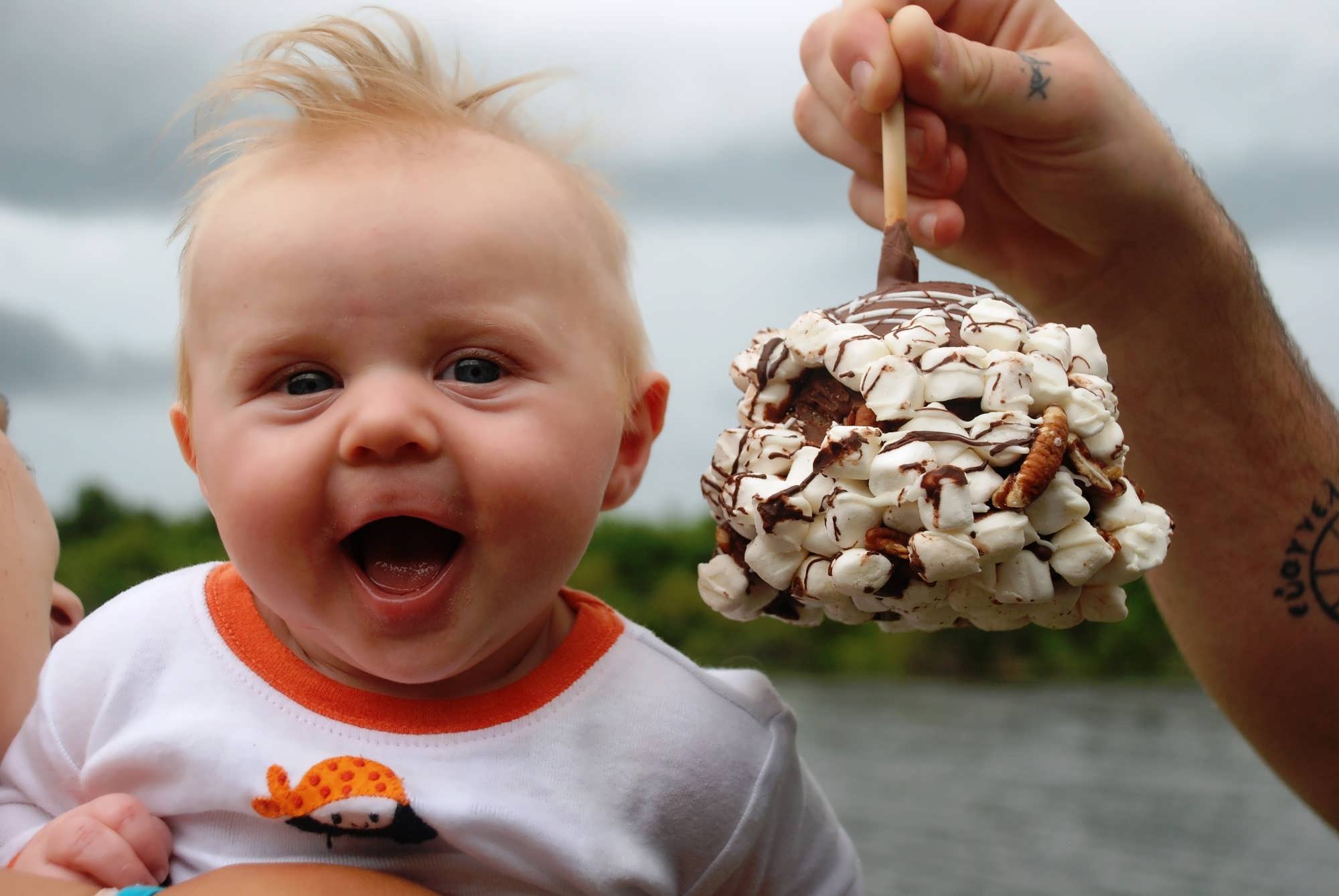 I don't know what it is about the combination of apple and sugar (via the caramel and chocolate), but it's mighty good. The fact that the treat is the size of a human being's head is a bonus.
One thing that did concern me is that we didn't get around to eating the apple until several days after our vacation, and yet everything was perfectly preserved, as if it was made that morning; the marshmallows, which I assumed would be hard as the ones coming out of a box of Lucky Charms, were still soft and chewy. So clearly these are all conjured up over at WWoHP using dark magic.
#1 – The Kitchen Sink Challenge at the Hard Rock Hotel
The (relative) new kid on the block is also Universal's Extreme Eats champion. Not too long ago, The Kitchen restaurant at the Hard Rock Hotel introduced the Kitchen Sink Challenge. To complete this challenge, a participant must eat a Kitchen Burger (10oz beef patty, bacon, cheddar, onion rings, lettuce, tomato and chipotle horseradish aoli), a side of french fries, a fried pickle, and a slice of Kitchen Sink Cake (a three-pound slice of cake with seven layers including – brownies, peanut butter crunch, chocolate chunk cookies, cheesecake, pecan pie, devil's food cake, and vanilla chiffon cake, all covered in chocolate butter cream frosting, chocolate chips, chocolate sauce, and Heath bar crunch; served with vanilla bean ice cream and fresh strawberries). Everything has to be consumed within a 30-minute time limit.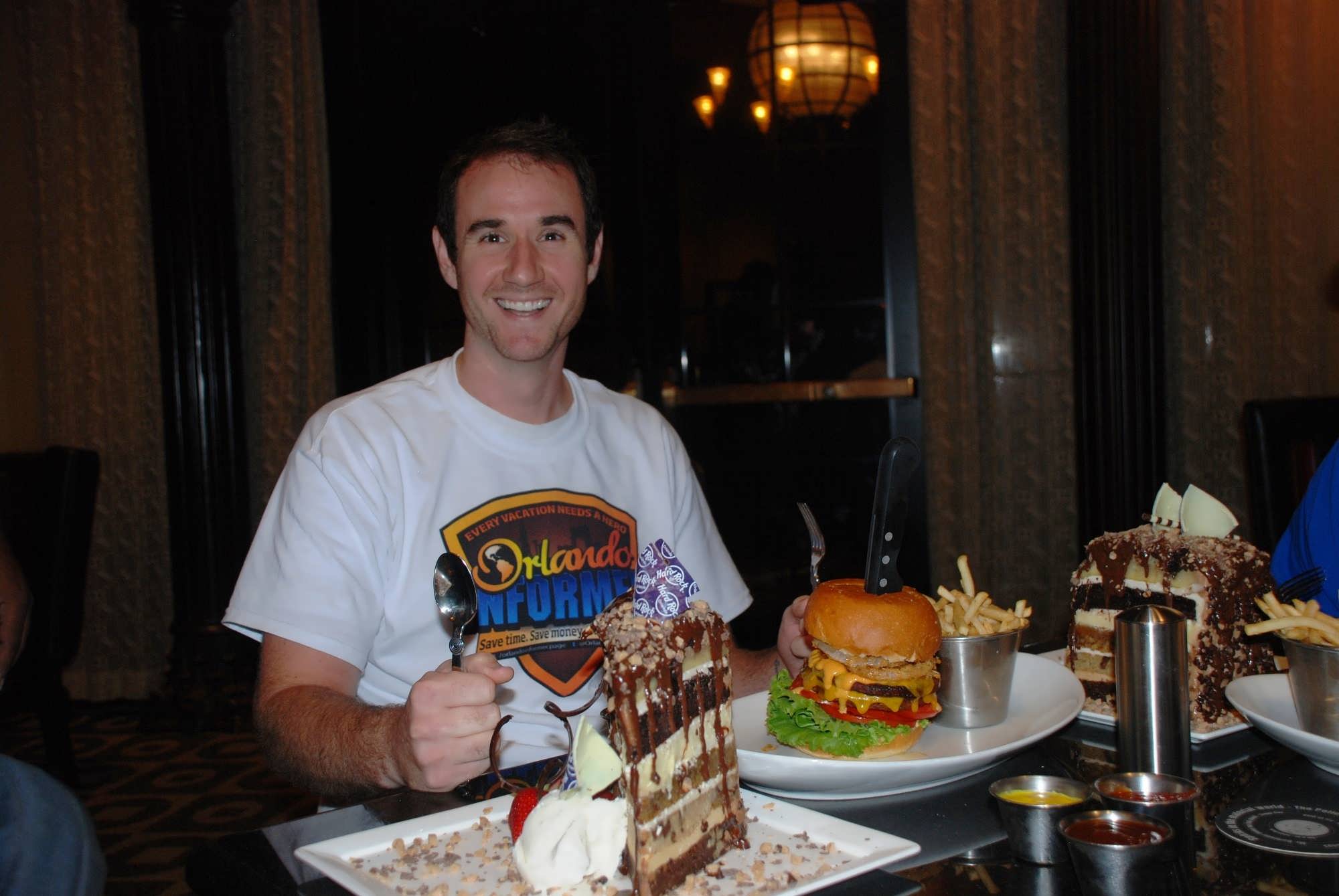 Beating the Kitchen Sink Challenge is feat in which not a single person on Earth has yet to accomplish. I was personally a victim of The Challenge, and those around bearing witness to the carnage will remember it for years to come.
Did we miss your favorite extreme dish? Tell us in the comments below.