Howl-O-Scream will be returning to Busch Gardens Tampa Bay on select nights from September 8 to October 31, 2023. Until more details are revealed for this year's haunted affair, enjoy 2022's information!
Here at Orlando Informer, we work hard to provide you with accurate and up-to-date information. On this guide page, you can find all the information you need to navigate Howl-O-Scream at Busch Gardens Tampa Bay.
If you are looking for haunted happenings in Orlando rather than Tampa, you can check out the details for Howl-O-Scream at SeaWorld Orlando here. Although the event name is the same at both parks, there will be distinct differences between the two experiences. Some of these differences are event-specific, and others are differences from the parks themselves and the atmospheres they create.
Skip to: Overview | When to visit Howl-O-Scream | Cost of Howl-O-Scream | Tickets
What is Howl-O-Scream?
Howl-O-Scream is an after-hours Halloween event, complete with haunted houses, scare zones, and festive experiences throughout the park. It has already had a successful two-decade run in the Halloween business, and there's no end in sight. This annual, seasonal event started at Busch Gardens Williamsburg in 1999. That same year, Busch Gardens Tampa hosted "Spooky Safari," a milder scare experience for families with older children. They abandoned the idea the next year and joined Williamsburg in hosting Howl-O-Scream in 2000. The success of this event developed a reputation over the next ten years, and in 2013, SeaWorld San Antonio joined the Howl-O-Scream crew. The newest installation of this successful scare event at SeaWorld Orlando joined the line-up in 2021. The specifics of Howl-O-Scream vary from park to park and year to year, but Howl-O-Scream typically features 5-10 haunted houses and 3-5 scare zones. This year, Howl-O-Scream at Busch Gardens Tampa Bay has promised a stellar line-up of five haunted houses (three of which will be all-new), eight scare zones, and a little thing they call "unpredictable hordes" to keep things spicy. It should be noted that costumes are not permitted at any of the events.
Howl-O-Scream 2021 at Busch Gardens Tampa Bay Haunted Houses: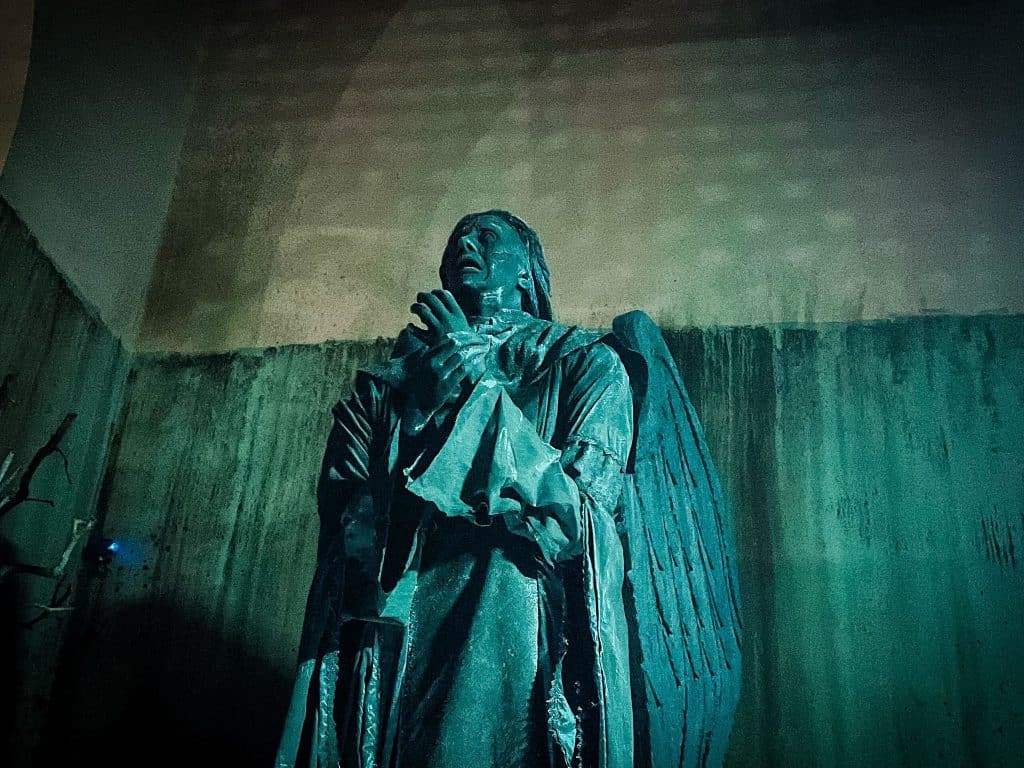 Stranglewood Estate – *NEW* Step into this once-lively home that is haunted by the ghosts of the past. If only walls could talk…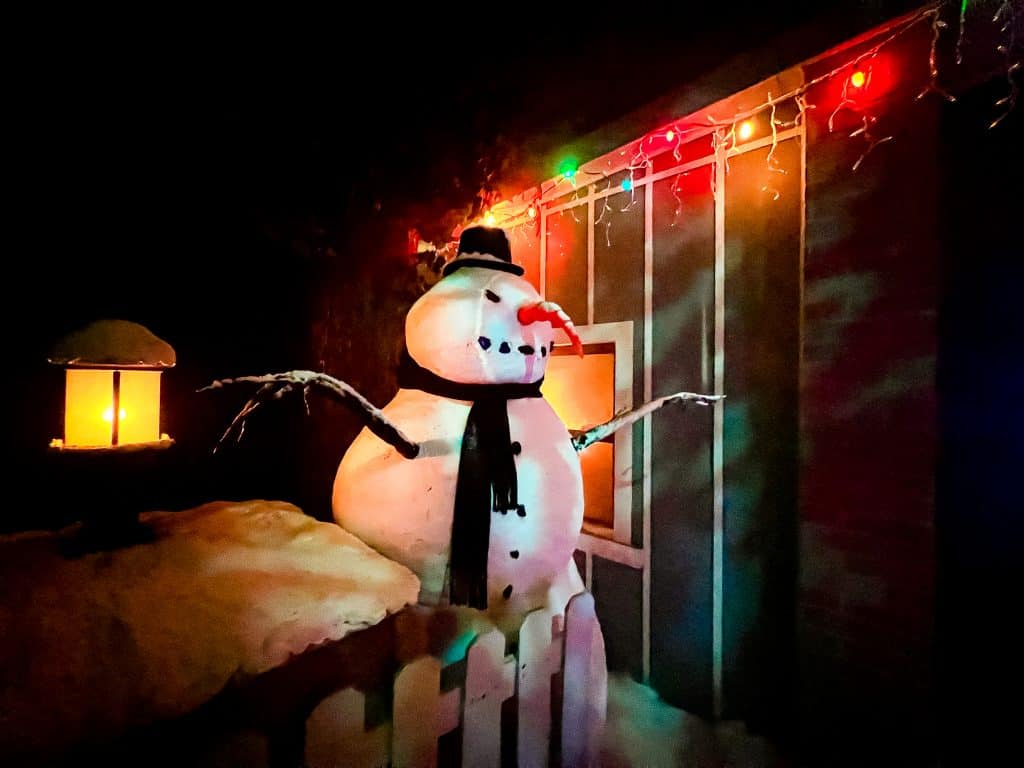 The Residence: Home for the Holidays — *REVAMPED* This family couldn't wait to get into the yuletide spirit and spread some holiday fear.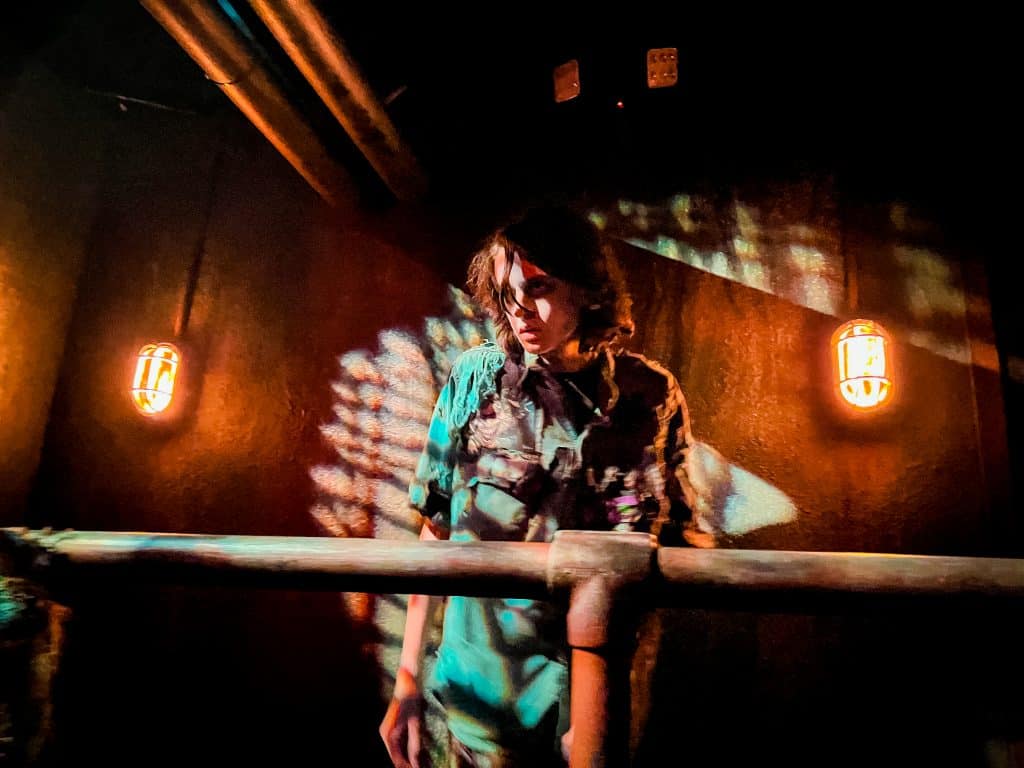 The Forgotten — In this returning haunted house, guests will run for their lives from a band of starving vampires. If they don't escape, they are doomed to be part of the Forgotten army – forever.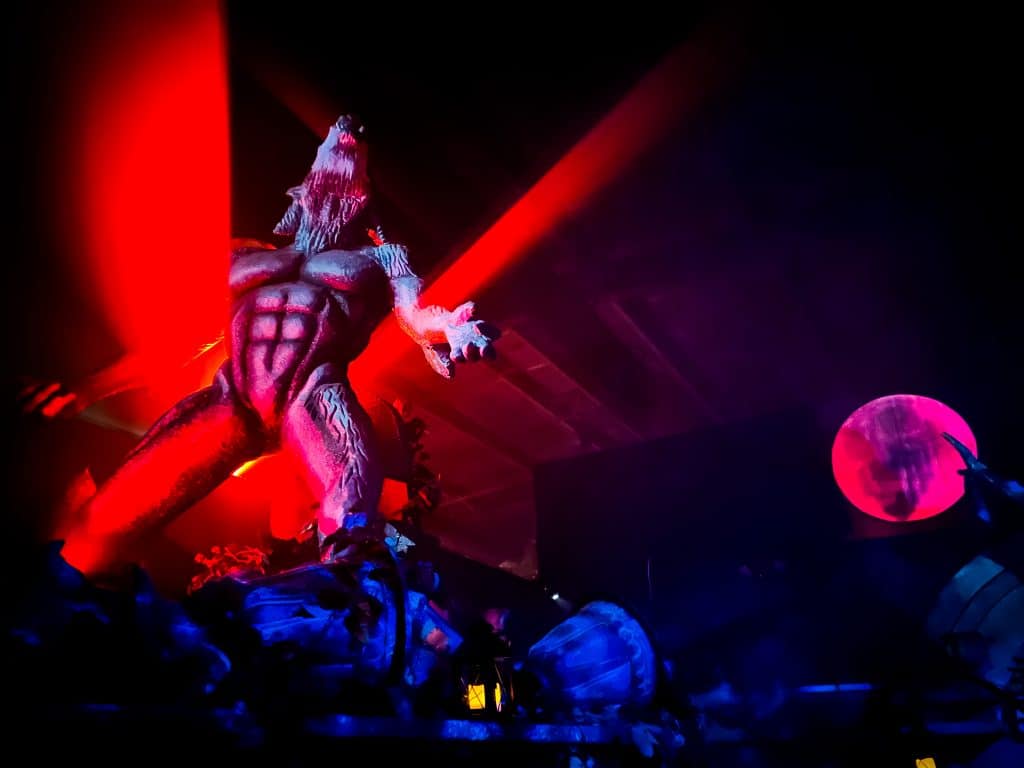 Death Water Bayou: Blood Moon — It's a full moon on the bayou, and nothing will save you now. Werewolves are lurking about – do your best to try and escape!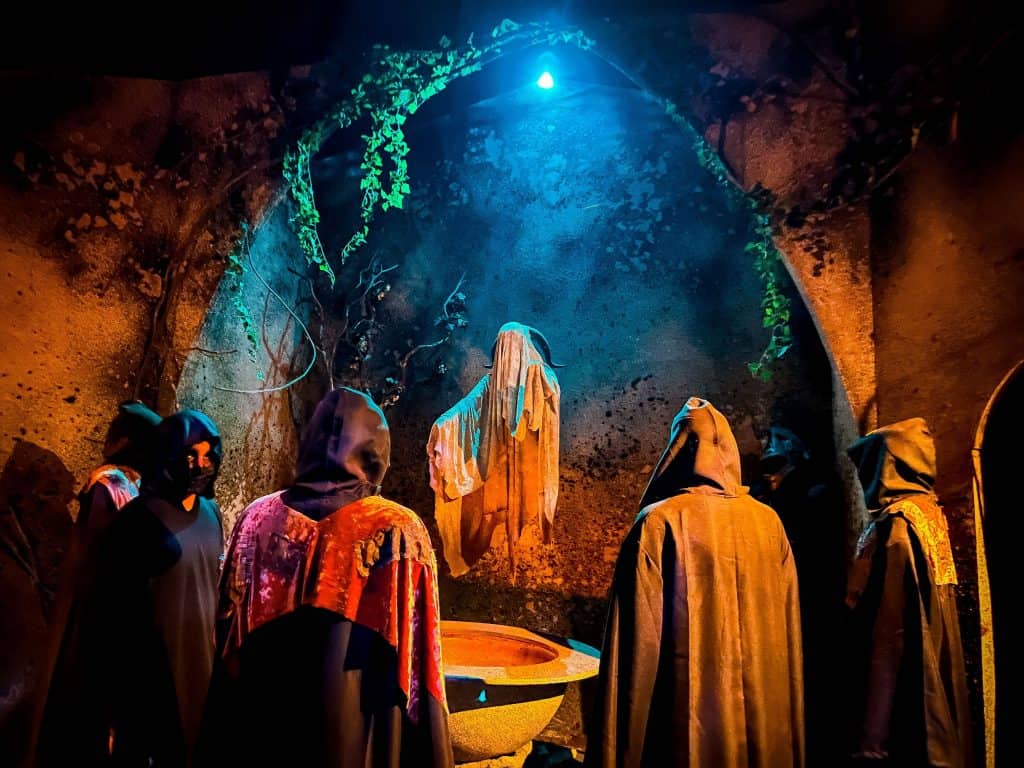 Witch of the Woods — You've heard the stories of the haunted forest for years. In this all-new maze, you'll have to do your best to evade capture and ritual sacrifice.
Howl-O-Scream 2022 at Busch Gardens Tampa Bay Scare Zones: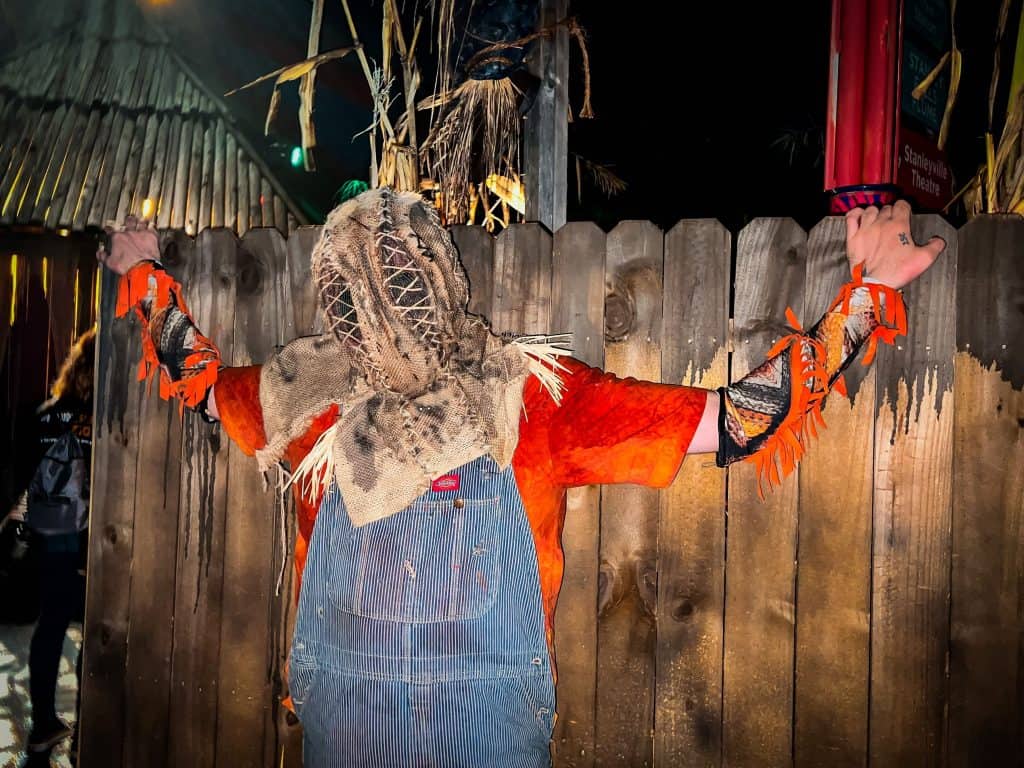 Ravens Mill – *NEW* Find what horrors lie in this field of corn. From the looks of these scarecrows, I don't think we are in Kansas anymore…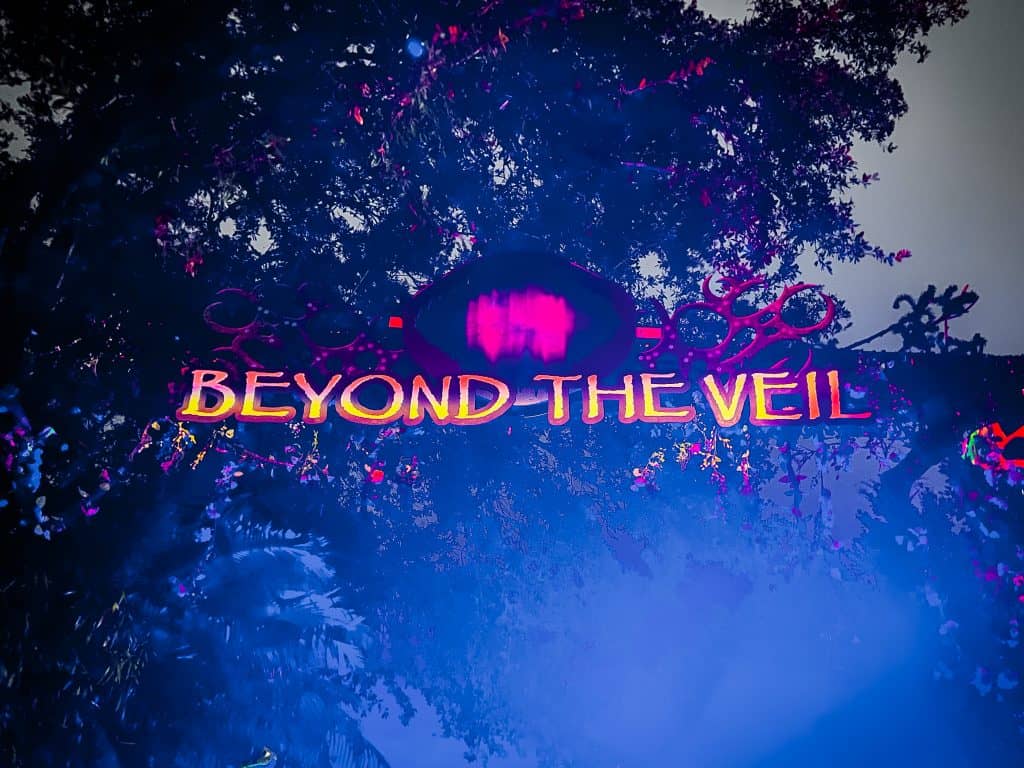 Beyond the Veil – *NEW* Enter a wondrous forest where a fleet of mythical creatures following your footsteps. We don't think that this fantasy will be like your typical bedtime story.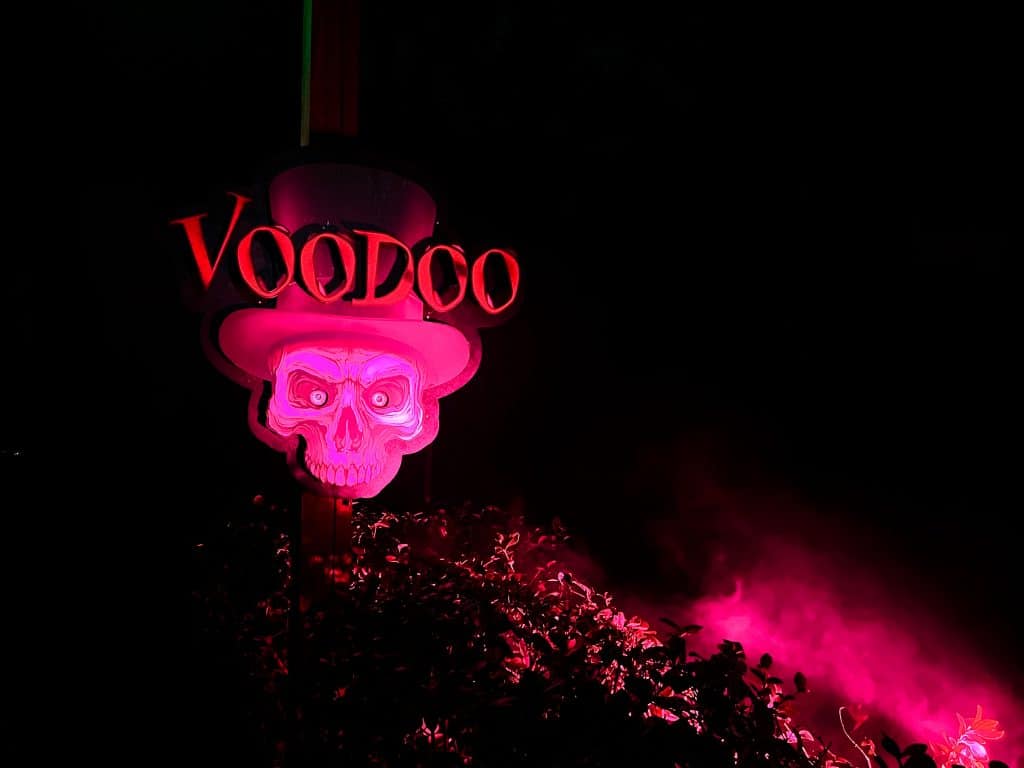 Voodoo — You know it's bad when the witches have been run out of their own home in the bayou. In this all-new scare zone, werewolves have overtaken the swamps, and now the witches have come to take revenge out on the wrong creatures.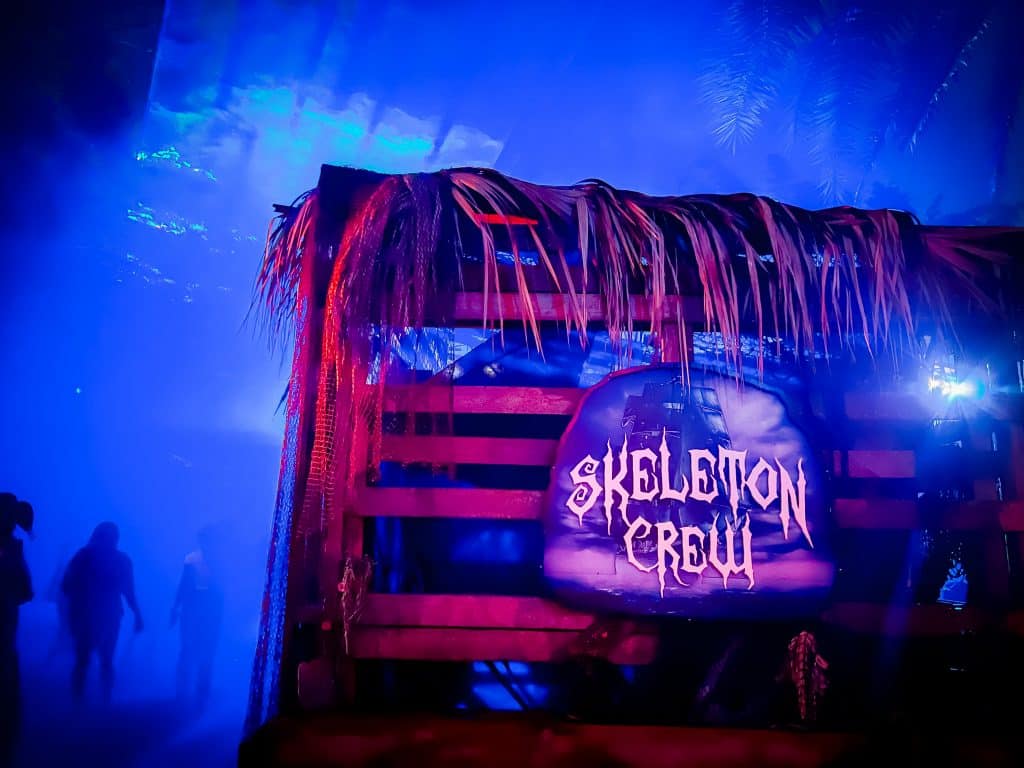 Skeleton Crew — In this returning scare zone, shipwrecked pirates are roaming the land to find their lost treasure. But watch out – they're determined and will take care of anyone who decides to get in their way.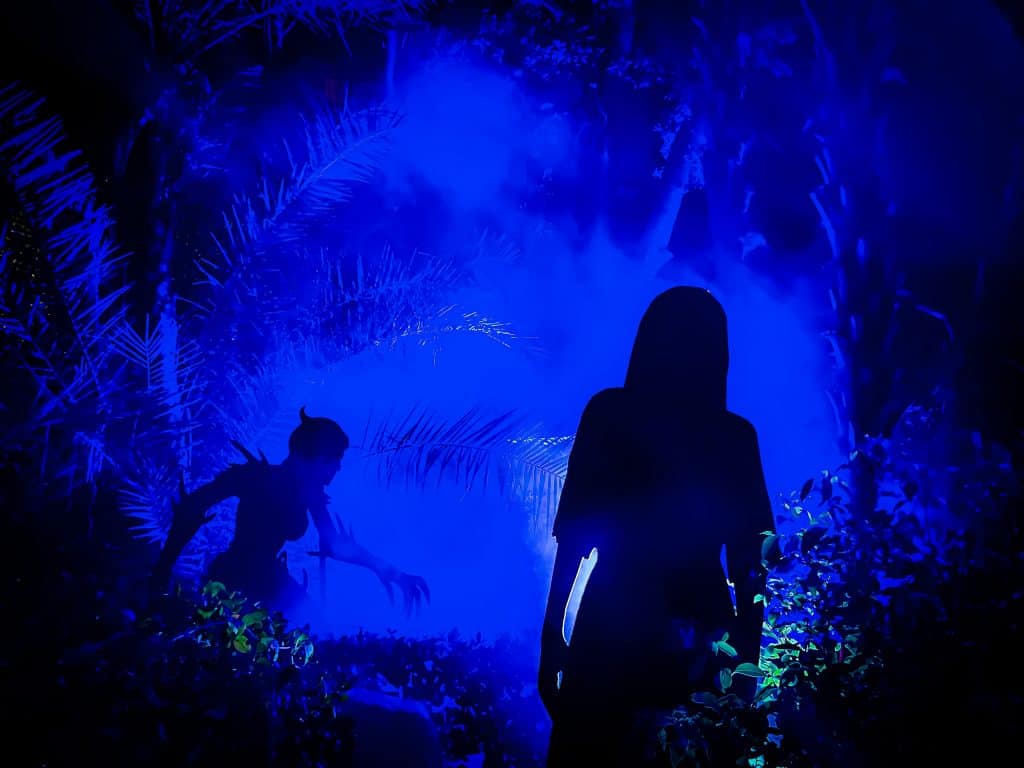 In the Shadows — Classic ghost stories and tales of the dark come to life in this eerie scare zone. The woods are full of haunts, enough to turn even the most extreme skeptics into outright believers.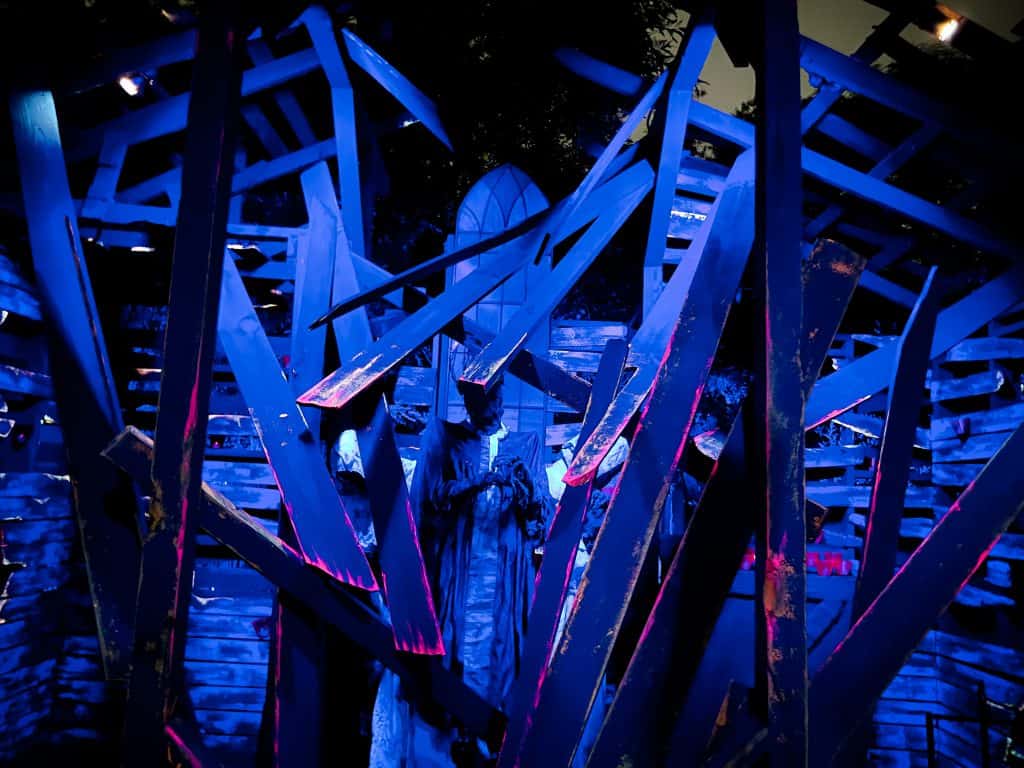 The Shortcut — It's the typical story. Someone knows a shortcut, and you all have to take it. Unfortunately, this shortcut is through a graveyard, and the dead seem a little restless.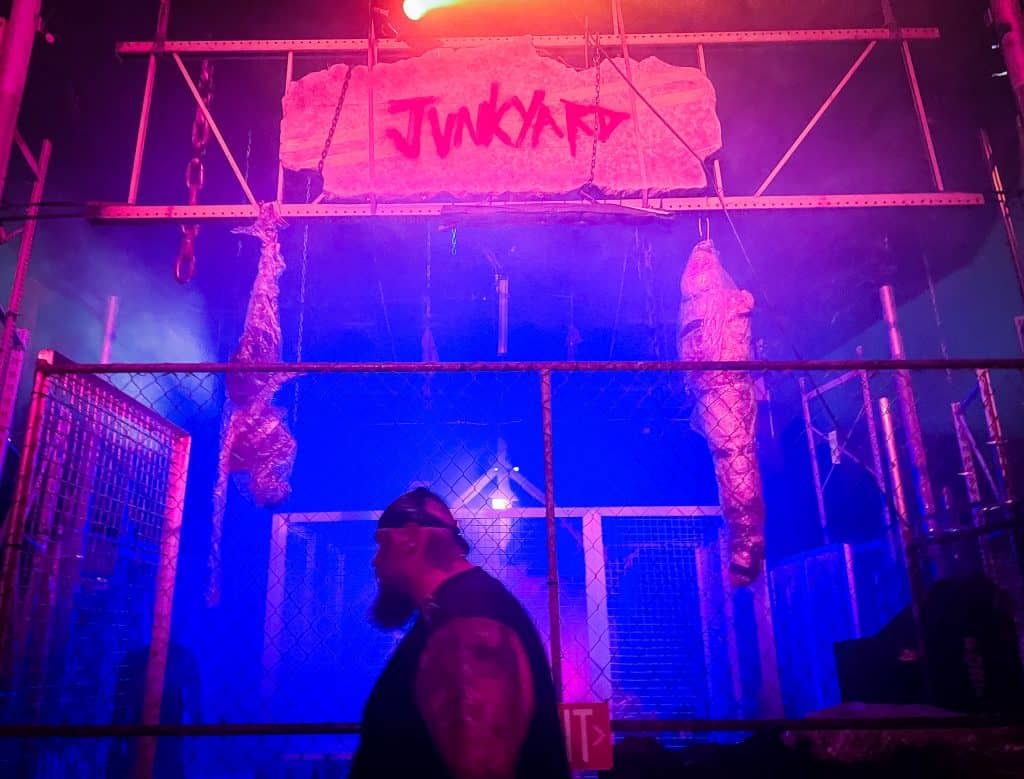 The Junkyard — Car parts and scraps seem to come to life in this junkyard. Make sure you don't get caught in the metal!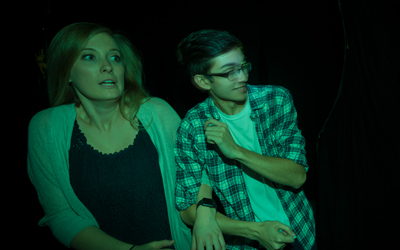 Hidden Scare Zone and Roaming Haunts — While you are trying to navigate the seven scare zones, watch out for the secret eighth one! If you get through that, roaming haunts will be scattered throughout the park to keep you on your toes.
Howl-O-Scream 2022 at Busch Gardens Tampa Bay Shows and Attractions:
50/50: Choose Your Fate – *NEW* Howl-O-Scream's newest entertainment offering seems to be an interactive game show with frightful prizes behind each door.
Cirque X-Scream – You'll be holding your breath on the edge of your seat watching these incredible acts that include trampoline tricks and aerial performances.
Fiends – This "raunchy monster dance party" is sure to get you on your feet. The party will be hosted in an open area and highlights the adult-themed nature of Howl-O-Scream.
The Rolling Bones – This skeleton band will perform live (ironically) at Dragon Fire Grill. They play covers of popular songs, Halloween and non-seasonal alike.
Rides:
Iron Gwazi – *NEW* The fears continue at Howl-O-Scream with the Iron Gwazi. This coaster offers speeds of 76mph, two inversions, and a 200-foot drop.
Crash Test Clowns – This is a classic game of bumper cars but with a twist. You'll be joined by zombie clowns in their own cars.
Cobras Curse – Rise 70 feet in the air and meet the eyes of the snake king before you plummet down a winding track.
Kumba – One of the top-rated coasters in the world, Kumba puts guests through a diving loop that gives a feeling of complete weightlessness for 3 seconds.
Montu – Named after an Egyptian God with a hawk's head, this coaster reaches heights of 150 feet and speeds of 60 mph. Hang on!
Scorpion – Boasting a classic (but these days, rare) 360-degree loop, Scorpion takes guests on a short but sweet spin.
SandSerpent – Although one of the older rides at Busch Gardens Tampa Bay, Sand Serpent is just as heart-pounding as some of the big coasters. With no inversions or big drops, this is the perfect ride for someone who isn't sure about the bigger coasters.
Falcon's Fury – Get some of the best views – from more than 300 feet up! In this ride, guests are taken up, up, up…slowly. Then, you are tilted forward to hang over Busch Gardens Tampa. Linger there for a few seconds before being dropped back to earth!
SheiKra – One of the biggest, baddest roller coasters in the game. With speeds of 70 miles an hour and a 90-degree drop, SheiKra will show you why the rides at Howl-O-Scream Busch Gardens are just as thrilling as the haunted houses.
Cheetah Hunt – Mimic the challenges of a cheetah hunt. With three launches and the longest track on-site, Cheetah Hunt will make you appreciate the majestic animals it's named after.
Tigris – One of the newest coasters at Busch Gardens Tampa, this ride highlights the power and strength of Tigers. It will take you forward, backward, upside-down, and back again!
Where can I get tickets for Howl-O-Scream Busch Gardens Tampa Bay?
You can get your discounted tickets for Howl-O-Scream online here.
Is Howl-O-Scream appropriate for children?
Although it is just a recommendation, Busch Gardens strongly suggests no one under the age of 13 attends Howl-O-Scream events. This is not an "enforceable" policy, but keep in mind that if you bring a younger guest and they decide the event isn't to their liking, tickets are non-refundable. The scare factor isn't the only thing to keep in mind when deciding whether or not this is for your family. The atmosphere of the event itself is adult-oriented, and adults act accordingly.
If you are interested in something more kid-friendly, check out Busch Gardens Tampa Bay Sesame Street Kids' Weekends. This event is included with park admission and provides children and families a chance to dress up and meet some of their favorite Sesame Street characters. Children are also given an opportunity to trick-or-treat in daylight hours in a happy setting. Sesame Street Kids' Weekends take place during regular park hours on Saturdays and Sundays in October.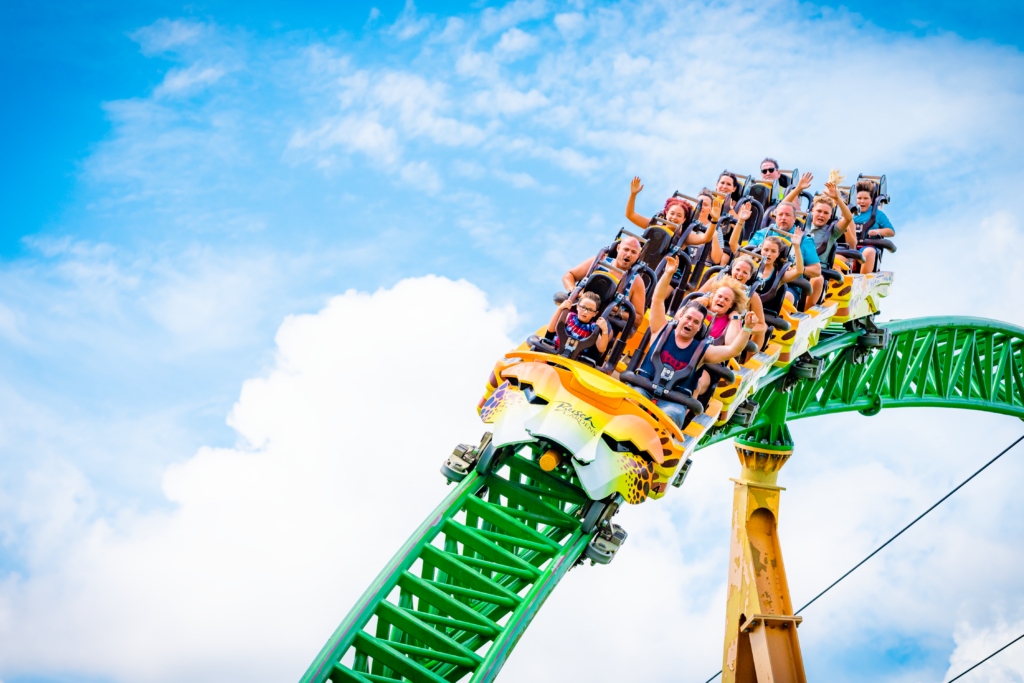 When should I visit Howl-O-Scream?
Howl-O-Scream 2022 dates in a nutshell:
September: 9, 10, 11, 16, 17, 18, 23, 24, 25, 30
October: 1, 2, 6, 7, 8, 9, 13, 14, 15, 16, 20, 21, 22, 23, 27, 28, 29, 30, 31
There's a lot to consider when deciding when to go to an event like this. So for starters, when can you even go? In September, Howl-O-Scream will be available on Friday, Saturday, and Sunday nights beginning on the 9th. In October, Thursday nights also become available. If you're concerned about crowds, we suggest going in September before the Halloween season is in full gear. Of course, the earlier in the year you go, the hotter it is more likely to be. Predictably, Fridays and Saturdays are the busiest and most expensive nights of the events, but Thursdays and Sundays end an hour earlier. So what to do? We've outlined some pros and cons of each night for you here:
Thursday & Sunday night pros: Typically, these nights entertain lower crowd numbers, and there's less of a "party" atmosphere for those wanting a milder experience. Ticket prices are also a few dollars cheaper.
Thursday & Sunday night cons: Thursdays don't become available until October, and the event lasts only until midnight.
Friday & Saturday night pros: These nights typically fit better with traditional work schedules, and the party goes 'til 1:00 am.
Friday & Saturday night cons: These nights are typically the busier nights, with crowds increasing up to Halloween (especially since Halloween falls during the weekend this year). Ticket prices are also slightly higher.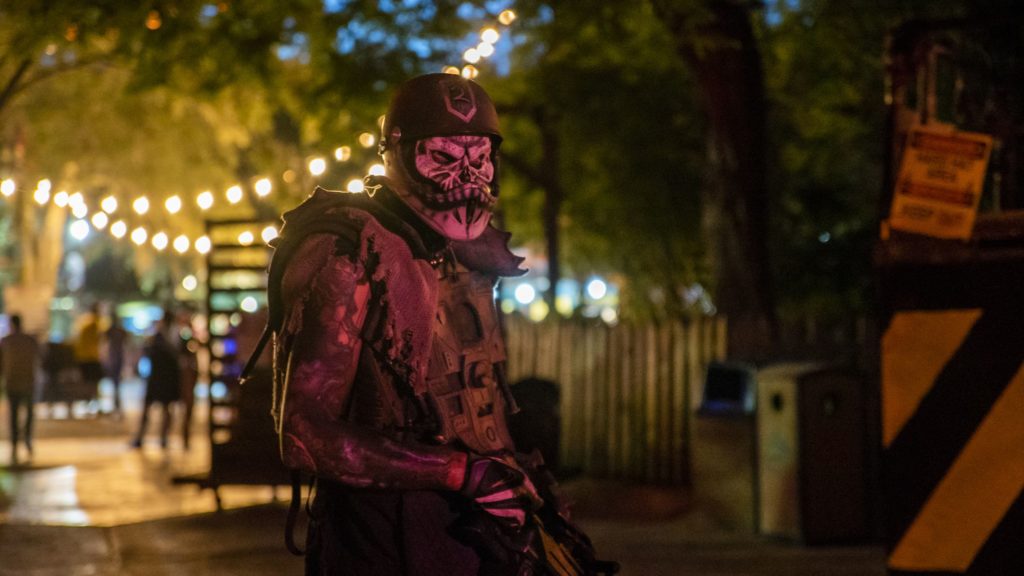 How much does it cost to attend Howl-O-Scream?
One of the most appealing things about Howl-O-Scream is that it is truly affordable fun. Prices will vary through the season, but they start at just $38.99 and don't exceed $48.99. These prices mean that tickets provide a great option for a unique date (or a parent's night out) for the same price of movie tickets and a bucket of popcorn. You can purchase tickets here.
How to save on Howl O Scream Busch Gardens tickets
Like what you see? We don't blame you. We can help you save on your Howl-O-Scream (or other) tickets here!
---