Preview this Page
Overview
Celebrate Cinco de Mayo at Busch Gardens Tampa Bay with musical flare and delicious fare! This festival starts May 5 and lasts through May 7, giving you a great weekend to enjoy the delightful tastes and sounds that Busch Gardens has to offer. Get the party started by purchasing discounted tickets to Buch Gardens Tampa Bay through Orlando Informer!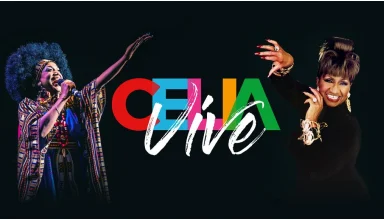 From May 5 through May 7, the Busch Gardens Food & Wine Festival transforms for Cinco de Mayo with tribute bands, a salsa orchestra, and menu changes in honor of the holiday. Join this celebration with discounted admission tickets to Busch Gardens Tampa Bay from your pals at Orlando Informer!
Cinco de Mayo Menu
Purchase a 10-item or 15-item Food & Wine Festival Sampler Lanyard to save big as you sip and savor your way through the festival. Sample food, wine, brew, or cocktails with the convenience of your lanyard! The 10-item sampler's price starts at $70, while the 15-item sampler begins at $85.
Wines of the Americas
Cono Sur Sauvignon Blanc
Chile
Raeburn Chardonnay
Russian River Valley
Pam's Unoaked Chardonnay
Sonoma
Juggernaut Pinot Noir
Russian River Valley
Natura Carmenere
Chile
Alexander Valley Cabernet
Sonoma
Bodega Norton Malbec BS
Argentina
McManis Petite Sirah
California
Rabble Zinfandel
California
St. Hubert Red Blend "The Stag"
Paso Robles
Domaine Bousquet Red Blend
Argentina
Trek through Africa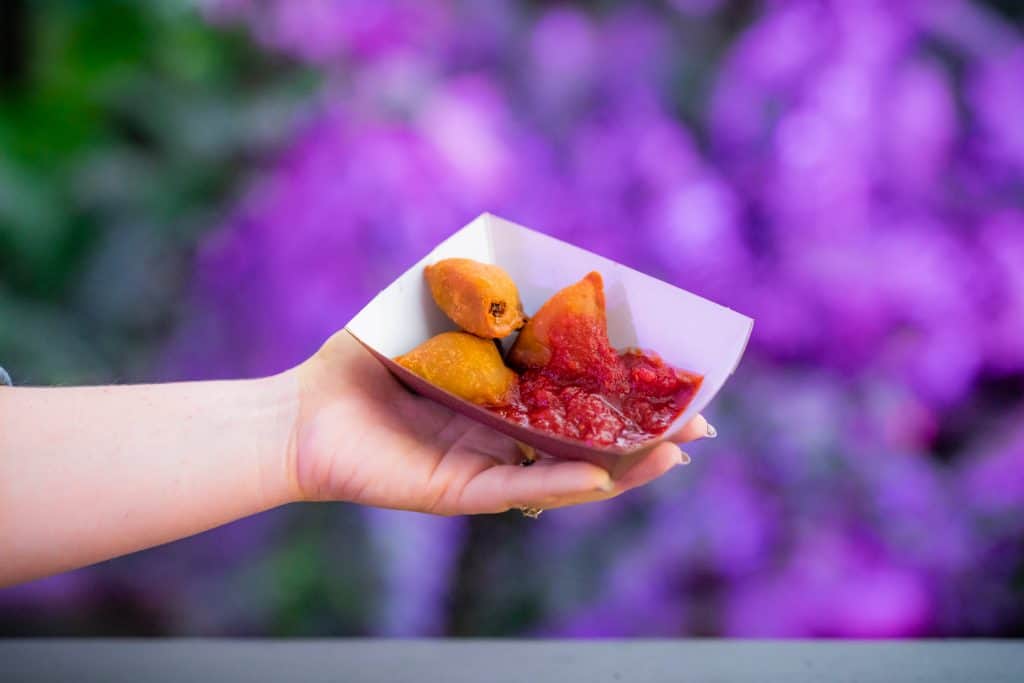 Vegetable Samosa with Peppadew-Tomato Chutney
(Vegan, Vegetarian) A flakey pastry filled with spiced potatoes, onions, and peas served with the sweetness and subtle heat of the peppadew-tomato chutney
African Vegetable Curry & Naan Bread
(Vegetarian) Hearty vegetable stew: zucchini, yellow squash, cauliflower, red bell peppers, tomato, peas, and onion
Cocktails
Dark & Stormy
Spiced Rum, Craft Standard Mule Mix
Serengeti Flyer Punch
Blanco Tequila, Bacardi Coconut Rum, Melon Liqueur, Craft Standard Mojito Mix
Aperol Loma
Aperol, Craft Standard Paloma Mix
Sake Smash
Junmai Sake, Mandarin Vodka, Craft Standard Paloma Mix
Twisted Lemonade
Raspberry Vodka, Craft Standard Pink Lemonade Mix
Twisted Egg Rolls
Buffalo Chicken Egg Roll
with Ranch Dipping Sauce
Philly Cheese Steak Egg Roll
with Spicy Ketchup
Moroccan Market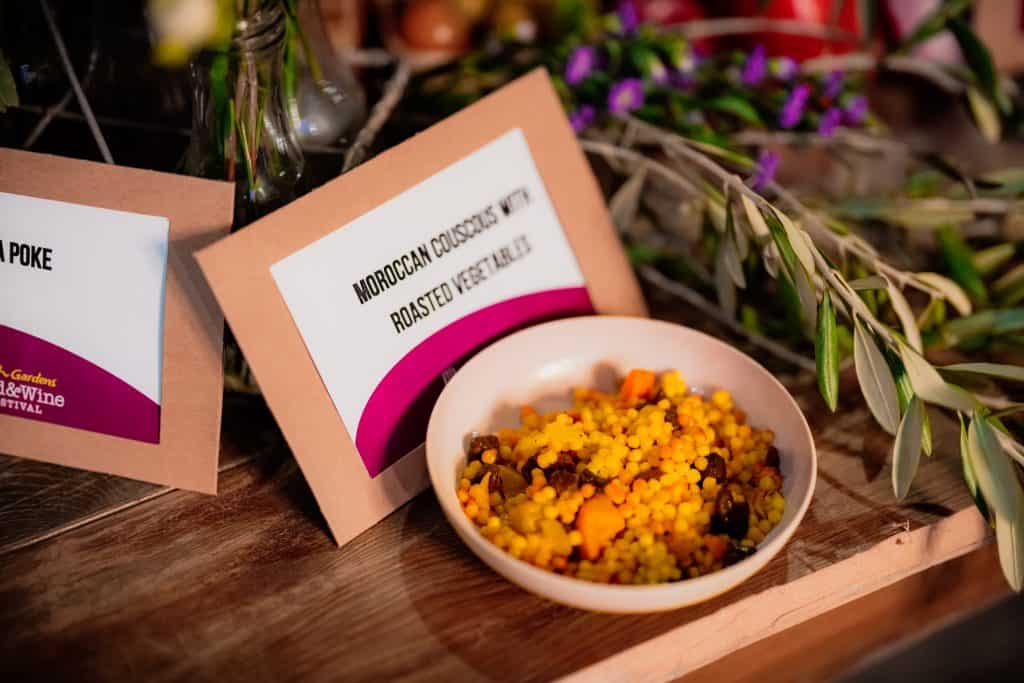 Berbere Spiced Chicken Batbout
Chicken seasoned with paprika, fenugreek, garlic, allspice, ginger, chilis, coriander, cinnamon, and black pepper served on a Moroccan style pita bread
Moroccan Couscous with Roasted Vegetables
(Vegan, Vegetarian) Tiny toasted pasta balls cooked in vegetable broth with roasted vegetables: carrots, parsnip, turnip, beets, garlic, cumin, coriander, cardamom, fresh cilantro
Greek Isles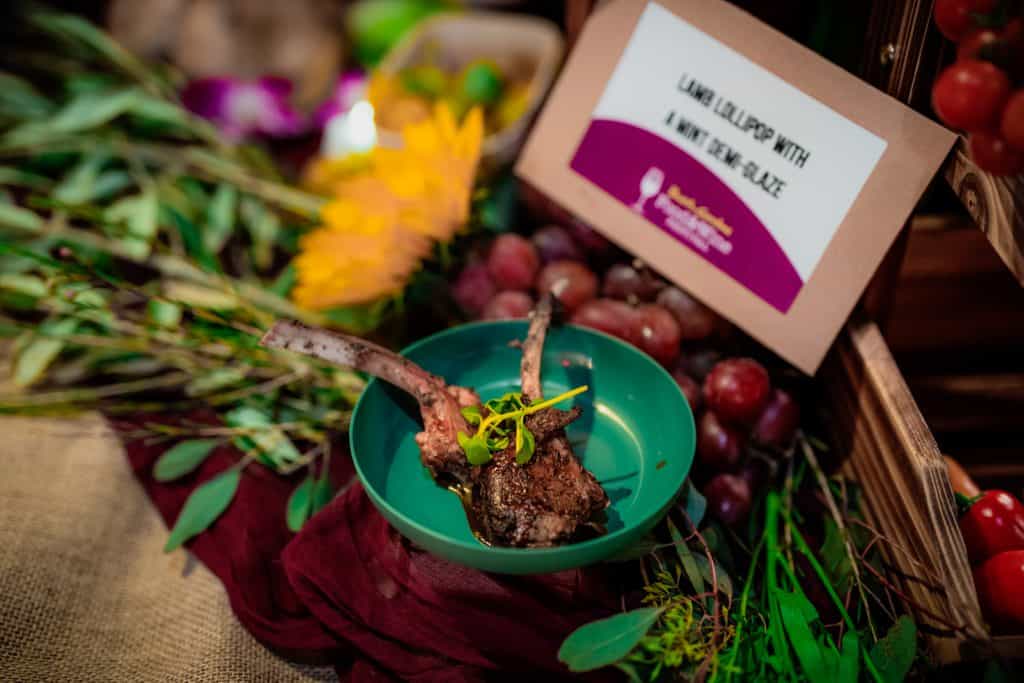 Stuffed Grape Leaves with Tzatziki Sauce
(Gluten Free) A cold dish made with a mixture of cooked rice, ground beef, herbs, and spices, all wrapped in a grape leaf served with a Greek yogurt sauce made with cucumbers and garlic
Lamb Lollipop with a Mint Demi-glaze
(Gluten Free) Pan-seared, seasoned with Mediterranean spice and herbs. Reduction of beef and lamb stock infused with fresh mint
Baklava
(contains nuts) Layered pastry dessert made of filo pastry, filled with chopped nuts, and sweetened with honey
Dessert & Sweet Wines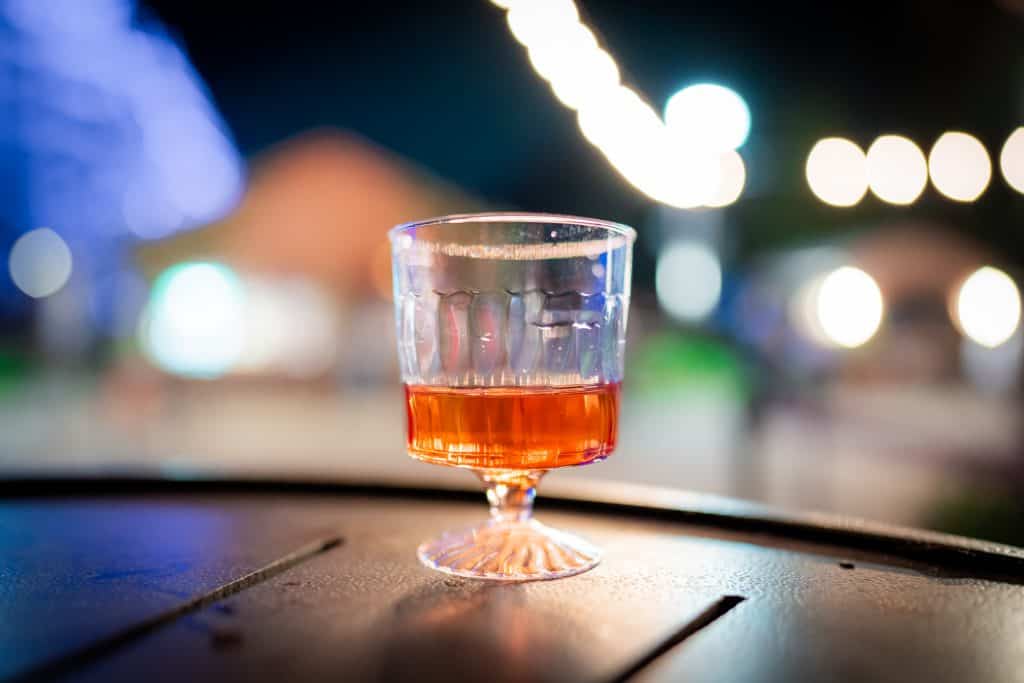 Massolino Moscato D'Asti
Piedmont
Island Grove Wine Company, Blueberry Moscato
Florida
Lakeridge Winery & Vineyards Southern Red
Florida
Dogajolo Carpinto Rosso
Italy
Chocolate & Port Bar
Valckenberg Gewurztraminer
Germany
European Delight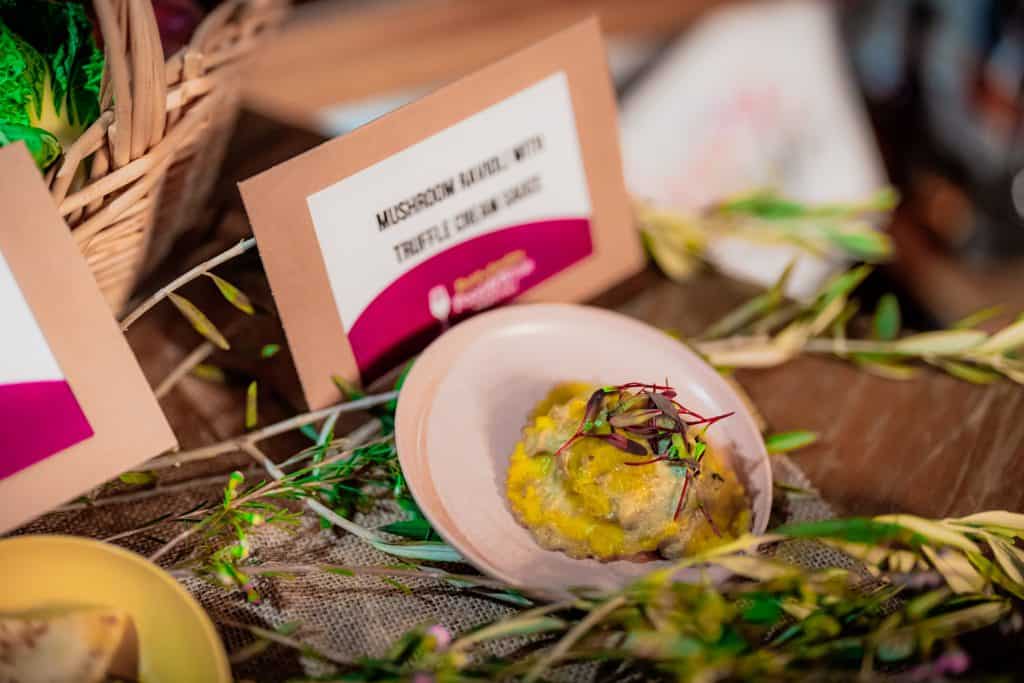 Pierogies & Peas
(Vegetarian) Potato-filled dumpling garnished with peas and caramelized onion puree
Mushroom Ravioli with Truffle Cream Sauce
(Vegetarian) A variety of wild mushrooms with ricotta cheese, garlic, and shallots filled inside pasta, a creamy mushroom sauce with the essence of black truffle
Tiramisu
Coffee and Rum dipped Savoiardi cookies layered with a delicately sweetened mixture of eggs and sweet mascarpone cheese dusted with cocoa powder
Creamery
Churro Sundae
Mexico
Cinnamon Sugar Churro with Caramel Sauce over ice cream
Caramel Flan
Fiesta
Mojo Pulled Pork and Chicharrons
Canary Islands
Sour Orange Slow Cooked Pork, Fried Pork Crisps
Arroz y Frijoles Negros
Spain
(Vegan) Slow Cooked Spiced Rice and Black Beans
Springs Taproom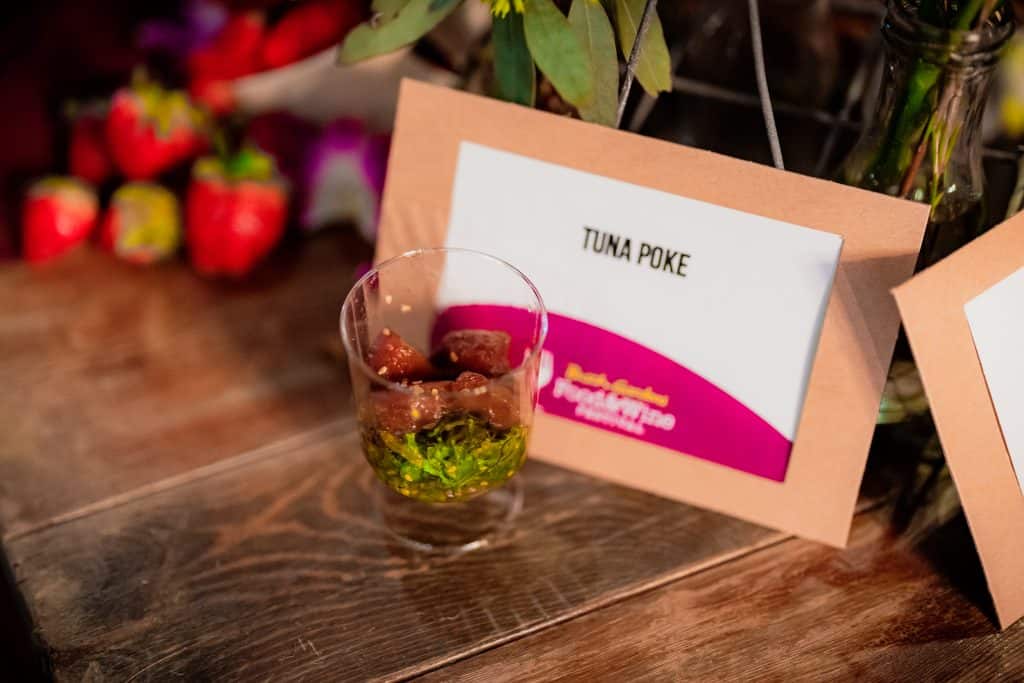 Tuna Poke
Tuna poke is a traditional Hawaiian salad of raw tuna marinated in soy sauce, sesame oil, and onions
Chateau Tanunda, Red Blend Grand Barossa Valley
Australia
7oz. Beer Sample
Samuel Adams Seasonal
Green Bench Postcard Pils
Stella Artois Lager
Keel Farms
Crooked Thumb
Cycle Brewing
Founders All Day IPA
Modelo Especial
Michelob Ultra
Bud Light
Golden Road Brewing Mango
Rotating Beer
Farm to Table, Sauvignon Blanc
Australia
Farm to Table, Shiraz
Australia
Old World Wines, Flights & Snacks
Flights (4 pours each, 1.25 oz)
Flight #1
Aveleda Vinho Verde Alvarinho (Portugal)
Celeste Verdejo (Spain)
Gabbiano Pinot Grigo (Italy)
Miraval Cotes de Provence (France)
Flight #2
Bouchard Aine & Fils Beaujoulais-Villages (France)
Bulgariana Danubian Plain Pinot Noir (Bulgaria)
Zoe Red (Greece)
Scarpette Barbera Del Monferrato (Piedmont)
Flight #3
Cellers Can Blau Red Blend (Spain)
Castello del Trebbio Superiore (Tuscany)
Villa Matilde, Aglianico Rocco Dei Leonia (Italy)
L'Orangeraie Syrah (Pays d' Oc)
Smoked Almonds
Creole Spice Snack Mix
Xcursions
SheiKra Cupcake
Iron Gwazi Cupcake
Food & Wine Signature Cupcakes
Cheetah Hunt Cupcake
Tigris Cupcake
Bourbon Tasting
Old Forester 1920 Prohibition Style
Old Forester 1870 Original Batch
Old Forester 1897 Bottled in Bond
Old Forester 1910 Old Fine Whiskey
Latin Twist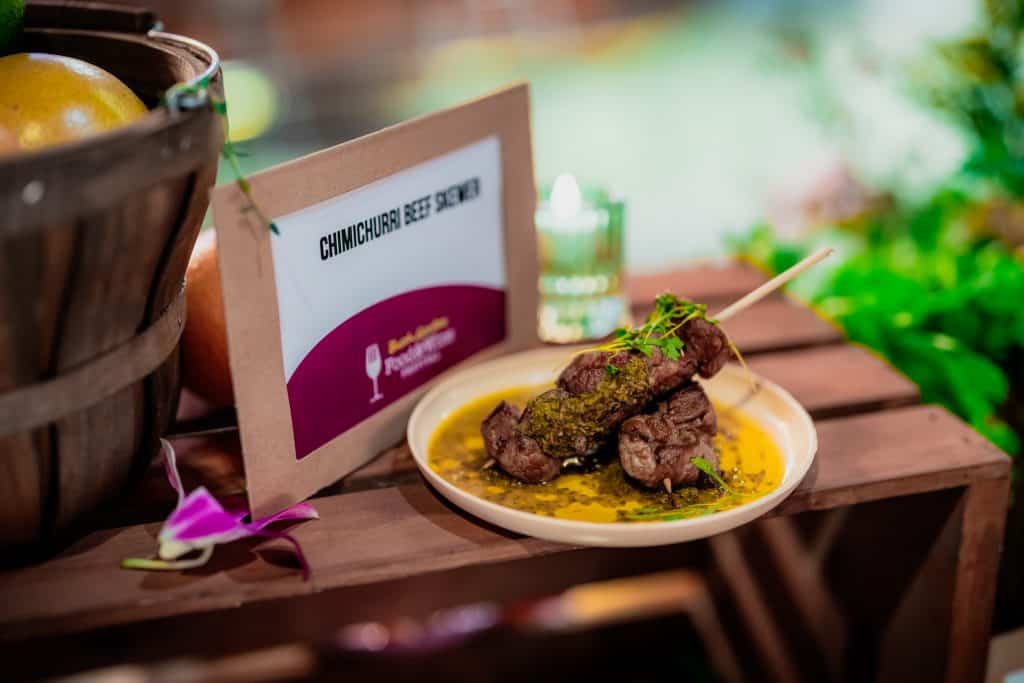 Mojo Pork Taco
Cuban-style pork roast marinated in a sauce made with the juice of sour oranges, garlic, oregano, cumin, and olive oil served in a taco shell with shredded cabbage, and a tabasco cilantro mayo
Pina Colada Trifle
Vanilla cake, vanilla pudding, pineapple, coconut, whipped topping
Chimichurri Beef Skewer
(Gluten Free) Tender chunks of beef marinated and topped with parsley, oregano, garlic, and red wine vinegar
Cocteles & Cerveza
Guava Margarita
Blanco Tequila, Monin Guava Syrup, Craft Standard Margarita Mix
Pisco Sour
Pisco, Craft Standard Margarita Mix
Specialty Sangria
Spiced Rum, Red Wine and Craft Standard Mule Mix
Mango Mojito
Rum, Monin Mango Syrup, Craft Standard Mojito Mix
Dos Equis XX Lager Especial
Modelo Negra
¡Comamos!
Fish Tacos with Spicy Slaw
Mexico
Seared Mahi Mahi, Soft Flour Tortilla, Cilantro Lime Slaw – Tabasco Aioli
Mole Beef & Sweet Plantains
Mexico
Marinated Beef, Fried Plantains, Dried Chilis, Peanuts, Sesame Seeds, Chocolate Mole Sauce
Cinco de Mayo Concerts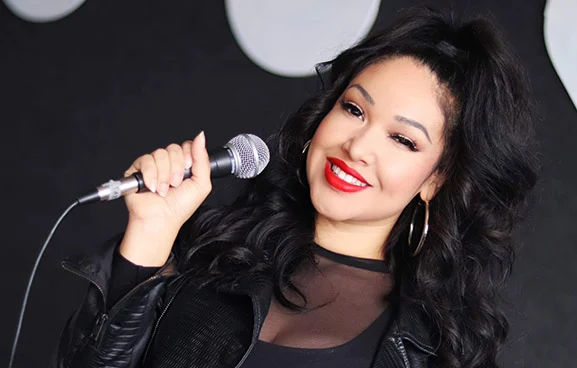 The Festival Field is filled with the fantastic sounds of tribute bands and orchestras every night of this Cinco de Mayo celebration. Grab some delicious grub and head over to the stage for performances you won't want to miss!
May 5 @ 6:00 PM – The Como La Flor Band
May 6 @ 7:00 PM – Celia Vive
May 7 @ 6:00 PM – El Gran Combo