Preview this Page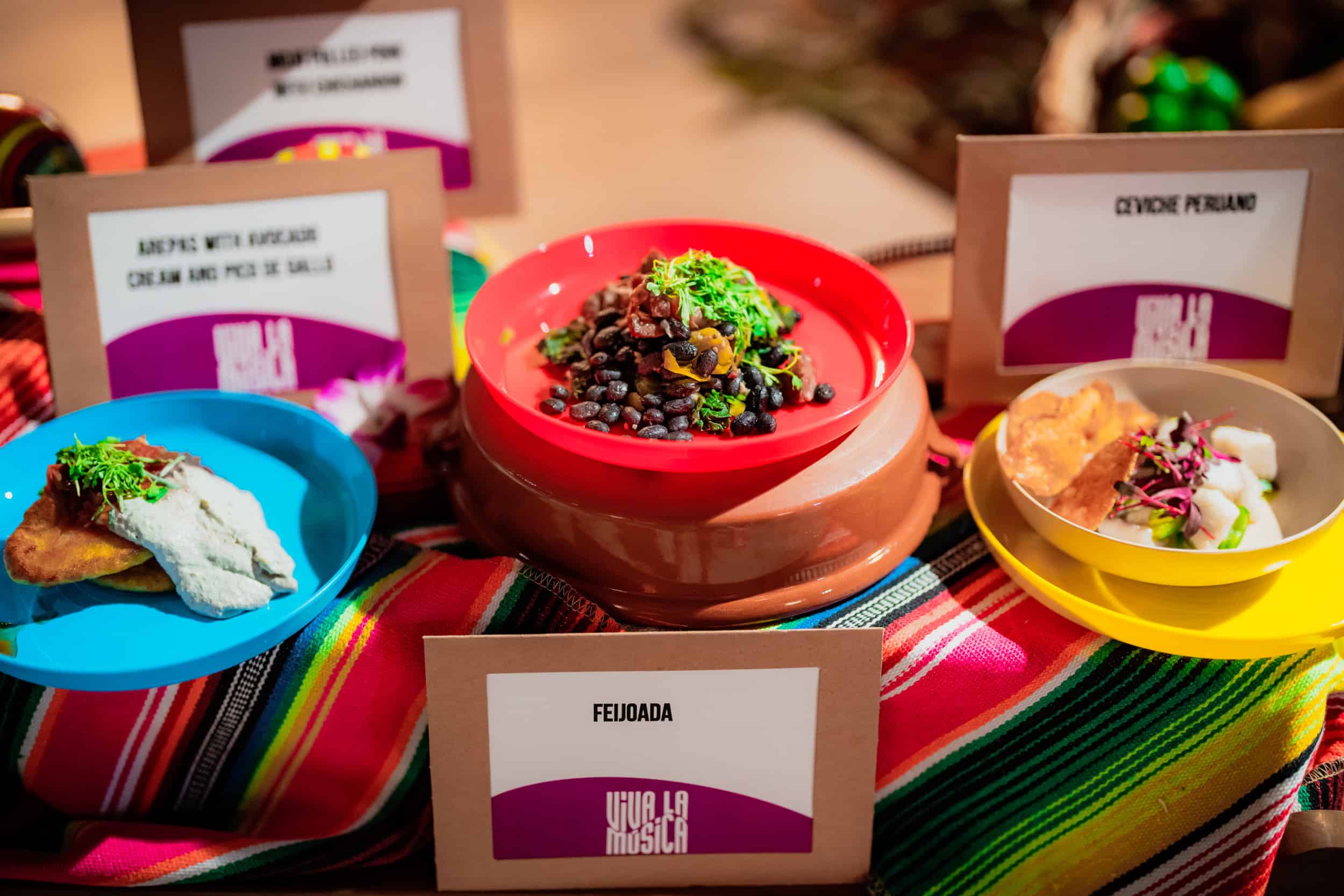 On Fridays, Saturdays, and Sundays from May 12 through May 21, experience Latin flavor at Busch Gardens Tampa Bay's newest Latin celebration. Feast on a variety of plates from Brazil, Spain, and more!
What's a party without music? Four incredible bands will be performing throughout this Tampa Bay fiesta and are included with your Busch Gardens admission. 
Get ready to fill your stomach and dance the night away as you learn more about Viva La Música!
Viva La Música Menu
Latin Wines
Ramiat Saira Alarin
Spain
Cono Sur Sauvignon Blanc
Chile
Alto Limay Chardonnay Patagonia
Argentina
Natura Carmenere
Chile
Santa Ema Merlot RSV
Chile
Torres Gran Coronas Cabernet Sauvignon
Spain
Bodega Norton Malbec BS
Argentina
Domaine Bousquet Red Blend
Argentina
National Treasures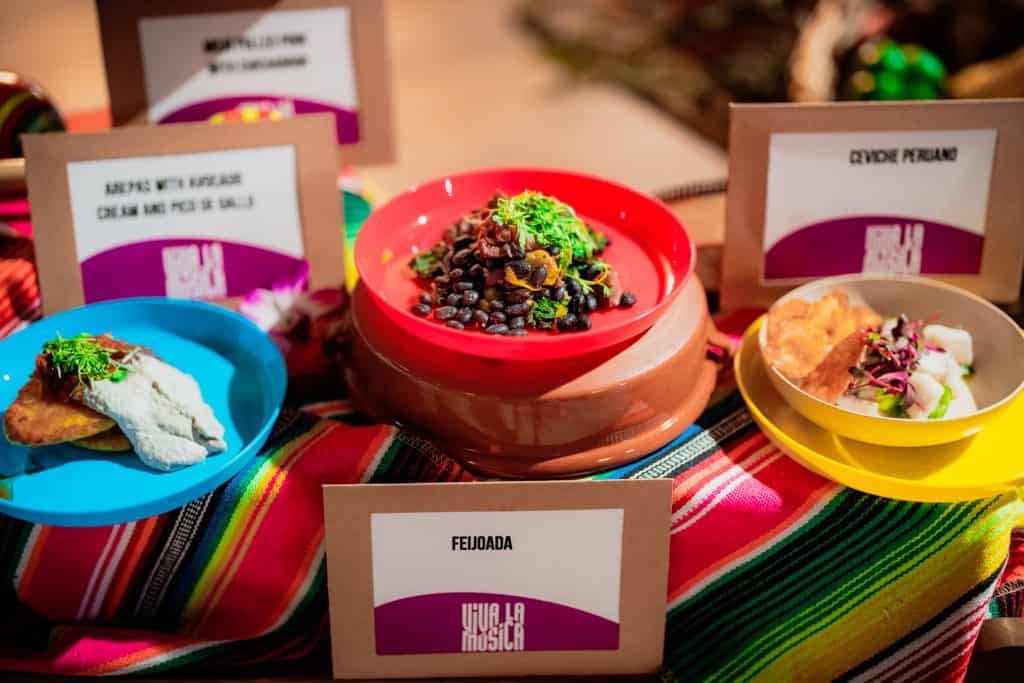 Feijoada
Brazil
Stew of pork, beef and smoked jalapeno sausage with beans and collard greens
Chivito
Uraguay
Sliced steak, smoked ham, crispy bacon, mozzarella cheese, lettuce, beefsteak tomato, olives, cheese, served on a crusty roll
Cocteles
Caipirinha
Cachaca, Craft Standard Mojito Mix
Mezcal Margarita
Blanco Mezcal, Blanco Tequila, Triple Sec, Craft Standard Margarita Mix
Paloma
Tequila, Craft Standard Paloma Mix
Tequila Mule
Blanco Tequila, Craft Standard Mule Mix
Mango Mojito
Rum, Monin Mango Syrup, Craft Standard Mojito Mix
Empanadas
Beef Empanada
Spain
Spinach & Cheese Empanada
Spain
Moroccan Market
Galinhada
Brazil
Brazilian Saffron Chicken and Rice Pulled chicken and rice, pigeon peas, hint of saffron
Beef Chimichurri Salad
Brazil
Marinated fired grilled steak, mixed greens, chimichurri
¡Gusto!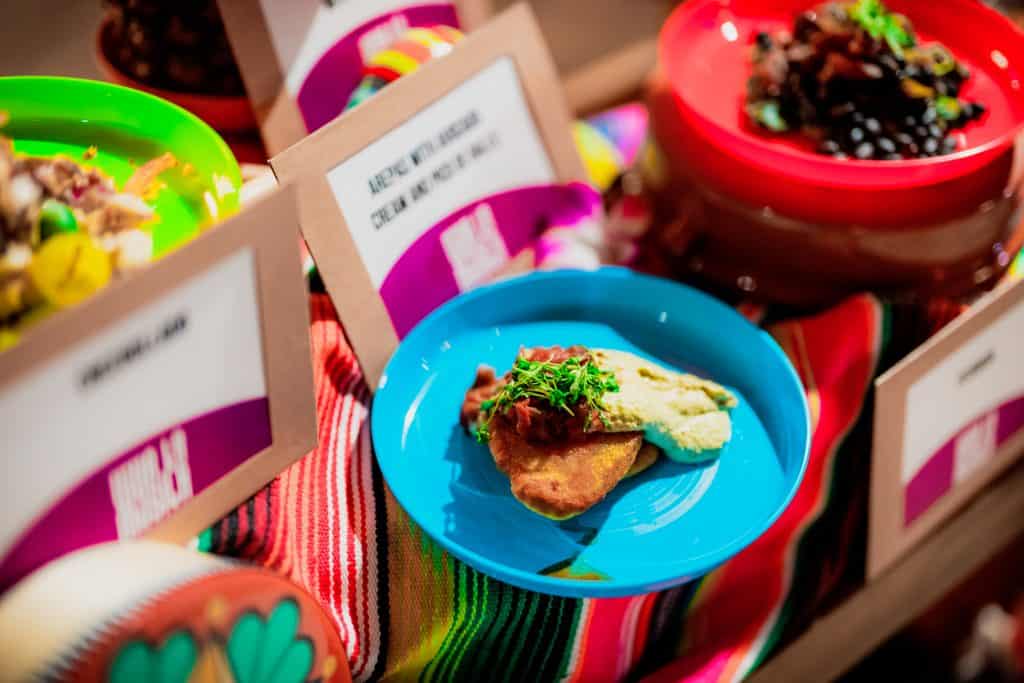 Ropa Vieja
Spain/Cuba
Slow-cooked shredded beef, peppers, cilantro, and spices
Arepas
Venezuela
(Vegan) Pan-seared corn cakes, avocado crema, pico de gallo
Arroz Con Leche Rice Pudding
Colombia
Made with white rice, milk, sugar, cinnamon and vanilla
Dessert & Sweet Wines
Island Grove Wine Company, Blueberry Moscato
Florida
Massolino Moscato D'Asti
Piedmont
August Kesseler Riesling Kabiett Rheingau
Germany
Valckenberg Gewurztraminer
Germany
Lakeridge Winery & Vineyards Southern Red
Florida
Dogajolo Carpinto Rosso
Italy

Chocolate & Port Bar
Manduco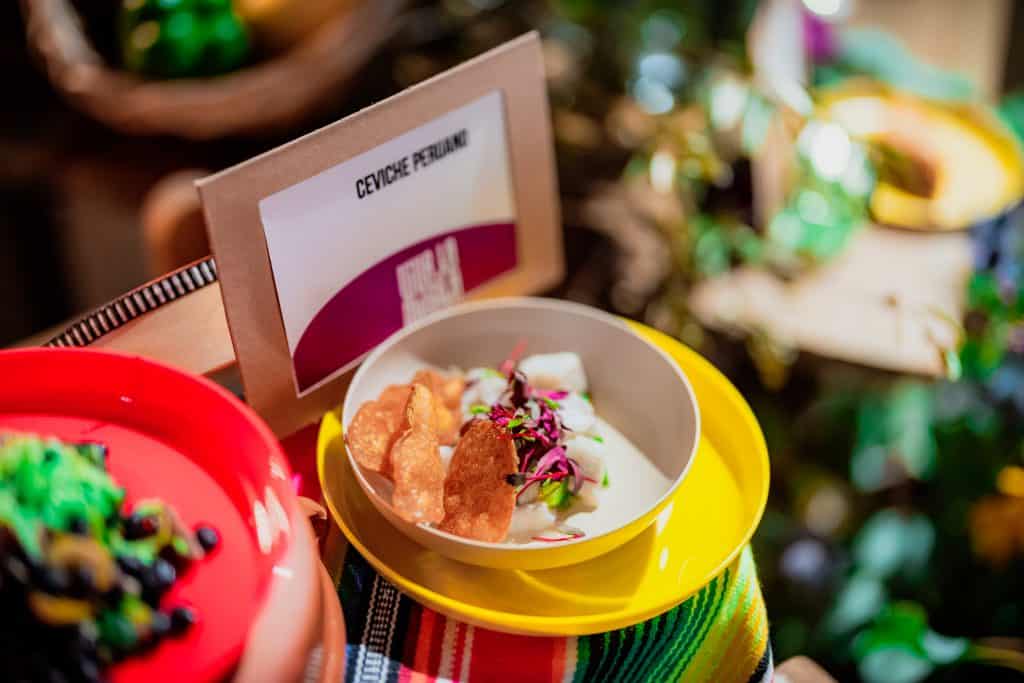 Sopa Paraguaya
Paraguay
Traditional Paraguayan cornbread with cheese and onions
Ceviche Peruano
Peru
Lime-marinated whitefish, lettuce leaves, sweet potato chip
Tres Leches Cake
Nicaragua
Sponge cake soaked in three types of milk
Creamery
Churro Sundae
Mexico
Cinnamon Sugar Churro with Caramel Sauce over ice cream
Caramel Flan
Fiesta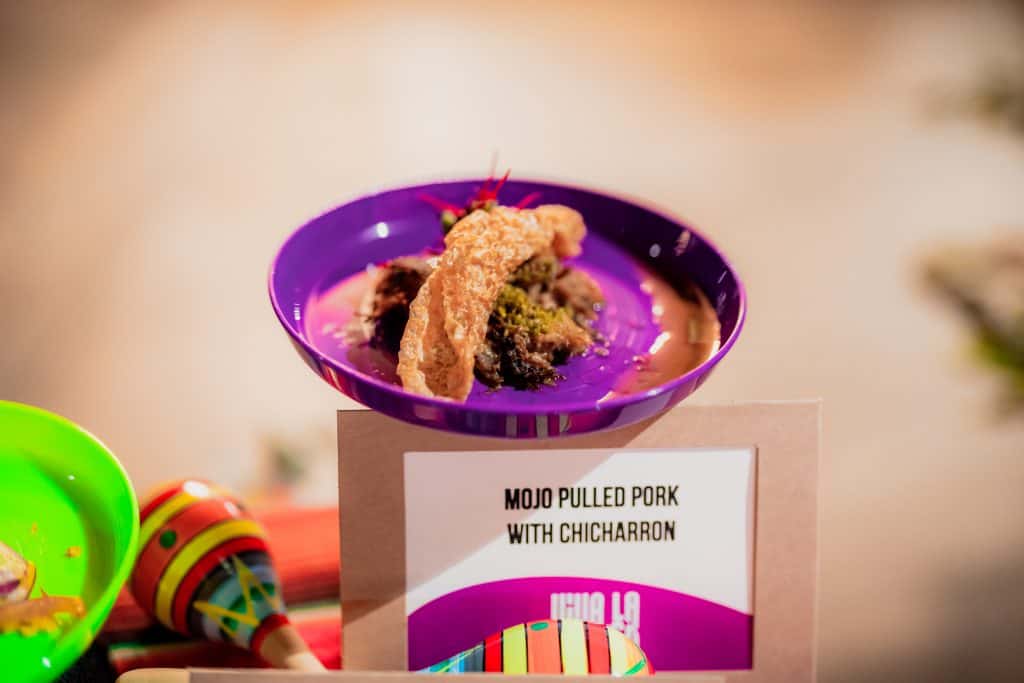 Mojo Pulled Pork and Chicharrons
Canary Islands
Sour Orange Slow Cooked Pork, Fried Pork Crisps
Arroz y Frijoles Negros
Spain
(Vegan) Slow Cooked Spiced Rice and Black Beans
Springs Taproom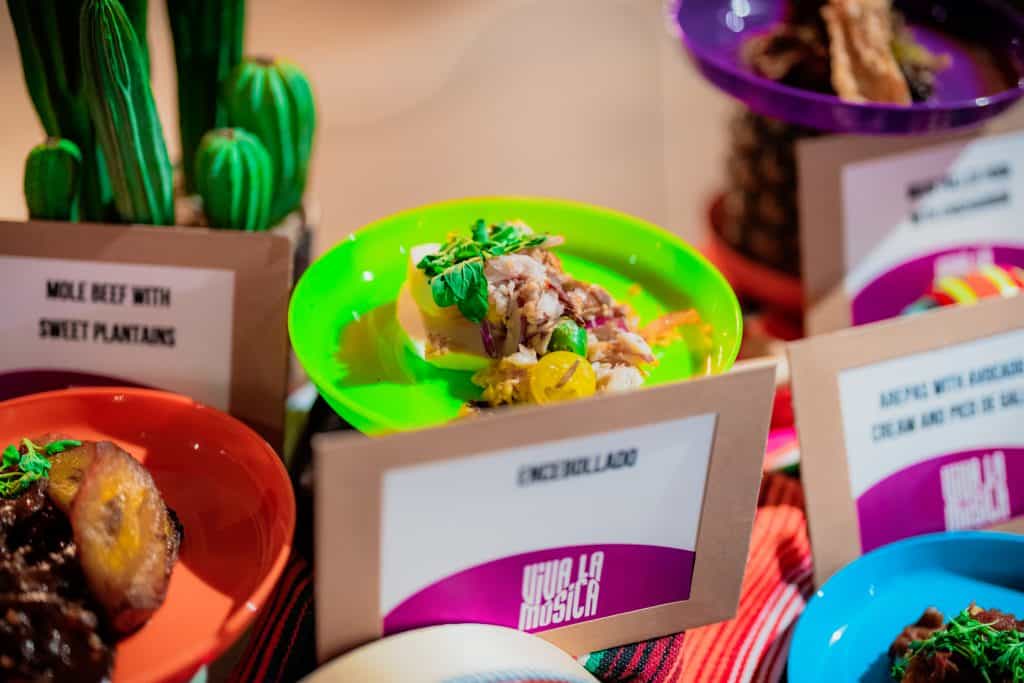 Encebollado
Ecuador
Popular rich stew with whitefish, vegetables, yucca root, pickled onions
Michelada
Modelo Especial served over ice topped with tomato juice, lime, Worcestershire, soy, hot sauce
Farm to Table, Sauvignon Blanc
Australia
Chateau Tanunda, Red Blend Grand Barossa Valley
Australia
Farm to Table, Shiraz
Australia
7oz. Beer Sample
Samuel Adams Seasonal
Green Bench Postcard Pils
Stella Artois Lager
Keel Farms
Crooked Thumb
Cycle Brewing
Founders All Day IPA
Modelo Especial
Michelob Ultra
Bud Light
Golden Road Brewing Mango Cart
Rotating Beer
Old World Wines, Flights & Snacks
Flights (4 pours each, 1.25 oz)
Flight #1
Aveleda Vinho Verde Alvarinho (Portugal)
Celeste Verdejo (Spain)
Gabbiano Pinot Grigo (Italy)
Miraval Cotes de Provence (France)
Flight #2
Bouchard Aine & Fils Beaujoulais-Villages (France)
Bulgariana Danubian Plain Pinot Noir (Bulgaria)
Zoe Red (Greece)
Scarpette Barbera Del Monferrato (Piedmont)
Flight #3
Cellers Can Blau Red Blend (Spain)
Castello del Trebbio Superiore (Tuscany)
Villa Matilde, Aglianico Rocco Dei Leonia (Italy)
L'Orangeraie Syrah (Pays d' Oc)
Smoked Almonds
Creole Spice Snack Mix
Xcursions
SheiKra Cupcake
Iron Gwazi Cupcake
Food & Wine Signature Cupcakes
Cheetah Hunt Cupcake
Tigris Cupcake
Bourbon Tasting
Old Forester 1897 Bottled in Bond
Old Forester 1920 Prohibition Style
Old Forester 1910 Old Fine Whiskey
Old Forester 1870 Original Batch
Latin Twist
Chimichurri Beef Skewer
(Gluten Free) Tender chunks of beef marinated and topped with parsley, oregano, garlic, and red wine vinegar
Mojo Pork Taco
Cuban-style pork roast marinated in a sauce made with the juice of sour oranges, garlic, oregano, cumin, and olive oil served in a taco shell with shredded cabbage, and a tabasco cilantro mayo
Pina Colada Trifle
Vanilla cake, vanilla pudding, pineapple, coconut, whipped topping
Cocteles & Cerveza
Guava Margarita
Blanco Tequila, Monin Guava Syrup, Craft Standard Margarita Mix
Pisco Sour
Pisco, Craft Standard Margarita Mix
Specialty Sangria
Spiced Rum, Red Wine and Craft Standard Mule Mix
Mango Mojito
Rum, Monin Mango Syrup, Craft Standard Mojito Mix
Dos Equis XX Lager Especial
Modelo Negra
¡Comamos!
Fish Tacos with Spicy Slaw
Mexico
Seared Mahi Mahi, Soft Flour Tortilla, Cilantro Lime Slaw – Tabasco Aioli
Mole Beef & Sweet Plantains
Mexico
Marinated Beef, Fried Plantains, Dried Chilis, Peanuts, Sesame Seeds, Chocolate Mole Sauce
Viva La Música Concerts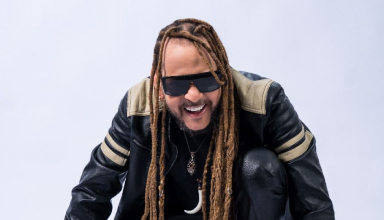 After you have had your share of Latin fare, head over to the festival field to tap your feet to the beat. From merengue to salsa, you won't want to miss the phenomenal performances that are free with your admission. 
May 13 @ 7:00 PM – Toño Rosario
May 14 @ 6:00 PM – Grupo Niche
May 20 @ 7:00 PM – Elvis Crespo
May 21 @ 6:00 PM – Luisito Ayala y la Puerto Rican Power