Location
Aventura Hotel, one of Universal's on-site hotels
Hours
7:00 am to 11:00 pm.
Style
This is the modern, globally-inspired food hall at Aventura, and the hotel's only eatery.
Two-sentence insider summary
Inspired by various American, European, and Asian food halls, Urban Pantry consists of four different food stations: the roast station features a rotating global selection of organic entries; the pizza station serves gourmet pizzas and desserts; the wok station brandishes customizable bowls; and the burger station offers, of course, various styles of burgers. To top things off, each area comes equipped with wine and beer pairings, which round out the theme and flavor of your meal.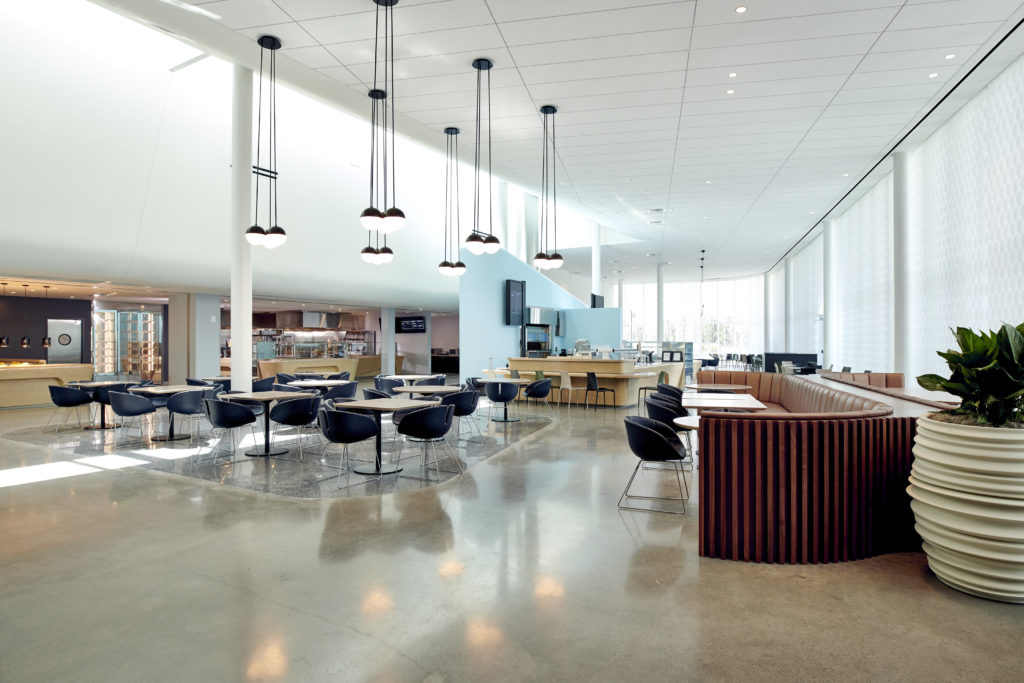 OI fun fact
Since Urban Pantry is located right next to the pool, you're welcome to take your meal (or your selection from the grab-and-go food carts that are located throughout the cafeteria) outside to eat by the water.
Important note
The roast station is open for breakfast and dinner, but not lunch. The sushi station, meanwhile, isn't open for breakfast but is for lunch and dinner. Make sure to plan accordingly!
Prices
Entrees range from $12 to $16; drinks, from $8 to $18 (for a pitcher of beer).
Reservations
Online reservations are not available.
Urban Pantry at Aventura Hotel – photo gallery
Urban Pantry at Aventura Hotel – real guest reviews
Urban Pantry at Aventura Hotel – menu
Breakfast menu
Burger Station
Breakfast Sandwiches
Sandwiches – $12
Croissant or Bagel, Home Fries, and Fruit
Smoked Salmon – $12
Dill Cream Cheese, Soft Boiled Egg, Cucumbers, Red Onions
Ham & Cheese – $12
Scrambled Eggs, English Cheddar
BLTA – $12
Fried Egg, Bacon, Lettuce, Tomato, Avocado
Sausage & Cheese – $12
Fried Egg, Green Onions, Pepper Jack, Maple Hot Sauce
Omelets – Served with Home Fries and Fruit
Ham & Cheese – $12
Green Onions, Tomatoes, Provolone Cheese
Vegetarian – $12
Mushrooms, Spinach, Roasted Peppers, Sweet Onions, English Cheddar
Egg Whites – $12
Roasted Cauliflower, Zucchini, Feta Cheese
Baked Goods
Pastries – $4
Classic & Chocolate Croissants, Muffins, Donuts, Danish, Cinnamon Rolls, Elephant Ear
Roast Station
All American Breakfast – $12
Croissant or Bagel, Home Fries, and Fruit
Waffles, Pancakes, French Toast – $12
With Two Sides, Fruit, Whipped Cream
Yogurt Parfait – $7
Vanilla, Natural, Greek, Blueberries, Blackberries, Strawberries, Raspberries, Honey, Maple, Granola
Fruits – $7
Pineapple, Mango, Guava, Papaya, Honeydew, Cantaloupe, Watermelon
Oatmeal – $4
Raisins, Cinnamon, Brown Sugar
Fruit – $1
Banana, Apple, Orange
Pizza Station
Calzones
Skirt Steak – $12
Scrambled Eggs, Arugula, Herb Ricotta
Vegetarian – $12
Mushroom, Broccolini, Scrambled Eggs, Tomato, Mozzarella, Basil
Ham & Cheese – $12
Scrambled Eggs, Onions, Potatoes, Provolone
Sausage & Peppers – $12
Calabrian Chili, Scrambled Eggs, Mozzarella
Flatbreads
Herb Ricotta – $12
Seasonal Jam, Olive Oil, Sea Salt
Avocado Toast – $12
Cherry Tomato, Pickled Red Onions, Mozzarella, Pesto
Fried Egg – $12
Pork and Tomato Ragout, Crumbled Goat Cheese, Basil
Lunch and dinner menu
Wok & Sushi Station
Pick Your Own Ingredients – $15
Bok Choy, Bell Peppers, Daikon, Water Chestnuts, Jicama, Red Onions, Carrots, Napa Cabbage, Red Cabbage, Sliced Chili, Broccoli, Cauliflower, Green Onions, Scallions, Snap Peas, Baby Corn, Watercress, Spinach, Shiitake Mushrooms, Beech Mushrooms.
Select Noodles: Skirt Steak, Shrimp, Chicken, Pork Belly, Tofu
Select a Style: Stir Fry or Broth
Stir Fry
Thai, Teriyaki, Szechuan Broths: Beef, Chicken, Vegetarian
Garnishes
Soft Boiled Egg, Lime, Radish, Bean Sprouts, Cucumber, Green Papaya, Basil, Mint, Cilantro, Nori, Pickled Ginger, Sambal, Garlic Oil
Appetizers
Tuna Poke – $10
Ahi tuna, Avocado, Cucumbers, Seaweed, Green Onions, Chili Paste, Sushi Rice
Black Pepper Shrimp & Calamari – $10
Jicama, Celery, Basil, Green Papaya Salad
Chicken & Pork Dumplings – $10
Scallions, Lemongrass Sweet Soy Dipping Sauce
Crab Spring Rolls – $10
Cabbage, Carrots, Mushrooms, Water Chestnuts, Pineapple Sambal Aioli
Sushi Rolls
California – $12
Crab, Avocado, Cucumber, Papaya, Toasted Sesame
Spicy Tuna – $12
Ahi Tuna with Red Chili, Avocado, Scallions, Spicy Mayo
The Northwest – $12
Eel, Smoked Salmon, Asparagus, Salmon Roe, Cucumber, Spicy Mayo
The Volcano – $12
Soy Marinated Salmon, Shrimp, Jalapeno, Asparagus, Avocado, Wasabi Mayo, Ponzu Drizzle
The Tropics – $12
Shrimp Tempura, Carrots, Radish, Tuna, Garlic Chips, Pineapple Sambal
Sashimi – $12
Salmon, Tuna, Shrimp, Snapper
Pizza Station
Margherita – $13
San Marzano Tomato, Mozzarella, Garlic, Basil, Olive Oil
Pizza Bianca – $13
Ricotta, Mozzarella, Pecorino, Garlic, Basil, Olive Oil
Vegetarian – $13
Tomato Sauce, Mushrooms, Artichoke, Roasted Peppers, Olives, Mozzarella, Parmesan
Pepperoni Americano – $13
Tomato Sauce, Pepperoni, Calabrian, Chili, Mozzarella, Pecorino
Italian Sausage – $13
Tomato Sauce, Charred Broccolini, Roasted Onions, Roasted Peppers Mozzarella, Parmesan
Prosciutto – $13
American Prosciutto, Ricotta, Mozzarella, Garlic Olive Oil, Arugula, Sea Salt
Smoked Salmon – $13
Mascarpone, Pecorino, Smoked Salmon, Fried Capers, Red Onions, Cherry Tomatoes, Dill
Classic Cheese – $13
Tomato Sauce! Mozzarella!
Kids Pizza – $8
Cheese or Pepperoni
Burger
Black Angus – $14
The Urban
Bacon, Roasted Mushrooms, Caramelized Onions, Aged Vermont White Cheddar
Grass Fed – $16
The Canyon
Roasted Sweet & Spicy Peppers, Roasted Onions, Pepper Jack, Chow Chow Relish
West Coast Bird
Turkey, Aged Gouda, Crushed Avocado, Crispy Shallots
Chicken Sandwich
Herb Marinated Chicken Breast, Aged Vermont White Cheddar, Oven Roasted Tomato
Grass Fed – $16
The French
Bacon & Fig Jam, Whole Grain Mustard Relish, Gruyere Cheese
The Classic
Cheddar Cheese, Pickles, Chopped Onions
The Impossible
Roasted Sweet & Spicy Peppers, Pimento Cheese, Crushed Avocado, Crispy Shallots
Florida Grouper
Blacken Spice, Fried Capres , Remoulade Sauce
Sauces – Choice Of One, Served on the Side
The Pantry
Dill Pickles, Worchester Sauce, Cayenne Spice Mayo, Ketchup
Smoked Chipotle
Chipotle Peppers, Brown Mustard, Vinegar, Bbq Spice
Sweet Basil
Basil, Honey Mustard, Garlic, Chili, Lemon
Roast Station
Always Available
Rotisserie Chicken – Served with 3 Sides – $16
Citrus Brine, Garlic, Herbs, Sea Salt
Paella – $16
Spanish rice, Shrimp, Andouille Sausage, Chicken, Saffron
Carving Station
Beef Rib – $16
Mustard Seeds, Fennel, Dill
Baked Salmon Cedar Plank – $16
Mustard Seeds, Fennel, Dill
Sauces
Cilantro Horseradish, Argentinian Chimichurri, Red Wine Jus, Gremolata
Sides: Rotating Daily
Grilled Zucchini Pesto, Lemon
Roasted Marble Potatoes Rosemary, Sea Salt
Spicy Rainbow Carrots, Citrus, and Cumin
Couscous with Raisins, Caramelized Onions, Dates
Farro with English Peas, Bacon, Roasted Peppers
Mac & Cheese
Mash Potato
Green Beans, Almond, Shallots
Roasted Brussels, Bacon, Caramelized Onions
Salad Bar – $4
Drink menu
Food Hall Beer
Lager, Modelo, "Pacifico Clara"
MX 4.5% ABV (at all four food hall stations)
20oz $8 Pitcher $18
Pale Lager, Birra Moretti
IT 4.6% ABV (at Italian Station)
20oz $8 Pitcher $18
Dark Lager, Sapporo, "Black"
JP 5.0% ABV (at Asian Station)
20oz $8 Pitcher $18
Amber Ale, New Belgium Brewing, "Fat Tire"
CO 5.2% ABV (at Roast Station)
20oz $8 Pitcher $18
American India Pale Ale, Ten 10 Brewing, "East West"
Orlando, FL 7.5% ABV (at Burger Station)
20oz $8 Pitcher $18
Food Hall Draft Wine
Nobilo Sauvignon Blanc Marlborough, NZ
Glass $8 Carafe $18
Diseno Malbec Mendoza, AR
Glass $8 Carafe $18