Skip to: Overview | Location | Hours | Fun fact | Menu | Guest reviews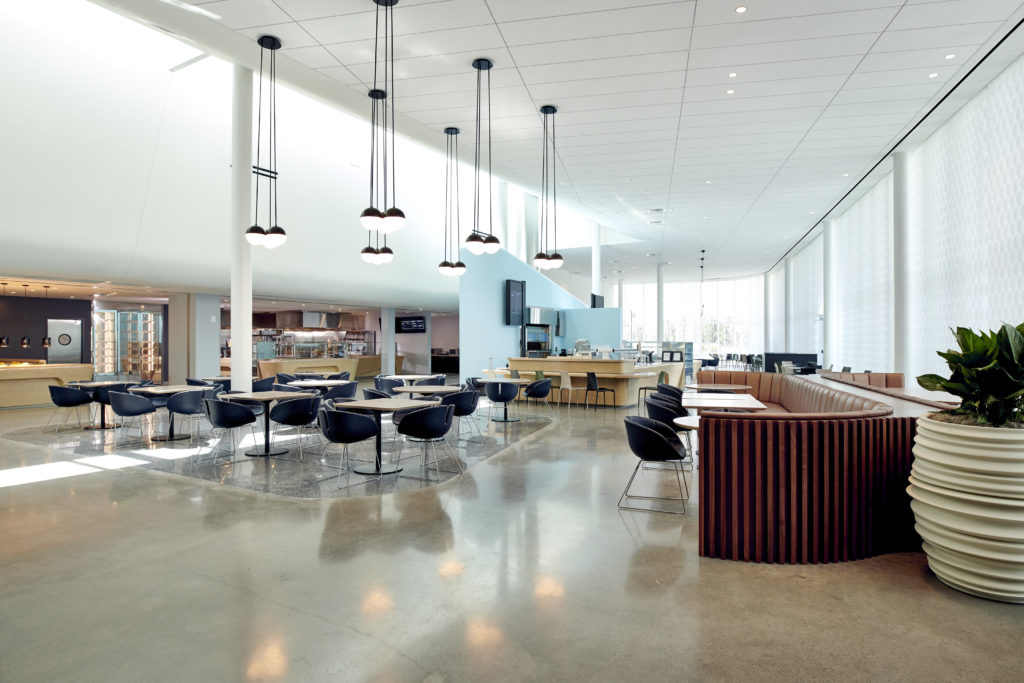 What is Urban Pantry?
Urban Pantry offers a modern, globally-inspired dining experience based on various American, European, and Asian food halls. The location consists of four distinct food stations: the roast station features a rotating global selection of organic entries; the pizza station serves gourmet pizzas and desserts; the wok station brandishes customizable bowls; and the burger station offers, of course, various styles of burgers.
To top things off, each area comes equipped with wine and beer pairings to round out the theme and flavor of your meal. In addition, grab-and-go carts can be found throughout Urban Pantry with a variety of sodas, chips, and some all-natural snacks.
Where is Urban Pantry located?
At Aventura Hotel, one of Universal Orlando Resort's hotels
Urban Pantry – hours and reservations
Breakfast: 7 am – 11 am
Lunch & Dinner: 11:30 am – 10 pm
Pizza Station: 4 pm – 10 pm
Online reservations are not available.
Urban Pantry – fun fact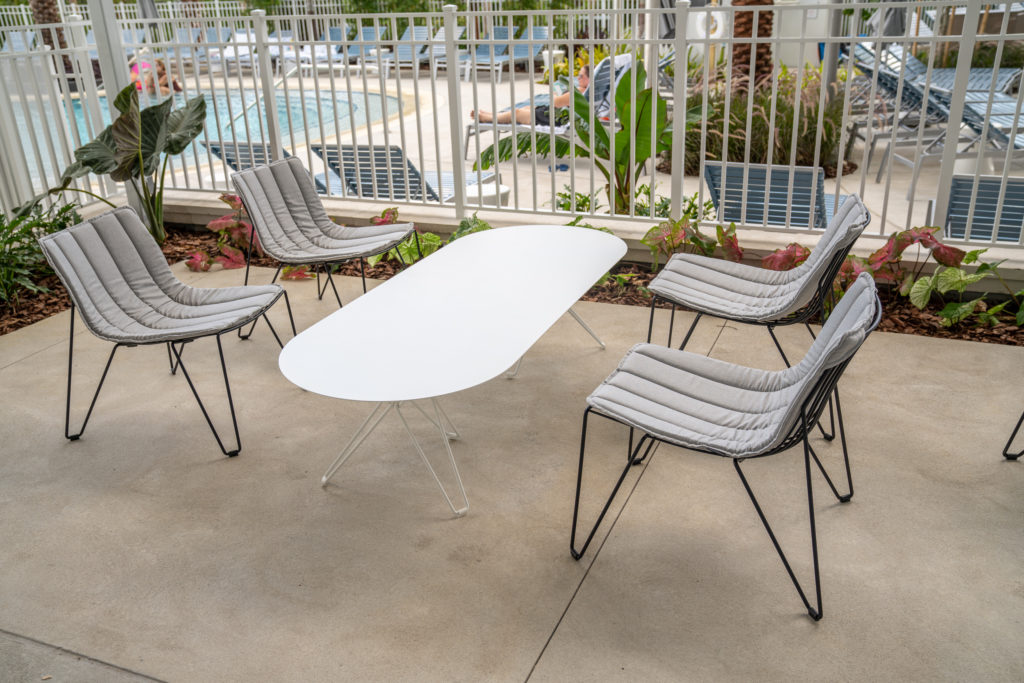 Urban Pantry is located right next to the pool, so you're welcome to take your meal outside to eat by the water.
What's on the menu at Urban Pantry?
Breakfast Menu
Favorites
All American Breakfast – $13.00
Fried or scrambled eggs, bacon or sausage, hash browns and biscuit
Pancakes – $11.00
Add Blueberries or Chocolate Chips +$2
Belgian Waffle – $11.00
Add Blueberries or Chocolate Chips +$2
Breakfast Burrito – $11.00
Scrambled eggs, jalapeño jack cheese, peppers, and tomatoes with hash brown
Add Sausage or Bacon +$2
Biscuits & Gravy – $11.00
Three buttermilk biscuits with house-made sausage gravy
French Toast – $12.00
Vanilla and cinnamon battered challah bread
Add Blueberries, Strawberries, or Chocolate Chips +$2
Kids All-American – $8.00
Fried or scrambled egg, bacon or sausage, hash browns, and choice of kid's water, milk or soda cup
The Bakery
Fruit Bowl – $9.50
Seasonal fruits, yogurt, granola, assorted toppings
Oatmeal – $6.00
Assorted toppings
Bagel – $4.00
Plain or Everything
Cinnamon Roll – $4.00
Assorted Muffins – $4.00
Assorted Croissants – $3.50
Assorted Doughnuts – $2.50
Sides
Bacon – $5.00
Sausage – $5.00
Grits – $5.00
Hash Browns – $5.00
Eggs – $5.00
Beverages
Coffee – $4.00
Tea – $3.00
Hot Chocolate – $4.00
Mimosas – $9.00
Pineapple, Orange, or Cranberry
Lunch and Dinner Menu
Roast Station
Salads & Wraps – $12.00
Select your Greens
Romaine, Spring Mix, Spinach
Select Your Toppings from the Cold Bar
Choose a Dressing
Ranch, Caesar, champagne-honey vinaigrette, balsamic, smoked bleu cheese, Thousand Island
Add Chilled Protein +$6
Pulled rotisserie chicken or grilled steak
Burgers, Sandwiches, & More
Burgers and sandwiches include a choice of one side
Bacon Cheeseburger – $13.00
Smoked bacon, melted American cheese, lettuce, tomato, onion
The Bacon Jam – $17.00
Beef burger, house-made bacon jam, melted brie
The Cheddar & Onion – $16.00
Beef burger, Wavemaker onions, mustard aioli, white cheddar
The Mushroom & Swiss – $16.00
Beef burger, thyme-braised mushrooms, Swiss, crispy onions
The Gobbler – $13.00
Turkey patty with house-made creamy apple slaw
The Buffalo & Blue – $13.00
Crispy fried chicken, buffalo hot sauce, blue cheese dressing
The Spicy Mahi – $15.00
Grilled white fish, chipotle remoulade, lime slaw
The Great Beyond – $13.00
Beyond Burger, smashed avocado, lettuce, tomato, onion
Fried Chicken Wings – $16.00
8 wings tossed in buffalo sauce, spicy BBQ, teriyaki, or garlic parmesan sauce. Served with carrots and celery and a choice of blue cheese or ranch.
Half Rotisserie Chicken Dinner – $16.00
Includes choice of two sides. Choose from mashed potatoes, broccoli, rice pilaf, or orange honey carrots.
Available after 5 pm
Sides
French Fries – $5.00
Onion Rings – $5.00
Sweet Potato Tots – $5.00
Beer
Big Storm Wavemaker Amber Ale – $8.00
Sweetwater IPA – $8.00
Wine
Chardonnay – $9.00
Cabernet Sauvignon – $9.00
Kids Menu
Includes one side with kids water, milk, or soda cup
Hot Dog – $10.00
Grilled Cheese – $10.00
Mac & Cheese – $10.00
Chicken Fingers – $10.00
Wok Station
Sushi
California Roll – $15.00
Krab, cucumber, avocado
Rainbow Road – $16.00
California roll topped with tuna, salmon, avocado, mahi
Surf & Turf – $16.00
Krab, avocado, topped with seared steak
Eel-ectric – $15.00
Spicy krab salad topped with eel and tempura crunchies
Alaskan Stylin' – $15.00
Salmon, avocado, cucumber, topped with tobiko
Wok Bowl – $18.00
Select five vegetables
Choose Noodles or Rice
Lo mein noodles, rice noodles, or jasmine rice
Choose Protein
Steak, Chicken, Shrimp, or Tofu
Choose Sauce or Broth
Teriyaki sauce, orange sweet and sour sauce, roasted chicken broth, or vegetable broth
Bowls
Vegan Wok Bowl – $16.00
Select five vegetables. Served with rice noodles, tofu, and veggie broth
Poke Bowl – $12.00
Carrot, cucumber, edamame, avocado, scallion, wake, spicy mayo, and choice of tuna or salmon
Kids Wok Bowl – $10.50
Choice of lo mein noodles or sushi rice, and choice of steak or chicken with teriyaki sauce and broccoli. Includes kids water, milk, or soda cup
Beer
Pacifico – $8.00
Kirin Ichiban – $8.00
Wine
Sauvignon Blanc – $9.00
Red Blend – $9.00
Sake
Sake Cups – $10.00
Pizza Station
Pizza
Cheese – $15.00
Tomato sauce, mozzarella
Margherita – $15.00
Tomato, basil, mozzarella
Garden – $15.00
Roasted peppers, mushrooms, olives, onions
Meat Lovers Pizza – $16.00
Pepperoni, bacon, ham, Italian sausage, mozzarella
Pepperoni – $16.00
Pepperoni, tomato sauce, mozzarella
BBQ Chicken – $16.00
Mozzarella, cheddar, rotisserie chicken, red onion, spicy BBQ
Kids Pizza – $9.00
Choice of cheese or pepperoni. Includes choice of fruit or chips and kids drink.
Beer
Peroni – $8.00
Pacifico – $8.00
Wine
Pinot Grigio – $9.00
Pinot Noir – $9.00
Desserts
Gelato
Flavor options include stracciatella, strawberry, chocolate, vanilla bean, and mint chocolate chip
One Scoop – $5.50
Two Scoops – $7.50
One Topping – +$1.50
Three Toppings – +$3.00
Waffle Cone – +$1.00
To-Go Pints
Vanilla – $7.00
Chocolate – $7.00
Dulce de Leche – $7.00
Nutella – $7.00
Mango Sorbet – $7.00
Raspberry Sorbet – $7.00
Strawberry – $7.00
Fior Di Latte – $7.00
Cookies
Each – $1.50
Three Pack – $3.00
Pizza Cookie – $15.00
Includes one scoop of gelato
Urban Pantry at Aventura Hotel – photo gallery
Urban Pantry at Aventura Hotel – real guest reviews
Orlando Informer
Average rating:
0 reviews
Do you have a question about staying at Aventura Hotel? Please let us know by posting in our
Orlando Informer Community
on Facebook.