Going to the theme parks is some of the best fun there is in Central Florida, and some of the best fun at the parks is – in my humble opinion – going on the rides. Whether you're more of a thrill-seeker, trying to get the best view, or just along for the ride (no pun intended), we're here to help you get the best out of your experience at Universal Orlando Resort.
Below is our quick-but-handy-dandy seating guide for every ride (yes, every single one) at every park (Universal Studios Florida, Universal's Islands of Adventure, and Volcano Bay) so you can get the most out of your day braving massive roller coasters, becoming a Hulk, or facing off against the Mummy. (Be sure to click on the names to check out our attraction guides, as well, for more useful info.)
Skip to: Universal Studios Florida | Islands of Adventure | Volcano Bay
Ride Guide for Universal Studios Florida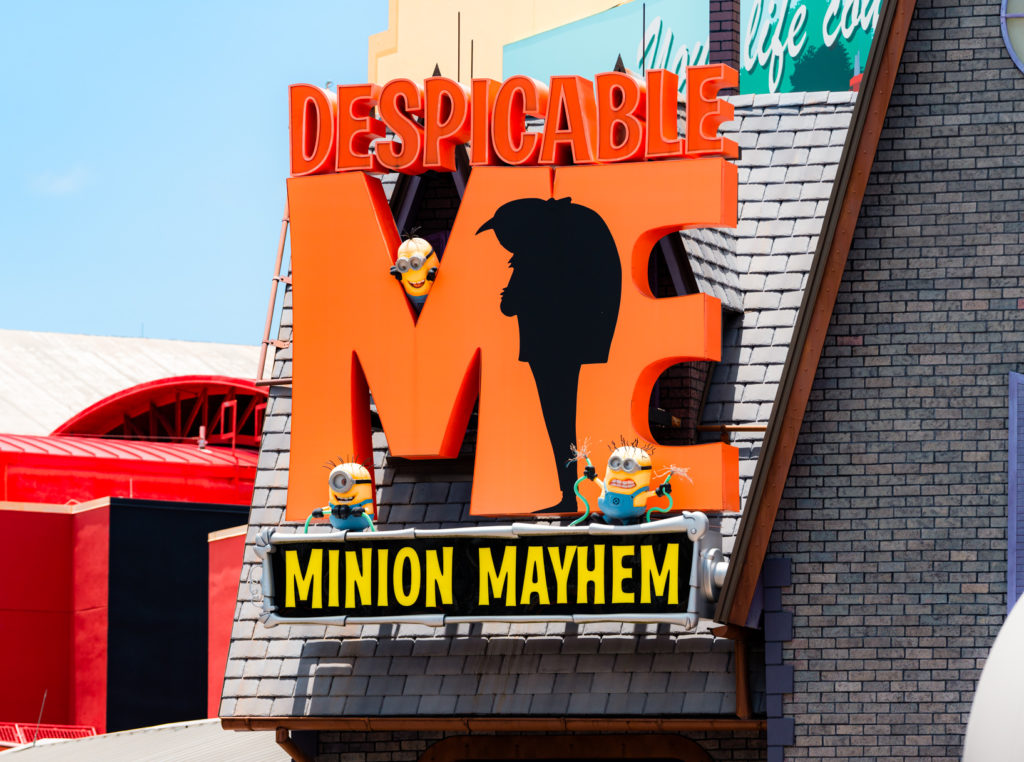 Description: Based on one of the most popular film franchises out there, Despicable Me Minion Mayhem is a motion-simulator ride that's fun for the entire family. You'll enter Gru's home and eventually be turned into a Minion as you race through his laboratory. Gru's daughters, Margo, Edith, and Agnes, also come along for the ride.
Where to sit: The ride vehicles for Minion Mayhem are theater-style tiered, so there's not a bad seat, but smaller guests might still enjoy being in the front. Since the attraction is a motion simulator, there are a few jerky movements, so if you'd just like to sit and enjoy the show, go for the stationary seating option.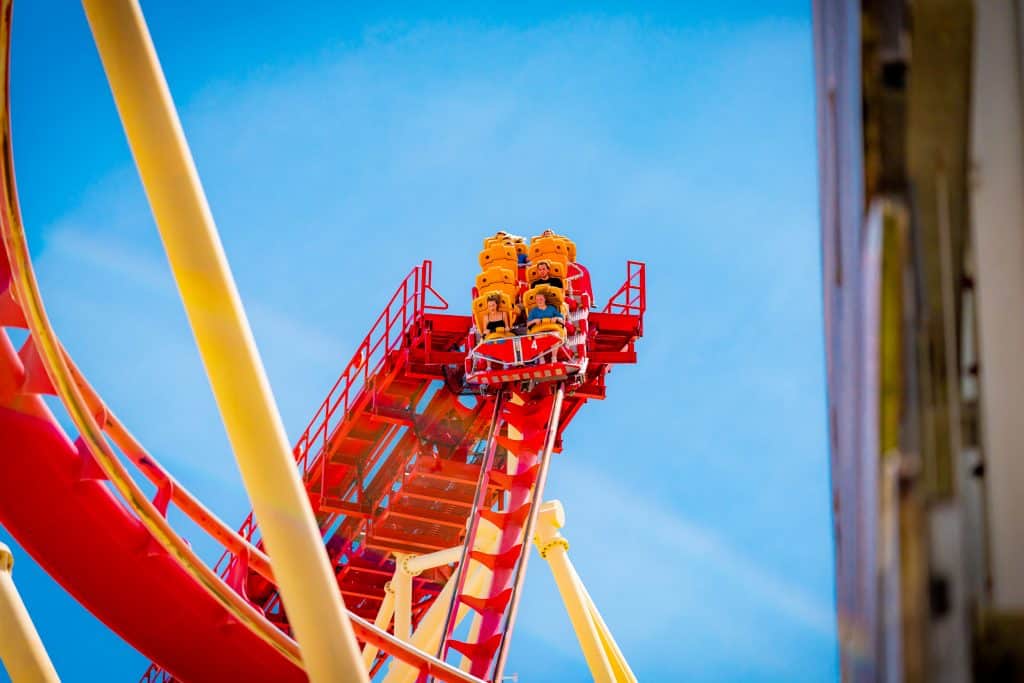 Description: If you're into thrill rides, Hollywood Rip Ride Rockit will be right up your alley. Pick your favorite song from a wide-ranging list of genres and artists, and before you know it, you'll be going skyward at a 90-degree angle and flying across the track at a heart-pounding 65 mph. Note that this ride has twists and turns, but it never fully goes upside down.
Where to sit: As with most roller coasters, the front row is awesome! You get a view of the track as well as Universal Studios Florida as you whirl around while rocking out to your favorite song. There isn't a separate queue for the front row, so when it's your turn, just let the team member know your preference, and they will accommodate, if possible. We also feel that the back row offers a more intense ride and more airtime on the hills and drops.
There are test seats outside of the metal detectors, so you can try out the seating before getting in line.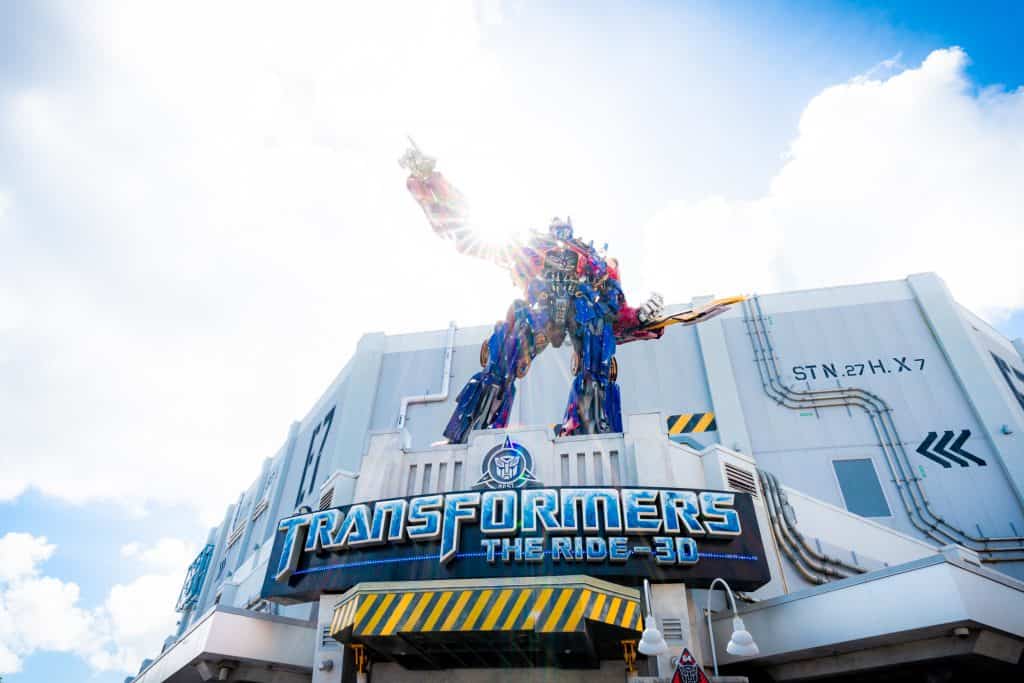 Description: Optimus Prime needs your help! Megatron is close to stealing the AllSpark; with it, he can wipe out humanity and rule the Earth. As the name implies, Transformers is a 3D dark ride, so put on your goggles and roll out!
Where to sit: There are four (somewhat layered) rows, with four seats across with walls on either side of the ride vehicle. The action all takes place to the front, so you're not missing anything by sitting on the sides. The experience is pretty smooth and, therefore, should be fine for most guests, but you should definitely use your best judgment – there are lots of additional, simulated movements going on here.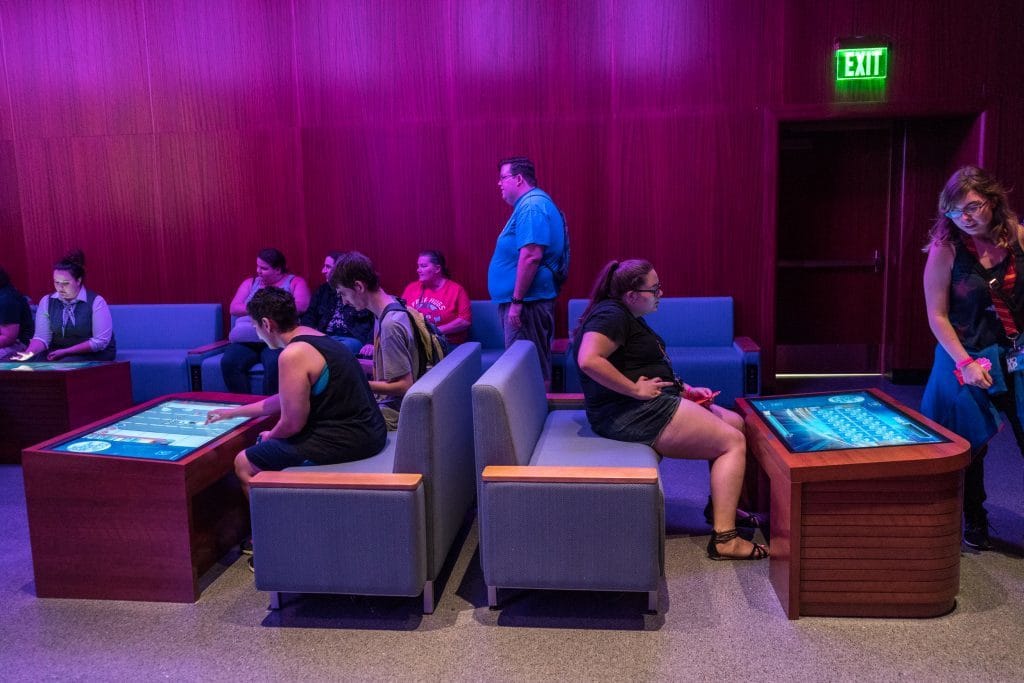 Description: Get the full New York experience and be a guest on The Tonight Show. Make your way through 30 Rock, meet Hashtag the Panda, enjoy a song or two by the Ragtime Gals, and see memorabilia from every incarnation of the TV show, all before you even get on the ride! Race Through New York Starring Jimmy Fallon is a 3D motion-simulator ride where you'll join Jimmy and all of his best characters (not to mention The Roots, naturally) as you take a crazy ride through the Big Apple.
Where to sit: Similar to Despicable Me Minion Mayhem, this ride has layered theater-style seating, so everybody gets a good view. Unlike Despicable Me, there is no stationary seating; however, if you'd like to experience less motion, sit in the middle of any given row. Lastly, there are test seats outside the building if you want to try them out before getting your virtual-queue ticket.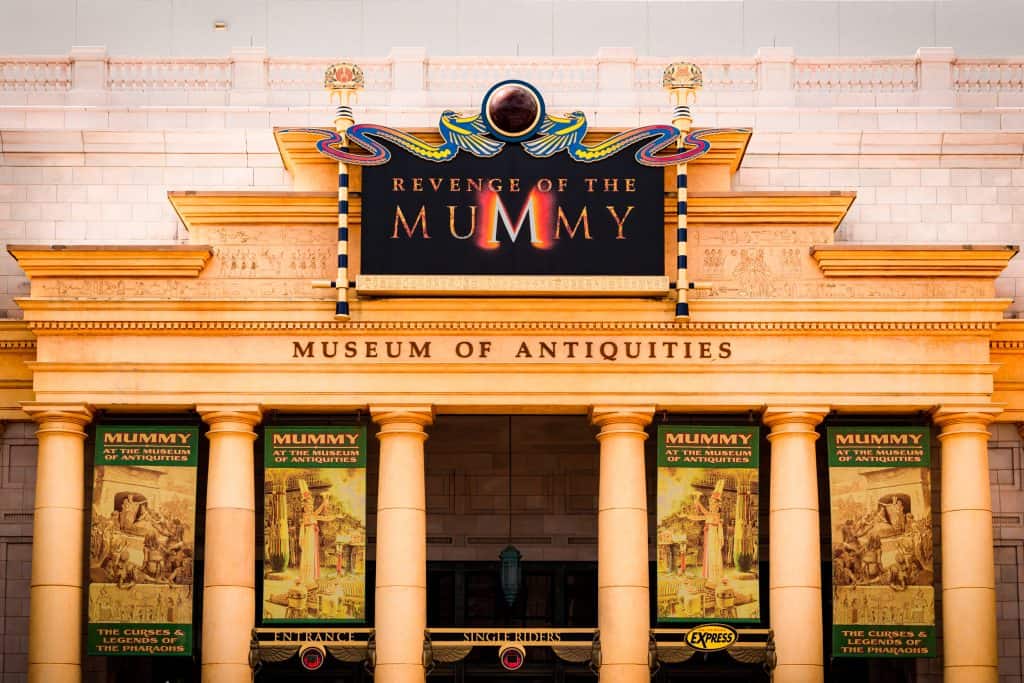 Description: Easily the most quotable ride in all of Universal Orlando Resort ("I would've enjoyed this interview a lot more if I had gotten my cup of coffee!"), Revenge of the Mummy is just so much fun. This indoor roller coaster takes you on a thrilling adventure as you try to escape the titular mummy, Imhotep. Dodge swarms of scarab beetles and real blasts of fire as you fly through an ancient Egyptian tomb. Not even the Medjai can save you now!
Where to sit: Each ride vehicle is four rows of four seats. They are not tiered, though, so smaller passengers might get a partially obstructed view of the track in the back rows. Most of the animatronics and effects are higher up on the walls, however, which means almost everybody in the mine car will be able to see everything clearly. I'd recommend sitting on the edges as opposed to the interior seats if you want the best views (particularly for the pharaoh room). The front row is best overall, though.
If you'd think Revenge of the Mummy wouldn't be that intense, given its indoor nature, you'd be wrong. While it doesn't go upside down, it has sudden stops and even goes backward at a certain point.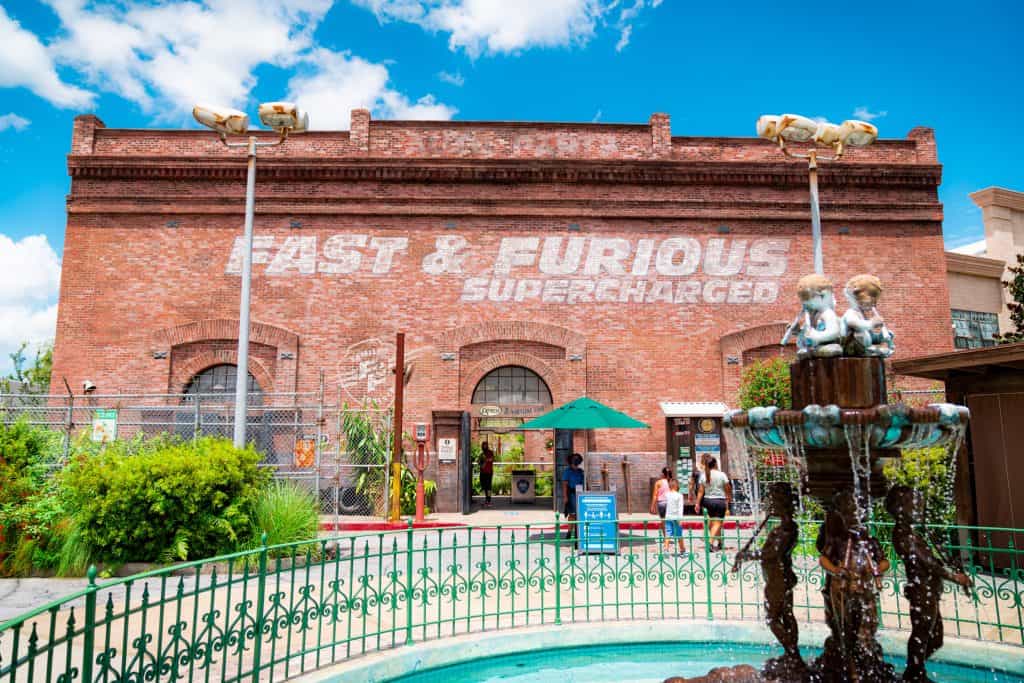 Description: Enter the Fast Family's secret headquarters and take off on a "supercharged" ride with Dom, Letty, Hobbs, and Roman.
Where to sit: Fast & Furious is a motion simulator that's pretty similar in style to Skull Island: Reign of Kong (minus that attraction's giant and impressive audio-animatronic, of course). The ride vehicles are (party) buses that have eight rows that seat five people across. For the best view, rows past the first don't really matter, but I'd recommend getting a side seat, as opposed to an interior one, to help you see the action on either side. Despite the name of this experience, Supercharged isn't particularly fast or furious – it's actually a rather mild simulator, which may or may not be more your speed (no pun intended).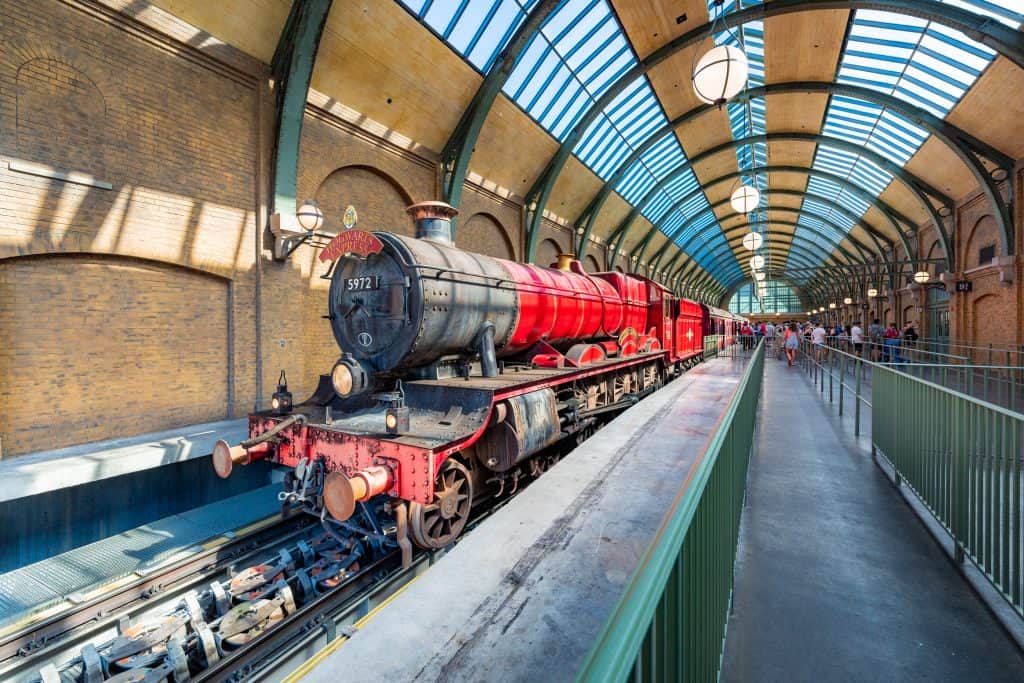 Description: Travel from London to Hogsmeade on the Hogwarts Express! As you enter King's Cross Station in London, you'll disappear through the barrier and come through on Platform 9¾. Get on board and enjoy your trip to Hogwarts School of Witchcraft and Wizardry, filled with many Harry Potter surprises and cameos.
Where to sit: Hogwarts Express is a family-friendly train ride, one of the few theme-park attractions to actually be designed for literally every single member of your clan, no matter how old or young. Each car seats eight people total – four on each side facing each other. I'd recommend not sitting right next to the window or next to the door since it makes it harder to see the screen that is the former and the projections that play out on the latter. Because this ride will actually transport you from Universal Studios Florida to Islands of Adventure, you'll need to stow away your wheelchair, scooter, or stroller, which an attendant will help with.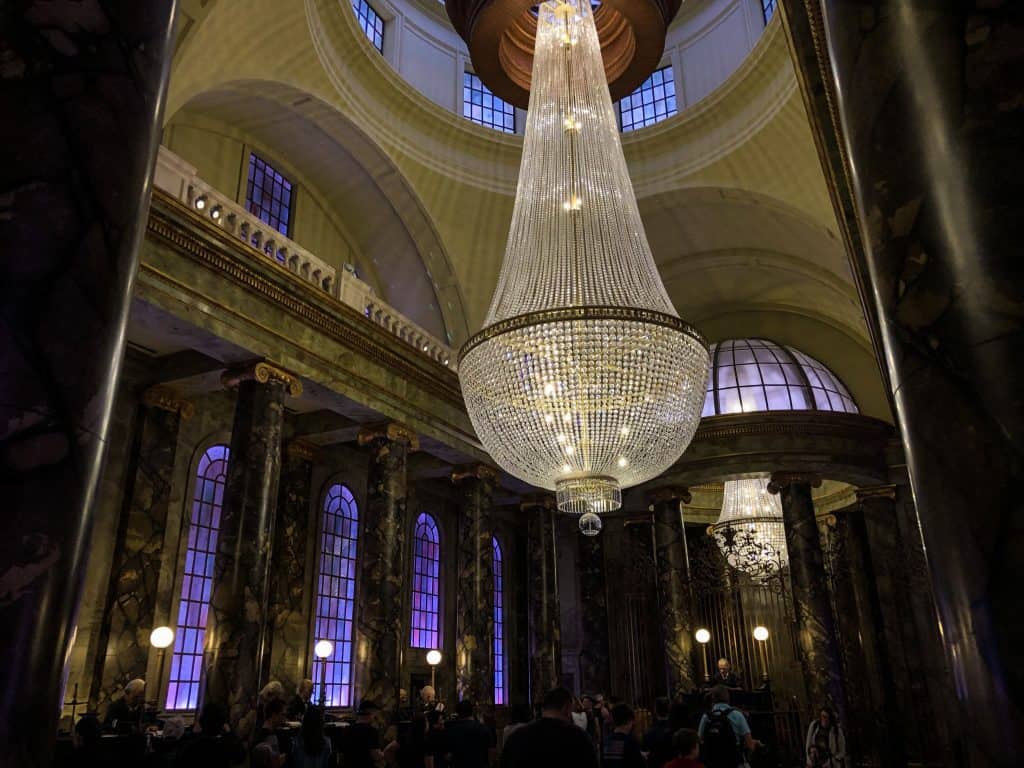 Description: Join Harry, Ron, and Hermione as you plunge into the depths of Gringotts Wizarding Bank, where you'll help the golden trio to face off against Voldemort, Bellatrix Lestrange, and Nagini. Half of the fun is walking through the queue, which takes you through the grand – and impressive – entrance hall, past some demo vaults, and down an elevator into the depths of the Earth.
Where to sit: The ride vehicles work in pairs of two, with layered rows of four seats. They actually operate in an interesting way; whenever a ride scene unfolds, they split up, allowing both cars to get a great view of the action. With that said, the front row of each will still get you closer to all the wizarding commotion, but the very last row of the last car is still the OI team's personal favorite, as it makes Escape from Gringotts's opening hill feel more like a true roller coaster.
What about the intensity of the ride? I told my sister that it's not that bad. She disagreed. Oops. This is technically still a thrill ride, even though it's not a real coaster, so be warned. (There is one drop and one launch, with a few sudden stops, but there is no going upside down.)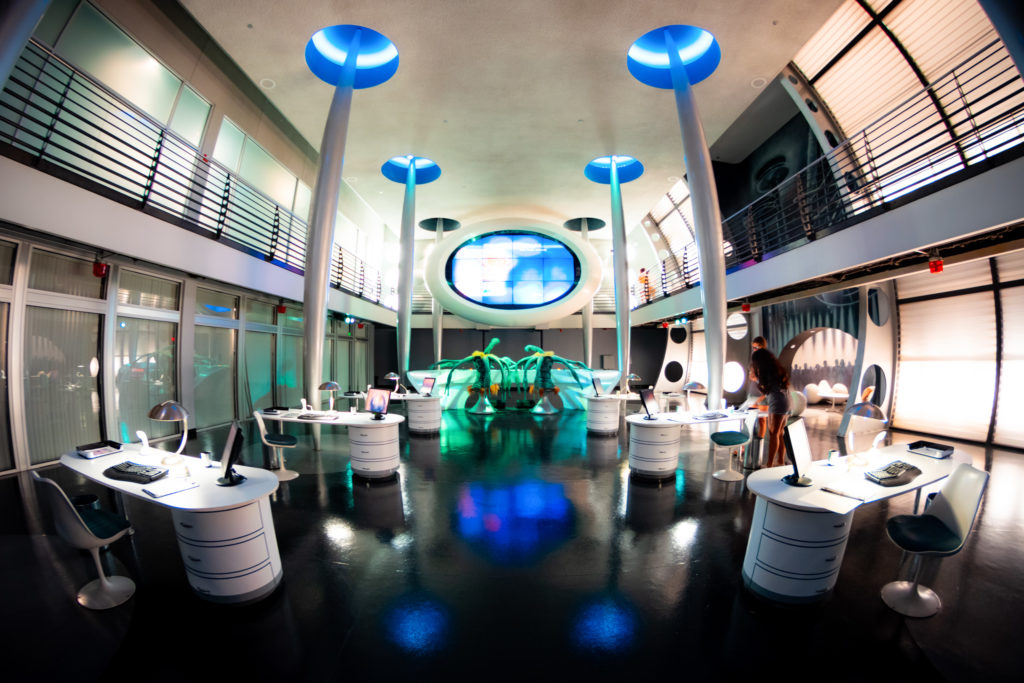 Description: Get ready, galaxy defenders! The aliens are invading, so you'll need to grab your laser gun and start zapping away! You'll encounter over 120 different kinds of the pesky attackers as you train your way to become a true Men in Black agent.
Where to sit: Men in Black Alien Attack is a lot like The Cat in the Hat (whose ride vehicle it shares): it's a dark ride, but one that incorporates some spinning and other added movements – which is to say, the shenanigans are all low-intensity but still zany and fun. The back row's three seats are staggered higher, so everyone has a good view of the action and an equal opportunity to max out their score. Also, be sure to ask one of the team members about the Immigration Tour, where you can get an up-close view of the queue's immigration room – and, maybe, even meet an alien or two!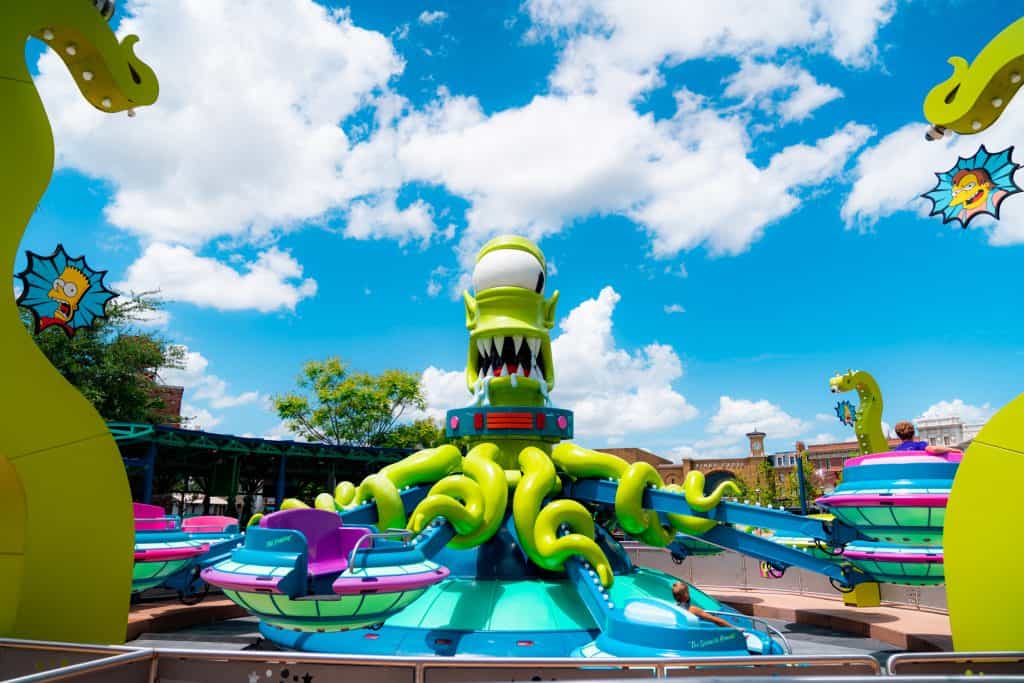 Description: Ready to go for a spin? Kang and Kodos, the aliens from Rigel 7, are taking you on a journey in your very own flying saucer. If you're a fan of The Simpsons, you'll appreciate the jokes that they tell along the way.
Where to sit: All humor aside, this is a fairly standard carousel-type attraction, similar to One Fish, Two Fish, Red Fish, Blue Fish at Islands of Adventure. Each flying saucer, which seats two, is on a separate "arm" and is controlled by the riders, so this is especially fun for kids as they get to "pilot" the ship themselves.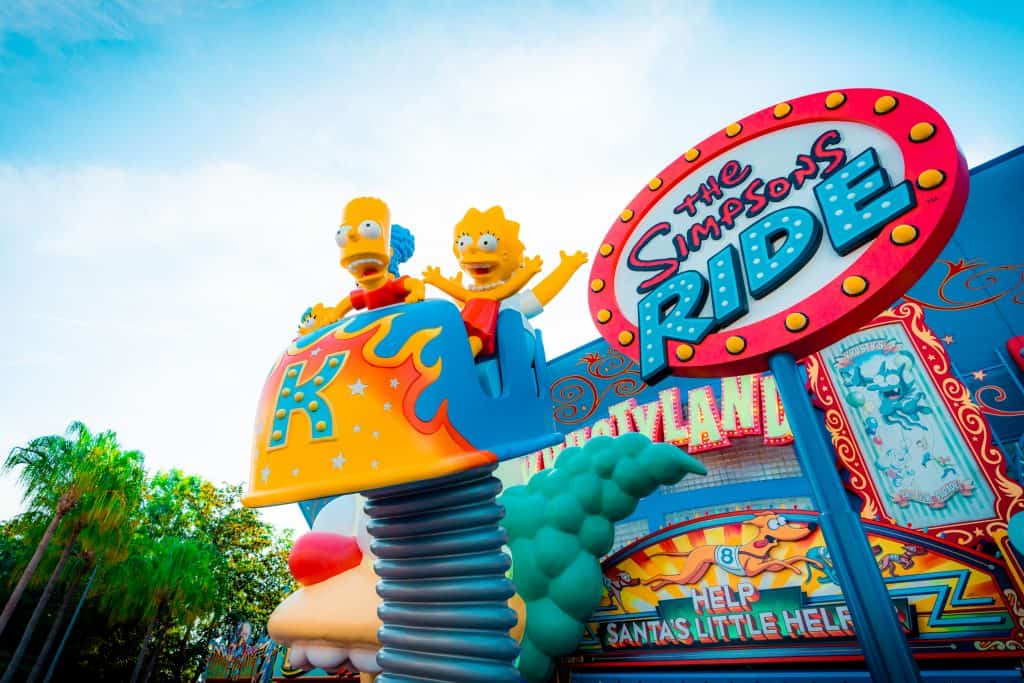 Description: Speaking of the Simpsons, they have their very own motion-simulator ride! Embark on an over-the-top escapade with Homer, Marge, Bart, Lisa, and Maggie through Krustyland, Krusty the Clown's amusement park. Along the way, you'll see some of your other favorite Simpsons characters and get jostled around like crazy.
Where to sit: While riders can get motion sick from The Simpsons Ride, it'll still be less intense than, say, Transformers for many, so make sure to factor this into your "should-I-ride?" calculations. The seating here comes in the form of two rows of four passengers. Since the main screen is a huge IMAX-esque wrap-around deal, we'd say that which ride vehicle you wind up in plays a much bigger factor in your perspective and enjoyment than the individual rows.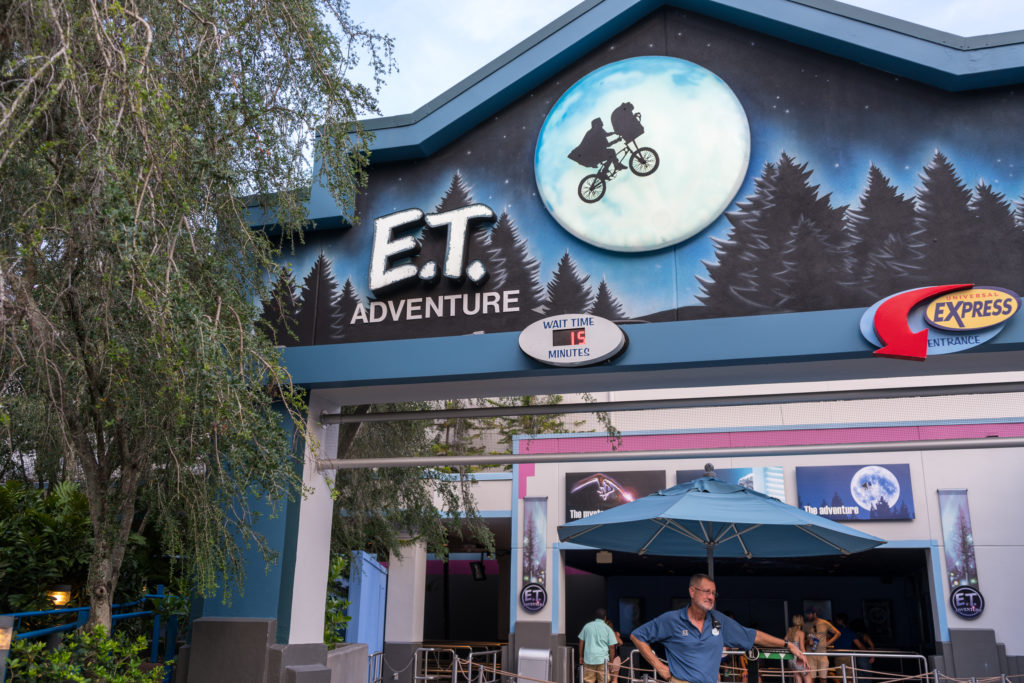 Description: E.T.'s home planet is dying, and he needs your help to save it. This attraction is the only original ride left in Universal Studios Florida, which also makes it one of the most beloved and nostalgic experiences. E.T. is an old-school track-based dark ride. You join the cute little alien as you fly through the skies and through space to arrive at his home world, where you'll meet all kinds of interesting characters. It's truly a fun time for the entire family!
Where to sit: Each ride vehicle has three rows and four seats across, each seat being a bicycle (what else?). I'd recommend the front row if you can get it because it adds to the sensation of flying with E.T. as your pilot and offers the best view of everything. If you can't nab that, though, try to snag a seat on the outside edge so you can get a clearer view of the various (and sometimes wacky) scenes.
Ride Guide for Universal's Islands of Adventure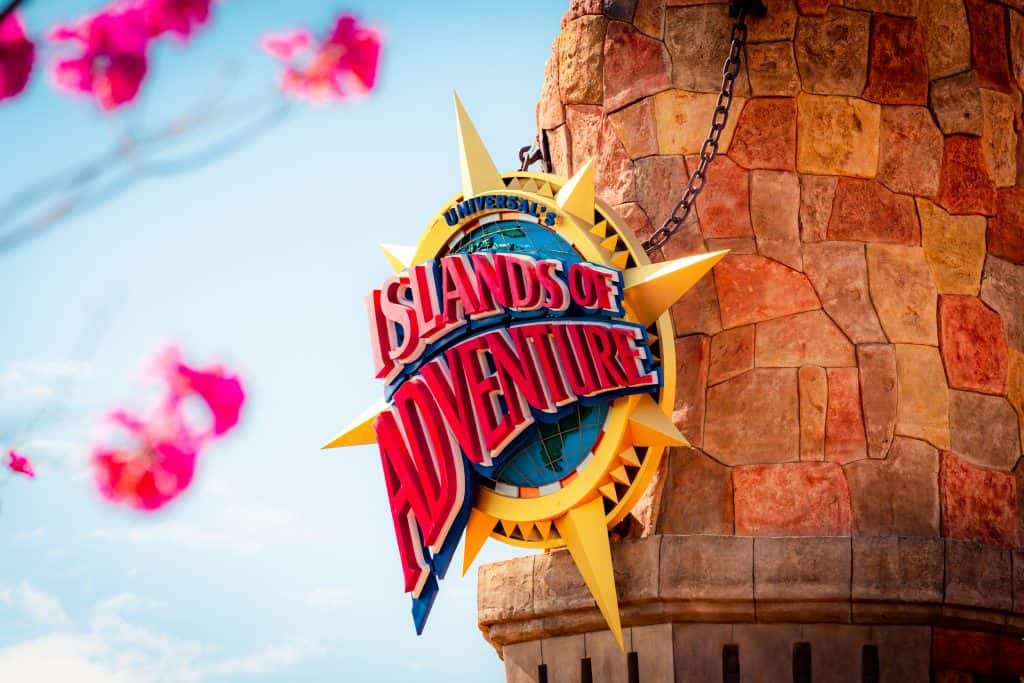 Description: Travel from Hogwarts back to King's Cross station in London! Even if you've ridden on the Hogwarts Express already (from King's Cross to Hogsmeade), you'll find each direction hosts a different storyline for you to be a part of.
Where to sit: Hogwarts Express is a family-friendly train ride. Each car seats eight people total, four on each side, facing each other. We recommend not sitting right next to the window or next to the door but a seat or two in so you can more easily see the action on the screen and at the compartment door. Since this ride does go from park to park, it's important to note that if you are using a wheelchair, scooter, or stroller, those items can all be transported via the train as well. A team member will store these items as you board the train and retrieve them for you when you arrive at the station.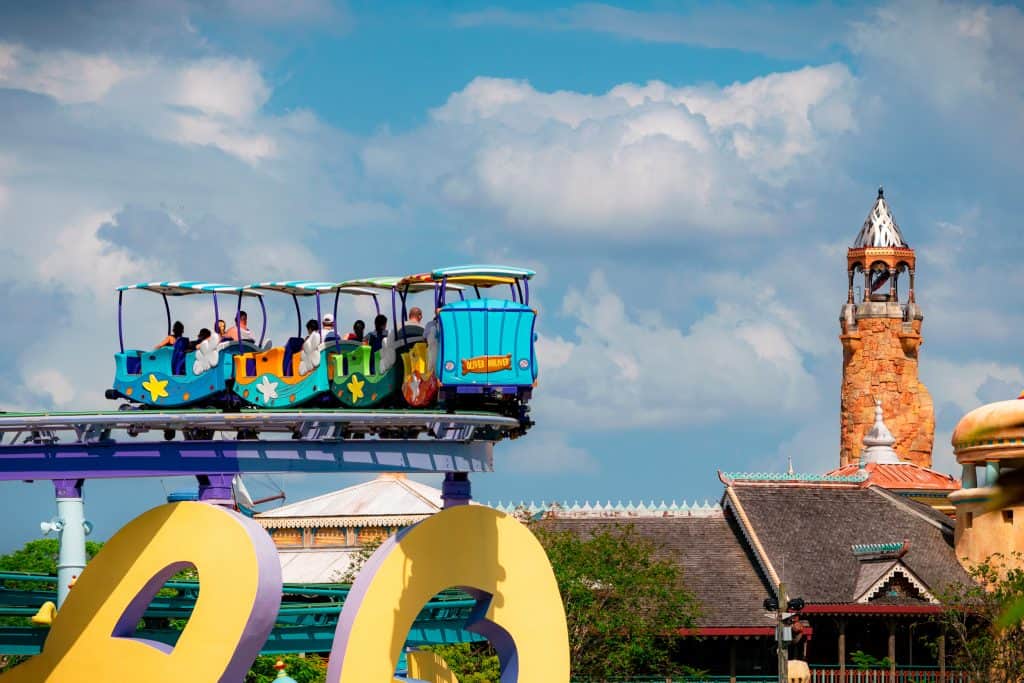 Description: Get some of the best views of Islands of Adventure and Seuss Landing from this unique family-friendly trolley ride. The High in the Sky Trolley also offers two different tracks. One features the story of the Sneetches, and one takes you through other beloved Dr. Seuss stories.
Where to sit: Each ride vehicle contains several shaded cars, with two rows each and two rows across. There really are no bad seats or rows, but the front row will provide the most uninterrupted view. The trolley is slow-moving as well, so it's a great chance to take some pictures from an amazing viewpoint not everybody gets to see.
Description: It's a carousel, and it's just for kids. Nope, it's the Caro-Seuss-el, and it's for everybody! This is a family-friendly carousel ride featuring whimsical creatures from the Seuss universe. You can also make the characters blink or wiggle their ears with the lever on their necks. If you grew up on Dr. Seuss books, this one is not to be missed. Oh, the places you'll go!
Where to sit: The outermost row will afford the best view of the area surrounding the carousel, but let's be honest, carousel rides are all about the fun creature you want to ride on, so go pick your favorite and have a great time. As with most carousel rides, there are seats that move up and down, but there is also stationary seating if you prefer.
Description: Relive one of Dr. Seuss' most popular and beloved books, The Cat in the Hat. Travel through the famous, beloved book and watch as the Cat in the Hat unleashes Thing 1 and Thing 2 "in the house on that cold, cold, wet day."
Where to sit: Each ride vehicle has two rows, seating up to three people in each row. The Cat In the Hat is a family-friendly motion simulator ride that relies on practical effects instead of screens. Since the rows are layered (the back row being slightly elevated), everybody gets a great view, but smaller guests might still enjoy the front row better.
Description: Another one of Dr. Seuss' classics is brought to life on the One Fish, Two Fish, Red Fish, Blue Fish ride. This carousel-style ride allows you to take flight and use controls to dodge jets of water squirting you from below.
Where to sit: One Fish Two Fish Red Fish Blue Fish is a family-friendly, carousel-type ride, similar to Kang and Kodos' Twirl 'n' Hurl in Universal Studios. Each ride vehicle seats two people. The outside seat might afford a slightly better view, but in either seat, you'll get to see some highlights of Seuss Landing, as well as the towers of Dr. Doom's Freefall and the launch tunnel for The Hulk.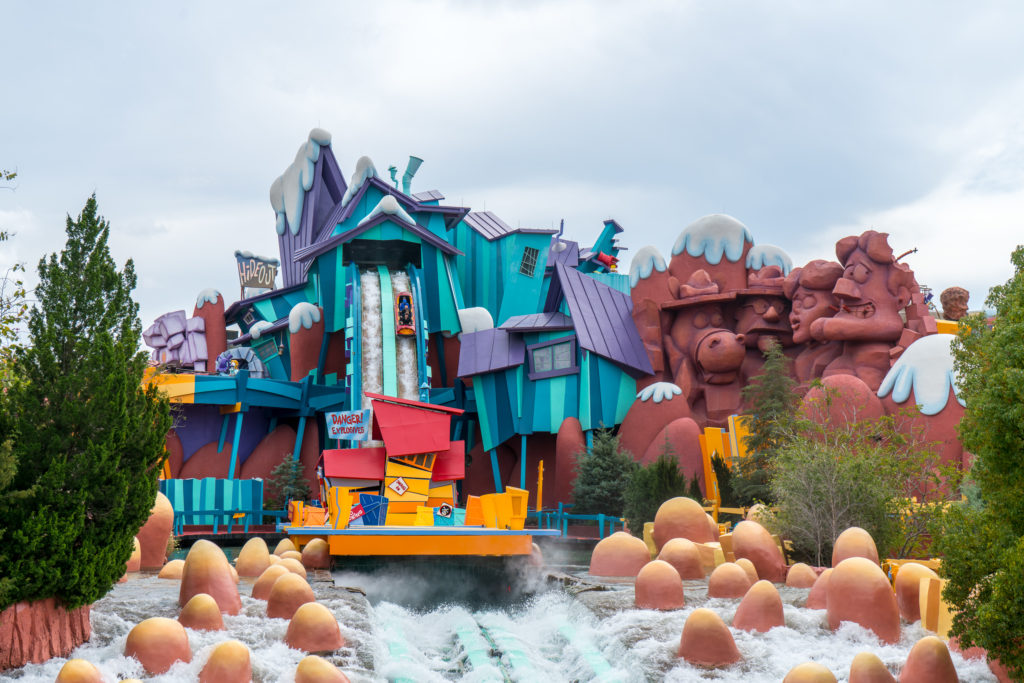 Description: As the name suggests, this is a water ride, specifically a log-flume ride. Make no mistake – you will get wet (possibly soaked) on this ride, whether from the ride itself or from the pranksters on the bridge who are paying money (yes, real money) to squirt you from afar (I've been one of the pranksters, and yes, it's fun!). You'll follow familiar characters, like Rocky and Bullwinkle, through an adventure that culminates in a drop of nearly 60 feet.
Where to sit: Each ride vehicle is a log that hosts four seats in a very close single-file formation. You will get wet in whichever seat you pick. If you want to watch your impending soaking, the front row is best, but since the seats are single-file, each seat will get a great view of the animatronics and other story elements as you ride through Ripsaw Falls. Test seating is available at the entrance of the ride, and since there is a large drop, guests with back and neck issues should use discretion.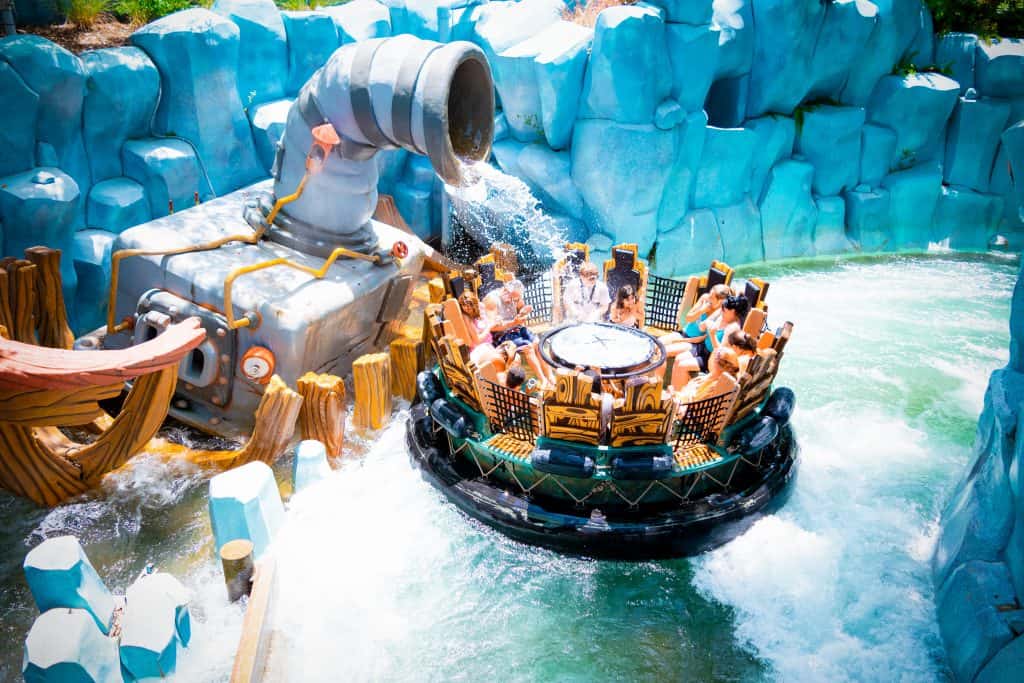 Description: Like Ripsaw Falls, Islands of Adventure's other water ride in Toon Lagoon will ensure that you will not leave it wearing dry clothes. Bluto has kidnapped Popeye's beloved Olive Oyl in this attraction, and you'll need to brave white-capped rapids to help get her back!
Where to sit: As with Ripsaw Falls, from a wet factor, it doesn't matter. You'll load into a twelve-seat circular raft that spins, gets water dumped on it, and people can pay money to squirt water at you on this one too. Getting good views of the attraction and its story as you go around is really luck of the draw, since the raft is constantly spinning around and switching directions. So just get in, buckle up, and prepare to get soaked! While there are no huge drops, the nature of the ride itself is meant to mimic going down river rapids, so be prepared for the unpredictable, occasionally jerky motions that accompany such a ride structure. The ride vehicle does have a handrail in the middle for stability, but if you have back and neck issues, perhaps watch for a while before deciding if it's for you.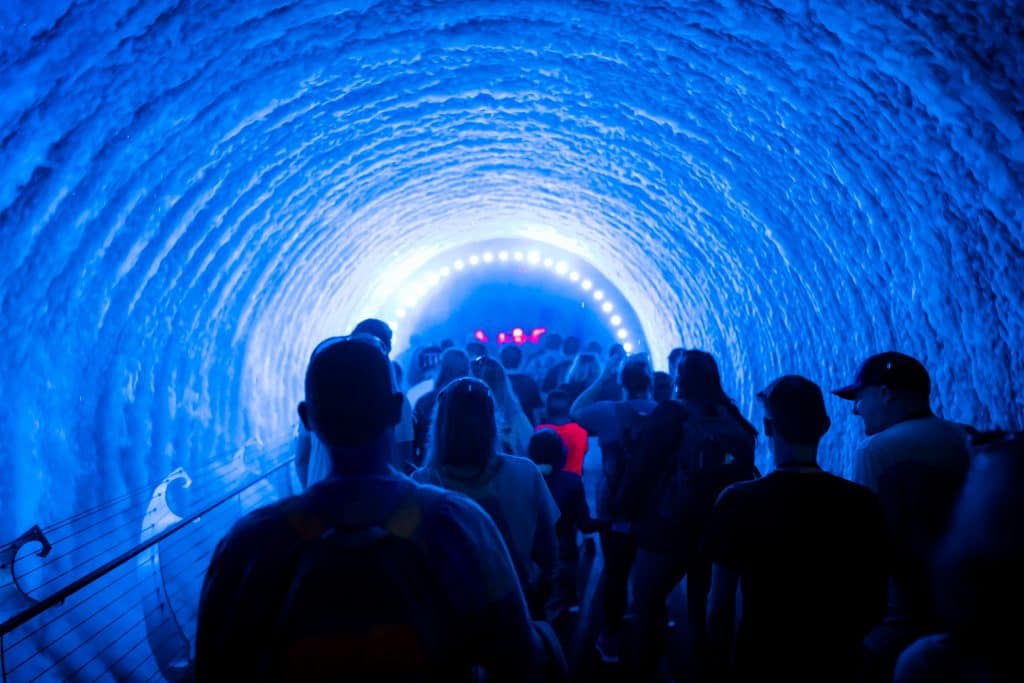 Description: Located in The Lost Continent section of Islands of Adventure, Poseidon's Fury is an exciting walkthrough attraction where you'll watch Poseidon battle it out with Lord Darkenon for control of the sea! This live effects show has to be seen to be believed.
Where to sit: As mentioned above, it's a walkthrough attraction, but know that it is also wheelchair accessible. As far as viewing, the closer to the front, the better. Some of the rooms have different levels to accommodate everybody, but to see all of the action, the front standing row is best.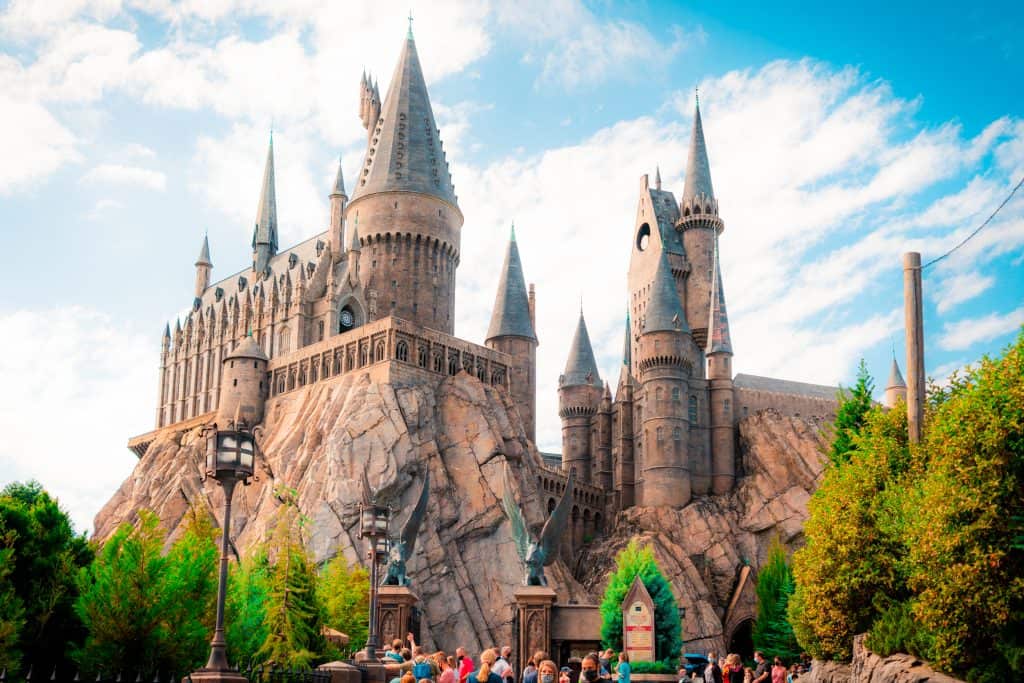 Description: Welcome to Hogwarts! Honestly, for this attraction, I'm not sure if I like the ride or the queue better. The whole experience is so entirely immersive that guests feel like they are truly in the Wizarding World of Harry Potter. Enjoy your tour of the school and fly through the grounds of Hogwarts School of Witchcraft and Wizardry with Harry, Ron, and Hermione. Oh, and look out for the dragon! Hagrid seems to have misplaced him…
Where to sit: This ride is a 4D experience, but you do not wear 3D glasses while riding. Each ride vehicle contains one row with four seats. Each seat gets a perfect view of everything, but in our experience, the middle two seats are most likely to get a blast in the face from the dragon. The seats definitely move, but this isn't a roller coaster, and the motions are relatively smooth and continuous. This makes it a good option for people with back and neck issues who want to ride something a little more exciting. My only warning for this attraction is that these movements can trigger some serious motion sickness. If you don't want to ride but still want to explore the castle, ask a team member for the castle tour, and they will either guide you themselves or direct you on how to walk around and take in all the magic.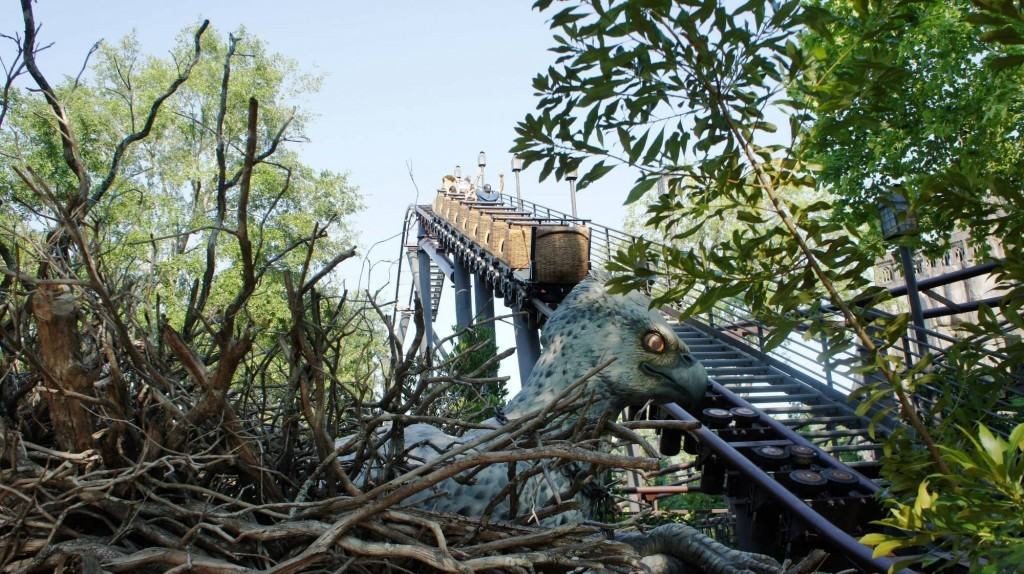 Description: After you're done flying around Hogwarts castle, why not sneak over to Hagrid's hut and meet a hippogriff? This junior rollercoaster is a quick, fun ride.
Where to sit: Each ride vehicle contains eight cars that hold two people each. As with any roller coaster, the front row offers the best view, but the view of the track is still slightly impeded by the Hippogriff head at the front car. The back row offers a more intense experience, but each seat provides great views of Hagrid's hut and Hogwarts Castle as you climb the hill at the beginning, and as you start to descend, you'll get a bird's-eye view of Hogsmeade Village. Since it is a junior roller coaster, it's pretty smooth and has no loops or barrel rolls, so it's a good choice for most guests.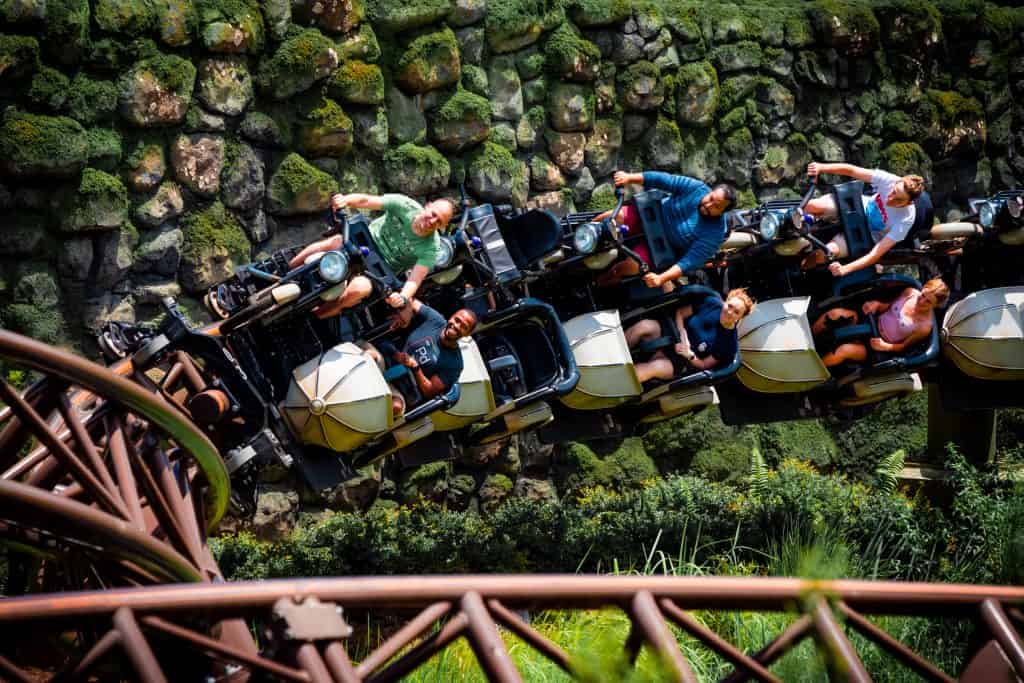 Description: When you're done with the hippogriff, visit more magical creatures at Hagrid's Magical Creatures Motorbike Adventure! This incredibly unique thrill ride will have you wanting to get right back in line to ride again. We don't want to give away any spoilers, but you'll meet all kinds of fantastic beasts as Hagrid guides you through the Forbidden Forest. Seriously, this attraction is a must.
Where to sit: Part of what makes this ride one-of-a-kind is the fact that there are two distinct seating options. Each ride vehicle contains seven cars with two seats, one motorbike and one sidecar each. The motorbike puts you higher up and positions you as though you are on a motorcycle. The sidecar keeps you lower to the ground and in a more comfortable seated position. Most people seem to agree that the motorbike offers a more exciting overall experience. You'll probably get about the same intensity, whether in the front or the back row, but the front row is going to give you the best view. As mentioned, this is a thrill ride, and there are sudden stops and other surprises (but no loops), so if you have neck or back issues, perhaps sit this one out. Currently, there's not an official tour of this ride, but the queue has many great features, so if you don't want to ride, check out the queue and exit before you get to the ride vehicles. There are also test seats near the beginning of the queue.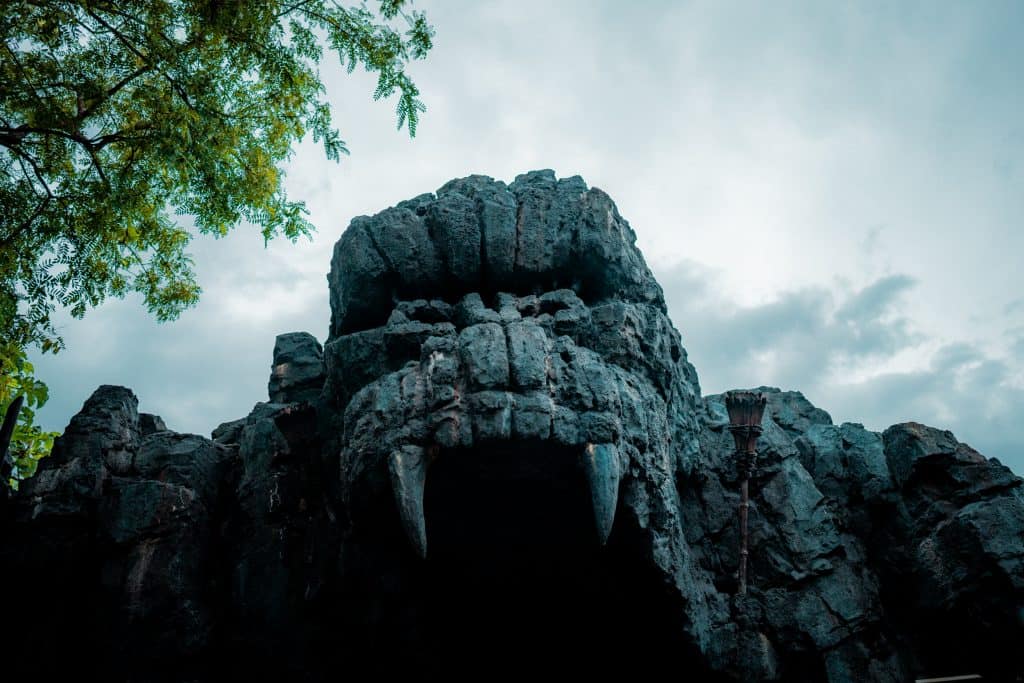 Description: Skull Island: Reign of Kong takes you on a perilous expedition through a mysterious island. During this adventure, you will experience why Kong is definitely the king of Skull Island.
Where to sit: Skull Island is a 3D motion simulator ride similar in style to Fast and Furious: Supercharged in Universal Studios. The ride vehicles are buses with twelve rows and seating six people across. For the best view, rows don't really matter, but I'd recommend getting a side seat instead of an interior seat for the screens.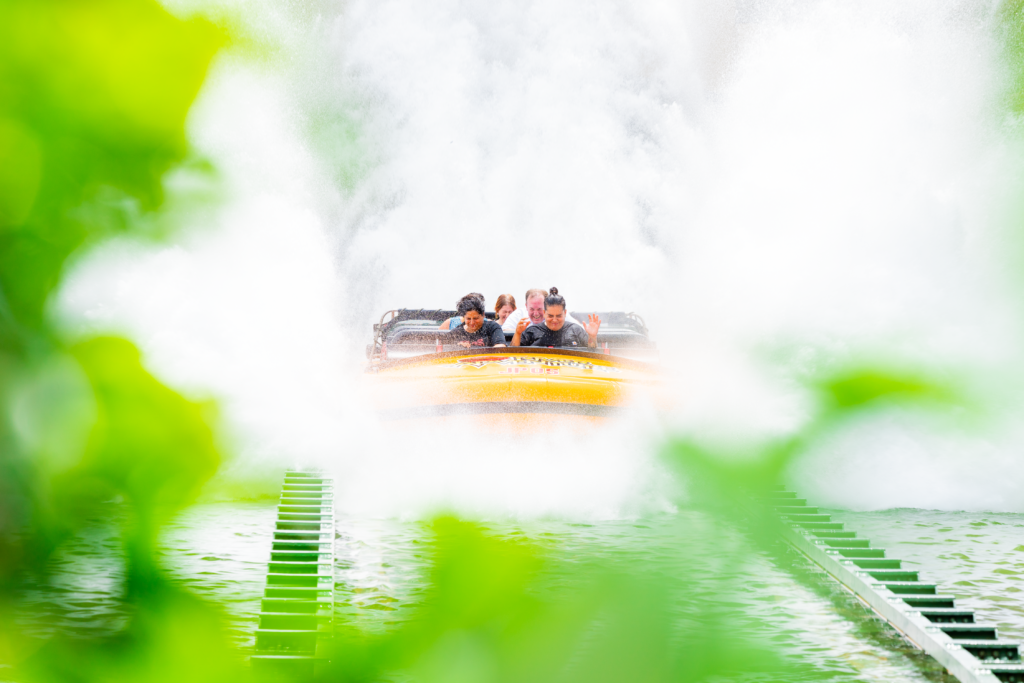 Description: We spared no expense! The Jurassic Park River Adventure takes you on a seemingly harmless water cruise until life finds a way, and you find yourself face-to-face with velociraptors and a Tyrannosaurus rex!
Where to sit: The ride vehicles are five-rowed boats that seat five people per row. Although it is a water ride, it's not entirely guaranteed that you'll get soaked. Of course, the front row is the most exciting and has the best view, but that's the row most likely to get you soaked on the 85-foot drop. I've had good luck avoiding the big soak in the middle and back rows, so choose accordingly.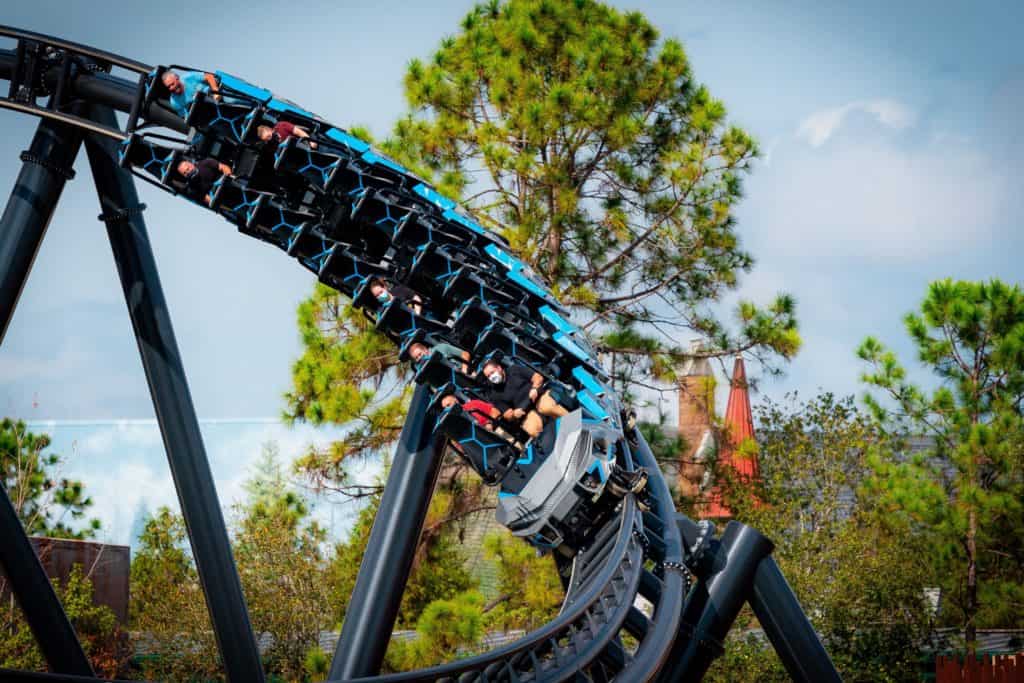 Description: This is the newest and most thrilling addition to Islands of Adventure! VelociCoaster takes you on a dash alongside Jurassic World's most fearsome predators. As the name implies, this is a true coaster and includes a 155 ft (47m) top hat, multiple barrel rolls, and several power launches while reaching a maximum speed of 77 mph (110km/h).
Where to sit: As with most coasters, your best bet is the front row for views and the back row for thrills. The VelociCoaster ride vehicles seat two across with a lap bar securing you in, and there are 12 rows to each vehicle.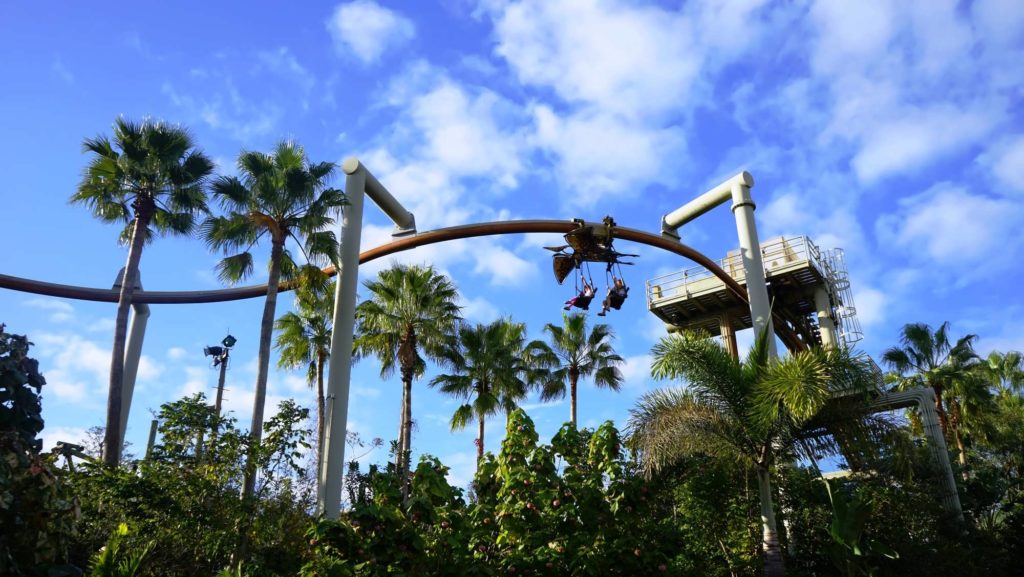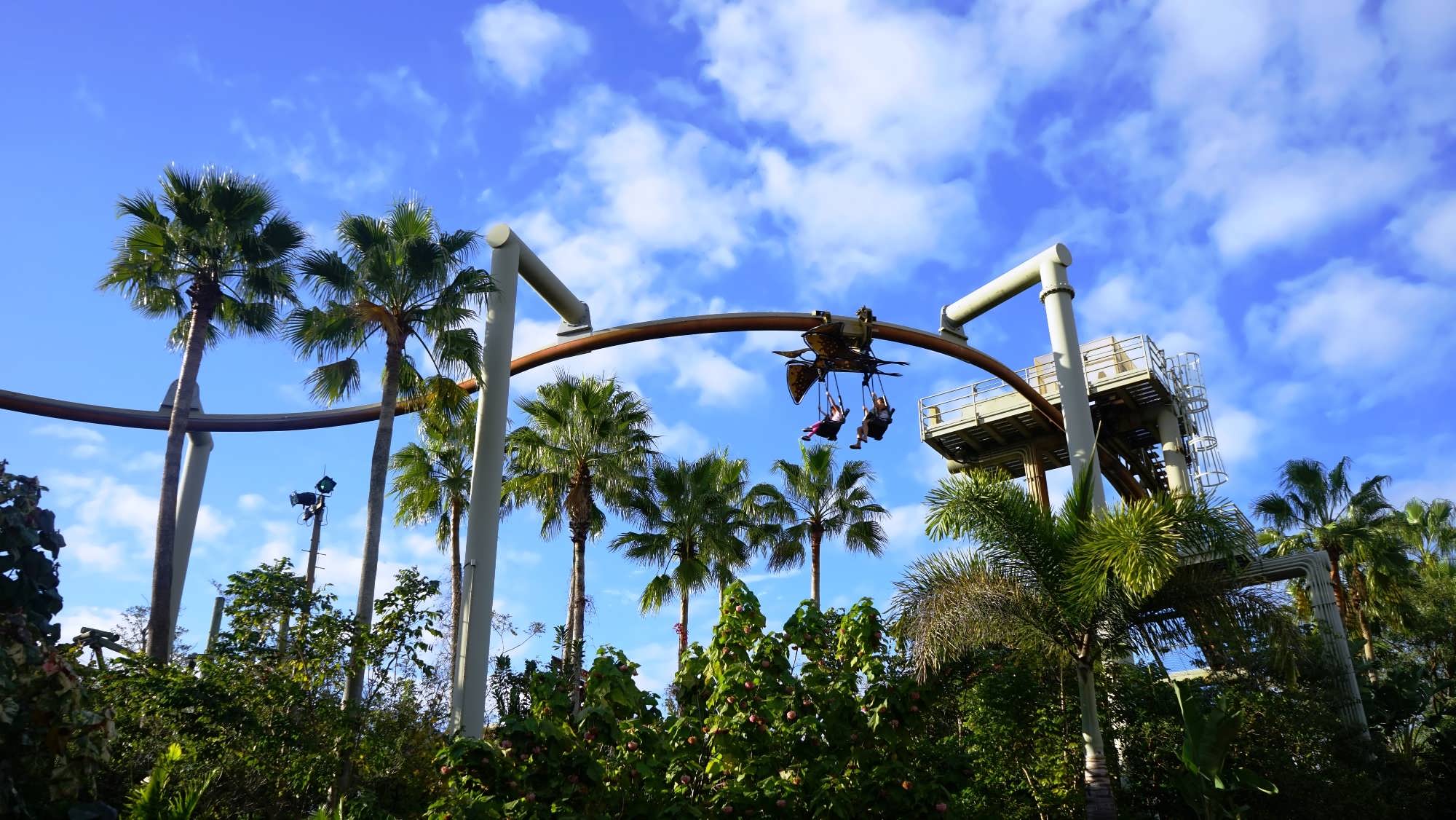 Description: Here's a dino adventure tailored for the little ones! Pteranodon Flyers will take you and your child on a gentle glide through the treetops! Keep in mind that this ride is intended for kids, so nobody taller than 56″ can ride unless accompanied by a little one, with some exceptions.
Where to sit: Each ride vehicle is two seats that sit single file, and the younger guest will be placed in the front seat. This is a really fun ride, and either seat provides a lovely bird's-eye view of the surrounding Jurassic Park area.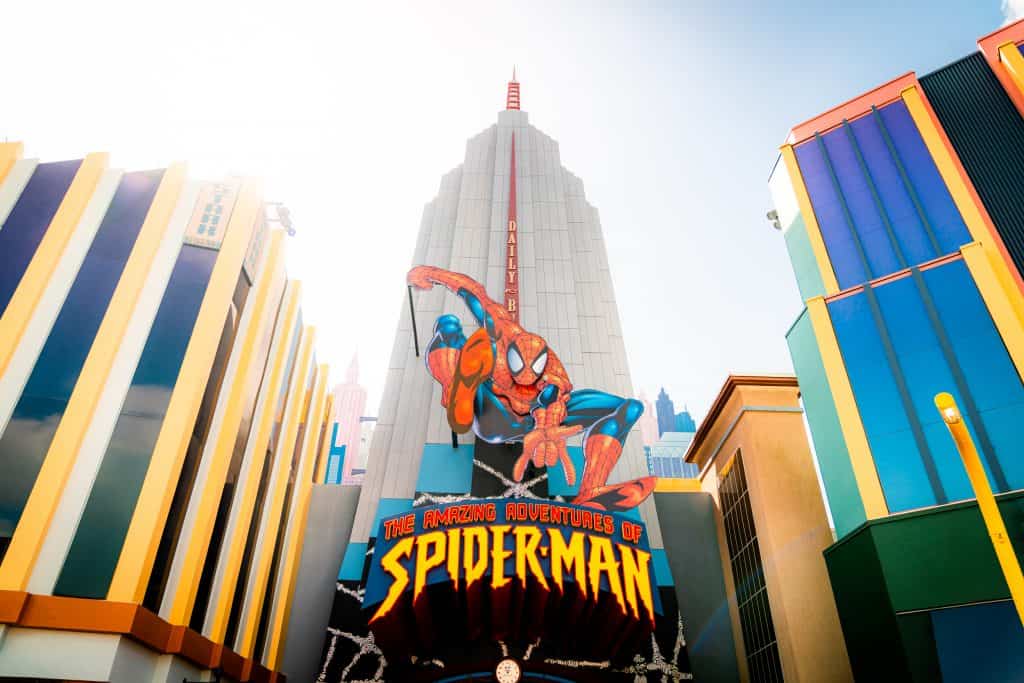 Description: You've never experienced Spider-Man like this! Swoop along the city with Spidey in this 4D experience as he keeps you safe from the Sinister Syndicate trying to steal the Statue of Liberty! Also, keep an eye out for several Stan Lee cameos throughout the ride. Excelsior!
Where to sit: Each ride vehicle has three rows and seats four people per row. Each seat provides a great view of all the action as the car spins around and points you to the screens. Smaller guests may prefer the front row, but much of the action takes place higher up, so there aren't really any obstructed views. Similar to Transformers, there are some intense motions, but since this isn't a roller coaster or a high-speed ride, guests with back and neck issues should be fine.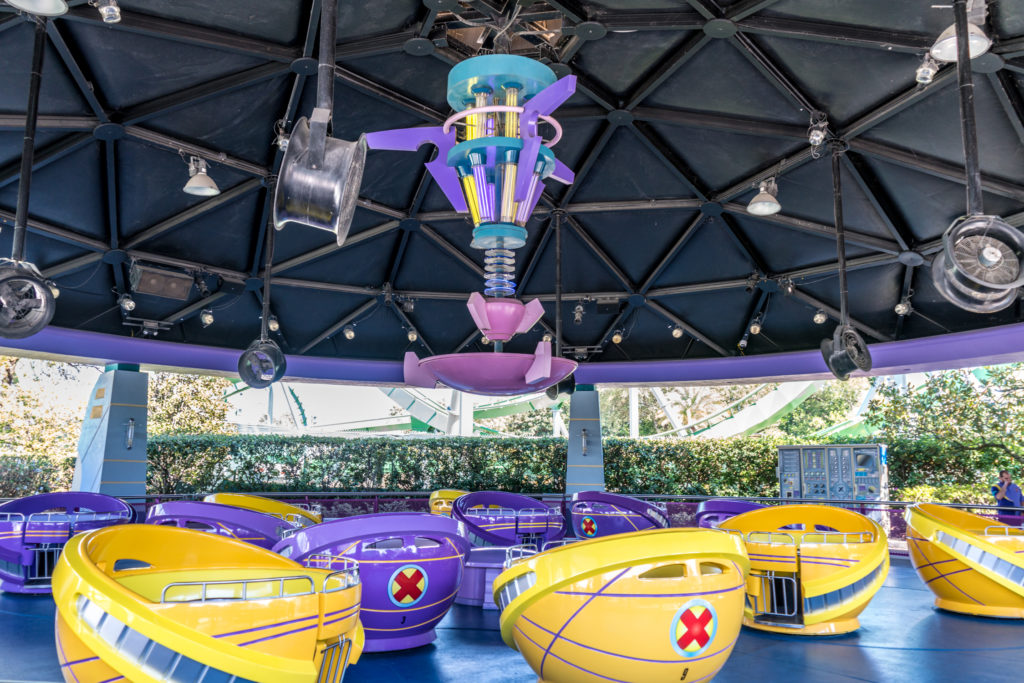 Description: Magneto has returned, and the only way to get rid of him is for Storm to harness enough energy to send him packing! This is a spinning ride, similar to the teacups at that other park down the road.
Where to sit: Anywhere! All the teacups are the same and seat four people each. Each vehicle affords the same blurry view as you spin around and around, generating energy so Storm can defeat Magneto! The intensity of the ride (and success against Magneto) all depends on you.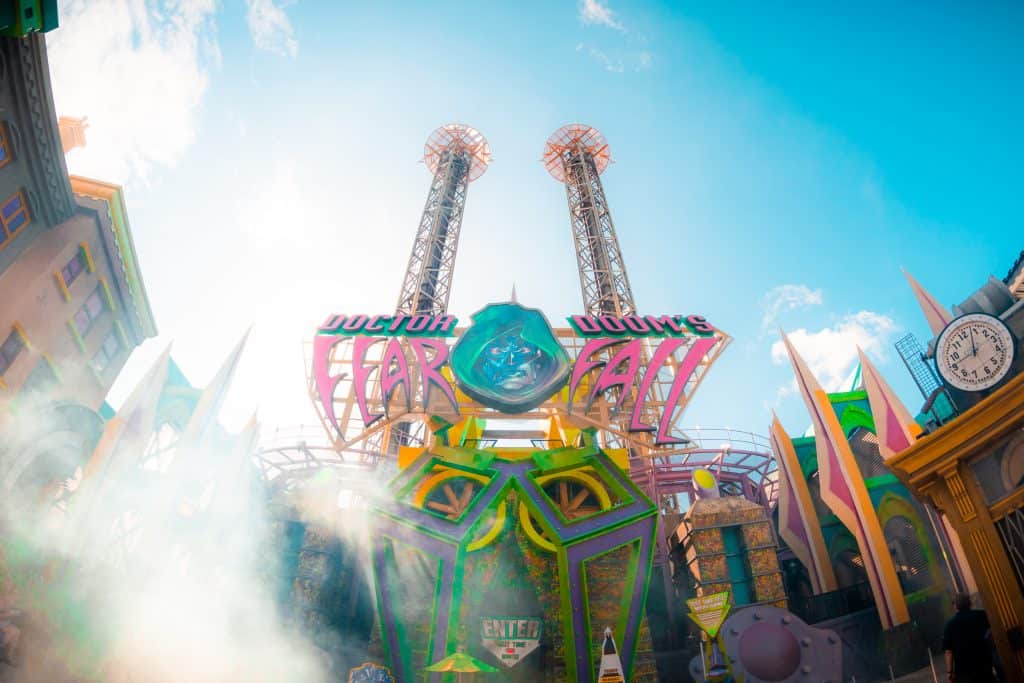 Description: Dr. Doom's Fearfall is a bit different from what you may be used to. Not a roller coaster, but still a thrill ride for sure! Dr. Doom's mission is to pull the fear out of people and use it against the Fantastic Four. He'll do this by taking you 185 feet up – and then dropping you!
Where to sit: Each tower contains four rows of four, one row on each side of each tower. There are no obstructed views for any of the rows, but depending on which way your row is facing, you might get a great view of Island of Adventure, or a great view of CityWalk.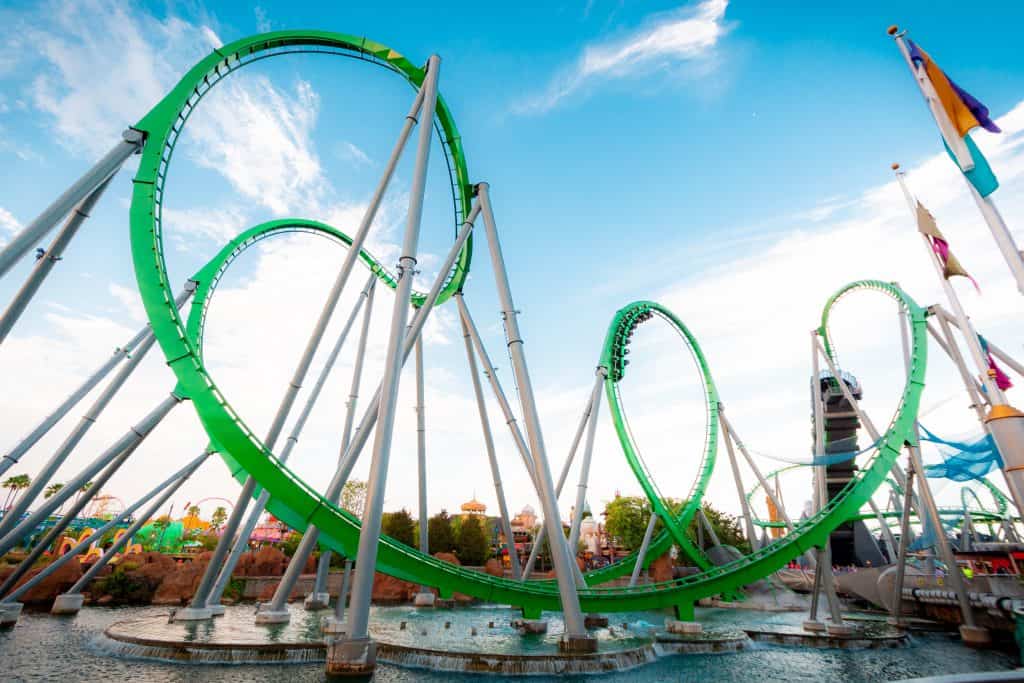 Description: Get ready to hulk out on a guest favorite – The Incredible Hulk Coaster. Step into the lab and become a test subject for an experiment based on Dr. Bruce Banner's research. From the initial heart-pounding launch through the tunnel to the final loop and barrel roll, the thrills don't stop on this ride!
Where to sit: Each ride vehicle has eight rows and seats four across. The front row is the absolute best, particularly for the blast-off at the beginning of the ride. Each row will give you a great experience, but the last row is the most intense. There are test seats at the entrance of the queue. This ride is a full-on thrill ride, and although it rides a lot smoother since its refurbishment, guests with back and neck issues (as well as guests who do not want to go upside down) might want to avoid it.
Ride Guide for Universal's Volcano Bay
Universal's Volcano Bay is known as a water theme park. Personally, I was skeptical of the title upon hearing it for the first time, but now that I've visited this incredible water park for myself, the designation of "water theme park" does fit well. Volcano Bay is in a class of its own and deserves to be differentiated from other water parks in Orlando. Besides some of the best food and drink you'll find at any of the Universal Orlando parks, Volcano Bay has an impressive collection of water slides. So many in fact, we've outlined what to expect at each one.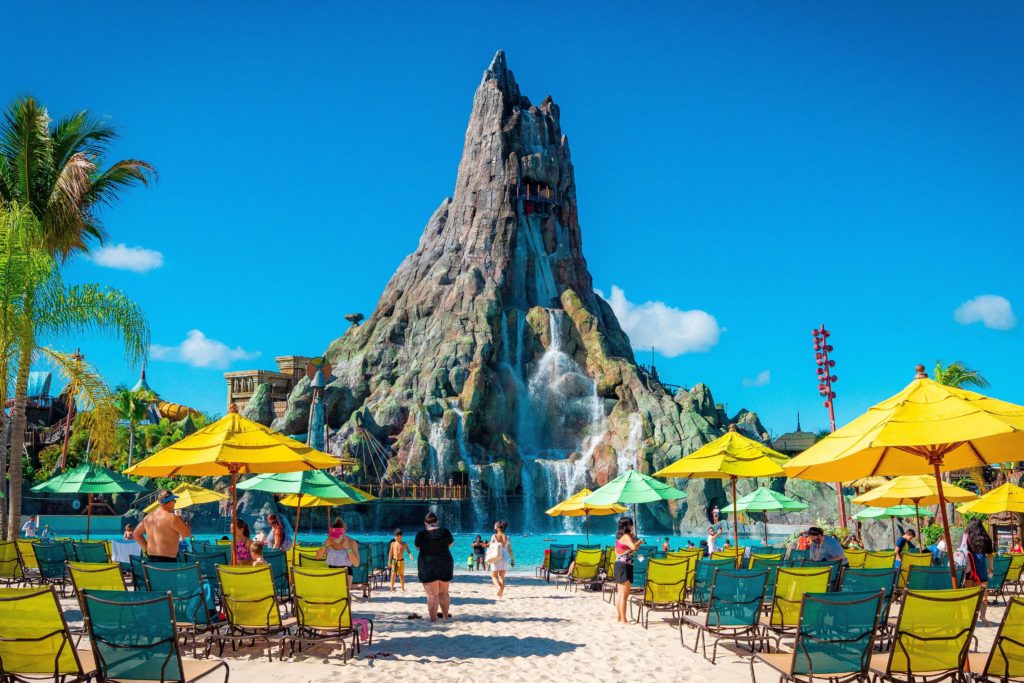 Description: Krakatau, the iconic volcano in the heart of the park, is more than just a breathtaking landmark. Climb to the top of this rumbling volcano, as two brave guests simultaneously plunge down Kala & Tai Nui Serpentine Body Slides via drop doors. These intertwining slides are named after two star-crossed lovers that are the focal point to the park's backstory. Appropriately enough, these slides (and the descending guests) crisscross paths several times.
Rafts, height restrictions, and other factors: This is a body slide without any raft. Your body will ride the rush of water as the trap door sets you plunging down the curving, enclosed slide. The experience is one of the most thrilling rides in Volcano Bay. The height requirement is 48 inches, and riders must weigh under 230 pounds. Make sure every single item is out of your pockets – including IDs and other cards –because chances are they will become property of Krakatau. Located at Rainforest Village.
Description: Maku Puihi is an attraction comprised of two giant tube slides, side by side. Both slides prove to be a dizzying, swirling experience, but each slide has its own unique features. No matter which slide you choose, you'll be aboard a six-person raft as you get ready to swirl and twirl.
Rafts, height restrictions, and other factors: Maku uses a six-person raft that first plunges riders through a deep volcanic gorge before depositing them in bowl-like formations. The experience is quite dizzying. As if that isn't enough, geysers erupt as the raft seems to spin endlessly. Puihi also uses a six-person raft as a ride vehicle, but this slide is more about airtime than it is about spinning and twists. Occasionally, the raft will slip up the side of the slide, and riders momentarily experience zero-gravity hang-time before coming back down.
You might think Puihi would be a tamer experience than Maku, but the sensation of weightlessness and airtime can be much more thrilling for many guests. I suggest starting with Maku, and if you decide after that you're ready for more, go for Puihi.
Maku and Puihi have the same height requirement of 42 inches, but riders must be 48 inches to ride alone. Maku rafts seat two to six riders with a limit of 1,050 pounds combined weight, while Puihi rafts seat three to six guests with a limit of 850 pounds combined weight. Located at Rainforest Village.
Description: Featured in a lot of Volcano Bay's marketing, Ohyah & Ohno are two slides put together side by side, each with a big drop-off in a deep pool as the finale. With the description of "drop slides," you might think these two are similar to the drop-floor slides located within Krakatau, but they are not. The free fall at the conclusion of the ride is one of the most exhilarating experiences in the entire park.
Ohyah and Ohno offer slightly different experiences from each other. For starters, Ohyah has guests journey up the side of a cliff, while those wanting to experience Ohno must first navigate a rope bridge. Ohyah provides a curving, thrilling ride with a four-foot drop-off at the end of the slide, while Ohno is a more intense slide with a serpentine shape and concludes with a six-foot high drop-off.
Rafts, height restrictions, and other factors: There is no raft for these body slides! You will plunge into a pool of water 10 feet deep at the end of the slide, so you'll need to be able to swim in such depths. The minimum height requirement is 48 inches and strong swimming ability is required. Although I wouldn't put this experience at the top of the list for Volcano Bay, these slides are definitely thrilling, and the drop-off into the pool is sudden. There is seating around the pool, and many guests enjoy watching the reactions of riders as they plunge into the water. Located at Rainforest Village.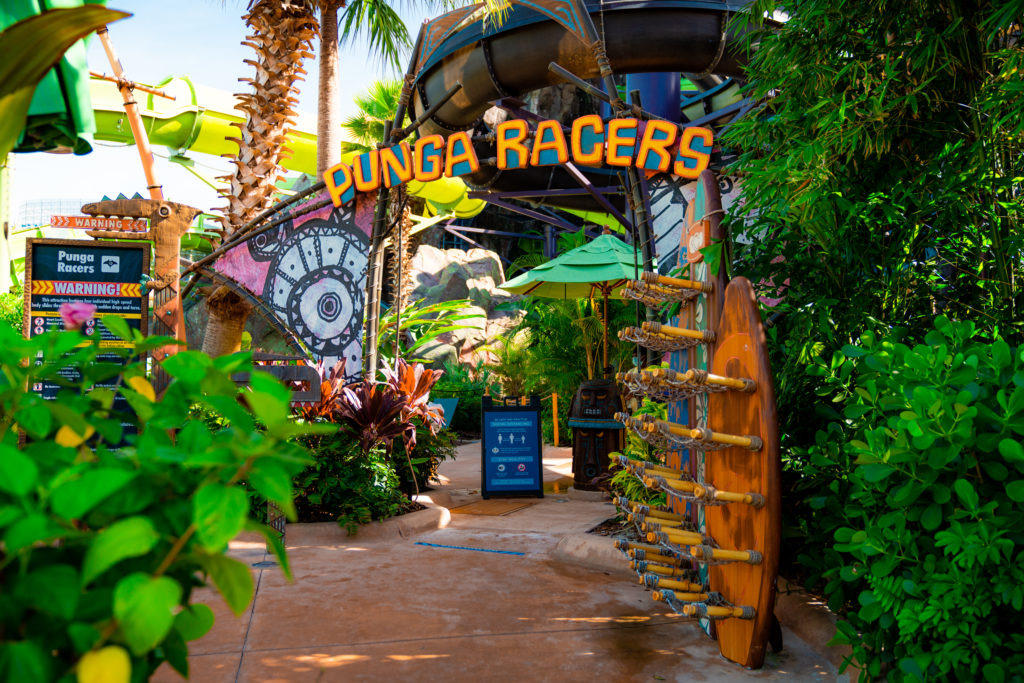 Description: Punga Racers is a body slide built for competitive types. You'll race other guests across four lanes of curving slides. After emerging from the underwater sea caverns, the winner receives a "watery salute" from Punga himself.
Rafts, height restrictions, and other factors: Punga Racers is a set of four body slides, no raft required. Each slide is enclosed at some point, and all are open along the last portion of the ride. The two black slides are more intense than the orange and yellow slides, which also have more open sections than the black slides. The height requirement is 42 inches; riders must weigh under 300 pounds. Located at Rainforest Village.
Description: Everyone refers to TeAwa as the not-lazy river. This high-speed whitewater river is much different than a lazy river. You'll encounter churning rapids, choppy waves, and playful water effects. TeAwa is a fantastic ride to spend some time while waiting for your next reserved TapuTapu ride time.
Rafts, height restrictions, and other factors: A life vest is required. The height requirement is 42 inches to ride and must be 48 inches to ride without a supervising companion. While the lazy river has multiple entrances, TeAwa the Fearless River has just one entrance – a mystifying temple that sets the tone of the adventure. This attraction is not overly scary, but you will want to make sure your life vest is on properly and that everyone in your party is a strong swimmer. Located at Rainforest Village.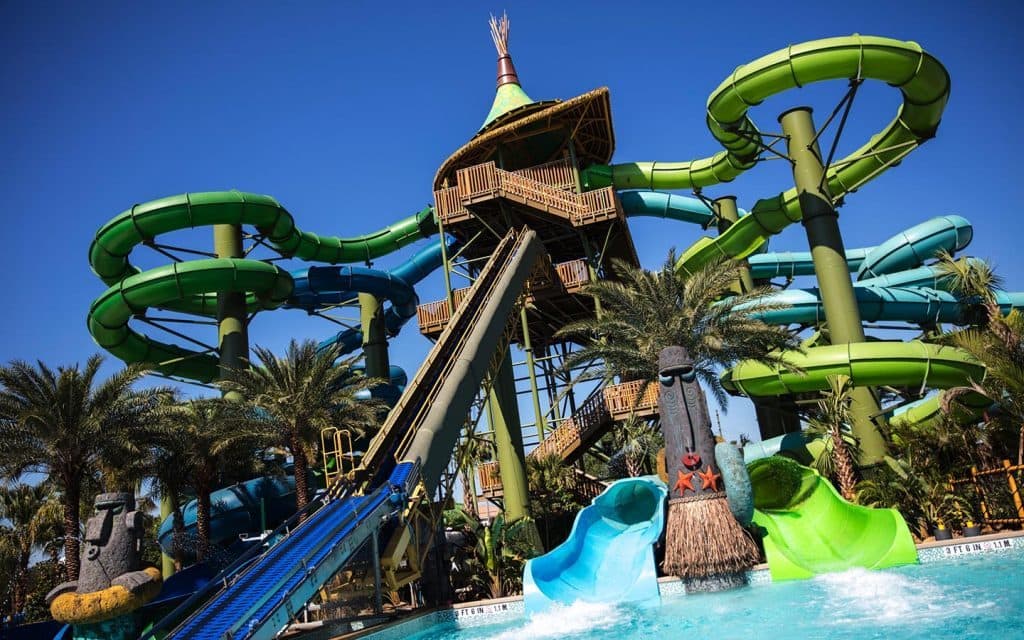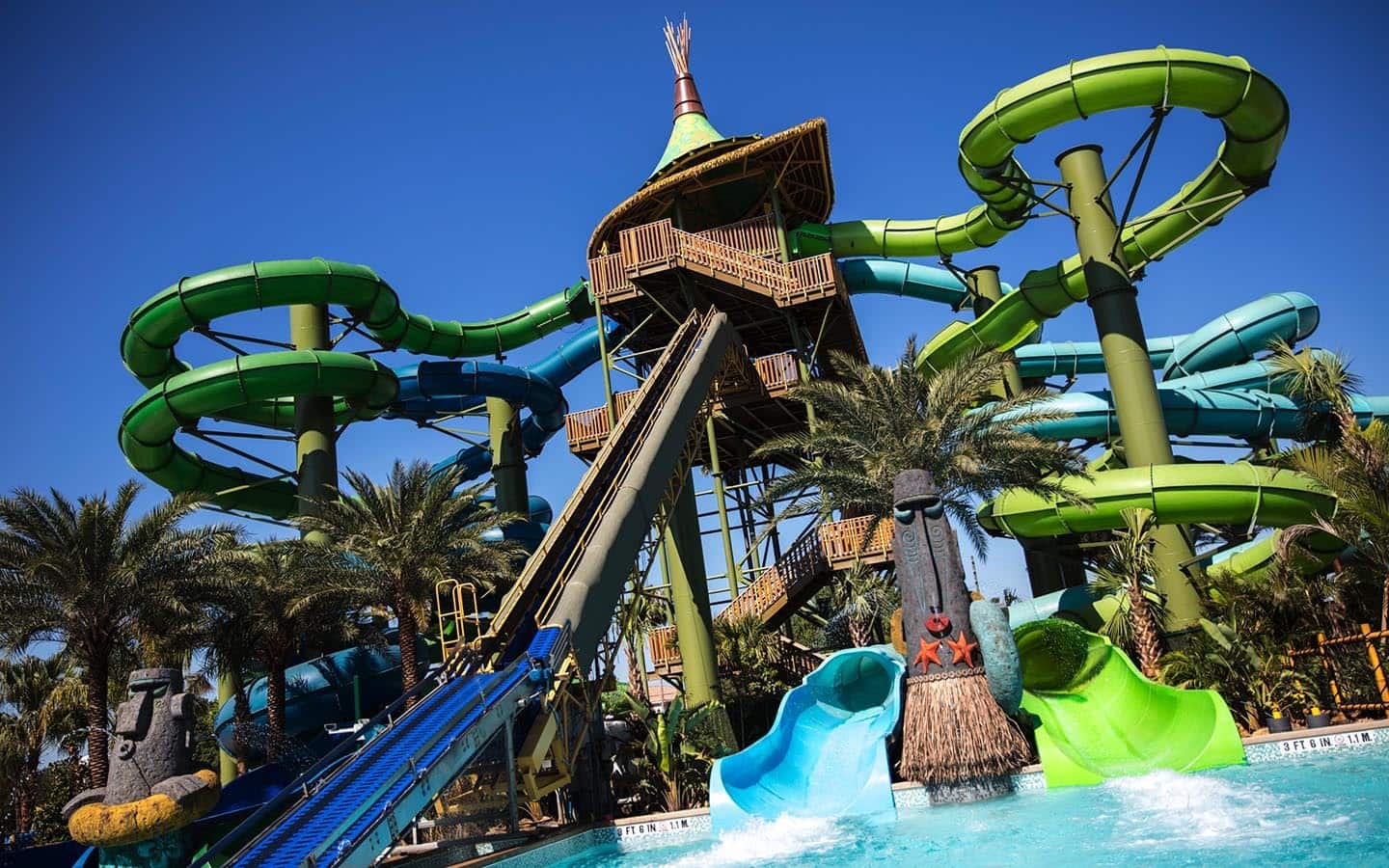 Description: Here you have a pair of water slides where guests can choose their choice of inner tube – single or double-rider. These slides are fun and pretty easygoing compared to the more thrilling attractions. Race down either Tonga (the green water slides) or Raki (the blue), each with unique twisty experiences. Full admission here: I am not much of a thrill seeker and don't do any of the really big thrills at the parks. That being said, Tonga (green) is the first slide I ever experienced at Volcano Bay, and it gave me just enough thrill without being over the line and was a good way to get my feet wet. The description states that tiki statues attempt to zap you with jets of water while you ride, but I didn't detect much tiki activity as I glided down the winding slide.
Rafts, height restrictions, and other factors: Both slides have a height requirement of 42 inches and you must be 48 inches to ride alone. You can ride alone or with someone else in your party on a double-rider raft. Riding solo generally makes for a faster ride, but riding with someone is more fun as you laugh at the tiki water jets and twisty turns. There is a 300-pound single-rider max and 450 pound combined weight limit.
The Tonga slides' entry point is to the left, while Raki's are to the right. If you're looking for a faster and more intense experience, you'll want to hop on Raki's water slides. Otherwise, go for Tonga for an easier experience. Located at Rainforest Village.
Description: Like many of the attractions at Volcano Bay, Honu ika Moana are actually two slides put together side by side. Honu is a spirited slide representing the thrilling experience of riding the underwater currents on a sea turtle, just like the ancient Waturi people used to. This multi-person raft speeds up two massive walls, through ocean mists, and eventually splashes down into a pool. Ika Moana encourages you to ride the ocean waves on a whale, just like the ancient Waturi people used to.
Rafts, height restrictions, and other factors: This pair of slides has one blue slide and one green slide. You might think the blue slide is Ika Moana (the whale), and the green slide is Honu (the sea turtle). But alas, it is the opposite.
The green slide is Ika Moana, the whale, and the blue slide is Honu the sea turtle. Honu is thrilling as guests soar up the sides of massive walls, giving a feeling of weightlessness and definitely not for anyone with trepidation towards heights. Ika Moana (green) is still lots of fun, with misty tunnels and turns. Ika pushes the edge of the thrill level that is comfortable for me. The height requirement is 48 inches; two to five riders on the raft at a time, 700 pounds combined weight. Located at River Village.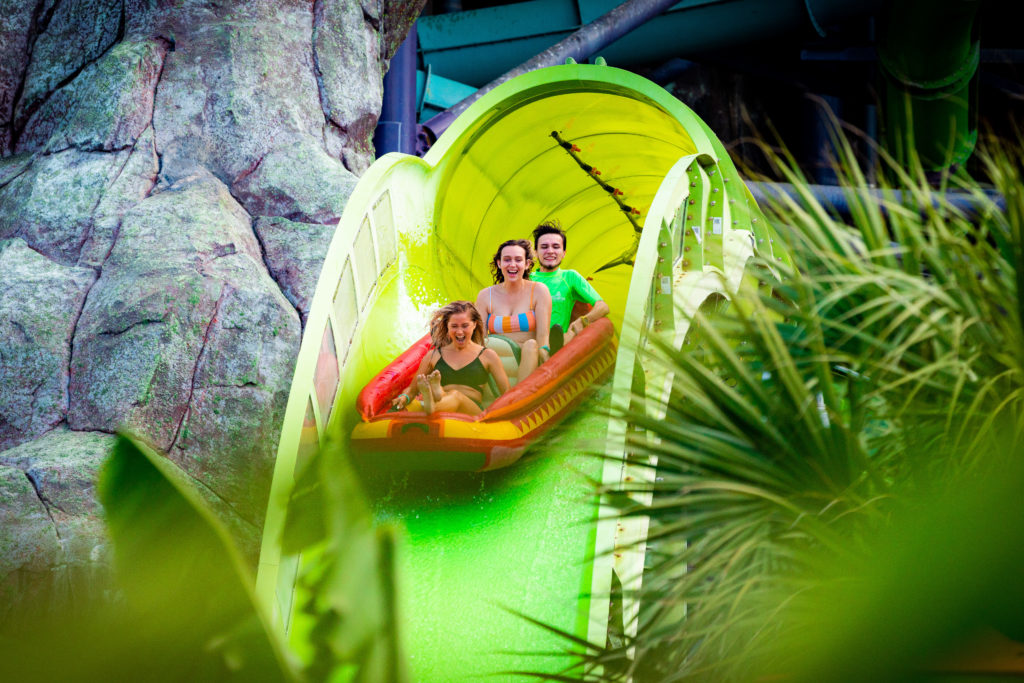 Description: The flagship attraction of Volcano Bay, Krakatau Aqua Coaster, has a four-person canoe that launches up and shoots down hills and rockets through the volcano itself. Some of the most thrilling elements are the twists and turns in the dark. And there's something unexpected about being thrust up a hill on a water slide and not gliding down. For the finale, the coaster plunges down a large drop with a tiki statue on each side. It certainly is a thrilling ride but is not as bad as it may seem. Go for this attraction early in the day as it is one of the most popular in the park.
Rafts, height restrictions, and other factors: This four-person canoe is the best-themed raft in the park, but it does not require four people. You can ride solo, but be prepared to get soaked. Lots of folks prefer to ride as a pair, even if they are a party of four. The canoe doesn't feel crowded with four people, but certainly with two people there is more room. The height requirement is 42 inches and you must be 48 inches to ride alone; canoes cannot exceed 700 pounds combined weight. Located at River Village.
Description: Many would consider Ko'okiri Body Plunge to be the most thrilling experience in the park, and my husband would agree. This drop-door body slide pitches riders down a 70-degree-angle descent for 125 feet of high-speed fun. The backstory for Ko'okiri indicates the Waturi people, the denizens of Volcano Bay, are paying homage to the volcano god Vol – and you'll probably feel like thanking Vol once it is over.
Rafts, height restrictions, and other factors: There is no raft for this body slide. The height requirement is 48 inches; riders must weigh under 300 pounds. Make sure absolutely nothing is in your pockets unless you want it to be left in the water as a sacrifice to Vol. Since only one rider drops at a time, Ko'okiri typically has the longest wait time for all the Volcano Bay attractions. Located at Wave Village.
Volcano Bay Pools and Lazy River
Besides an impressive collection of water slides, you'll find multiple pools, water play areas, and a lazy river. Waturi Beach and its wave pool are the center point of the park, where most guests hunt for a beach chair. The waves here change directions and patterns, giving you a variety of experiences throughout the day. If you're looking to avoid crowds, seek out lounge chairs in the back of River Village or Rainforest Village. Both of these villages have dining, restrooms, lockers, and plenty of slides. If you're looking for a peaceful spot, you'll find it back here without missing out on the fun.
Right next to the main wave pool is The Reef. This five-and-a-half feet deep pool has its own waterfall and features a plexiglass wall, allowing swimmers to watch as fellow guests shoot down the Ko'okiri Body Plunge. The downside of The Reef is that it can sometimes be closed to guests, as it is used to train Volcano Bay lifeguards.
The other leisure pool, Puka Uli Lagoon, is located in Rainforest Village, right next to the Ohyah and Ohno Drop Slides. This leisure pool is great for families who want a space away from the busier center of the park. It is four feet at its deepest and has silly water play effects and tiki statues.
The kid's play area, Runamukka and Tot Tiki Reefs, absolutely blew me away. I've been to every Orlando water park (including Legoland Florida), and Volcano Bay's kid's area is the best. It is elaborate with so much to do. My son and I had so much fun climbing the stairs to the elevated water playground at Runamukka. To my son's delight, a water bucket dumped on me, taking me by complete surprise. Even little, non-scary caverns fit in perfectly with the rest of the park. Note that all kids 48 inches and under are required to wear a life vest anytime they are in the water or in the water play areas. Tot Tiki Reefs is right next to Runamukka and is perfect for the tiniest of tiki tots who just want to splash around a little.
Let's wrap up with everyone's favorite part of any good water park: the lazy river. At Volcano Bay, the Kopiko Wai Winding River has all the elements of a classic lazy river, with some additional "plusses." There are three entrances to the river, making it a fun transportation method of sorts. Each entrance is split into two lanes, though it is not immediately clear that one side is meant to be an exit and the other the entrance.
Guests can use inner tubes or enjoy the river on their own. Water effects (some a result of guests outside of the river using Tapu Tapu touch points) and lush landscape make this a scenic and fun river. The highlight is going inside the Krakatau volcano itself. Be sure to look above while inside to be dazzled by some of the effects. Floating along with my husband and our son in his lap is one of the highlights of our time together in Volcano Bay. You're sure to make your own special memories at this unique water theme park.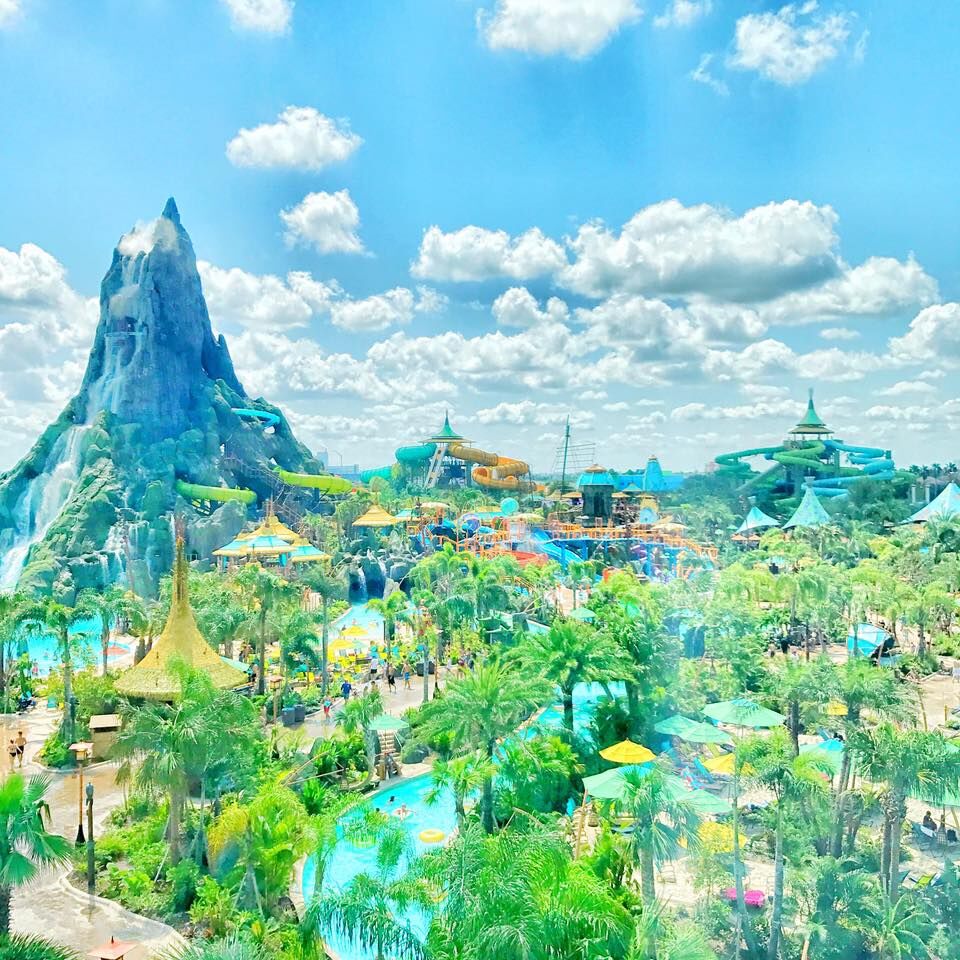 ---