Skip to: Overview | Location | Restrictions | Fear factor | Fun facts | Guest reviews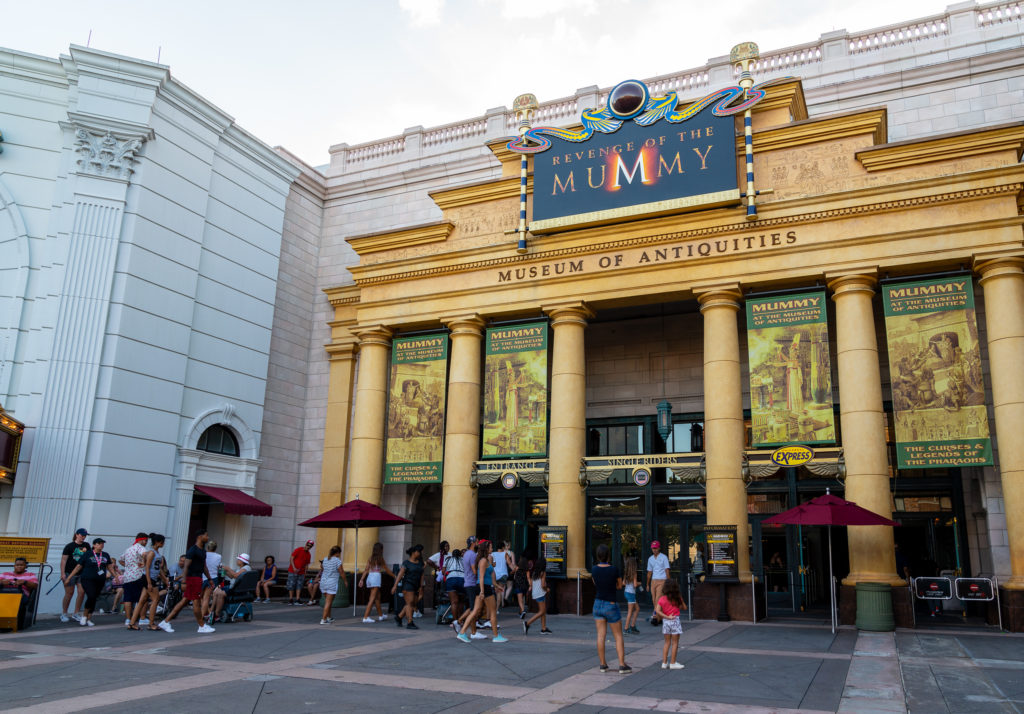 What is Revenge of the Mummy?
Revenge of the Mummy is a not-to-be-missed high-speed, indoor roller coaster similar to Disney's Rock 'n Roller Coaster (except you do not go upside down on the Mummy). The attraction does a fantastic job of bringing the 1999 Mummy story to life, with plenty of thrills, personality, and, even, laughs (not to mention one of the most atmospheric queues to be found on Universal property).
Where is Revenge of the Mummy located?
In New York, which is in Universal Studios Florida.
Revenge of the Mummy – height restrictions and other factors
Height requirement is 48 inches; has Express Pass access and a single-rider line; must stow loose articles in free lockers adjacent to the attraction's entrance.
Revenge of the Mummy – what you wish you knew before you experienced it
There are interactive elements in the queue that may surprise you! Keep an eye out for opportunities to set off small special effects.
How scary is Revenge of the Mummy?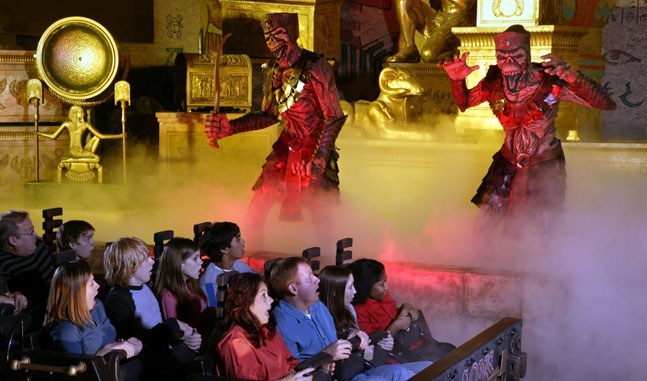 We rate Revenge of the Mummy four out of five Imhoteps in terms of fear factor. While it's not the most intense coaster, it is in the dark with plenty of surprising special effects.
What was Revenge of the Mummy's opening date?
May 21, 2004
Revenge of the Mummy – OI fun facts
Revenge of the Mummy replaced the opening-day attraction Kongfrontation. You can see an homage to the old ride in the gold room; look in the back-left for a small statue.
In July 2018, just a little over 14 years after the attraction first opened, Universal redid Revenge of the Mummy's lockers, moving them off to the room that is located just to the left of the main entrance. Although it did cause the queue's first room to be lost (guests originally entered where the lockers now are), it does make for a better and more efficient overall process – and the new room's design is an interesting complement to the pre-existing Mummy aesthetics.
Revenge of the Mummy – photo gallery
Revenge of the Mummy – locker room photo gallery
Revenge of the Mummy – real guest reviews
Orlando Informer
Average rating:
72 reviews
Apr 15, 2016
If you like roller coasters, it's a must do
Date Of Last Visit:
12/23/15
I love the Mummy. It's one of my favorite rides. The wait is usually less than some of the rides that aren't nearly as fun. The queue is a little dated to me, but it's still got some interesting stuff. Luckily, you're rarely in there long enough for the queue to matter that much. The ride is fast and has all different kinds of surprises. It's great. It's mostly in the dark, so as long as you don't have an issue with that, you should be good. It's kinda like Space Mountain, but the Mummy is actually fun.
Dec 31, 2014
My mummy experience
Date Of Last Visit:
12/29/14
I am not a roller coaster person, but I love the mummy movies. After reviewing posts by people saying they're "roller coaster" people, but they love this ride, I'd convince myself to go on it. Boy I wish I didn't! I enjoyed the first half of the ride and all the special effects- but the second half was WAY more intense than I prepared myself for. It ended up not being any fun for me. Be prepared for a HIGH speed continuous roller coaster in the dark!!
Dec 19, 2014
mummy ride
Date Of Last Visit:
Aug 2014
Now I don't do roller coasters, but this was fun for those who get motion sickness or are just a bit of a whimp .. well am both and I rode this and it was fun.



it is fast but not them big drops way or loops as there aint any.



Just fast indoor coaster.



try it
Nov 9, 2014
great
Date Of Last Visit:
October 13th 2014
Great ride. It was amazing from start to finish. It was great and even better than space mountain.
Oct 13, 2014
Fun but not for some
Date Of Last Visit:
October 6th 2014
The overall ride is fun and well thought out. The only thing i would change would be the vehicles. The seats are small and uncomfortable. If they made the cars feel better then i would definately ride again.
Do you have a question about the information on this page or would you like to provide feedback? Please let us know by posting in our
Orlando Informer Community
on Facebook.