Location
Port of Entry
Style
Full-service restaurant serving an eclectic mix of cuisine that reflects the Port of Entry world traveler theme; generally open only for lunch; reservations recommended (see below).
Two sentence insider summary
Confisco Grille offers families a more casual dining experience than Mythos, and a more approachable menu with burgers, salads, pizza, pasta, and more. If you are not quite ready for a meal, don't miss Confisco's full-service indoor bar — Backwater Bar — with its own entrance and outdoor seating area.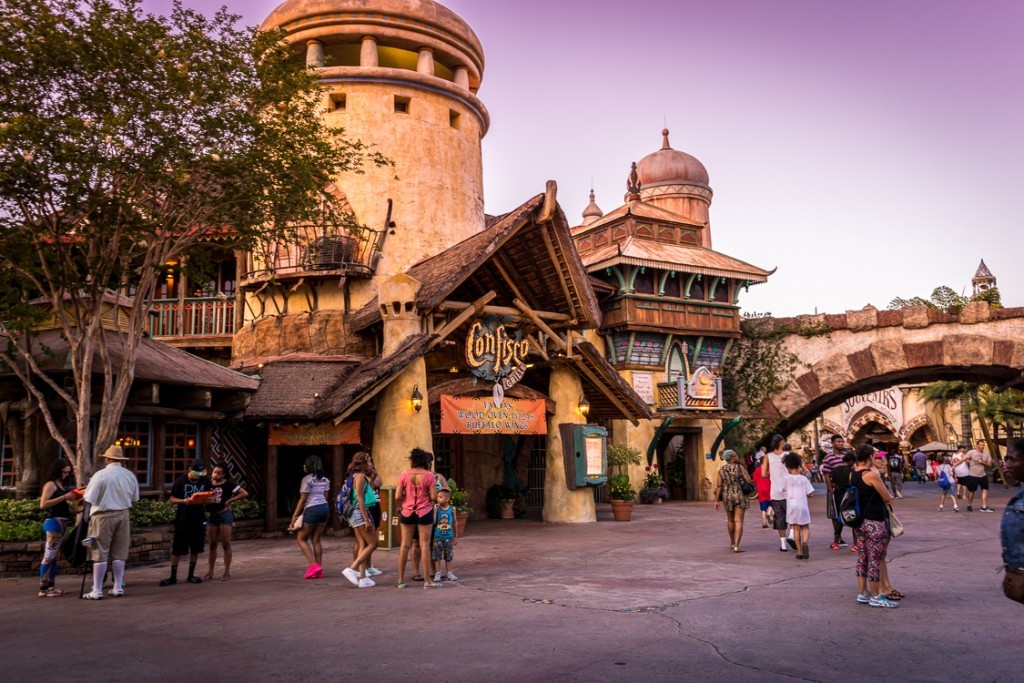 Confisco Grille at Universal's Islands of Adventure.
Prices
Entrees are $9 to $18 per person.
Reservations
407-224-4012
Online reservations available via Universal's website.
Guests staying on-site receive priority seating
Confisco Grille – full menu
ADVENTURE STARTERS
Hummus $6.99
Trader Wings $7.99 *GF
Loaded Nachos $9.99
small $6.99
Chicken Quesadilla $7.99
Confisco's Fries $5.99
Shrimp-Scargot $7.99 *GF
Spinach and Artichoke Dip $6.99
Onion Rings $5.99
SOUP AND SALADS
Today's Fresh Soup $4.99
Cup and a Half Sandwich $9.99
Fruit Bowl $8.99
Greek Salad $10.99 *GF
Traveler's Cobb Salad $11.99 *GF
Hearty Potato Leek Soup $4.99
Cup and a Salad $7.99
Confisco's Chicken Caesar Salad $10.99 *GF
Southwest Chicken Salad $10.99 *GF
SANDWICH ISLES
Classic Burger $9.99 *GF
Burger or Chicken Sliders $9.99
add bacon $10.99
Original French Dip $10.99
Grilled Chicken Sandwich $10.99 *GF
Croissant Moon Club Sandwich $9.99
Toasted Italian Ciabatta $10.99
Tex-Mex Wrap $9.99
WOOD OVER PIZZAS
Cheese, Pepperoni or Vegetable Pizza $8.99
MAIN COURSES
Signature Fish of the Day $17.99 *GF
Penne Puttanesca $11.99
Our House Specialty Pad Thai $14.99
Tomato Basil Pasta $10.99
add sauteed chicken or shrimp $12.99
An Adventure in Fajitas –
Chicken $13.99
Beef $14.99
Combo $16.99
Add side salad or cup of soup to an entree for $2.99
KIDS MENU
Mac & Cheese $5.99
Kid's Burger $5.99
Super Hero Cheese Pizza $5.99
Raptor Chicken Fingers $6.99
Ice Cream Sundae $2.99
*GF – can be prepared Gluten Free
*V – can be prepared Vegan
Character Breakfast at Universal's Islands of Adventure
The Character Breakfast at Confisco Grille is no longer available. However, you can still get a chance to dine with characters at the Superstar Character Breakfast over at Universal Studios Florida.
Confisco Grille & Backwater Bar – photo gallery
Confisco Grille & Backwater Bar –real guest reviews
Average rating:
4 reviews
May 26, 2014
Friendly service
Date Of Last Visit:
4/26/2014
Of the two full-service restaurants at Islands, I far prefer Confisco over Mythos. It is a neat place with lots of props to look at. It does not take itself too seriously, and the wait staff are very friendly. The food is good and reasonably priced.
Nov 10, 2013
Lovely Lunch
Date Of Last Visit:
October 25, 2013
Stopped here for lunch after an early entrance morning. Had pleasant spot on the patio at Backwater Bar. Service was excellent. Beers were served promptly while we perused the menu. My daughter had the Grilled Chicken Sandwich and I had the Soup and Half Sandwich - Potato Leek Soup and Croissant Moon Club Sandwich. The food was excellent and well presented - and there was plenty of it. It cam with a lovely ripe strawberry and wedge of melon which made excellent dessert. Price was very reasonable. Will return on our next trip.
Nov 9, 2013
Pleasant surprise
Date Of Last Visit:
11/01/2013
My wife and I went to Orlando for our honeymoon and stayed 8 nights at the Loews Royal Pacific resort on the Universal Studios property. Being on-site has some major advantages, but we flew in and did not have a car, so one of the major disadvantages is that it can be difficult to find affordable places to eat. Another down side is that many of the parks' quick serve restaurants have lots of the same menu items, so you find yourself eating the same things over and over again across the course of the week if you eat inside the parks a lot.

Several times throughout the week we walked past the Confisco Grille and checked out the menu. It seemed to have a good variety of food options and surprisingly reasonable prices. They are only open from 11:30AM-4PM, however, so there is a pretty brief window of opportunity to eat here each day.

On the day that we went, we were the first two in the door when they opened at 11:30. We were seated right away, and our server was friendly and courteous. She got drinks out to us quickly and we ordered our food. I had the French Dip sandwich with french fries and Au Jus. My wife selected the 1/2 club sandwich and a cup of the soup of the day, which was the minestrone soup. Between both of our meals, drinks, and tip, we ate for under $30 at a full service restaurant, which was very reasonable. Our entrees were not more expensive than we would have paid at a similar restaurant back home, which was a pleasant surprise.

The other pleasant surprise was the quality of food and portion size. We both had terrific food, and they gave us plenty of it. The portion of fries and the size of the sandwich were perfect for a lunchtime meal, and it tasted delicious!

I definitely recommend eating lunch in the Confisco Grille at Islands of Adventure, just make sure you plan accordingly to be there while they are open!!
Jul 19, 2013
Lunch at Confisco Grille
Date Of Last Visit:
10/3/12
I visited IOA last year on a surprise birthday trip with my husband, brother and cousin. We got to the park early and around 2PM we found ourselves waning in the early afternoon heat and humidity. Deciding that a short break was in order we stopped into The Confisco Grille for a late lunch. We had never been to Confisco before but upon entering the air conditioning was very welcoming as was the hostess who joked around with my brother because he was sporting a Pittsburgh Steelers t-shirt.

We were seated right away and checked out the menu. Our waitress was very friendly and we decided to split two of the pepperoni wood oven pizzas, my cousin also ordered a milkshake. The food came out very quickly, the pizzas were plenty big enough for us each to enjoy half. The crust had such good flavor and the sauce had just enough spice. We had asked for lemons for our waters and the waitress brought out a small bowl for us, it was more than enough for our drinks.

After eating my cousin foolishly stated how much he loved lemons which lead to a bet with my brother for him to finish the lemon wedges in the bowl (2) for five dollars. Our waitress joined in the fun saying that was not enough lemons for a challenge and she brought out another bowl with 4 more wedges! He completed the task and we all had a good laugh including our waitress.

We had a very enjoyable lunch at Confisco Grille the good food, awesome environment and friendly wait staff were exactly what we needed to recharge our batteries for the rest of the afternoon and we will be returning this fall when we visit again for Halloween Horror Nights.
Confisco Grille & Backwater Bar – map
Click any marker to display the attraction or venue name. To scroll or zoom, use the controls on the top-left of the map. You may also switch to different map views by using the buttons on the top-right of the map.
View OI's map of Universal's Islands of Adventure.