Skip to: Overview | Location | Hours | Menu | Guest reviews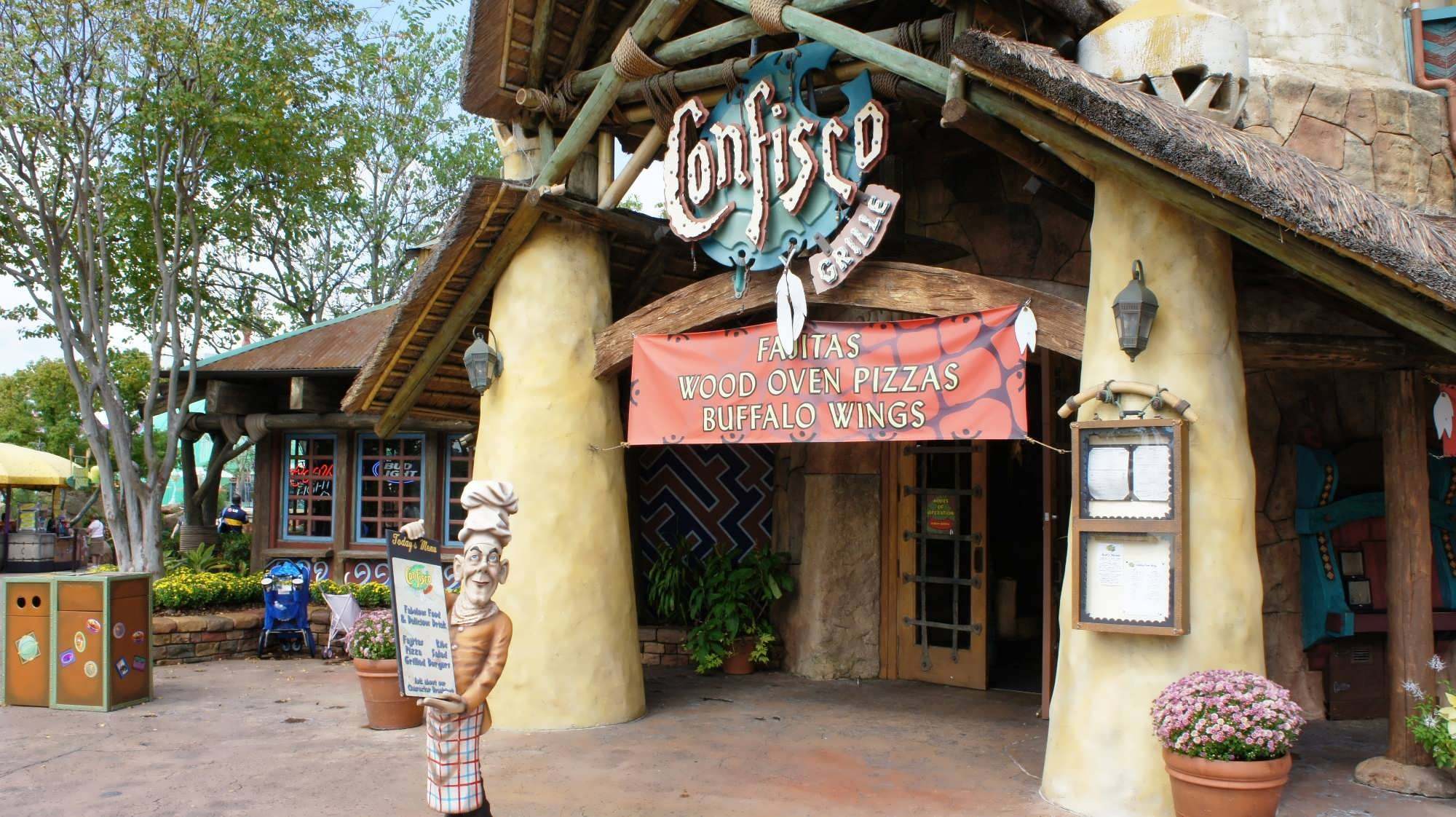 What is Confisco Grille?
Confisco Grille is the first full-service restaurant you'll encounter after you enter Islands of Adventure. Its theming reflects the eclectic nature of Port of Entry, with a hodge-podge of decor representing items that the proprietors of this establishment have collected (or confiscated) in the course of their travels. Confisco has an interesting menu that verges on exotic, with a more casual atmosphere than the nearby (and more famous) Mythos.
What is Backwater Bar?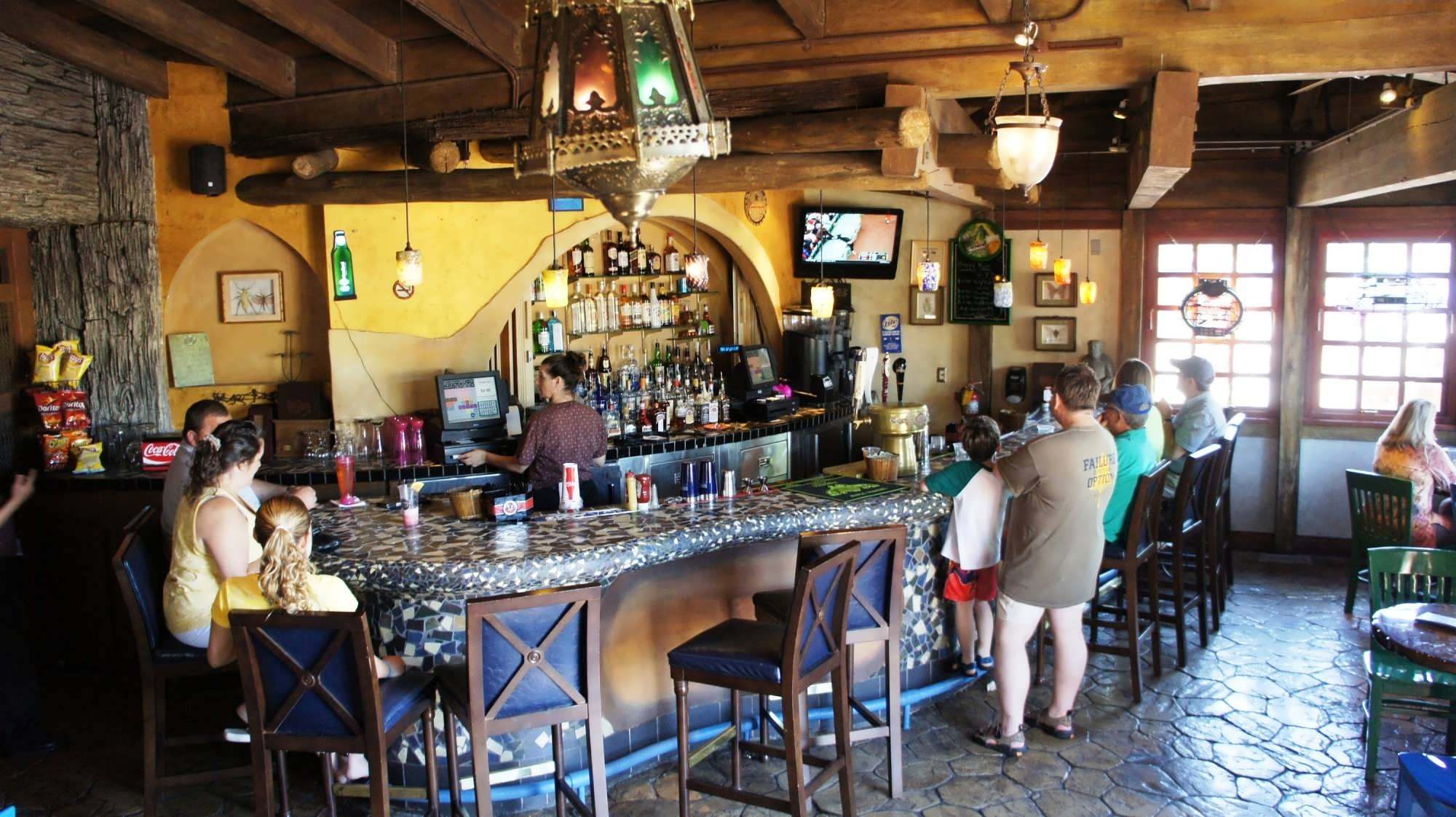 Backwater Bar is Confisco Grille's own full-service bar. The venue serves up an adventurous menu of cocktails, beers, and other beverages, as well as offering a limited selection of food items.
Where are Confisco Grille and Backwater Bar located?
In Port of Entry, which is in Universal's Islands of Adventure.
Confisco Grille and Backwater Bar – hours and reservations
Both Confisco Grille and Backwater Bar are open daily for lunch and dinner, with hours subject to change.
You can book your reservation for Confisco Grille online.
Confisco Grille and Backwater Bar – OI fun fact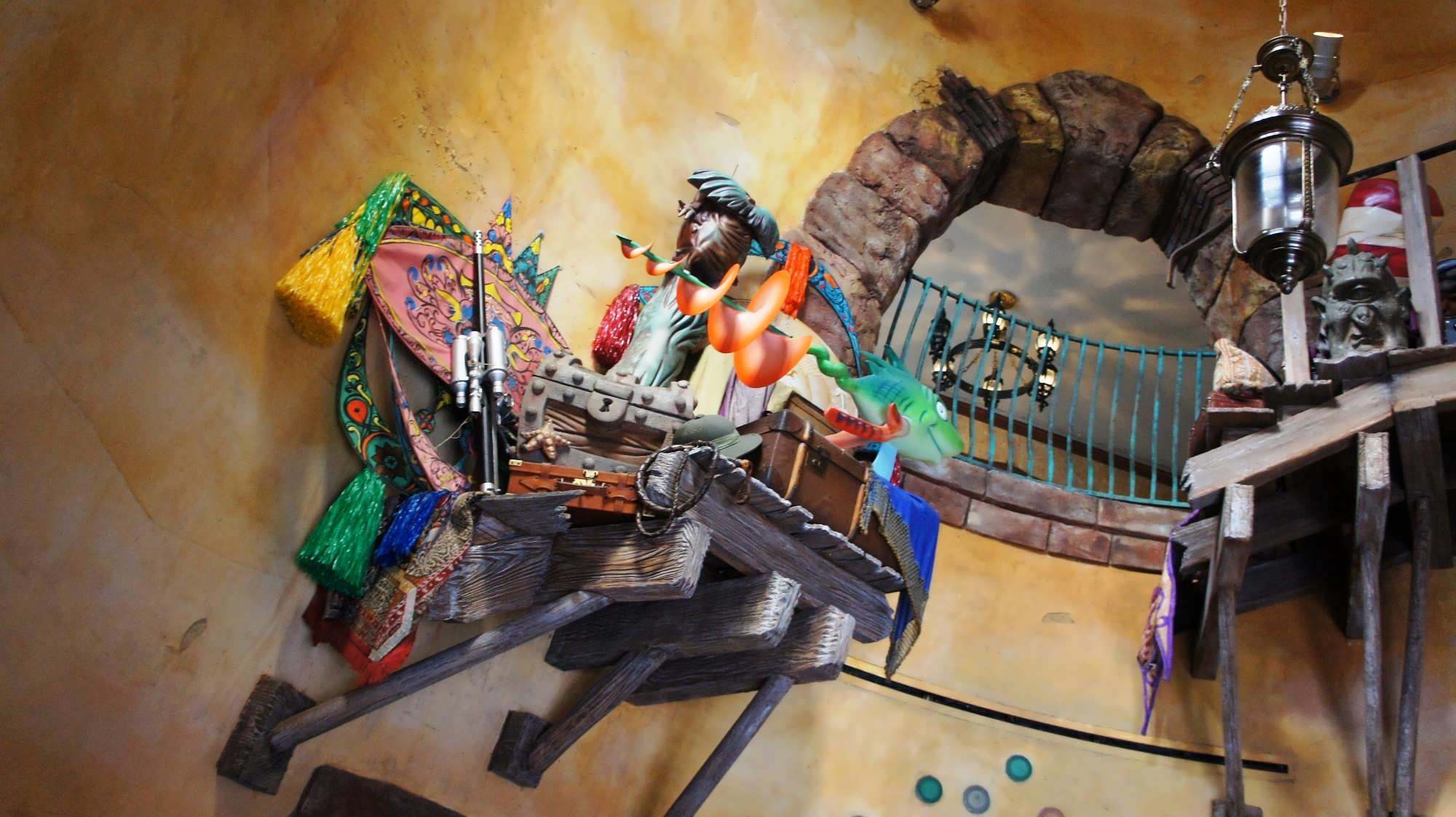 Not only is the restaurant adorned with bizarre and unusual decorations, but some of the items on display reference the various islands that make up Islands of Adventure. If you look closely, for example, you'll find a Seussian fish from One Fish, Two Fish, Red Fish, Blue Fish, and, even, the titular hat from The Cat in the Hat.
What's on the menu at Confisco Grille?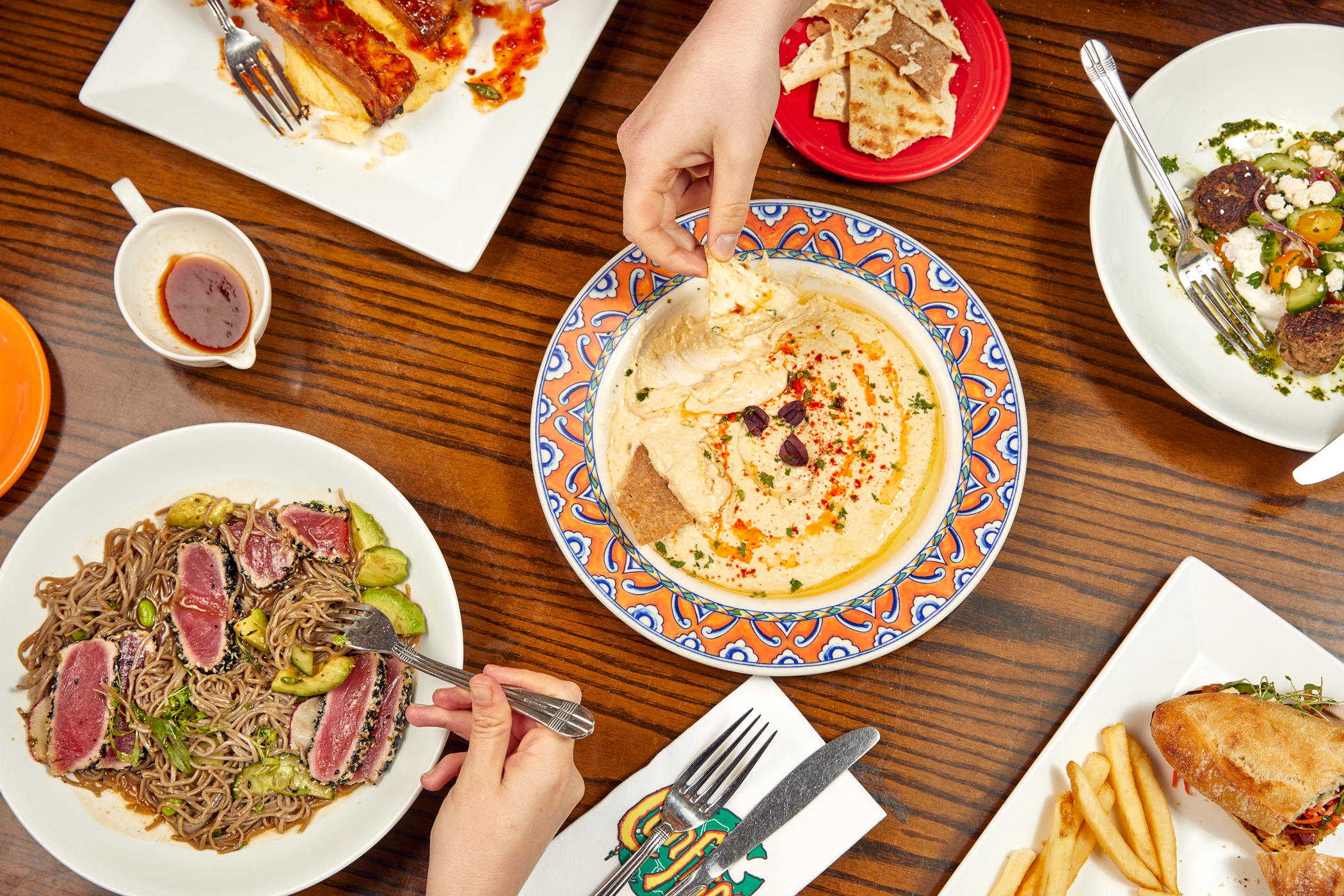 Everyday Menu
Appetizers
Loaded Nachos – $10.00
Crisp tortilla chips with beef and bean chili, cheddar-jack cheese, tomato-red onion salsa, shaved jalapeño, cilantro lime crema, and house-made guacamole
Vegetable Pot Stickers – $10.00
Pan fried vegetable dumplings, shiitake and beech mushrooms, baby bok choy, red curry broth and chili threads
Thai Summer Rolls – $13.00
Mixed Greens, marinated tofu, shredded carrots, cellophane noodles served with peanut sauce and sweet chili sauce
Ahi Tuna Nachos – $14.00
Sesame seared ahi tuna, diced avocado, edamame, Napa cabbage, jalapeño, micro cilantro, wonton chips, scallions, sweet soy and wasabi aioli drizzles
Summer Vegetable Hummus – $10.00
House-made hummus, heirloom cherry tomatoes, cucumbers, red onions, roasted chick peas, sumac and baked pita
Trader Wings – $13.00
(Gluten-free) Your choice of traditional Buffalo, honey barbecue, or sweet and sour sauce
Chicken Quesadilla – $12.00
Grilled chicken, caramelized onions, cheddar jack cheese in a chipotle tortilla, served with salsa, sour cream, and house-made guacamole
Spinach and Artichoke Dip – $10.00
Wood oven-roasted artichokes and spinach, savory cheeses, with grilled baguette
Soup and Salads
Heart of Romaine Caesar Salad – $15.00
(Gluten-free) Grilled chicken breast, crisp romaine, Caesar dressing, pepperoncini, with grilled flat bread
Shrimp – $19.00
Southwest Salad – $14.00
(Gluten-free, vegetarian option) Grilled chicken, romaine, tomatoes, cucumbers, red onions, roasted corn, crunchy tortilla strips, salsa, chipotle ranch dressing
Shrimp – $18.00
Chicken Tortilla Soup – $8.00
Cilantro pesto, pulled chicken, crispy tortilla strips
Entrées
Add a side salad to any entree for $5.00
Sweet and Sour Sticky Ribs – $19.00
Philippine-inspired smoked pork ribs tossed in a sweet and sour sauce, with goat cheese polenta, and toasted sesame seeds
Chilled Tuna Noodle Bowl – $17.00
(Vegetarian) Sesame-seared yellowfin tuna, soba noodles, green onion, avocado, edamame, cucumber, wasabi-ponzu dressing. (This item is served using raw or under-cooked ingredients.)
Pad Thai – $21.00
(Gluten-free, vegetarian) Rice noodles, mixed vegetables, chicken, and shrimp tossed in a mild sweet and sour peanut sauce. Guests may substitute crispy tofu for the chicken.
Udon Noodle Bowl – $20.00
Toasted ginger miso broth, shredded carrots, sesame roasted shiitake mushrooms, grilled baby bok choy, soft boiled egg
Tofu – $20 | Chicken – $23 | Pork Belly – $24 | Shrimp – $26
Penne a la Vodka – $18.00
Kalamata olives, pepperoncini and Italian sausage tossed in a light tomato, vodka cream sauce
Lemon Herb Rubbed Half Chicken – $19.00
Summer vegetable orzo pasta with spinach, fire roasted corn, heirloom tomatoes and parmesan cheese, roasted shallot vinaigrette
Catch of the Day* – MP
Our chef's daily selection of the freshest sustainable fish served with roasted fingerling potatoes, fire roasted summer corn and pancetta salsa, yuzu butter sauce, micro beet greens 
Handhelds
Served with French fries
Pork Belly Banh-Mi Sandwich – $19.00
Roasted pork belly, pickled carrots and daikon radish, cucumber, chile aioli, French baguette
Hearthstone-baked Chicken Sandwich – $16.00
Mozzarella cheese, Roma tomatoes, leaf lettuce, basil aioli, aged balsamic, and focaccia baked in the wood oven
Chipotle Chicken Wrap – $15.00
Grilled chicken, romaine, cheddar-jack cheese, roasted corn, salsa, and chipotle sour cream
The Confisco BLT – $19.00
Braised pork belly, lettuce, crispy fried green tomatoes, avocado, chipotle mayonnaise, toasted rosemary focaccia
Non-alcoholic Drinks
Fountain Soda – $4.29
Coke, Diet Coke, Sprite, Coke Zero, Cherry Coke, Root Beer, ginger ale, Mr. Pibb, lemonade, Fanta Orange
Iced Tea – $4.29
Hot Tea – $3.95
Hot Coffee – $2.79
Cappuccino – $3.99
Cafe Latte – $3.99
Espresso – $2.99
Hot Cocoa – $3.95
Sweet or Unsweetened Juice – $3.99
Orange, apple, cranberry, pineapple, or grapefruit
Specialty Drinks
The Bourbloon – $13.00
Jim Beam, Gran Gala, Cranberry, Coca-Cola, Sour garnish with a cherry, orange and a Doubloon
Jalapeño Margarita – $13
Patron Tequila, Gran Gala, housemade jalapeño lime juice mix
Islander – $13
Malibu coconut rum, banana liqueur, peach schnapps, pineapple juice, raspberries
Watermelon Lemonade – $13
Deep Eddy lemon vodka, Dekuyper Watermelon Pucker, lemonade, Sprite
Confisco's Margarita – $13
100% Corazón Blue Agave tequila, Cointreau, Gran Gala, lime, agave
Sangria by the Glass – $10
Burgundy, apricot and cherry brandy, apple, cranberry, and orange juice
Mornings in Bali – $13
Singani 63, Taylor's Velvet Falerum, lemongrass syrup, lime juice
Adventurer's Mule – $13
Pitu Cachaca, passionfruit purée, sour mix
Beer
Bottled Beer
Budweiser – $6.49
Miller Lite – $6.49
Coors Light – $6.49
Michelob Ultra – $6.49
Corona – $7.99
Newcastle – $7.99
Guinness Stout – $7.99
Abita Purple Haze – $8.49
Florida Lager Dogfish Head IPA – $8.49
Angry Orchard – $8.49
Orange Blossom Pilsner – $8.49
Heineken – $8.99
Truly Wild Berry – $8.99
White Claw Black Cherry – $8.99
Draft Beer
Bud Light – $9.49
Yuengling – $9.49
Blue Moon – $10.49
Seasonal Sam Adams – $10.49
Stella Artois – $10.49
Goose Island 312 IPA – $10.49
Weihenstephaner – $10.49
Wine
Sparkling
Maschio Prosecco Brut, Veneto, Italy – $11.00 Split

White
Borsao Rose, Campo de Borja, Spain – $7.50 glass; $30.00 bottle
Fire Road Sauvignon Blanc, Marlborough, New Zealand – $9.00 glass; $36.00 bottle
Natura Sauvignon Blanc, Valle de Casablanca, Chile – $9.50 glass; $38.00 bottle
Fess Parker Riesling, Santa Barbara County, California – $9.50 glass; $38.00 bottle
Banfi Le Rime Pinot Grigio, Tuscany, Italy – $9.50 glass; $38.00 bottle
Guenoc Chardonnay, Lake County, California – $8.50 glass; $34.00 bottle
Red
Five Rivers Pinot Noir, Santa Barbara, California – $9.50 glass; $38.00 bottle
Seven Falls Merlot, Columbia Valley, Washington – $9.50 glass; $41.00 bottle
Braai Cabernet Sauvignon, South Africa – $9.00 glass; $36.00 bottle
Cline Zinfandel, San Francisco Bay, California – $8.50 glass, $30.00 bottle
Trapiche Oak Cask Malbec, Mendoza, Argentina – $8.50 glass, $34.00 bottle
Zuccardi, Mendoza, Argentina – $10.00 glass; $40.00 bottle
Sebastiani Cabernet Sauvignon, Sonoma, California – $10.50 glass, $42.00 bottle
Confisco Grille – photo gallery
Confisco Grill and Backwater Bar – real guest reviews
Orlando Informer
Average rating:
4 reviews
May 26, 2014
Friendly service
Date Of Last Visit:
4/26/2014
Of the two full-service restaurants at Islands, I far prefer Confisco over Mythos. It is a neat place with lots of props to look at. It does not take itself too seriously, and the wait staff are very friendly. The food is good and reasonably priced.
Nov 10, 2013
Lovely Lunch
Date Of Last Visit:
October 25, 2013
Stopped here for lunch after an early entrance morning. Had pleasant spot on the patio at Backwater Bar. Service was excellent. Beers were served promptly while we perused the menu. My daughter had the Grilled Chicken Sandwich and I had the Soup and Half Sandwich - Potato Leek Soup and Croissant Moon Club Sandwich. The food was excellent and well presented - and there was plenty of it. It cam with a lovely ripe strawberry and wedge of melon which made excellent dessert. Price was very reasonable. Will return on our next trip.
Nov 9, 2013
Pleasant surprise
Date Of Last Visit:
11/01/2013
My wife and I went to Orlando for our honeymoon and stayed 8 nights at the Loews Royal Pacific resort on the Universal Studios property. Being on-site has some major advantages, but we flew in and did not have a car, so one of the major disadvantages is that it can be difficult to find affordable places to eat. Another down side is that many of the parks' quick serve restaurants have lots of the same menu items, so you find yourself eating the same things over and over again across the course of the week if you eat inside the parks a lot.



Several times throughout the week we walked past the Confisco Grille and checked out the menu. It seemed to have a good variety of food options and surprisingly reasonable prices. They are only open from 11:30AM-4PM, however, so there is a pretty brief window of opportunity to eat here each day.



On the day that we went, we were the first two in the door when they opened at 11:30. We were seated right away, and our server was friendly and courteous. She got drinks out to us quickly and we ordered our food. I had the French Dip sandwich with french fries and Au Jus. My wife selected the 1/2 club sandwich and a cup of the soup of the day, which was the minestrone soup. Between both of our meals, drinks, and tip, we ate for under $30 at a full service restaurant, which was very reasonable. Our entrees were not more expensive than we would have paid at a similar restaurant back home, which was a pleasant surprise.



The other pleasant surprise was the quality of food and portion size. We both had terrific food, and they gave us plenty of it. The portion of fries and the size of the sandwich were perfect for a lunchtime meal, and it tasted delicious!



I definitely recommend eating lunch in the Confisco Grille at Islands of Adventure, just make sure you plan accordingly to be there while they are open!!
Jul 19, 2013
Lunch at Confisco Grille
Date Of Last Visit:
10/3/12
I visited IOA last year on a surprise birthday trip with my husband, brother and cousin. We got to the park early and around 2PM we found ourselves waning in the early afternoon heat and humidity. Deciding that a short break was in order we stopped into The Confisco Grille for a late lunch. We had never been to Confisco before but upon entering the air conditioning was very welcoming as was the hostess who joked around with my brother because he was sporting a Pittsburgh Steelers t-shirt.



We were seated right away and checked out the menu. Our waitress was very friendly and we decided to split two of the pepperoni wood oven pizzas, my cousin also ordered a milkshake. The food came out very quickly, the pizzas were plenty big enough for us each to enjoy half. The crust had such good flavor and the sauce had just enough spice. We had asked for lemons for our waters and the waitress brought out a small bowl for us, it was more than enough for our drinks.



After eating my cousin foolishly stated how much he loved lemons which lead to a bet with my brother for him to finish the lemon wedges in the bowl (2) for five dollars. Our waitress joined in the fun saying that was not enough lemons for a challenge and she brought out another bowl with 4 more wedges! He completed the task and we all had a good laugh including our waitress.



We had a very enjoyable lunch at Confisco Grille the good food, awesome environment and friendly wait staff were exactly what we needed to recharge our batteries for the rest of the afternoon and we will be returning this fall when we visit again for Halloween Horror Nights.
Do you have a question about the information on this page, would like to provide feedback, or did you spot an inaccuracy? Please let us know by posting in our
Orlando Informer Community
on Facebook.