The purpose of this plan is to give you a framework for visiting all of the attractions at Universal Orlando's Volcano Bay in one day. It's written for guests without Express Passes (but if you do have Express access, be sure to check out our complete guide for full details).
It's important to understand that Volcano Bay is unlike Universal Studios Florida or Islands of Adventure – every ride in the entire water park utilizes a Virtual Line. This can be a huge advantage if you know how to tour the park, but it can also be a huge disadvantage if you do not understand TapuTapu and the virtual queuing system. With this in mind, note that this "touring plan" is different than the free touring plans you'll find on Orlando Informer for Universal Studios Florida and Islands of Adventure.
Speaking of TapuTapu – if you haven't already, now would be an ideal time for you to fully read our complete guide to TapuTapu at Volcano Bay. While this page will explain some key touring strategies, it is vital that you fully understand the system.
Skip to: Overview | "Ride now" attractions | What to do while waiting | Early Park Admission | Inclement weather | Ride every attraction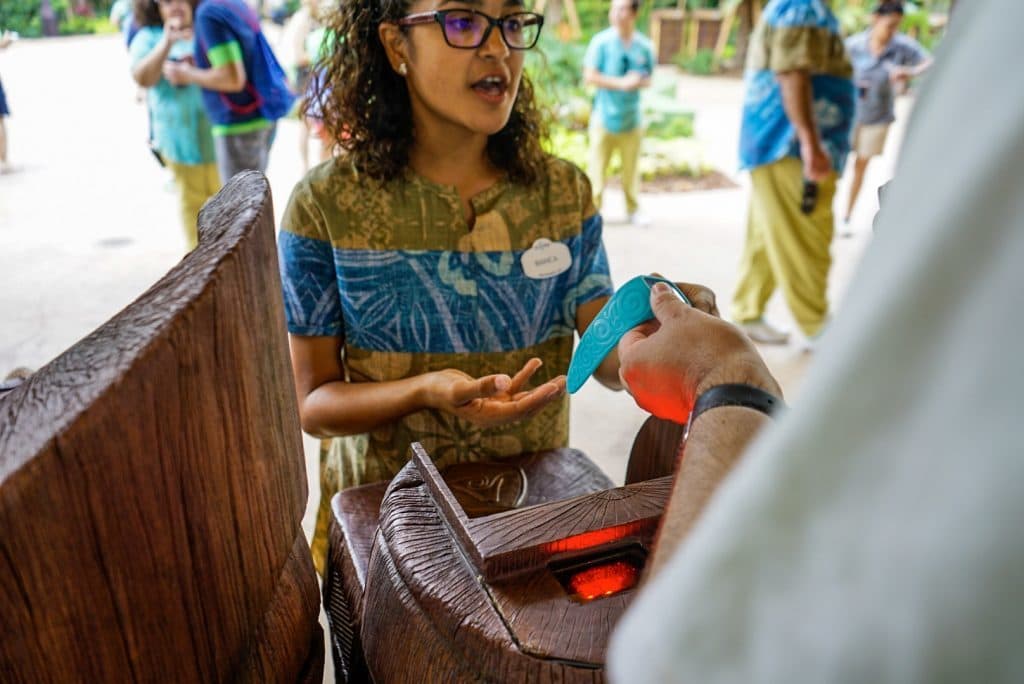 Virtual Lines at Volcano Bay – the basics
Here is a quick and easy list of simple pointers you should keep in mind while using your TapuTapu throughout your day at Volcano Bay:
While waiting for a ride return time on your TapuTapu, you can still experience slides that do not have a long wait (more on this below).
The ride wait time displayed outside each attraction is not the wait time that will be displayed on your TapuTapu; the system automatically assumes you'll spend a portion of the posted wait time waiting in a physical line. Even more importantly, the wait time automatically adjusts based on the length of the physical line. Keep an eye on your TapuTapu, as your wait time will often drop faster than expected (learn more about this in our TapuTapu guide).
Once your virtual wait is over and it's your time to ride, you have one hour to return to the ride entrance.
Volcano Bay attractions that often do not have a Virtual Line wait time ("ride now")
There are a handful of attractions at Volcano Bay that guests are often able to immediately join the physical line for – what's referred to as "ride now" status. If an attraction has "ride now" posted as its wait time, you can join the line even while you wait for another ride via your TapuTapu. This will come into play numerous times throughout your visit to the water theme park.
When you're waiting for your next major slide, it's a great idea to join the physical line for one of these attractions:
Kala and Tai Nui are the most notable attractions on this list. While they may have a virtual wait during the few peak hours of the day, they currently have a 230-pound weight limit and are two of the most intense slides at Volcano Bay – due to this, they often do not have a virtual wait.
Puihi is our favorite attraction on this list – it often provides thrilling airtime that guests do not expect. It's a great "warm up" slide as you wait in the Virtual Line for an attraction like Honu ika Moana. (Maku is the tamer sister of Puihi.)
Tonga and Raki of Taniwha Tubes usually have a physical line of anywhere from 10 to 20 minutes. If you're looking for the most entertaining tube, we recommend Tonga (one of the green ones).
Outside of the slides listed above, it's rare to find one in a ride-now status. If you see a different attraction that is ride-now, we recommend hopping on it even if your virtual wait is complete for another ride (the only caveat here is to keep in mind that once you've reached the end of your virtual wait time, you only have an hour to join the physical line for that particular slide).
How this all works in practice
This concept can be confusing. An example scenario to provide some clarity would be the following:
You joined the Virtual Line for Honu, which is posted at 70 minutes. Ika Moana, the sister slide, is listed at 30 minutes at this time. Your TapuTapu tells you to return in 60 minutes (the system expects you to spend roughly 10 minutes in the physical line once you return). After the 60 minutes passes and your TapuTapu alerts you that it's your turn to ride, you make your way back to Honu ika Moana. Upon arrival, you notice that ika Moana has dropped from a 30-minute wait to a ride-now status. In this situation, we would recommend riding ika Moana – if you haven't already – before you experience Honu. (The only exception would be if you didn't immediately return to the ride once your TapuTapu buzzed, since, again, you only have one hour to join the line after being notified.)
The reason that we recommend this is because, oftentimes, these attractions will only be ride-now for a very short amount of time; if you were to ride Honu first, for example, by the time you got back to the entrance you may very well find that ika Moana has returned to a 30-minute wait. Using this strategy would allow you to ride both Honu and ika Moana as efficiently as possible.
What to do at Volcano Bay while waiting for a ride return time
If you can't find a slide with a ride-now status, or if you have already experienced the commonly-low-wait rides listed above, the next best option to fill your time is to explore Volcano Bay. Here are some ideas:
You'll want to plan your lunch (and, possibly, dinner, depending how late the park is open) around touring, as well. Right before grabbing lunch at one of Volcano Bay's great restaurants, be sure to join a longer virtual queue. You could also hop into a longer Virtual Line and enjoy a drink (or two) from one of two boat bars.
What time to arrive and how to best utilize Early Park Admission at Volcano Bay
Select guests are eligible for Early Park Admission to Volcano Bay. To learn all of the details, take a look at our Early Park Admission guide.
If you're able to, we highly recommend that you take advantage of EPA. You'll still want to follow the order of attractions we suggest below, but you'll be able to knock out a few far faster than you normally could. We recommend arriving 30 minutes prior to the scheduled start of Early Park Admission to maximize your touring and minimize the times you wait.
If you're not eligible for EPA, you'll want to arrive roughly 45 minutes prior to the scheduled park opening to ensure that you're one of the first to enter. (If you're not sure of the hours at Volcano Bay, take a look at our free crowd calendar.)
A note on inclement weather at Volcano Bay
Inclement weather may be a blessing in disguise at Volcano Bay. Since it's a water park and every attraction will close in the event of lightning in the area, many guests will choose to leave. Similarly, if the forecast calls for a lot of rain, crowds may be lighter.
We highly recommend keeping an open mind and thoroughly checking the weather when lightning arrives. If it passes, or if it just rains and does not storm, the rides are open and wait times are far lower. Some of the most fun we've had at Volcano Bay was in the rain and/or after an afternoon storm.
How to experience every attraction at Volcano Bay
To experience every slide at Volcano Bay, we recommend doing them in the following order. This list is strategically organized to help make sure you're able to experience everything the water theme park has to offer.
We hope you had an awesome day at Volcano Bay!
Do you have a question about the information on this page, would like to provide feedback, or did you spot an inaccuracy? Please let us know by posting in our
Orlando Informer Community
on Facebook.