Holidays 2022 at Universal Orlando

We are happy to announce that the Holidays are set to return this popular parade for the 2022 holiday season. Use this guide page to learn everything you need to know about the parade and where to watch it.
2022's Holiday festivities run from Saturday, November 12, 2022 to Sunday, January 1, 2023.
Additional details for 2022 have not been announced just yet, however you can find information on Universal Studio Florida's 2021 festivities below. We will update this information when available.
Skip to: Description | Dates and times | Where to watch
What is Universal's Holiday Parade Featuring Macy's?
Universal's Holiday Parade Featuring Macy's is a delightful seasonal parade that lasts about a half-hour. In it, a number of floats parade through New York and Production Central in Universal Studios Florida, featuring characters from Despicable Me, Madagascar, and Shrek. Santa himself makes an appearance, and guests will want to get a great photo of him waving in front of the massive Christmas tree that sits in front of the Tribute Store.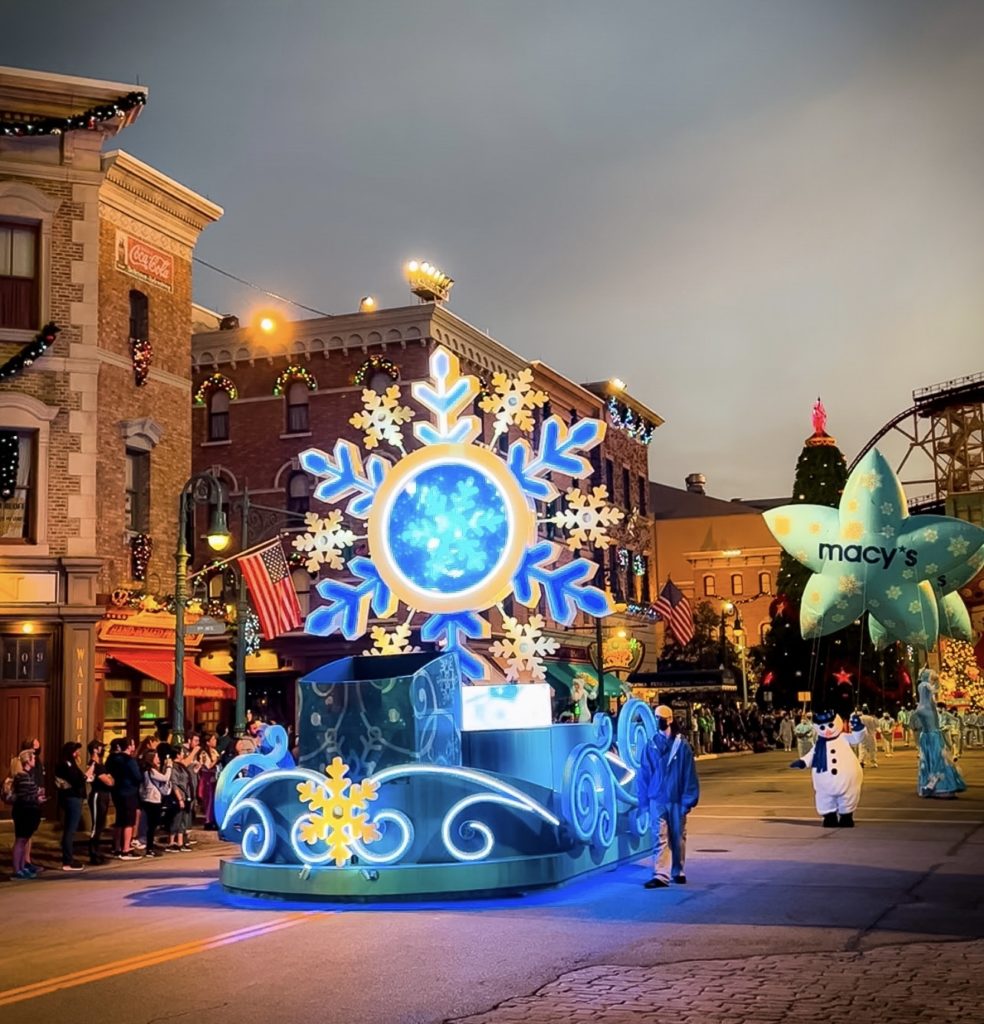 The first act of the parade is a group of beautiful ballroom "dancers" on stilts, bedecked in impressive light-up gowns and come before the first float — a blue and white snowflake float that introduces Macy's and the parade itself. The wintery motif of the first sequence is made complete with blue star balloons with the Macy's logo, and the parade has officially kicked off!
After this introduction, the characters you know and love begin to make their way down the street. The first of these is the Despicable Me franchise. Three total floats comprise this segment of the parade. The Minions are first up, hiding in an impressive Christmas Tree float. They are pulling a balloon that seems to be of the same home-made nature as the unicorn they made for Agnes in the first film. The Minions are followed by the Gru family — Margot, Edith, Agnes, Lucy, and Felonious himself all wave and greet guests from their float. A large Minion (in a festive sweater) balloon follows them. The last of the Despicable Me floats is a delightful display of some Minions doing what they do best — getting into some trouble. Looks like this time, they are trying to ski. What could go wrong?
The next group of floats carries the characters and joy from the Madagascar franchise. First in this series is a float and a balloon dedicated to the penguins of Madagascar. Rico, Skipper, Private, and Kowalski are all here to wish you happy holidays. Next up is a float with King Julien and some of his biggest fans. They are, of course, pulling a balloon of a giant pineapple. Can anyone explain the significance of this? The final Madagascar float carries Gloria, Melman, Marty, and Alex. Of course, season-appropriate tunes go along with these floats and get the proper, tropical spin.
After you're done singing and dancing with the animals from Madagascar, it's time to boogie with the characters from Shrek. The ever-in-trouble Gingerbread Man arrives in balloon form, and greets guests for the rest of his Shrek friends. He leads in front of a float that carries The Three Little Pigs who have gotten into some trouble in a house. These guys are being trailed by The Three Blind Mice, who are, of course, being followed by The Big Bad Wolf. Donkey enters next, fittingly on his own float. Who could possibly compete with Donkey, after all? One of his dragon-donkey offspring follows him as a giant balloon, while Duloc residents and Puss in Boots make their way down the street. The Shrek franchise portion of the parade closes out with one of the more beautiful floats — a float with Santa Shrek, Fiona, the Dragon, and Pinocchio all together. Shrek wishes happy holidays to everyone, showing just how far he has come from his "What are you doing in my swamp?" days.
In the final act of the parade, a series of classic Christmas elements are represented. Toys come to life, from robots to letter blocks. A nutcracker looms over the audience in an impressive balloon. Fittingly, these are also elements you can see for yourself in the first room of the Holiday Tribute Store. Of course, the star of the show is the grand finale — Santa himself. Elves dance out before him, and his reindeer come in on two floats. Santa Claus closes out the parade on his sleigh and wishes everyone holiday cheer. He also thanks guests for writing him letters from all over the world and waves atop his impressive float. The parade ends on one final balloon — a gold star displaying the Macy's logo.
When does Universal's Holiday Parade Featuring Macy's take place?
Universal's Holiday Parade Featuring Macy's takes place nightly at 5:30 in Universal Studios Florida. On the rare occasion that the park closes at 6:00 PM, the parade will take place at 5:00 PM. Dates and times are subject to change without notice.
Where should I watch Universal's Holiday Parade Featuring Macy's?
So now, the real question: where should you go to watch this spectacle? Orlando Informer has two options for you. Both require you getting to the location a bit early (between 15 and 30 minutes, to be safe) and will provide a great view for you and your party to see everything.
Option #1: In front of Revenge of The Mummy: The Ride (anywhere between the queue exit and the Palace Arcade).
This option is our most recommended simply because it will put you closer to the Christmas Tree that stands outside the entrance of the Holiday Tribute Store. This beautiful tree is the perfect backdrop to the photos and video you will inevitably take of the parade, so this spot comes in as our number one recommendation.
Option #2: In front of Starbucks
A little further down the street, across the way from Starbucks, is also a great place to take in the parade. This spot is perfect to see the floats and balloons coming down the street. Guests who want to capture the most content in their photos and video usually prefer to stand here when watching the parade, since this angle gives you a great opportunity to show the "processional" aspect of the parade.
Do you have a question about the information on this page or would like to provide feedback? Please let us know by posting in our
Orlando Informer Community
on Facebook.