Holidays 2020 at Universal Orlando

Universal's Holiday Parade Featuring Macy's isn't happening for the 2020 Holidays celebration at Universal Orlando Resort, given the ongoing coronavirus pandemic and its ensuing social-distancing guidelines. In its place, however, are two new mini-events that derive explicitly from the parade: Universal's Holiday Experience Featuring Macy's Balloons and Universal's Holiday Character Celebration. We're going to tackle each individually.
Skip to: Holiday Experience | Holiday Character Celebration
Universal's Holiday Experience Featuring Macy's Balloons
A number of the floats from Universal's Holiday Parade, along with their corresponding Macy's-provided balloons, are arrayed along a brand-new, "picturesque" walk-through experience inside one of Universal Studios Florida's giant soundstages. The idea is to allow guests the ability to get closer than they ever have before and to snap some rather festive selfies.
The icing on the yuletide cake here is the small handful of parade performers – namely, Gru from Despicable Me, Puss in Boots from Shrek, one of Santa's helpers, and ol' Saint Nick himself – that are present, interacting with visitors and posing for those all-important photos. This is especially true for Santa Claus; seeing as how his meet-'n-greets at the various Universal hotels have been cancelled, this now is the only way for families to see Kris Kringle anywhere at Universal Orlando Resort.
Universal's Holiday Character Celebration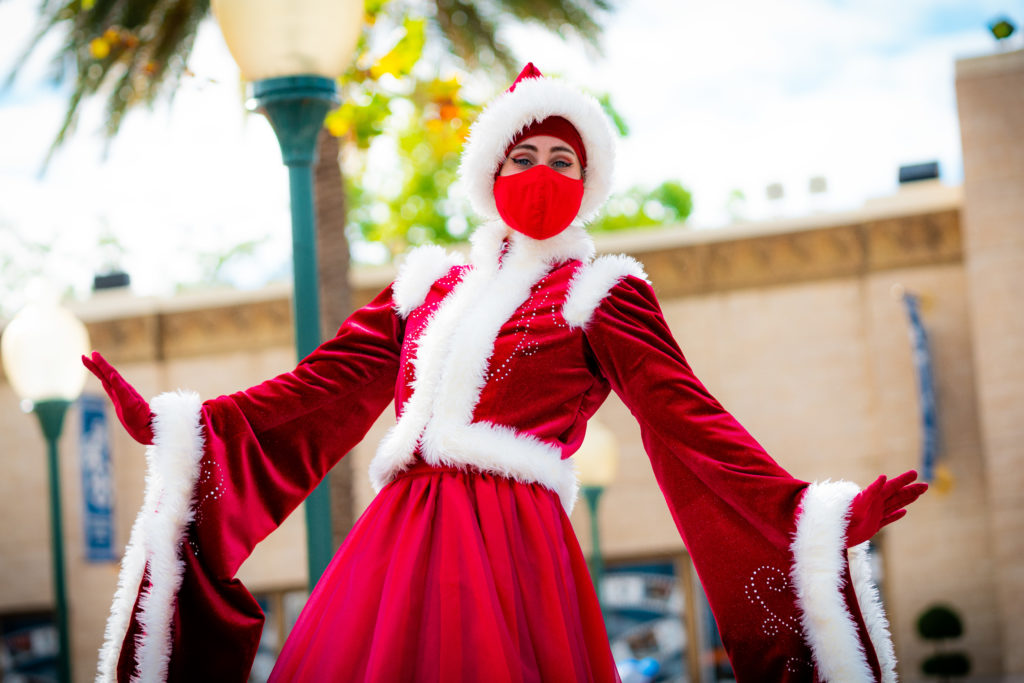 All the remaining characters who used to populate the Holiday Parade come out in a different spot at Universal Studios Florida – by the Horror Make-Up Show over in the Hollywood backlot, where a few small stages have been set up for socially distanced meet-'n-greet interactions. The cast actually comes out in different clutches and at different times throughout the day, which may or may not overlap with at least a few of the others.
It may sound a little confusing, so here's an example of a showtime schedule (dated from Monday, November 16 through Thursday, the 19th, to be exact) just to give you a precise idea of what to expect:
Despicable Me – 9:00 am, 9:20, 10:20, 11:20, 12:30 pm, 2:25, 3:05, 3:25
Madagascar – 9:20 am, 11:40, 1:10 pm, 3:45 pm
Santa stilt walkers: 9:20 am, 11:20, 12:30 pm, 3:05
Santa's elves – 9:40 am, 10:15, 12:15 pm, 12:55, 1:55, 2:45, 4:15, 4:45
Shrek – 9:55 am, 12:30 pm, 2:10, 4:30
Toy unit – 10:30 am, 12:00 pm, 1:30, 4:00
They all arrive on floats and then put on "special holiday show moments" for spectators – basically, a song and dance at and around the stages. Families are able to clap, sing, and dance along and to, of course, get even more of those holiday selfies.
Do you have a question about the information on this page, would like to provide feedback, or did you spot an inaccuracy? Please let us know by posting in our
Orlando Informer Community
on Facebook.