At one time called the Macy's Holiday Parade, the event this year has been newly rebranded to Universal's Holiday Parade and has been given a somewhat bigger scope: although the famous larger-than-life Macy holiday balloons are still part of the proceedings (and, in fact, will include more than a dozen brand-new entries), they are now joined by 15 new "incredibly detailed" floats that feature the likes of the Minions, Shrek, Madagascar's cast, and, of course, Santa Claus.
While we're still waiting on Universal to release the full details for this year's parade overhaul, you can still enjoy all of our tips, tricks, and insider's advice from the previous Macy's incarnation below (yes, we're certain a lot – if not all – of it will bleed over to Universal's Holiday Parade).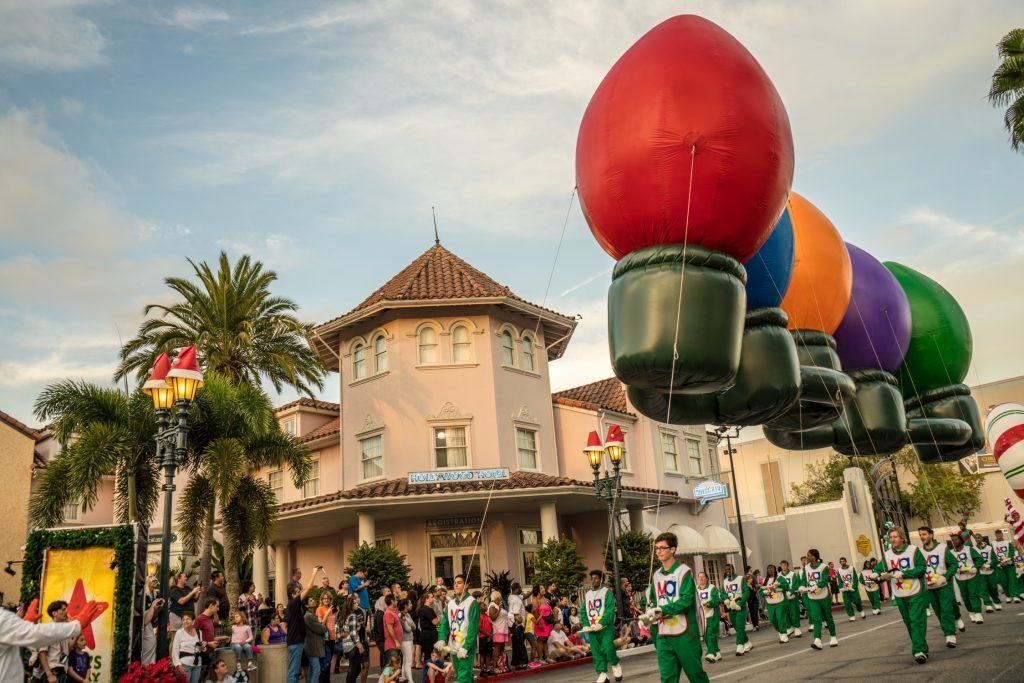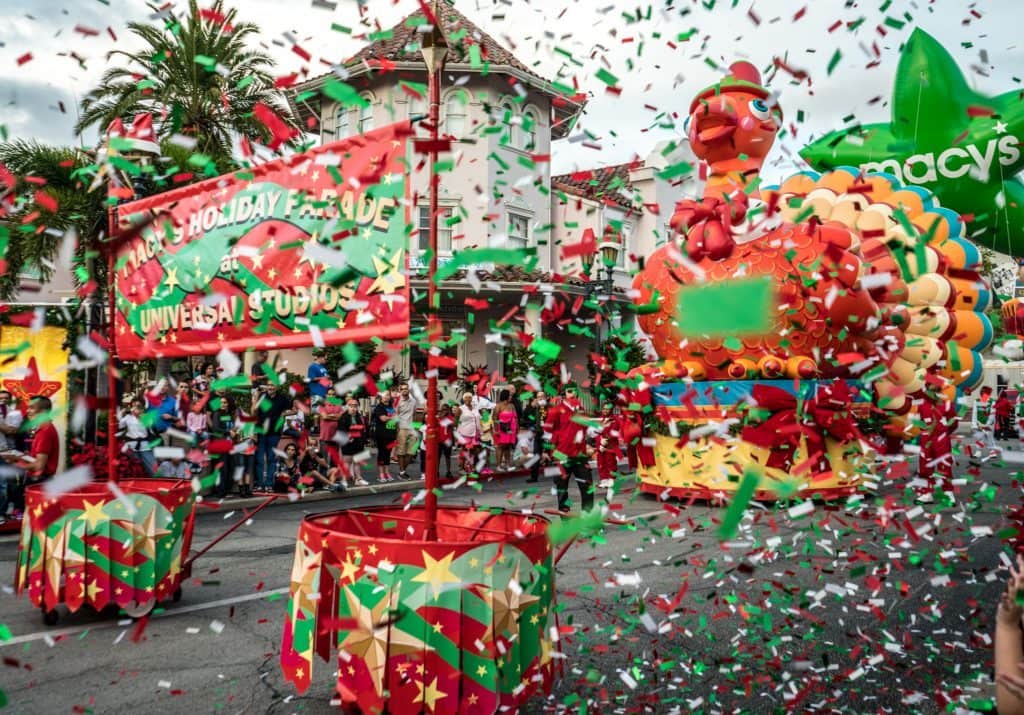 Guests will also enjoy colorful holiday characters, fantasy-filled floats, and a tree-lighting ceremony presented by Santa Claus and the famous New York City Rockettes.
Parade times (for 2016; 2017's details haven't been released yet): December 3-18, the parade begins at 5:00 pm. When the parks have extended hours from December 19 to January 1, the parade begins at 8:00 pm. Don't miss our Macy's Holiday Parade video and photo gallery at the bottom of the page.
Best place to watch Universal's Holiday Parade
Here is an image of the former Macy's Holiday Parade (note that it begins and ends in the same location, next to the Horror Make-Up theater):
If you'd like to view a larger version of the map, just click the image above. Otherwise, you can view a PDF file.
For reasons we'll explain in a moment, the best possible place to watch the parade is in the New York backlot of Universal Studios Florida. To be more specific, set yourself directly in front of the Macy's building near the entrance to Revenge of the Mummy:
Some of the space here may be roped off for VIP viewing, but that's no matter. Just try to find a spot in front of the Macy's building or Revenge of the Mummy.
Why is this the best place? Because not only do you get to watch the whole parade as usual, but you'll also get a special treat. At the end of the parade, Santa stops in front of the beautiful Christmas tree and hosts a lighting ceremony, complete with dancing snowmen and Radio City Rockettes. Here is a video of the performance from a previous year:
But that's not all…
Once Santa moves on to continue the parade, the Rockettes and other characters stay behind for photo ops in front of the Christmas tree.
To see more, check out the media gallery at the bottom of the post.
As you might imagine, the area near the Macy's building is also one of the most crowded places to be. If you want to avoid the crowds, then choose a comfortable location anywhere in the Hollywood backlot (near the Universal Studios park entrance). This area is not only less crowded, but if you plan on leaving after the parade, you will be able to get out before the majority of the parade-watchers start to leave.
Our second recommendation for a viewing spot
Is the area in front of Macy's too busy? Well, we have another great spot for viewing the parade and taking photos.
Our second recommendation is in front of Louie's Italian Restaurant, literally just down the street from the Macy's building. Here, the parade turns to head back to where it started, giving you a perfect opportunity to shoot "head on" photos with the New York facades as a backdrop. This will make your images more reminiscent of the Macy's Thanksgiving Parade in New York City as it winds through the city streets.
Look for the metal gates or ropes used to mark the parade's turning point, as you see in the first photo below. Plant yourself there about 25 minutes before the parade is scheduled to start, and you should be set.
Keep in mind that you will be waiting a bit, because you have to wait the 25 minutes until the parade starts, then you have to wait for it to actually move through the Hollywood backlot and Production Central to get to your spot in New York. But don't fret – there's a beverage stand right in front of Louie's Italian Restaurant that sells a few snacks, soda, and beer. Louie's itself should also be open.
Once the parade is over, from here you should still be able to rush back over to the Christmas tree if you'd like to participate in the photo ops mentioned above.
Would you prefer to sit down? Okay, we have one more recommendation. Also by Louie's, there are a few tables and chairs that serve as an outdoor dining area for the restaurant. Snag one of these, and you'll be able to enjoy the parade while relaxing in a seated position. (Keep in mind, this spot probably isn't the best if you'd like spectacular photos.)
Other seating locations include the half-a-dozen benches in the Hollywood backlot.
Annual passholder viewing location
Universal annual passholders get their own private viewing spot, which last year was located in front of Mel's Drive-In. However, for the reasons we explained in the previous section, we'd recommend that passholders skip this private spot and head for the the New York backlot.
Volunteer as a balloon handler in Universal's Holiday Parade
Guests may sign up to be balloon handlers and take part in delighting crowds along the streets of Universal Studios Florida. Registration opens two hours before parade time in Woody Woodpecker's KidZone – so 3:00 pm or 6:00 pm, depending on the parade schedule – and is first come, first serve for everyone.
Requirements for participating (subject to change):
18 years of age or older
48 inches or taller
Weigh at least 125 pounds
Able to lift 50 pounds
Able to walk the length and time of the parade, roughly one mile and one hour
Hold the line of the balloon with two hands
Understand English to follow commands from the balloon pilots
Must be wearing closed-toe shoes
Coordinating jump suits and gloves are provided to all participants.
Friendly reminder about dressing in layers: the parade is about 45 minutes and starts at dusk or later. This means you may be fairly warm when you sign up to volunteer (especially if it's still sunny out), but two hours later when the parade actually starts, it could be quite chilly – so please dress accordingly!
To learn more about this experience, check out this blog post: "Let Your Heart Take Flight" as a Macy's Holiday Parade Balloon Handler
Do you have a question about the information on this page, would like to provide feedback, or did you spot an inaccuracy? Join us in our Facebook Community and let's talk about it!
Want to skip the details and just find the best deals for traveling to Orlando? Get a free quote for Universal, Disney, and more from Orlando Informer Travel – click here.
Macy's Holiday Parade – HD video
Macy's Holiday Parade – photo gallery
Click any image to view it full-screen. When the full-screen image is open, click to the right or use the right arrow on your keyboard to advance through the gallery.