Skip to: Overview | Location | Restrictions | Schedule | Dessert parties | Fun facts | Guest reviews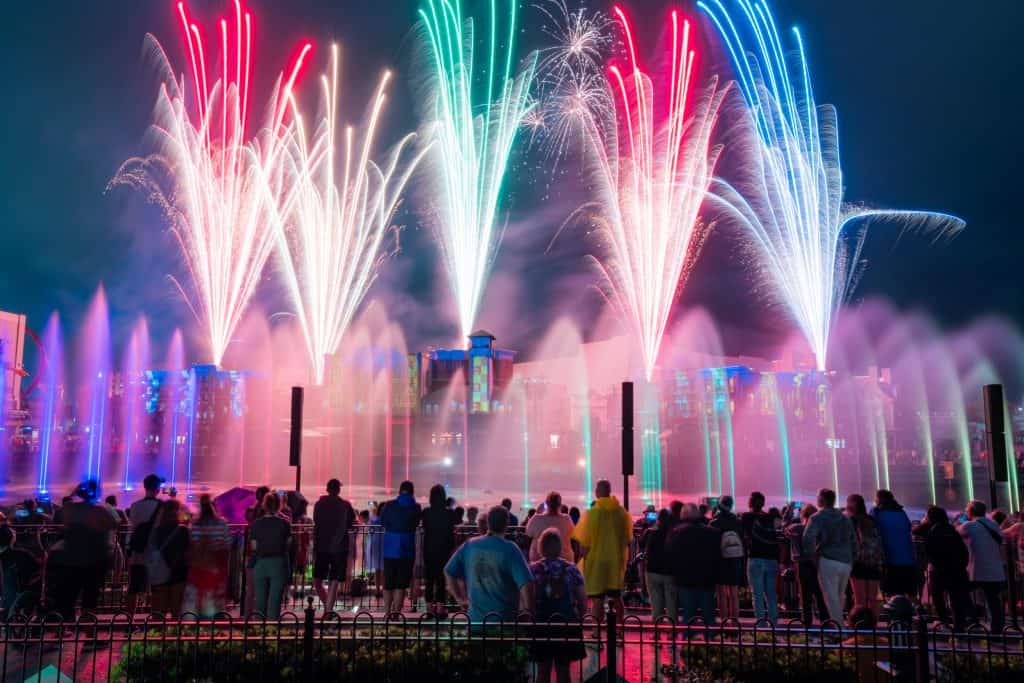 What was Cinematic Celebration?
A huge number of the properties at Universal Orlando Resort – including Jurassic World, Despicable Me, Fast & Furious, E.T., and, of course, Harry Potter – all joined forces to celebrate the end of your epic day at Universal Studios Florida. This nighttime spectacular utilized 40-foot-wide water curtains (as movie screens), 120 water fountains, fireworks, and even state-of-the-art projection mapping on the buildings surrounding the lagoon in order to wrap you fully in the extravaganza.
Where was Cinematic Celebration located?
At Universal Studios Florida's central lagoon, with the dedicated viewing area situated in Central Park (next to Hollywood).
Cinematic Celebration – height restrictions and other factors
None; no Express Pass access.
When did Cinematic Celebration take place?
Cinematic Celebration was only performed once a night. It's also important to note that it did not run every single night of the year and it was suggested to double-check with a team member once you were on-site that day.
Cinematic Celebration – what you wish you knew before you experienced it
Cinematic Celebration's viewing area in Central Park, which could hold up to 6,500 guests, consisted of three different tiers and a grassy area that was located above and behind them, with standing room only available throughout. The best spot in the house was the third level – the one farthest away from the water – directly across from and slightly to the right of the Starbucks that's on the other side of the lagoon. This vantage point, we've found, allowed you to take more of the vista in, and it also prevented you from getting (as) wet from the water fountains' various sprays.
(We were also rather partial to the grassy area, but it didn't seem to be reliable – Universal could have this entire subsection cordoned off for VIP guests.)
It was also recommended to arrive at least 30 to 45 minutes before showtime for a good "seat" of any kind.
What were Cinematic Celebration's dessert parties?
Just like with Cinematic Celebration's predecessor, which had a dessert add-on available for an upcharge, Universal also sometimes offered an exclusive, limited-time, holiday-themed viewing area and dessert party for its newest nighttime spectacular.
For 2019, this was called the Festive Flavors Holiday Buffet, and it included an all-you-care-to-enjoy buffet (with specialty desserts and sparkling wine) and a reserved viewing area for both Cinematic Celebration and Universal's Holiday Parade Featuring Macy's. It was only available from December 22nd through 30, 2019, and it cost $64.99 for adults and $44.99 for children (ages three to nine).
What was Cinematic Celebration's premiere date?
July 16, 2018
Cinematic Celebration – OI fun facts
The two-minute Harry Potter sequence opened with various spells being cast, with the audience able to see the magical results playing out all around them. Universal has said this was done deliberately because it wanted to honor the one way that guests can be directly connected to the brand while in The Wizarding World of Harry Potter: purchasing a wand and engaging in interactive spell-work.
Okay – that fun fact just wasn't enough for you? How 'bout this one, then: the show's official name is Universal Orlando's Cinematic Celebration: Epic Cinema under the Stars. Phew!
Cinematic Celebration – further reading
You can find a more complete breakdown of Cinematic Celebration's overall contents here (we didn't want to put spoilers up for everyone to see here on our guide page) and a specific emphasis on its Wizarding World segment, including its triumphant climax, here. Additionally, we have a brief-but-thorough rundown of the first three lagoon shows at Universal Studios Florida here, and a full-blown look at the previous production, Universal's Cinematic Spectacular: 100 Years of Movie Memories, here.
Cinematic Celebration – photo gallery
Cinematic Celebration – real guest reviews
Orlando Informer
Average rating:
0 reviews
Do you have a question about the information on this page or would you like to provide feedback? Join us in our
Orlando Informer Community
on Facebook, and let's talk about it!