Skip to: Overview | Location | Hours | Fun fact | Menu | Guest reviews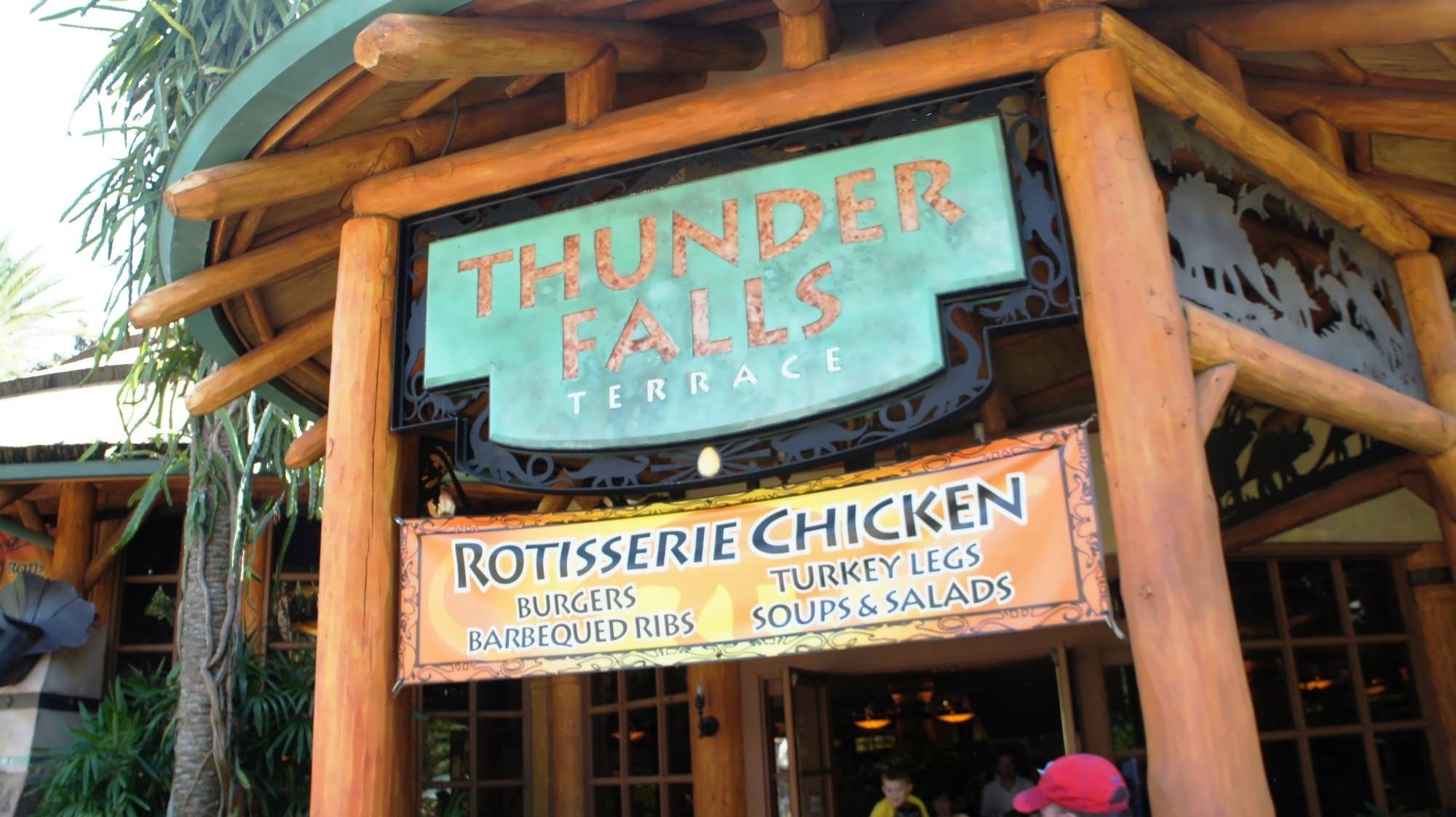 What is Thunder Falls Terrace?
Thunder Falls Terrace is one of our favorite quick-service restaurants at Universal Orlando. The lunch and dinner menu selections are a step up from the regular counter-service fare, with hearty BBQ and rotisserie chicken, along with salads, sides, and Signature Key Lime Cheesecake for dessert. The setting is relaxing and very well decorated, and you can catch killer views of the Jurassic Park River Adventure plunge from much of the indoor and outdoor seating (see the video below).
Where is Thunder Falls Terrace located?
In Jurassic Park, which is in Islands of Adventure.
Thunder Falls Terrace – hours and reservations
Thunder Falls is typically open during park hours, but this is, of course, subject to change. No reservations are necessary.
Thunder Falls Terrace – OI fun fact
The food served here is essentially the same as what you find over at The Three Broomsticks – so if the line is too long in Harry Potter's corner of the park, mosey on over to Jurassic Park's instead.
What was Thunder Falls Terrace's opening date?
May 28, 1999
What's on the menu at Thunder Falls Terrace?
Platters
Smoked Turkey Leg Platter (UD) – $15.49
Served with French fries
Roasted Pernil – $16.99
A generous portion of roasting pernil served with onion mojo, black beans, cilantro rice, and sweet plantains
Chicken and Roasted Pernil – $15.99
Rotisserie chicken and roasted pernil served with roasted corn and potatoes
Rice Bowl – $14.99
Choice of mojo chicken or jackfruit with black beans, cilantro rice, cotija cheese served with fried plantains and salsa
Combos
Served with a milkshake
Rotisserie Chicken Combo – $17.49
Slow roasted rotisserie spiced chicken served with fresh corn and potatoes
Prehistoric Wings – $18.99
Grilled sweet chili wings, garlic mojo, plantain chips, black beans and rice.
Salads
Rotisserie Chicken Salad (UD) – $11.49
Served with fresh green vegetables and citrus vinaigrette
Mixed Green Salad (UD) – $6.99
Sides
Seasoned French Fries (UD) – $3.99
Fresh Corn (UD) – $3.99
Herb Roasted Potatoes (UD) – $3.49
Black Beans (UD) – $1.99
White Rice with Cilantro and Lime (UD) – $1.99
Rice and Beans (UD) – $3.49
Plantain Chips (UD) – $3.49
Drinks
Coca-Cola Freestyle® Souvenir Cup – $16.99
Fountain Soda (UD) – $3.99
Coca-Cola, Coke Zero Sugar, Diet Coke, Sprite, Fanta Orange, Hi-C Poppin' Pink Lemonade, Gold Peak Iced Tea
Powerade (UD) – $5.00
Fruit punch, Mountain Berry Blast
H20+ Premium Water (UD) – $5.00
Milk (UD) – $3.29
Two-percent white, chocolate
Hot Drinks (UD) – $3.29
Coffee, hot cocoa, hot tea
Minute Maid Juices (UD) – $2.89
Apple, orange
Milkshakes – $3.99 regular (UD); $5.99 large
Chocolate, vanilla
Draft Beer
Canned Beer – $9.00
Kona Longboard, Pseudo Sue Pale Ale, White Claw Black Cherry
Wine
Chardonnay – $8.50
Merlot  – $8.50
Pinot Grigio – $8.50
Desserts
Signature Key Lime Cheesecake (UD) – $5.49
Brookie (UD) – $3.29
Chocolate chip cookie filled brownie
Seasonal Fresh Fruit Cup (UD) – $4.29
Thunder Falls Terrace – real guest reviews
Orlando Informer
Average rating:
8 reviews
May 26, 2014
Sides, sides, sides! A surprise star!
Date Of Last Visit:
9/23/13
Many guests have mentioned the view and this is absolutely superb. Watching the splash zone is so much fun and a great way to relax during a hot summer day at the parks. Being a vegetarian however, in park food is extremely important to me. It is often times very difficult to find a variety of vegetarian options. It gets boring eat the same veggie burgers and greasy pizza all the time. Thunder Falls is a breath of fresh air. Their Cumin Scented Black Beans are to die for. Seriously the most delicious in park food I have tried for veggies! There are also other options such as rice, potatoes, and corn. A wonderful bonus-the chefs were kind enough to let us know when things that seemed vegetarian were cooked with meat broths or meat products! Can't wait to go back!
May 25, 2014
Two words: Splash Zone
Date Of Last Visit:
4/26/2014
We love to eat at the Thunder Falls Terrace for several reasons. The food is hearty and reasonably priced. There are some good healthy choices for those of us who are trying to avoid too much greasy fried food. And most importantly...the Splash Zone! We like to sit outside on the patio and watch the boats land from the Jurassic Park River Adventure. My kids love to stand in the splash zone, where the huge wave of water will rush over them, completely drenching them. It is one of those small things that make a trip to Islands a memorable experience.
May 19, 2014
Comfy Chairs and Ribs
Date Of Last Visit:
April 2014
As quick service restaurants at a theme park go, I have to say I can't complain. For my aching bones, I have to say the best thing about it was the cushioned chairs! At 50 years old, I have many more aches and pains since the last time I visited the parks (pre Harry Potter). We were there early so able to get a window seat to watch the the splash zone at Jurassic Park. My daughter and I were starving because we hadn't had much breakfast and "parking" makes you hungry! That being said, we should have split a rib platter because it would have been more than enough food. The roasted potatoes and corn were very good for theme park food and so were the ribs. I would have liked extra mango bbq sauce on the ribs but that was my only complaint. We were too full for dessert. It would be a great place to come back to just for the comfiest chairs in the park!
Aug 4, 2013
One of our top 3 favorite USF eatatries
Date Of Last Visit:
April,2012
1. Food is great.Our favorite is the rotisserie chicken with herb baked potato wedges and corn on the cob. Scrumptious! Also, love the burgers (even better than burger digs). Want to try the ribs next.



2. Ample seating space and a beautiful, calm and relaxing interior.



3. Windows all around so you can see folks at the end of the River Ride or other areas of the Park.



4. Our biggest complaint is that both parks have too many good places to eat.
Jul 19, 2013
Great Meal, Great view
Date Of Last Visit:
7/12/2012
The view of the Jurassic Park ride outside is fun to watch...Food is really good. Service quick....When we came in the place wasn't busy at all.....Ordering our food was fun as they have everything out to tempt you...Fruit Cup?....Why Yes! Cake? Yes, Please! Portions for adults are big and shareable. After we ate it was late afternoon, as we left we noticed that they were closing.....and the park wasn't even closing yet...Keep in mind if you want to eat in a certain place that you make note of the closing times posted outside the door and you get ther ein time...Like we did!
Do you have a question about the information on this page, would like to provide feedback, or did you spot an inaccuracy? Please let us know by posting in our
Orlando Informer Community
on Facebook.