Skip to: Overview | Location | Restrictions | Fear factor | Fun fact | Guest reviews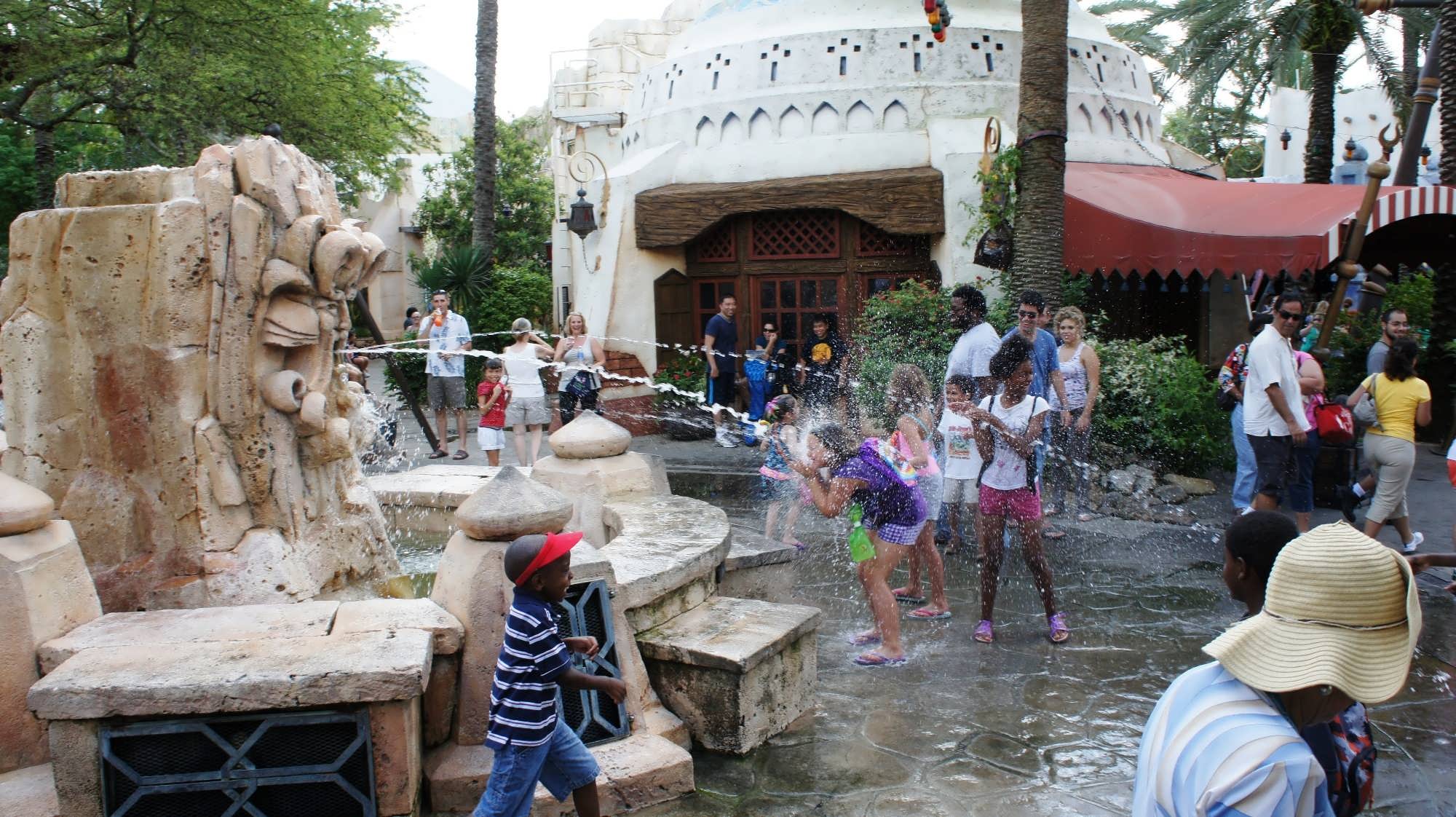 What is The Mystic Fountain?
The Mystic Fountain is a highly engaging spirit that was trapped in the stone by the evil Miseria. It's now an interactive attraction that delights younger guests in particular as it talks, sings, and squirts them with water. It shares questions and riddles, and if you don't get the answer right, you may get wet!
Should it be your birthday when you visit Islands of Adventure, you'll want to make sure The Mystic Fountain knows.
Where is The Mystic Fountain located?
In The Lost Continent, which is in Islands of Adventure.
The Mystic Fountain – height restrictions and other factors
There are no restrictions – or Express Pass access – for this walk-up experience.
The Mystic Fountain – what you wish you knew before you experienced it
The Mystic Fountain engages in dialogue with guests (mainly kids) at random, but the conversation may be prompted by approaching it or tossing a coin in.
How scary is The Mystic Fountain?
We rate The Mystic Fountain zero out of five water sprays in terms of fear factor – unless, that is, you're afraid of (possibly) getting wet.
What was The Mystic Fountain's opening date?
May 28, 1999
The Mystic Fountain – OI fun fact
Located directly behind The Mystic Fountain is a giant amphitheater that used to house the Eighth Voyage of Sindbad stunt show for Islands of Adventure's first 19 years. That production, however, ended in late 2018, and the building's sat unused ever since.
The Mystic Fountain – photo gallery
The Mystic Fountain – real guest reviews
The Mystic Fountain
Average rating:
8 reviews
Apr 3, 2018
Mystic Fountain
Date Of Last Visit:
April, 2017
Have seen it twice. First time, like other reviews, its a clever and entertaining venue, for kids and adults.

The second time, it was broken. And I mean busted! It was gushing and flooding right down the walkway through the entire Lost Continent!
Oct 15, 2014
Worth Watching
Date Of Last Visit:
August 20-24, 2014
It was sweltering after we left the Sindbad show, so we stopped in some shade to watch the Fountain since a group was around it. We wound up spending close to an hour watching and laughing at it! It had a witty answer for everyone, including a man who had water aimed right at his behind! Definitely worth stopping to watch for a few minutes or, at the very least, asking the wise fountain to cool you off with a little splash and some good luck.
May 26, 2014
Make a stop!
Date Of Last Visit:
03/09/2014
So I've been around the fountain a few times when I'm waiting for someone at the restroom. I find this guy who voices this to be so funny, and he makes me crack up all the time. I can't wait for the shrunken head in Diagon Alley!
May 26, 2014
This guy...
Date Of Last Visit:
July 15, 2013
...cracks me up! Whoever thought of this is pretty genius. It is totally entertaining and even makes noises and comments when there aren't people directly interacting with it. I sat near him for a while one morning drinking a coffee and laughing out loud at what he was saying. Pretty great!
Aug 11, 2013
Mystic Fountain
Date Of Last Visit:
July 13, 2011
The first time I took my son to Islands of Adventure, he discovered a new friend that day. He was introduced to the slightly mischievous magic talking fountain. The Mystic Fountain is located just around the corner from The Wizarding World of Harry Potter, so my son tells guests that a wizard must have put a spell on him to make him talk. In conclusion, The Mystic Fountain is fun and entertaining, especially for the kids. Every time we go to Islands of Adventure we have to drop in and see what kind of current show he's putting on.
Do you have a question about the information on this page, would like to provide feedback, or did you spot an inaccuracy? Please let us know by posting in our
Orlando Informer Community
on Facebook.