Skip to: Overview | Location | Restrictions | Fear factor | Show schedule | Fun facts | Guest reviews
What is The Bourne Stuntacular?
A stunt show that blurs "the lines between stage and cinema" to a degree "never seen before," The Bourne Stuntacular is based off of the four-decade-old franchise that now consists of 15 novels, five films, and a television series. The production follows Jason Bourne as he's pursued by "sinister characters" across three continents and includes chase scenes, fistfights, and at least some parkouring/acrobatics.
Where is The Bourne Stuntacular located?
In Hollywood, which is in Universal Studios Florida.
The Bourne Stuntacular – height restrictions and other factors
There are no restrictions, and there is Express Pass access available.
The Bourne Stuntacular – what you wish you knew before you experienced it
The action is so loud on the stage in front of you – especially when it comes to the gunshots – that you may want to bring earplugs if you have sensitive hearing.
How scary is The Bourne Stuntacular?
We rank Bourne Stuntacular three out of five secret agents in terms of fear factor, mostly due to sudden effects and, more especially, those loud gunshots.
The Bourne Stuntacular – show schedule and other information
The first show is usually around 11:00 am, with repeat performances occurring every hour (or so) thereafter.
Sample summer schedule
10:45 am, 11:30, 12:15 pm, 1:00, 2:45, 3:30, 4:15, 5:00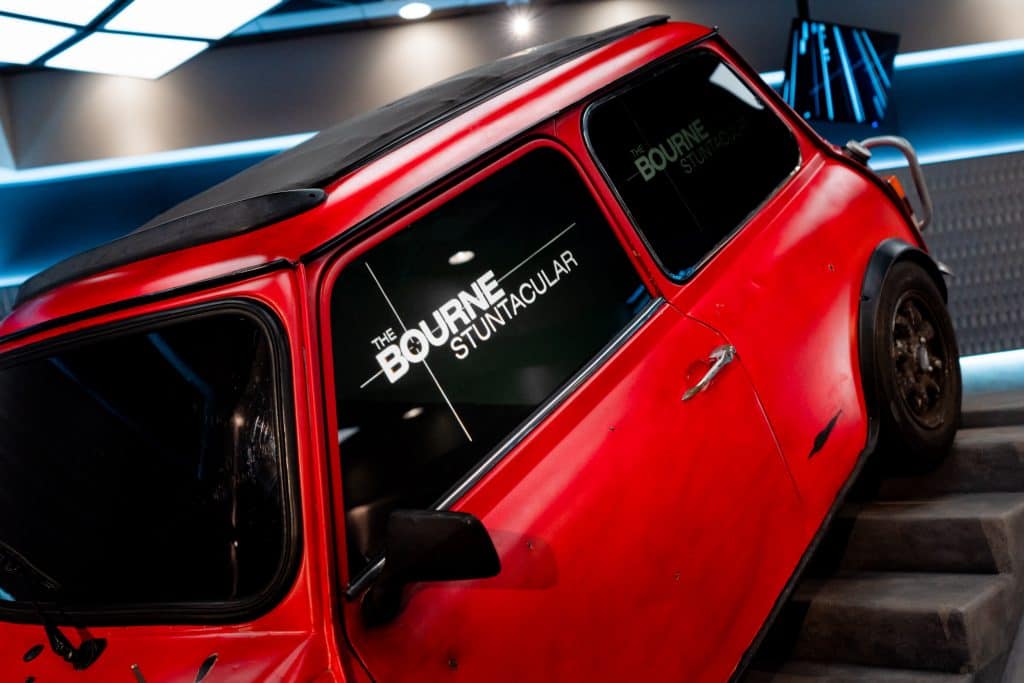 What is The Bourne Stuntacular's opening date?
June 30, 2020
The Bourne Stuntacular – the Bourne backstory
Unfamiliar with the history of super-spy Jason Bourne? We lay everything out for you in our in-depth breakdown.
The Bourne Stuntacular – OI fun facts
Be prepared to be inundated with our bevy of Bourne stats. The Stuntacular features:
One of the largest structures ever created for a Universal show
A 3,640-square-foot LED screen (that's 130 feet wide and 28 feet tall)
Pinpoint-accurate projection mapping of images atop moving scenes
Performers and technicians that trained and rehearsed for more than eight months before the show premiered
Principal stunt trainers that have doubled for A-list celebrities in some of the most popular action films and TV shows of all time
Two free falls, one from a height of 22 feet
Practical effects that include "immersive" fire, smoke, and wind
Flames reaching 20 feet high
Eight moving set pieces, including a three-wheeled motorcycle
A 20-foot-wide lift, capable of lifting and rotating two vehicles 280 degrees from seven feet beneath the stage to above stage level
Automated vehicle-tracking systems
The Bourne Stuntacular – photo gallery
The Bourne Stuntacular – real guest reviews
Orlando Informer
Average rating:
0 reviews
Check back soon!
Do you have a question about the information on this page or would you like to provide feedback? Join us in our Orlando Informer Community on Facebook, and let's talk about it!