After redefining the theme-park land with 2010's The Wizarding World of Harry Potter and upping the water-park game with 2017's Volcano Bay, Universal is now advancing the mechanics of theming and immersion with one of the most hallowed and recognizable properties in the entire world: Nintendo, whose various creations have been part of the global popular consciousness since 1981.
Super Nintendo World, as the new land is known, was no small undertaking. It first arrived in Universal Studios Japan on Thursday, March 18, 2021, costing some $578 million – about $120 million more than what Universal is said to have spent on The Wizarding World of Harry Potter – Diagon Alley. It'll next open at Universal Studios Hollywood, presumably in either '22 or '23, before landing in Epic Universe, the upcoming fourth park at Universal Orlando Resort, in early '25. (All of these dates, it should be noted, have been pushed back from their original schedules due to the COVID-19 pandemic.)
Given the cultural (not to mention the nostalgic) cache of Nintendo and the obvious excitement with which Universal has been talking about the new addition, it's safe to assume that Nintendo Land will be just as much of an anchor to Universal Parks and Resorts's future growth and development as the Boy Wizard has proven to be over the past decade.
(Of course, we should point out here that all of this information, from the visuals to the attractions, is all strictly for the Japanese version of the land; Universal has yet to announce any specifics whatsoever for any of the Hollywood, Orlando, or Singapore locations.)
Skip to: Location | Opening date | Layout | Attractions | Interactivity | Dining | Shopping | Meet-'n-greets | History | Index of articles
Where will Super Nintendo World be located at Universal Orlando?
Super Nintendo World will be one of what appears to be four lands at Epic Universe, the upcoming theme park that is currently being built down on Universal Orlando's brand-new south campus.
(You can find our full guide on Epic Universe here.)
When will Super Nintendo World open at Universal Orlando?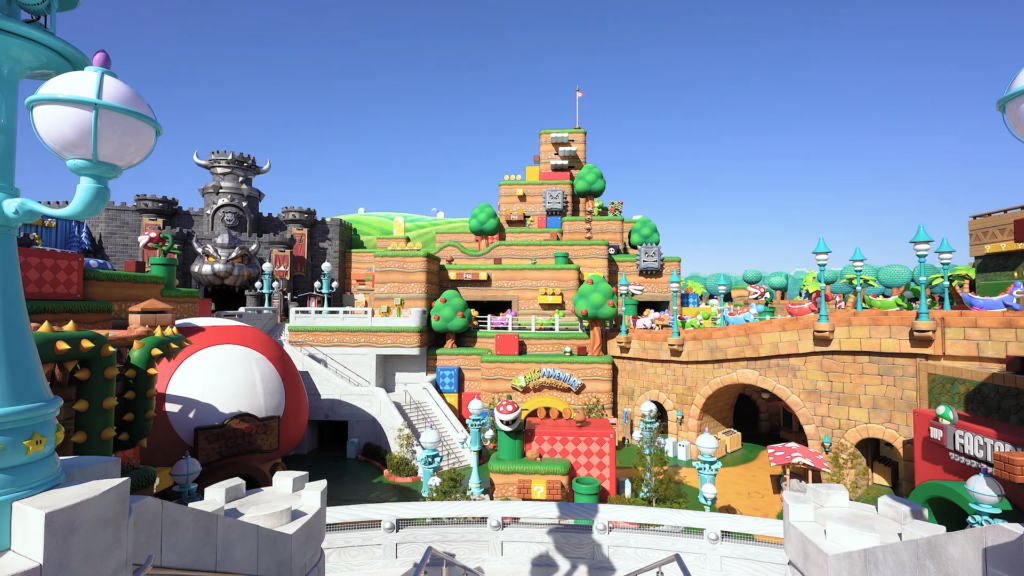 Expect to see both the Mario-themed land and its home park, Epic Universe, open sometime in (early) 2025. (The original date was '23, but, again, it's been pushed back due to the coronavirus shutting down wide swaths of the theme-park industry throughout '20.)
What is Super Nintendo World's layout?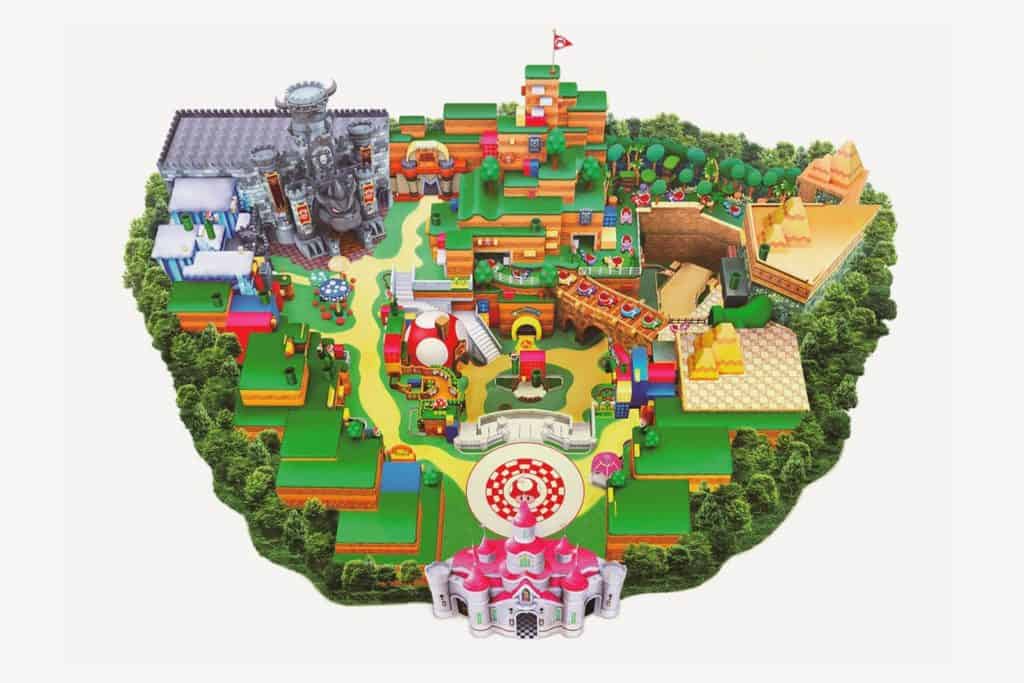 Over in Osaka, Super Nintendo World is primarily dedicated to the most legendary franchise in Nintendo's catalog: Super Mario Bros., which got its start in 1985 and which has since grown to include well over 100 entries, spinoffs, and tie-ins (which isn't to mention all the television shows, movies, comic books, and other pop-culture accouterments that have amassed over the decades).
Just as with The Wizarding World of Harry Potter – Diagon Alley, the entire area is blocked off and completely separated from the rest of the park (which, in Universal Studios Japan's case, is fairly accurate – the real-estate that the themed area sits on was once a parking lot). This allows fantastical vistas of the Mushroom Kingdom to pretty much stretch as far as the eye can see, and a giant green warp pipe acts like Diagon Alley's London waterfront façade – which is to say, individuals outside of Nintendo World can't peer in, and those already inside feel as if they're in a completely different reality. (As a special treat to theme-park fans, this marks the very first time in Nintendo's history that audiences will get to see what the inside of one of these iconic pipes actually looks like.)
After guests warp to Mario's domain, they'll find themselves deposited inside of the lobby of Peach's castle, which looks – and sounds – remarkably like its incarnation in 1996's Super Mario 64, its debut appearance. Just outside is a balcony that looks out across Nintendo World's three vertical levels, with Mount Beanpole and Bowser's fortress (home to Mario Kart: Koopa's Challenge) dominating the skyline across the way. All around is a vibrant environment filled with color and animation, with moving platforms, coins, and Koopa Troopas just inviting you to explore them.
Nintendo also announced that the park will include an immersive area themed around Donkey Kong, featuring lush jungles and tropical motifs. This expansive area will house its own roller coaster and interactive experiences, along with food and merchandise. Nintendo promises that "guests will feel like they are playing inside the world of Donkey Kong," but most impressive is the fact that the expansion will increase the size of Super Nintendo World at Universal Studios Japan by 70%. This additional area is aiming to open in 2024.
What are Super Nintendo World's attractions?
There are three Japanese attractions. The first two are rides that seem to take the Wizarding World of Harry Potter – Hogsmeade approach, with one catering to the thrill-seeking side and the other being devoted to the younger crowd; the remaining experience is one that can only be unlocked by purchasing a Power Up Band and engaging in some interactive activities.
Mario Kart: Koopa's Challenge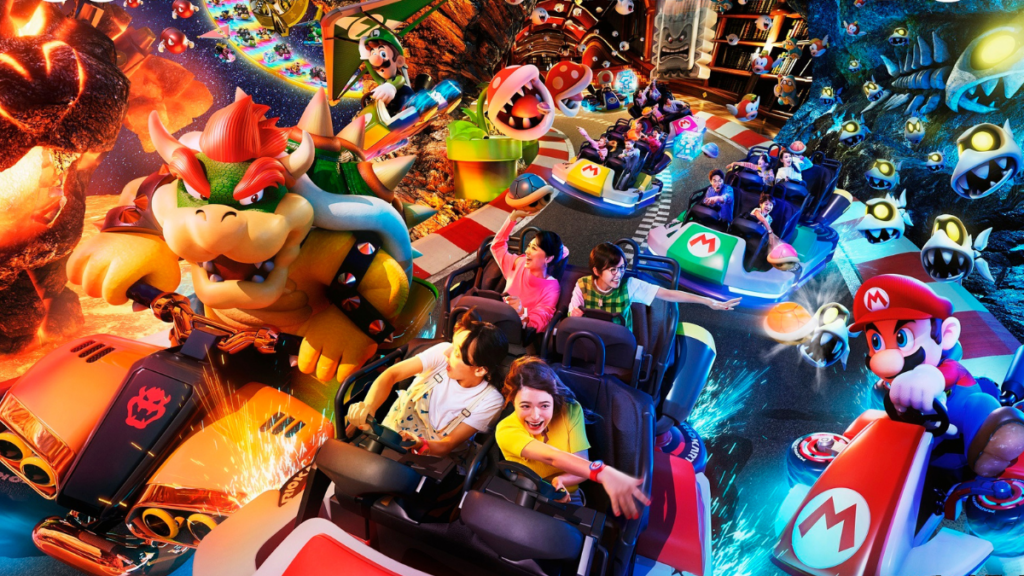 Mario Kart: Koopa's Challenge is, naturally, based off of the hugely popular spinoff series that has been gracing various Nintendo consoles and handhelds (and, now, mobile devices) since 1992. Just as the name would imply, Mario Kart is a racing game in which players pick from a huge roster of Super Mario characters to play as and an impressive swath of weapons to deploy against one another (including the various colored turtle shells and the now-infamous banana peel).
In order to realize the theme-park version, Universal employs a whole swath of technologies: physical sets, projection-mapping, video projections, and a pair of augmented-reality goggles, which is how riders are able to collect – and use – the turtle shells during the race. Each ride vehicle sports four seats, and each of those seats comes equipped with a pair of the AR glasses and a steering wheel – meaning that every passenger gets a turn at driving. The race track stretches through several different sections from the games, including going underwater, past lava, and through a "spooky" environment (not to mention the legendary Rainbow Road, naturally) – all of which is to say that Koopa's Challenge delivers on Universal's promise to be an attraction "unlike any the world has ever seen."
Mario Kart: Koopa's Challenge is an approximately five-minute ride, and its height requirement is 48 inches (36 if riding with an adult).
(OI fun fact: Mario Kart was initially built virtually, in a game engine. This has two interesting components to it: firstly, during the attraction's development, it allowed Universal Creative executives back in the United States to "ride" it and give feedback to the team in Japan; secondly, Universal is able to change the contents at a moment's notice, which could come into play during, say, special events or occasions.)
Read our review here.
Yoshi's Adventure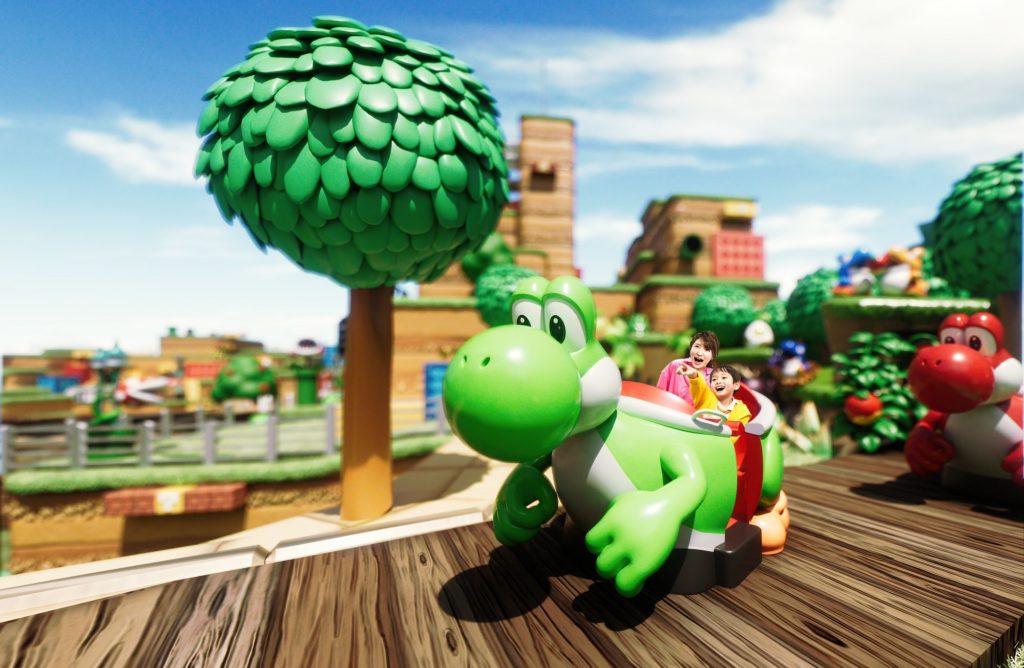 Yoshi's Adventure is a kid-friendly dark ride themed to Mario's dinosaur pal (who's been a part of the Nintendo stable for the past 30 years). After your travel guide, Captain Toad, loses his treasure map (and himself!), you set off on a leisurely quest through the Mushroom Kingdom on the back of your trusty Yoshi, searching for three colored eggs that will lead the way to the ultimate prize, the Golden Egg. This not only is the perfect set-up for a family outing, it also is the perfect excuse to exit Mount Beanpole and take in some breathtaking views of the themed land all around you.
Yoshi's Adventure is an approximately five-minute ride, and its height requirement is 48 inches (34 if riding with an adult).
Read our review here.
Bowser, Jr. Shadow Showdown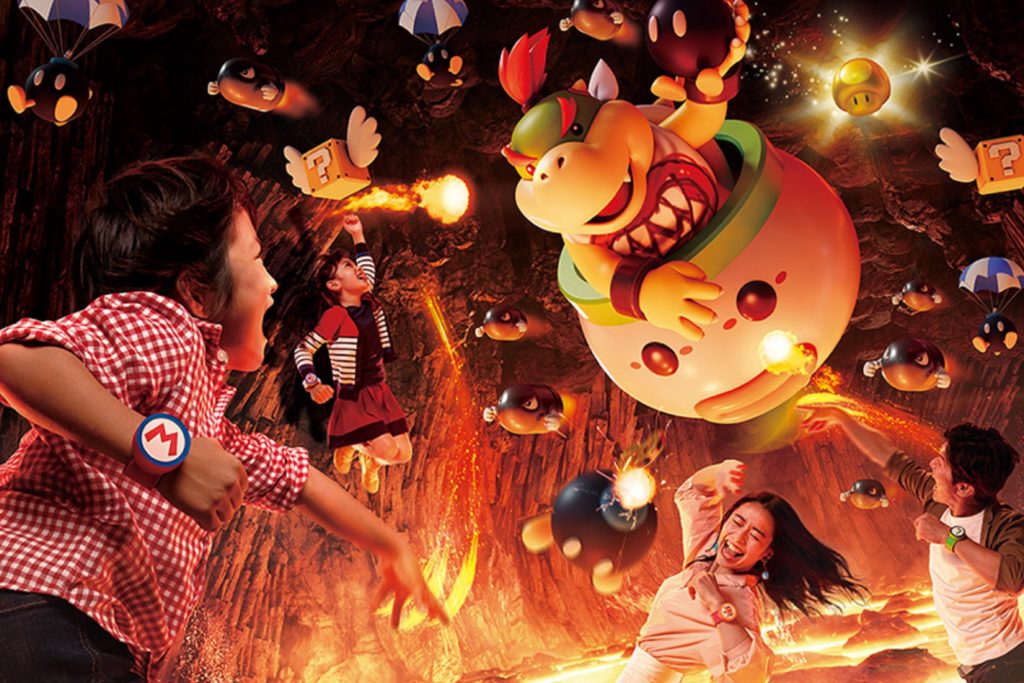 Once you purchase a Power Up Band and collect three virtual keys from across Super Nintendo World (we'll explain this in detail in just a bit), you're eligible to engage in a boss battle against King Koopa's son, Junior. This virtual-reality experience has you ducking, jumping, and swatting in small groups as you engage in combat against Bowser, Jr. and his flying Clown Car – if you win the encounter, you get even more coins (and bragging rights in the form of the leader boards).
There's a backstory that wraps the whole thing together, including all those prerequisite interactive Key Challenges: mini-Koopa stole the Golden Mushroom, locked it away (in the little castle next to his father's), and divided up all the keys that unlock his fortress among his various minions throughout the Mushroom Kingdom. This explains why visitors need to help Princess Peach hunt down the digital items first before being able to engage in the shadow showdown.
Although there is no height requirement listed, there is an age one: guests must be over five (and, once again, have a Power Up Band equipped).
Read our review here.
What is Super Nintendo World's interactivity all about?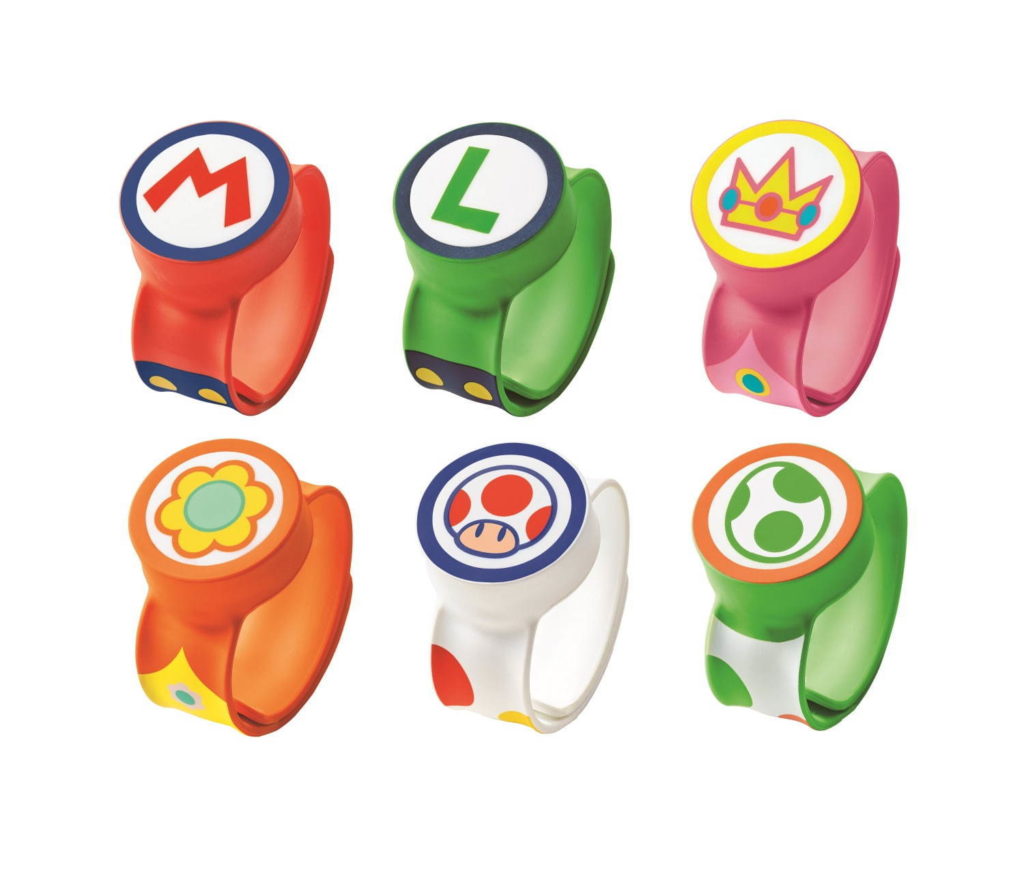 Beyond the attractions, there's one extra experience to be discovered at Super Nintendo World: interactive gameplay located all throughout the land itself. This interactivity revolves around two central tools, the first of which being a wristband called the Power Up Band; by wearing it, guests will be able to use "their arms, hands, and entire bodies as they explore the new area" (what Universal calls an "asobi play experience"). Although it seems, generally, as if this wearable device has similar functionality to Volcano Bay's TapuTapu, its method of distribution is entirely different – instead of being loaned out at the beginning of visitors' stays, it has to be purchased at one of several different carts located all throughout the land (making it more like the interactive wands at The Wizarding World of Harry Potter). The Power Up Band comes in six different variations (based around the characters of Mario, Luigi, Peach, Daisy, Toadstool, and Yoshi) and seals magnetically – just slap it at your wrist, and it snaps right on.
Once bought, the wristband needs to be linked to the Universal Studios Japan app via a QR code that comes on its back; this allows guests to keep track of their scores and stats across the themed area (including the high scores on both Mario Kart: Koopa's Challenge and Bowser, Jr. Shadow Showdown), and you can even pair multiple bands to the app, meaning your whole travel party can get in on the fun together.
We should pause on these rankings for just a moment, actually. The "team" ranking tracks everyone using the same Power Up Band design as you (Team Mario, for example, or Team Peach); "daily" follows just that day's performances on a player-by-player basis; and "all time" tracks individuals across their multiple visits to the theme-park land. This creates another type of game within the Nintendo World experience – who can get the highest score, and keep it?
What are the interactive activities?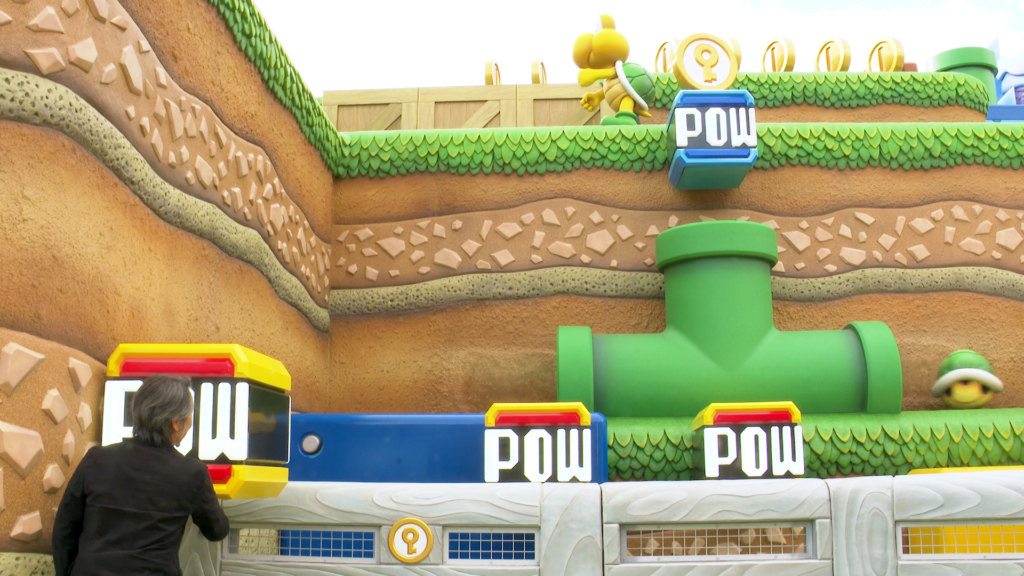 The biggest draw of the wearable device, of course, comes in the form of interactive encounters, which Universal officially calls activities; these can range from hitting a question-mark block (to nab digital coins) to obtaining virtual character stamps (which are, in turn, worth even more coins). The more coins that a user gathers, the higher a score he can achieve, and the more competitive the Super Nintendo World meta-game will be.
Here are some of what these activities entail:
Binoculars – see the land come to life with augmented-reality characters zipping about (three binoculars total)
Fruit basket
Note Block Rock
Slot machine – get the same item on four blocks to hit the (digital) jackpot
But there's another in-app item that's even more valuable to collect: keys, which, as we just saw, unlock the "final activity" (and third attraction in the land) that is the Bowser, Jr. boss battle.
Here's a list of all five of those Key Challenges:
Goomba Crazy Crank – knock the Goomba off the roller by spinning the crank as fast as possible
Koopa Troopa POWer Punch – hit a POW block to knock a turtle shell up a warp pipe, thereby taking out a passing Koopa Troopa (full description here)
Piranha Plant Nap Mishap – turn off all the ringing alarm clocks before Petey Piranha wakes up
Bob-omb Kaboom Room – solve the coin puzzle before the Bomb-omb goes off
Thwomp Panel Panic – flip every blue question-mark-block panel to a yellow exclamation-point-block one (in the right order) before the Thwomp strikes
What's the secret Underground Level?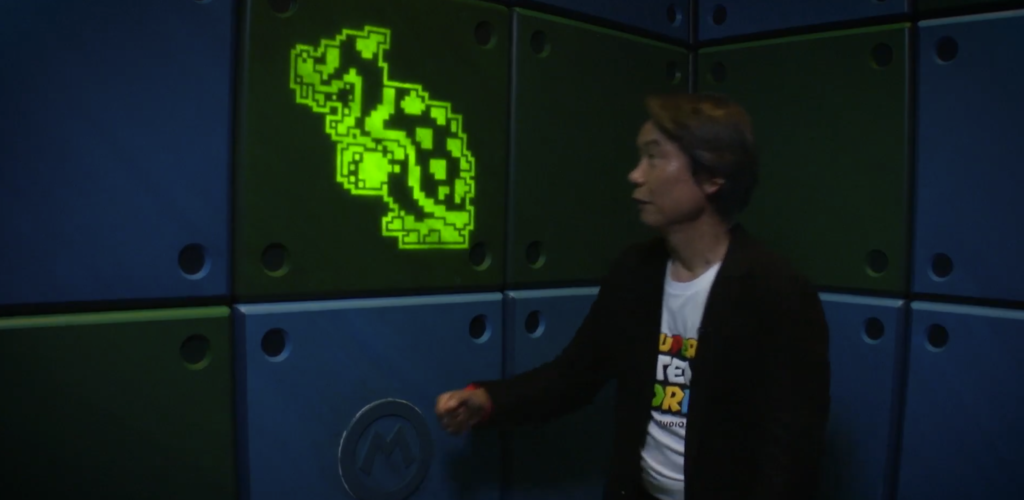 Hidden off in one corner of the land is a more-or-less secret area that Universal and Nintendo call the Underground Level, which, unsurprisingly, mimics one of the subterranean courses found in the Super Mario Bros. games, replete with that legendary music. In addition to housing even more secrets, it also contains one of the niftiest touches in all of Nintendo World: a section that changes its scale as you make your way through it, eventually making you feel as if you've been hit by a baddie and shrunk down to Mini-Mario size.
What's the Nintendo Switch interactivity?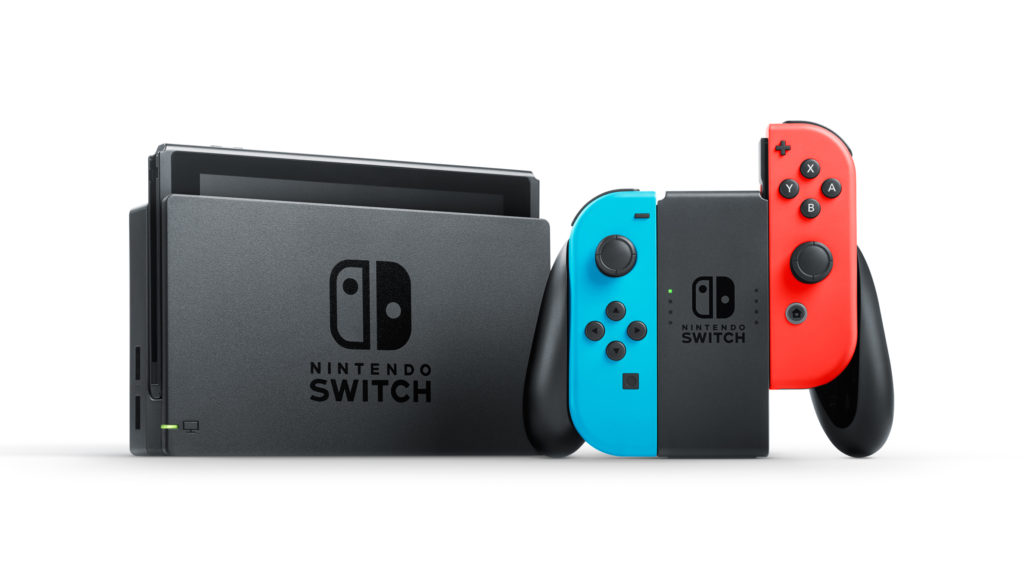 This, actually, is one area that we just don't have a lot of info on right now, unfortunately. Here's what we do know thus far: the Power-Up Bands will double as Amiibo (the big N's toys-to-life platform that it's been supporting for the past six years) when you bring it home to connect with your Nintendo Switch system. Furthermore, you'll be able to transmit your performance data from the smartphone app to your console, which will allow you another way to keep tabs on everything going on in the Mushroom Kingdom – and you'll even be able to bring your Switch with you to Super Nintendo World, which will enable you to "interact with park features."
While that's pretty vague, it's also potentially pretty revolutionary. Just imagine the possibilities this opens up!
(We hope to have more info on this in the coming days and weeks, now that the themed area is finally open to the public.)
Super Nintendo World – dining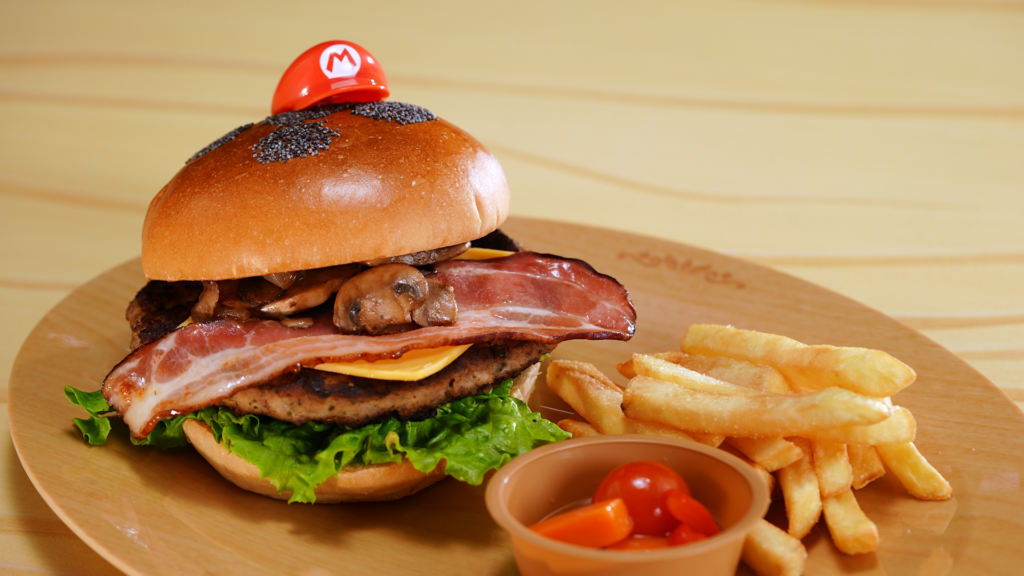 Super Nintendo World features a bonanza of goodies to scarf down on, including some rather eye-catching items as mushroom-flavored popcorn, tiramisu question-mark blocks, and koopa shell-shaped calzones.
We run everything down for you in our complete guide.
Super Nintendo World – shopping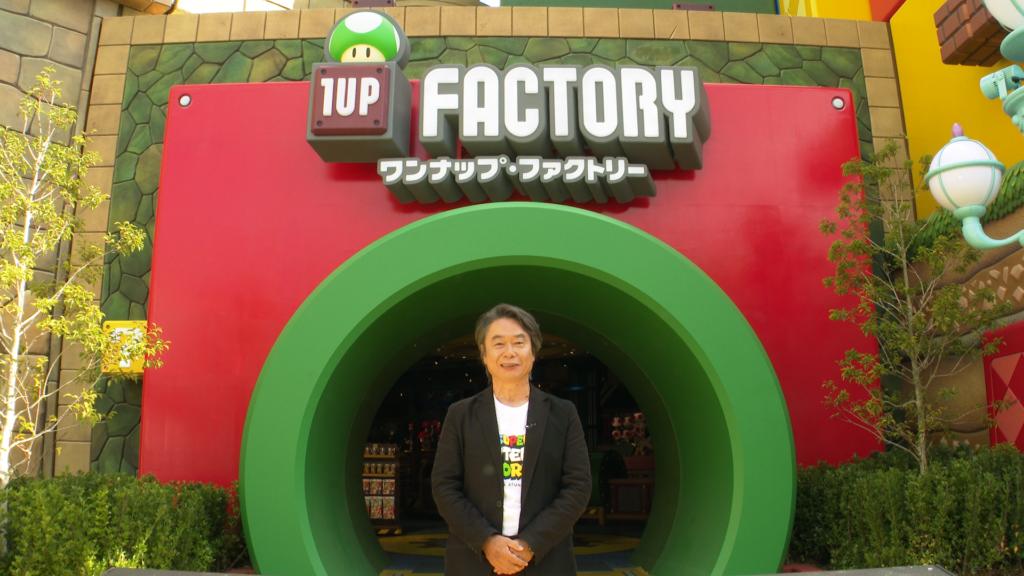 After you've had your fill of interactive adventures and koopa calzones, it's time to open your wallet and spend some real-world coin. There is so much to be had on this front, in fact, that we have a whole guide devoted just to shopping and merchandise at Super Nintendo World.
You can find that here.
What kind of meet-'n-greets are there at Super Nintendo World?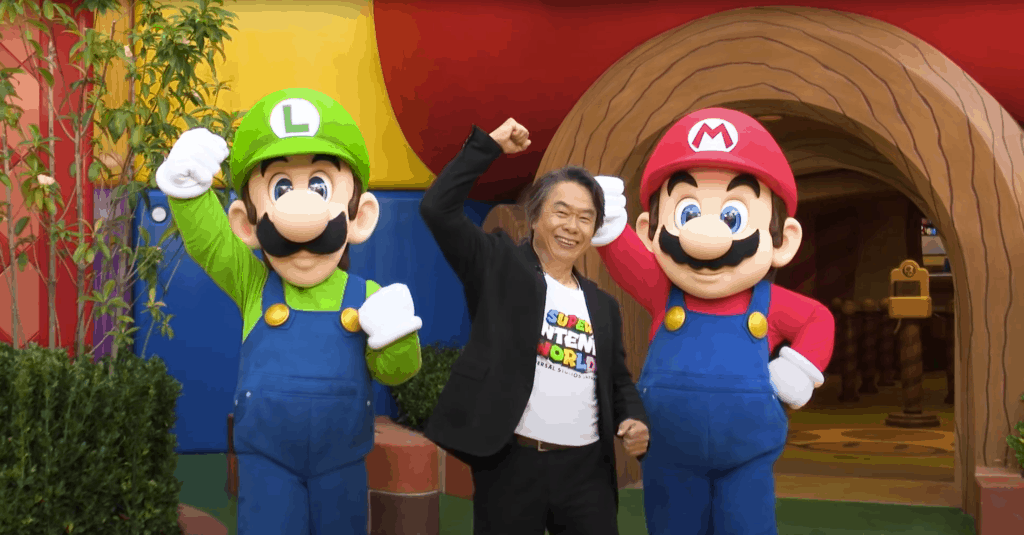 It, of course, wouldn't be a complete theme-park land if there weren't also some kind of character meet-'n-greets available. Luckily for Super Mario fans everywhere, this is precisely the case with Super Nintendo World.
There are four such encounters available in the land: Princess Peach is at a gazebo close by to her castle, on the right when you first enter the Mushroom Kingdom, and Mario, Luigi, and Toad can be found down in the very center of the area, right in front of Yoshi's Adventure (and right next to both Kinopio's Cafe and the 1-Up Factory). All four of these characters sport blinking eyes, moving mouths, and some prerecorded lines of dialogue (well, save for the trusty Toadstool, that is, who never actually talks in the various Mario games).
Also, it's worth noting that Universal lists "photo opportunities" with Mario, Luigi, and the Princess, but not Toad.
Live Super Nintendo World Challenge
On the morning of Wednesday, February 19, 2020, Universal and Nintendo threw a special event at none other than Grand Central Station in New York City (since they have a global partnership, the two companies wanted to make a global splash). With dozens of question-mark blocks hanging overhead in Vanderbilt Hall, groups of contestants were able to jump up, Mario-style, and hit them to collect (digital) coins – replete with larger-than-life Super Mario hats and gloves, of course.
While seeing how many coins you could nab was certainly part of the fun, there were also plenty of additional perks to be had. Every individual who participated was eligible to receive a (randomly selected) prize that actually doubled as a future piece of merchandise that will go on sale at Super Nintendo World once it opens up in Japan in February 2021 – items such as punch-block cubes, stuffed Mario and Yoshi plushes, Mario glasses with mustaches, and, naturally, those Mario hats and gloves. And then there was the grand prize, a free trip to Universal Studios Japan once the land opens up, which was randomly awarded to one player roughly once an hour (there were a grand total of eight such prizes handed out over the course of the day).
Finally, also in attendance was Page Thompson, President and Chief Operating Officer – International, Universal Parks and Resorts (he's the executive who oversees both the Japanese and Singapore theme parks), and a number of Asian celebrities, including actors and YouTubers. It made for a more festive feeling, which you can get a little taste of in our livestream of the gathering.
Super Nintendo World Challenge photo gallery
What is the history behind Super Nintendo World?
After launching the modern iteration of the videogame business 38 years ago, Nintendo has had something of a lurching performance ever since, riding high as the global dominator for one decade and then barely hanging on for dear life the next. (Part of this has had to do with the company's refusal to invest in the same technologies as its competitors, traditionally eschewing such features as online play, movie and music playback, and more advanced – and, therefore, more expensive – chipsets under its consoles' hoods.)
The 2010s largely proved to be one of the worst runs for the big N yet, and it caused the normally-cautious Japanese corporation to make certain bold moves in order to ensure its survival. Since the beginning of 2015, Nintendo has been easing into the mobile market, hoping to translate its recognizable franchises into newfound success. So far, it's been working, with such titles as the insanely popular (for a time) Pokemon Go and Super Mario Run seeing release. This was, of course, followed by the out-of-nowhere announcement on May 7, 2015 that it was working with Universal to develop Super Nintendo World. It wouldn't be until a full year-and-a-half later, on November 29, 2016, that the very first – albeit vague – details would be discussed, including the tidbit that interactivity would be a crucial focus of each of the then-three lands. The next update, however, took a mercifully shorter wait – our first look at the concept art arrived just the following month.
On June 8, 2017, the biggest update up until that point occurred: Universal held a groundbreaking ceremony on Super Nintendo World at Universal Studios Japan, an event which came replete with the first official confirmation of the area's flagship attraction and a short-but-enticing teaser video hinting at its layout and overall vibe.
Amidst all this ongoing theme-park discussion, talk also began to sprout up regarding another big move that Nintendo was supposedly considering: attempting to bring its properties to Hollywood's big screen (and, just possibly, Netflix's small, streaming screen) for the first time since the late '80s and early '90s, when the finished products were nothing to write home about. This was officially confirmed on January 31, 2018, when Nintendo of America announced that its parent corporation was in partnership with Illumination Entertainment, the animation studio owned partly by Universal (and the one responsible for such properties as Despicable Me and The Secret Life of Pets), to develop a new Super Mario movie.
Nintendo and Universal's relationship, it seems, goes much farther than just the realm of theme parks – a good sign, as it means their partnership will be here to stay.
All would be quiet on the news front for the next year-and-a-half, but then the developments started to land more quickly (for a time, at least). On April 3, 2019, word came that Universal Studios Singapore would also be getting in on the Nintendo action, and then, in September, a huge swath of info was dropped by Tom Williams, Chairman and Chief Executive Officer of Universal Parks and Resorts, giving us our first (virtual) look at the Power-Up Band.
Of course, 2020 put a screeching halt to this forward movement. On February 29, Universal Studios Japan closed due to the coronavirus outbreak, remaining shuttered until June 8 – just one month before Super Nintendo World was originally due to debut. It only took three weeks for Universal to say what, by that point, was obvious to the whole world: that Mario's realm would see some sort of delay, although it wouldn't be until September 18 that we got confirmation that that delay would extend until sometime in 2021. What we thought was the final shoe then dropped on November 30, when word arrived that the latest opening date would be February 4, 2021.
But COVID-19 struck again, causing a sudden spike of cases in Osaka Prefecture, a state of emergency to be declared in the region, and the opening date to be pushed back yet again – this time, to March 18, which would well and truly prove to be the final one.
Corresponding with this torrent of release-date wrangling was a veritable flood of information regarding Nintendo World's attractions, experiences, and offerings, from food to merchandise. All of those tidbits, which are too numerous to keep track of here, have already been incorporated into the guide above.
Super Nintendo World – index of articles
Here are all of our recent news updates, in-depth features, and speculative pieces regarding Super Nintendo World, both here in Orlando and around the rest of the world. Keep your eyes peeled here for the latest:
2021
Super Nintendo World's new opening date in Japan REVEALED
Super Nintendo World: Reviewing all three attractions
Super Nintendo World in Japan delayed again
2020
5 secrets of Super Nintendo World REVEALED
Mario Kart and Yoshi's Adventure REVEALED
2019
Nintendo and Minions coming in first-ever expansion to Universal Studios Singapore
2017
4 things we just learned about Super Nintendo World
Mario Kart announced for Universal's Super Nintendo World
How Nintendo and the new Switch could be part of Nintendo Land
(Photo credit to @Bee_my_honeyyy.)
Do you have a question about Halloween Horror Nights? Please let us know by posting in our
Orlando Informer Community
on Facebook.