Although we always knew that racing against Nintendo characters and exploring the various interactive activities would be incredible fun, one of the things that most interested us from the very first announcement of Super Nintendo World was the myriad opportunities for shopping experiences and exclusive merchandise. If there's one thing The Wizarding World of Harry Potter has taught us, after all, it's that you can enjoy yourself just as much in any of the stores as you could on the rides.
The new themed lands located over at Universal Studios Japan and Universal Studios Hollywood haven't disappointed – and that's even starting months before each Mushroom Kingdom first welcomed guests into its domain. Whether they're located in a pre-existing store inside of the park or in a custom-made spot nestled within Super Nintendo World proper, the available items to purchase are nothing short of captivating.
And while we can't at all be certain that all – or, indeed, any – of these items will make the transition between all versions of Super Nintendo World, we're still very eager to show you what's available now in Osaka and Hollywood to stoke your imagination for what may be possible in the City Beautiful sometime in the near future.
Skip to: Merch at the 1-Up Factory | Merch outside of Nintendo World
Nintendo merchandise from the 1-Up Factory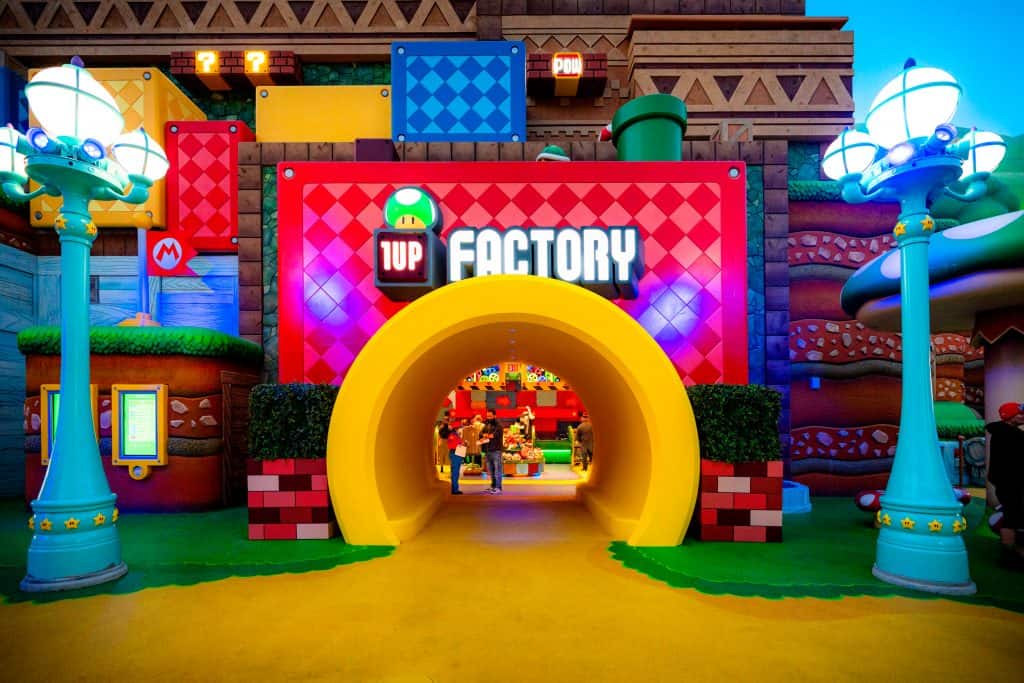 The 1-UP Factory, the Mushroom Kingdom's flagship retail store in both Japan and Hollywood, has a warp-pipe entrance and an interior that's stocked full of Super Mario Bros. goodies, most of which appear to be exclusive to the land. You can find hoodies, hats (including Boos, Goombas, and Bloopers), and plushies (Mario, Yoshi, and – our personal favorite – a question-mark-and-brick combo that unzips to reveal a stuffed Super Mushroom, 1-UP Mushroom, and Starman). Here is a look at what you can find inside the 1-UP Factory at Universal Studios Hollywood: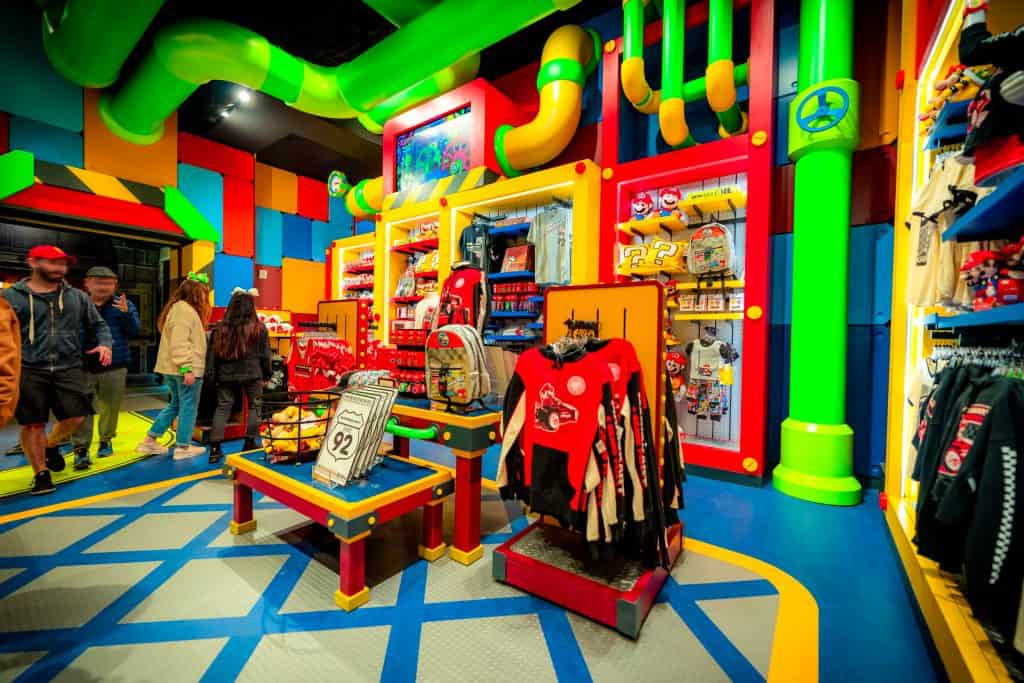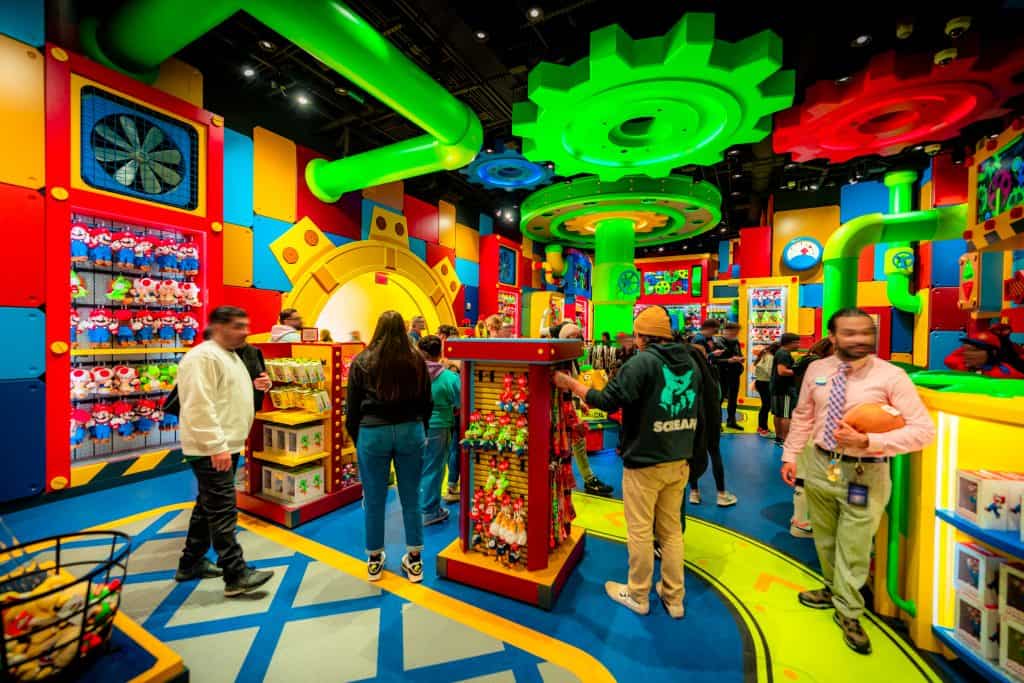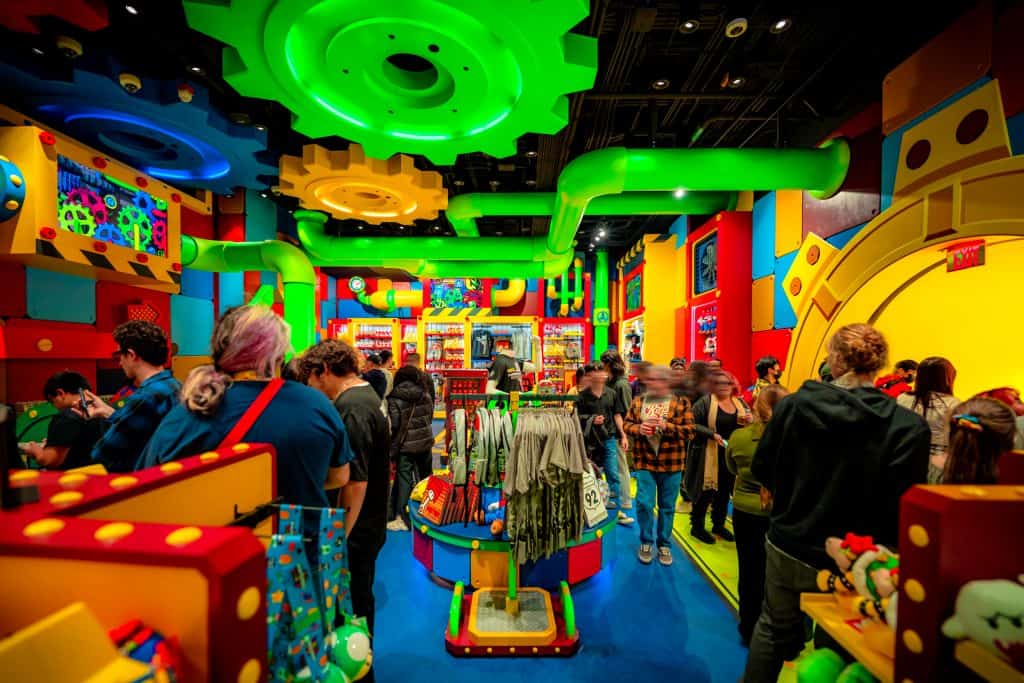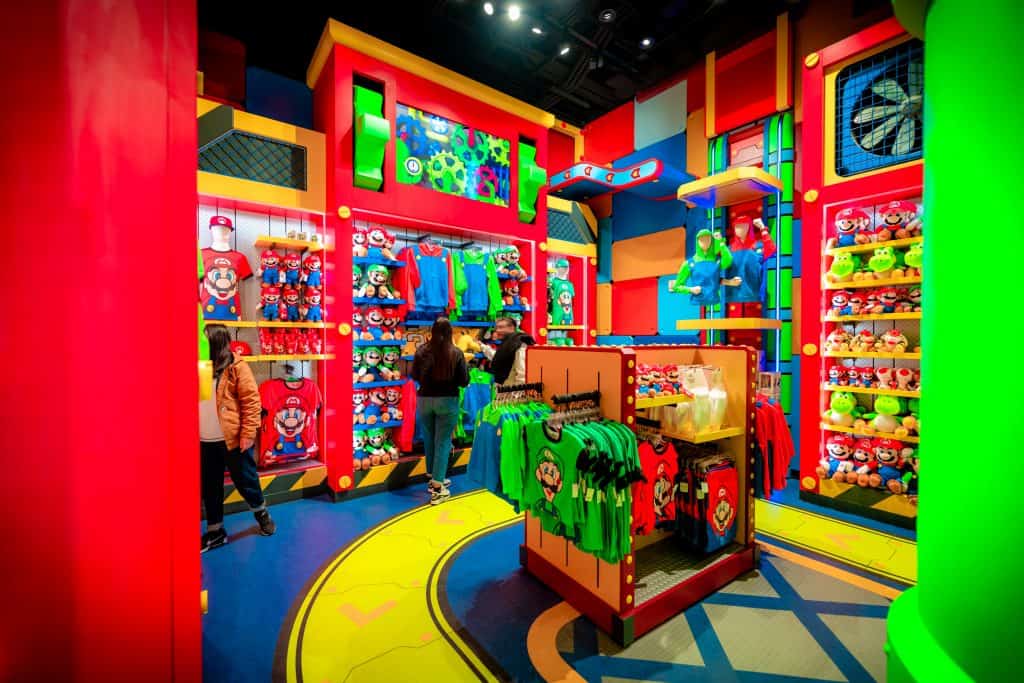 One item that you will find exclusively in the Land of the Rising Sun is one designed by Nintendo itself: a walking Mario toy that's been lovingly dubbed Tokotoko Mario; just push the red shell that trails behind him, and off the little figure goes, brandishing movements that look surprisingly faithful to his videogame counterpart.
Nintendo merchandise outside of Super Nintendo World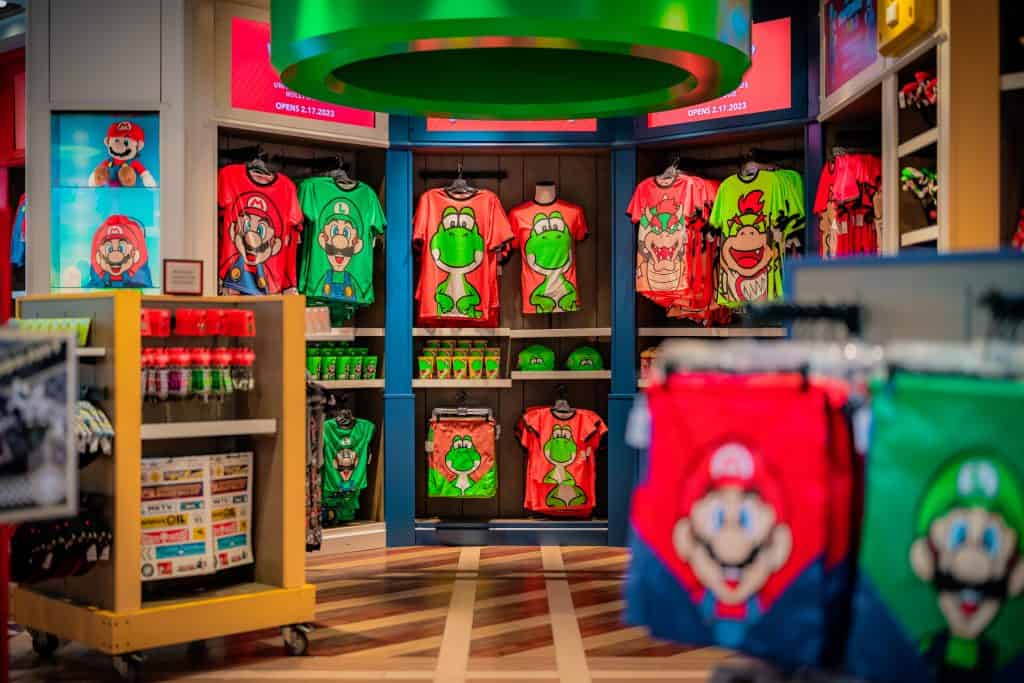 As you make your way to the warp pipe entrance of Super Nintendo World, you will come across at least two stores that have a collection of Nintendo goodies inside. How long these will remain here is anyone's guess. At least for the time being, they're fun to see and a great way to pick up any power-up supplies you may have forgotten during your venture inside the land.
Feature Presentation Store in Universal Studios Hollywood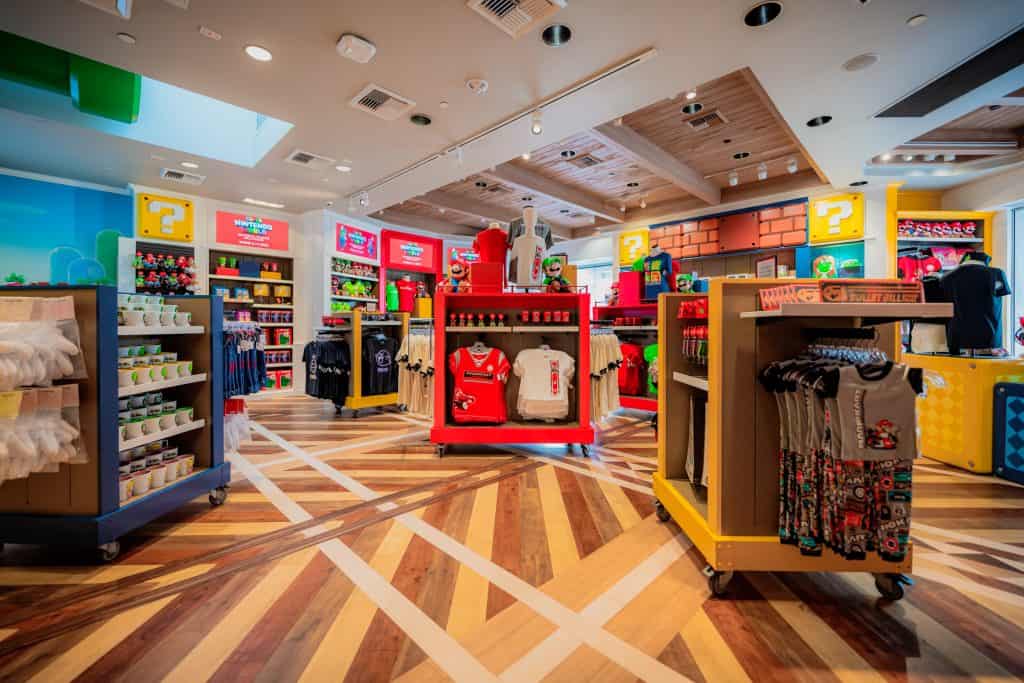 To hold us over while waiting for the much-anticipated opening of Super Nintendo World within Universal Studios Hollywood, Mario and company took over the Feature Presentation Store. In the most extensive collection of merchandise you will find in Universal Studios Florida, outside of 1-UP Factory, you can peruse through apparel, drinkware, plushes, and more!
Character Shop in Universal Studios Hollywood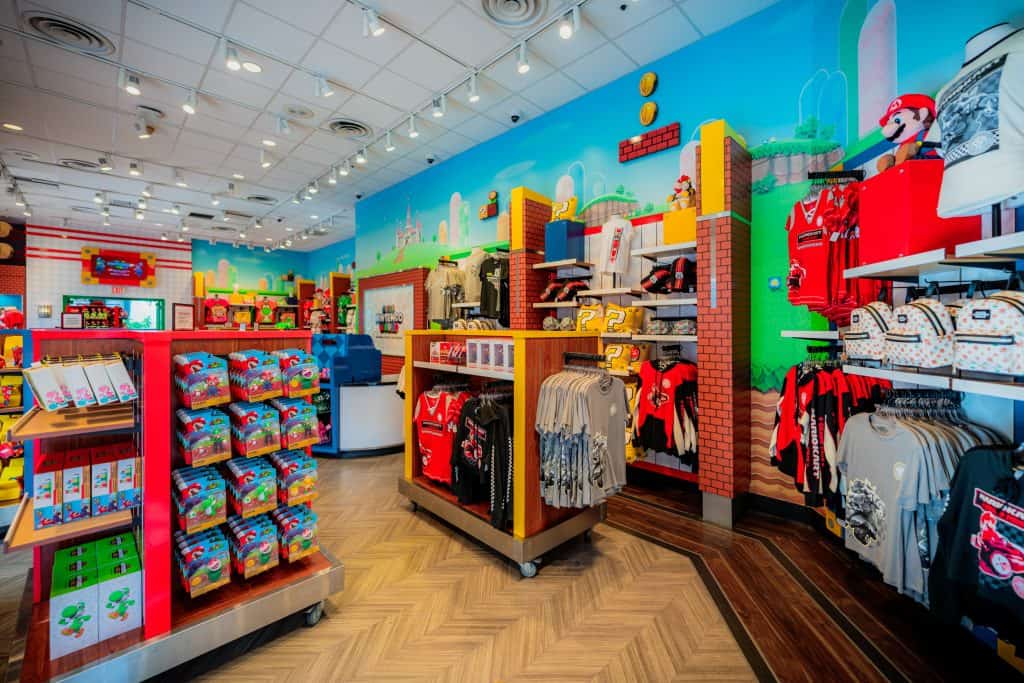 To get more of our favorite plummer duo in our lives, Character Shop on the lower lot of Universal Studios Hollywood has also transformed into a Mushroom Kingdom merchandise paradise. Decorated with ? blocks, mushrooms, fire flowers, and coins on the walls, this store gives you a bit of immersion prior to the grand opening of Super Nintendo World on February 17, 2023.
Are you a Mario, Luigi, Yoshi, or Princess Peach aficionado? Each character has their merchandise organized in their own display as a somewhat one-stop shop. If you are looking for your fix of plushies, this spot holds an entire wall of soft, cuddly pals – from Yoshi to Toad.
The Mario Cafe & Store in Universal Studios Japan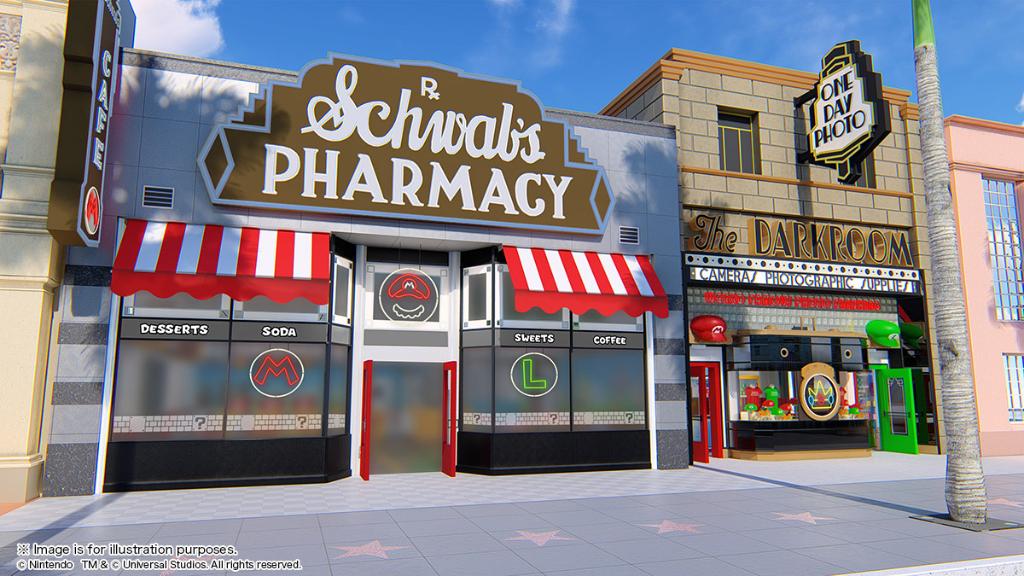 Occupying the Hollywood facades of Schwab's Pharmacy and The Darkroom in Universal Studios Japan, the Mario Cafe & Store is a makeover with plenty of exclusive items inside, both of the retail and gastronomical variety.
The venue itself is themed, with oversized Mario and Luigi hats festooning the outside and checkered floors and a digital ceiling – displaying a "luminous" Super Mario sky – gracing the interior (much like the faux skylight in Weasleys' Wizard Wheezes in The Wizarding World of Harry Potter – Diagon Alley back here in Florida). These details already make the Mario Cafe & Store a stop worth taking.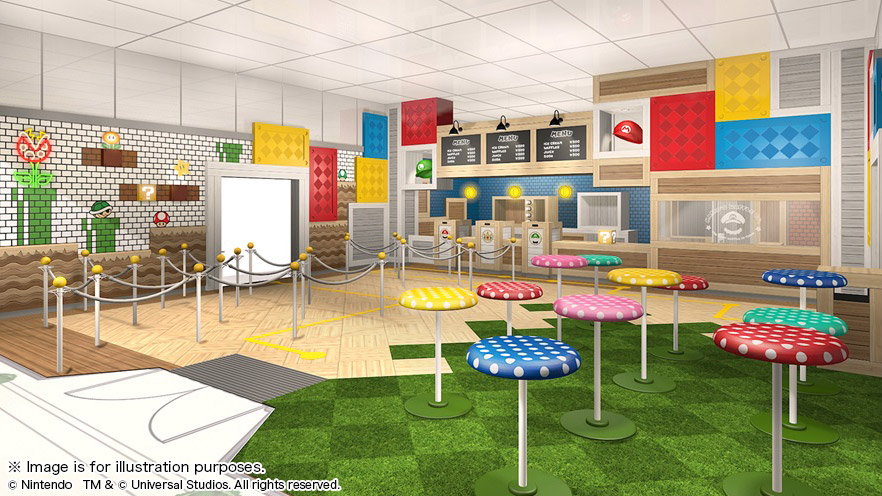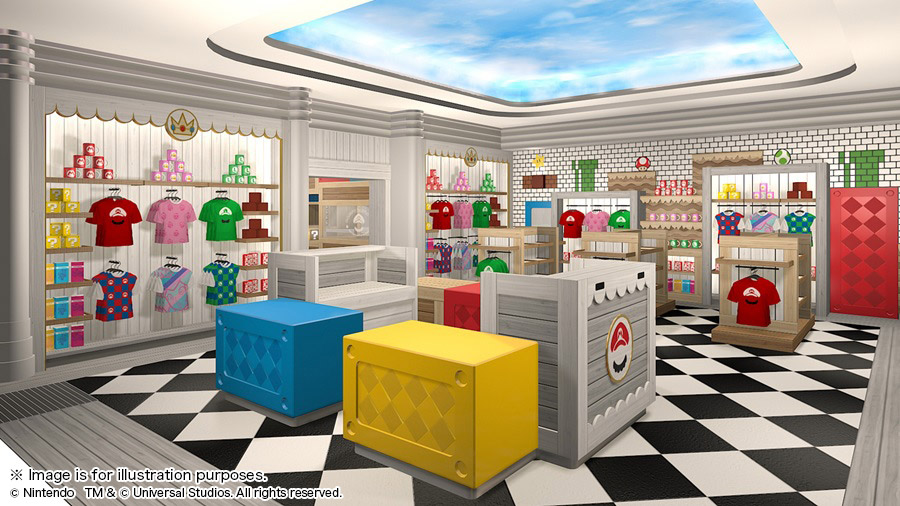 But then, of course, there are the wares contained inside. Over on the store side of the Mushroom Kingdom equation, we have the likes of Mario-themed pouch sets, cushions, key chains, and a sleeve to store your park admission in, along with a Peach-themed coin purse.
In the adjoining quick-service cafe, meanwhile, you can sink your teeth into:
Mario Hat Pancake Sandwich – a strawberry shortcake sandwiched in Mario's hat
Luigi Hat Pancake Sandwich – grape cheesecake that tastes "rare," sandwiched in Luigi's hat
Mario Fruit Cream Soda – strawberry-flavored, with a straw that comes festooned with Mario's mustache
Luigi Fruit Cream Soda – green apple-flavored (with Luigi's mustache)
Princess Peach Cream Soda – peach-flavored, but of course! (With Peach's crown on the straw)
Super Mushroom Souvenir Bottle – get your soft drinks in a Power-Up Mushroom
Fire Flower Souvenir Bottle – have your soft drink served in a ? block with a fire flower on top
The Mario Cafe & Store opened at Universal Studios Japan on Friday, October 16, 2020, in anticipation of Super Nintendo World itself.
Rodeo Drive Souvenirs in Universal Studios Japan
This gift shop right on the main drag of the Hollywood area inside Universal Studios Japan, which already houses merchandise from such big intellectual properties as Sesame Street and the Minions, now has a little section devoted to Mario and his pals, replete with pillars that are made up to look like warp pipes.
Among the pencils, POW purses, and "tart cookies," you'll also find the highlight of the offerings here: a whole line of classic 8-bit items that just has to be seen to be believed. Luckily, we have all those photos for you right here:
This little treasure trove of Nintendo merch arrived at Rodeo Drive at the end of January 2021.
(Partial photo credit to @Bee_my_honeyyy.)
Do you have a question about the information on this page or would you like to provide feedback? Please let us know by posting in our
Orlando Informer Community
on Facebook.