Once an annual-event staple, Universal seems to have quietly killed its Summer Concert Series all the way back in 2013 – though it did resurrect the festivity for 2015, dubbing it the 25th Anniversary Concert Series, to commemorate Universal Studios Florida's big anniversary year.
While it's always possible that the company will surprise us all and announce yet another concert bash for next summer, we highly doubt it, to be perfectly frank; these days, there's more than enough going down at Universal Orlando Resort all throughout the year (you can see our list of annual events here), making the expense and hassle – not to mention the justification – of the Concert Series simply unnecessary.
However, this is the Prop Graveyard, and its very mission statement is to preserve what an attraction – or, in this case, an annual event – looked like on its last day of operation so that all future generations of theme park tourists can enjoy it. In that spirit, we present 2015's contents below.
Universal's 25th Anniversary Concert Series – overview and explanation
Come celebrate 25 years of unforgettable moments at Universal Orlando Resort's 25th Anniversary Concert Series. In addition to all your favorite rides, shows, and attractions, on select nights from May 23 to June 20, 2015, Universal Studios Florida will come alive with amazing live performances on the Universal Music Plaza stage.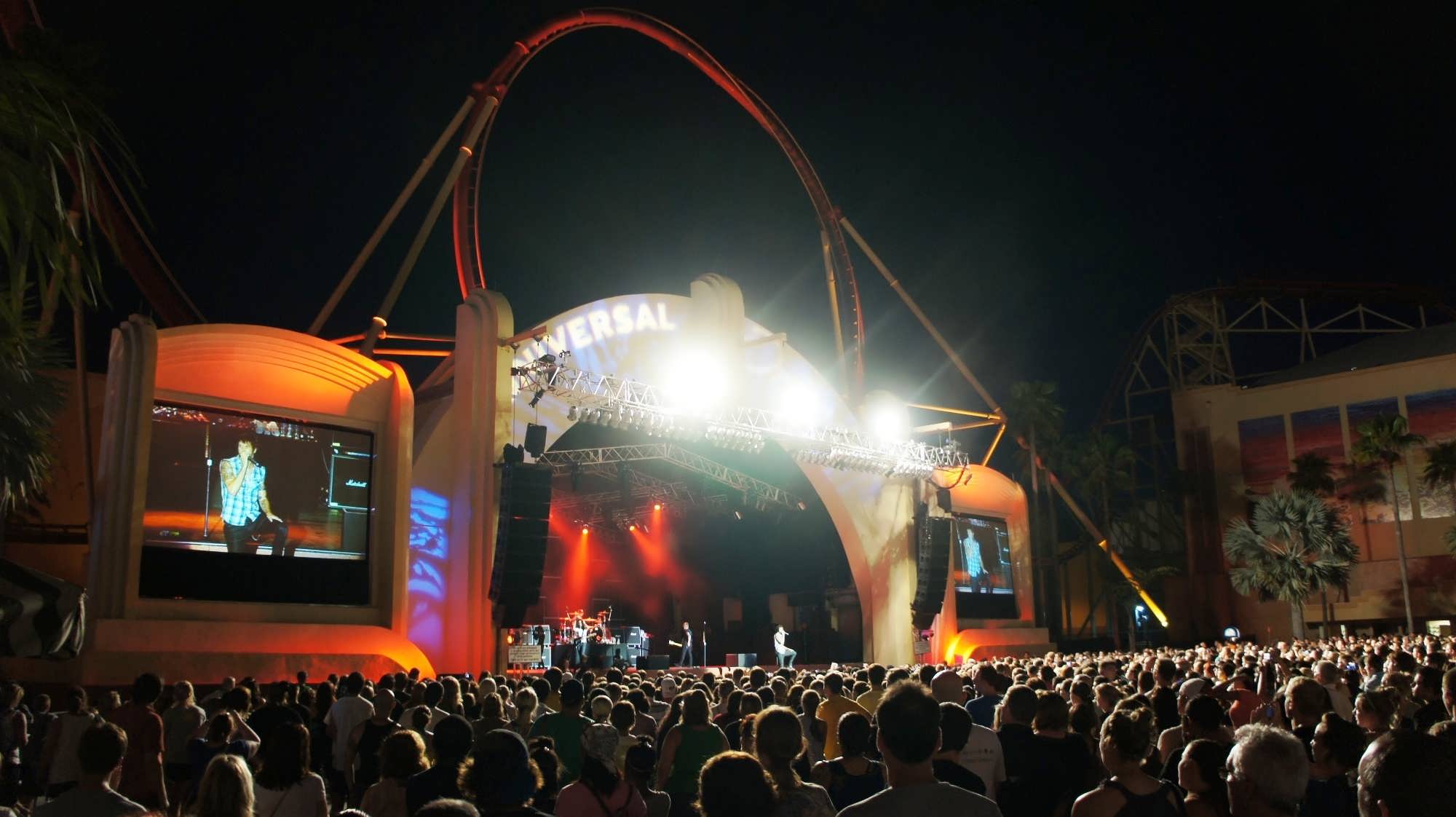 Universal Studios Florida's Music Plaza stage
Unlike Mardi Gras or the Holiday Concert Series, no parade or additional 25th-anniversary activities have been announced to happen before the concert. Nevertheless, the performances are included with regular park admission to Universal Studios Florida, so they can be a great deal if you are a fan of the artist that's scheduled to play.
Universal's 25th Anniversary Concert Series – dates and lineup
Saturday, May 23, 2015: Prince Royce (official site, @PrinceRoyce, popular song)
Sunday, May 24, 2015: Shawn Mendes (official site, @ShawnMendes, popular song)
Saturday, May 30, 2015: Pitbull (official site, @Pitbull, popular song)
Saturday, June 6, 2015: Kellie Pickler (official site, @KelliePickler, popular song)
Saturday, June 13, 2015: Huey Lewis and the News (official site, @Huey_Lewis_News, popular song)
Saturday, June 20, 2015: Goo Goo Dolls (official site, @GooGooDolls, popular song)
Universal's 25th Anniversary Concert Series – admission
The Anniversary Concert Series performances are included with regular admission to Universal Studios Florida. This is very similar to Mardi Gras, the spring–time event at the park; however, unlike Mardi Gras, there is no parade – this event is just a "free" concert for guests who are coming to the parks.
Concert-only ticket
In years past, Universal has offered a slightly-discounted admission ticket to Universal Studios Florida on concert nights. This pass wasn't specifically for the concert venue; instead, it allowed admission to the park after a set time (typically, 7:00 pm), which then enabled access to the concert (and everything else that Universal Studios has to offer, of course). For guests wishing to get in line early in the morning or afternoon for a good position at the concert, however, they needed to purchase regular full-day admission.
Power Passes
Guests with Power Passes (one of the various annual passes offered), please note that your admission to Universal Studios Florida is blacked out from June 13 to August 13, 2015. However, on concert dates, your pass is valid after 5:00 pm – which means you can attend the June 13th Huey Lewis and the News performance and/or the June 20th Goo Goo Dolls finale concert. (Just don't expect to have a front spot!)
Universal's 25th Anniversary Concert Series – park attractions
Usually, these concerts are scheduled before Universal Studios Florida's closing time. This may lead you to the question, "Does Universal keep the regular attractions running after the concert starts?" The answer is yes – all the regular rides, shows, etc. continue operating as usual until the park closes (either 9:00 or 10:00 pm, depending upon the concert date).
Universal's 25th Anniversary Concert Series – tips and insider secrets
There are a few pertinent questions that any self-respecting vacation-planner should be asking right about now. Let's answer them in order to give you the best Summer Concert night possible.
How does concert seating work?
There is no concert seating; it is all general seating – or, really, general standing. The Universal Music Plaza is an open field, so to speak, so you get to watch the concert from wherever it is that you're standing when they start playing music. There is no VIP area to upgrade to, and no special viewing area for guests with Express Passes or those staying at Universal's on-site hotels.
How far in advance should I get there?
If you want to be somewhat close to the stage, you need to get to the Universal Music Plaza at least three to six hours before the concert starts – the more popular the band, the earlier you need to get there. Saying that the Plaza gets very crowded is a bit of an understatement. If there is a band playing and you want to be close, plan on getting there early.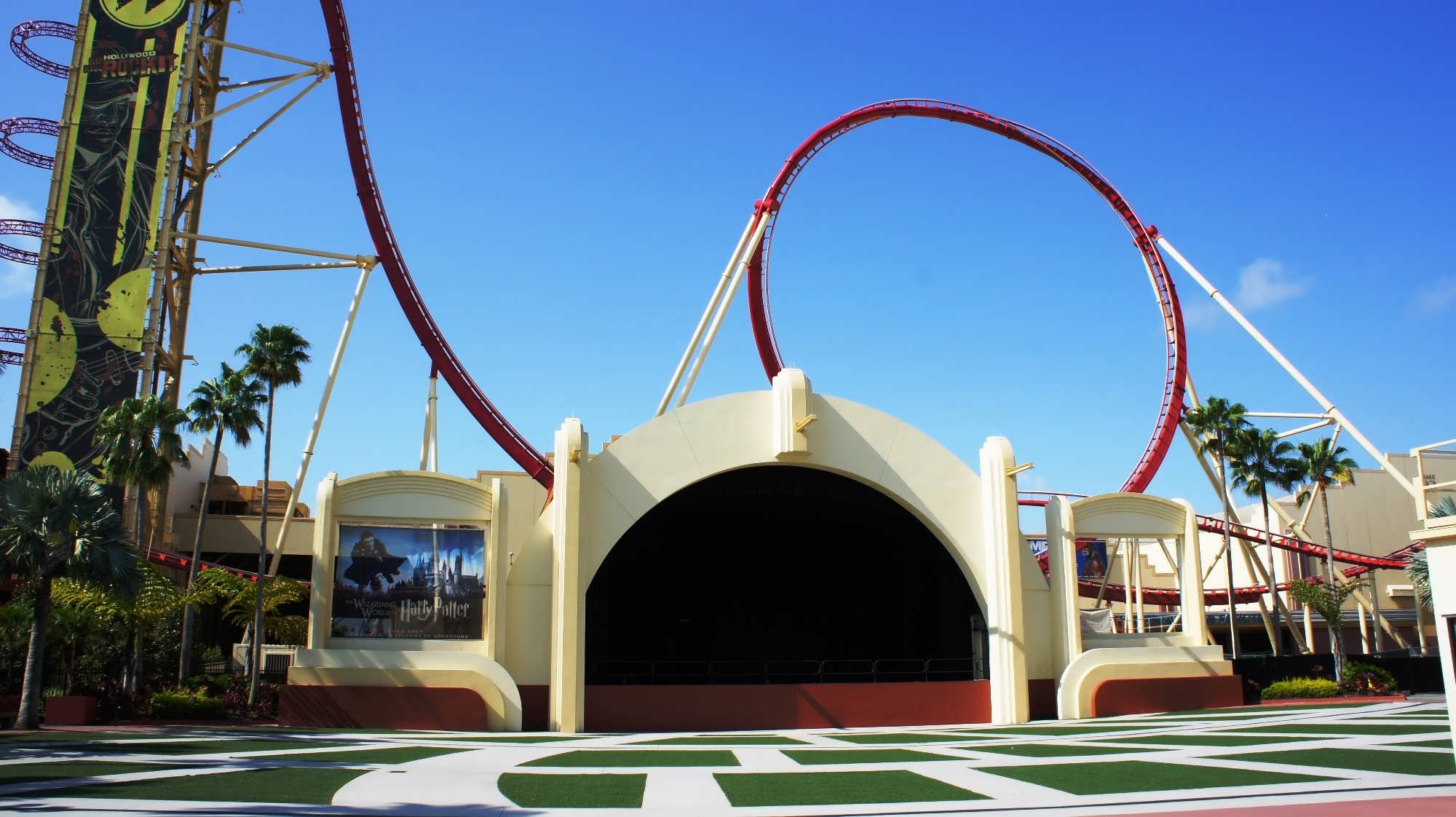 Universal Music Plaza – empty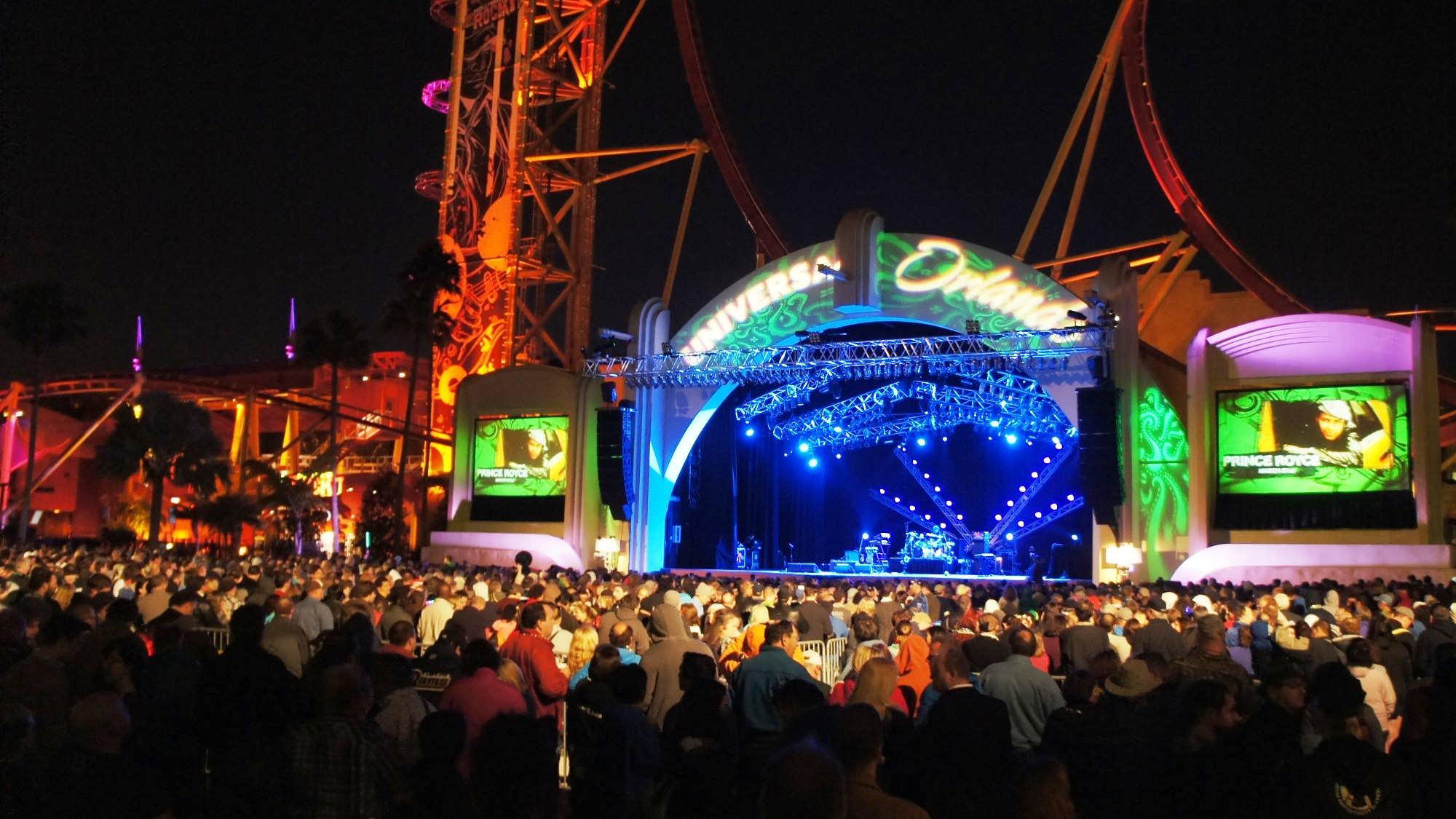 Universal Music Plaza – full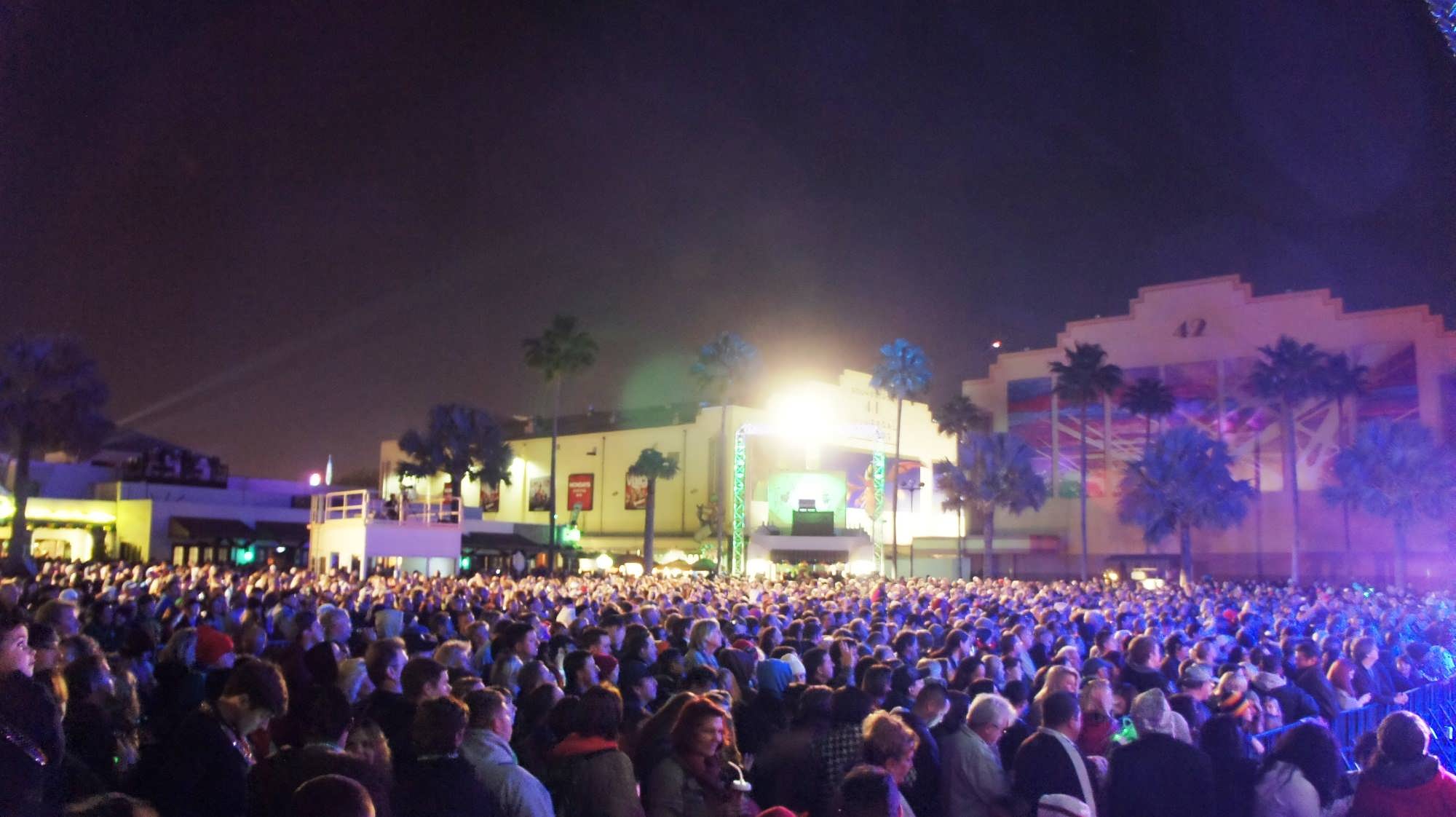 Universal Music Plaza – full
Front Row Alert
Want to see your favorite artist from the front row at the Universal Music Plaza? There are no special requirements for this other than a willingness on your behalf to line up in the morning for a concert in the evening. These Austin Mahone fans were lined up before 10:00 am to see their favorite artist up close:
Pretty good line already formed for the @AustinMahone Mardi Gras @UniversalORL concert tonight pic.twitter.com/49OkFBLSXA

— Orlando Informer (@OrlandoInformer) March 22, 2013
A word of caution to families
The large, boisterous crowds and loud music make these concerts not exactly family-friendly. If you have little ones with you, we recommend making other plans for your evening entertainment. Keep in mind that if you're staying on-site at Universal, the hotels do offer supervised children activities for a per-hour fee.
Universal's 25th Anniversary Concert Series – weather
Guests who travel often to Orlando know that, in the summer, it usually rains every day for 45 minutes in the afternoon or early evening. Concert dates are no exception to this natural law.
Fortunately, the rain – while heavy at times – usually doesn't last that long. And since the concerts don't begin until later in the evening, the skies usually clear well before the artists take the stage.
But if you are planning a full day at the parks – whether you're getting in line early for a good spot or just to do the regular park-touring thing before the evening concert – be prepared for rain. Universal sells rain ponchos and umbrellas, but you'll be paying a premium to buy those on-site. It's best to stop by Walmart or a drug store before you get to the resort to stock up on the necessities.
Universal's 25th Anniversary Concert Series – (wizarding) bonus
What do the Summer Concert Series and The Wizarding World of Harry Potter have in common? Something you will definitely want to know. Check out number four on our list of the only guaranteed ways to beat the crowds at the Wizarding World.