Skip to: Overview | Location | Restrictions | Fear factor | Fun fact | Guest reviews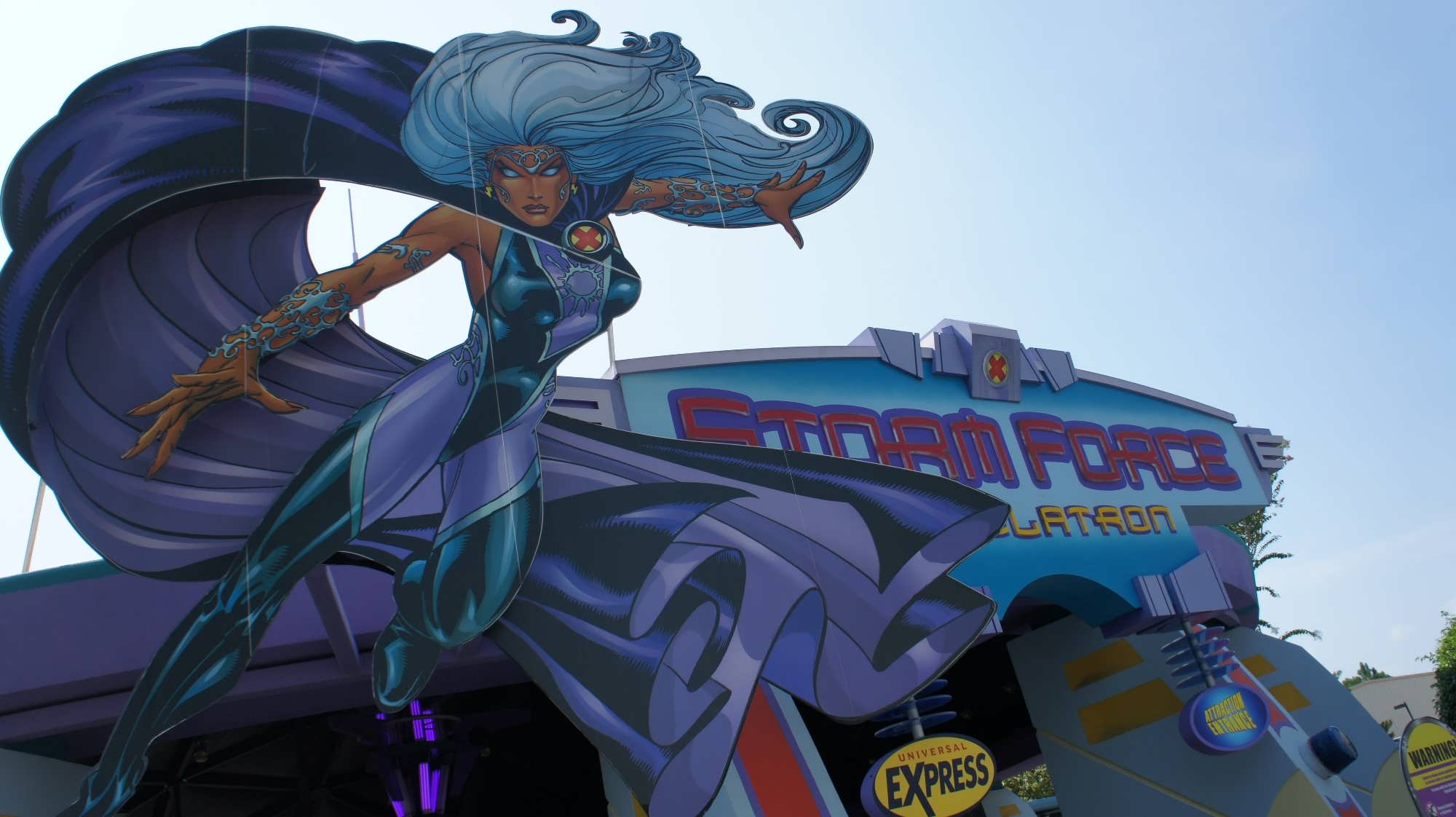 What is Storm Force Accelatron?
This is a Marvel spin on the classic egg-beater carnival ride. While not a particularly dazzling attraction, it is notable in that it is the only Islands of Adventure ride outside of Seuss Landing without a height restriction (children under 48 inches must be accompanied by an adult).
Where is Storm Force Accelatron located?
In Marvel Super Hero Island, which is in Islands of Adventure.
Storm Force Accelatron – height restrictions and other factors
No height restrictions; children under 48 inches must be accompanied by an adult; has Express Pass access.
Storm Force Accelatron – what you wish you knew before you experienced it
For the most part, you control how fast you spin. Use this to your advantage (or to your riding partner's disadvantage).
How scary is Storm Force Accelatron?
We rate Storm Force Accelatron one out of five mutant-powered cyclones; if your little ones can handle Mad Tea Party over at Walt Disney World Resort, they can certainly weather this ride, too (pun most definitely intended).
What was Storm Force Accelatron's opening date?
June 29, 2000
Storm Force Accelatron – OI fun fact
Storm Force Accelatron was added to the Marvel Super Hero Island roster a year after the theme park first opened; Universal didn't see the swell of attendance that it thought it would with the addition of Islands of Adventure, and an overall lack of kiddie rides was partially blamed. (This is the same precise reason why Flight of the Hippogriff was introduced, years before it received its Harry Potter theming.)
You can read more about this interesting history here.
Storm Force Accelatron – real guest reviews
Storm Force Accelatron
Average rating:
10 reviews
Jan 24, 2015
My 9 year old loves this ride!
Date Of Last Visit:
1/3/15
A fun ride tucked away behind the Hulk roller coaster- a breeze to get on and a good compromise for those that aren't ready for the Hulk- tis ride throws you around just enough to really get you giggling hard- make sure your sunglasses and Hufflepuff headband are tightly stowed away as they WILL go flying!
May 26, 2014
Fun for the Whole Family
Date Of Last Visit:
June 2013
This ride is a perfect stop for anyone looking for a way to enjoy some mild thrills and enjoy the park with their kids without being stuck in the "kiddie" areas. Not quite as iconic as Disney's Mad Tea Party, but the same idea as far as the ride goes. We enjoyed teaming up to see just how dizzy we could make ourselves by spinning the wheel in the middle. I consider it a bit of a hidden gem because it's tucked behind the Hulk coaster, so unless you're seeking it out, I could see how it could be easily missed. Another perk? The line wasn't super long and moved quickly.
May 26, 2014
Spintastic??
Date Of Last Visit:
03/09/2014
I love rides that spin - so this ride obviously had my name written all over it. Rides that spin get me all giggle-ey, so this is what I like to do... the best part is that it hardly ever has a wait!
May 26, 2014
Where's Wolverine When You Need Him?
Date Of Last Visit:
July 15, 2013
This ride is nothing new to most seasoned parkgoers. It is a basic spinning ride (as many reviewers before me have noted, most state fairs have something similar) so you know what to expect. For those X-Men comic buffs out there, the theming is not as advanced as it could be. I feel like much more could have been done for a more interactive comic experience (maybe making the line more hands on or put this ride in the dark or something). I love spinning rides personally but this one is as standard as it gets.
May 25, 2014
A smile is worth a thousand twirls
Date Of Last Visit:
April 2014
It was late in the afternoon, we'd ridden The Hulk, Spiderman, Forbidden Journey etc several times. Our feet were tired and we still wanted to ride something but weren't keen on walking around the park one more time It was later in the day and the line was pretty short. As we watched the riders ahead of us on the ride, I noticed not just the kids but the adults were all smiling and laughing like this was the most fun they had all day and no one looked ready to hurl.



Ok, well I still wasn't expecting much having ridden these "tea cup" style rides many times before. However, when we got on and starting to spin, we couldn't keep the smiles away! This ride seems to spin a little faster and has a giggle factor that we didn't get on any other rides! We were laughing, smiling, giggling, and not hurling at all!



It may not be The Hulk, but when you need a smile, this is it at IOA!
Do you have a question about the information on this page, would like to provide feedback, or did you spot an inaccuracy? Please let us know by posting in our
Orlando Informer Community
on Facebook.