Location
World Expo
Restrictions and access
40 inches; has Express Pass access.
Two sentence insider summary
Join the Simpsons family as they go on their theme park adventure to Krustyland. This motion simulator ride is chalked full of characters straight from the show and generous portions of Simpsons humor–enough to make re-rides very entertaining.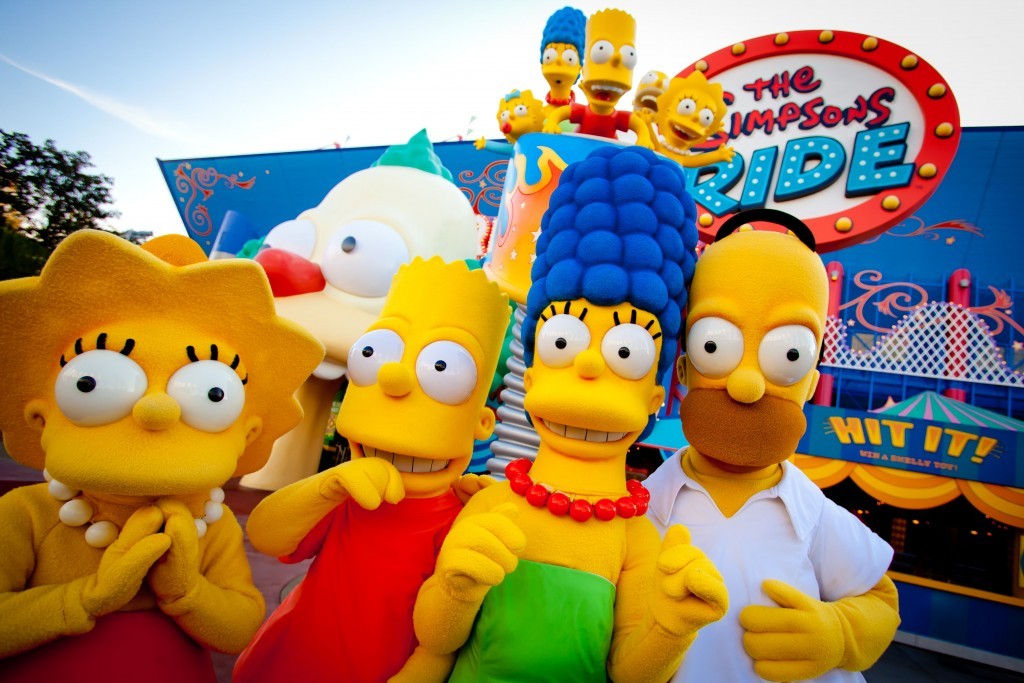 The Simpsons Ride at Universal Studios Florida.
Fear factor
2 out of 5. Straightforward simulator ride.
What you wish you knew before you experienced it
This attraction may be based on an animated show, but if you have seen the Simpsons on FOX, then you know their humor and story themes are adult-oriented. Expect the same on this ride.
OI fun fact
In homage to the Back To The Future Ride, which The Simpsons Ride replaced, Comic Book Guy is wearing Marty's futuristic jacket from Back to the Future Part II. Creator Matt Groening can also be seen in a portrait on display in the queue sequence.
The Simpsons Ride carnival games
At the end of summer 2012 construction began on the facade of The Simpsons Ride, and in early October new carnival games were revealed. Here, at the entrance to The Simpsons Ride, these games fit perfectly, as this attraction is based on the new Krustyland theme park.

Carnival games in front of The Simpsons Ride at Universal Studios Florida.
Carnival games in front of The Simpsons Ride at Universal Studios Florida.
The Simpsons Ride – real guest reviews
Average rating:
43 reviews
Dec 30, 2014
BRILL
Date Of Last Visit:
December 2014
We ALL loved this ride. Not only was the design and ride differeant from the others it REALLY made it fun for all our family. So much so we spent hours in this area of the park....after all we are all kids at heart.
Oct 2, 2014
Be Prepared
Date Of Last Visit:
August 2014
The ride itself is good to say the least. The problem I had was that it was way too much going on in the screen in front of you. I actually started to feel a little sick. Thankfully the ride ended and I had absolutely no problems in tge actual ride. The theming of the land itself is awesome! But be prepared for too much going on in the screen teen feet away from your face.
Jul 16, 2014
simpsons
very entertaining, funny for all ages, kind of like soarin at epcot, only with laughter, been on this since it opened at least twice each year, very good simulated ride for everyone
Jul 16, 2014
Love it!!!
Date Of Last Visit:
June 10 2014
We rode this over and over!!!! So much fun!!!
May 27, 2014
A fantastic trip to 742 Evergreen Terrace….
Date Of Last Visit:
September 2013
As a young man born in the early 90's, I grew up with the Simpsons. I watched every episode, played the games, and even read the Treehouse of Horror comics. When I heard Universal Studios had a Simpsons ride, I knew I simply HAD to ride it. Now, before I go on, I must admit that going in to the ride, I had very high expectations. And EYE CARUMBA! every single one of them was met twofold! As you approach the ride you instantly become immersed in the world of the Simpsons. The characters themselves walk around the ride for a great photo opportunity, and there are fun midway games which provoke wonderful memories of Springfield. As you enter the ride itself, you will immediately notice that every inch of the ride is colorfully and beautifully decorated. You will feel like you just walked into a circus tent for the Krusty the Clown Show. As a bonus, the wait is almost always short! There are many queues, and you also watch a funny original Simpsons short to entertain you right up till it's you're turn to ride. The ride is fantastically visual and is accompanied by fun experience on a fixed motion simulator (so its a great ride for those who don't ride roller coasters).

Overall the Simpsons ride is a great experience for the whole family. A multi-rider for sure.
Production Value: 5/5
Ride Excitement: 5/5
Avg Wait Time: SHORT (5-15 minutes)
XTREME Factor: 3/5 (Fixed motion but still very intense!)

Enjoy your visit to Springfield!
The Simpsons Ride – map
Click any marker to display the attraction or venue name. To scroll or zoom, use the controls on the top-left of the map. You may also switch to different map views by using the buttons on the top-right of the map.
View OI's map to Universal Studios Florida.