Skip to: Overview | Location | Restrictions | Fear factor | Fun fact | Guest reviews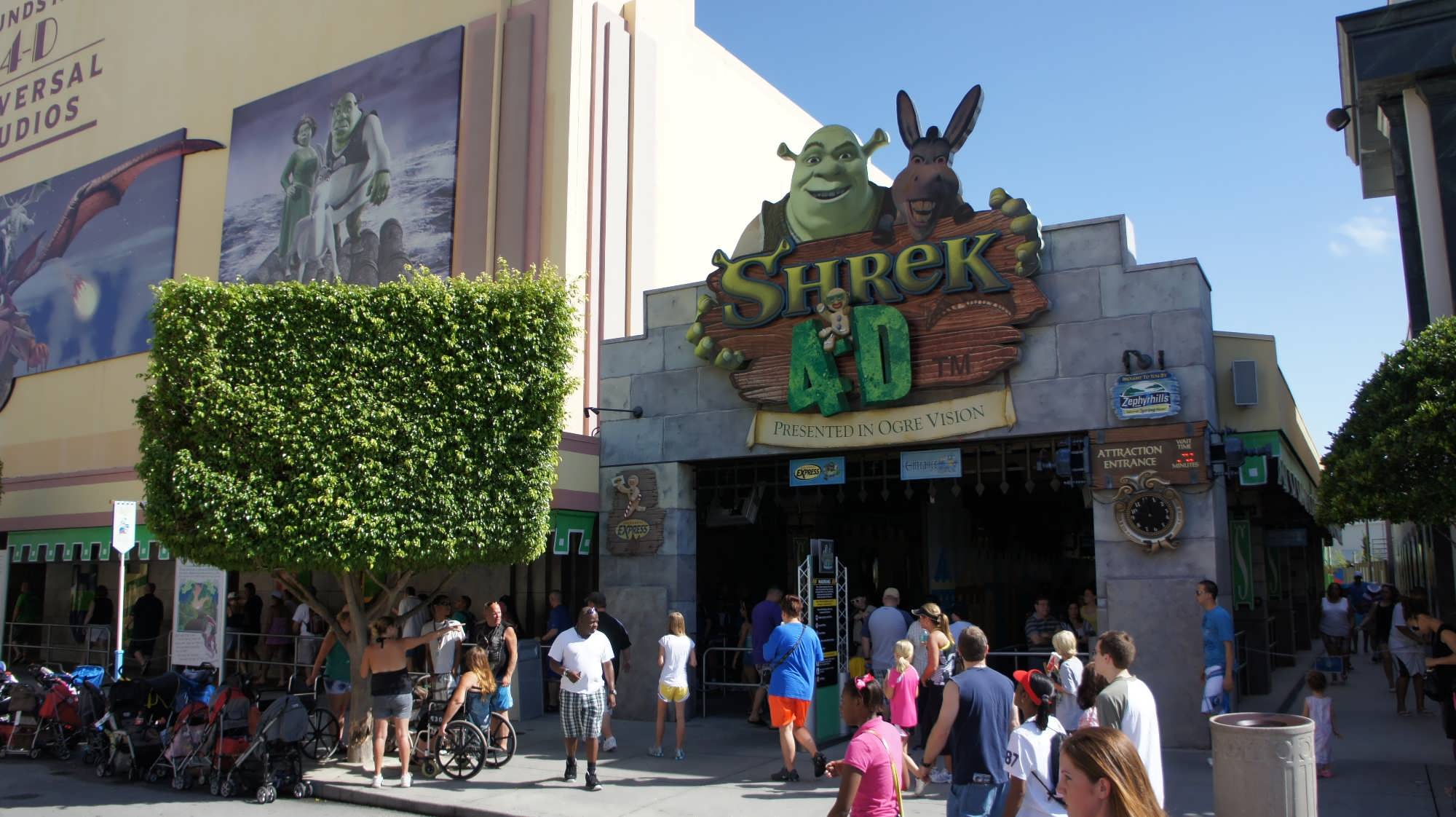 What was Shrek 4-D?
Based on the classic Shrek films, this attraction took place between the original movie and its sequel, Shrek 2 (call it Shrek 1.5). It was a standard 3D movie experience with 4D special effects – such as moving seats, water sprayers, air blasters, and lighting effects – that let you feel as though you were part of the on-screen action.
Where was Shrek 4-D located?
In Production Central, which is in Universal Studios Florida.
Shrek 4-D – height restrictions and other factors
There was no height requirement; had Express Pass access; both child swap and stationary seating were available. Open captioning was available on certain pre-show monitors, and guests remained seated in a standard wheelchair (those in ECVs needed to transfer to a wheelchair). Service animals and most medical devices were allowed.
Shrek 4-D – what you wish you knew before you experienced it
A little bit about the Shrek movies, or, at least, a passing familiarity with the main characters – although the pre-show gave you a brief synopsis.
How scary was Shrek 4-D?
We ranked Shrek 4D two out of five dragons. Cartoonish peril and a bad-guy ghost could have spooked young children.
How long was Shrek 4-D's open?
Opening Date: June 12, 2003
Closing Date: January 09, 2022
Shrek 4-D – OI fun fact
There were actually two movie theaters – one for guests with Express Passes and one for those without. Each year, one theater was taken offline at the beginning of the summer through the fall to serve as a space for a Halloween Horror Nights haunted house.
Shrek 4-D – real guest reviews
Shrek 4-D
Average rating:
28 reviews
Sep 10, 2016
Don't waste your time!
Date Of Last Visit:
September 4, 2016
If I could give this attraction a nevative 5 stars I would! They really should just close it and try again with something more up to date. The story line was not very good and the "4D" consists of some VERY ROUGH seat rattling and bouncing, and a few sprays of cool water. The graphics were as good as any basic 3D movie. I had to take my glasses off after about 5 minutes in and I'm not typically sensitive to any of these types of motion attractions. Unless you REALLY like what I have described, I would strongly recommend skipping this portion of USF.
Sep 10, 2016
it would be better if they just killed this
Date Of Last Visit:
8/21/16
I gave it one star b/c negative stars isn't an option. This attraction is pathetic. Please, spend your time doing other things at the park. Really, really sad and boring.
Jun 6, 2016
It was okay
Date Of Last Visit:
August 2015
Not really much to this attraction. It's just a casual 3D movie. My family does watch the Shrek movies from time to time, but this can be found on Netflix pretty easily.
Apr 15, 2016
Really Outdated
Date Of Last Visit:
12/25/15
It's really outdated and definitely not worth if it if there's a wait. It's really just a seated ride, which may work for you if you're sensitive to motion. It's also nice if there's no ride and you just want to sit down for a bit inside. Other than that, it's really not anything special.
Sep 18, 2014
Fun but not worth a long wait
Date Of Last Visit:
October 2013
This is definitely a fund ride that most people will enjoy especially if you're a fan of Shrek. It may be bit scary for very young children (as with most rides) but it is a goofy, funny, good time. I'd say nothing over a thirty minute wait is worth it though.
Do you have a question about the information on this page or would like to provide feedback? Join us in our OI Community Facebook group, and let's talk about it!