Skip to: Overview | Location | Hours | Fun fact | Menu | Guest reviews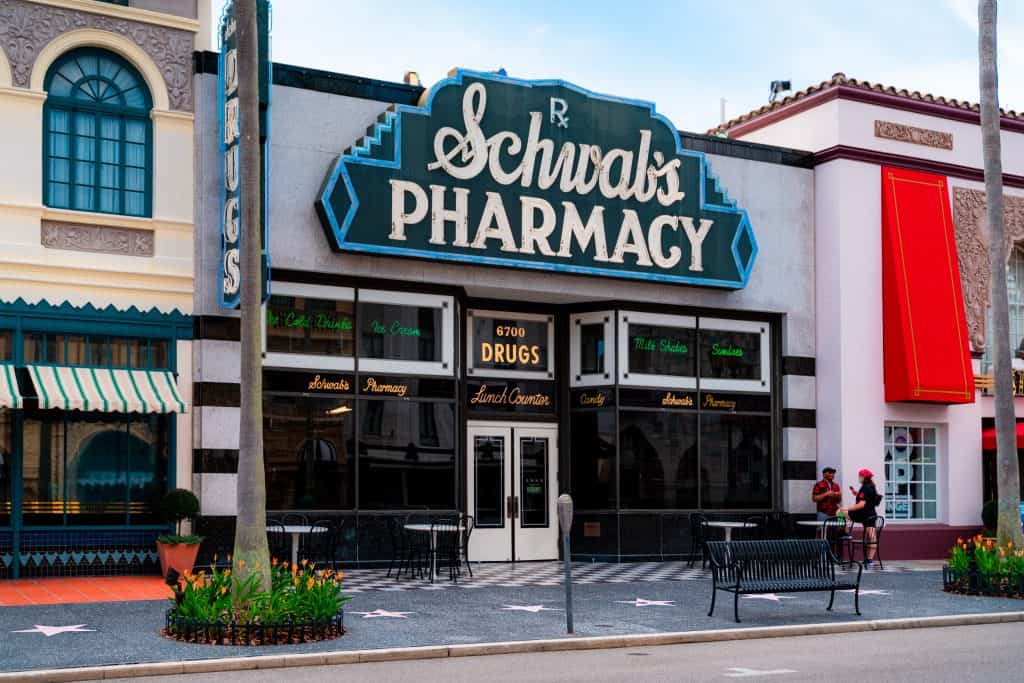 What is Schwab's Pharmacy?
Located in the Hollywood section of Universal Studios Florida, Schwab's Pharmacy is a retro shop serving up sweet treats and beverages. Here, you can take a break from the heat (or, depending on the season, hide from the cold) and enjoy a milkshake, malt, banana split, or classic sundae, among other options. And if you're in the mood to relax, you can't beat soaking in the vintage atmosphere with a fountain drink in hand. Keep an eye out the window, too – you never know when a starlet like Marilyn Monroe or Lucille Ball will make an appearance in the streets of Hollywood.
Where is Schwab's Pharmacy located?
In Hollywood, which is in Universal Studios Florida.
Schwab's Pharmacy– hours and reservations
Schwab's Pharmacy is typically open from 2:00 pm to 5:30 pm, but this is, of course, subject to change.
Schwab's Pharmacy – OI fun fact
Schwab's Pharmacy is based on a real-life drug store with the same name located on Sunset Boulevard. Stars like Lana Turner were rumored to have been discovered at the tiny shop, and these rumors helped it become a popular hangout for Hollywood hopefuls and industry moguls from the 1930s to the '50s.
What's on the menu at Schwab's Pharmacy?
Haagen Dazs
Hand-scooped Ice Cream Cone
Regular – $7.99
Large – $8.49
Hard-scooped Ice Cream Cup
Regular – $6.99
Large – $7.49
Soft-serve Ice Cream Cone – $4.49
Soft-serve Ice Cream Cup – $3.99
Waffle Cone – $1.29
Dipped Cone – $1.29
Dipped Waffle Cone – $1.79
Sundaes and Splits
Banana Split – $8.99
Hot Fudge Sundae – $8.99
Brownie Special – $8.99
Soft-serve Sundae – $5.99
Shakes and Malts
Milkshakes or Malts – $6.99
Ice Cream Float – $6.99
Dole Whip Pineapple Sorbet
Cone – $4.49
Cup – $3.99
Beverages
Fountain Soda – $4.19
Coca-Cola, Diet Coke, Coca-Cola Cherry, Sprite, Barq's Root Beer, Lemonade
H2O+ Premium Water – $5.50
Powerade – $5.00
Mountain Berry Blast, Fruit Punch
Hot Drinks – $3.29
Coffee or Hot Chocolate
Schwab's Pharmacy – real guest reviews
Orlando Informer
Average rating:
0 reviews
Do you have a question about the information on this page or would you like to provide feedback? Please let us know by posting in our
Orlando Informer Community
on Facebook.