After getting its start in May 2019 over at Universal Studios Hollywood, Universal is exporting its still-new Running Universal program over to the East Coast! The inaugural race will feature both Universal Orlando theme parks and include several of the different characters that call them home.
Skip to: Overview | Next race | Registrations | Awards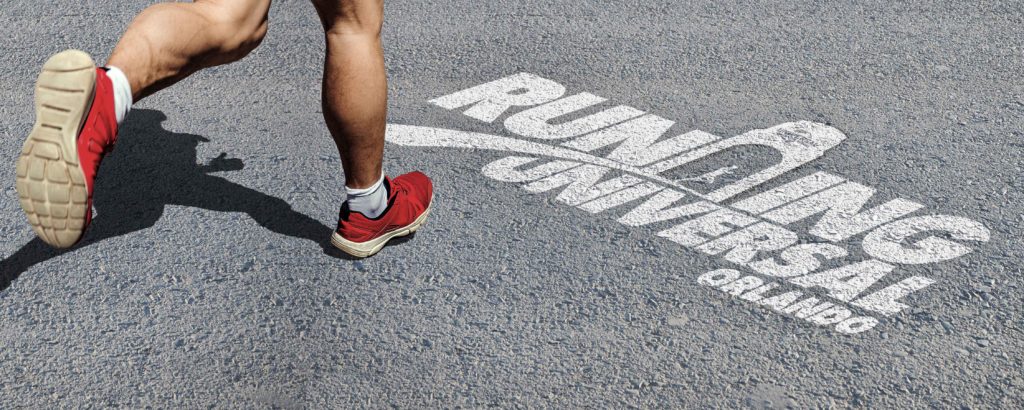 What is Running Universal?
Running Universal is a series of fun runs that take place all throughout Universal Orlando Resort and that are designed for runners of every skill level and background. Very little in the way of specifics has been announced thus far, but we do know that both Universal Studios Florida and Islands of Adventure will be included in the various courses – or, as Universal itself puts it, runners will have "the chance to race surrounded by their favorite characters within some of the most immersive theme-park environments ever created."
All throughout the various races, participants will have the chance to engage in a series of photo-ops and character meet-'n-greets and, once completed, to nab some "Instagram-worthy" medals. So far, only one run has been scheduled, but we fully expect several others to follow on the docket soon, just as we already see over at Universal Studios Hollywood (both Minions– and Jurassic World-themed races have already been established on the West Coast).
What's the next Running Universal race?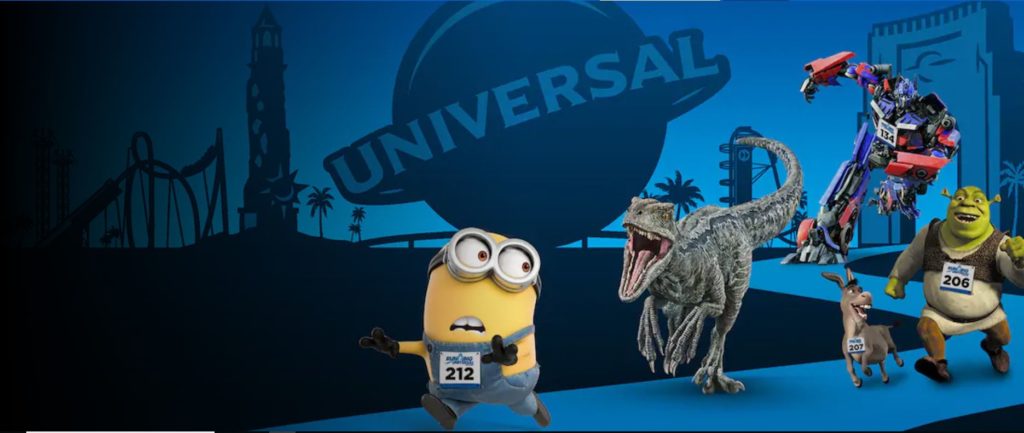 On Saturday, February 1 and Sunday, February 2, 2020, the Epic Character Race 5K and 10K will be held – the very first Running Universal event in Orlando! Those titular characters will at least partially consist of the Minions, Shrek, a number of Transformers (both Autobots and Decepticons alike), and Blue and her "raptor expert" from Jurassic World.
While the exact course layout has yet to be revealed, we do at least know that the 5K race will wind its 3.1 miles through the New York and San Francisco backlots of Universal Studios Florida and through Port of Entry and Seuss Landing in Islands of Adventure; the 10K's 6.2 miles, meanwhile, will additionally snake through Jurassic Park and Toon Lagoon.
The 5K race will be held at 5:30 am on February 1, while the 10K iteration is at the same time on February 2. The race corrals will open at 4:00 am. (Participants are eligible for free parking from 3:00 am to 5:30 am on those dates.)
Is there a minimum required pace?
Yes, there is – 17 minutes per mile. According to Universal, the pace clock will start when the last runner crosses the start mat.
If you fall behind this pace, you may be escorted off the course and transported to the finish line.
How do I register for a Running Universal race?
You'll need to sign up here for early registration, which ends on Thursday, November 1. When you do, you'll receive a bushel of rewards:
"Brag-worthy" themed medal
Themed dri-fit shirt
Race bib with timing tag
Drawstring bag
On-course and post-race refreshments
Downloadable finisher certificate
Complimentary parking
Participants are also eligible to sign up for something called Epic Fan Registration, which will nab friends or family a reserved spot at the finish line from which to cheer you on. (This also includes "themed gear," refreshments, and complimentary parking for your guests.)
How much does it cost to register?
For just the Running Universal registration by itself, the cost is $72.00 for the 5K race and $111.00 for the 10K. There's also a VIP option available, which throws in such exclusives as a post-race breakfast, a character meet-'n-greet photo-op, and a commemorative reusable water bottle into the mix – this is priced at $132.00 for the 5K version and $174.00 for the 10K.
If you'd prefer to bundle your race registration with theme-park tickets, Universal has special packages lined up just for you. For the standard 5K entry and a two-day, two-park, park-to-park ticket (that is, you can hop back and forth between Universal Studios Florida and Islands of Adventure), you're looking at $291.99, while VIP entry comes in at $351.99; the 10K versions, meanwhile, are set at $330.99 and $393.99, respectively.
Finally, there is both standalone and bundled Epic Fan Registration, as well – signing up for it by itself costs $49.00, while the two-day, two-park, park-to-park ticket combo costs $268.99.
IMPORTANT: these prices are for early registration only; once Saturday, November 2 rolls around, they'll jump up (although by how much, we're unsure).
Are there any restrictions on registration?
There is only one restriction in order to participate in a Running Universal event: you must be at least five-years-old on race day.
We should probably note, however, that all disabled athletes must use either a push-rim or hand-crank wheelchair, and that buckled helmets and wheelchair lights are required. (Guide runners are also available to help out, and trained service animals are permitted, if needed.)
Finally, we have one final note to share: strollers won't be permitted on the race course, so all little ones will need to stay on the spectator side.
How do I pick up my registration packet?
We don't know just yet, but we do know that the complimentary self-parking on race day is extended to the two days preceding the Epic Character Race, in order to allow everyone the opportunity to pick up those packets. Enjoy free parking from 4:00 pm to 8:00 pm on Thursday, January 30; from 10:00 am to 7:00 pm on Friday, January 31; and – just for 10K runners only – from 12:00 pm to 5:00 pm on Saturday, February 1.
What are the Running Universal awards?
Beyond "Instagram-worthy" medals and the chance to earn "exclusive swag," we yet again don't have much in the way of concrete info, but we can perhaps look to Universal Studios Hollywood for some general guidance here.
In California's version of Running Universal, awards are handed out to the top racers in four different categories:
Top three overall male finishers
Top three overall female finishers
Top overall male wheelchair finisher (push rim only)
Top overall female wheelchair finisher (push rim only)
Typically, the awards take four to six weeks to be mailed out to participants.
Do you have a question about Running Universal? Please let us know by posting in our
OI Community
 Facebook group.