Lockers, as simple as they may be, are often overlooked by visitors who show up to the parks with all their gear in tow and are then faced with the challenge of figuring out where and how to store their worldly possessions. Lockers will, in fact, play a pivotal role in almost any successful visit to Universal Studios Florida, Islands of Adventure, and Volcano Bay, whether you are interested in renting a locker for the day or just need to stow loose articles while you're on the rides – so, needless to say, it is to your advantage to know how the system works. This page presents all the information you'll need to make the best plan for your family.
There are two general types of lockers at Universal: those that charge a flat daily rate, which are located at the front of each theme park and are scattered all throughout Volcano Bay, and then those lockers that are attached to certain rides, which may or may not require payment for use.
Skip to: Daily rate lockers | Ride lockers | Lockers at Volcano Bay | FAQ | Prohibited items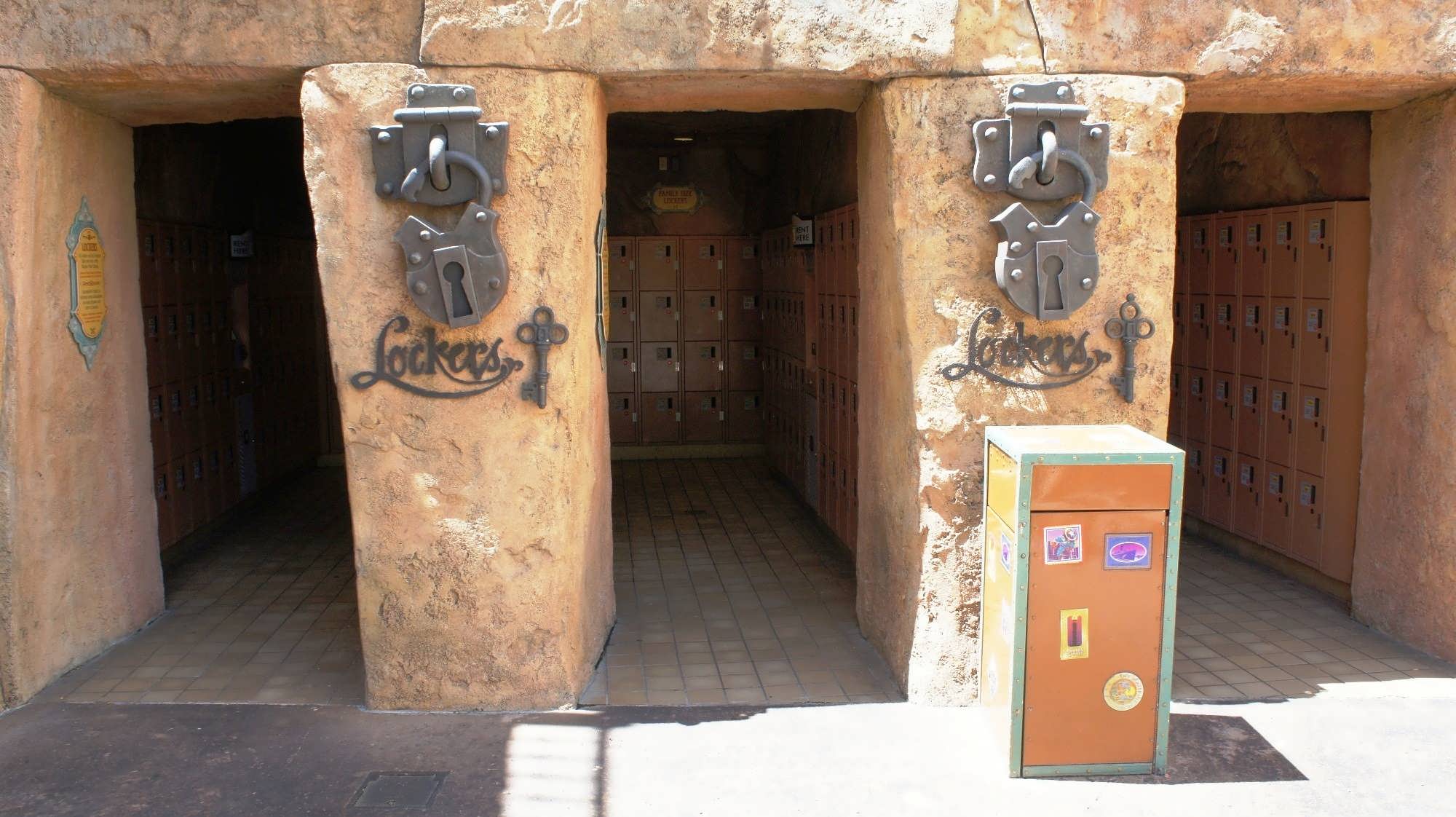 Daily rate lockers
At the front of each of Universal's theme parks, you will find lockers available to rent for the entire day, which you may open as many times as you'd like. There are two sizes of lockers available here: the large ones (12 in. x 13 in. x 16.9 in.) start at $10 per day, while the family size (12 in. x 16.25 in. x 16.9 in.) starts at $15.
Universal Studios Florida: this park has three sets of daily rate lockers, all located in the Production Central area of the park – once you go through the turnstiles, make your way far left or far right.
Islands of Adventure: there's just one set of daily-rental lockers located inside the turnstiles, to the far left by the stroller and wheelchair rental station.
How do I pay for the daily rental lockers?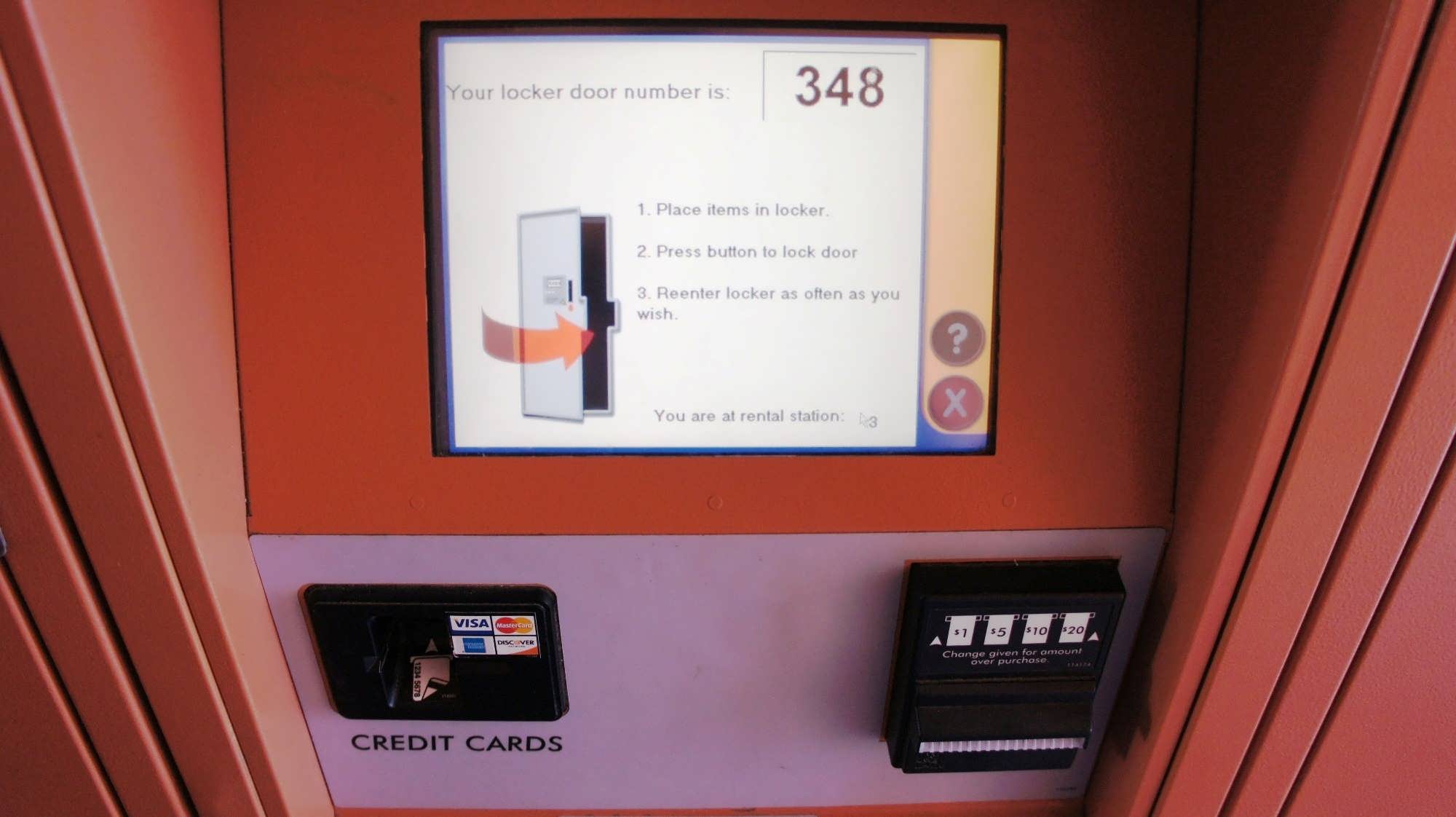 Paying for the daily rental lockers is very easy: simply approach the main rental kiosk and then choose your language, locker size (if applicable), and the level of your locker (you can decide between one near the ground or one up near the top). From there, you'll be asked to pay – both cash and credit cards are accepted – and you will also have to enter a six-digit code to use in the event that you forget your locker number. Once the payment is processed, don't forget to grab the receipt with your locker number, and then your unit will automatically unlock. After you've finished stowing your stuff, press the green button by the door to activate the lock.
To get your stuff out again, return to the same kiosk and input that you want to retrieve your items. You will be asked if this is your final time grabbing your belongings. If you choose no, you will continue to have access to the locker; if you choose yes, you will no longer be able to open it.
Attraction lockers
Certain Universal Orlando attractions have lockers provided for guests' convenience – and while this ride-locker system can be a bit frustrating to get the hang of, once you have used the lockers a few times, you should be able to move in and out like an expert.
The ride lockers break down into two categories: those which are (largely) complimentary for the duration of your ride and those for which you have to pay up-front to use.
Complimentary lockers (for the duration of your ride)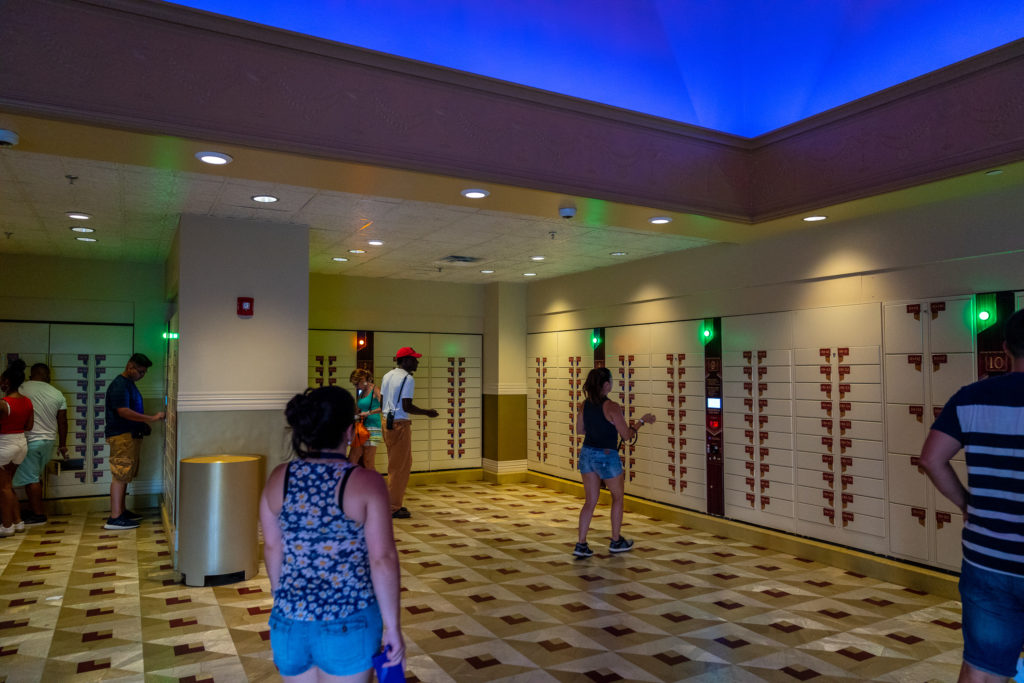 For the safety of all guests, riders are not permitted to bring bags or loose articles on board certain attractions; in these instances, complimentary lockers are provided for the time it will take to queue and ride. At Hollywood Rip Ride Rockit and The Incredible Hulk Coaster, all items and bags must be stowed, and guests will pass through a metal detector before entering the queue. The only exception at these two rides is a lanyard holding your park ticket, which you may be asked to tuck under your shirt.
At other attractions where lockers are provided – including Revenge of the Mummy, Men in Black Alien Attack, Harry Potter and the Escape from Gringotts, Harry Potter and the Forbidden Journey, and Hagrid's Magical Creatures Motorbike Adventure – there is a little more leeway. At these rides, there are no metal detectors, but all loose items must still be secured in the available lockers. If you are wearing a fanny pack (or "bum bag," as it's known to our friends across the pond), it will only be permitted if the bag does not interfere with the safety restraint of the ride vehicle, and this is at the sole discretion of the team members. If you have any questions, we recommend that you speak to an employee, who can advise you on whether you must avail yourself of the lockers – this is especially important if you have items that you need to bring into the line for medical purposes, and the employees can assist with this, too.
Near the entrance to each of these rides, you will find a set of lockers – or, sometimes, inside their queues, as in Revenge of the Mummy. It's important to note here that there are actually three different sizes at play: Forbidden Journey's lockers are standard-sized (11 in. wide x 11 in. tall x 16 in. deep), which is good for holding smaller items, like purses, phones, and small backpacks. At Men in Black, Mummy, Hulk, Rip Ride Rockit, and Escape from Gringotts, there are two locker sizes available: standard (14 in. x 5.5 in. x 16.9 in.) and large (12 in. x 13 in. x 16.9 in.).
Remember how we said these lockers are complimentary? Well, they mostly are, but there is still an exception to this rule: the "standard" size is free for the duration of your ride, but the larger ones cost $2 upfront. Furthermore, any ride locker will start to charge an additional $3 per extra 30 minutes, up to a $20 maximum – keep this in mind because, if you have bigger items with you that you'll need to stow away, you won't have any choice but to cough up the dough each time you ride. (In this case, you might consider getting an all-day locker, as discussed above.) Finally, since no deposit is required, you don't have to put any money in or scan a credit card before using the smaller lockers, but if you go over the time, you will have to use cash or a credit card to rescue your belongings.
Okay, but what do they mean by "free while you ride"?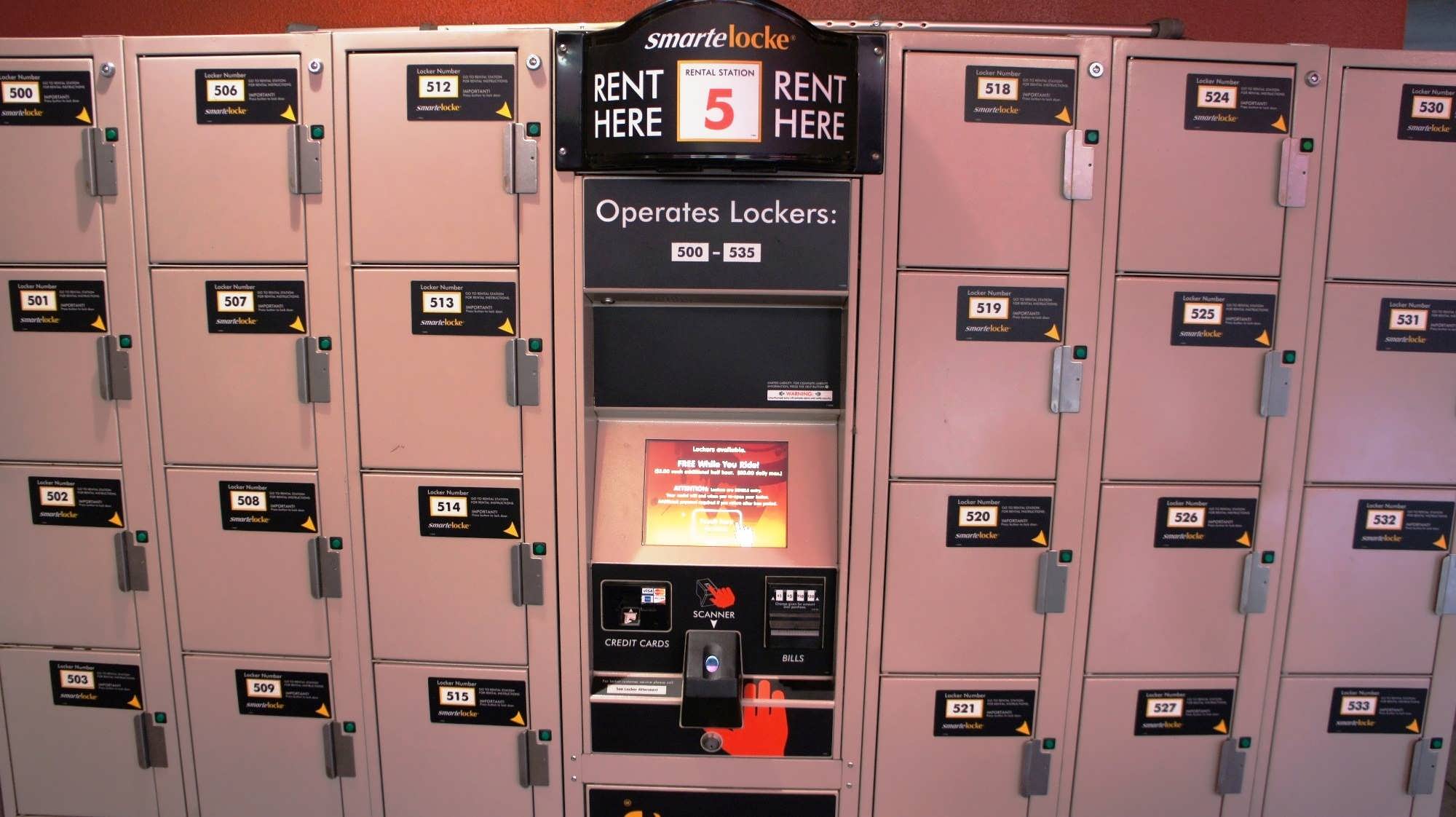 These brilliant little locker systems automatically take into account the length of time you'll spend both waiting and riding – with a few extra minutes of cushion – and won't charge you during this period. As we just mentioned, though, if you do go over that window, it will cost you $3 for each additional half hour (up to the $20 daily maximum).
How do I use these lockers?
Universal has been diligently updating its lockers, but some of them are quite old and have become less responsive over time. Currently, the company uses both biometric- and ticket-based locker systems, so your process might be slightly different depending on which type is in use at your location.
In any case, here is how it works: approach any locker kiosk with a touchscreen and select the option to rent a locker. The screen will inform you as to how much free time you'll be given and the rates you'll pay should you go over that period.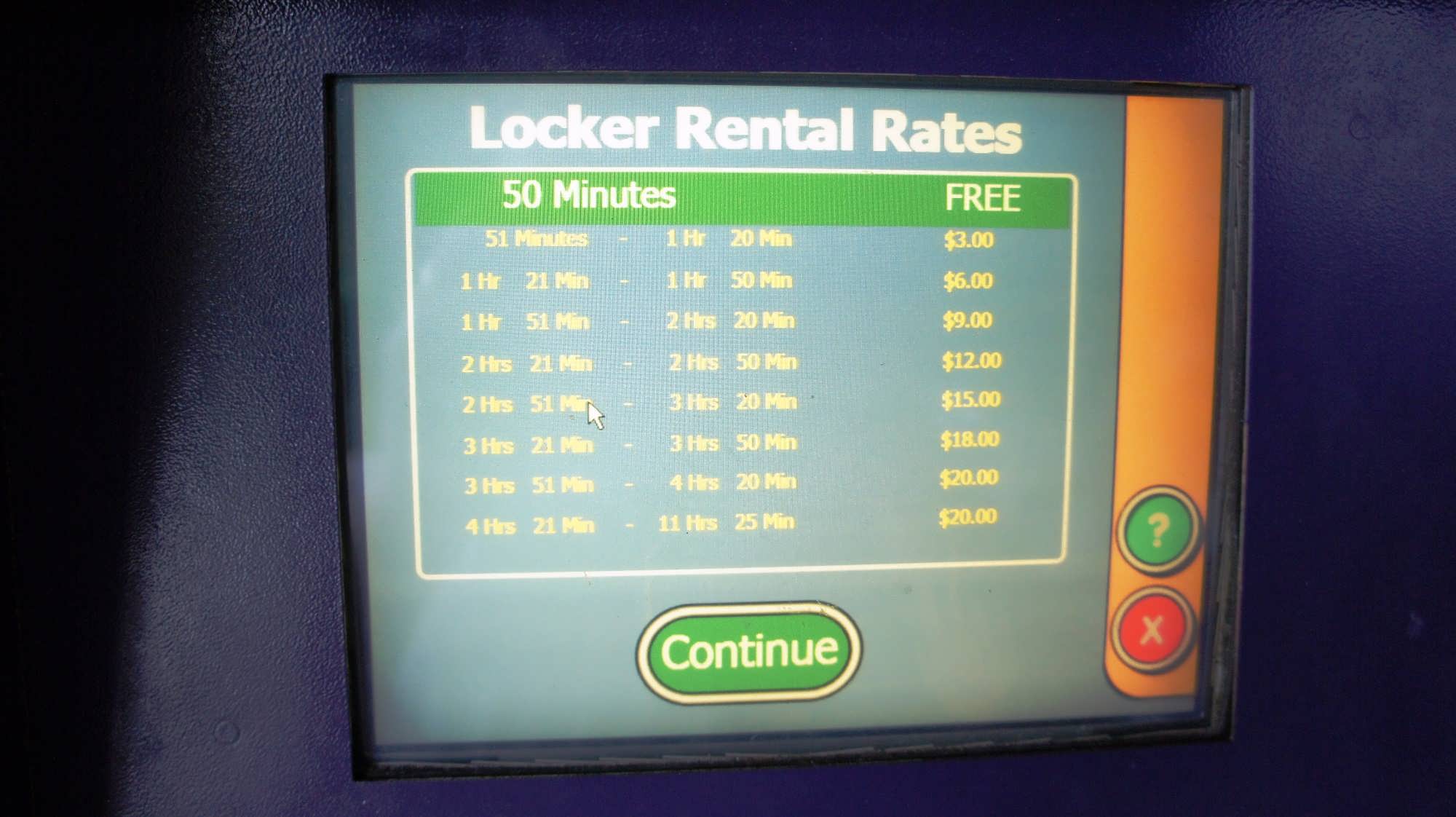 If you're at a biometric locker bank, you'll be asked to place your finger on a scanner, and then you'll be assigned a locker; if you're at a ticket-scanning locker bank, you'll scan your park ticket before getting your locker number. (For those who are using e-tickets, you'll need to see a nearby team member to get a card that will work with the lockers.) Find your locker, place your belongings inside, close the door, and press the green button to lock it. Next step – enjoy your ride!
To retrieve your possessions, return to the same kiosk that you used to rent the locker and input that you are collecting your belongings. You will be asked for your locker number and to either scan your same finger or insert your park ticket. After displaying a warning that you'll only be able to access your locker once, the receptacle in question will click open.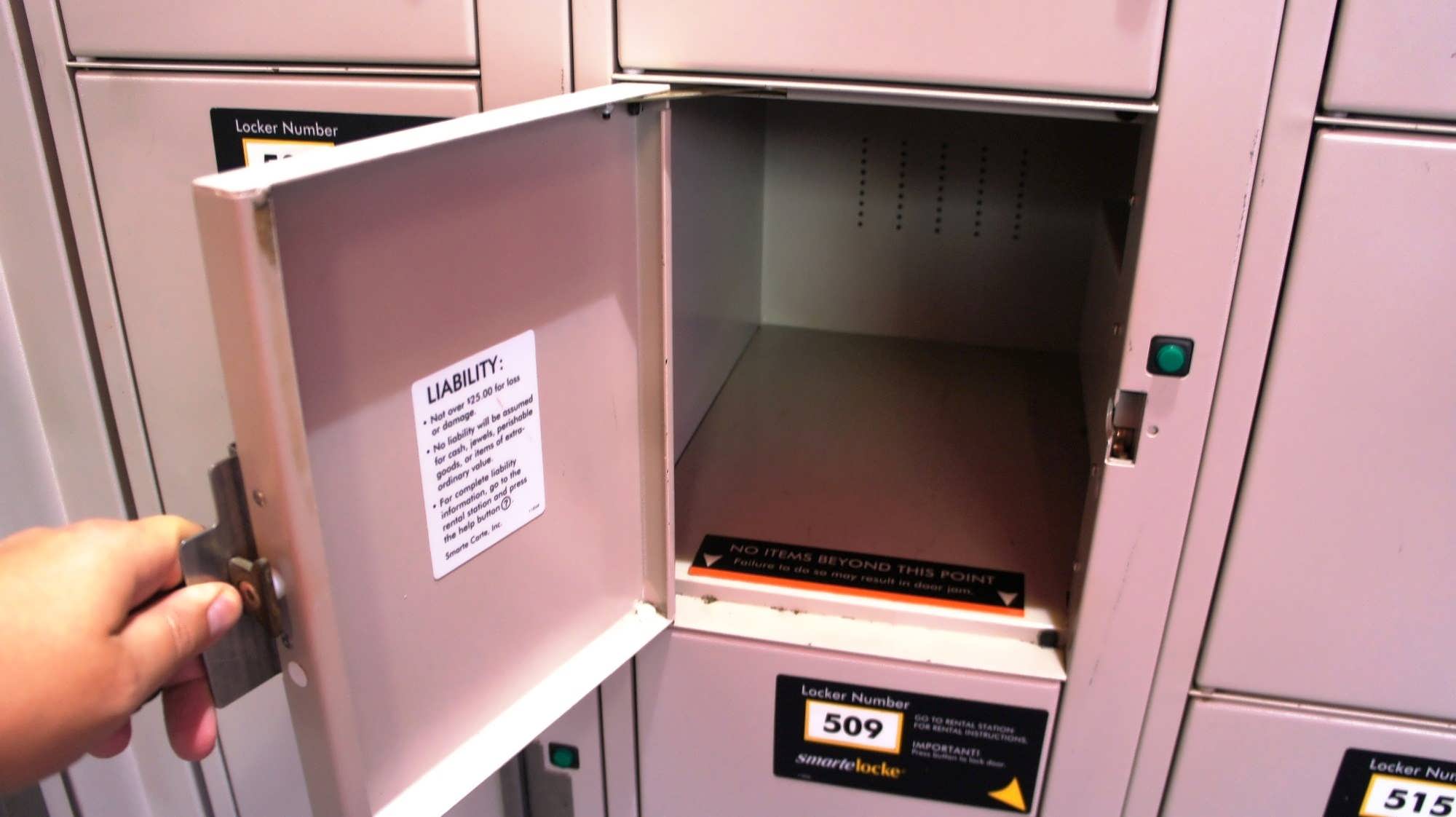 What happens if I go over my "free" time limit?
We have a high level of confidence in this system – we've been using it for years, and we have yet to be asked to pay after going through the regular routine of riding. However, if you do go over your allotted time for some reason, you will be required to pay a fee with cash or a credit card – that is, again, $3 for each addition half hour (up to a $20 daily maximum). In the event of an extenuating circumstance, you should be able to locate a team member nearby for assistance. (If you happen not to see one, ask the ride attendant at the front of the queue for assistance.)
Prepaid ride lockers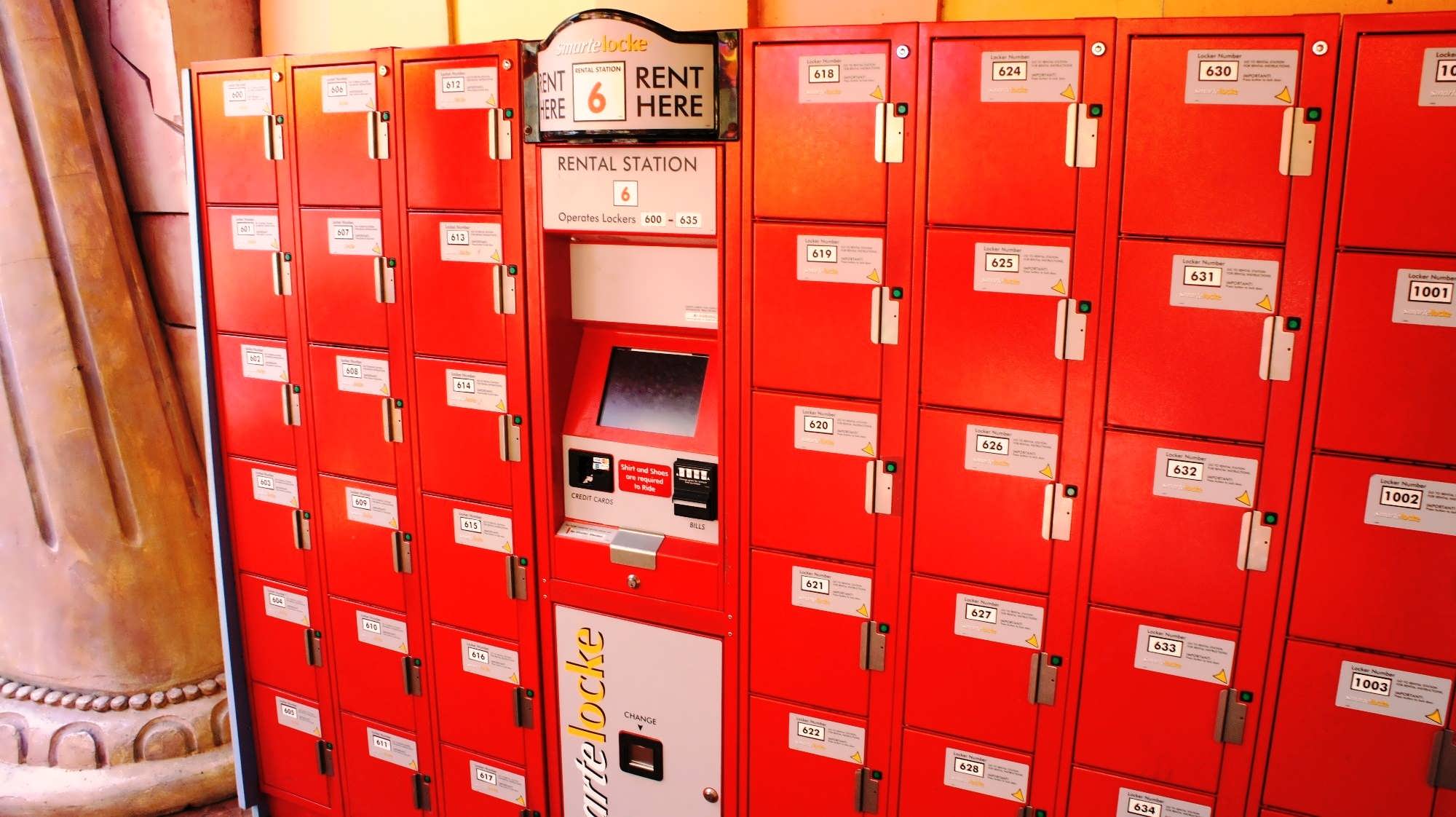 There are three rides that do not require you to stow your loose belongings but do provide lockers just in case you want to. Predictably, these are the attractions where you and/or your possessions may get soaked:
Because you are technically allowed to take your stuff with you on these rides, the use of these lockers is not free, with the price again depending upon the size: $4 for the smaller ones, and $5 for large. These rates will get you 90 minutes of locker time, and if you go over that period, you'll be charged $3 for each additional half hour (up to that $20 daily maximum). The three water attractions do have places to stow your belongings on the ride itself, with no guarantee that they will stay dry, should you not wish to spend money on lockers; however, if you are carrying unprotected or sensitive items, like a smart phone or an expensive camera, you should probably opt to use the lockers.
Volcano Bay lockers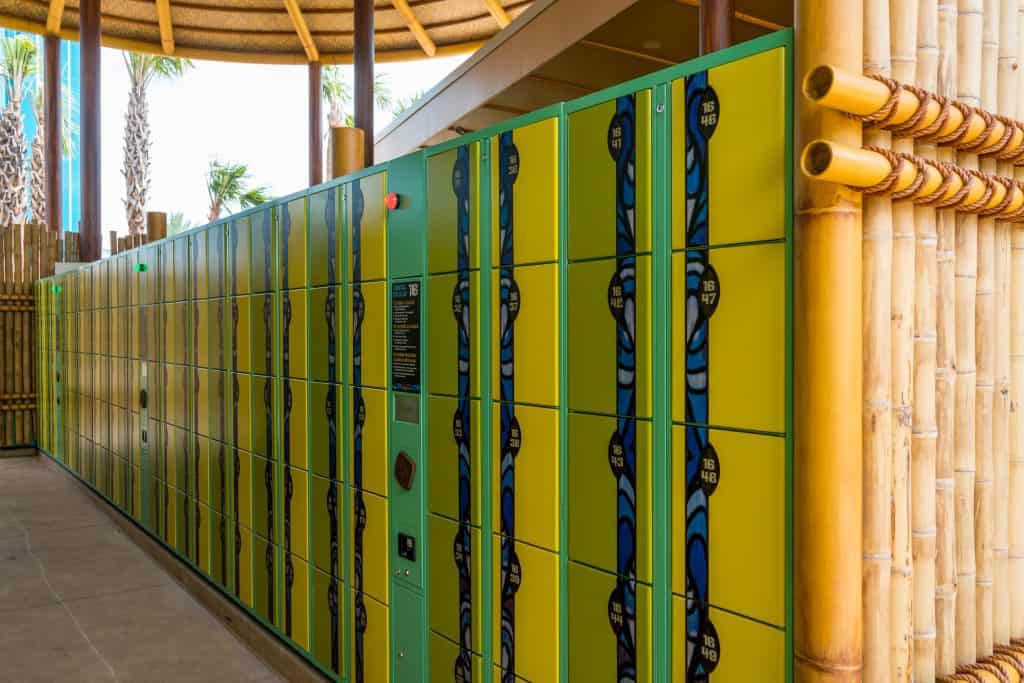 Thanks to the TapuTapu wearable, which is passed out to each guest who enters the water park, lockers operate a bit differently at Volcano Bay than at the two Universal Orlando theme parks.
Before we get to all that, however, we should probably first mention that the lockers come in three different sizes – small lockers (14.11 in. x 5.52 in. x 17.72 in.) cost $10, medium lockers (16.25 in. x 12 in. x 16.9 in.) cost $13, and large lockers (13 x 12 x 16.9) cost $15 – and are located in five different spots around the park: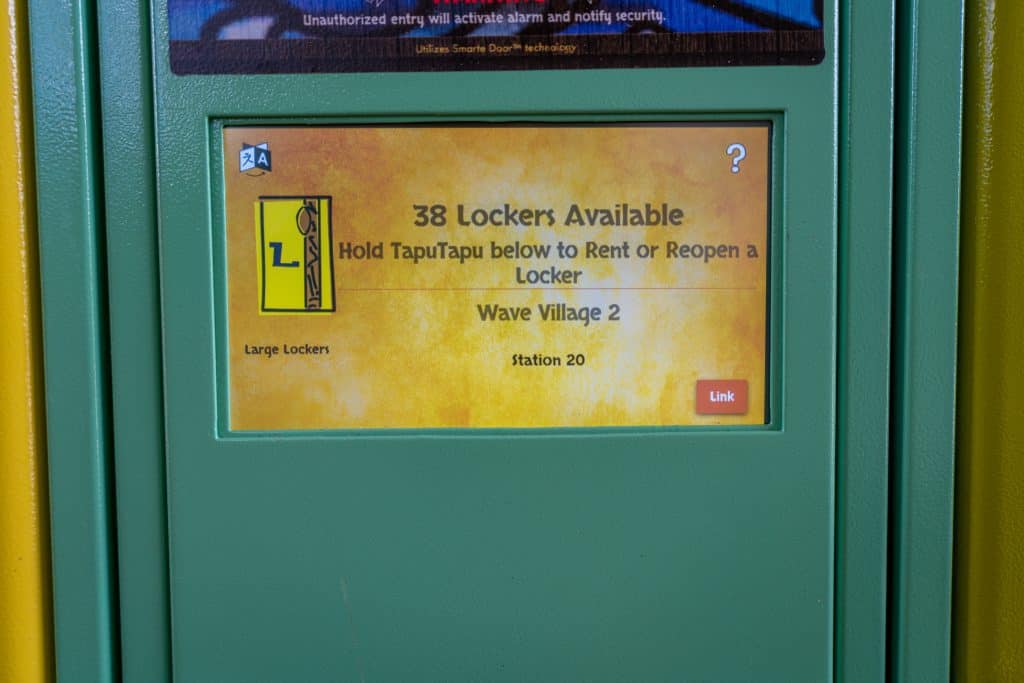 When Volcano Bay is busy, available lockers can be few and far between. We recommend checking out the locker station in between Bambu and Maku Puihi, as that area is a little more secluded and, thus, more prone to being overlooked by other guests. Furthermore, once you've managed to land your locker, we suggest paying with good, old-fashioned cash or credit, thereby allowing you to circumvent the need to go through a team member, who may or may not be busy when you arrive.
OI tip:
Even if you're tempted to use the lockers outside of Volcano Bay, we strongly recommend that you resist the urge and, instead, wait until you're inside the water park before grabbing one – if you're spending the day at Volcano, you won't want to exit and enter the park every time you need to get something from your locker.
How to pay for these lockers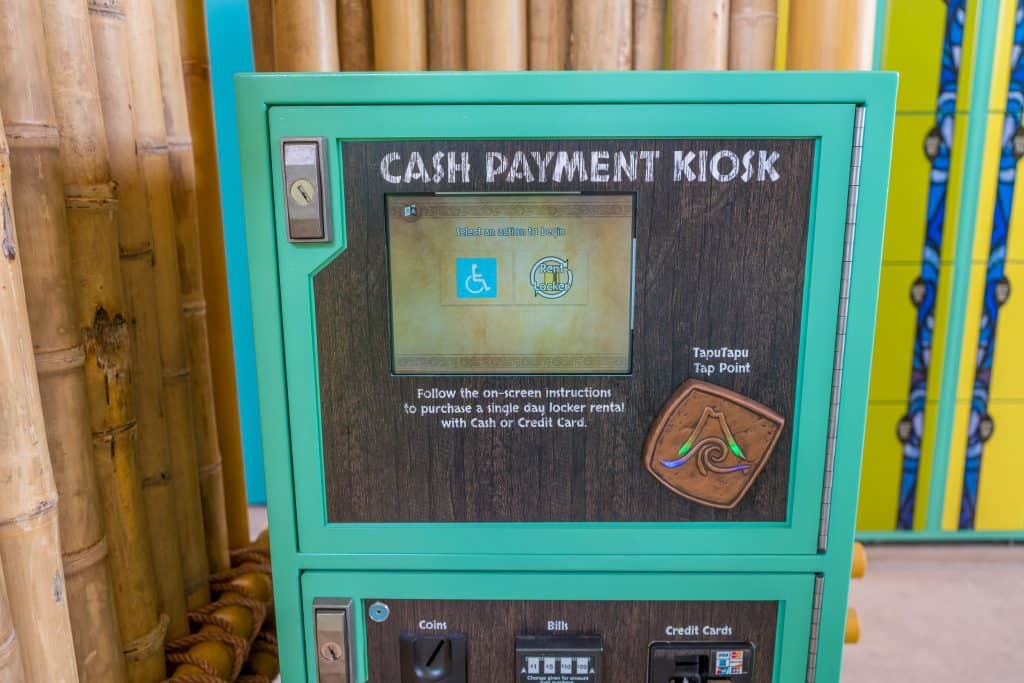 How you plan to pay for your locker determines which exact process you'll follow.
Each set of lockers has a kiosk located at the front of the area, with an employee stationed next to it. Those who wish to use their TapuTapu or hotel-room cards to rent their lockers will need to see the attendant, who will ring you up with a portable register; the kiosk is for those customers paying with cash. But if you have a credit card, you can bypass this step altogether and just go directly to an individual locker to pay there. Credit card customers go to their locker's touchscreen, press "rent locker," swipe their card, and then scan their TapuTapu, which will result in their locker popping open. For the other two methods, there's an extra step involved: first, you get assigned a locker station, and then you find your individual locker and hold your TapuTapu to the Tap Point.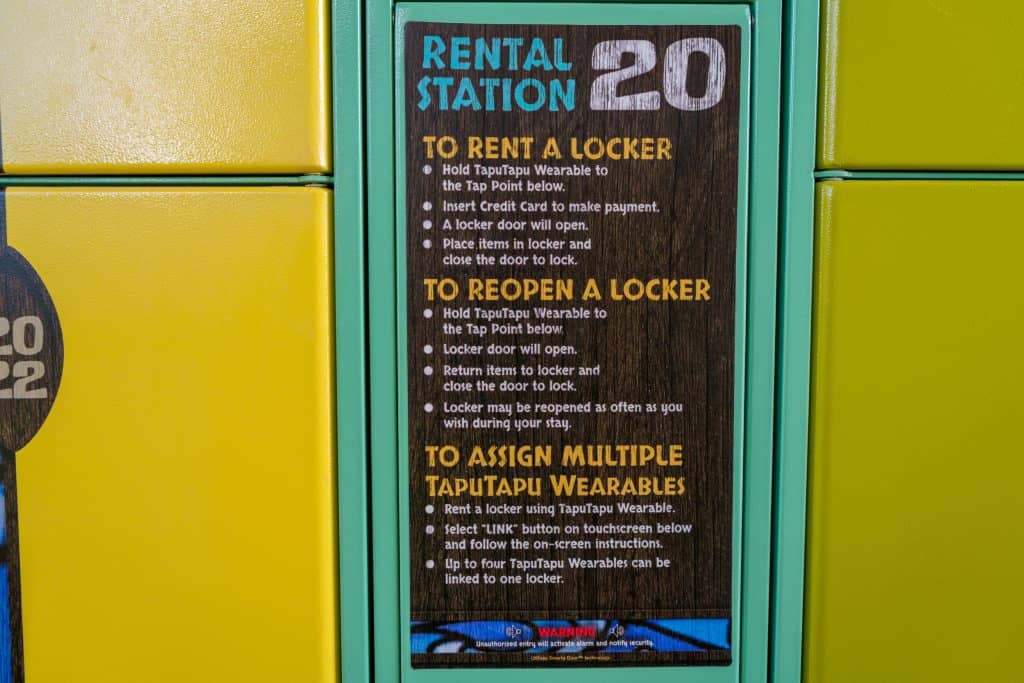 Once you've put all your items into the locker, just close the door to lock it. To reopen it, swipe your TapuTapu again – no need to memorize a security code. You can open and close the locker as much as you'd like throughout the day. Additionally, multiple TapuTapus can be linked to the same locker – just press the "link" button on the screen and then scan the other person's wearable.
Are lockers included with Premium Seating or cabanas?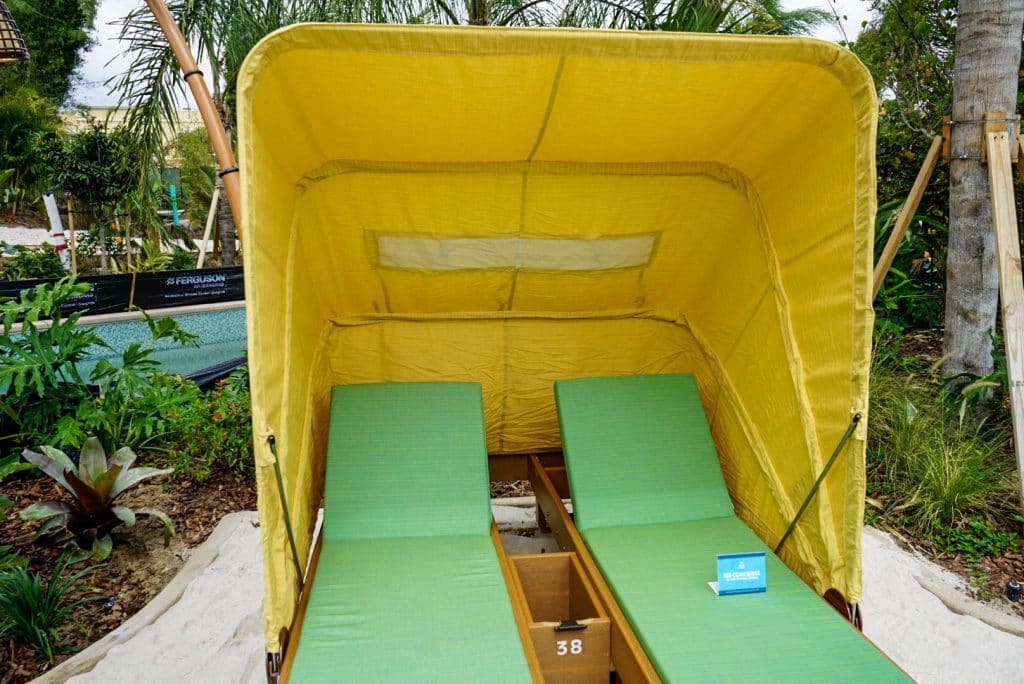 One of the perks of both the Premium Seating and cabanas at Volcano Bay are the included lockers, so if you're on the fence about reserving one of these add-ons for your day at the water park, be sure to factor the price of a daily-rate locker into your calculations. Each cabana comes equipped with a family-sized locker, and each set of padded premium lounge chairs has one locker that is shared between the two seats. Both are locked and unlocked using one person's TapuTapu – unlike the park's prepaid lockers, this means that even if you're with a group, you will have to have that guest (or, at least, that guest's TapuTapu) present in order to either lock away or gather your possessions.
(You can learn more about Volcano Bay's cabanas and Premium Seating in our complete guide.)
Universal Orlando lockers – frequently asked questions
What happens if I forget to stow my items before I queue for a ride?
First and foremost, be aware of the attractions that require you to stow your belongings – most will have large signs directing you to the locker areas. Should you happen to slip past the first ride attendant with your bag, only to find out halfway through the queue that you'll have to return to the lockers, you will be very frustrated – and you will lose your spot in line. If you do forget to put something in your locker and have to go back, remember that once you open your ride locker, your single use is finished, and you will have to revisit the kiosk and obtain a new locker.
I forgot my locker number – what do I do?
A team member should always be near the ride locker area, but if you check the entire space and cannot find an attendant, speak with the employee at the attraction's entrance. There's a chance the locker attendant may have stepped away momentarily, and the other team member should be able to radio for help. If possible, try to use the same number kiosk throughout the day to at least remember your locker section, and immediately tell the other members of your party your locker number – there's safety in numbers and a greater chance that at least one person will remember the information. (Don't bother trying to snap a picture of your locker unless you're sure you'll be able to bring your phone on the ride with you!)
What if my various items don't fit in the ride lockers?
Here's a useful tip if you have quite a lot of stuff with you: you can use as many of the complimentary- for-the-duration-of-your-ride lockers as you would like, so don't feel that you have to really cram your stuff in those small lockers. On the other hand, though, you will have to pay for each prepaid locker that you want to use.
Do I need to get a locker if we're using Child Swap?
If you are using Child Swap on any attraction (meaning that at least one adult is staying behind with a child while everyone else rides), you do not have to use the lockers. You will need to inform the ride attendant that you're taking advantage of Child Swap; otherwise, you will be told to stow your belongings as you enter the queue. Keep in mind that, depending upon how many bags you have, you may still opt to use the lockers so you're not overburdening the non-riding adult with several bags – and a disgruntled child!
What do I do if the lockers are too crowded?
The small locker areas, especially in The Wizarding World of Harry Potter, can get a little crowded. As you might expect, the lockers and kiosks at the front of the locker areas are always the most packed, so head towards the back for empty kiosks (and, therefore, empty lockers). Similarly, large tour groups can really bog down the whole ride-locker experience; try to send just one person from your party to keep the area as clear as possible, and don't be afraid to duck and weave around entire families gathered at the front lockers.
Will my stuff be okay if it rains?
While most of the lockers at Universal Orlando are under shelter, the lockers themselves are not technically waterproof. Your best bet is to opt for a locker under a covered area, or, for extra protection, wrap your items in a bag or other waterproof gear.
What if I have medical supplies that I need to keep on my person?
If you have any medical supplies that you must bring into the queue for a ride that requires a locker, please see a team member at the attraction entrance to assist you in using the special lockers that are located at the ride platforms (these aren't otherwise available to guests).
Where should I rent a locker if I'm visiting both parks?
Now that you know most everything there is to know about the locker situation at Universal, you'll be able to choose the position of your locker strategically. For example, if you are going to spend all day inside Universal Studios Florida, you will probably want a locker inside that park; this way, you do not have to exit it to access your items. On the other hand, if you plan on spending the morning at Universal Studios and the evening at Islands of Adventure, you may want to use a locker outside of the first park, depending on when you plan on retrieving your belongings. Consider visiting your evening park before you enter your morning park, then dropping off your stuff in a locker outside of that one – it'll be there when you're done for the day.
What can I bring into Universal?
Here is Universal's policy regarding backpacks and what items can be brought into its parks:
Acceptable items:
Bottled water (two liters maximum)
Small snacks that do not require heating
Any food required for medical purposes and medically indicated nutritional supplements
Any food required for special dietary needs
Baby food/baby formula
Soft-sided insulated bags no larger than 8.5 in. wide x 6 in. high x 6 in. deep
Prohibited items:
Picnic lunches
Food that requires heating or refrigeration
Alcohol and/or glass containers
Hard-sided coolers
Soft-sided coolers larger than 8.5 in. wide x 6 in. high x 6 in. deep
Coolers, suitcases, and bags with wheels
Folding chairs
Clothing with offensive language or content
Clothing that represents someone as emergency personnel
Weapons of any kind
Please be advised that all bags and personal items are subject to inspection.
Universal Orlando lockers – photo gallery
Do you have a question about the information on this page, would like to provide feedback, or did you spot an inaccuracy? Please let us know by posting in our
Orlando Informer Community
on Facebook.