Location
Lost Continent
Restrictions
None; has Express Pass access.
Two sentence insider summary
This walk-through indoor attraction — mixing live action with tons of special effects — draws you into the ancient Temple of Poseidon where you join an archeological expedition. Before you know it you are caught in a battle between Poseidon, God of the sea, and Lord Darkenon, his mortal enemy.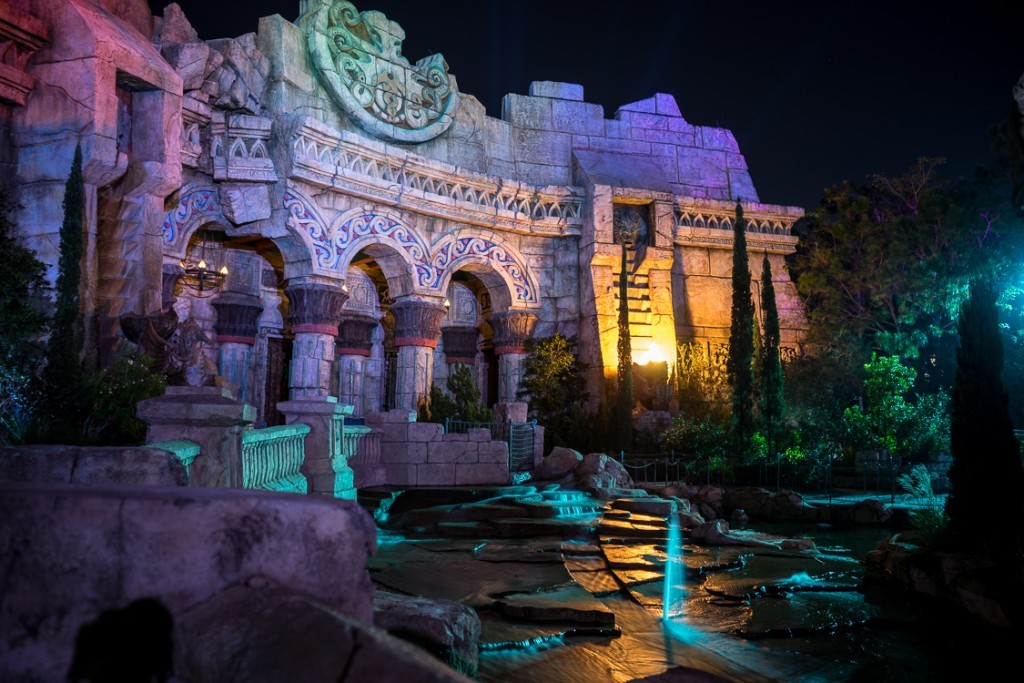 Poseidon's Fury at Universal's Islands of Adventure.
Fear factor
2 out of 5. Lots of special effects but no motion.
Wait times
During Universal's busiest times, this attraction may have a wait time as long as 45 minutes.
Current Opening schedule
What you wish you knew before you experienced it
Ask the attraction attendant at the front if the water tunnel is working. It is by far the coolest element in the show, and if it is not working then don't feel bad about skipping this one.
OI fun fact
The live show uses over 200 individual flame effects.
Poseidon's Fury – photo gallery
Poseidon's Fury – real guest reviews
Average rating:
17 reviews
Apr 3, 2018
A Fun Time
Date Of Last Visit:
April, 2013
This attraction is great! It feels like a real adventure.
Dec 27, 2017
Skip it
Date Of Last Visit:
12/20/2017
This was the most boring and cheesy attraction at Islands Of Adventure. It needs to be replaced.
Jan 4, 2017
Hated It
I've done this several times with kids over the years and it's been a big disappointment every time. Be prepared to stand, wait, stand, wait, stand, wait .. then stand some more. Kids get bored, older adults need analgesics, younger adults are ready to hit the bar.
Jul 27, 2016
Immersive, yet Cheesy
Date Of Last Visit:
September 2015
To start, my favorite aspect about major theme parks is the immersion factor- the scenery outside, ambiance of the queue, décor on the inside, etc. I give Poseidon's Fury three stars for this alone. It really gives the impression of an old world temple in ruins. Once inside, it really gives the impression you are part of an excavation crew.That being said, the other two stars were lost because of how cheesy the acting and "main event" are. Without spoiling anything, it needs to be brought to 2016. Don't get me wrong, the effects are great. The acting, not so much.I would go through this once if you have never been before. After, just wait for it to be updated/replaced.
Mar 15, 2016
Poseidon's Fury
Date Of Last Visit:
02/05/16
We hadn't been to this show in years and could remember about 95% of how it went except for the cool water tunnel. So we revisited and I clearly remembered why we hadn't been there in so long. If you have younger kids they might enjoy some aspects of the show but for adults it might not be entertaining. It has great possibilities if they would update the cheesy video the goes along with the storyline. Also, it's standing room only. So if you have a long wait in line don't expect to sit down for the show once you get inside. You do get a break from the hot sun, though.
Poseidon's Fury – map
Click any marker to display the attraction or venue name. To scroll or zoom, use the controls on the top-left of the map. You may also switch to different map views by using the buttons on the top-right of the map.
View OI's map of Universal's Islands of Adventure.