Location
Lost Continent
Restrictions
None; has Express Pass access.
Two sentence insider summary
This walk-through indoor attraction — mixing live action with tons of special effects — draws you into the ancient Temple of Poseidon where you join an archeological expedition. Before you know it you are caught in a battle between Poseidon, God of the sea, and Lord Darkenon, his mortal enemy.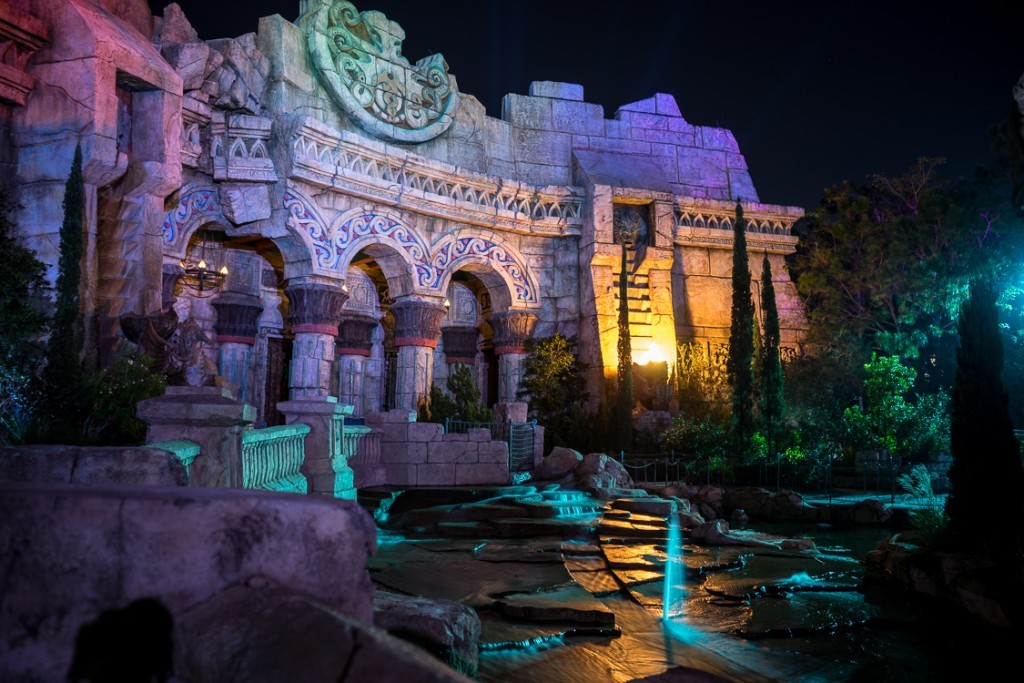 Poseidon's Fury at Universal's Islands of Adventure.
Fear factor
2 out of 5. Lots of special effects but no motion.
Wait times
During Universal's busiest times, this attraction may have a wait time as long as 45 minutes.
Current Opening schedule
What you wish you knew before you experienced it
Ask the attraction attendant at the front if the water tunnel is working. It is by far the coolest element in the show, and if it is not working then don't feel bad about skipping this one.
OI fun fact
The live show uses over 200 individual flame effects.
Poseidon's Fury – photo gallery
Poseidon's Fury – real guest reviews
Average rating:
15 reviews
Jan 4, 2017
Hated It
I've done this several times with kids over the years and it's been a big disappointment every time. Be prepared to stand, wait, stand, wait, stand, wait .. then stand some more. Kids get bored, older adults need analgesics, younger adults are ready to hit the bar.
Jul 27, 2016
Immersive, yet Cheesy
Date Of Last Visit:
September 2015
To start, my favorite aspect about major theme parks is the immersion factor- the scenery outside, ambiance of the queue, décor on the inside, etc. I give Poseidon's Fury three stars for this alone. It really gives the impression of an old world temple in ruins. Once inside, it really gives the impression you are part of an excavation crew.That being said, the other two stars were lost because of how cheesy the acting and "main event" are. Without spoiling anything, it needs to be brought to 2016. Don't get me wrong, the effects are great. The acting, not so much.I would go through this once if you have never been before. After, just wait for it to be updated/replaced.
Mar 15, 2016
Poseidon's Fury
Date Of Last Visit:
02/05/16
We hadn't been to this show in years and could remember about 95% of how it went except for the cool water tunnel. So we revisited and I clearly remembered why we hadn't been there in so long. If you have younger kids they might enjoy some aspects of the show but for adults it might not be entertaining. It has great possibilities if they would update the cheesy video the goes along with the storyline. Also, it's standing room only. So if you have a long wait in line don't expect to sit down for the show once you get inside. You do get a break from the hot sun, though.
Jul 30, 2014
Pretty Awesome Poseidon
Date Of Last Visit:
May '13
My Family have visited UOR many times and I always look forward to visiting Poseidon's Fury. From the tour guide to the water tunnel it's all good.

Ok poor old Poseidon and Lord Darkenon are getting a little old looking and Darkenon is a ringer for Ming the Merciless but I still love it . Just take this portion with a pinch of salt besides fire is always cool, right??

Plus the stage where a certain room goes dark and to me something amazing happens when the lights come back on always has my brain buzzing as I still can't quite figure it out how it's done!!
Jul 30, 2014
OK I suppose
Date Of Last Visit:
July 2010
After reading reviews after returning home from my holidays I can see why this isn't a fan favourite. Probably my least favourite attraction in the parks and would like something exciting to take over its place.

As a late 20's couple, maybe we were spoiled with all the thrill rides Orlando Studios/IOA had to offer as we made our way to the impressive looking building after a double dose of Dragon Challenge. Our wait time was long as something must of had issues as the 15 minute wait time hit 40 minutes easily and dampened our spirits a bit. The guide is your regular over the top character you need in these but unless you are have kids in the 9-14 bracket with you or a big fan of Scooby Doo Mysteries I would recommend to skip this ride.

Even the impressive water tunnel wasn't enough to save it for us and we along with a group of other like-minded people discretely made our way out of an exit door and back to the park (Needed a twirl on The Hulk straight after!).

Doesn't deserve a one start rating so gets two stars in my review. Not my cup of tea but can see why others might like it.
Poseidon's Fury – map
Click any marker to display the attraction or venue name. To scroll or zoom, use the controls on the top-left of the map. You may also switch to different map views by using the buttons on the top-right of the map.
View OI's map of Universal's Islands of Adventure.