The closing of the theme parks around Orlando due to the COVID-19 pandemic in early 2020 was an unprecedented and anxious time, but with safety at the forefront, the parks, restaurants, and hotels have since reopened and continue to welcome guests back to Universal Orlando Resort. If you're ready for a visit filled with fun and adventure, there are a few things you'll want to take note of before you pack your bags, and Orlando Informer is here with your pandemic guide – everything you need to know about the ins-and-outs of having fun and staying safe during your visit.
Skip to: Before you travel | Safety first | Theme parks | Volcano Bay | CityWalk Orlando | Transportation | Dining | Hotels | Events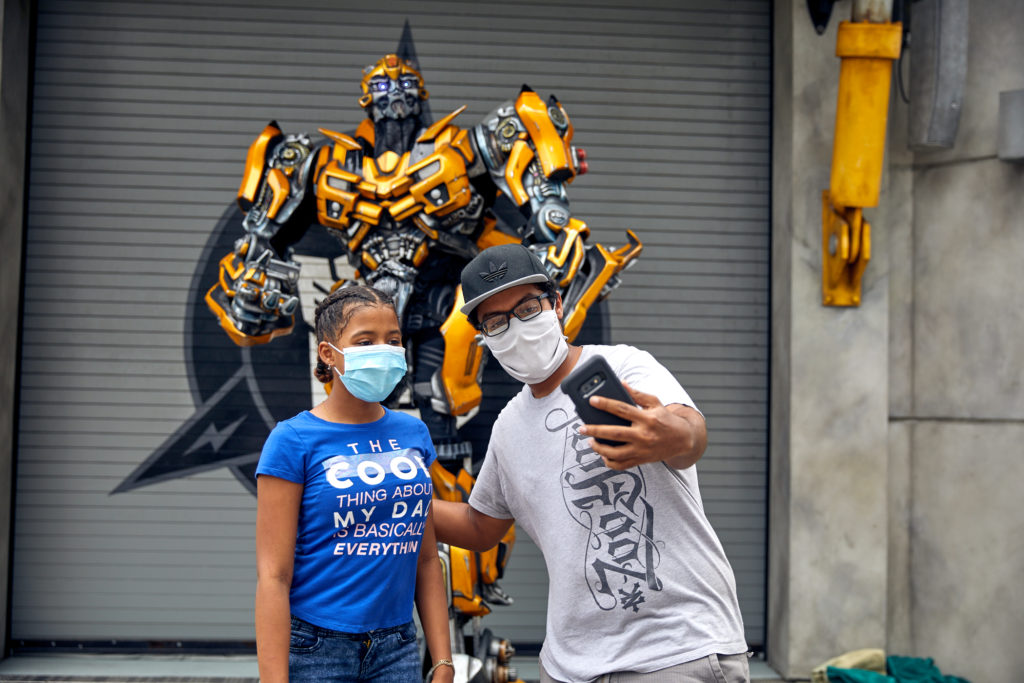 Traveling during the pandemic
Before you book that plane ticket or hop in the car, make sure you consult any travel advisories both going to and returning from your vacation destination. There are no travel restrictions in place when arriving in Florida from other US destinations, but some states and countries have mandatory quarantines upon returning from travel. For the most up-to-date information, check out the FloridaHealthCovid19.gov site, along with your local travel advisories.
How does Universal Orlando Resort operate under COVID protocols/restrictions?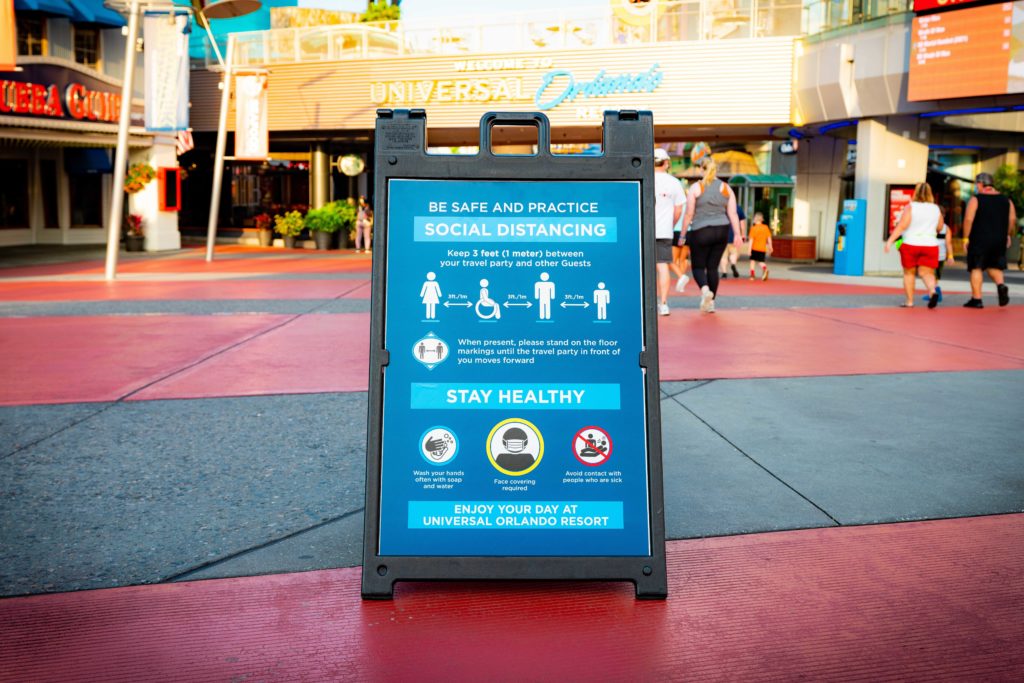 Across Universal Orlando, you'll find number of precautions in place to keep guests safe and healthy. Face coverings are only required indoors for those guests who haven't yet been fully vaccinated. A socially distanced space of three feet is suggested, but not mandated. And all around the resort, you'll find hand-sanitizing stations and helpful signage, encouraging visitors to sanitize frequently. Finally, all theme and water parks are operating at reduced capacity, so you'll have more ability to spread out in the ride queues and throughout the parks.
(Please note that, also as of May 6, temperature screenings are no longer required for either day guests arriving through CityWalk or hotel guests staying on property.)
What's it like to visit Universal Studios Florida and Islands of Adventure during the pandemic?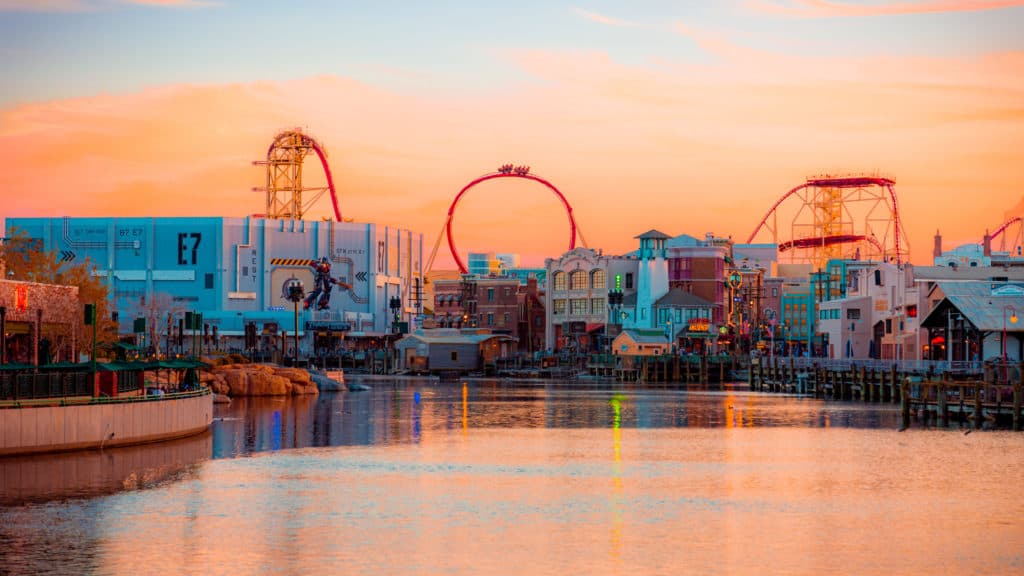 When deciding when to visit, it's important to take into consideration that the parks are operating under reduced capacity limits and may close to day guests during busy periods. Their hours are also somewhat shorter than in past years, so check the calendar for up-to-date information during your trip. While you don't need a reservation for entry, those capacity limits may come into effect depending upon when you visit, so consider arriving earlier in the morning (or, alternatively, later at night) if you are planning to come on a popular date. (For updates on capacity, keep an eye on our Twitter handle or call Universal at 407-817-8317.)
Please note that hotel guests can still make use of Early Park Admission, which still remains a great way to get a jump on the crowds, even during the era of COVID.
Rides and attractions
Almost all rides and shows are now operating under more-or-less normal conditions, with travel parties being seated with other groups and no masks required for passengers. Even single-rider lines have (largely) been reinstated! (It's still recommended, however, that everyone takes advantage of the sanitizing stations available at most ride and show exits).
Express Passes are, of course, available for purchase, or for guests staying at any of the premier Universal Orlando hotels. Universal has also expanded its use of the Virtual Line system, making it available (and sometimes required) for attractions including Hagrid's Magical Creatures Motorbike Adventure, Harry Potter and the Escape from Gringotts, and Revenge of the Mummy. Download the free Universal app to familiarize yourself with this system before you go, and check for any updates while at the park.
While almost everything is back to business as usual, there are still the following adjustments in effect:
Character meet-and-greets
Characters can still be found throughout the parks, but the typical meet-and-greets are organized a little bit differently: guests will be positioned at a spot approximately six feet away from the characters to pose for snaps. You might even catch Hashtag the Panda waving from an open window at 30 Rock next to Race Through New York with Jimmy Fallon, or see Beetlejuice haunting the stage outside of the Horror Make-Up Show theater.
What about visiting the Volcano Bay water theme park during the COVID-19 pandemic?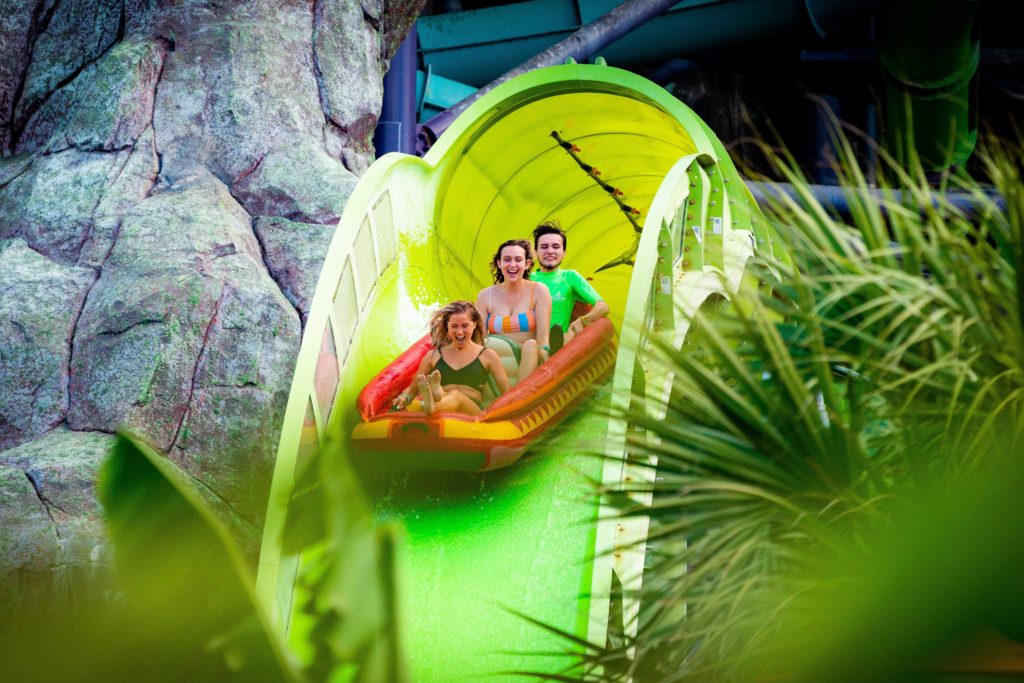 Water park fans can rejoice – Volcano Bay has reopened for the 2021 spring and summer season! (It had closed for some four months during the winter.) For safety reasons, masks are not allowed while in the pools or on the water rides, and the park continues to use the virtual queue for most rides.
What changes are in effect at Universal CityWalk Orlando during the COVID-19 pandemic?
All day guests arriving at Universal Orlando Resort must enter through the parking complex and head through the normal security checkpoint to CityWalk. (Frequent visitors will notice that parking is no longer staggered – that is, having spaces be put in between cars – as it was when the resort first reopened last June.) Please be aware that valet parking is not currently available, and guests with furry family members will want to note that the kennels are also closed.
Once in CityWalk, most of the shops and experiences are open, including the Universal Cinemark movie theater and both mini-golf courses.
While most restaurants (such as Pat O'Brien's and Bob Marley – A Tribute to Freedom) are open daily, nightclubs (the groove and Red Coconut Club) remain closed.
How have transportation options changed with COVID-19?
The free shuttle-bus and water-taxi services from the Universal Orlando hotels to the theme parks (via CityWalk) and to Volcano Bay are almost entirely back to standard operations.
Dining options, tips, and tricks during the pandemic
The challenges of the pandemic have lead many restaurants around the resort to pare down their menus, shorten operating hours, or close altogether – but don't despair! Despite the setbacks, the dining teams across the parks, CityWalk, and the hotels have worked tirelessly to ensure delicious moments, fresh victuals, and beloved theme-park snacks are available everywhere you turn. For example, many of the buffet restaurants, such as The Kitchen at Hard Rock Hotel, now offer a fun family-style option, where a variety of your favorite foods is delivered directly to your table to share and enjoy with your pandemic pod. Capacity is limited due to well-spaced tables, which may make for longer waits at some venues, but it also provides a nice buffer so that you can dine in safety.
To make the most of your gastronomical experience, we offer the following tips:
Dinner shows and character dining
The Marvel Character Dinner, the Despicable Me Character Breakfast, and other dinner shows, such as the Wantilan Luau, are currently closed.
What safety precautions are in place to prevent the spread of COVID-19 at the hotels?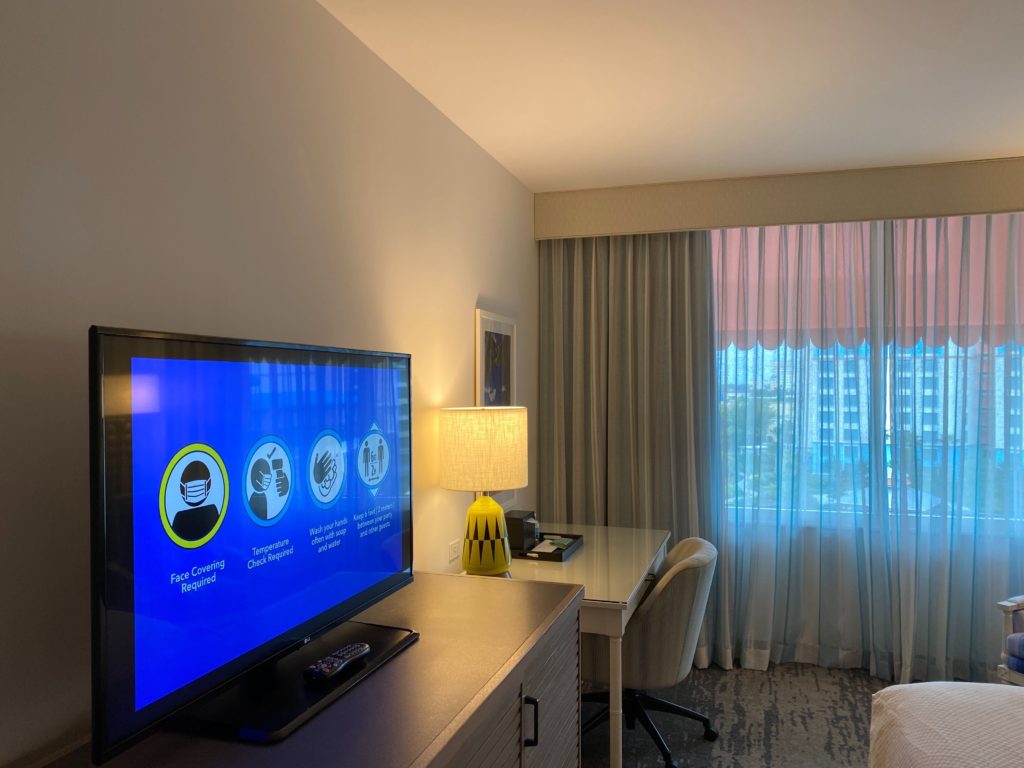 Many changes have been implemented at the hotels to put your mind at ease and let you enjoy your vacation:
Dining venues may have limited menus or shortened hours – or be closed entirely.
Although all guests must check in at the front desk, there is contactless check-out available.
Rooms are given a thorough scrubbing between guest stays, but daily room cleaning is suspended. However, you can certainly call the front desk for more towels or toiletries as needed.
If your hotel offers room service, your food will be delivered outside of your door instead of being brought into the room.
Which hotels are open?
Currently, all Universal Orlando Resort hotels are open for business and welcoming guests.
Are Universal's special events going ahead during COVID-19?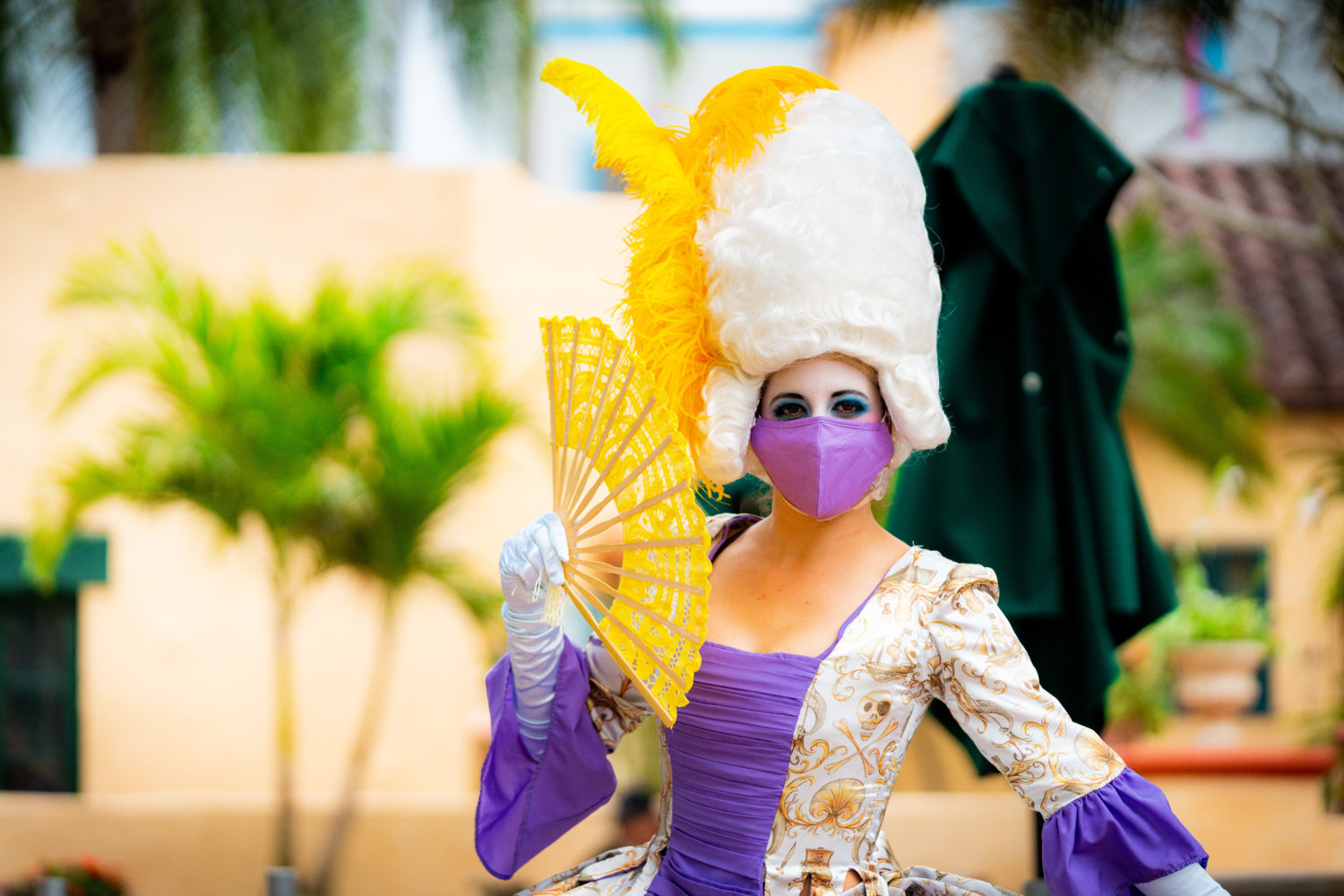 Mardi Gras
Mardi Gras partied on in Universal Studios Florida from February 6 to May 2nd, 2021, taking on the form of an international food festival. Although there was no parade, the parade floats were rolled out into the streets for guests to gawk at and enjoy. Food booths teeming with international flavors were set up around the park, rather than being concentrated in one centralized area, to have everyone be spread out. There was also street entertainment, beads, and pop-up characters who were happy to take a socially distanced selfie.
For more on how Mardi Gras during COVID fared, visit our complete guide.
Halloween Horror Nights
Halloween Horror Nights is planning to return this year on 42 select nights from September 3rd through October 31st. For the 30th official year of the event, at least one of the haunted houses will be returning from 2020's limited showing for all horror enthusiasts to enjoy. Although many details are yet to be announced, we can speculate that some of the safety measures may include the spacing out of guests in the queues and throughout the haunts, the presence of plexiglass to protect both visitors and scareactors, and scare zones in the streets that feature stages to keep the entertainment somewhat distanced from the milling crowds.
Be sure to check out our complete guide to Horror Nights for all the updates as they arrive.
Do you have a question about the information on this page, would like to provide feedback, or did you spot an inaccuracy? Please let us know by posting in our
Orlando Informer Community
on Facebook.
OI Universal Center » The Set: MAKING THE MOST OF YOUR VACATION