Skip to: Overview | Location | Hours | Menu | Guest reviews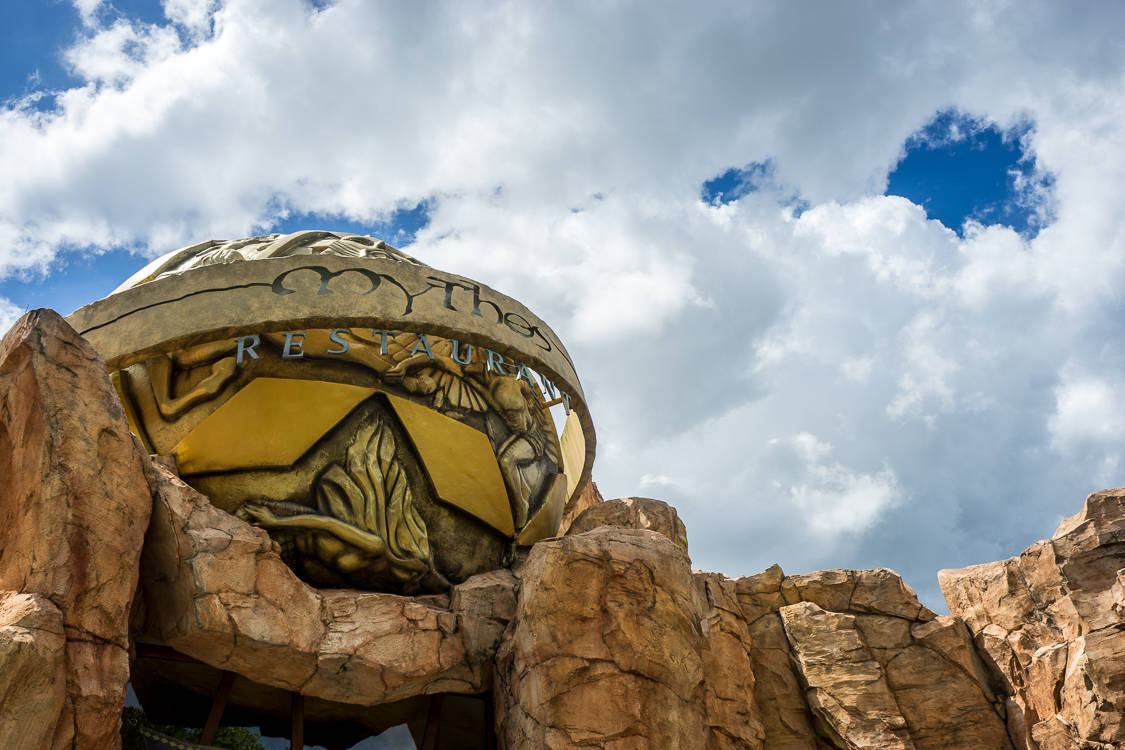 What is Mythos?
Mythos is the fine-dining restaurant at Islands of Adventure. You will usually find the best Universal in-park food here, with a surprisingly vibrant collection of entrees to choose from – all served inside a truly stunning building. A full-service venue serving contemporary American dishes with a bit of international flair, Mythos is often open only for lunch.
Where is Mythos located?
In The Lost Continent, which is in Islands of Adventure.
Mythos – hours and reservations
Mythos is typically open during park hours, but this is, of course, subject to change.
You can make your reservations online.
What was Mythos's opening date?
May 28, 1999
What's on the menu at Mythos?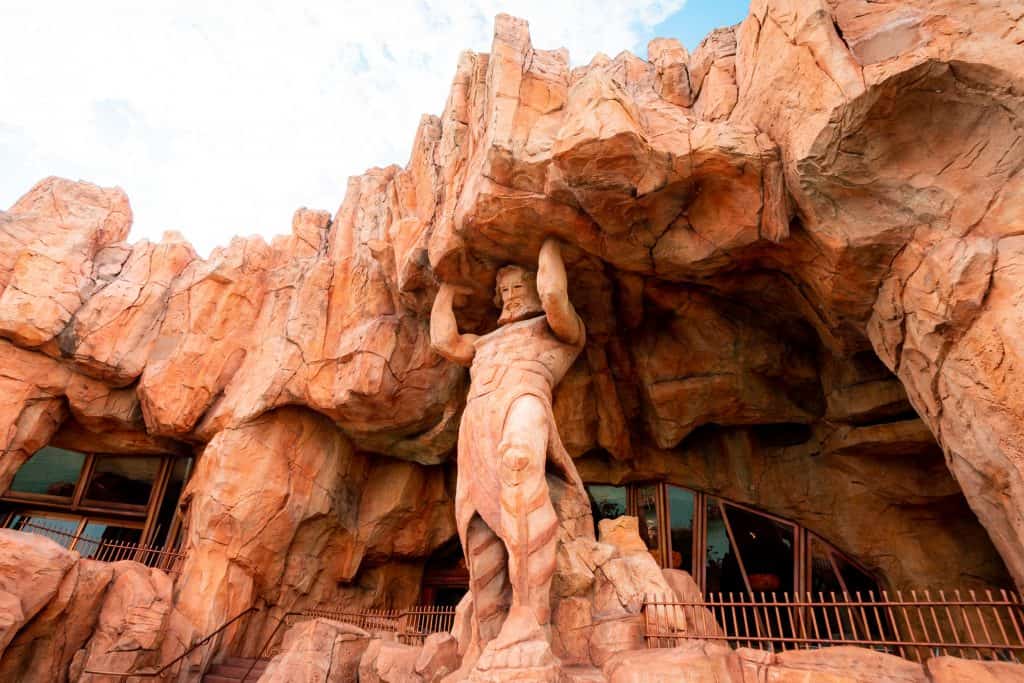 Appetizers
Grilled Lamb Meatballs – $14.00
Grilled spiced lamb, rosemary infused polenta, Kalamata olives and sweet chili marinara, and mint chimichurri
Semolina Crusted Calamari – $14.00
Tender calamari flash fried, served with Spanish chorizo aioli, and marinara and charred lemon
Shrimp Sushi Katsu Roll – $13.00
Flash fried panko crust, sweet soy, and wasabi aioli
Mediterranean Grilled Octopus – $16.00
Citrus charred octopus, charred corn and Kalamata olive relish, and roasted garlic lime aioli
Spanakopita Dip – $11.00
A savory blend of spinach, feta cheese, lemon and fresh herbs, served hot with fresh pita chips seasoned with za'atar spice, with fresh cucumber, and tomato and olives
Mezze Platter – $12.00
A tasting of housemade hummus, baba ghanoush, marinated fennel, and Kalamata olives served with charred pita
Lemon Hummus – $11.00
spiced chickpeas, kalamata olives, green onions, smoked paprika, herbed lavash and charred pita
Pan Seared Halloumi – $14.00
tomato live bruschetta, charred pita, watercress and basil oil drizzle
Soup and salads
Chef's Signature Greek
Shredded lettuce, diced tomatoes, red onions, kalamata olives, feta crackers, herb-lemon vinaigrette, and shaved marinated feta
Grilled Chicken $22 | Shrimp $24
Wedge
Crisp iceberg lettuce, blue cheese vinaigrette, cherry tomatoes, red onion, bacon crumbles, croutons
Grilled Chicken $20 | Shrimp $22
Heart of Romaine Caesar
Crisp romaine lettuce, roasted plum tomato, charred pita, housemade Caesar dressing, shaved Parmesan
Grilled Chicken $20 | Shrimp $22
Tuscan Tomato Soup – $8.00
Slow-roasted hearty tomato soup, housemade croutons, Parmesan, basil oil drizzle
Entrees
Add cup of soup or a side salad to any entree for $6
Spinach and Ricotta Ravioli – $21.00
spinach and roasted garlic ravioli, Davina tomatoes, sweet peas, herb whipped ricotta, basil cream sauce 
Brick Oven Roasted Chicken – $24.00
Ras El Hanout spiced half chicken, Dijon roasted fingerling potatoes, garlic roasted sugar snap peas, natural juss
Beef Loin Medallions – $27.00
Yukon potato puree, satuéed haricot vert, watermelon radish, watercress, red wine reduction
Souvlaki Couscous Bowl 
Za'atar spiced couscous, fresh cucumbers, marinated artichoke, kalamata olives, spiced chickpeas, feta cheese, tzatziki, tahini dressing
Tofu $22 | Soulvaki chicken kebob $24 | Moroccan Beef Kabob $26
Vegan alternative without crumbled feta and tzatziki dressing
Gnocchi Bolognese – $21.00
Slow simmered beef and tomato sauce, cream, crispy Parmesan wafers
Scallop and Summer Truffle Risotto – $34.00
Porcini and english pea risotto, roasted shiitaki mushrooms, shaved black summer truffles, grana padano cheese, truffle oil drizzle
Catch of the Day* – MP
Our chefs daily selection of the freshest sustainable fish served with Ajvar spiced couscous, fennel and red pepper relish, sauteed sugar snap peas and ponzu butter sauce 
12oz Bone-In Pork Chop – $28.00
Blue cheese cranberry crust, dijon roasted fingerling potatoes, cannellini and corn succotash, natural reduction
Pad Thai  – $25.00
Rice noodles, mixed vegetables, chicken and shrimp tossed in a mild sweet and sour sauce
request vegan alternative with crispy tofu and vegan peanut sauce $21
Pan Roasted Wild Salmon* – $30.00
Forbidden black fried rice, edamame, shiitake mushrooms, asparagus, romesco sauce
Ras El Hanout Spiced Lamb Loin – $34.00
Ras El Hanout spiced slow roasted lamb loin, roasted vegetable ratatouille, fingerling potatoes, herbed chimichurri 
Sandwiches
Traditional Bacon Cheeseburger – $19.00
Half-pound topped with cheddar cheese, bacon, lettuce, tomato, and French fries
Balsamic Grilled Chicken Sandwich – $17.00
marinated grilled chicken breast, roasted garlic lime cilantro aioli, bacon, grilled red onion, lettuce, tomato, mozzarella cheese, served with French fries
Fork, Knife, and Spoon Grilled Cheese – $18.00
A unique presentation of a classic three cheese sandwich set in a Tuscan tomato soup with crispy pork belly and house made chips
Mythos Signature Lamb Burger – $19.00
Hand-packed ground lamb with grilled onion, shredded lettuce, fresh tomato, and feta-olive aioli, served with French fries
Mythos – photo gallery
Real guest reviews of Mythos
Mythos
Average rating:
28 reviews
Jul 16, 2014
mythos
best place to eat in both parks, reasonable, neat atmosphere and can sit down and get cool, need reservations most of the time, good selection of food, highly recommend this
May 26, 2014
Average
Date Of Last Visit:
4/26/2014
Mythos has a great reputation, but I have found it to be just average as far as restaurants go. The theming is impressive, but the wait times are generally long (although I think you can make reservations if you want.). The food is decent, but not anything to rave about. The only reason I would eat at Mythos as opposed to one of the nearby counter service places is if I really felt the need to sit down and be served on real plates. Sometimes, you just need to feel real silverware in your hand rather than plastic, so if you are in that kind of mood, Mythos is a perfectly decent, average restaurant to eat at.
May 25, 2014
Not worth the hype
Date Of Last Visit:
3/30/14
I tried Mythos after hearing how great of a restaurant was and I was slightly disappointed with the food. Firstly, there is almost always a wait for the restaurant. The best part of eating at Mythos was the inside decor and structure of the building. It is very cool to see at least once. The service was not the greatest and was a little slow. I ordered the Pad Thai and it was a very big portion, but a little lacking in flavor. I had very high expectations for the restaurant, but I felt that I could have gotten better food somewhere else. Would rather have spent the money at the Three Broomsticks. Overall, the scenery of the restaurant is great, but the dish I had was seriously lacking in flavor.
May 25, 2014
Worth $3 more
Date Of Last Visit:
April 2014
If you are worried that you will spend too much if you go to a table service restaurant at a theme park, know this...it's maybe $3 more and worth it to relax and be served! We dined at Thunder Falls in Jurassic Park (which is quick service waiting in line) on our first day and spent almost the same amount at Mythos. I'm a HUGE HP fan and only wish IOA would keep the Lost Continent for this restaurant! The plates have fine dining presentations. The sushi roll is beautiful and fresh. The Asian salad was great and the grilled fish. We didn't have kids with us but I was amazed at the selections on the kids menu. You won't regret picking this place instead of one of the quick service places.
May 25, 2014
Dietary restrictions
Date Of Last Visit:
June 2013
Chose Mythos in the hopes of finding a gluten and dairy free meal for my wife. We weren't disappointed. Staff were very attentive and went through the menu to ensure we had a great dining experience. Meal was great and service was as well. Great place for a family meal for those with or without dietary restrictions.
Do you have a question about the information on this page or would like to provide feedback? Please let us know by posting in our
Orlando Informer Community
on Facebook.