Skip to: Overview | Location | Restrictions | Fear factor | Fun fact | Guest reviews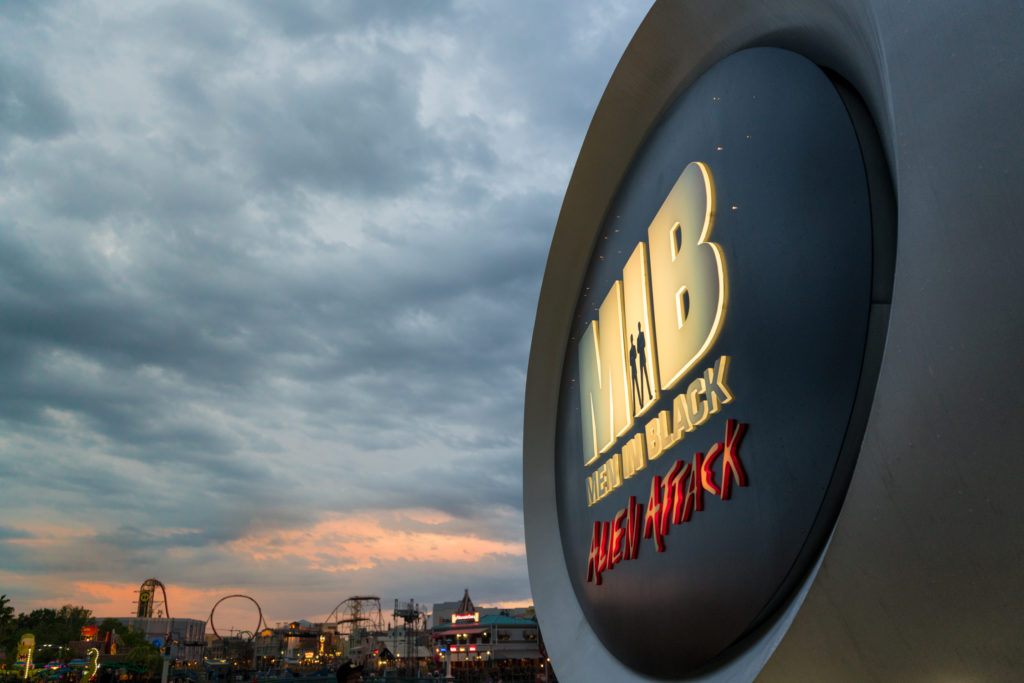 What is Men in Black Alien Attack?
Men in Black Alien Attack is a shooter ride, much like Disney's Buzz Lightyear's Space Ranger Spin or Toy Story Midway Mania. You're the newest MIB recruit, on a mission to shoot down as many aliens as you can. While this attraction may feel dated to some guests (especially when you hear the soundtrack that plays around the entrance), it still has a massive fan base and many loyal riders.
Where is Men in Black Alien Attack located?
In World Expo, which is in Universal Studios Florida.
Men in Black Alien Attack – height restrictions and other factors
Height requirement is 42 inches; has Express Pass access and a single-rider line; must stow loose articles in the free lockers adjacent to the attraction's entrance.
Men in Black Alien Attack – what you wish you knew before you experienced it
If you're up for a challenge, the highest possible score is 999,999. To learn how to get it, click here.
How scary is Men in Black Alien Attack?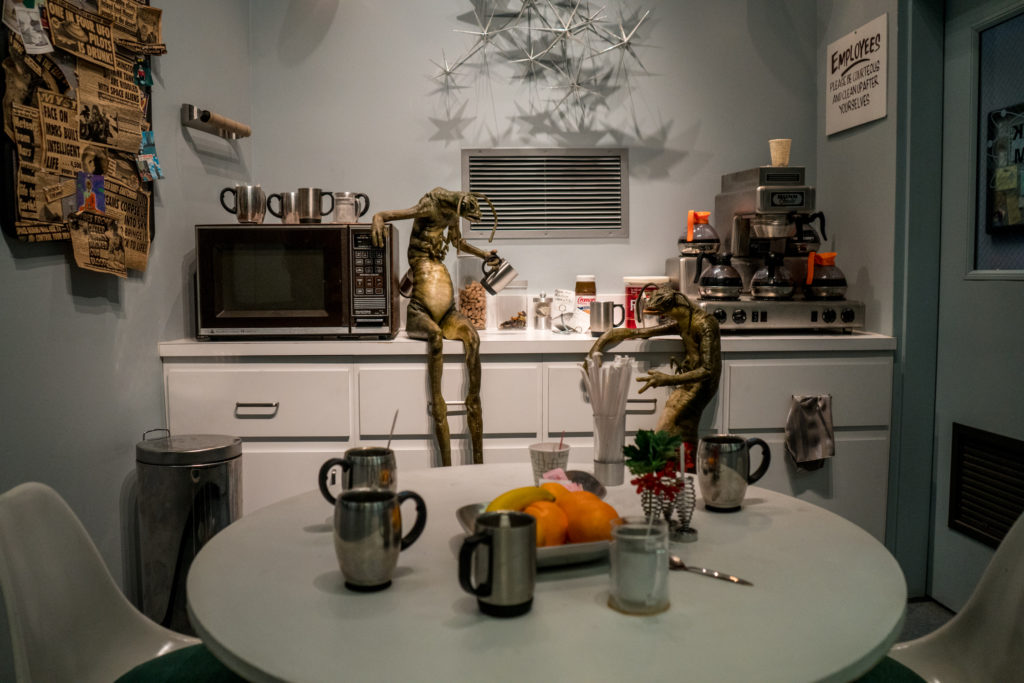 This shooter-style ride earns itself two out of five astros in terms of fear factor – the ride motion gets a little bit crazy, and the accompanying aliens aren't exactly adorable.
What was Men in Black Alien Attack's opening date?
April 14, 2000
Men in Black Alien Attack – OI fun fact
Did you know that Men in Black was originally meant to be an Apollo 13 roller coaster, a Simpsons ride, and then a Stephen King experience? Learn about this fun fact – plus 19 more – in our big write-up.
Men in Black Alien Attack – photo gallery
Men in Black Alien Attack – real guest reviews
Men in Black: Alien Attack
Average rating:
39 reviews
Apr 11, 2016
Retro Fun
Date Of Last Visit:
March 2016
If extreme thrills are a requirement, this isn't the ride for you. This is a fairly tame ride, involving a few rapid spins but nothing that should cause motion sickness except perhaps in the most sensitive of riders. This is a bit like riding through a video or pinball game; you earn points by shooting aliens that pop up as you ride along. The scoring system adds a layer of challenge and competition without making it embarrassing for those who don't know where to aim there first time around. The decor has a retro 60s feel, a bit like Cabana Bay. This is not due to a failure to update the ride; it has a retro look BY DESIGN. It's fun in a playful, laid-back way (but still way more exciting than the majority of the rides you'd find in Disney's Magic Kingdom). And the interior queue is generally very cool, which is a plus when it's steaming hot outside!
Dec 30, 2014
BORING !!!
Date Of Last Visit:
December 2014
We all had great hopes for this ride but were sorely disappointed!. The outside and reception look great but the ride itself was boring and very dated.... really needs a revamp to bring back the excitement of the films we think.
Aug 16, 2014
MIB
Date Of Last Visit:
July 2013
been on this ride several times over the last four years, really enjoy this ride, great looking aliens, all ages will enjoy this and is next door to the simpsons ride which is also a great family ride,
Jul 16, 2014
Very Competitive
Date Of Last Visit:
June 10 2014
My two sons and I love to compete on this ride!!!! So much fun!!!
May 27, 2014
men in black alien attack
Date Of Last Visit:
6/15/02
I went to universal Orlando in the summer of 2002 with my best friend that just graduated from high school. When we were walking around the park i saw the men in black alien attack and i got excited because I love that movie and want to go on it. So we went inside the building into the cue line area. I was impressed with the theming and decorating that was done to make it look realistic. I thought the line seemed to move very fast to get to the loading area. I like how the ride vehicle looked and the seats looked cool.



The ride was awesome the monsters looked realistic and the guns were fun to shoot. Also I like the fact that you can shoot the other vehicles target and spin them around in circles.



After the first time riding it I rode it five more times and every ride felt a little different. I would definitely recommend everybody to go on this ride even if you didn't see the movie because it is a lot of fun!!!
Do you have a question about the information on this page or would like to provide feedback? Join us in our OI Community Facebook group, and let's talk about it!