Universal's Mardi Gras Parade isn't happening for the 2021 season at Universal Orlando Resort, given the ongoing coronavirus pandemic and its ensuing social-distancing guidelines. But that doesn't mean you won't have the ability to see all of the elaborate, beautiful floats!
Universal has come up with a replacement idea that still allows a little of that parade itch to be scratched while simultaneously ensuring that all safety modifications are being followed.
Skip to: Overview | Parade times | Best place to watch | Riding a float | One last thing
Mardi Gras 2021 – parade overview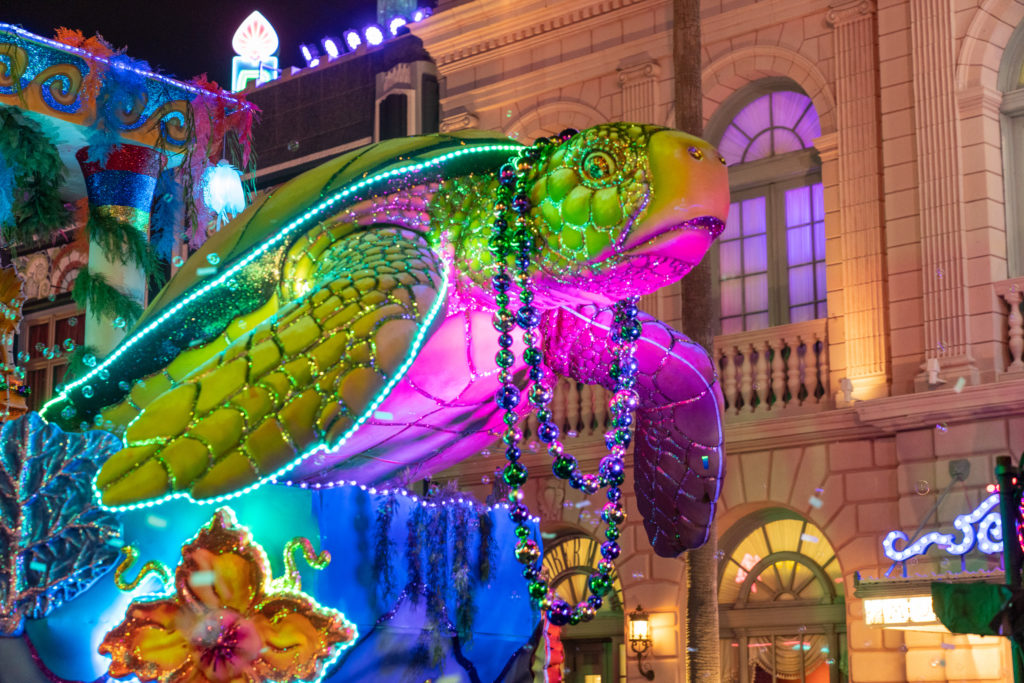 When Universal was forced to suspend its Holiday Parade last Christmas, the company struck upon a solution to fill that experiential void: the Holiday Experience Featuring Macy's Balloons, which took several of the procession's floats, inserted them into a big soundstage (along with the occasional character or performer – oh, and Santa Claus himself, of course), and then let guests walk through it, admiring everything up-close and taking copious amounts of photos.
The strategy here for Mardi Gras is similar in concept but different in execution. Rather than setting up all the floats in a building, the company has scattered them all throughout the entirety of Universal Studios Florida, allowing for a greater quantity of the parade structures while increasing the distance between them. What's more, in order to still have a goodly number of the usual Mardi Gras stilt walkers, characters, and brass-band musicians at the festivities, Universal has instructed them all to make laps around the park – meaning that a festive atmosphere will still envelope all the floats.
Which parade floats will be there?
This is actually a good question, as the exact lineup of the Mardi Gras Parade was something Universal took great pride in updating each and every year; ever since 2017, six brand-new floats would be added into the procession, with a different collective theme each time (2019, for instance, was "party animals," while '20 was "treasures of the deep"). Several of these previous units will definitely be on hand, but so will a "fleet of Pirate Treasure-themed" ones – what might have originally been fashioned as the '21 roster before the company was forced to pull the parade.
Where's the best spot to check a parade float out?
While we don't know for certain just yet – the event has yet to start, after all – an early contender would have to be the Music Plaza Stage area, which will have three floats stationed there, along with a plethora of tables (for resting and eating all that delicious Mardi Gras food) and, it sounds like, a bunch of festive lighting at nighttime.
Do you have a question about the information on this page, would like to provide feedback, or did you spot an inaccuracy? Please let us know by posting in our
Orlando Informer Community
on Facebook.