It isn't a party unless there's tons of food (and drinks!), and it isn't a Mardi Gras party unless there's a plethora of "N'awlins-style food and spirits." That's why Universal has been steadily increasing the size, scope, and quality of its annual bayou bash's offerings – yes, even with the onset of COVID-19.
Actually, because of the pandemic's lingering presence, the company has gone ahead and put food at the front and center of this year's experience, even going so far as to rename it Mardi Gras 2021: International Flavors of Carnaval. This means, essentially, that last year's first-ever Carnival around the Universe tasting tent, which brought together delicacies from carnavals all over the globe, has been expanded to cover pretty much the entire event (and many more countries from the entire world), which we'll get into in-depth down below.
(Before we do, however, you may want to spend just a quick moment checking out all the other modifications that were made to the festivities this year due to the coronavirus.)
Skip to: Food | Drinks | Tasting Lanyard | CityWalk and hotels
Mardi Gras 2021 – the food
Traditionally, a series of food tents located in the New York backlot's French Quarter Courtyard comprised the bulk of Mardi Gras's food offerings; this year, however, the lineup has been expanded to include the entire theme park, part of Universal's new International Flavors of Carnaval focus. The idea behind the initiative is simple: collect over 70 dishes and drinks from 13 different locations around the globe that celebrate one form of carnaval or another.
As noted above, the practice got its start at Mardi Gras 2020, when the Carnival around the Universe tasting tent rotated its menu every two weeks or so between four different countries or cities: Trinidad and Tobago, New Orleans, Brazil, and Germany. For 2021, the new international destinations include Puerto Rico, Spain, Belgium, the Bahamas, Cuba, Canada, Italy, Colombia, and France.
Given this new approach, we're going to break all of the gastronomical options down by their country (or city) of origin, and note where in Universal Studios Florida you can purchase each one once the annual event kicks off.
(Note: in 2020, each food tent, no matter its location in the park, was open from 4:00 pm daily. Also, if you're an annual passholder, be sure to use your pass for a discount off of your purchase [during certain times of the day, at least].)
Bahamas
Jerk Chicken – jerked marinated chicken, rice, peas, and scotch bonnet salsa
Jerk Jackfruit – jerked marinated jackfruit, rice, peas, and scotch bonnet salsa
Belgium
Belgium Liege Waffles – sweet liege waffles with strawberries, whipped cream, and chocolate
Brussels Frites with Roasted Garlic Veganaise – crispy seasoned fries with choice of garlic mayonnaise, andalouse, or joppieaus dipping sauces
Brazil
Moqueca de Camarao with Rice – shrimp coconut cream stew, white rice, and sweet potato curls
Brigadeiros – Brazilian classic with condensed milk, cocoa powder, chocolate sprinkles, and toasted peanuts
Stuffed Coxinha – crispy pulled-chicken teardrop fritters
Canada
Beef Short Rib Poutine – crispy fries with short rib, cheese curds, and demi glaze
Nutella Canadian Doughnut – fried, sweetened dough, Nutella, sugar, and chopped hazelnuts
Maple Canadian Doughnut – fried, sweetened dough, cinnamon sugar, and maple syrup
Colombia
Carnitas Arepas – cornmeal-cake pocket filled with avocado, carnitas, mayonnaise, ketchup, and culantro
Cuba
Cuban Sandwich – roasted pork, Serrano ham, Swiss cheese, mustard, and pickles on Cuban bread, served with plantain chips
Cuban Flan – baked vanilla custard with dark caramel
France
Poached Pear Crème Brulee Crepe – red-wine poached pear, vanilla pastry cream, toasted almonds, caramel, and crispy sugar topping
Germany
Pork Schnitzel Slider – fried pork cutlet, spicy mustard, red braised cabbage, and gruyere cheese
Vegan Bratwurst with Beer-braised Onions – vegan bratwurst, beer braised onions, and spicy mustard on a French quarter baguette
Bavarian Pretzel – warm pretzel with spicy mustard cheese sauce
Italy
Italian Rainbow Cookie – colorful layers of almond cake sandwiched with raspberry jam and coated in chocolate
Cannoli – Italian pastry shell, chocolate-chip cannoli cream, and chocolate shavings
Arancini – fried risotto, wild mushrooms, truffle, and parmesan cheese
Affogato – vanilla gelato served with a double shot of espresso
New Orleans
Crawfish Boil – mixed bag of crawfish, shrimp, andouille, red bliss, and corn on the cob
Jambalaya – mixed rice with andouille, shrimp, chicken, peppers, and tomatoes
Muffuletta Sandwich – mortadella, salami, ham, mozzarella cheese, and olive relish on a toasted bun
Beignets – sweet fried pastry with powdered sugar
Andouille Twisted Tater – stuffed Cajun twisted tater with sausage (add andouille queso for additional cost)
Twisted Tater – flavored with Cajun spices
Puerto Rico
Pernil & Mofongo – roasted pork, smashed plantains, and onion mojo
Picadillo Empanada – picadillo beef-filled fried pastry dough
Quesito – guava- and cream cheese-filled fried pastry
Spain
Paella Mixta – saffron yellow rice with chorizo, squid, mussels, and shrimp
Charcuterie Plate – a traditional platter of Spanish meats and cheese, olives, grapes, and lavosh
Leche Frita – crispy fried with condensed milk, vanilla, and cinnamon
Trinidad and Tobago
Pholourie – deep-fried spicy split-pea dough with turmeric, curry powder, and a side of tamarind chutney or powdered sugar
Pineapple Trini-Chow – grilled pineapple skewers, spices, micro cilantro
Mardi Gras 2021 – the drinks
Just as with this year's food lineup, the drink roster likewise falls under the International Flavors of Carnaval banner – and, as such, will also be divided up according to country of origin.
(Note: for each alcohol transaction, there is only one drink per person per ID.)
Bahamas
Goombay Smash – Bahamian rum punch
Carib Lager – international pilsner
Belgium
Hoegaarden Witbier – Belgian wheat beer
Lindemans Strawberry Lambic – fruited sweet and sour ale
St. Bernardus Abt. 12 – Belgian quadruple, Abbey ale
Brazil
Pineapple Caipirinha Punch – Cachaça and pineapple flavors
Strawberry Caipirinha Punch – Cachaça and strawberry flavors
Mixed Caipirinha – a blend of pineapple and strawberry caipirinhas
Canada
Sugar Shack Springtime Punch – a complex Canadian whiskey punch with a pear-juice base
Lablatt Blue – international pilsner
Colombia
Limonada de Coco – limeade sweetened with coconut cream (non-alcoholic)
Coco Loco – Limonada de Coco spiked with rum and tequila
Cuba
Cuba Libre – choice of Bacardí Light, Bacardí 4 Year, or Bacardí 8 Year
France
Vidal-Fleury Cotes du Rhone Blanc – white wine
Notorious Pink – slightly sweet rosé wine
Vieux Chateau Lamothe Bordeaux Rouge – red wine
Famille Perrin Cotes du Rhone Rouge – red wine
Germany
Weihenstephaner Kristalweissbier – clarified wheat beer
Weihenstephaner Vitus – strong wheat, bock hybrid lager
Aecht Schlenkerla Marzen Rauchbier – Smoked Märzen Oktoberfest-style lager
T Schmitt Riesling Kabinett, Estate – sweet white wine
Italy
Fantinel – prosecco
Vietti Moscato d'Asti – slightly sparkling, sweet white wine
Querceto Chianti – red wine
Cantina Zaccagnini Montepulciano d'Abruzzo – red wine
New Orleans
Abita Purple Haze – raspberry fruited lager
Tropical Storm Punch – a traditional Mardi Gras cocktail incorporating rum, orange, and passionfruit flavors
King Cake Milk Punch – a bourbon milk punch using our house-made King Cake syrup
Puerto Rico
Piña Verde – a twist on the classic piña colada, incorporating green chartreuse
Spain
Pinord "La Dama" Cava – sparkling wine
Don Olegurio Albarino – white wine
Hacienda de Arinzano Rosé – Tempranillo-based rosé wine
Hazaña "Viñas Viejas" Rioja – red wine
Trinidad and Tobago
Queen's Park Swizzle – the national cocktail of Trinidad and Tobago; minted dark-rum grog with a light float of Angostura bitters
Carib Lager – international pilsner
Mardi Gras 2021 – Tasting Lanyard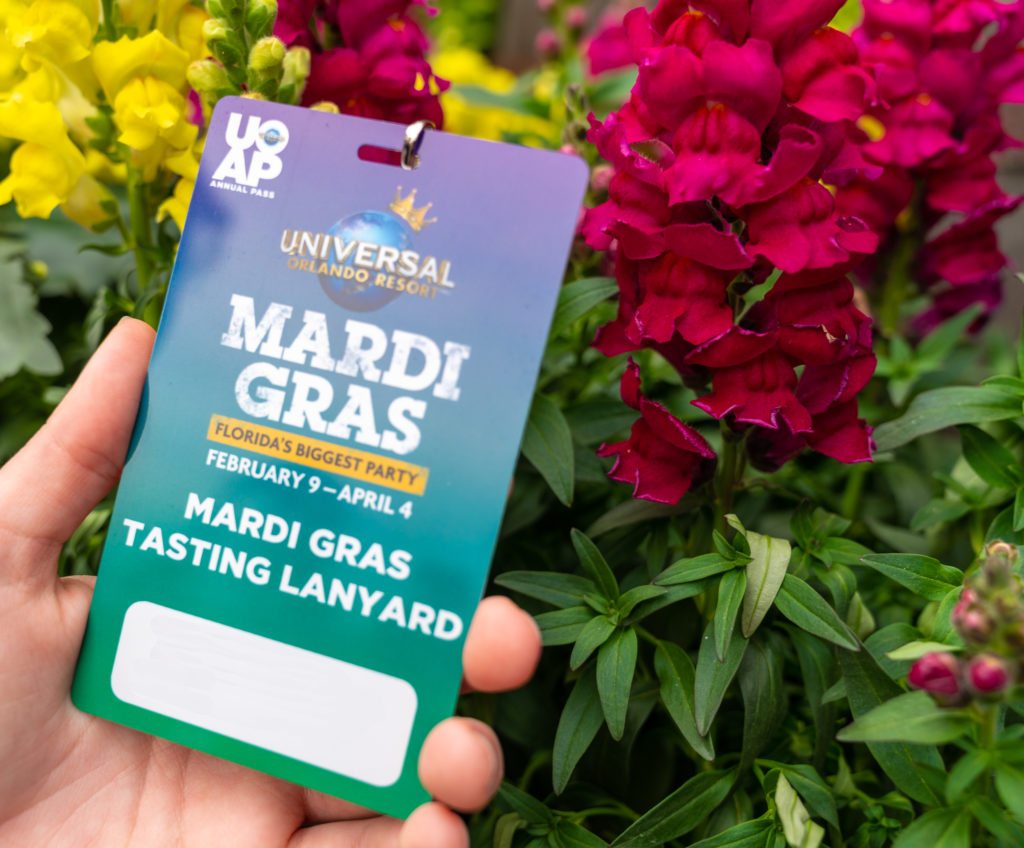 For the third year in a row, Universal is offering a Mardi Gras Tasting Lanyard, which allows guests to try out a number of different food and beverage tasting portions for just one flat price – with that price depending, of course, on how many entries the lanyard is good for:
Five items – $30 (or $6 per item) [2020 pricing]
10 items – $50 ($5 per item) [2020 pricing]
15 items – $60 (exclusive to annual passholders) ($4 per item) [2020 pricing]
These dishes and drinks can be found at locations all throughout Universal Studios Florida, with a special icon located next to their names on the various menus. However, as something of a bonus, Universal will also allow you to use your Tasting Lanyards on a couple of normal snack items that can be found all throughout Universal Studios Florida, Islands of Adventure, and CityWalk during normal park hours: soft pretzels, regular popcorn, and bottles of water. Choose wisely!
If you don't use up all of your credits by the end of the day, worry not – they don't expire, although, obviously, Mardi Gras comes to an end on March 28, and you would then be forced to use your lanyard only on the regular theme-park snacks. If, on the other hand, you do burn through your points and would like more tasting-size samples to munch on, you can reload your Tasting Lanyard at the same places you bought it in the first place: the French Quarter Courtyard, Universal Studios' Classic Monsters Cafe, the Bone Chillin' drink stand in front of the Cafe, and at the Reservation Cart, which is located at the entrance to the theme park.
What's available to eat and drink outside of the theme park?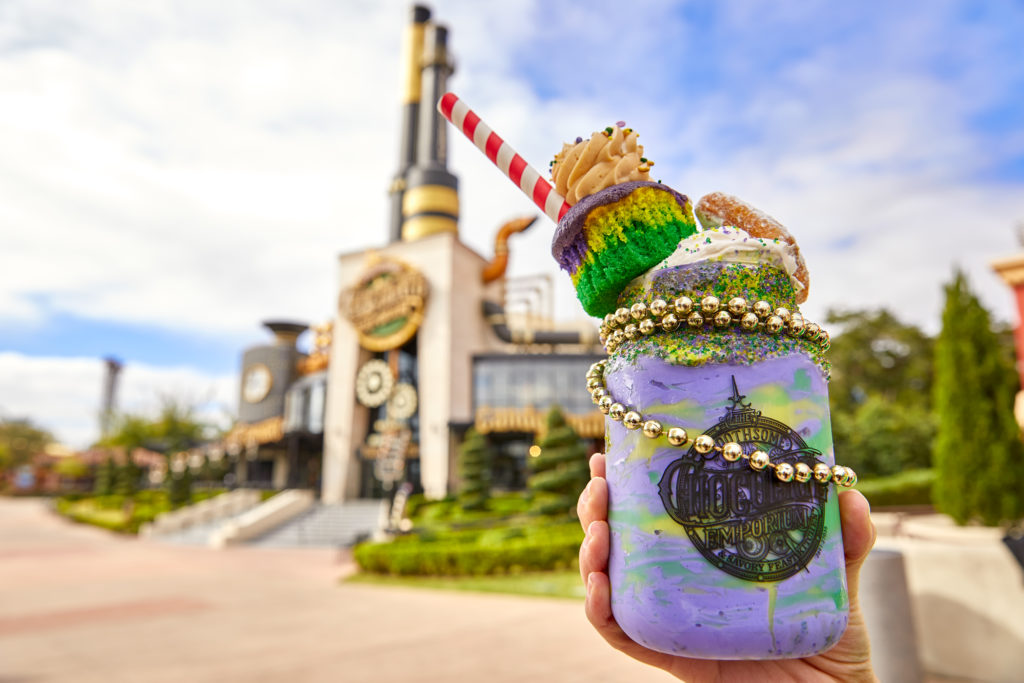 It's not enough to celebrate the bayou bash only in Universal Studios Florida, right? For 2021, a number of establishments in CityWalk and Universal Orlando's hotels are getting in on the festivities, too – although we'll have to wait and see which ones, exactly, those are.
Just to give you an idea of what to expect, however, we can say that, for Mardi Gras 2020, those establishments that participated included Bob Marley – A Tribute to Freedom, Bread Box Handcrafted Sandwiches, Cinnabon, The Cowfish Sushi Burger Bar, Hot Dog Hall of Fame, The Toothsome Chocolate Emporium & Savory Feast Kitchen, Pat O'Brien's, and Voodoo Doughnut.
---
That's all we got for our Mardi Gras 2021 guide to food and drinks. Please keep in mind this is only one page in our Mardi Gras insider's guide – for the most effective planning, please be sure to read through all of our pages, which you can access at any time using the navigation links at the top and bottom.
Do you have a question about the information on this page, would like to provide feedback, or did you spot an inaccuracy? Join us in our
Orlando Informer Community
Facebook group, and let's talk about it!