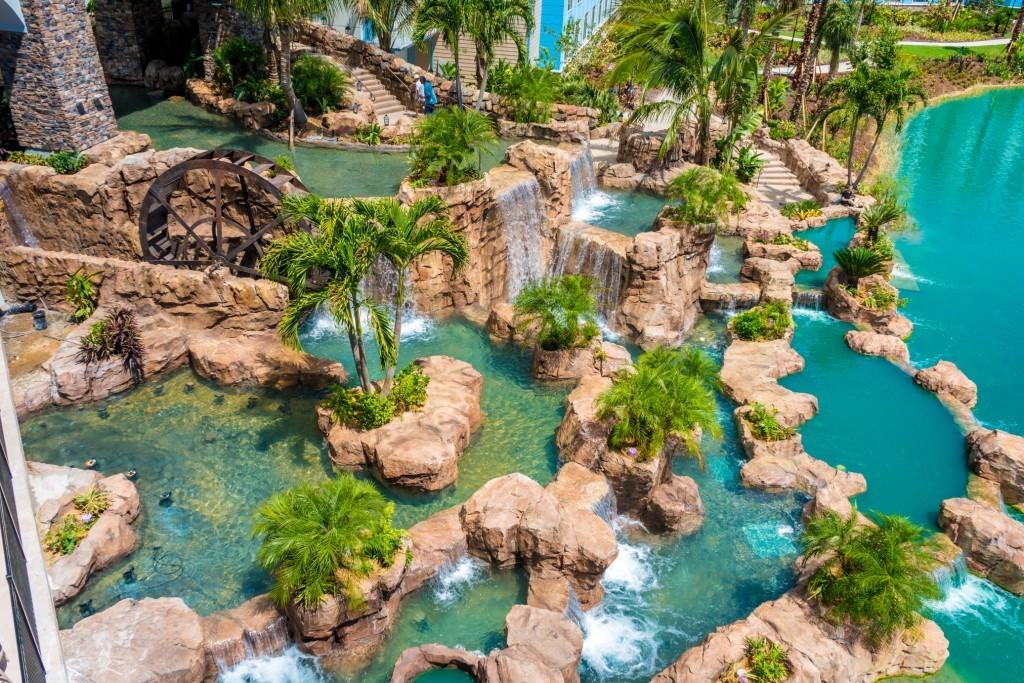 What are the public spaces at Loews Sapphire Falls Resort?
From the moment you enter the vaulted lobby of Loews Sapphire Falls Resort, you'll be transported to a Caribbean paradise. Guests will want to take full advantage of the public spaces at this resort hotel, whether it's a romantic stroll by the waterfalls, or an exciting ride down the pool's waterslide. The vivid colors and authentic flavors of Amatista Cookhouse, and the frozen drinks of the Dhrum Club Kantine will have you never wanting to leave this lush tropical escape.
Sapphire Falls Resort – Lobby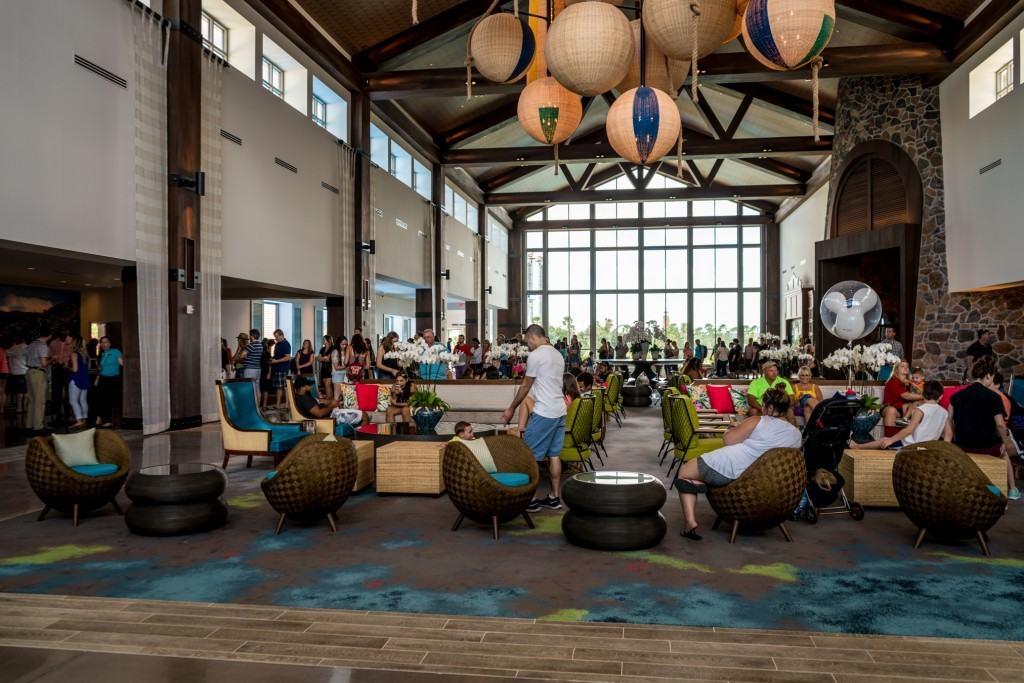 Upon walking into the Sapphire Falls lobby, you'll find what appears to be an island mansion completely restored into an awe-inspiring hotel. The area is detailed with restored wood and stone, and your eyes are drawn to the chandelier made of basket material that hangs high over your head. The lobby is also home to a large seating area with a giant television. Strong Water Tavern, the hotel bar, and New Dutch Trading Co., a grab-and-go quick-service, are directly off of the lobby. Universal Orlando's attraction tickets desk and gift shop are also located here.
Sapphire Falls Resort – Shopping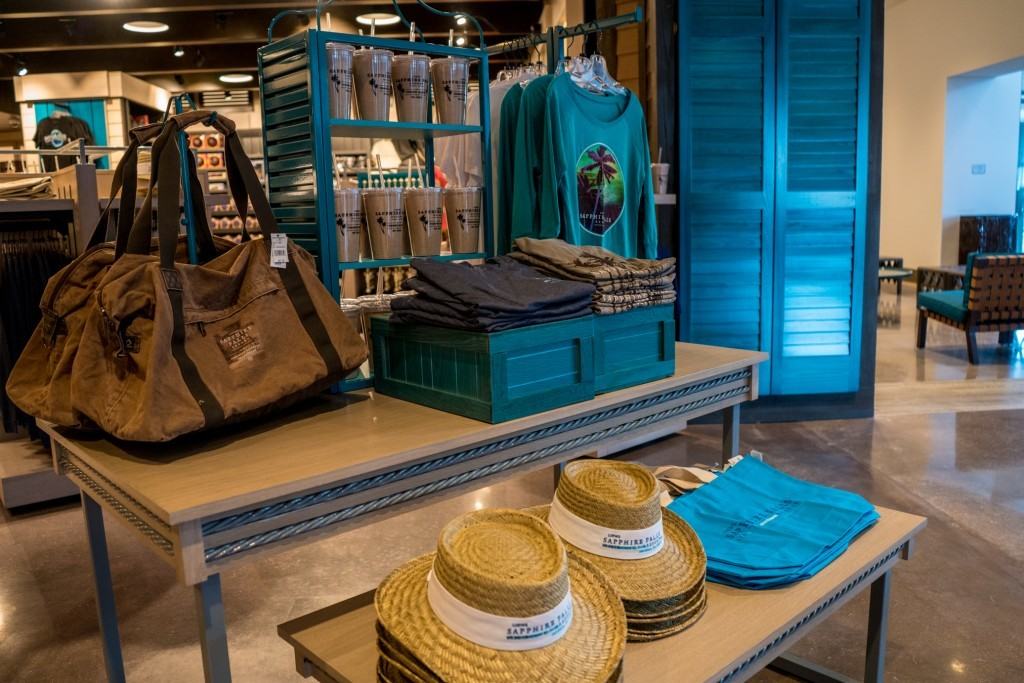 Just off the lobby, you'll find the Universal Studios Store, where you can pick up Universal souvenirs from the comfort of your own hotel. In addition to the popular hats, t-shirts, toys, and gifts that you'd find in the parks, this shop also carries resort wear, swim suits, and sundries, just in case there is something that you forgot to pack.
Sapphire Falls Resort – Dining
The food and drinks at Sapphire Falls, are second-to-none, with rich flavors everywhere you turn. Stop for breakfast (or lunch, or dinner) at Amatista Cookhouse, where the buffet highlights tropical fruits and delicious pastries. Or if you are headed to the parks, New Dutch Trading Co., is the grab-and-go spot, with espresso coffee, hand-scooped ice cream, shakes, salads, and sandwiches to-go. If you're in the mood to kick back with a drink, Dhrum Club Kantine serves those relaxing poolside, while Strong Water Tavern goes all-in with rum tastings and tapas.
Sapphire Falls Resort – Lagoon and Waterfalls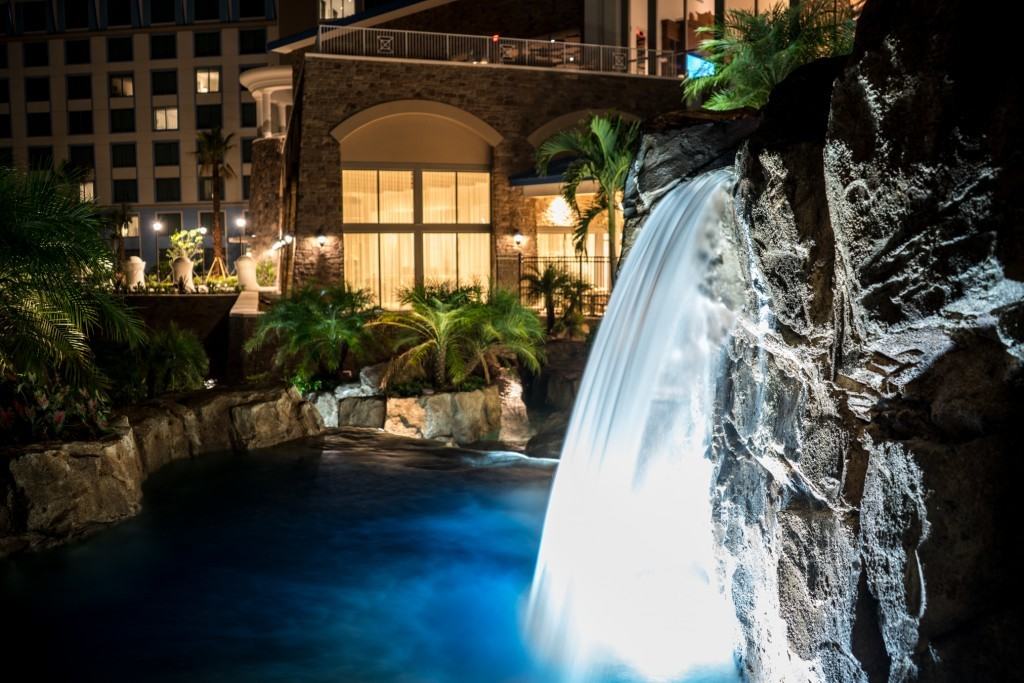 One of the most beautiful parts of Sapphire Falls is its lagoon area. Follow the staircase down into the cascading falls, for the perfect photo spot, as the water taxis create gentle waves traveling to and from CityWalk.
Sapphire Falls Resort – Pet Walk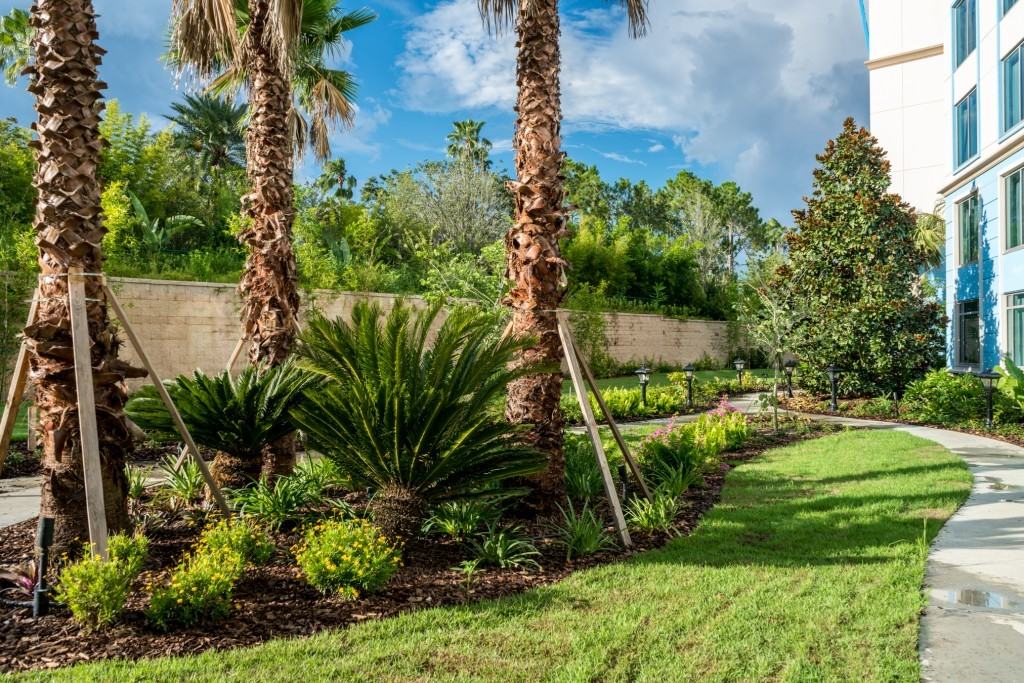 Pets are welcome at Sapphire Falls Resort! There is a $100 fee if you choose to bring your animal companions, with a limit of two pets per room. While you're vacationing with Fido, the pet walk is the perfect place to take your furry family member for an excursion.
Sapphire Falls Resort – Meeting Spaces
Sapphire Falls features 115,000 square feet of meeting space, including a 41,000-square-foot ballroom that is divisible into 12 sections, a 31,000-square-foot hall, 16 breakout rooms, and 27,000 square feet of pre-function space. Attendees can also utilize 11,000 square feet of beautifully-landscaped outdoor function space.
Does Sapphire Falls have a fitness center?
Sapphire Falls is home to the Kalina Health and Fitness Center, where guests can make use of the cardio-vascular equipment and the dry sauna, which is complimentary to all hotel guests.
Sapphire Falls Resort – game room
Turn your kids (or your kids-at-heart) loose at the Calypso Game Room, which features all the latest video- and arcade games.
Do you have a question about the information on this page, would like to provide feedback, or did you spot an inaccuracy? Please let us know by posting in our
Orlando Informer Community
on Facebook.