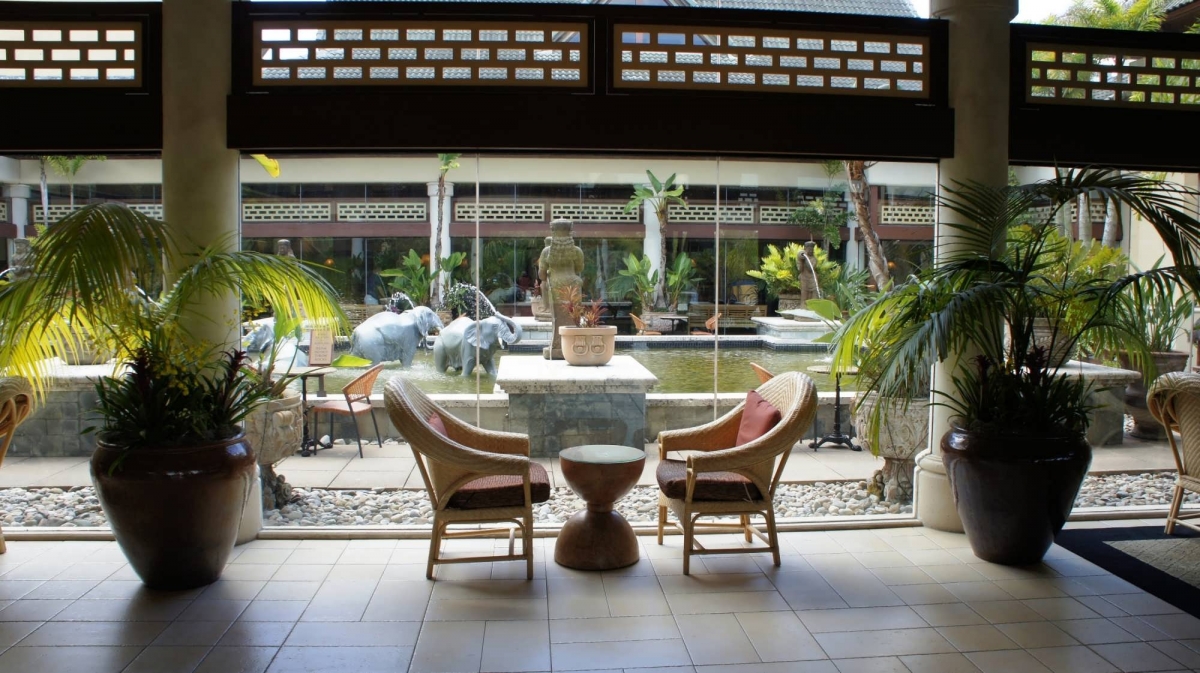 What are the public spaces at Royal Pacific Resort?
For the true flavor of a vacation at Royal Pacific Resort, look no further than the public spaces of the hotel, where guests can relax, eat, play, and enjoy, surrounded by lush, equatorial vibes. From the moment you arrive into the lobby via a wooden footbridge, surrounded by dense tropical foliage, you'll know you've entered a paradise like no other!
Royal Pacific Resort – lobby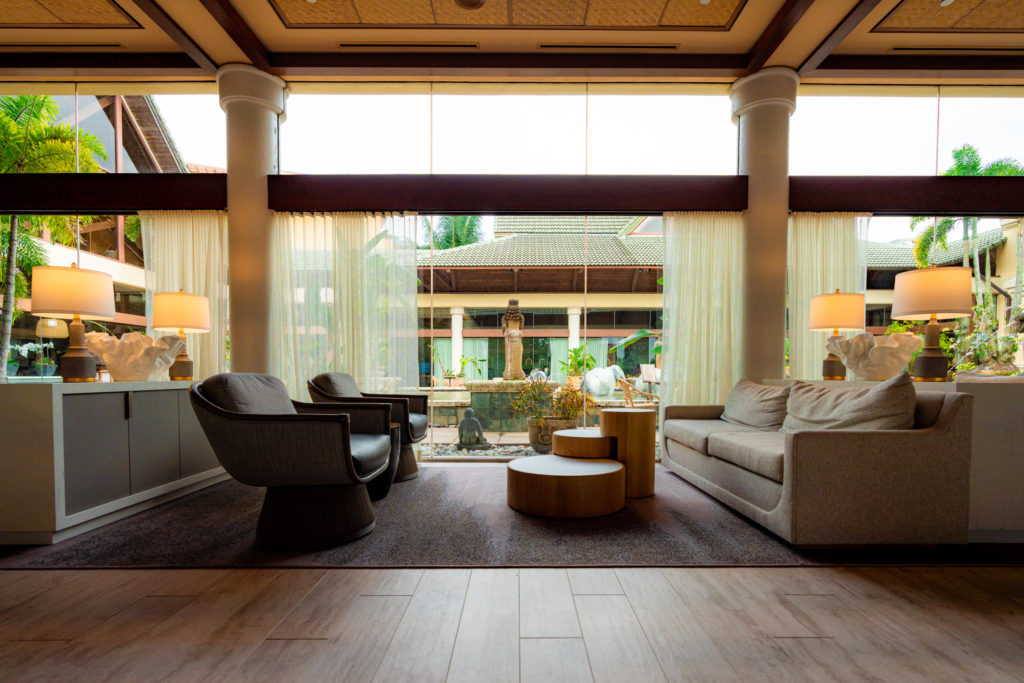 The lobby of Royal Pacific Resort sets the tone for the whole resort, with its unique layout surrounding an open-air atrium. You'll find many of the main amenities here – resort check-in, luggage services, a Universal ticket desk, shops, the Orchid Court Lounge, and more. There is plenty of seating scattered around, so feel free to pull up a comfy chair at the windows that look out onto the resort or the fun water features of the atrium.
Royal Pacific Resort – shopping
There are several shopping options at Royal Pacific resort – guests can pick up souvenirs of the Universal variety in the Universal Store in the lobby, or discover unique gifts with a tropical flavor at the Treasures of Bali, located near the pool. In addition, Treasures of Bali has everything you'll need for relaxing by the pool, including books, magazines, beach towels, resort wear for a night out, and snacks for the whole family.
Royal Pacific Resort – dining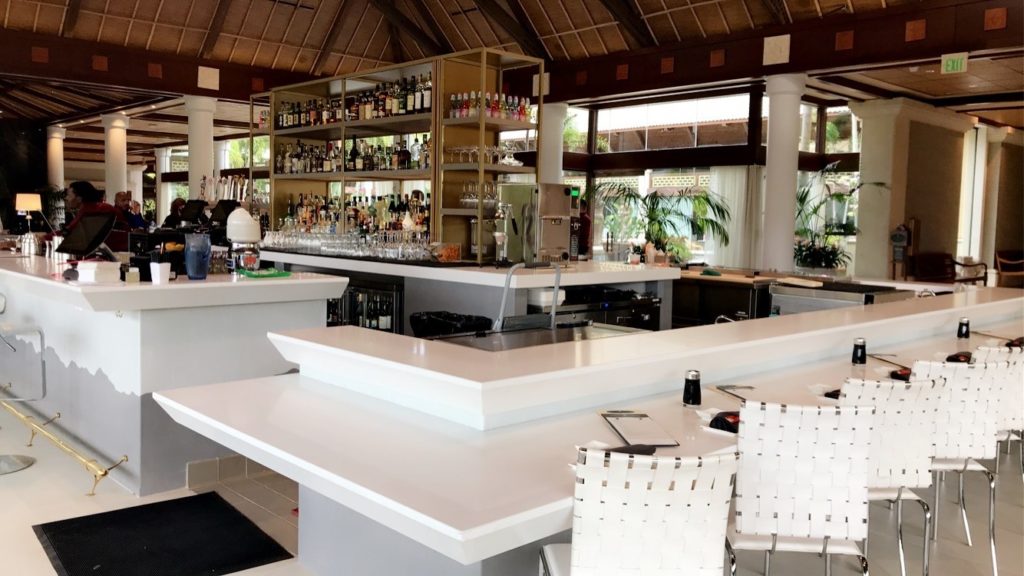 Guests of Royal Pacific are spoiled for choice when it comes to dining and drinks. The main restaurant is Islands Dining Room, but the hotel is also home to two other full-service bar/restaurants: Jake's American Grill and Orchid Court Lounge and Sushi Bar. Visit our full guide to dining at Royal Pacific Resort for more information.
If unique dining experiences are what you're looking for, you'll will want to check out the Despicable Me character breakfast or the Wantilan Luau for a one-of-kind meal that you won't find at any other resort hotel.
Does Royal Pacific Resort have a fitness center?
Indeed, Royal Pacific boasts a 5,000 square-foot fitness center called The Gymnasium, which has some of the best workout offerings at Universal. Fitness buffs will revel in the diverse workout equipment (including 12-piece strength training machines, treadmills, stationary bikes, StairMasters, ellipticals, and more), sauna, steam room, co-ed whirlpool, with separate locker rooms for men and women. If an outdoor workout is more your speed, you'll find paths around the resort that are perfect for walking or jogging.
Royal Pacific Resort – game room
Located next to the pool, Royal Pacific's game room has all the newest video games for you to play to your heart's content – or at least until your credits run out!
Is there really a croquet lawn at Royal Pacific Resort?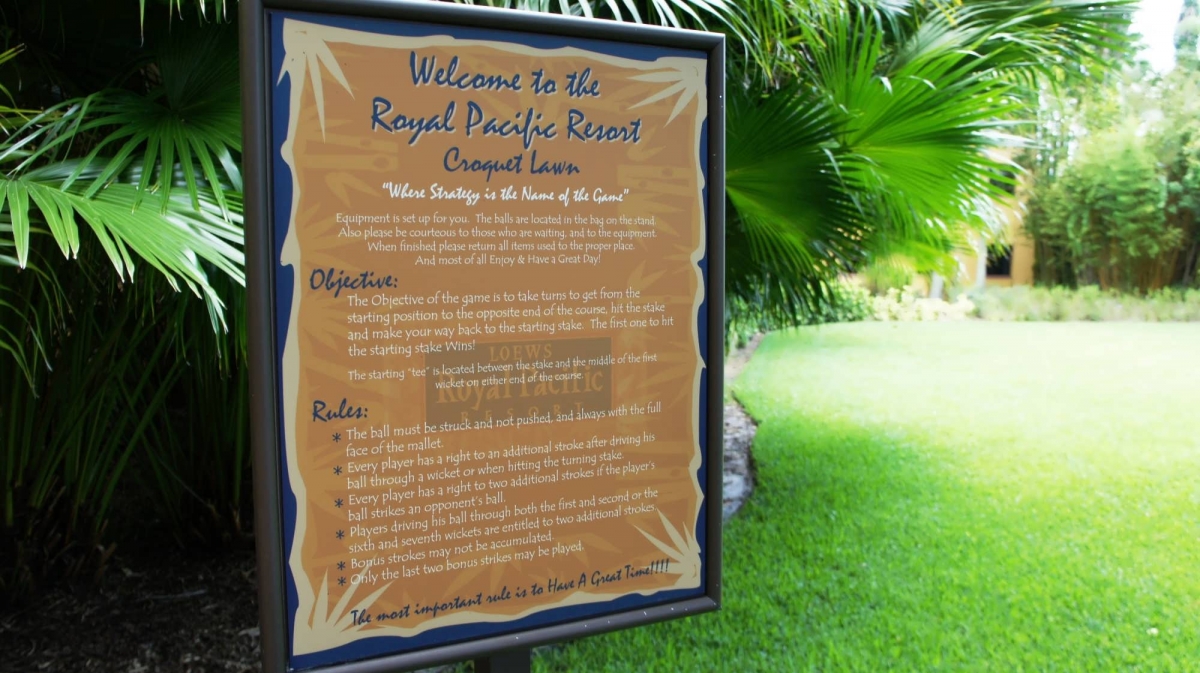 There really is! Officially declared a sport in 1856, this English favorite was exported throughout the pacific in the early 1900s. Guests of Royal Pacific Resort can try their hand on the neatly manicured croquet lawn, just as European travelers would have one hundred years ago.
Royal Pacific Resort's public spaces – photo gallery
Do you have a question about the information on this page, would like to provide feedback, or did you spot an inaccuracy? Please let us know by posting in our
Orlando Informer Community
on Facebook.