Skip to: Overview | Location | Attractions | Entertainment | Dining | Shopping | Fun facts | Additional services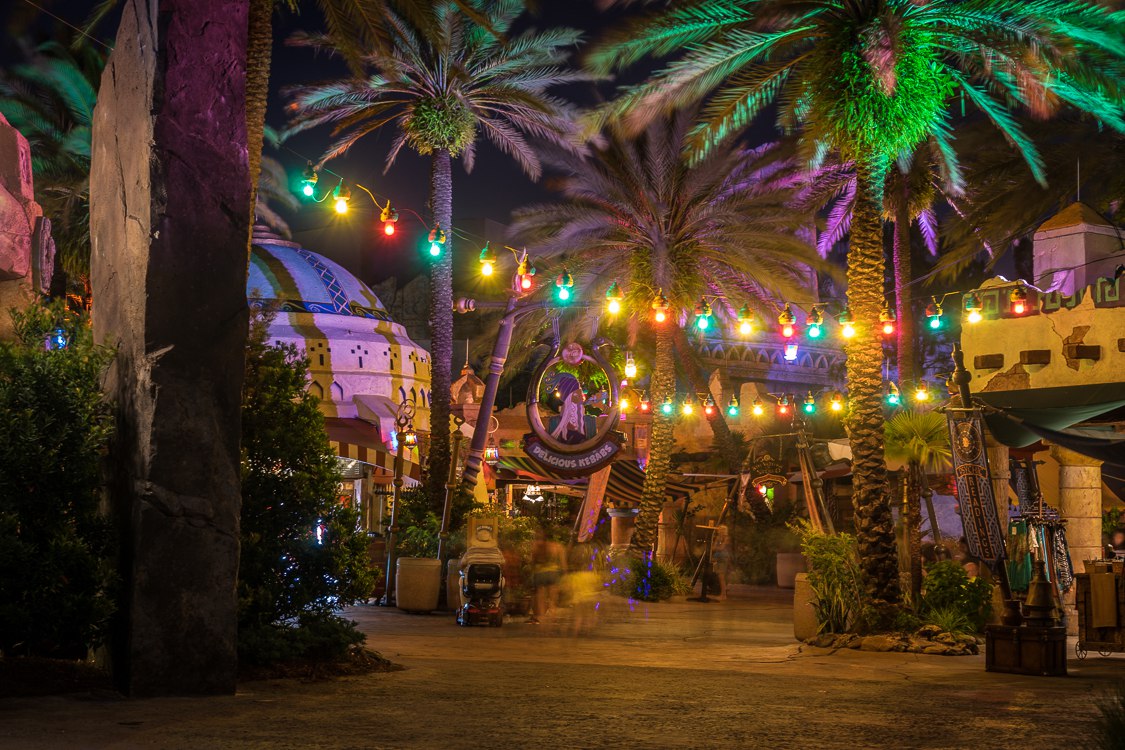 What is The Lost Continent?
The Lost Continent is an island where ancient myths and legends become reality. Guests who dare to journey here will step into a world of Greek gods, fearsome beasts, and archaic enchantments. The area includes Sindbad's Bazaar, a Middle Eastern marketplace, and The Lost City, a ruinous Grecian city that is home to gods of old.
Although there are no rides in Lost Continent, it is one of the most richly themed lands of Islands of Adventure, and guests will enjoy sampling the exotic cuisine, exploring the shops, stopping to chat with a mischievous fountain, and uncovering ancient heroes in Poseidon's Fury.
Where is The Lost Continent located?
The Lost Continent – entertainment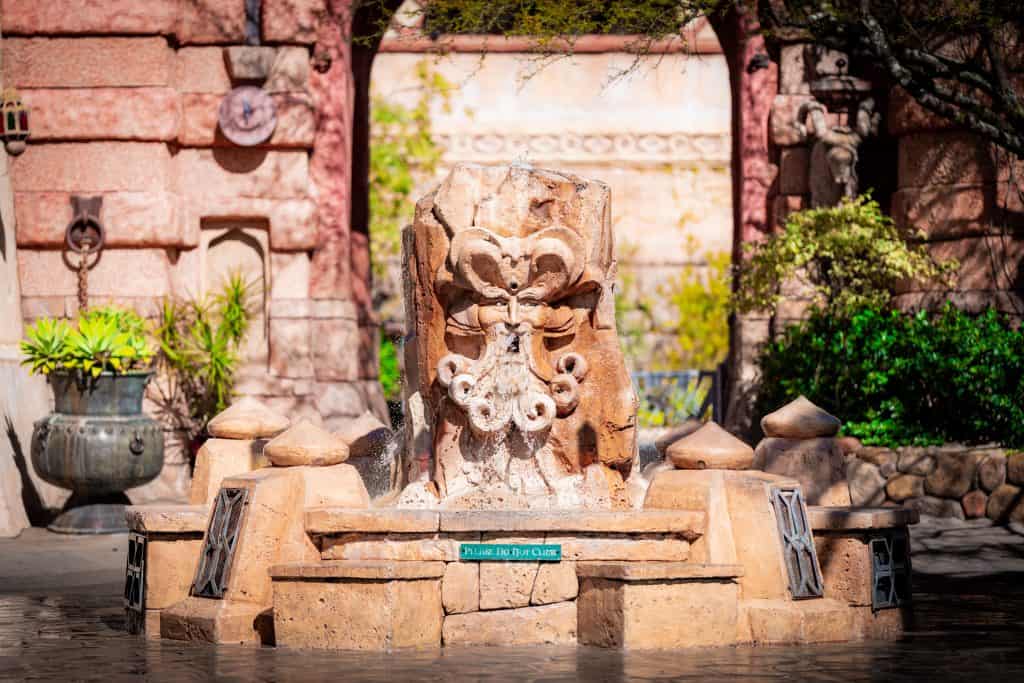 Kids and grown-ups alike will get a kick out of The Lost Continent's Mystic Fountain. Although it seems like a plain old bubbling spring, watch out for the glowing eyes to come alive, and listen for a voice to beckon you closer for a little chat – but beware of the gushing water jets, or you just might get splashed (and splashed).
The Lost Continent – dining
Mythos is the closest thing you'll find to fine dining at Islands of Adventure, and it's a great place to stop for lunch or dinner if you're looking for a full-service restaurant experience. The menu is a mix of American, Asian, and Mediterranean dishes, but even if you're not stopping to eat, take a minute to explore the pathways around the back of the venue for the impressive rockwork sculptures and a great view of the lagoon and the other islands.
If you're just passing through and fancy a snack, Fire Eater's Grill serves up gyros, chicken tenders (both regular and spicy), hot dogs, beer, and soft drinks. For a sweet treat, try a slice of apple pie, a brownie, or a cookie.
Reward your tastebuds with some Mediterranean flavors at Doc Sugrue's with chicken, beef, and vegetarian kebabs or a Greek salad. Other snacks include churros, pretzels, hummus with veggies, and Greek yogurt.
The Lost Continent – shopping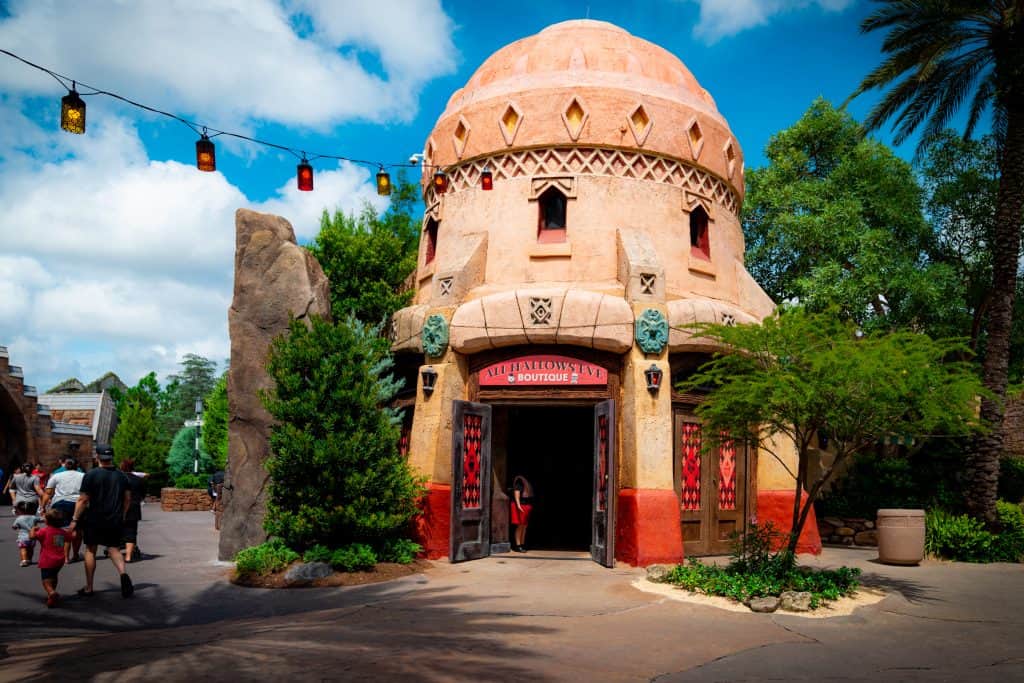 Enjoy seasonally-themed decor while shopping for Universal Orlando Resort event-specific merchandise at All Hallows Eve Boutique. Depending on the time of year you visit, this retail location may take on different theming and even a name to match its current vibe.
The Pearl Factory
Not just a jewelry store, at the Pearl Factory you can select your own live oyster, and the shop attendants will open it for you, revealing your very own pearl. Choose from various fittings to wear and display the pearl you chose.
Treasures of Poseidon
Located across from Mythos, Treasures of Poseidon offers plenty of Universal and nautical-themed souvenirs, including jewelry, apparel, handbags, and more.
Mythical Metals
Choose your design and watch as the coin mint forges your personalized metal coins or medallions using a mechanical drop hammer to imprint your image with a 50-ton force.
Historic Families – Heraldry
At Historic Families, give your family name(s) and explore the meaning, history, and heraldry of your ancestors. Guests can purchase a variety of items to display their tribal pride.
Star Souls – Psychic Reading
If you're feeling a little bit spiritual, enter the Star Souls tent to meet with a psychic and learn your future. If, however, you prefer to keep the mystery alive, try the hand-painted temporary Henna art tattoos instead. Dress the part with headdresses, jewelry, and robes, or purchase your very own tarot deck to see if the spirits will speak directly to you.
The Lost Continent – OI fun facts
When The Lost Continent opened as one of the original Islands of Adventure lands, it was a much bigger area, featuring another section known as Merlinwood. This third district was based on the legends of King Arthur and medieval Europe and was home to the Dueling Dragons and Flying Unicorn coasters. When Harry Potter (a famous wizard for the modern age) came along, the Flying Unicorn was rethemed to Flight of the Hippogriff, Dueling Dragons became Dragon Challenge (based on the Tri-Wizard Cup challenge from Harry Potter and the Goblet of Fire – and later replaced by Hagrid's Magical Creatures Motorbike Adventure), and the Enchanted Oak Tavern was demolished to make way for The Three Broomsticks.
One last fun fact – the face filters on certain photo apps make for a fun photo-op at the waterfall outside of Mythos.
Are there guest services available in The Lost Continent?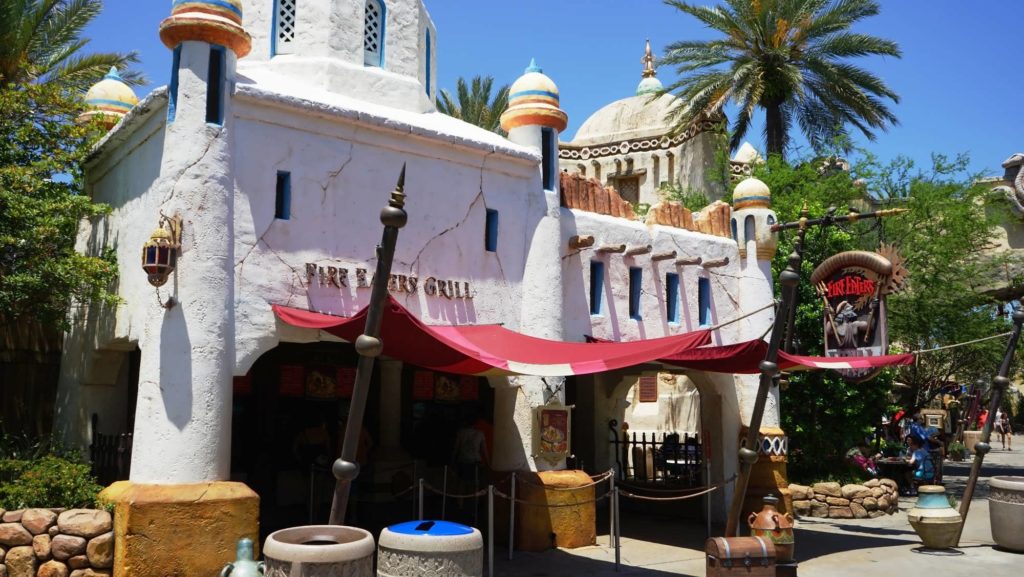 Restrooms
Near the entrance to the (now closed) Eighth Voyage of Sindbad theater, guests can find both a standard and a family restroom.
Lockers
There are no lockers in Lost Continent.
First aid
A first aid station sits behind Mythic Metals, across the path from the Historic Families shop.
ATMs
You'll find an ATM across from Mythos, near the former entrance to Poseidon's Fury.
Service animal rest areas
There is a service animal relief station at the entrance to the (again, closed) Eighth Voyage of Sindbad theater.
The Lost Continent – photo gallery
Do you have a question about the information on this page or would you like to provide feedback? Please let us know by posting in our
Orlando Informer Community
on Facebook.