Skip to: Overview | Location | Attractions | Entertainment | Dining | Shopping | Fun facts | Additional services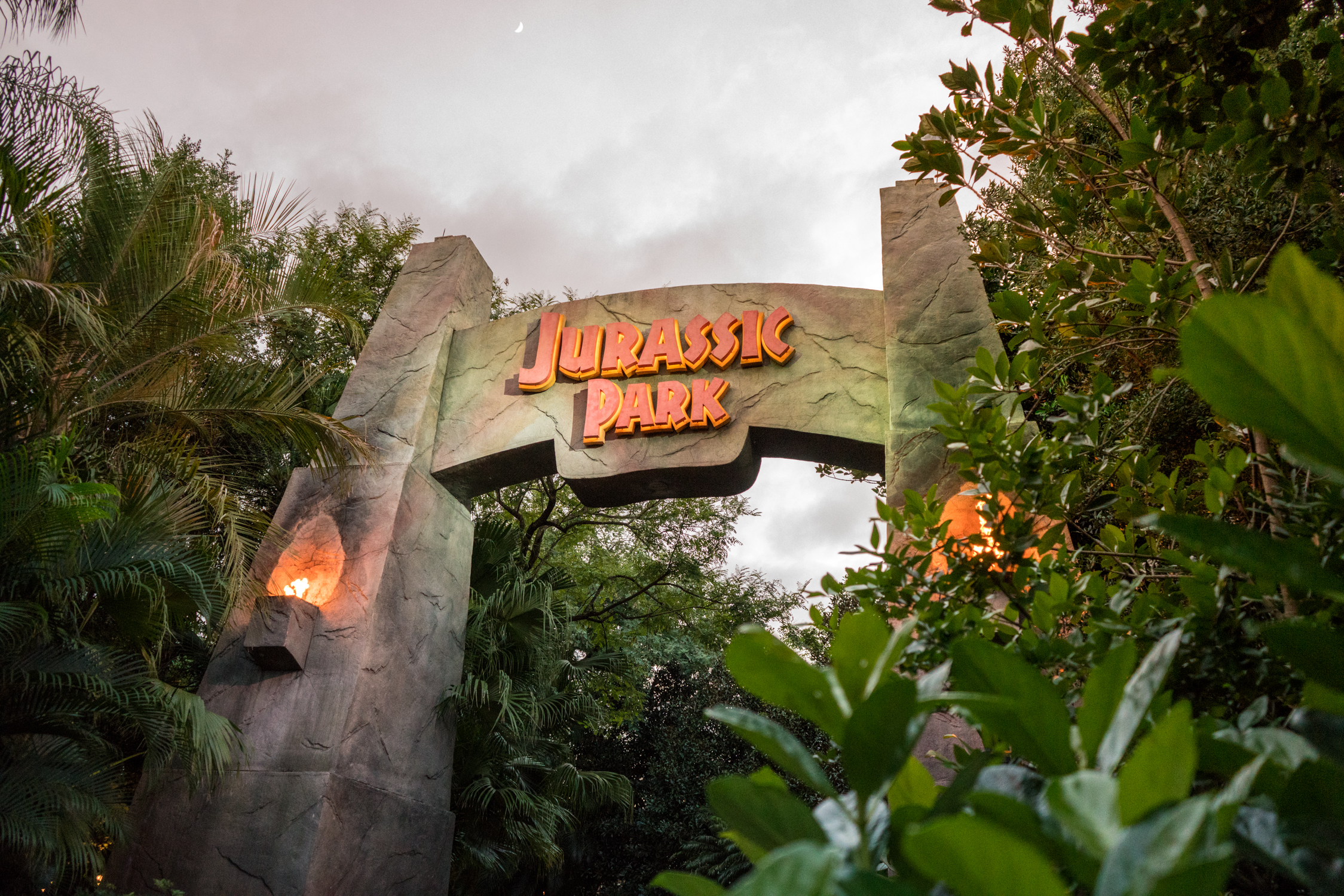 What is Jurassic Park?
Overgrown plant life and the sounds of prowling predators greet guests who pass through the massive stone gateway into a modern take on prehistoric times – welcome to Jurassic Park, an island based on the blockbuster book and movie series, in which humans have recreated living, breathing dinosaurs by using DNA taken from fossilized dino blood.
Children of all ages will love Camp Jurassic, a dinosaur-themed playground featuring caverns, water cannons, slides, and climbing nets. Dino fans also have the opportunity to come face-to-face with a T-rex on Jurassic Park River Adventure or have their picture taken with Blue the velociraptor in Raptor Encounter. To make your visit an educational one, stop by the Jurassic Park Discovery Center, a dinosaur museum filled with exhibits, activities, and life-sized dino replicas.
Where is Jurassic Park located?
Jurassic Park – attractions
Board a river raft to take a leisurely tour through the waterways of Jurassic Park, observing the friendly herbivores that reside there. All goes well until disaster strikes and the dinos (including a T-rex, velociraptors, and the spitting dilophosaurus) escape from their enclosures – and you're forced to escape down an 85-foot water flume.
This attraction is unique to Universal in that it is specifically designed for kids between 36 and 56 inches tall. Adults can only hop on if they are accompanied by a passenger who meets this height requirement, so mostly you'll see adults riding with their kids. Flyers lets you soar around Jurassic Park just like a pteranodon, taking in the views of the surrounding area and the lagoon.
Explore the humongous play area of Camp Jurassic, and you will feel like you're on your very own prehistoric adventure. Climb the rope bridges, explore the wood-plank pathways, shoot the dino water cannons, and escape through the raptor enclosure. This space is large and overgrown with tropical foliage, so stick close to your kiddos as you navigate the playground.
Jurassic Park – entertainment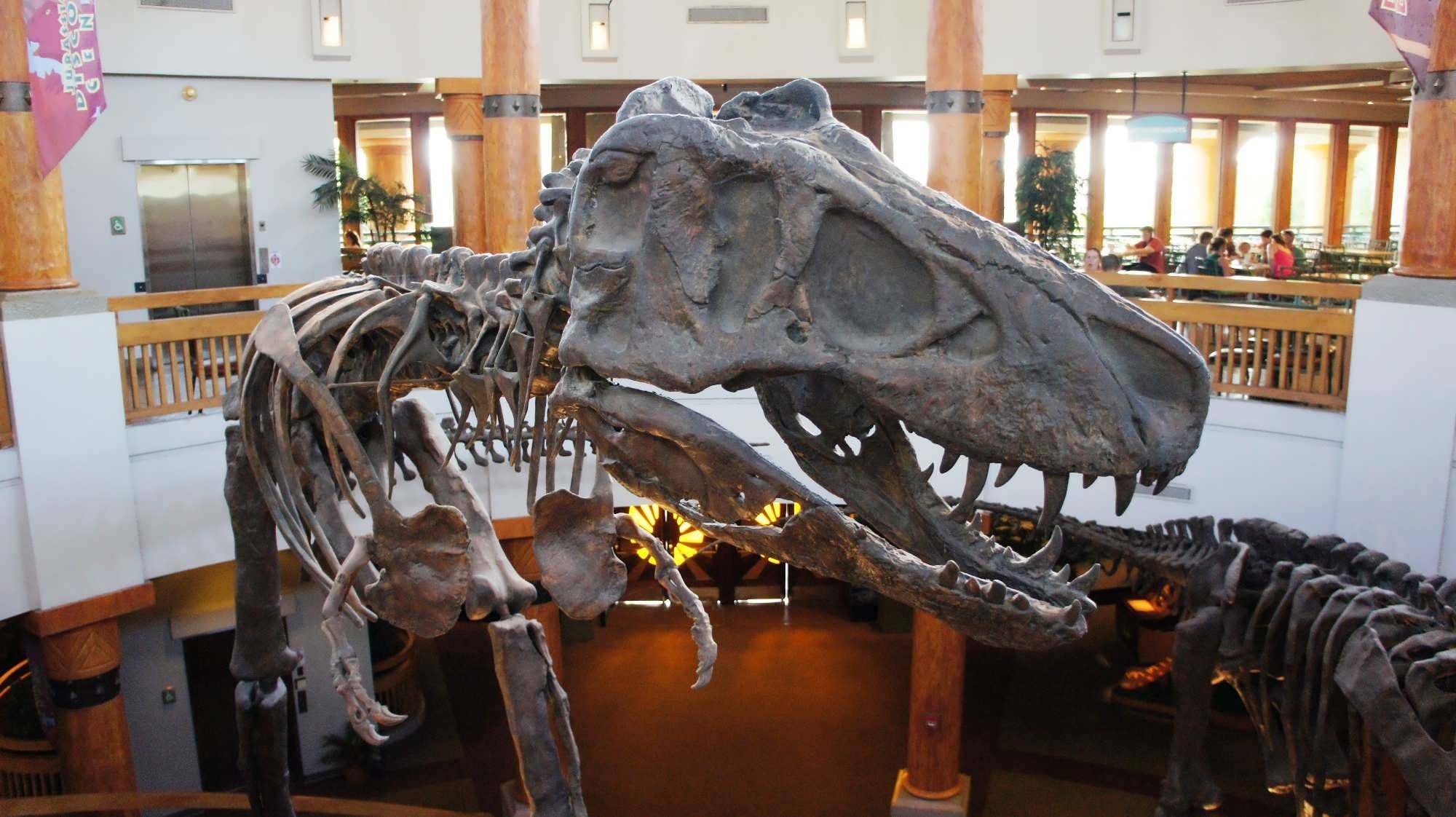 As one of the newer dinos in the Jurassic World universe, Blue the velociraptor meets with guests in her very own enclosure – the closest most of us will ever get to interacting with a real dinosaur in this not-to-be-missed character meet-and-greet.
Modeled after the iconic Discovery Center from the original Jurassic Park movie, on the ground level of the building you'll find the Burger Digs quick-service eatery and the Dinostore; on the lower level, meanwhile, there are numerous full-size dinosaur skeletons and models, as well as interactive activities, including the chance to watch baby raptors hatch from their eggs.
Jurassic Park – dining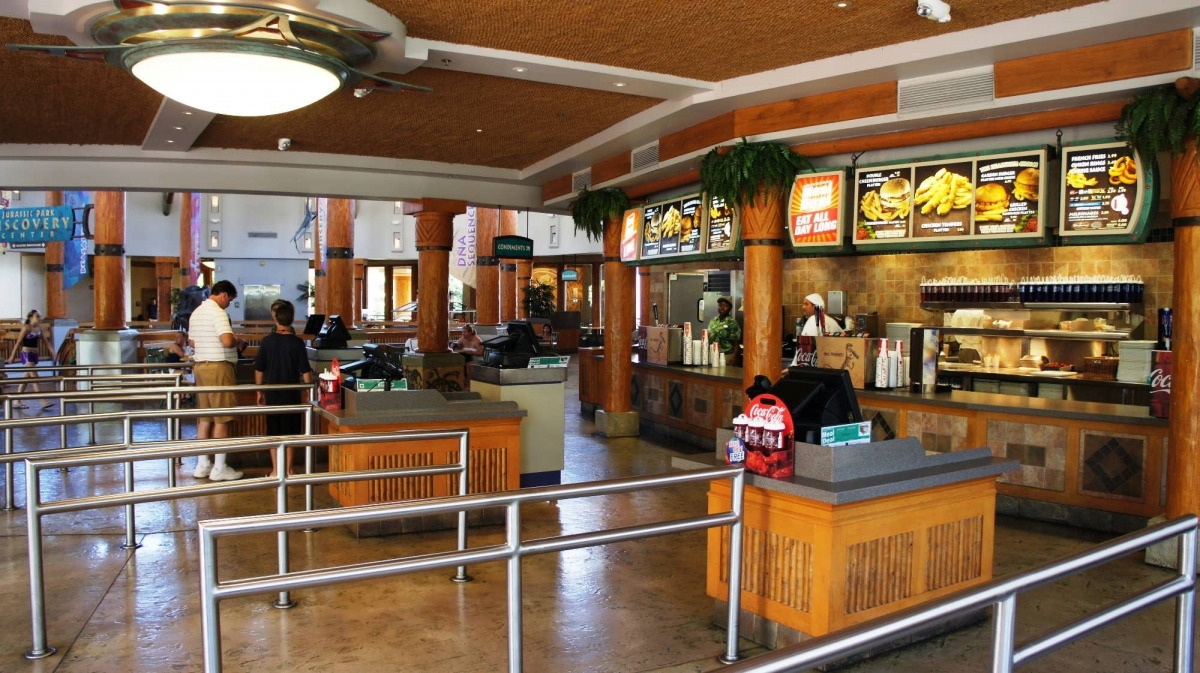 Located inside the Discovery Center, the Burger Digs has both carnivorous and herbivorous options for hungry visitors. Grab a cheeseburger or a veggie burger and some fries, then take a seat on the patio, overlooking the lagoon.
Thunder Falls Terrace is one of the best kept secrets when it comes to food at Universal. Featuring ribs, rotisserie chicken, corn on the cob, and more, much of the food served here is the same as what you find at the very popular Three Broomsticks in The Wizarding World of Harry Potter – Hogsmeade just next door. If that weren't enough, you can't beat the views of Jurassic Park River Adventure, as its boats splash down towards the end of the ride.
If you're really looking for a quick bite, Pizza Predattoria (a play on the Italian word trattoria) is a walk-up counter serving pizza, meatball subs, spinach and artichoke calzones, and Caesar salads, with a brownie, brookie, or strawberry cheesecake for dessert.
With a laid-back cantina vibe, the Watering Hole offers wine, beer, frozen drinks, and cocktails, along with sodas and snacks, such as pretzels, nachos, and pork sliders. Set just off of the main path, the seating area is surrounded by the overgrowth that decorates all of Jurassic Park and makes you feel like you're kicking back with a cocktail in the middle of the jungle.
Jurassic Park – shopping
Jurassic Outfitters
If you love Jurassic Park and all things dino, you can't miss Jurassic Outfitters, where they have practically every dinosaur souvenir known to man – shirts, hats, dino toys, keychains, mugs, and magnets, as well as necessary accouterments for your next adventure, like mobile phone chargers or a towel to dry off after your river adventure.
Dinostore
At Dinostore, you'll discover not only the typical Universal and Jurassic souvenirs, but also some surprising gifts and toys that you'd expect to find at a museum of natural history. Browse the dino-themed books, educational toys, and clothes, or take home your very own fossil replica.
Jurassic Park – OI fun facts
Jurassic Park: The Ride first opened in Universal Studios Hollywood in 1996 before it was brought to Islands of Adventure in 1999 as an opening-day attraction, sporting a new name (Jurassic Park River Adventure, of course). The ride takes its inspiration from a scene in the first Jurassic Park novel, where Dr. Alan Grant, Tim, and Lexi escape from the rampaging dinos on a river raft.
After a 10-month closure over in California, Universal reopened the attraction in 2019 as Jurassic World: The Ride, with new animatronics and special effects based on the Jurassic World movies. Universal Orlando Resort itself has slowly been getting in on the World game, as well, first with Raptor Encounter and, now, with the still-under-construction Jurassic World VelociCoaster. (Yes, this means that the Jurassic Park land now essentially has a mini-Jurassic World area carved out of it.)
Are there guest services available in Jurassic Park?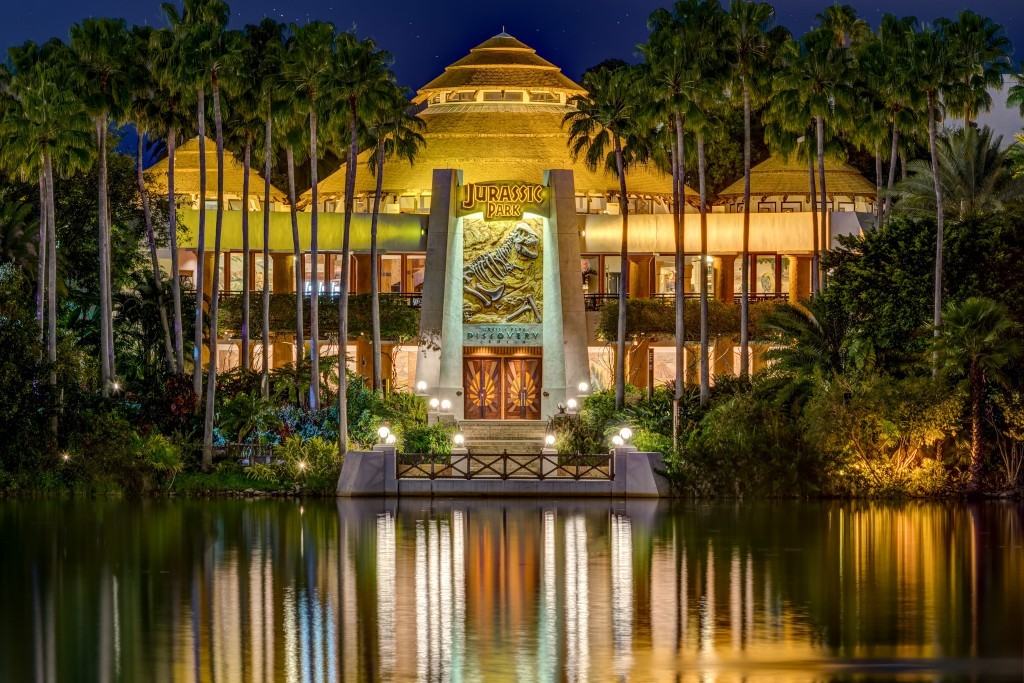 Restrooms
Restrooms in Jurassic Park are located by Pizza Predattoria, next to Jurassic Park River Adventure.
Lockers
Lockers are available – for a price – outside River Adventure. Riders might want to consider getting one of these to protect anything they don't want to get wet. The lockers are $4 for the first 90 minutes, and $3 for each hour after that.
First aid
The nearest first aid location is over in the Lost Continent section of the park.
ATMs
You'll find an ATM at the Jurassic Outfitters shop, next to River Adventure.
Jurassic Park – photo gallery
Do you have a question about the information on this page, would like to provide feedback, or did you spot an inaccuracy? Please let us know by posting in our
Orlando Informer Community
on Facebook.