Skip to: Overview | Location | Entertainment | Dining | Shopping | Fun facts | Additional services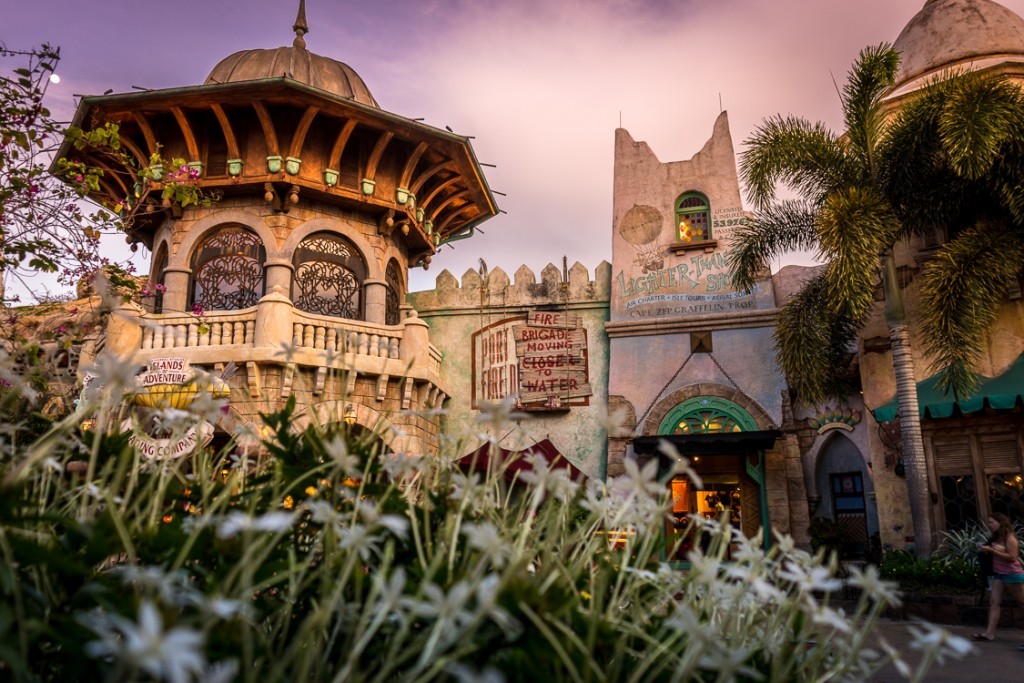 What is Port of Entry?
Port of Entry is the island that transports guests from the world of the ordinary into the extraordinary. When they enter this land, visitors pass beneath a stone archway with an inscription that reads "Let the Adventure Begin!" and the feeling of excited anticipation is tangible. As the main park entrance, this area features themed shops and a number of dining locations. It also houses Guest Services, as well as locker and wheelchair rentals.
Port of Entry is best known as the location of the Islands of Adventure icon, Pharos Lighthouse, and for its unique theming and architecture, which draws from Middle Eastern, Asian, and Mediterranean styles. Though many people rush through this section to get to the flashier attractions, Port of Entry is a great place to grab some breakfast, take a break during the hottest time of the day, or shop for last-minute souvenirs before leaving the theme park.
Where is Port of Entry located?
Port of Entry – entertainment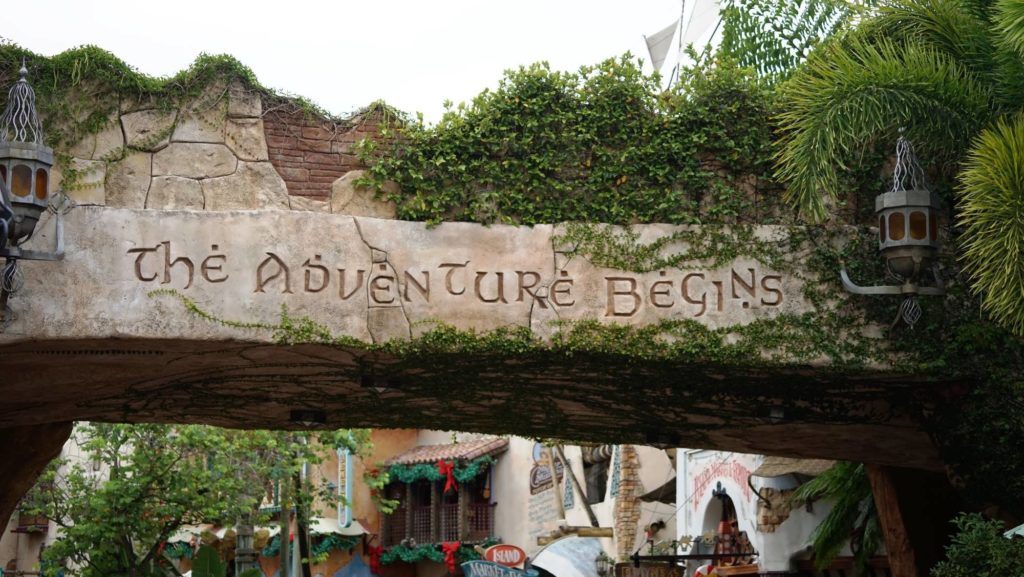 Although most guests are moving through this area to get to the rides and attractions, Port of Entry is the perfect place to stop and snap a photo, and usually several Universal photographers can be found milling around. Take a quick pic underneath the iconic bridges, or ask to have your picture taken with some of the unique facades and props around the land.
Port of Entry – dining
With breakfast served until 11:00 am, Croissant Moon is a good option for a quick meal on-the-go. In addition to their pastries and breakfast sandwiches, this bakery has an all-day selection of salads, sandwiches, and other baked goodies.
Confisco Grille is one of only two full-service restaurants located inside of Islands of Adventure (the second being the acclaimed Mythos), and it has an eclectic menu with samplings from around the world, such as loaded nachos, chicken curry, and a pork belly banh-mi sandwich.
Adjacent to Confisco is Backwater Bar – a place where you can pull up a stool right at the full-service bar and relax with a drink. Both Confisco and Backwater carry the hodgepodge-village theme of Port of Entry, but they also have nods to the other lands and attractions within Islands of Adventure hidden in the nooks and crannies of their decor.
Starbucks (quick-service)
Just across from the lagoon is the Islands of Adventure Starbucks, serving all your favorite coffee drinks and a selection of treats. (The interior is standard-issue, but the exterior is beautifully themed.)
Next-door to Starbucks, get your cinnamon fix with warm and gooey cinnamon rolls (or Cinnabon Stix) at Cinnabon's quick-service window.
Port of Entry – shopping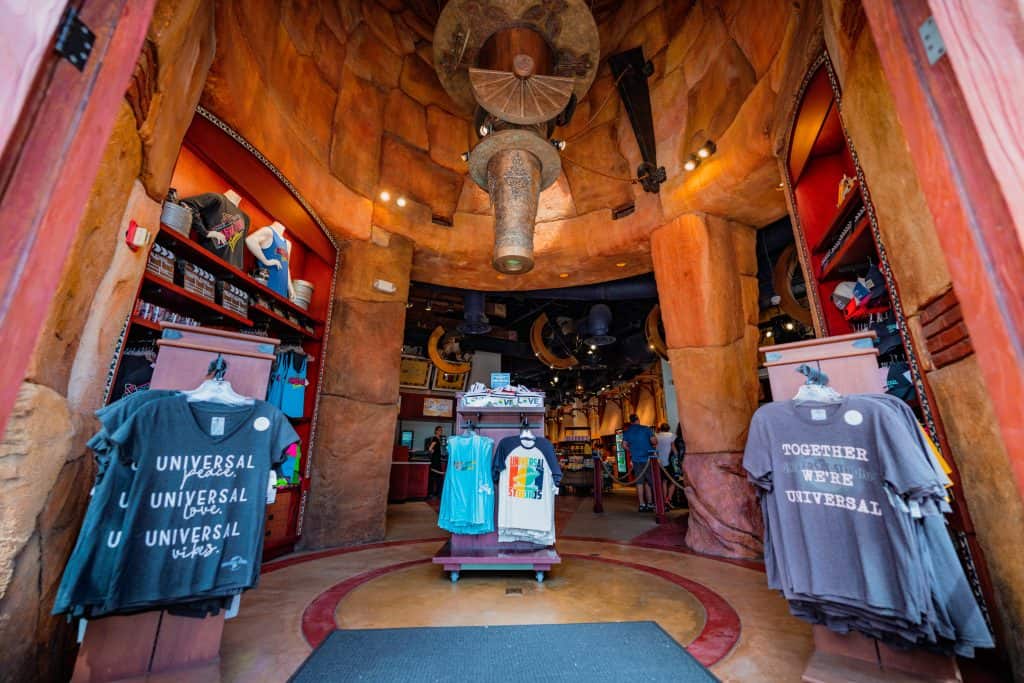 Defoto's Expedition Photography
One of the first shops you'll come across as you walk through Port of Entry, Defoto's is home to the My Universal Photos program at Islands of Adventure. Stop here if you have purchased (or would like to purchase) a My Universal Photos package, or stop by on the way out of the park to look at your pics for the day and to buy any prints or souvenirs.
Islands of Adventure Trading Company
Stop by the Trading Company for a huge variety of Universal Orlando souvenirs, with gifts that run the gamut of Universal properties. While you're shopping, take a moment to look around at the props and décor of this store – you might spot a hot air balloon or, even, a dinosaur skeleton.
Island Market and Export Candy Shoppe
These adjoining shops combine two of our favorite things: Universal merch and sugary treats. When you get tired of shopping for gifts, wander over to the sweet shop, where you'll find caramel apples, homemade fudge, and bulk candy selections.
Port of Entry Christmas Shoppe
Keep the spirit of Christmas alive all year 'round in the Port of Entry Christmas Shoppe. Even if you're visiting in the middle of summer, you can still stock up on Christmas-themed gifts, including ornaments and Grinch-y souvenirs. The Christmas trees that decorate the store all have unique themes, including one from each house at Hogwarts.
Ocean Trader Market
Ocean Trader Market boasts an eclectic selection of goods sourced from around the world. Browse the resort-wear clothes and accessories, or take home handmade goods from India, Thailand, Indonesia, and more.
Port Provisions
Your last port of call before leaving Islands of Adventure, Port Provisions is the place to pick up your last-minute souvenirs or the packages that you had delivered to the front of the park. Occasionally, this shop will have discounted merchandise available for any guests looking for a bargain.
Port of Entry – OI fun facts
The backstory of this area holds that ships from diverse origins landed here (note the sail-like canopies over the ticket booths), drawn by the Pharos lighthouse out front, and came together to create the port – hence the architectural hodgepodge representing the coexistence of all the peoples who have arrived at Port of Entry, ready to explore and share their cultures.
As you walk through the land, you'll find all the typical structures of a trading outpost, including a fire department (who has, coincidentally, decided to move closer to water) and a restaurant founded by retired pirates (complete with décor that was "confiscated" during their travels). Be sure to read the signs for cleverly named theming, such as Guest Services within the Open Arms Hotel, and listen to the background audio loops for the voices and music of the port residents.
Are there guest services available in Port of Entry?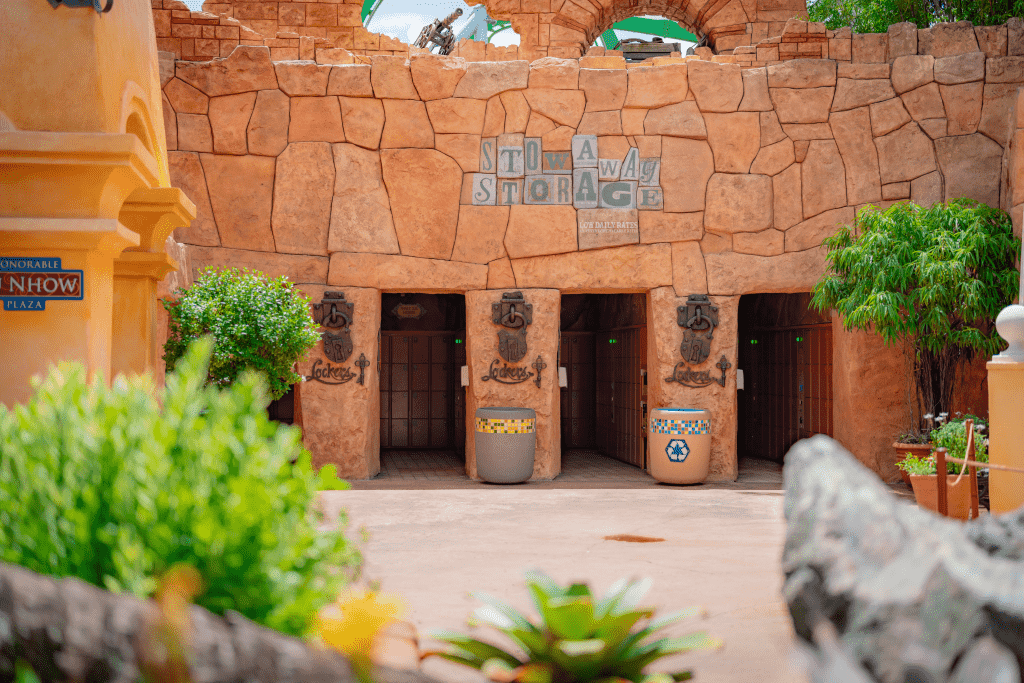 Restrooms
There are three restroom areas associated with Port of Entry, though we should mention that the Loo's Lodge bathrooms are actually outside of the theme park, to the right of the ticket booths as you approach the gates. The next set of restrooms is to the left once you've come through the gates, in the Water Works Authority building. The last set is at the end of Port of Entry's walkway, next to Backwater Bar. Guests in need of a family facility will find one at Health Services, just before the first overhead bridge.
Rental services
Guests who want to rent wheelchairs, ECVs, or strollers can find them in Port of Entry, near the Water Works Authority restrooms and the daily lockers. (The only other rental location is back in Hogsmeade, next to the Hogwarts Express, as this serves as the secondary entrance for people who ride the train over from Diagon Alley at Universal Studios Florida.)
Lockers
All-day lockers are housed in Port of Entry, and the price you'll pay depends on the size of the locker. Typically, it is $10 per day for a large one, and $15 for a jumbo.
First aid
A first aid station is located in Port of Entry, near the first overhead bridge after entering the park.
ATMs
There is an ATM in the Port of Entry area, but it is outside of the park, next to the Loo's Lodge restrooms.
Port of Entry – photo gallery
Do you have a question about the information on this page or would you like to provide feedback? Please let us know by posting in our
Orlando Informer Community
on Facebook.