Skip to: Overview | Location | Restrictions | Fun fact | Guest reviews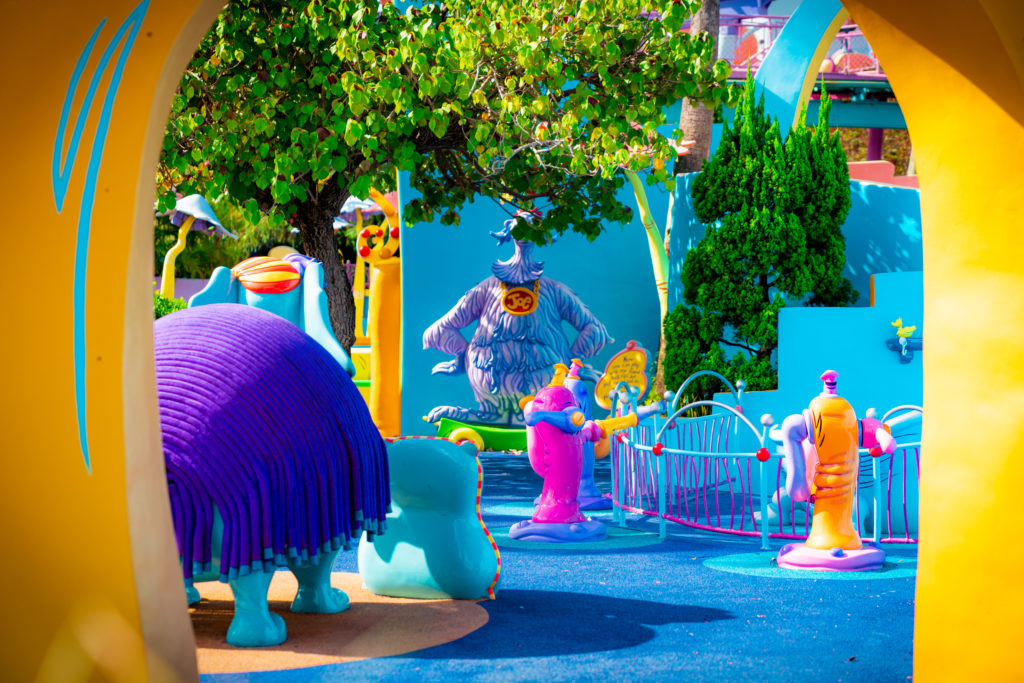 What is If I Ran the Zoo?
If I Ran the Zoo is an interactive children's play area inspired by Dr. Seuss's storybooks (it even shares the name of one of the author's most famous ones!). Filled with fanciful Seussian animals and contraptions, there is a world of fun to be had here – along with a little imagination. The colorful playground is a great place for kids to burn off some extra energy, and there are tons of adorable photo-ops.
Where is If I Ran the Zoo located?
In Seuss Landing, which is in Islands of Adventure.
If I Ran the Zoo – height restrictions and other factors
If I Ran the Zoo is accessible for everyone, but the play area is designed for kids.
If I Ran the Zoo – what you wish you knew before you experienced it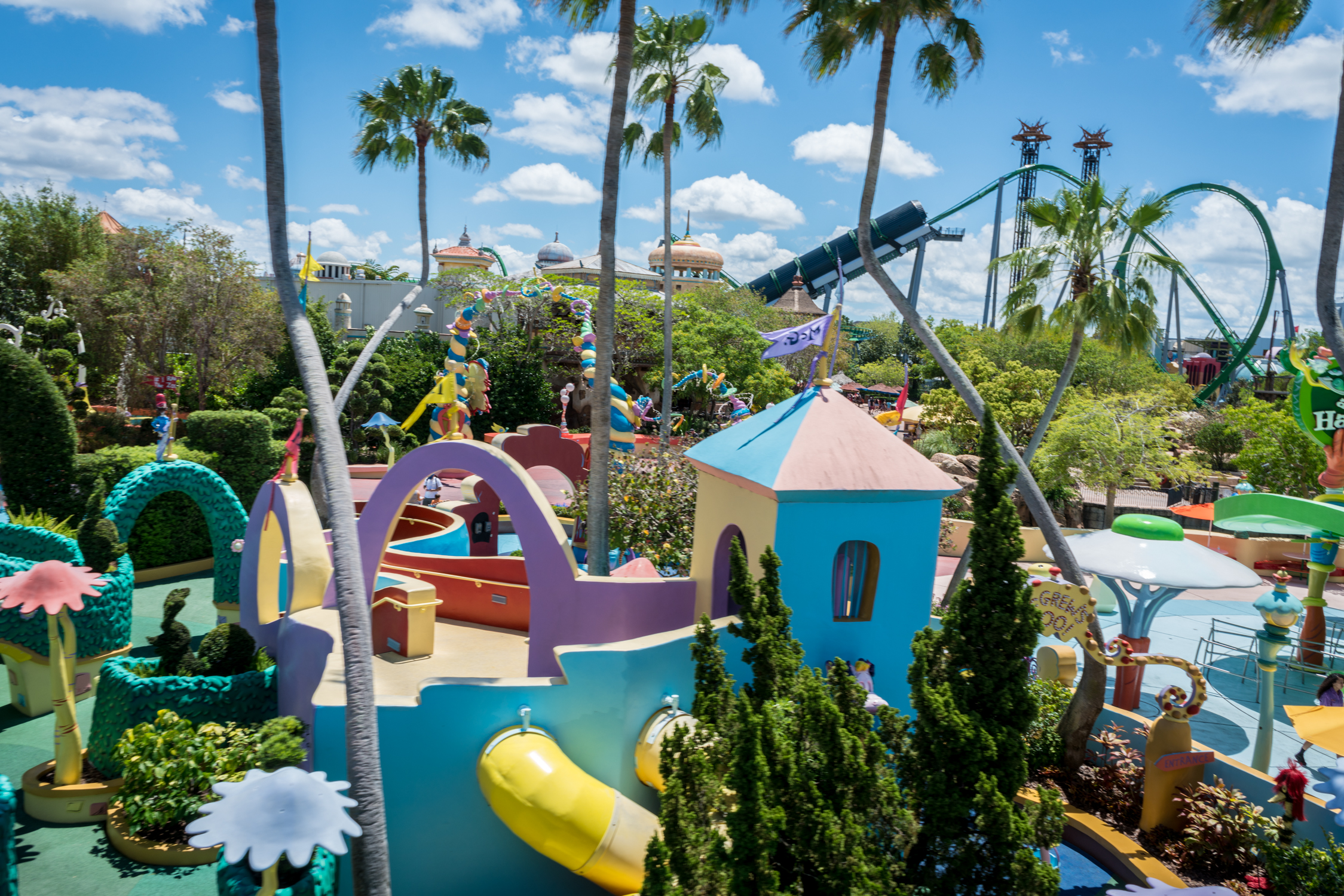 There is very little shade in this playground, so put on some sunscreen and stay hydrated when letting the children roam. On the flip side, If I Ran the Zoo features some water effects that can leave curious kiddos anywhere between damp and soaked, depending on their approach to play. Keep that in mind before letting your Thing 1 and Thing 2 loose!
What was If I Ran the Zoo's opening date?
May 28, 1999
If I Ran the Zoo – OI fun fact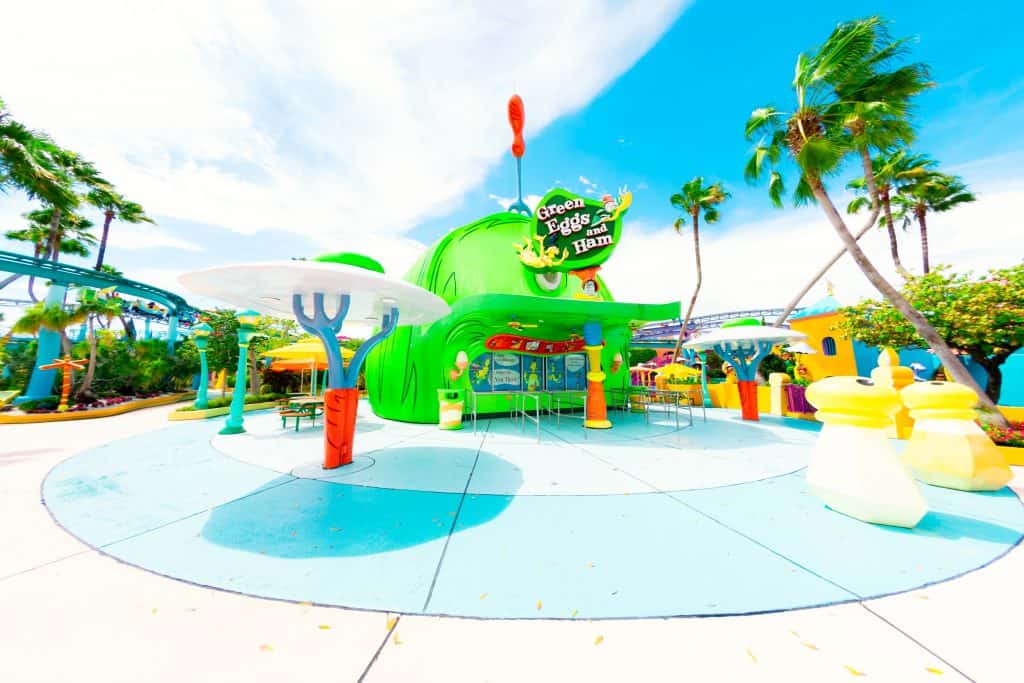 If I Ran the Zoo is just around the corner from one of our favorite quick-service spots, Green Eggs and Ham Cafe. The tater tot-centric menu, combined with the convenient location of the kids' area, makes it the perfect afternoon break for families.
If I Ran the Zoo – Photo Gallery
If I Ran the Zoo – real guest reviews
If I Ran the Zoo
Average rating:
5 reviews
May 26, 2014
Wet, Interactive Playground!
Date Of Last Visit:
May 17, 2014
We found this area by accident! We thought we were getting in line for the carousel, but instead found ourselves going through a small maze. Preschoolers and toddlers will love this area! Everything is bright and happy in a typical Dr. Seuss style. There are peep holes, ride-on creatures, water and sun. Even the hedges get in on the fun!
May 25, 2014
Chell
Date Of Last Visit:
August 2013
If I Ran the Zoo is a great place for little kids to play and cool off, especially while some older ones are experiencing Hulk. The little river through the area is fun for them to splash and play in, and all the other things to see in the play area pique their interest and keep them entertained.
May 24, 2014
This "zoo" is a must-do!
Date Of Last Visit:
November 2013
What a time to be had at If I Ran The Zoo,

No lions, tigers, or bears to view.

What animal will pop up when you pull on a latch,

Will you enter the cave to search for the elusive Natch?

Will you enter the island to get wet,

Or continue the journey to discover a zany pet?

Winding through the hedges, don't leave mom behind on the path.

When you find a tub,spray the water to discover who's taking the bath.

McGrew's Skeegle-Mobile will surely be a hit,

Lucky for parents the entire area is surrounded with a low wall on which to sit.

I hope you will visit this overlooked area before you're vacation is done,

Goodness knows, my family sure had fun!
Jul 10, 2013
Immerse your kid-at-heart
Date Of Last Visit:
July 2010
This area was one of the best little surprises in the Seuss Landing. It wasn't crowded or busy at all. My mother is a teacher and read these books to us as babies, so the games and themes made the whole family instantly recognize the characters and smile. This space is highly interactive and comes with awesome photo opportunities for your little ones. We went as teens and still loved it! If you have time, this area is a definite hotspot for memories to put in albums and a place for your imagination to escape. I wish there was more
Jul 8, 2013
CANNOT wait!
Date Of Last Visit:
October 2012
I happened by this little play area while checking out Seuss Landing shortly after giving birth to a little girl in 2012. At the time I was there, she was only 3 months old and obviously too little to bring to a theme park. She's almost a year old and still probably too young. Despite that, I cannot wait until she gets big enough to experience this part of the park.



If I Ran the Zoo was one of my favorite Dr. Seuss books as a little girl. I love how the area looks like it's been created by Gerald McGrew himself with all sorts of little nooks and crannies to explore. As I observed the children in the play area, it was heartwarming to note how much fun they all seemed to be having with their parents. I am greatly looking forward to passing my love of this particular work on to my little one and sharing in her experience.
Do you have a question about the information on this page or would you like to provide feedback? Please let us know by posting in our
Orlando Informer Community
on Facebook.