Skip to: Overview | Location | Restrictions | Fear factor | Showtimes | Fun fact | Guest reviews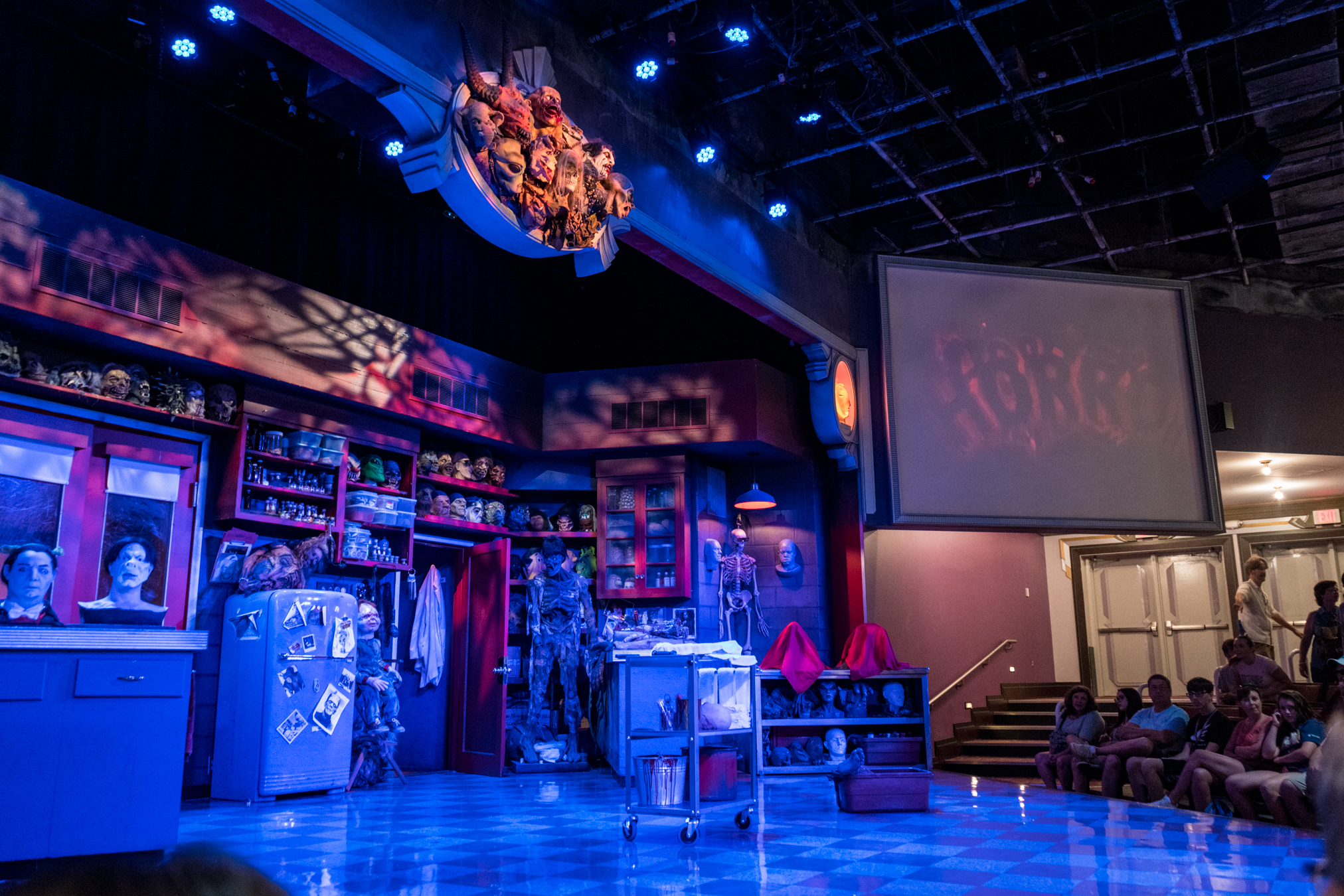 What is Universal Orlando's Horror Make-Up Show?
Universal Orlando's Horror Make-Up Show is a hilarious (and occasionally horrifying) make-up how-to, chock-full of witty banter between the hosts, with plenty of physical gags. The 25-minute-long spectacle happens to be a local favorite of Orlando residents and continues to delight guests with its over-the-top special effects and fun audience interactions. And the air-conditioned theater makes Horror Make-Up a perfect midday rest stop on a hot summer's day.
Where is Horror Make-Up Show located?
In Hollywood, which is in Universal Studios Florida.
Horror Make-Up Show – height restrictions and other factors
There are no restrictions, but guests with Express Pass can wait in a separate queue and will get the first choice of seating (if present when the theater doors open).
How scary is Horror Make-Up Show?
We rate Universal Orlando's Horror Make-Up Show two out of five severed fingers in terms of fear factor. (Maybe three fingers, if fake blood and movie monsters really freak you out.) Just as much a comedy routine as a behind-the-scenes look at horror effects, the production aims to entertain guests more than it tries to terrify them.
What are the showtimes for Horror Make-Up Show?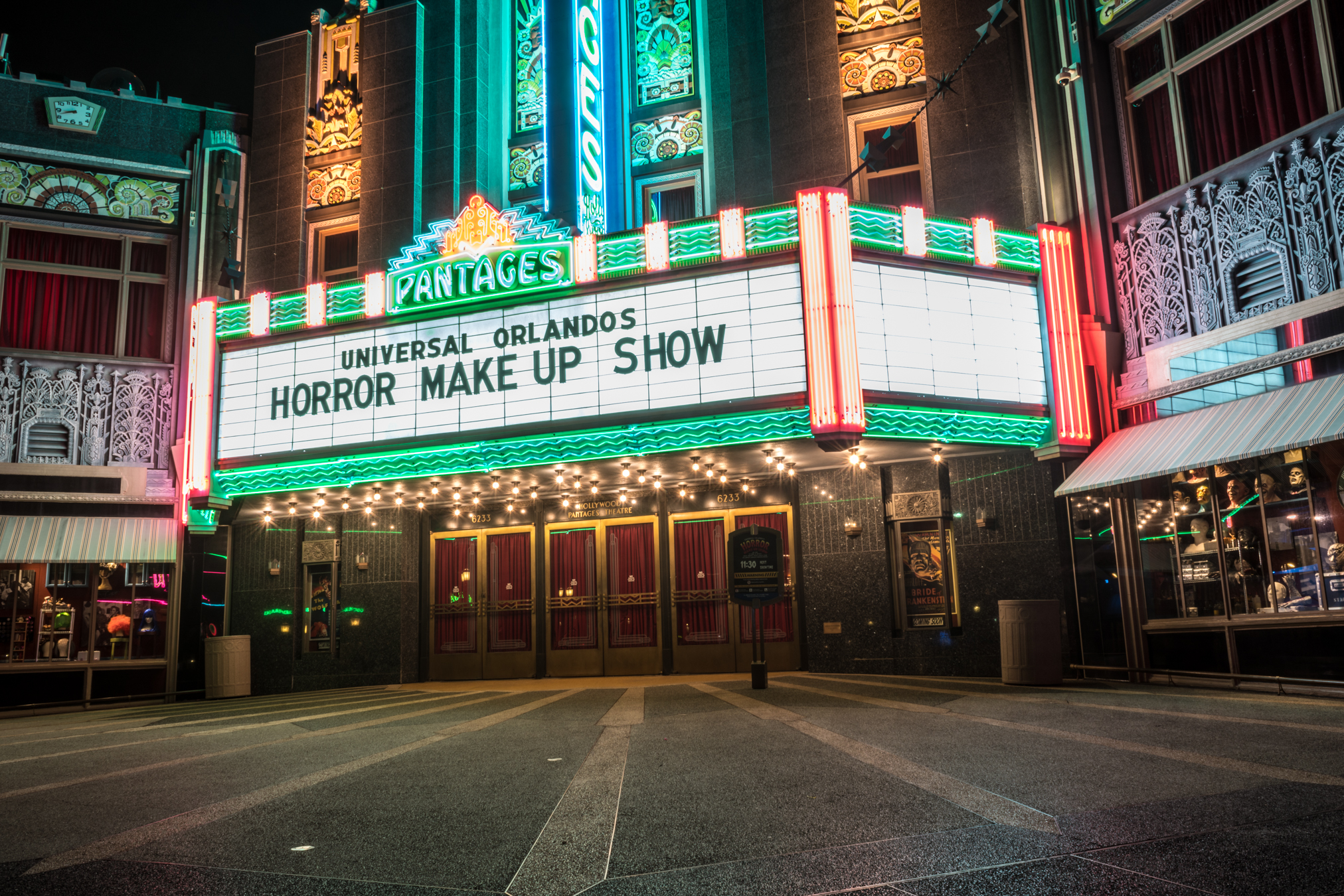 Like all live performances at Universal Orlando, the Horror Make-Up Show's scheduled times will vary, depending on the day and time of year. Showtimes typically start anywhere between 11:30 am and 12:45 pm, with the last presentation taking place from 5:15 to 8:30 pm. There are between eight and 12 exhibitions per day, with about 45 minutes between each one. An ASL-friendly production is available once daily, usually at the 3:00 or 3:15 pm showtimes.
Sample schedule
11:30 am, 12:15 pm, 1:00, 1:45, 3:00 (ASL), 3:45, 4:30, 5:15
Horror Make-Up Show – what you wish you knew before you experienced it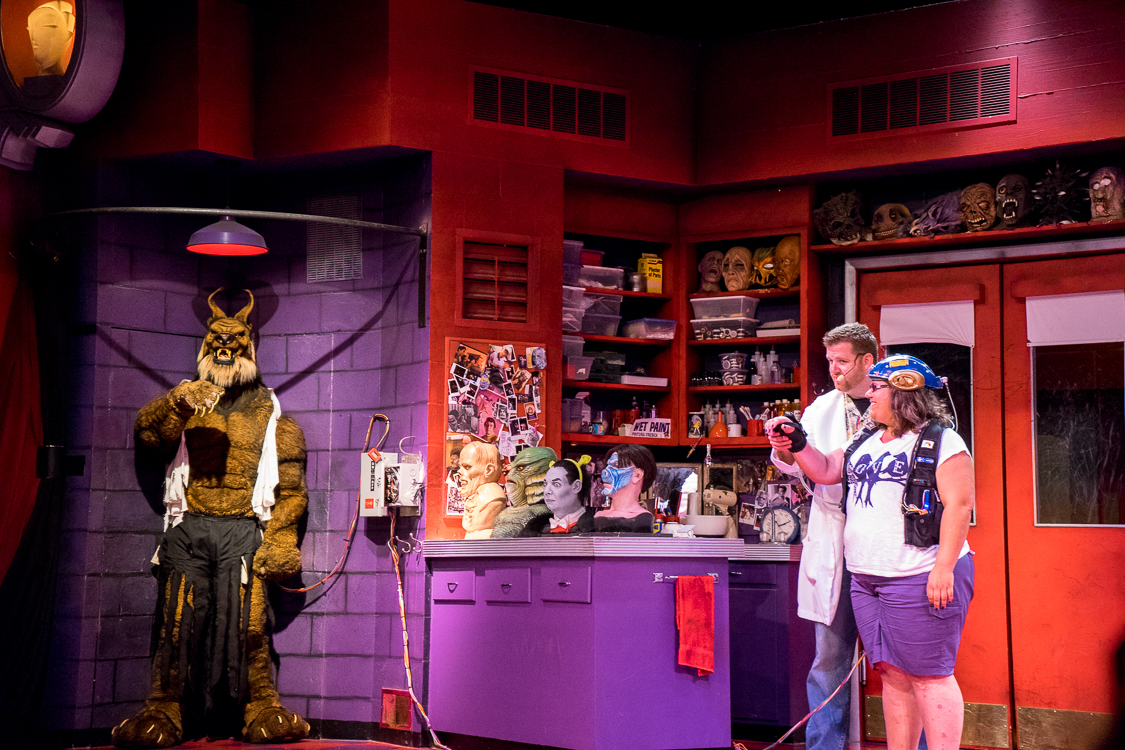 Choose your seat wisely! If you sit in the first few rows of the theater, you may be asked to participate in the performance, and (slight spoiler alert!) guests in the front seats may get wet.
While some real-life special-effects history is shared in a film clip of various productions from the Universal Monsters franchise, the live-actor demonstrations are more for fun and entertainment. In short, there's more laughing than learning to be had here.
What was Horror Make-Up Show's opening date?
June 7, 1990
Horror Make-Up Show – OI fun facts
Arrive at the theater a few minutes before the presentation starts to explore the horror exhibits located in the theater lobby. Here, you'll find props, costumes, and production photos from modern and classic horror films, as well as from Universal's own Halloween Horror Nights.
Horror Make-Up Show – photo gallery
Horror Make-Up Show – real guest reviews
Horror Make-Up Show
Average rating:
18 reviews
Jul 7, 2018
What's Not to Like?
Date Of Last Visit:
May 20th 2018
What's not to like? This show is great! Great actors and hilarious. I just wish it was longer. Beside's that, it's a definite must-see when visiting.
Jul 30, 2016
Not much demonstration
Date Of Last Visit:
July 2016
We expected to see examples of horror make up, how it was done, etc., etc. What we got were clips from movies, a demo on how fake knives work (not really "make up"), an old carnival bit about a "controlled" monster that turns out to be a human in a monster suit, no exhibits, but most of all it's an attempt at a comedy routine that falls flat and borrows from other routines. The good news is, you can sit down in the cool for awhile!
May 26, 2014
Not a scary show
Date Of Last Visit:
06/2010
horror-make-up-show: after my daughter was scared to death at terminator she was afraid of this show. We talked her onto it and by the end she was laughing her head off. There is a lot of good info on how the makeup and masks are made.
May 25, 2014
Fun, but needs more demonstrations
Date Of Last Visit:
June 2013
My girlfriend is a huge fan of hooror movies. Me, not so much. But I figured..what the heck! We can check out this makeup show and enjoy the air conditioning for a bit. I surprisingly really enjoyed it! The host was very personable, fun and funny. My one critique would be to say that the "demonstrations" were few and far between. It ended up, in my opinion, being more of a comedy show and less of an informative demonstration. As I recall, too many video clips of makeup artists at work. I'd have found it to be more interesting to actually see the host show us how things were done a bit more. The audience participation was fun and there was one surprise towards the end that made me jump out of my chair. An enjoyable experience, but less videos and more demos would enhance it for sure.
May 25, 2014
My family's favorite!
Date Of Last Visit:
Oct. 2010
In general, my family are not fans of theme park shows. The Horror Make-UP Show is the exception & was our absolute favorite part of the day we spent at Universal. Very funny & entertaining...it is easily overlooked, but make it a MUST SEE!!!!
Do you have a question about the information on this page or would you like to provide feedback? Please let us know by posting in our
Orlando Informer Community
on Facebook.