Skip to: Overview | Location | Restrictions | Queue | Ride experience | Fear factor | Fun fact | Guest reviews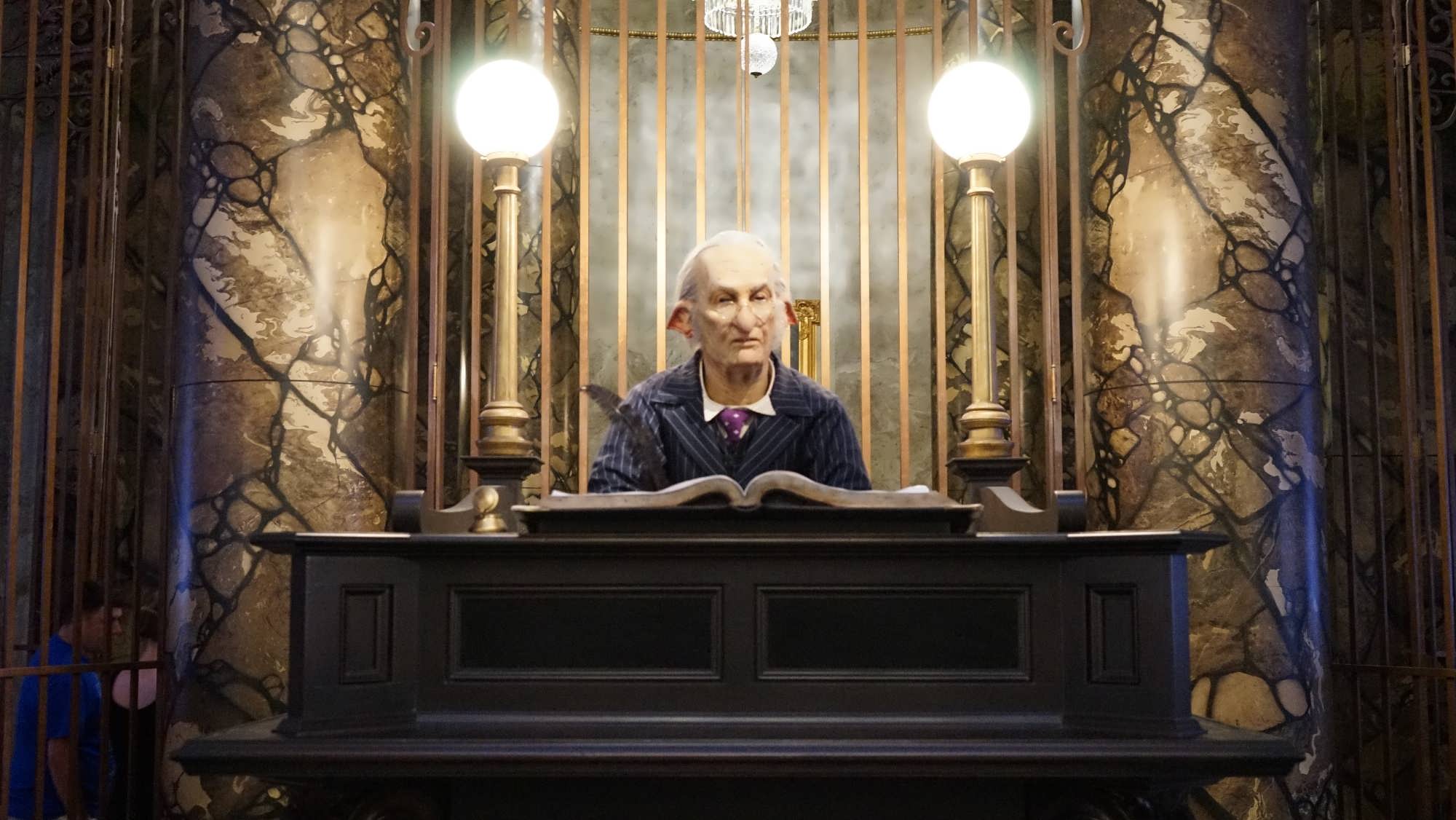 What is Harry Potter and the Escape from Gringotts?
Harry Potter and the Escape from Gringotts is a multi-dimensional, multi-sensory 3D track-based motion ride similar to The Amazing Adventures of Spider-Man or Transformers: The Ride – 3D. The attraction takes you through a key scene from Harry Potter and the Deathly Hallows, Part 2, but from an entirely new perspective and in an entirely new way.
Where is Escape from Gringotts located?
In The Wizarding World of Harry Potter – Diagon Alley, which is in Universal Studios Florida.
Escape from Gringotts – height restrictions and other factors
Height requirement is 42 inches; loose articles must be stowed in the lockers on the outside of Gringotts Wizarding Bank; Express Pass access; single-rider line may be available. Please note that strollers are not allowed inside Gringotts Bank, and there currently is no "tour only" line with quicker access through the queue.
What is the Escape from Gringotts queue like?
An experience in and of itself, the queue gives you access to tour Gringotts Wizarding Bank, complete with audio-animatronic goblins and enormous chandeliers (which feature a combined total of 62,000 crystals!). Towering marble pillars and goblin-equipped teller stations immerse you before taking the elevator to the depths of the Gringotts vaults. With details straight from the Harry Potter films, the line helps to set the stage before joining the wizarding gang for their escape.
What is the Escape from Gringotts ride experience like?
Harry Potter and the Escape from Gringotts puts you alongside Harry, Ron, and Hermione as they hunt for a horcrux and face off against Voldemort, Bellatrix, and a few other familiar faces from the Wizarding World. Once aboard the ride vehicle, security quickly catches wind of intruders at Gringotts, cuing your escape.
While Gringotts is technically a roller coaster, it may not be what you expect. With movement in conjunction with the storyline taking place around you, the ride vehicle transports you from scene to scene in a fun and (only slightly) intense way. You'll plummet downwards as a troll hammers away at your vault cart and jolt backwards when Nagini snaps in your direction. Keep an eye out for practical effects, such as feeling the heat of the dragon's flame or a spell-induced spritz of water.
How scary is Escape from Gringotts?
We would rank Escape from Gringotts three out of five Dementors in terms of scariness. Universal has tried hard to make this physically tame for the younger Potter fans but still thrilling in terms of the simulated effects. With armored trolls, fire-breathing dragons, and Lord Voldemort himself all zipping around you every which way, it's a bit on the over-stimulating side, especially for the little ones.
Please note that the tour through Gringotts Bank (aka the ride's queue) won't be scary at all. With child swap available, it's worth bringing little ones for the queue experience alone while the older members of your party enjoy the full ride.
What was Escape from Gringotts's opening date?
July 8, 2014
Escape from Gringotts – OI fun fact
Universal Creative and Warner Bros. were already planning out this ride before the first half of the Wizarding World, Hogsmeade, was even completed.
Harry Potter and the Escape from Gringotts – photo gallery
We now invite you to explore our massive photo gallery of Harry Potter and the Escape from Gringotts, including a full tour of the queue (both its outdoor and indoor areas).
Harry Potter and the Escape from Gringotts – real guest reviews
Harry Potter and the Escape from Gringotts
Average rating:
101 reviews
Jun 19, 2017
Date Of Last Visit:
November 18th
Very good ride BUT it could have been GREAT if there were more and longer stretches of the coaster aspect. Those moments are so exciting that it is a bit of a let down there aren't more of those moments..Other than that I really do enjoy this ride..
Aug 8, 2016
harry
Date Of Last Visit:
07-08-2016
Beautiful.
Apr 15, 2016
I think it's great, but I'm biased
Date Of Last Visit:
12/25/15
It's a fun ride, but it could have been much more exciting if you look at what the Gringotts carts do in the movie. Given that, the theming of it is amazing. The queue is fantastic. It's immersive and great for any Potter fan to check out. I think last we went, we rode it at least like 6 times over a 4 day trip.
Jan 22, 2015
Fun, but not the best
Date Of Last Visit:
10/5/14
For starters, I am a HUGE Harry Potter nerd! To me, the whole area of Diagon Alley was insane. I loved every single detail. However, the Gringotts ride was a bit of a let down. The queue area was beautiful. We had early admission, and had to wait in line for around twenty minutes. Not too bad all in all. However, the ride itself was just too short. There was too much pausing in front of screens, none of the "oohs and ahhs" that you get while riding Forbidden Journey. The only part that was "thrilling" was the brief drop that the cart encounters. Overall, I enjoyed the ride. My vacation would not have been complete without riding it. However, I would not wait more than 30-45 minutes to do it another time around.
Jan 5, 2015
Not worth the long line.
Date Of Last Visit:
1/3/15
Diagon Alley is amazing and worth a visit as is the ride on the Hogwarts express. However, the Escape from Gringots ride is not worth more than a 10 minute wait. Sadly, we wasted over an hour for a ride that was surprisingly short and anticlimactic.



The ride is described as a "high speed roller coaster" but it is nothing more than a Spider Man/transformers 3D, clone with the exception of one point where you do a rapid, albeit, short acceleration to about 25mph (sooooo "high speed").it's just another car on a track with 3D screen except it's really short and nothing interesting, scary, or fun happens. What's worse is, I'm a big fan of the Harry Potter books and films and was really looking forward to this ride. I was expecting a wild crazy mine cart ride as depicted in the books and final film. This ride was such a let down and I know I am not on my own. Upon boarding and disembarking of the ride, all the faces of those who were on seemed bored or unimpressed or both. A big let down. Again..not worth investing your time waiting in line unless it's less than a 10 minute wait.
Do you have a question about the information on this page, would like to provide feedback, or did you spot an inaccuracy? Join us in our
Orlando Informer Community
on Facebook, and let's talk about it!