Ready for 10 terrifying haunted houses, 5 sinister scare zones, and 2 outrageous live shows? Halloween Horror Nights 2022 will run on select nights from September 2 through October 31, 2022.
There is a single purpose to the Orlando Informer Halloween Horror Nights 2021 touring plan: to get you through the haunted houses – and, ideally, the scare zones and everything else – at Universal Orlando's most popular annual event with as little waiting as possible.
Does our plan really work? Why, yes, it does: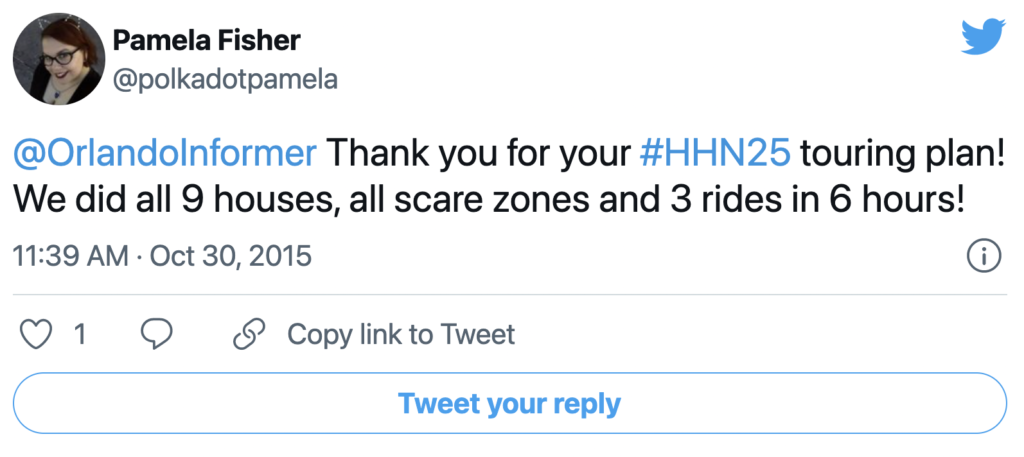 Skip to: First steps | Touring plan | FAQ
Halloween Horror Nights 2021 touring plan – first steps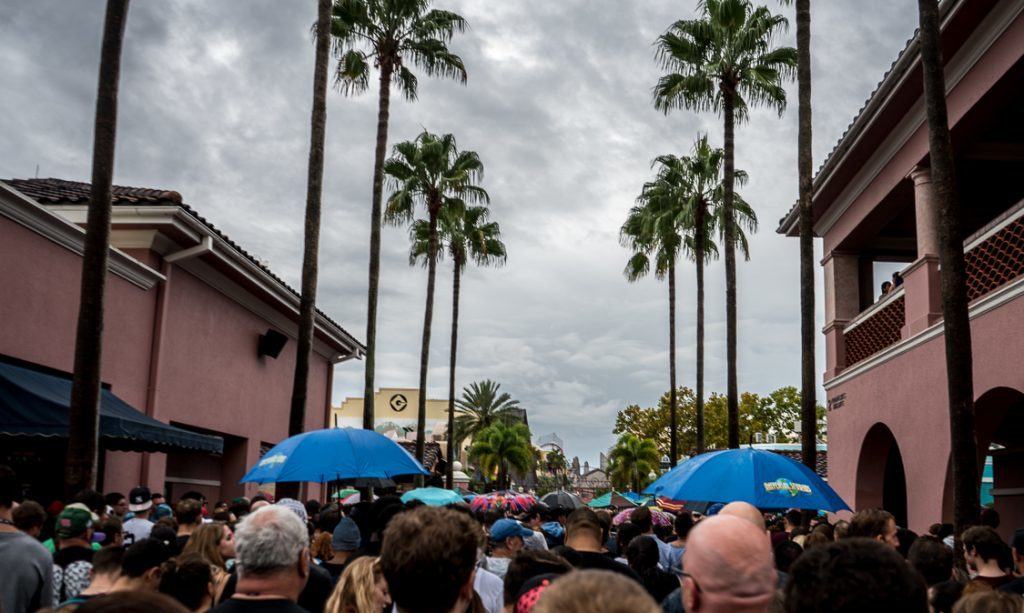 Before we can get to the touring plan proper, we need to lay the groundwork first. Don't worry, though – this'll just take a moment.
To minimize overall wait times, we strongly recommend that you take advantage of Halloween Horror Nights early admission (sometimes still referred to as Stay and Scream). If you do not have daytime access to Universal Studios Florida, then you must arrive at the park turnstiles by 4:45 pm. This is important because the crowd waiting to get into the theme park can be significant, and you really want to be at the front of that crowd. But don't worry about having to stand at the gates for an hour and a half – Universal starts letting guests in around 20 to 30 minutes before the official starting time of 6:30 pm.
(By the way, if you're a Universal Orlando hotel guest, you have a dedicated entrance to HHN – look to your left as you approach the front gates. Just be aware that this special entrance doesn't get you into the event as part of early admission, although it will still help you skip some of the crowds you see above.)
Once you're inside Universal Studios Florida, grab an event map and get ready to visit some haunted houses!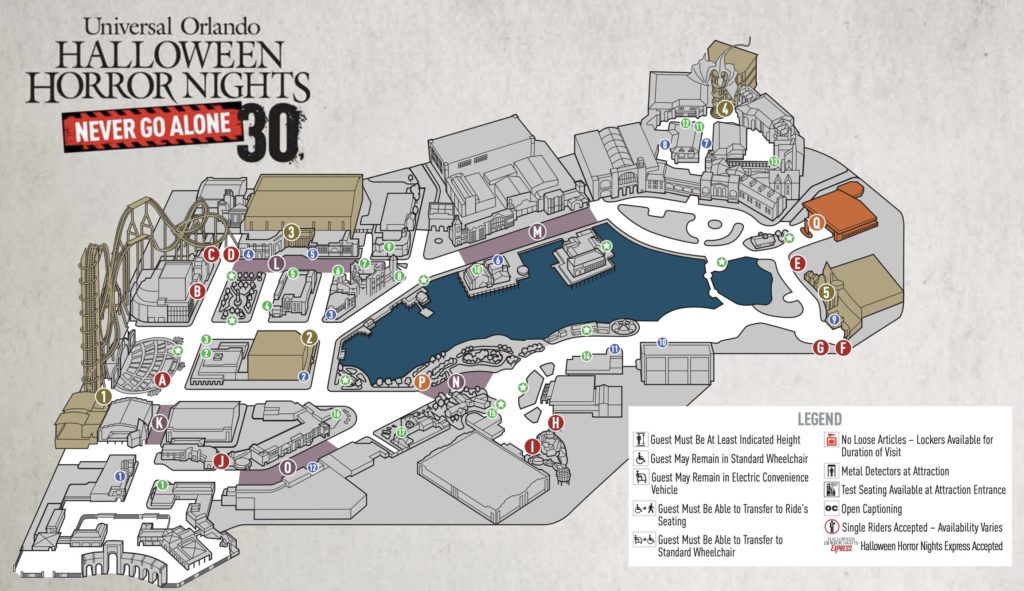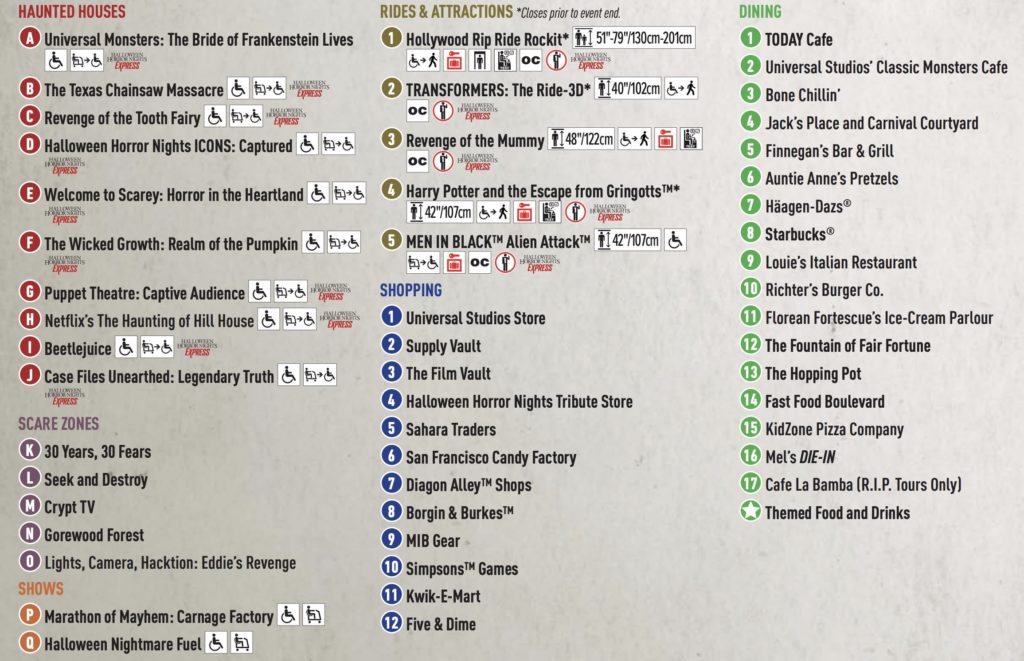 It's imperative, once again for the purposes of minimizing wait times, that you head directly for the houses and do them in order without stopping at the scare zones, other attractions, or live shows. We know – you'll really want to check out a zone after you exit the first haunt, but every extra minute you spend straying from the warpath will equal five to 10 minutes more of standing in line.
If you have questions about using this plan, be sure to read through the whole page and then see the FAQs at the bottom. If you want to learn more about each of the mazes, click any of the links provided to visit their individual announcements and our analysis of them.
Halloween Horror Nights 2021 touring plan – the touring plan itself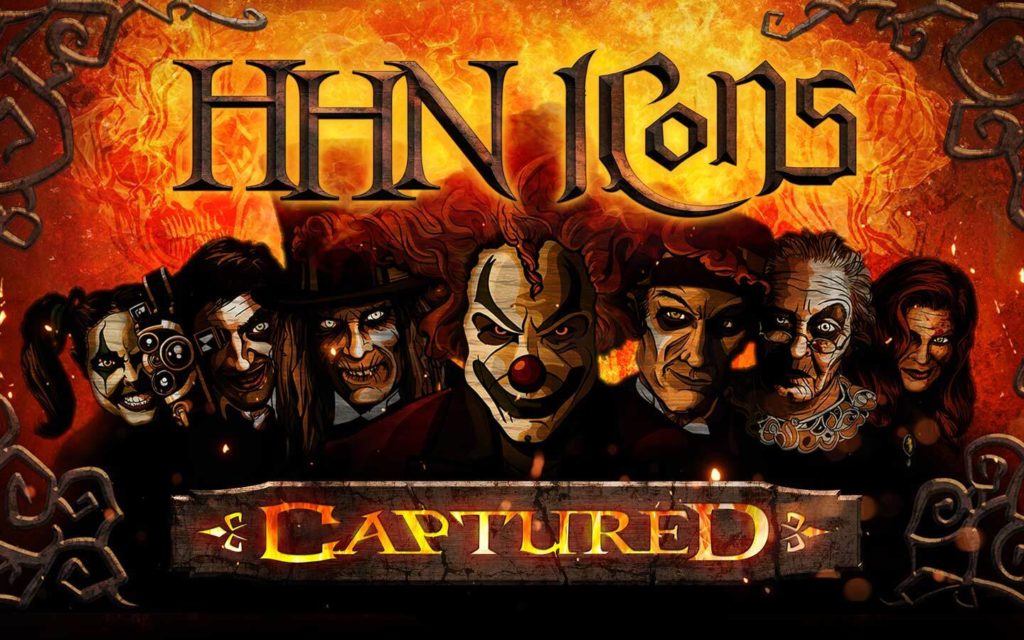 Please note that we'll be tweaking this touring plan as the event goes on to ensure it's as optimized as is (in)humanly possible. Keep checking back before your descent into Halloween Horror Nights's, well, horror!
1. Universal Monsters: The Bride of Frankenstein Lives (Production Central, in front of Hollywood Rip Ride Rockit)
(If you have daytime admission and are doing stay and scream)
There's nothing the Bride won't do to get her beloved back. Stay out of her way – IT'S ALIVE!
It's imperative that you are towards the front of the group that releases from Finnegan's Bar & Grill in order to experience this haunted house. (If you aren't doing Stay and Scream, start with Beetlejuice and circle back to Bride of Frankenstein at the end of the night.)
2. Beetlejuice (KidZone, near E.T. Adventure)
Seek the ghost with the most through the Lost Souls Room, the haunted graveyard, and Beetlejuice's wedding in this fun (but still very scary) maze.
3. Puppet Theatre: Captive Audience (World Expo, near Men in Black: Alien Attack! restroom entrance)
Stumble back in time to 1906 and try to escape the fate that awaits you. Puppeteers are after guests in the hopes to transform them into lifesize puppets themselves.
4. Welcome to Scarey: Horror in the Heartland (World Expo, between Fear Factor Live and Men in Black: Alien Attack!)
Go back to Horror Nights origin – Carey, Ohio. This maze celebrates all that this fictionalized version of a real-life location has done for Halloween Horror Nights and its development over the years.
5. The Wicked Growth: Realm of the Pumpkin (World Expo, near Men in Black: Alien Attack! restroom entrance)
Try to escape the Gourd Overlord. His plan is to turn the meaning of "harvest" on its head. While we are all out harvesting pumpkins, the pumpkins are trying to do the same to us.
6. Shows
Take a break between scares to see some fun but frightening shows. Here's the scoop on what's showing this year:
Halloween Nightmare Fuel – Situated in the Fear Factor Live stadium, this production has promised there will be "nocturnal creatures, aerialists of the night, and frightful fire performers" featuring rock, metal, and electronica music.
Show times: 8:00, 9:30, 11:00, 12:30
Marathon of Mayhem: Carnage Factory – Just as with the previous Halloween: Marathon of Mayhem, it's possible you'll see the intellectual properties that make up the new haunted-house roster be brought to life over the beautiful lagoon in the center of Universal Studios Florida. It looks to be yet another "larger-than-life mixtape" that will make it to the top of guests' Horror Nights lists.
Show times: 9:00, 10:00, 11:00, 12:00
7. Zones
There are five scare zones this year at Horror Nights, with three of them being intellectual properties and two being original. We suggest strolling through all of them after the sun goes down.
30 Years 30 Fears (Avenue of the Stars, Production Central) – Celebrating the big anniversary, this zone will have lots of candles and a big neon Halloween Horror Nights sign to mark the occasion.
Gorewood Forest (Central Park) – The land of Terra Cruentus is returning, as is the continuous Rituale de Blud, which the queen presides over in order to keep up the harvest of the sweet blood berries.
Crypt TV (San Francisco) – Eli Roth's short horror videos will make their way to the streets of the San Francisco backlot.
Seek and Destroy (New York) – The Controller (an alien overlord) is in search of a fuel source – conveniently, he can make fuel from humans.
Lights, Camera, Hacktion: Eddie's Revenge (Hollywood) – A studio is in the process of filming a movie about Halloween Horror Nights. Predictably, things go awry.
8. Case Files Unearthed: Legendary Truth (Hollywood, near Hello Kitty store)
Universal describes the maze as this: follow the trail of a private eye as an investigation into the supernatural leads you into a dark world of ghouls and terrifying creatures.
9. Halloween Horror Nights ICONS: Captured (New York, to the left of Revenge of the Mummy)
The Caretaker, The Director, The Usher, The Storyteller, Jack the Clown, and Chance are all together in this all-new, original house.
10. Revenge of the Tooth Fairy (New York, to the left of Revenge of the Mummy)
An old manor has been overtaken by "yellow-clawed fiends" – better known as Tooth Fairies – who extract teeth by force from those who inexplicably aren't willing to hand them over to the creatures.
11. The Texas Chainsaw Massacre (New York, near Race Through New York Starring Jimmy Fallon)
Drop into one of the most influential films in cinematic horror history.
12. The Haunting of Hill House (KidZone, near DreamWorks Destination)
Go through Hill House – come face to face with the Bent-Neck Lady, run from the Tall Man, and whatever you do, don't go in the Red Room.
13a. Universal Monsters: The Bride of Frankenstein Lives (Production Central)
(This is the part of the night you would do this maze if you did not do Stay & Scream)
13b. Rides and repeating houses
If you've managed to complete all the above and still have time to spare, consider lining up to experience your favorite houses again. You could also hit up one of the rides open during HHN:
We want to hear how your night went!
Our community of Horror Nights and Universal fanatics wants to know about your experience at Halloween Horror Nights 2021. Be sure to join our Orlando Informer Community on Facebook!
Halloween Horror Nights 2021 touring plan – FAQ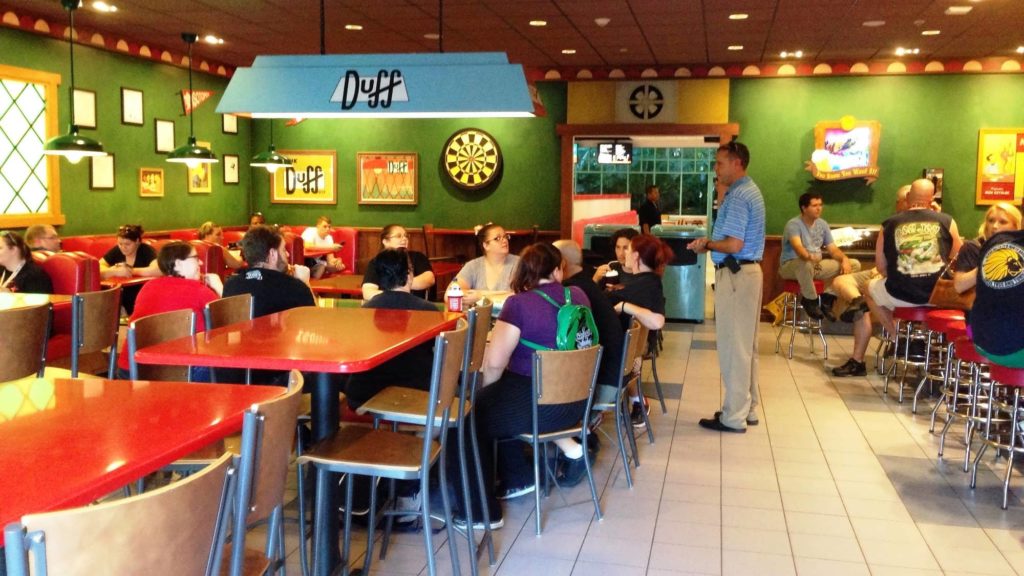 Now that you know your first steps and have looked over your battle plan, it's time to dive a little more deeply into a few choice aspects of our 2021 touring plan.
What do I need to be aware of if I use HHN early admission?
When using Halloween Horror Nights early admission (Stay & Scream) – which we really can't recommend enough – you will wait inside Universal Studios Florida as Universal transforms the park from daytime operations to the nighttime event. You will still want to follow our touring plan with one extra instruction: since you will get early access to one or two haunted houses (the specific houses may change from night to night), you will, of course, want to visit these first. When early admission is over and everything opens (between 6:15 and 6:30 pm), simply scratch the haunts you've already seen from the list above, then work the list from top to bottom as usual.
Please, please see our HHN early admission page and take advantage of it if you can!
What if I can't get to the event early, like you advise?
If you can't take advantage of early admission, buy a Halloween Horror Nights Express Pass. If you can't do that, be at the park turnstiles by 5:00 pm. If you can't do that, either, then please go to Horror Nights on a Thursday or a Sunday during the first three weeks, or on a Wednesday during the second half of the season – but, even so, still be prepared to do a lot of standing around.
We have so much more planning advice on our HHN tips and tricks page.
What if I have an HHN Express Pass?
If you have Express – which can only be used once per haunted house, we should make clear – you absolutely still want to follow the list above in order. Remember that Express Passes can sometimes only be expected to cut down the standby wait time in half – so if The Haunting of Hill House maze is at two hours, the Express line may be up to a one-hour wait. That's why, even if you have Express access, we still want you to follow our touring plan and minimize overall wait times.
Also, the general wisdom is not to use your Express Pass if the haunt has a lower wait time since, later, you can visit it again – when it has a longer line – and then use your Express. This is definitely a smart move, but only do it if you are certain you will want to visit the maze again; the posted wait times at Horror Nights houses tend to be a little optimistic, so a posted time of 25 minutes may easily turn out to be 30 or 35 minutes.
---
That's all we got for our Halloween Horror Nights 2021 touring plan. Please keep in mind this is only one page in our HHN insider's guide. For the most effective planning, please be sure to read through all of our pages, which you can access at any time using the navigation links at the top and bottom.
Did you know that this isn't our only touring plan? You can view all of our exclusive Universal Orlando touring plans, including our ultimate one-day Wizarding World of Harry Potter plan, by clicking here.
Do you have a question about the information on this page, would like to provide feedback, or did you spot an inaccuracy? Please let us know by posting in our
Orlando Informer Community
on Facebook.