The details for 2023's Halloween Horror Nights have yet to be revealed. In the meantime, please enjoy 2022's information!
There is a single purpose to the Orlando Informer Halloween Horror Nights 2022 touring plan: to get you through the haunted houses – and, ideally, the scare zones and everything else – at Universal Orlando's most popular annual event with as little waiting as possible.
Does our plan really work? Why, yes, it does: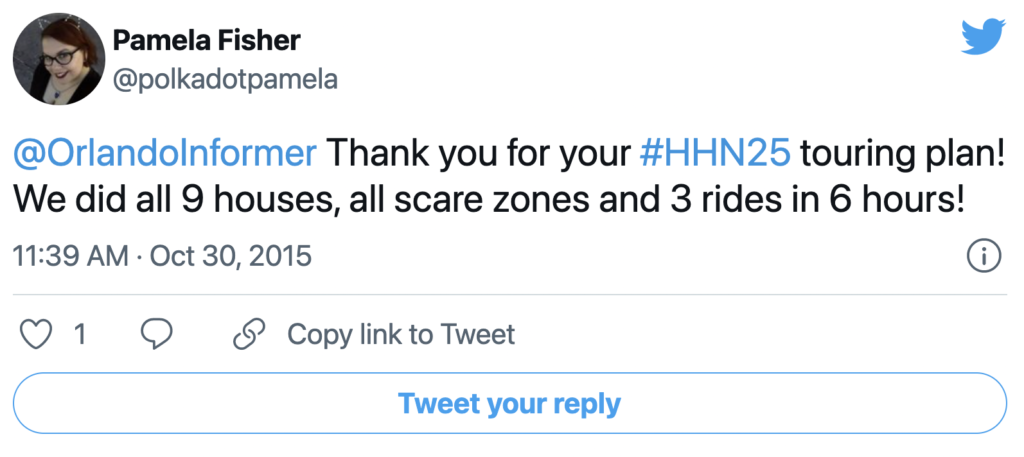 Skip to: First steps | Touring plan | FAQ
Halloween Horror Nights 2022 touring plan – first steps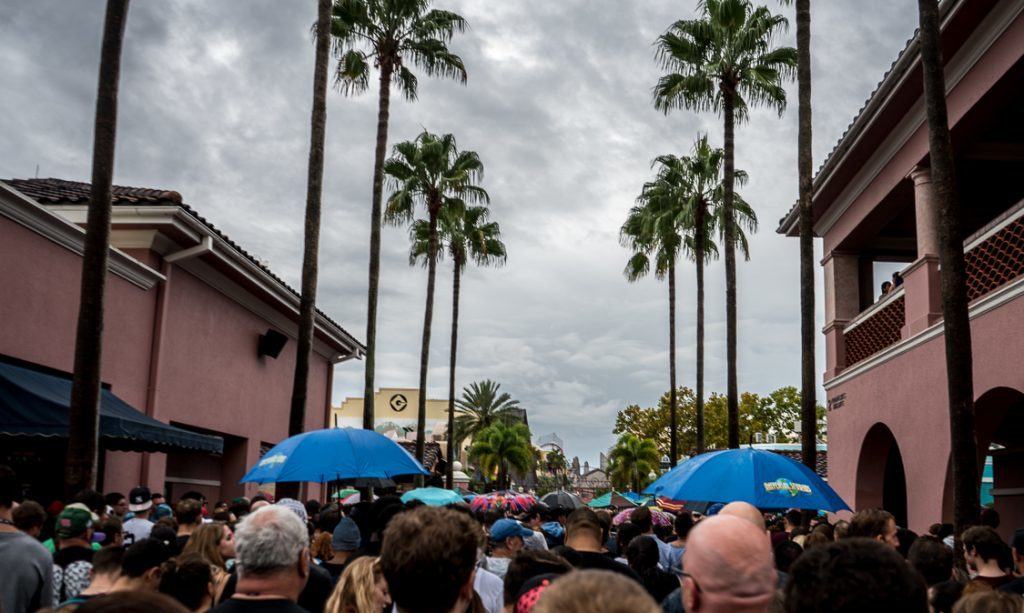 Before we can get to the touring plan properly, we need to lay the groundwork first. Don't worry, though – this'll just take a moment.
To minimize overall wait times, we strongly recommend that you take advantage of Halloween Horror Nights early admission (sometimes referred to as Stay and Scream). If you do not have daytime access to Universal Studios Florida, then you must arrive at the park turnstiles by 4:45 pm. This is important because the crowd waiting to get into the theme park can be significant, and you really want to be at the front of that crowd. But don't worry about having to stand at the gates for an hour and a half – Universal starts letting guests in around 20 to 30 minutes before the official starting time of 6:30 pm.
(By the way, if you're a Universal Orlando hotel guest, you have a dedicated entrance to HHN – look to your left as you approach the front gates. Just be aware that this special entrance doesn't get you into the event as part of early admission, although it will still help you skip some of the crowds you see above.)
Once you're inside Universal Studios Florida, grab an event map and get ready to visit some haunted houses!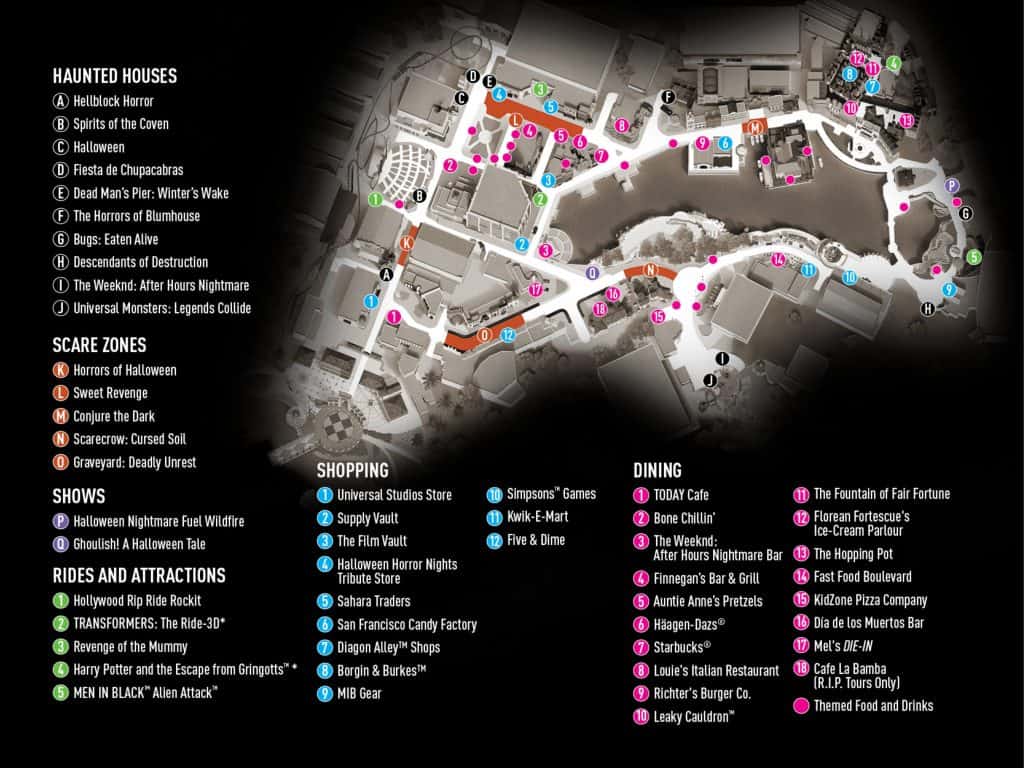 It's imperative, for the purposes of minimizing wait times, that you head directly for the houses and do them in order without stopping at the scare zones, other attractions, or live shows. We know – you'll really want to check out a zone after you exit the first haunt, but every extra minute you spend straying from the warpath will equal five to 10 minutes more of standing in line.
If you have questions about using this plan, be sure to read through the whole page and then see the FAQs at the bottom. If you want to learn more about each of the mazes, click any of the links provided to visit their individual announcements and our analysis of them.
Halloween Horror Nights 2022 touring plan – the touring plan itself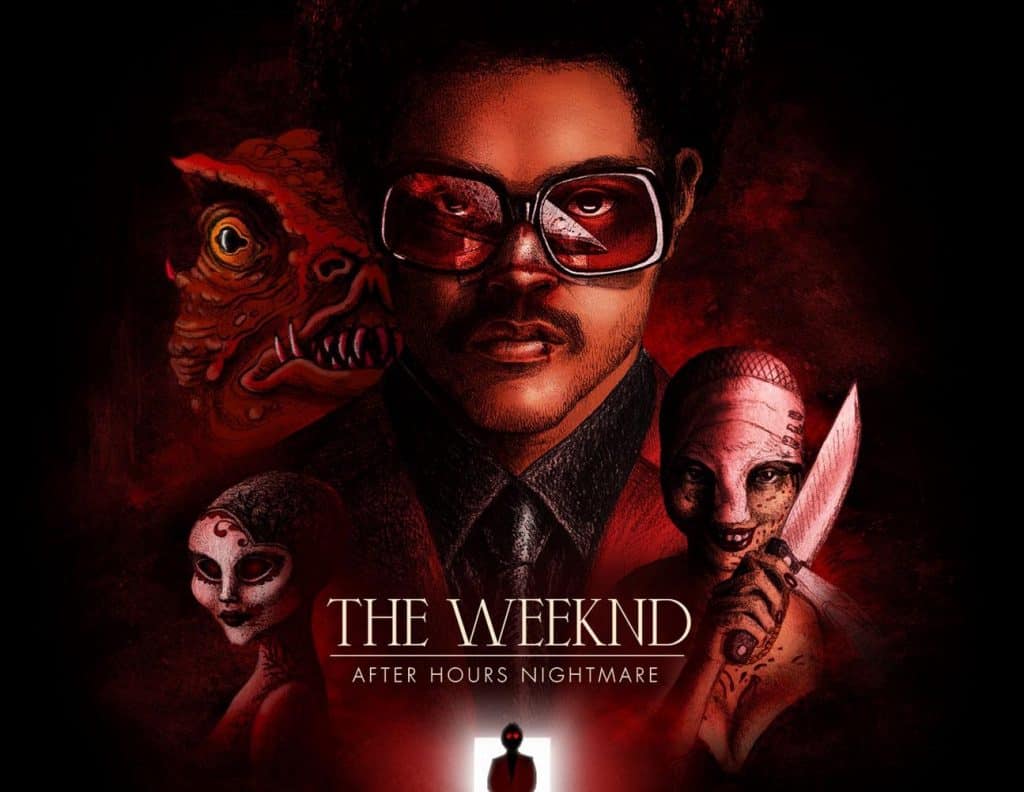 Please note that we'll be tweaking this touring plan as the event goes on to ensure it's as optimized as is (in)humanly possible. Keep checking back before your descent into Halloween Horror Nights' horror!
1. Halloween (New York, near Race Through New York Starring Jimmy Fallon)
(If you have daytime admission and are doing stay and scream)
Turn back in time to 1978 when Michael Myers began his reign of terror. Do you have what it takes to escape the silent stare of this legendary killer?
It's imperative that you are towards the front of the group that releases from Finnegan's Bar & Grill in order to experience this haunted house. (If you aren't doing Stay and Scream, start with Universal Monsters: Legends Collide and circle back to Halloween at the end of the night.)
2. Universal Monsters: Legends Collide (KidZone, near E.T. Adventure)
Get caught in a battle of three infamous monsters as they fight to capture the amulet that will break their eternal curse.
3. Descendants of Destruction (World Expo, near Men in Black: Alien Attack! restroom entrance)
Roam through the abandoned subway tunnels of New York and avoid the hungry mutants' capture who happen to be looking for their next meal.
4. Bugs: Eaten Alive (World Expo, between Halloween Nightmare Fuel Wildfire and Men in Black: Alien Attack!)
Enter this 1950s futuristic home and see that a number of things have gone terribly, terribly wrong for this family. Once you cross the welcome mat, the infestation grows increasingly worse and becomes a nightmare to exterminators and bug-fearers everywhere.
5. The Horrors of Blumhouse (San Francisco, near Fast And Furious – Supercharged)
The Horrors of Blumhouse takes inspiration from the classic Blumhouse productions slasher films – The Black Phone and Freaky. Your heart will be racing as you run from the Blissfield Butcher and attempt your escape from The Grabber.
6. Dead Man's Pier: Winter's Wake (New York, to the left of Revenge of the Mummy)
Transport to a New England fishing village where undead fishermen have returned from Davy Jones's locker. They are looking for another member to join their crew – will it be you?
7. Shows
Take a break between scares to see some fun but frightening shows. Here's the scoop on what's showing this year:
Halloween Nightmare Fuel Wildfire – Situated in the former Fear Factor Live stadium, this production seems to be reimagined from last year's Halloween Nightmare Fuel and promised that "the pyro and aerial performers are back to reignite your fears."
Show times: 8:00PM, 9:30PM, 11:00PM, 12:30AM
Ghoulish! A Halloween Tale – Inspired by a ghost story that has come to life, the Grim Reaper takes you on a journey to find what lies in the great beyond with the soundtrack of familiar, remixed music from today.
Show times: 9:00PM, 10:00PM, 11:00PM, 12:00AM
Due to Hurricane Ian, Ghoulish! A Halloween Tale is not currently performing. A return date has not been announced at this time.
8. Zones
There are five original scare zones this year at Horror Nights. We suggest strolling through all of them after the sun goes down.
Horrors of Halloween (Avenue of the Stars, Production Central) – The Pumpkin Lord is back and more frightening than ever. His summoned ghosts, demons, witches, and more beckon guests to go against their better judgment and enter Halloween Horror Nights.
Scarecrow: Cursed Soil (Central Park) – Simple midwestern horror comes alive in Central Park. Flickering lanterns warn you to stay away from the suspicious scarecrows, but you're lured in despite your instincts.
Conjure the Dark (San Francisco) – What would Halloween Horror Nights be without witches? A stage, likely set up for sacrifices, serves as the focus of the scare zone. Runes, enchantments, and rockwork make up the dark aura in the scare zone.
Sweet Revenge (New York) – The elements that make up a happy Halloween festival — candy, parades, and music — are all turned on their head to be made rotten and evil. Major Sweets Candy Co. is at the root of this dark turn of events, supplying the local children with candy that has sparked a transformation into cold-blooded killers.

Graveyard: Deadly Unrest (Hollywood) – Creep quietly — don't disturb the dead. See the darker side of Tinseltown through this beautiful, gothic-styled cemetery.
9. Fiesta de Chupacabras (New York, to the left of Revenge of the Mummy)
Join the celebration of the Chupacabra! The high concentration of these sightings of this blood-hungry creature in Latin America has turned the chupacabra into a sort of icon and a celebration for this blood-hungry creature that has arrived at Halloween Horror Nights.
10. Hellblock Horror (Production Central, in front of Hollywood Rip Ride Rockit)
Enter a prison full of monsters awaiting freedom from their cells. Once they make their escape, you better make yours.
11. Spirits of the Coven (Hollywood, near Hello Kitty store)
Step into the 1920s where Prohibition is in full swing. You have been enticed to enter a speakeasy surrounded by beautiful flapper witches. Suddenly, their true form is revealed and you have become their prey.
12. Halloween (New York, near Race Through New York Starring Jimmy Fallon)
(This is the part of the night you would do this maze if you did not do Stay & Scream)
Turn back in time to 1978 when Michael Myers began his reign of terror. Do you have what it takes to escape the silent stare of this legendary killer?
13. The Weeknd: After Hours Nightmare (KidZone, near DreamWorks Destination)
Journey into the mind of The Weeknd and immerse yourself into the creative inspiration for his first album, After Hours. You'll be surrounded by familiar scenes from previous music videos while a soundtrack of six The Weeknd songs is the set to your adventure.
14. Rides and repeating houses
If you've managed to complete all the above and still have time to spare, consider lining up to experience your favorite houses again. You could also hit up one of the rides open during HHN:
We want to hear how your night went!
Our community of Horror Nights and Universal fanatics wants to know about your experience at Halloween Horror Nights 2022. Be sure to join our Orlando Informer Community on Facebook!
Halloween Horror Nights 2022 touring plan – FAQ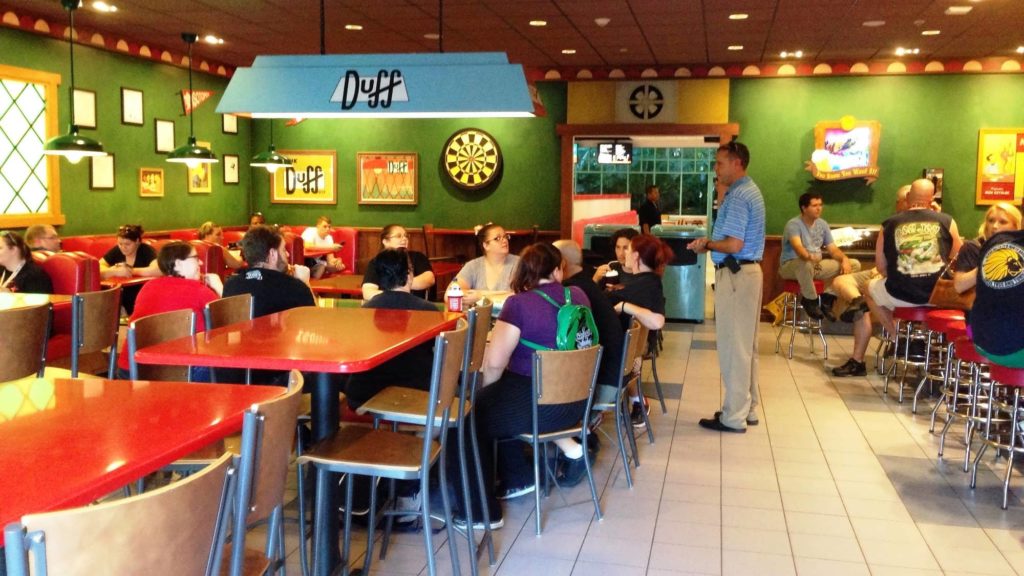 Now that you know your first steps and have looked over your battle plan, it's time to dive a little more deeply into a few choice aspects of our 2022 touring plan.
What do I need to be aware of if I use HHN early admission?
When using Halloween Horror Nights early admission (Stay & Scream) – which we really can't recommend enough – you will wait inside Universal Studios Florida as Universal transforms the park from daytime operations to the nighttime event. You will still want to follow our touring plan with one extra instruction: since you will get early access to one or two haunted houses (the specific houses may change from night to night), you will, of course, want to visit these first. When early admission is over and everything opens (between 6:15 and 6:30 pm), simply scratch the haunts you've already seen from the list above, then work the list from top to bottom as usual.
Please, please see our HHN early admission page and take advantage of it if you can!
What if I can't get to Halloween Horror Nights early, like you advise?
If you can't take advantage of early admission, buy a Halloween Horror Nights Express Pass. If this is also not an option, be at the park turnstiles by 5:00 pm. If you can't do that, either, then please go to Horror Nights on a Thursday or a Sunday during the first three weeks, or on a Wednesday during the second half of the season – even so, still be prepared to do a lot of standing around.
What if I have an HHN Express Pass?
If you have Express – which can only be used once per haunted house, we should make clear that you absolutely still want to follow the list above in order. Remember that Express Passes can sometimes only be expected to cut down the standby wait time in half – so if The Weeknd: After Hours Nightmare maze is at two hours, the Express line may be up to a one-hour wait. That's why, even if you have Express access, we still want you to follow our touring plan and minimize overall wait times.
Also, the general wisdom is not to use your Express Pass if the haunt has a lower wait time since, later, you can visit it again – when it has a longer line – and then use your Express. This is definitely a smart move, but only do it if you are certain you will want to visit the maze again; the posted wait times at Horror Nights houses tend to be a little optimistic, so a posted time of 25 minutes may easily turn out to be 30 or 35 minutes.
---
That's all we got for our Halloween Horror Nights 2022 touring plan. Please keep in mind this is only one page in our HHN insider's guide. For the most effective planning, please be sure to read through all of our pages, which you can access at any time using the navigation links at the top and bottom.
Did you know that this isn't our only touring plan? You can view all of our exclusive Universal Orlando touring plans, including our ultimate one-day Wizarding World of Harry Potter plan, by clicking here.
Do you have a question about the information on this page or would like to provide feedback? Please let us know by posting in our
Orlando Informer Community
on Facebook.