There is a single purpose to our plan: get you through the haunted houses at Universal Orlando's Halloween Horror Nights 2018 with as little waiting as possible.
But since we have yet to hear of any of the event's lineup, we present to you last year's coverage to help you bone up for the mayhem and carnage that are soon to come.
To minimize overall wait times, we strongly recommend that you take advantage of HHN early admission. If you do not have daytime admission, then you must arrive at the Universal Studios Florida turnstiles by 4:45 pm. This is important because the crowd waiting to get into the park can be very large, and you really want to be at the front of that crowd. But don't worry that you'll have to stand at the gates for an hour and a half – Universal starts letting guests in around 20 to 30 minutes before the official starting time of 6:30 pm.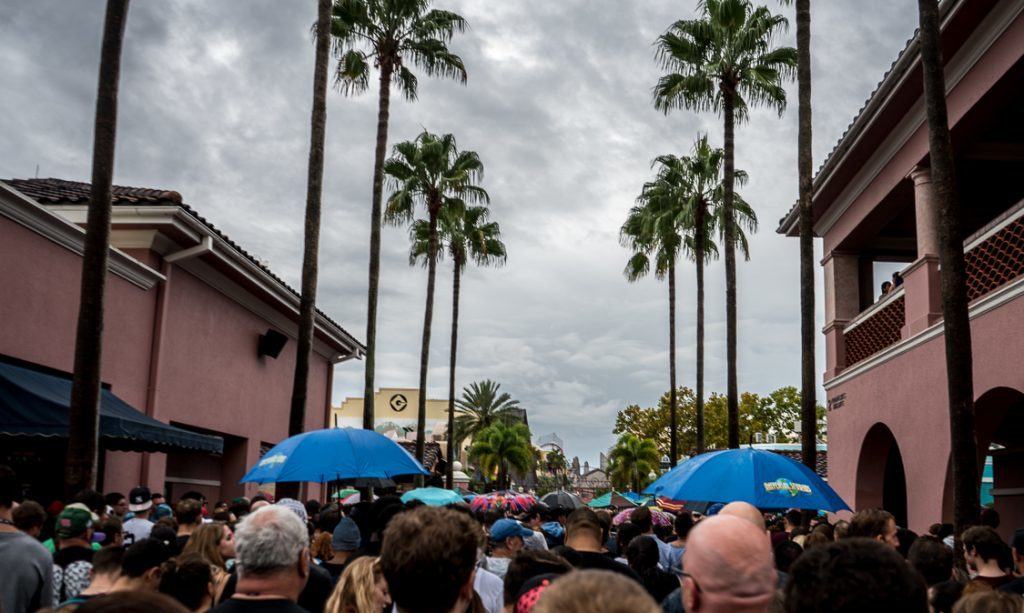 By the way, if you're an on-site hotel guest, you have a dedicated entrance to HHN – look to your right as you approach the park gates. Just be aware that the dedicated entrance doesn't get you into HHN as part of early admission, but it will help you skip some of the crowds you see above.
Does the Orlando Informer Halloween Horror Nights touring plan really work?
Yes, it does:
@OrlandoInformer we did your #HHN27 touring plan last night! All 9 houses by 11

— Stacey O (@bucknut_oliger) September 16, 2017
@OrlandoInformer Thank you for your #HHN25 touring plan! We did all 9 houses, all scare zones and 3 rides in 6 hours!

— Pamela Fisher (@polkadotpamela) October 30, 2015
@OrlandoInformer at #HHN24 using your guide, early admission. we hit 7 houses, and bill and ted before 10pm! Without express passes! Ty!

— Bob (@MrSweat123) October 18, 2014
Your night at Halloween Horror Nights 2017 begins
Okay, now that you're inside the park, grab an event map and get ready to visit some haunted houses!
It's imperative, for the purposes of minimizing wait times, that you head directly for the houses and do them in order without stopping at the scare zones, other attractions, or live shows. We know – you'll really want to check out a zone after you exit the first house, but every extra minute you spend straying from the warpath will equal five to 10 minutes more of standing in line.
If you have questions about using this plan, be sure to read through the whole page and then see the FAQs at the bottom. If you want to learn more about each of the houses, click any of the links provided to visit the announcement. Finally, to assist you in studying this plan ahead of time, view the map of this year's event by clicking here.
Halloween Horror Nights 2017 touring plan
Please note that we'll be tweaking this touring plan as the event goes on to ensure it's as optimized as is humanly possible. Keep checking back before your journey to the Festival of the Deadliest!
Relive scene after scene of sinister threats from "Asylum," "Coven," and "Roanoke" in this extensive, terrifying house.

It's imperative that you either are one of the first ones through the gates at opening or are towards the front of the group that releases from the Finnegan's  early entry area in order to experience this house.
The entrance to this house is next to Despicable Me: Minion Mayhem. You will exit near Race through New York Starring Jimmy Fallon.
One more note: for this year, if American Horror Story isn't the first house you get into during early admission, try your best to get over to it by 6:10 pm to kick off our plan.
2. Dead Waters
Come explore the hellish realm of the Voodoo Queen, including a half-sunken riverboat and her bayou village, where the skeletal remains of her victims close in.
The entrance to this house is near Revenge of the Mummy. The exit is at the same location.
Deadites and chainsaw-wielding-felt-puppets are on the loose, and it's your job to hunt 'em down.

The entrance to this house is near E.T. Adventure, in the back of the park. You will exit near where you entered.
Scarecrow guardians have risen from the blood-soaked soil to seek revenge. The harvest that will be reaped this season is you.
The entrance to this house is located near the Men in Black: Alien Attack gift shop. You will exit in the same location.
5. Hive
A hive of nasty, animalistic, and vicious vampires awaits you in the '80s.
The entrance to this house is located near the Men in Black gift shop. You will exit in the same location.
Journey through three of Blumhouse Productions's most horrifying franchises – Insidious, Sinister, and The Purge – and see if you can survive.
The entrance to this house is located in between Fear Factor Live (Bill & Ted during HHN) and Men in Black. You will exit in the same location.
Do you want to play a game? How about one based on all eight films, including this year's Jigsaw?
The entrance to this house is located at the beginning of Hollywood, next to the hat shop. You will exit on the other side, near the Shrek 4D gift shop.
8. Live shows

The show we recommend the most, and what you should work the rest of your time around, is Academy of Villains: Afterlife. You'll want to check your park map and arrive 10 minutes prior to the next show time.
This group of powerhouse artists will make you bear witness to what happens after we leave this life. They're going to give you one mind-blowing and shocking dance performance that will escort you from this world to the great beyond.
The other show at HHN 2017 is Bill & Ted's Excellent Halloween Adventure, which is making its final appearance after a 26-year run. Returning fans of the show may love it, but guests not familiar with it tend to give it mixed reviews. Check your park map and arrive about 30 minutes prior to the next show time.
Party on as those two most excellent dudes return to skewer the biggest names in politics, show business, and pop culture – and say goodbye.

9. Scare zones
Halloween Horror Nights 2017 boasts five uniquely-themed environments, along with an unlisted horde.
The Purge (New York backlot) – the Purge plays out on the streets of Universal Studios Florida once again, this time with a few new surprises, including a wood-chipper-fueled clean-up process after the carnage has ended.

Trick 'r Treat (Central Park) – the characters, creatures, and murders of the 2007 anthology film are brought to life in a trick-or-treating-filled street. Just don't break the rules of Halloween…
Invasion! (San Francisco backlot) – an UFO has crash-landed in the San Fran wharves, and now its alien occupants are everywhere, learning everything they can about humans – including by dissecting them.
The Festival of the Deadliest (Hollywood backlot) – this gathering of the most unearthly, hellish terrors has reawakened in order to make your fears become real.

Altars of Horror (Production Central) – the denizens of each of this year's intellectual-property-based haunted houses will come out to play in this first-of-its-kind scare zone.

Roaming hordes (Springfield, USA) – unhappy with how popular culture has made clowns scary, this grotesque gang of gigglers has risen from the grave, determined to show the world that if you want scary clowns, they're going to make sure you get your worst nightmare.

10. The Fallen

In the ancient battle between good and evil, the Fallen are flying, jumping, and crawling up from the kingdom of darkness and laying waste to all who cross their path of destruction.
The entrance to this house is near Race through New York Starring Jimmy Fallon, in front of Hollywood Rip Ride Rockit's loop. The exit is near Revenge of the Mummy.
11. The Shining
The horrors of the Overlook Hotel envelope you, including the Grady twins, a blood-disgorging elevator, and a certain snowy hedge maze…
The entrance to this house is across from Monsters Cafe. The exit is near Jimmy Fallon.
12. Rides and repeating houses
If you've managed to complete all the above and still have time to spare, consider lining up to experience your favorite houses again. You could also queue up for one of the rides open during HHN:
We want to hear how your night went!
Our community wants to know about your experience at Halloween Horror Nights 27. Be sure to join our Universal Community on Facebook!
Halloween Horror Nights 2017 touring plan FAQ
What do I need to be aware of if I use HHN early admission?
When using Halloween Horror Nights early admission – which we strongly recommend – you will wait inside Universal Studios Florida as Universal transforms the park from daytime operations to Halloween Horror Nights. You will still want to follow our HHN touring plan with one extra instruction: since you will get early access to one or two houses (the specific houses may change from night to night), you will, of course, want to visit these first. When early admission is over and everything opens (between 6:15 and 6:30 pm), simply scratch the houses you've already seen during early admission from the list above, then work the list from top to bottom as usual.
Please, please see our HHN early admission page and take advantage of it if you can!
What if I can't get to the event early like you advise?
If you can't use HHN early admission, be to the USF turnstiles by 5:00 pm. If you can't do that, either, then please go to HHN on a Thursday or a Sunday during the first three weeks, or on a Wednesday during the second half of the season. Still, be prepared to do a lot of standing around. We have so much more planning advice on our HHN tips and tricks page.
What if I have an HHN Express Pass?
If you have an HHN Express Pass, you absolutely still want to follow the list above in order. Remember that Express Passes can only be expected to cut down the standby wait time in half – so if the Shining house has a standby wait time of two hours, HHN Express may be up to an one-hour wait. That's why, even if you have Express access, we still want you to follow our touring plan and minimize overall wait times.
Also, the general wisdom is not to use your Express Pass if the house has a lower wait time since, later, you can visit the house again – when it has a higher wait time – and then use your Express Pass. This is definitely smart, but only use it if you are certain you will want to visit the house again. The posted wait times at HHN houses tend to be a little optimistic, so a posted time of 25 minutes may easily turn out to be 30 or 35 minutes.
That's all we got for our Halloween Horror Nights 2017 touring plan. Please keep in mind this is only one page in our HHN 2017 insider's guide. For the most effective planning, please be sure to read through all of our pages, which you can access at anytime using the navigation links at the top and bottom.
Did you know that this isn't our only touring plan? You can view all of our exclusive Universal Orlando touring plans, including our ultimate one-day Wizarding World of Harry Potter touring plan, by clicking here.
Do you have a question about the information on this page, would like to provide feedback, or did you spot an inaccuracy? Join us in our Facebook community and let's talk about it!