NOTE: 2021's info has yet to be released. Until it is, please enjoy 2020's to whet your appetite (no pun intended).
Halloween Horror Nights may have been cancelled for this year, but that hasn't stopped Universal from sneaking a few of the event's famous items out for some general fall fun – which, luckily for us, also includes a few delicious-looking bites and sips in addition to those two haunted houses.
Let's walk through what these gastronomical delights are, where you can find them, and, even, quickly touch upon a few extras that can be found outside of Universal Orlando's two theme parks.
Halloween 2021 – the drinks
NOTE: 2021's info has yet to be released. Until it is, please enjoy 2020's to whet your appetite (no pun intended).
Interestingly enough, the emphasis of Universal's Halloween proceedings has been on the food offerings instead of the liquid ones – an interesting reversal of a normal, Halloween Horror Nights year.
But don't let that lull you into a false sense of security – this Halloween's drink lineup, though small, is still interesting, engaging, and, we even dare say, bold.
Skeleton Bar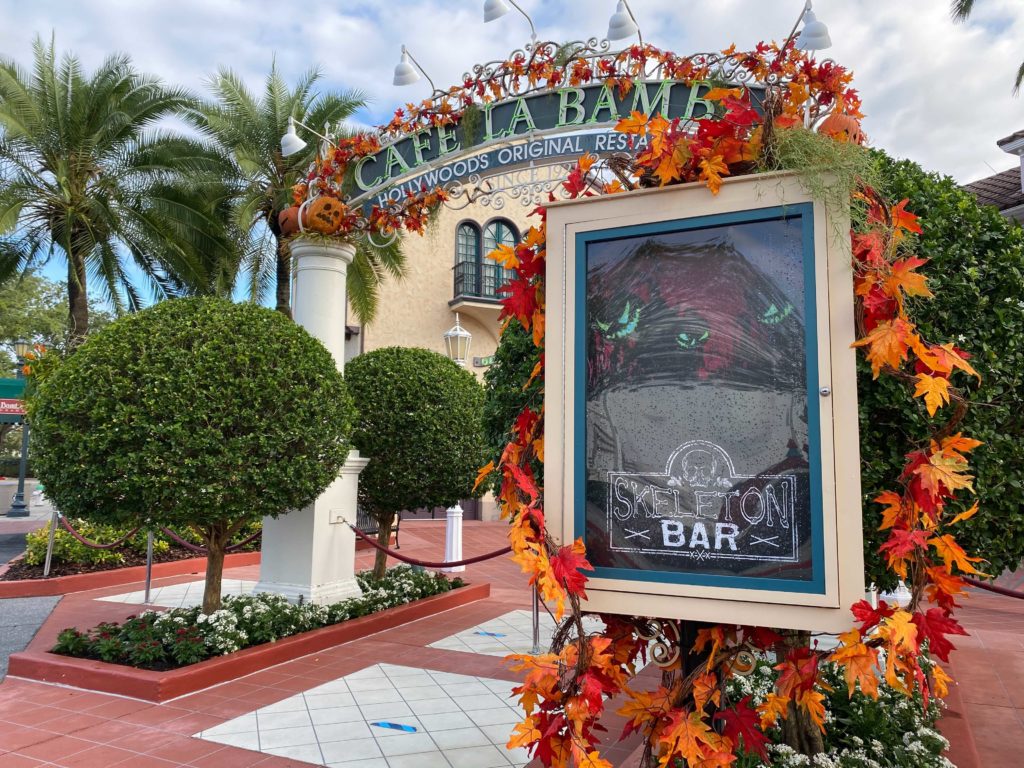 Café La Bamba has traditionally been used at Horror Nights, but usually only as a rest stop for RIP Tours; 2020 continues to switch up the usual Universal playbook by actively incorporating the entire venue into the Halloween festivities. (This is actually something of a big deal, as the quick-service eatery was reserved for special purposes, such as tour groups or media events, a long, long time ago.)
The theming here is impeccable, with lots of creepy sights and sounds to help tide you over while you're waiting for your food – or drinks – to be prepared; think of it as, essentially, a pretty seamless extension of the HHN Tribute Store all the way on the other side of the theme park. Then, once you have your meal in hand, off you go to sit outside and enjoy it.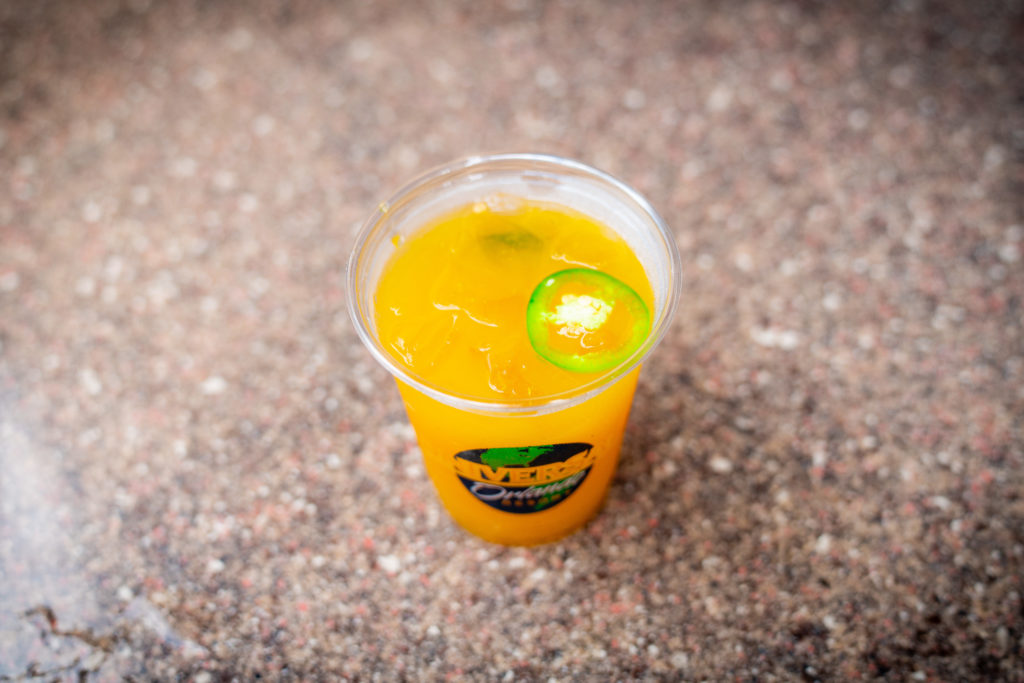 There are six drinks on tap here – four alcoholic, and two non:
Frozen Candy Corn (non-alcoholic) – $5.50 – candy corn-flavored frozen beverage topped with whipped cream and sprinkles
Loup-Garou – $12.50 – Pussers British Navy rum, Cruzan Dark, pineapple juice, honey, chamomile tea, lemon juice, pimento bitters
Mango Inferno – $12.50 – El Jimador Blanco tequila, mango and lime juices, yellow curry powder, agave nectar, salt, and topped with a jalapeño slice
Toasted Marshmallow (non-alcoholic) – $5.50
Vampire's Curse – $12.50 – Captain Morgan spiced rum, fruit punch, sour mix
(Note: there was, at one time, an additional drink called the Circus Peanut [which retailed for $12.50], but it's since been phased out at the Skeleton Bar. Our guess? Its altogether-too-sweet ingredients – which consisted of Skrewball Peanut Butter whiskey, creme de banana, Campari liqueur, orange juice, and a circus peanut candy on top – was just too much for most Halloween attendees to take.)
BONUS: Universal Orlando's hotels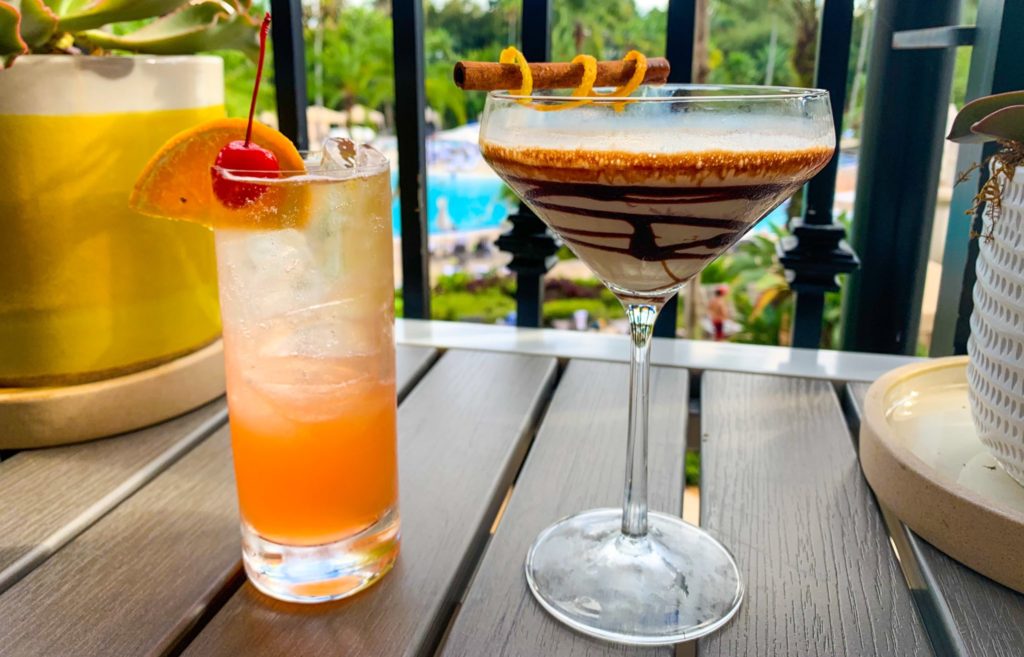 At all four of the Universal Orlando hotels that are still open, two special, Halloween Horror Nights-themed cocktails have hit the scene:
The Chance – Bacardi Superior rum, Aperol, Sour, lemon, simple syrup, orange bitters, soda
The Director – Ketel One vodka, Kahlua, Amaretto, heavy cream
You can find these at Velvet Bar and Beach Club (Hard Rock Hotel), Bula (Royal Pacific Resort), Swizzle Lounge (Cabana Bay Beach Resort), and Sand Bar (Endless Summer Resort – Surfside Inn and Suites).
Halloween 2021 – the food
NOTE: 2021's info has yet to be released. Until it is, please enjoy 2020's to whet your appetite (no pun intended).
Normally, there are food tents set up all throughout Universal Studios Florida's New York section, but 2020 is, obviously, a fair bit different – instead of kiosks, look for food trucks and, even, a normally closed venue. (And all this isn't to mention the few extra goodies you can find sprinkled both in the park and, even, in CityWalk.)
Food trucks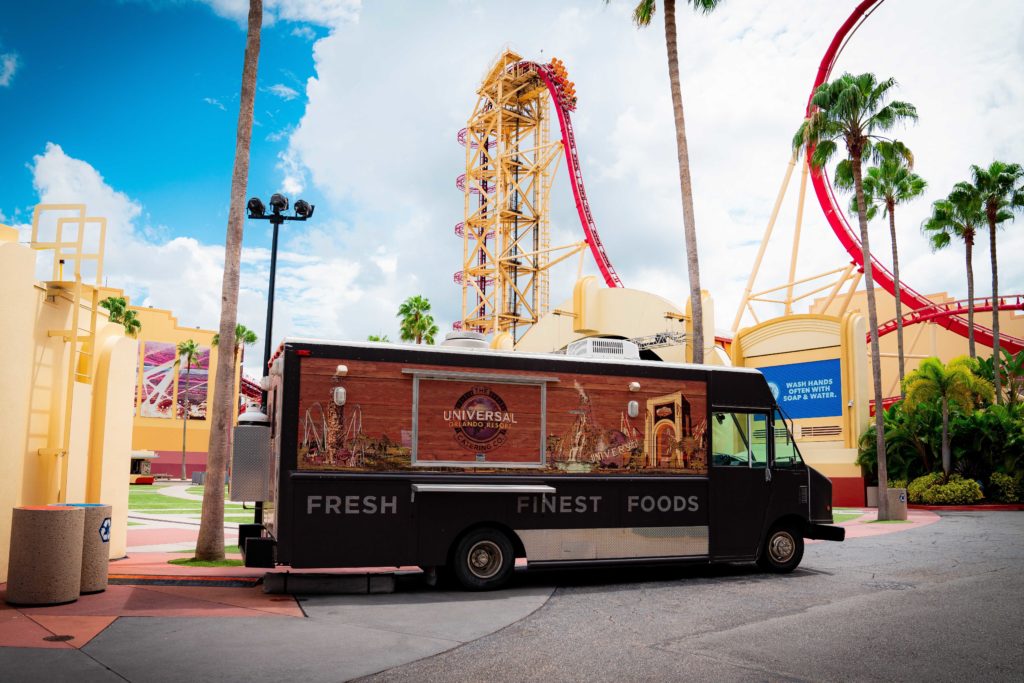 This year, there are two food trucks that have been parked in the New York backlot: one across from The Tonight Shop, the gift store of Race Through New York Starring Jimmy Fallon, and another across from the HHN Tribute Store. Their offerings include such new additions as a twist on the Twisted Tater, wrapping it around a hotdog-on-a-stick.
Oh, one more thing: it appears that at least some of the trucks' wares change on a regular basis, so if something catches your eye, be sure to pick it up – it may not be there the following week.
Here's the menu of the first food truck, by Fallon:
Franken Fried Chicken and Funnel Brains – $7.99
Stolen Teeth Street Corn – $5.99
Domestic beer (Yuengling, Coors Light) – $8.49-$9.99
Imported beer (Boddingtons Pub Ale, Amstel Light) – $8.99
Bottled water – $3.50
Bottled soda – $4.49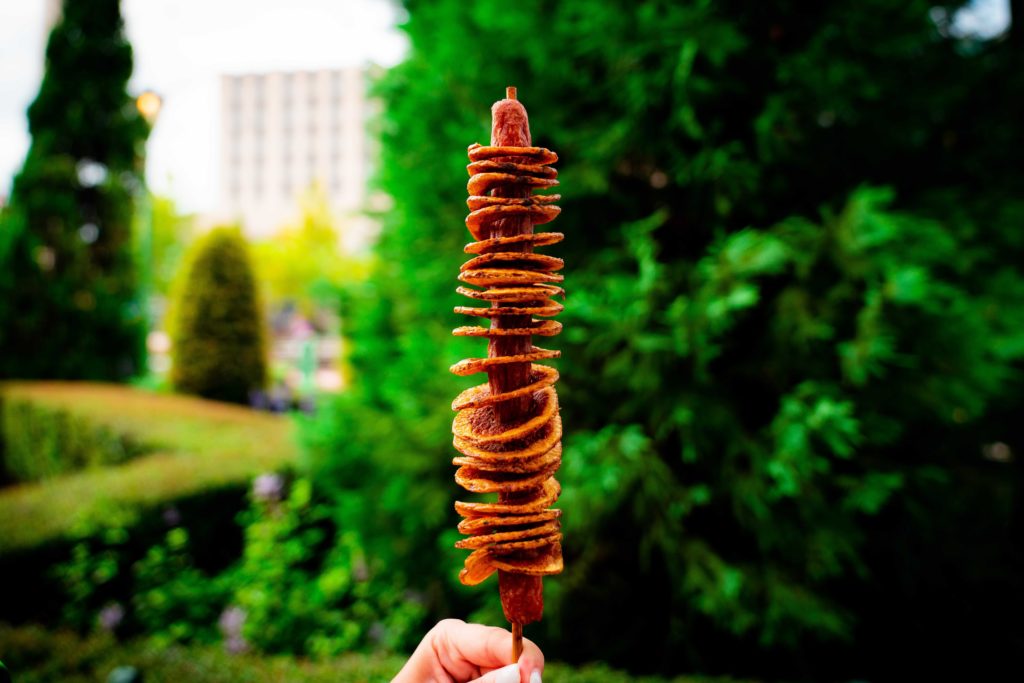 And here's the second, by the Tribute Store:
Twisted Tater – $7.99
Twisted Tater with Blood and Guts – $10.99
Twisted Frank-n-Coils – $11.99
Twisted Frank-n-Coils with Blood and Guts – $14.99
Domestic beer (Yuengling, Coors Light) – $8.49
Imported beer (Boddingtons Pub Ale, Amstel Light) – $8.99
Water – $3.50
Soda – $4.49
Skeleton Bar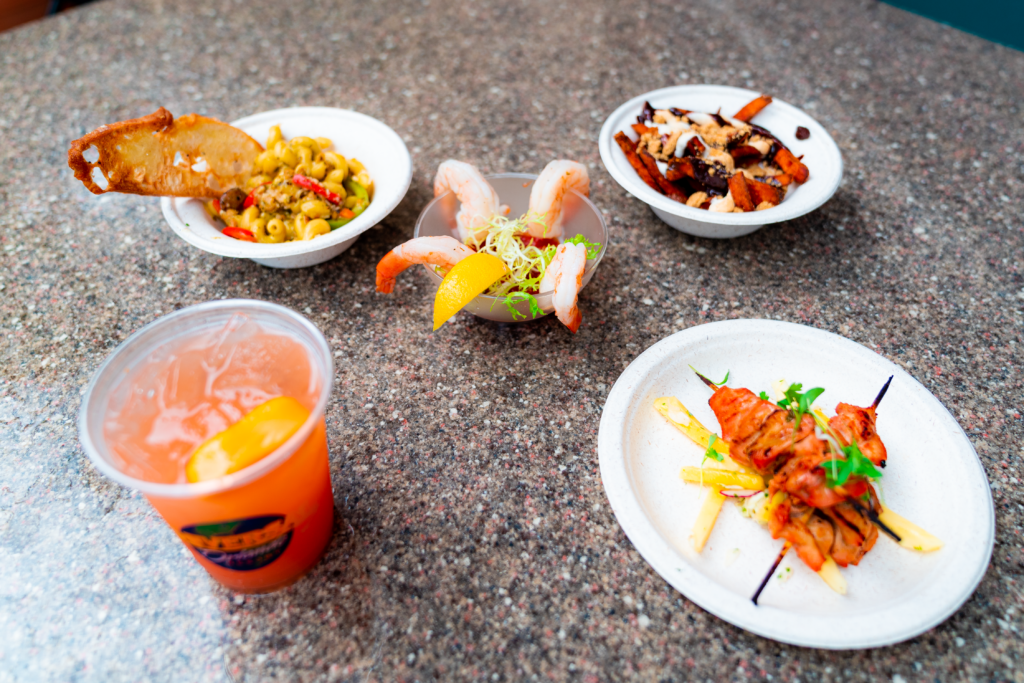 The wonderfully immersive Skeleton Bar may have only half as many dishes as it does drinks, but – man – are they notable:
Bloody Charred Tandoori Skewer – $9.99 – curry marinated chicken, mango and radish slaw, pineapple tamarind sauce
Incantation Shrimp Cocktail – $8.99 – spiced cold poached Gulf shrimp, horseradish cocktail
Jackfruit Pizza – $13.99 – BBQ jackfruit on cauliflower pizza crust
Screaming for S'mores Fries – $6.99 – sweet potato fries, marshmallow, dark chocolate chips, crumbled graham crackers
Vegan Jack'D up Mac – $8.99 – cavatappi pasta, plant-based sausage, mushrooms, basil pesto, bell peppers, tomatoes, dairy-free cheese, artisan crostini
HHN Tribute Store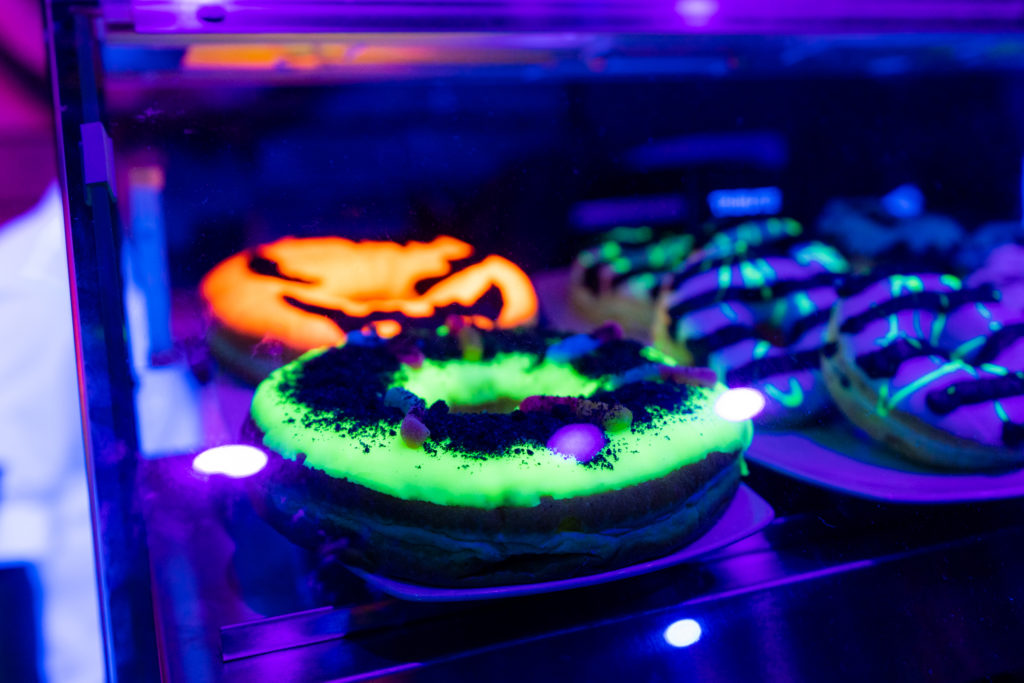 On August 21, nearly a full month after the Halloween Horror Nights Tribute Store opened right next to Revenge of the Mummy, two additional rooms were added on to the experience, offering up even more theming and merchandise and, in something of a surprise twist, some baked treats.
These various goodies run the gamut from savory to sweet and, even, include a whole sub-category of doughnuts. In keeping with Universal Studios Florida's "fall activities," each is devoted to the general holiday of Halloween as opposed to the specific event that is HHN, and each is sold in a spookily decorated, blacklit room (which you can read all about in our full write-up).
Here is the shop's full menu, along with each item's price: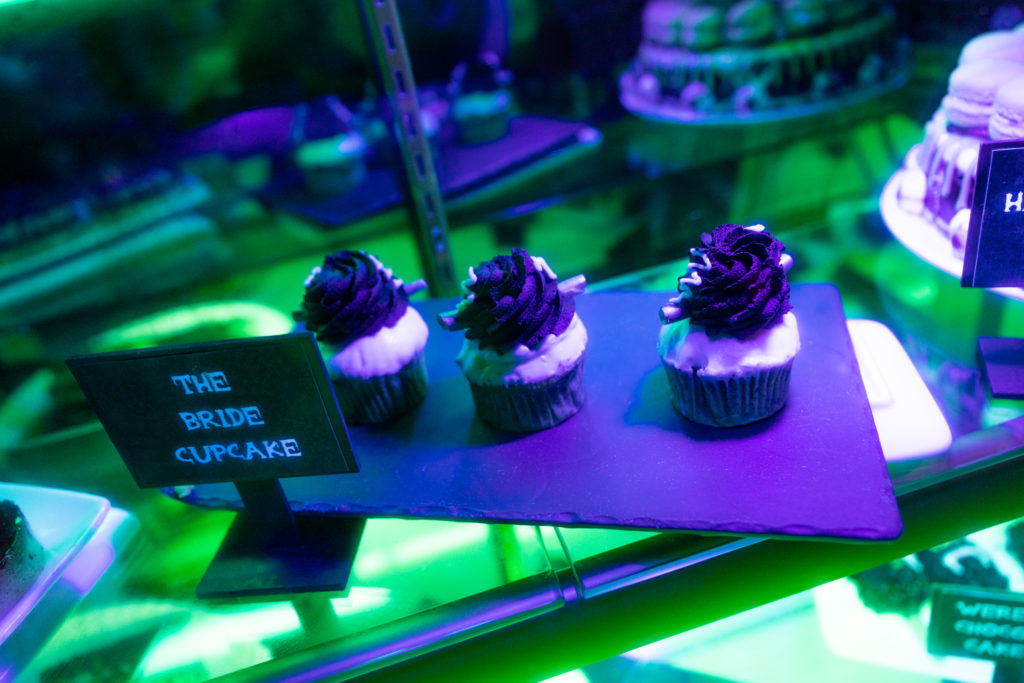 Savory menu:
Striped Pretzel Striped Foot-Long Dog – $11.99
Bacon, Cheddar, and Scallion Waffle Stick with Jalapeno Maple Syrup – $7.99
Sweet menu:
Beating Heart Sour Cherry Gummies – $5.99
Halloween Confetti Cake – $4.69
Red Velvet Blood Spatter Cake Pop – $5.49
Werewolf Chocolate Cake Pop – $5.49
Vegan Brownie Skull – $5.49
Severed Limb Lime Slime – $4.99
Lemon Mummy Tart – $5.39
The Bride Cupcake – $6.99
Frankenstein Rice Crisp Treat – $4.99
Stolen Teeth Tart – $5.49
White Chocolate Mummy Pretzels – $5.49
Zombie Cookie Dough Cup – $4.49
Chocolate Chip Cookie Dough Cup – $4.49
Large Tribute Donut menu:
Glowing Large Electric Eye – $7.99
Glowing Large Worm in Dirt – $7.99
Glowing Large Fruit Circles – $7.99
Glowing Large Jack-o-Lantern – $7.99
Small Tribute Donut menu:
Glowing Pumpkin – $3.79
Glowing Black & White Striped with Neon Green Drizzle – $3.79
Glowing Boston Cream Mummy Face – $3.79
Medium Maple Bacon – $3.79
(You will also find a few additional offerings, such as a Graveyard Cake, in a display case.)
Pizza Fries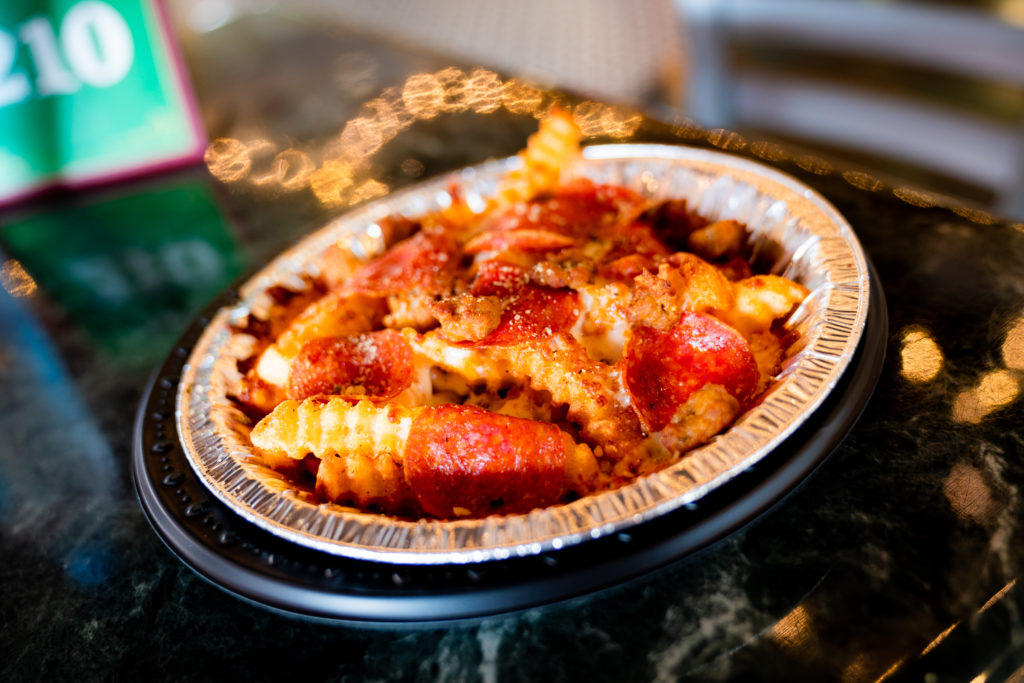 It wouldn't be Horror Nights – er, Halloween – without the legendary Pizza Fries. Two different locations at Universal Orlando Resort offer the now-iconic dish this fall, with both venues serving up a slightly different version.
First up, at Universal Studios Florida, you can find the classic take at Louie's Italian Restaurant, which comes with pepperoni, sausage, and a "Parmesan herb shake." Cafe 4, meanwhile, which is located over at Islands of Adventure, serves up the margherita version, which replaces those items with fresh mozzarella, Italian tomatoes, balsamic glaze, and a basil pesto drizzle.
BONUS: Voodoo Doughnut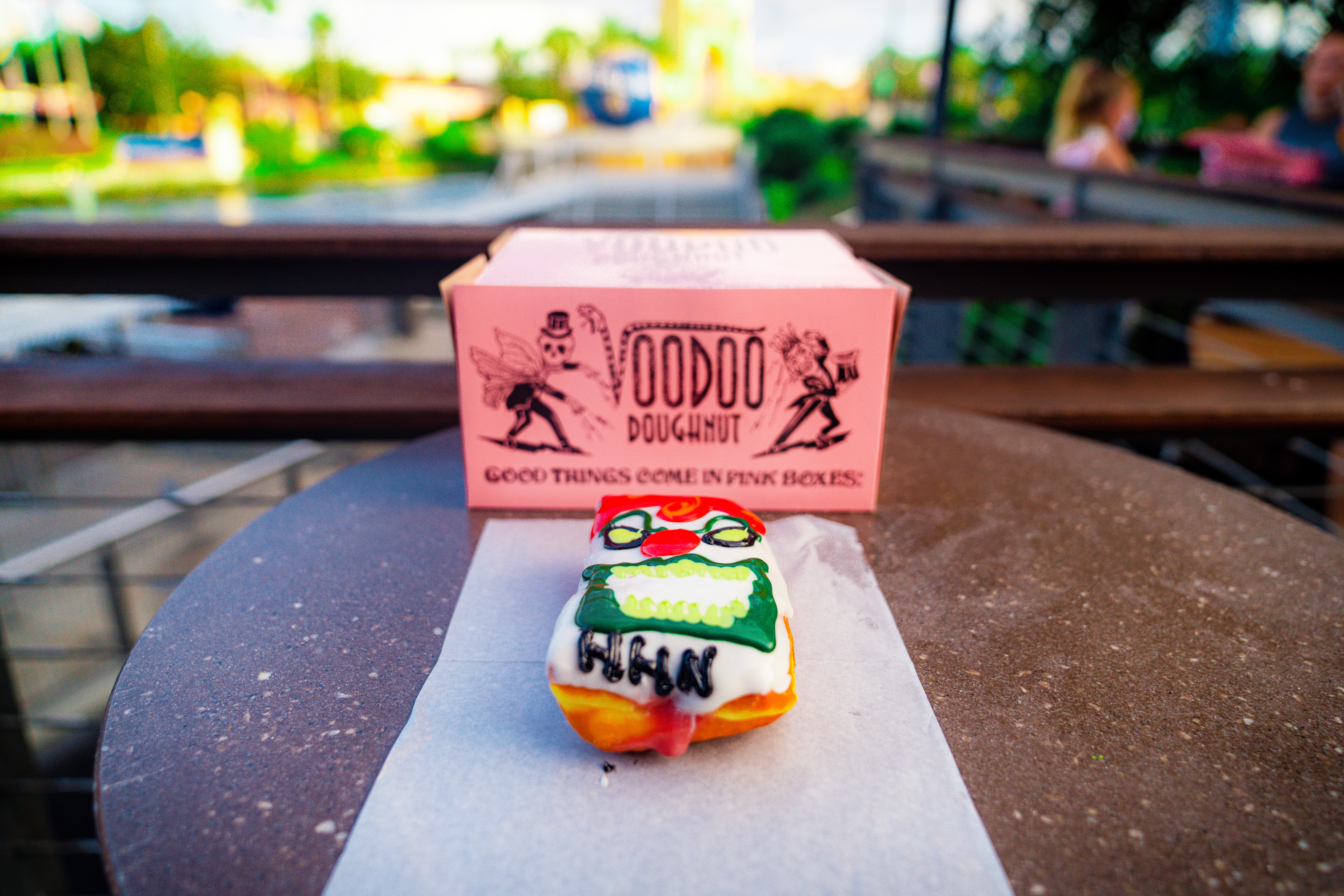 In something of a little ritual now, Voodoo Doughnut out in CityWalk is getting in on the "Halloween Seasonal Experience" action by releasing some exclusive doughnuts:
Jack the Clown Doughnut – yeast doughnut with vanilla frosting, Bavarian filling, and raspberry jelly
Pumpkin Spice Doughnut – yeast pumpkin-shaped doughnut with vanilla frosting and pumpkin-spice Bavarian filling
Both will remain available until Sunday, November 1.
Skeleton Bar – photo gallery
That's all we got for our Halloween Horror Nights 2020 guide to food and drinks. Please keep in mind this is only one page in our HHN insider's guide – for the most effective planning, please be sure to read through all of our pages, which you can access at any time using the navigation links at the top and bottom.
Do you have a question about the information on this page, would like to provide feedback, or did you spot an inaccuracy? Please let us know by posting in our
Orlando Informer Community
on Facebook.