Surviving all the haunted houses, hitting all the scare zones, and catching all the stage shows over the course of the night can sure work up quite the appetite – and, on the other side of the gastronomical divide, Halloween Horror Nights has a long and well-entrenched history of mixing booze with its scares. In order to satiate both your stomach and your thirst, Universal has a wide assembly of tents, bars, and concoctions, some of which are just as exclusive and ever-changing as the mazes and zones themselves are.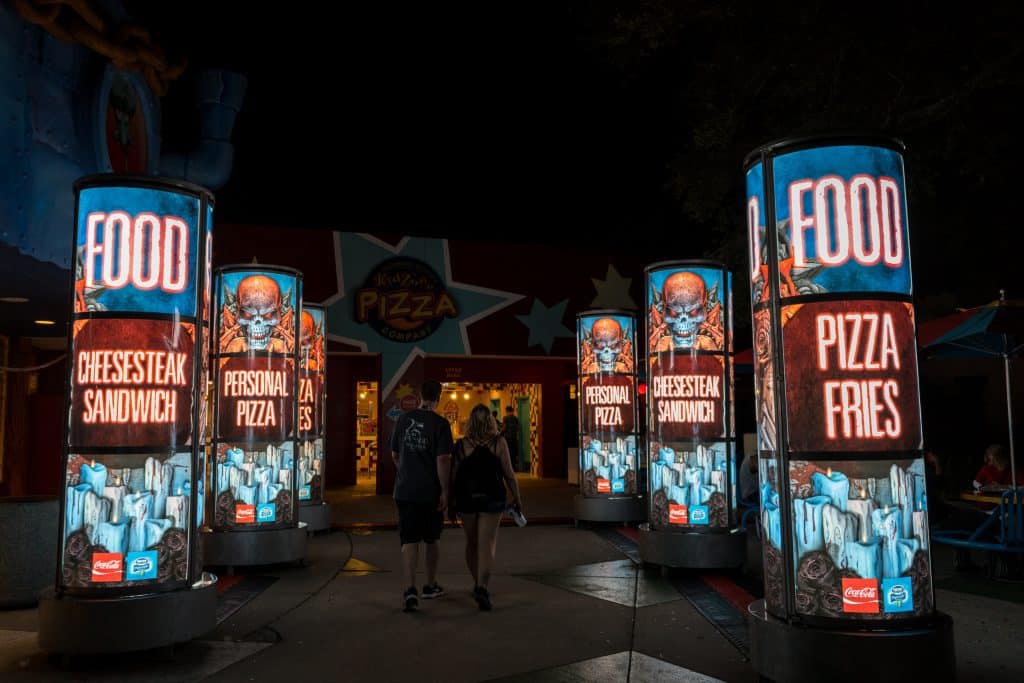 Not only has interest in these tasty delights been increasing over the past few years, Universal itself has been keen to simultaneously expand and contract its culinary offerings. It's a lot to keep track of, and since you're already preoccupied with looking up Horror Nights's latest attractions and memorizing the best touring plan, we've decided to take care of everything for you.
So sit back and relax – until you're chased around Universal Studios Florida by chainsaw clowns and fallen demons, that is.
NOTE: This page is still primed for Halloween Horror Nights 2017. Once Universal announces the full details for this year's event, we'll be sure to update everything as quick as unhumanly possible.
The drinks
Let's face it – just as the houses are the heart of Halloween Horror Nights's horror attractions, drinks are the heart of its gastronomical lineup. They're the items that everyone clamors after, the fuel that propels many an otherwise-nervous guest through the night's thrills and chills.
They're also, in the case of the 2017 event, the cause of much controversy, as Universal has made an attempt to tamp down a bit on HHN's free flow of alcohol. Don't worry – we're going to go over everything step by step, from what, exactly, is offered to where you can find it.
Mixed drinks
What is a mixed drink? A beverage in which two or more ingredients are mixed together – simple as that. (No, a mixed drink doesn't have to be alcoholic in nature, although most of the famous ones are exactly that.)
Universal has a wide range of this trusty favorite, and they can be broken down into two clear-cut categories: the HHN event drinks are special concoctions that are exclusive to the annual event and which always change from year to year; everything else is, well, everything else – you can ask the bartenders to make whatever your little horror heart desires, whether that be a screwdriver or a Long Island iced tea.
The Halloween Horror Nights event drinks for 2017 are:
Liquid Courage – Bacardi tangerine rum, Malibu coconut rum, orange juice, and a splash of sprite
Liquid Fear – St. Augustine vodka, Blue Curacao, Cointreau, cranberry juice, and lemonade
Midnight Madness – 50% Liquid Courage, 50% Liquid Fear, 100% Midnight Madness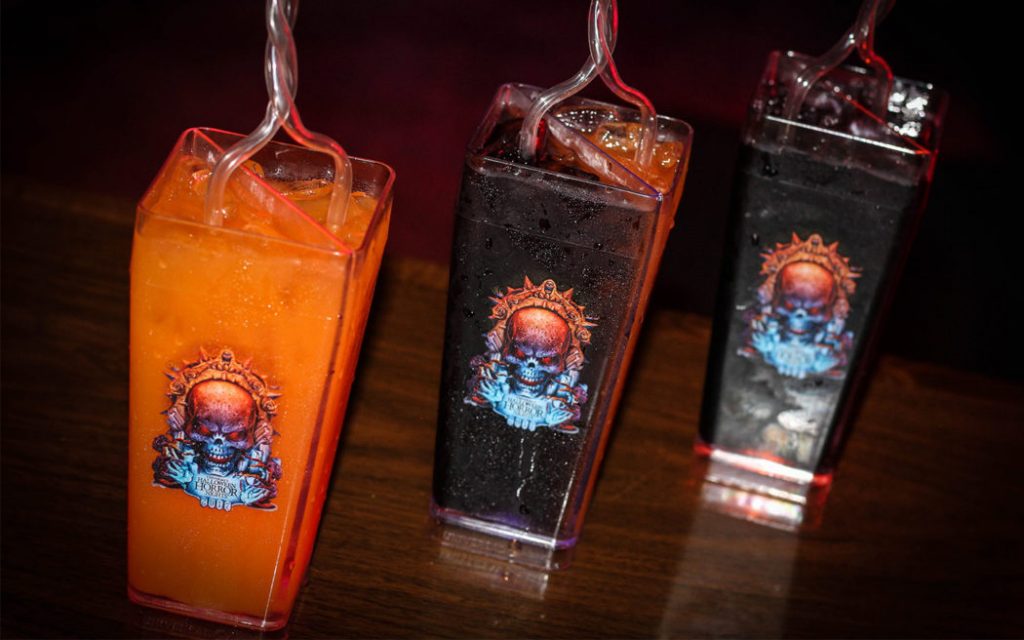 These can be found at any of the several drink tents or stands that have been set up all over Universal Studios Florida, and they cost $12.99 (a price which includes a 20-ounce souvenir cup, as seen above) for your first pour and $8.99 for every refill. (Be advised that some attendees believe that the alcoholic content is pretty low in these event drinks, at least in comparison to their price tags.)
It used to be that, in years past, all the other mixed drinks were also available at every tent, but Universal made the (last-minute) decision to change that for 2017; now, the only three locations that you can order up your favorite liquor-injected sips are inside Finnegan's Bar and Grill, at Chez Alcatraz (the small-but-fully-stocked bar next to the Jaws photo op), and at Lombard's Seafood Grille's new "dockside lounge," The Wharf.
Don't worry – the drink tents still serve a full assortment of beer and wine; it's just hard liquor that's been suddenly regulated. The cost for canned beer starts at $7.99, while wine comes in at $8.99. Draft beer, meanwhile, comes in a couple of different price points: a beer in a basic cup begins at $7.99; in a 20-ounce souvenir cup starts at $10.49; and souvenir refills begin at $6.99.
This is the switch-up that has received the biggest amount of pushback from the fan community, and it's the one that'll have the biggest impact on your (alcoholic) touring plans – if you want a specific beverage to imbibe as you make your way around the park, you'll need to deliberately seek out one of these three specific spots and wait in what will probably be a not-insignificant line, especially on the busier nights of the year.
Frozen drinks
For the very first time, Universal decided this year to add an extra layer of exclusive liquid refreshments to Horror Nights: the frozen beverage. And this initial lineup is very tasty, indeed, consisting of Candy Corn, Pumpkin Spice, and S'mores. Each of these "specialty frozen beverages" costs $4.99.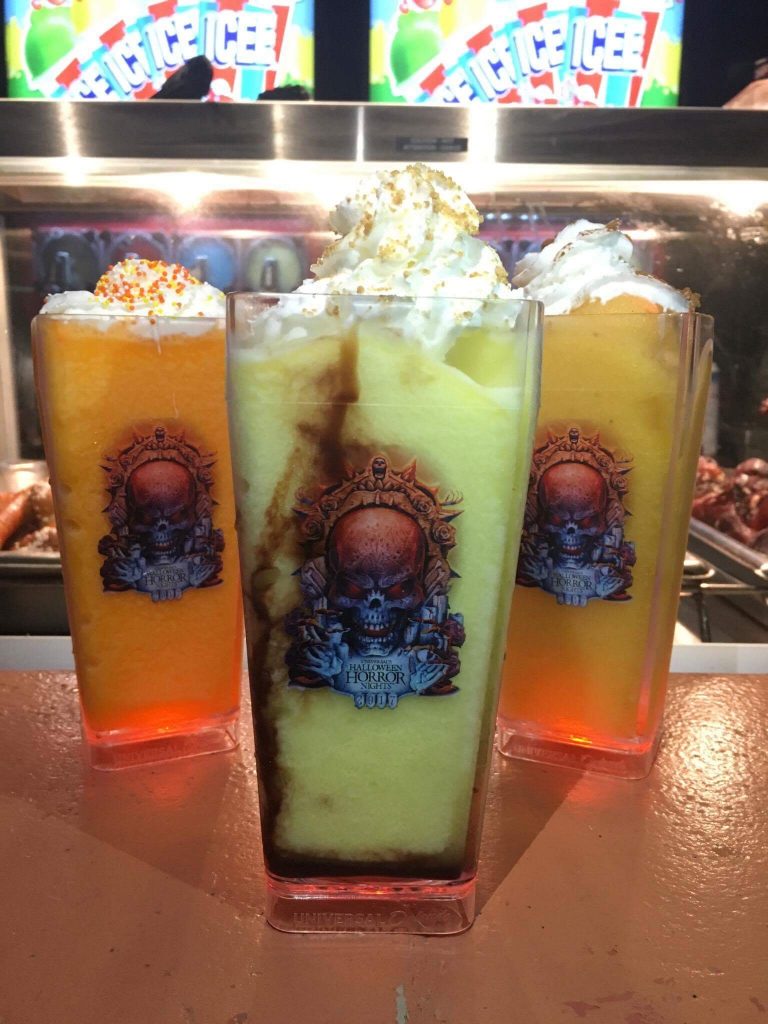 However, not even these newcomers are immune from this year's sweeping changes. Originally, these frozen goodies were announced to come in either alcoholic or virgin form (Candy Corn was to have featured whipped-cream vodka; Pumpkin Spice, spice rum; and S'mores, toasted-marshmallow vodka), but the spiked variety was pulled before the event even started.
You can find these sweet treats (and we do mean sweet) at a few drink stands: near the Universal Music Plaza, in front of Cafe La Bamba, across from Fear Factor Live, and not too far from New York's Starbucks location.
Jell-O shots
It used to be that Jell-O shots were synonymous with Halloween Horror Nights – "shot girls" would endlessly prowl the premises, and the haunted houses' longer queues would feature carts that had "trees" hanging with the specialty drinks. To piggyback off of this boozy legacy, Universal initially unveiled a brand-new design for 2017, which replaced the traditional blood transfusion bags with a heart and which would have contained a watermelon-flavored shot within.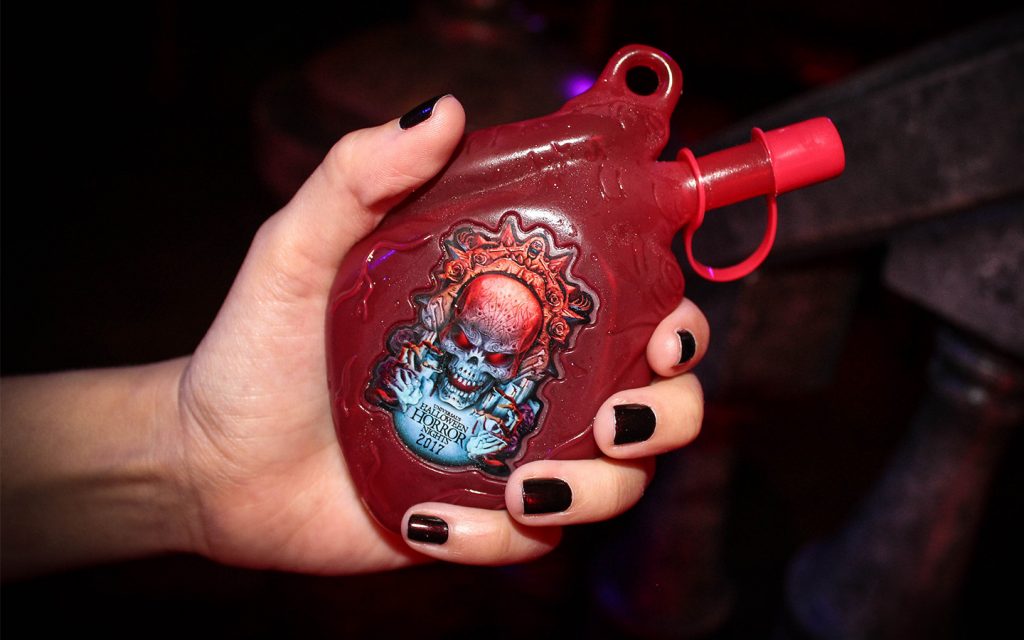 The Great Controversy of 2017 reared its head again, however, and, now, all of the Jell-O shots have been pulled from all of Universal Studios Florida. Yes, that's right – you can't find the heart-shaped drink anywhere, whether on the streets, in the queues, or, even, in the bars (though you can still order up any other shot, of course).
(Curious what's happened to those shot trees in front of the mazes? They're still there, but they now proudly dangle popcorn from their branches instead of shots. Eat up!)
A word on drink sizes
Just in case all of these alcohol-related changes just weren't enough to make your head spin already, there's one last alteration that hasn't been publicized but which we nonetheless noticed ourselves. The size of the cups that Finnegan's bartenders give you for liquor (beers are immune from this new directive) are smaller than what they used to be. While we don't have exact measurements in front of us, the difference is noticeable – maybe a third smaller or so.
While this alteration will have nowhere near the impact on your night as the others will, it's still something to be aware of, especially when attempting to budget out your evening's festivities.
The food
Just because Halloween Horror Nights's food offerings tend to be overshadowed by their liquid counterparts, don't think for one second that they're any less noteworthy – or tasty.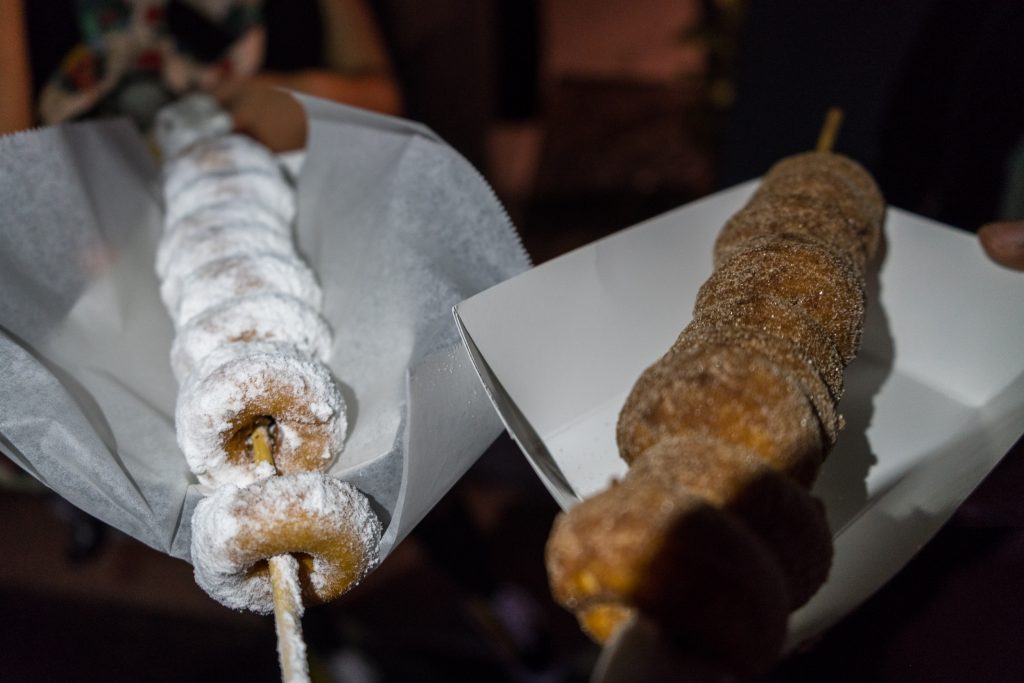 Much like the drink tents, you can find a number of these dishes (some of which are similarly exclusive to HHN) at specially-erected locations all throughout Universal Studios Florida. Just don't expect to come across as many of the food stands as the beverage ones – in yet another change to the Halloween event, Universal has decided for this year to consolidate their presence, moving many of the plates indoors to the regularly-operating restaurants.
Before we dive into what culinary options there are for Horror Nights 2017, please be aware of this super-important note: most of these items are exclusive to just one location, so if you have your eye (or is that your tummy?) on one of them in specific, you'll have to make a special stop.
Here are Halloween Horror Nights 2017's main dishes:
Fiery Onion Ring Burger – cheeseburger topped with onions, hot sauce, and pepper jack cheese. Served with a side of French fries. Available at Mel's Drive-In.
Chili Garlic Chicken Sandwich ($11.99) – grilled chicken breast seasoned with pepper jack cheese and spicy chili sauce. Served with a side of fries. Available at Richter's Burger Co.
Fresh Calzones – marinara sauce, sausage, pepperoni, and mozzarella cheese, topped with melted butter and garlic. Available at Louie's Italian Restaurant.
Pizza Fries ($8.99) – pizza sauce on the bottom, fries in the middle, and mozzarella cheese, pepperoni, and sausage on top. Available at KidZone Pizza Company.
Mini Donuts on a Stick ($7.99) – roughly a dozen donuts, either powdered sugar or cinnamon, on a stick. Served with strawberry, chocolate, or caramel dipping sauces. Available at the food tent near Finnegan's.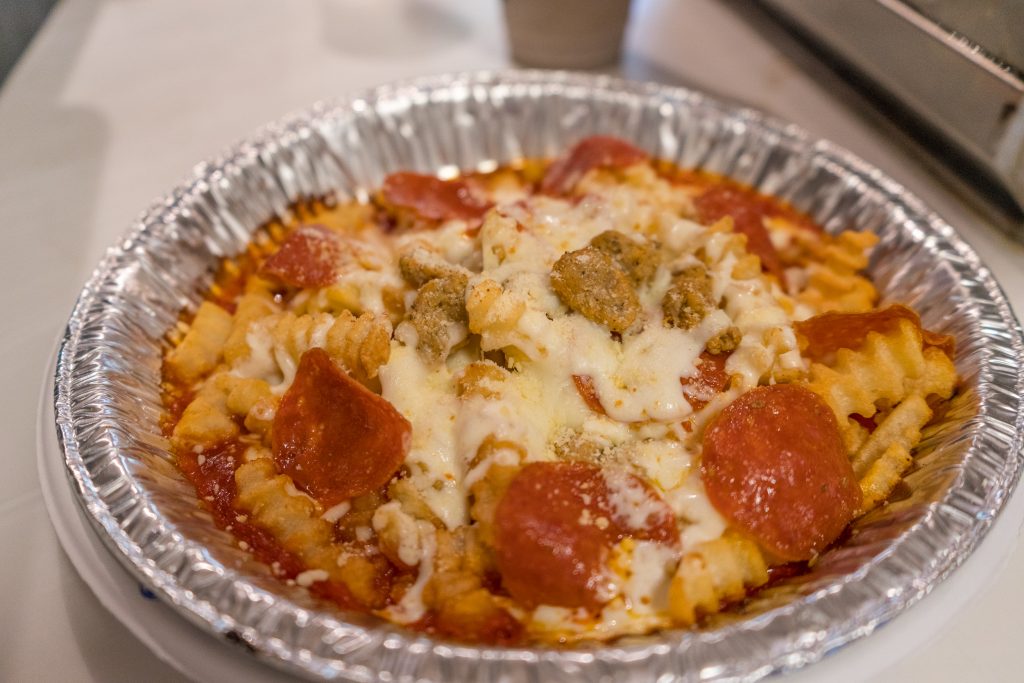 In addition to these featured items, there is the usual complement of Twisted Taters, Bavarian Salted Pretzels, Foot-long Hot Dogs, and Funnel Cake Puffs to chow down on. You can find these standard favorites at multiple food tents and restaurants.
While we have yet to try everything on the HHN 27 menu, we can report that the Mini Donuts on a Stick are delicious (how can they not be, right?) and that the Chili Garlic Chicken Sandwich is… far less delectable; it's so heavy on garlic, it seems to be mostly good for warding off the vampires in the Hive haunted house.
So, what restaurants are open during Halloween Horror Nights 2017?
Although some of these venues change their menus to reflect a different – and, in some cases, exclusive – lineup, basically every single one of Universal Studios Florida's eateries are open during Halloween Horror Nights. There is one glaring exception here, and it should come as no surprise to those who are used to hearing about writer JK Rowling's tight-fisted control over her property:  The Wizarding World of Harry Potter – Diagon Alley's The Leaky Cauldron remains closed during the event.
That's all we got for our Halloween Horror Nights 2017 guide to food and drinks. Please keep in mind this is only one page in our HHN 2017 insider's guide. For the most effective planning, please be sure to read through all of our pages, which you can access at any time using the navigation links at the top and bottom.
Do you have a question about the information on this page, would like to provide feedback, or did you spot an inaccuracy? Join us in our Facebook community and let's talk about it!