There is a single purpose to our plan: get you through the haunted houses at Universal Orlando's Halloween Horror Nights 2017 with as little waiting as possible.
To minimize overall wait times, we strongly recommend that you take advantage of HHN early admission. If you do not have daytime admission, then you must arrive at the Universal Studios Florida turnstiles by 4:45 pm. This is important because the crowd waiting to get into the park can be very large, and you really want to be at the front of that crowd. But don't worry that you'll have to stand at the gates for an hour and a half – Universal starts letting guests in around 20 to 30 minutes before the official starting time of 6:30 pm.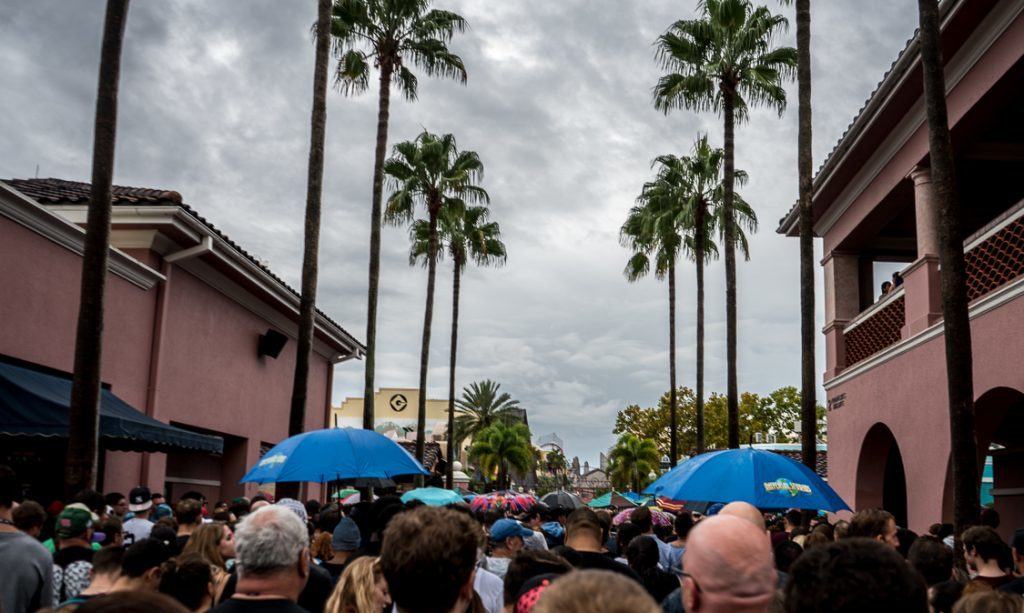 By the way, if you're an on-site hotel guest, you have a dedicated entrance to HHN – look to your right as you approach the park gates. Just be aware that the dedicated entrance doesn't get you into HHN as part of early admission, but it will help you skip some of the crowds you see above.
Does the Orlando Informer Halloween Horror Nights touring plan really work?
Yes, it does:
@OrlandoInformer Thank you for your #HHN25 touring plan! We did all 9 houses, all scare zones and 3 rides in 6 hours!

— Pamela Fisher (@polkadotpamela) October 30, 2015
@OrlandoInformer at #HHN24 using your guide, early admission. we hit 7 houses, and bill and ted before 10pm! Without express passes! Ty!

— Bob (@MrSweat123) October 18, 2014
Your night at Halloween Horror Nights 2017 begins
Okay, now that you're inside the park, grab an event map and get ready to visit some haunted houses!
It's imperative, for the purposes of minimizing wait times, that you head directly for the houses and do them in order without stopping at the scare zones, other attractions, or live shows. We know – you'll really want to check out a zone after you exit the first house, but every extra minute you spend straying from the warpath will equal five to ten minutes more of standing in line.
If you have questions about using this plan, be sure to read through the whole page and then see the FAQs at the bottom. If you want to learn more about each of the houses, click any of the links provided to visit the announcement. Finally, to assist you in studying this plan ahead of time, view the map of this year's event by clicking here.
Halloween Horror Nights 2017 touring plan
We will update this section as Halloween Horror Nights 2017 approaches. Stay tuned to our social media pages, including Facebook, Twitter, and Instagam for details on all of our updates.
We want to hear how your night went!
Our community wants to know about your experience at Halloween Horror Nights 27. Be sure to join our UOR.Community on Facebook!
Halloween Horror Nights 2017 touring plan FAQ
What do I need to be aware of if I use HHN early admission?
When using Halloween Horror Nights early admission – which we strongly recommend – you will wait inside Universal Studios Florida as Universal transforms the park from daytime operations to Halloween Horror Nights. You will still want to follow our HHN touring plan with one extra instruction: since you will get early access to one or two houses (the specific houses may change from night to night), you will, of course, want to visit these first. When early admission is over and everything opens (between 6:15 and 6:30 pm), simply scratch the houses you've already seen during early admission from the list above, then work the list from top to bottom as usual.
Please, please see our HHN early admission page and take advantage of it if you can!
What if I can't get to the event early like you advise?
If you can't use HHN early admission, be to the USF turnstiles by 5:00 pm. If you can't do that, either, then please go to HHN on a Thursday or a Sunday during the first three weeks, or on a Wednesday during the second half of the season. Still, be prepared to do a lot of standing around. We have so much more planning advice on our HHN tips and tricks page.
What if I have an HHN Express Pass?
If you have an HHN Express Pass, you absolutely still want to follow the list above in order. Remember that Express Passes can only be expected to cut down the standby wait time in half – so if the Shining house has a standby wait time of two hours, HHN Express may be up to an one-hour wait. That's why, even if you have Express access, we still want you to follow our touring plan and minimize overall wait times.
Also, the general wisdom is not to use your Express Pass if the house has a lower wait time since, later, you can visit the house again – when it has a higher wait time – and then use your Express Pass. This is definitely smart, but only use it if you are certain you will want to visit the house again. The posted wait times at HHN houses tend to be a little optimistic, so a posted time of 25 minutes may easily turn out to be 30 or 35 minutes.
That's all we got for our Halloween Horror Nights 2017 touring plan. Please keep in mind this is only one page in our HHN 2017 insider's guide. For the most effective planning, please be sure to read through all of our pages, which you can access at anytime using the navigation links at the top and bottom.
Did you know that this isn't our only touring plan? You can view all of our exclusive Universal Orlando touring plans, including our ultimate one-day Wizarding World of Harry Potter touring plan, by clicking here.
Do you have a question about the information on this page, would like to provide feedback, or did you spot an inaccuracy? Join us in our Facebook Community and let's talk about it!