There's no denying it. Evil will take over at the most frightening place on earth: Halloween Horror Nights 2017 at Universal Studios Florida. This is our first-time visitors guide for conquering that evil, composed of our 13 best tips, tricks, and secrets for saving time and money at the nation's premier Halloween event.
#1 – Pick your HHN 2017 nights very carefully
If you only take away one tip from this page, let it be this first warning, communicated to you in the most serious manner possible: do not go to Halloween Horror Nights on the busy event dates in October, which are often referred to as peak nights.
Here are the October "busy dates" so you can scratch them off your calendar: Oct 7, 8, 14, 20, 21, 27, 28.
Why is this our most important tip? Simply put, on busy nights the popular haunted houses will have wait times as high as three hours, and even the so-so houses will have wait times up to two hours. Can you imagine waiting two or three hours to walk through a haunted house that takes two or three minutes to see? Then exiting that house and getting straight into another two- or three-hour line? You don't want to imagine it, and you definitely don't want to experience it!
Busy nights also mean the biggest crowds in the streets – and if you've heard anything about the HHN crowds, you've likely heard they drink a lot. Sometimes that drinking leads to more rowdiness than the average guest will find entertaining. So avoiding busy nights not only guarantees you'll spend considerably less time waiting in line, it also means you won't have to shrug it off when a group of drunk guests cut into your haunted house line and no one sees them do so.
Please don't take this first tip as a boarder statement meaning you should never go to Halloween Horror Nights. We've been going for years; it truly is the nation's premier Halloween event; it's won more awards than we can count; and once you've gone the first time you'll likely start planning for next year immediately. Just don't go on a peak night… even if you can afford the $129 Express Pass.
So when should I go?
Even though it has a little less Halloween spirit, really the best time to go to Halloween Horror Nights is during the first three weeks or November 3-4. Visiting during these times will ensure that crowds and lines are smaller (although certainly not obsolete), and smaller crowds will ensure you can do everything without standing in line for an unreasonable amount of time. And given how popular HHN has become, there will still be plenty of enthusiasm in the air – even on the Thursday or a Sunday.
#2 – Pick the right number of nights to visit
If you think this event is going to freak you out and you're not feelin' it, so to speak, one night will be plenty. Just make sure you get there early so you can check out a lot of the grounds before the sun totally sets for the night.
If you really like Halloween and horror movies, but your life doesn't necessarily revolve around them, then for a first-timer we recommend two nights. Keep in mind that if you visit when it's slower and follow our touring plan, you'll likely be able to see and do everything in just one night. But a huge appeal of Halloween Horror Nights is the people watching, and a new night means all-new visitors getting scared out of their minds! Plus, since much of the HHN activity happens in the darkened streets of Universal Studios Florida, it's often easy to miss all the small details with just one nights' tour around the park.
If you are a hardcore Halloween and horror fan, and you basically spend the entire year planning for October 31, then you will fall into an elite category of HHN fans who go as many nights as they can: 10 times, 15 times, or more. In this case, definitely plan on three nights at the very least – and also plan on buying a pass that includes multiple nights and checking out the VIP tour options.
#3 – Pack you wallet & start preparing now
You've probably seen this reminder on our pages before, but it's important, so here it is one more time: Halloween Horror Nights is a separately ticketed event. One way or another, you need to pay for admission. There are lots of deals and combos, which are explained will be explained in our HHN 2017 admission guide. For the purposes of this page, just be aware that purchasing admission to visit Universal Studios Florida or Islands of Adventure during the day does not get you into Halloween Horror Nights automatically. This is the opposite of other popular Universal annual events, such as Mardi Gras, which is included with regular park admission.
Also, keep in mind that purchasing admission for HHN does not get you into the parks during the day.
And if you plan on attending HHN, please BUY YOUR TICKETS IN ADVANCE. There's no point in arriving at Universal Orlando, getting psyched for the night to start, then spending the first hour of the event waiting in the ticket line. Virtually anything you can buy on-site you can also buy online. And tickets purchased online can be printed at home, so you'll be able to walk directly to the turnstiles.
#4 – Head east!
In other words, don't buy tickets for Halloween Horror Nights in California.
Universal Studios Hollywood hosts their own version of Halloween Horror Nights, and unwitting guests buy tickets for the wrong coast all the time. Not only is this a headache because you have to buy new tickets, it's worse than you think because the Hollywood and Orlando parks operate as completely separate entities – so you can't simply swap your Hollywood HHN ticket for an Orlando HHN ticket. Plus, Hollywood HHN tickets are generally less expensive than Orlando's version because their event is smaller. This means you'll also be in for some sticker shock.
You can learn more about Halloween Horror Nights in California on our sister site: CaliforniaInformer.com.
#5 – Parking isn't free either
Speaking of sticker shock, we got one more warning for ya.
Throughout most of the year, Universal usually offers free parking after 6pm. However, during Halloween Horror Nights, plan on paying full price – $20 for regular self-parking, $30 for Preferred self-parking – until at least 10:00pm. Also, for Premier Passholders, remember that the complimentary valet parking benefit is not available during HHN.
This is a good place to remind our readers that overnight parking is not allowed at Universal's main parking garages. If you're thinking you might need to do this, just plan a budget and get a room on-site at Cabana Bay Beach Resort for the night.
#6 – Watch the forecast
Orlando's average low temperature in September is 72.4 F (22.4 C), and our average low in October is 65.8 F (18.7 C). In addition, we still see plenty of rain in September and October.
So definitely check the forecast before arriving at Halloween Horror Nights and consider bringing extra layers of clothing as well as rain ponchos. Not only will this help you stay warm and dry, extra layers can also provide a psychological barrier between you and the roaming demon hoards. Lockers are available for rental too – see our Complete guide to rental & ride lockers for more information (items can be retrieved from lockers up to an hour after HHN is scheduled to close for the evening).
If you happen to forget a light jacket or sweatshirt, don't worry, Universal has gobs of HHN apparel they can't wait for you to buy – just be ready to pay around $50 for heavier clothing items like hoodies.
#7 – On a brighter note, wear sunglasses
This might seem like a strange tip, but for those touring the houses while it's still daylight out – which will happen if you take advantage of HHN early admission or if you're on-site when HHN regularly opens at 6:30pm – wearing sunglasses will make the transition from the outdoor light to the haunted houses' lack-of-light easier to adjust to.
And trust us, you'll want your vision as sharp as possible to catch all the details inside the haunted houses – and maybe avoid the worst scares!
#8 – Eat before they try to eat you
We recommend that you grab your dinner before going into Halloween Horror Nights. If you do so, you won't have to waste your time looking for dining options when you could be going through haunted houses, exploring the streets, or watching the live stage shows. Having a leisurely meal ahead of time will also give you a chance to discuss your final plans for touring – and come up with a safety word for you and your friends! – before the event starts.
Looking to save a little money? Just eat anywhere off-site. If you need to eat on-site, the food court on the second floor of Universal CityWalk has the least expensive prices.
One more food-related tip: even if you are not dining at Mel's Drive-In near Hollywood Blvd, be sure to stop by for a great photo op.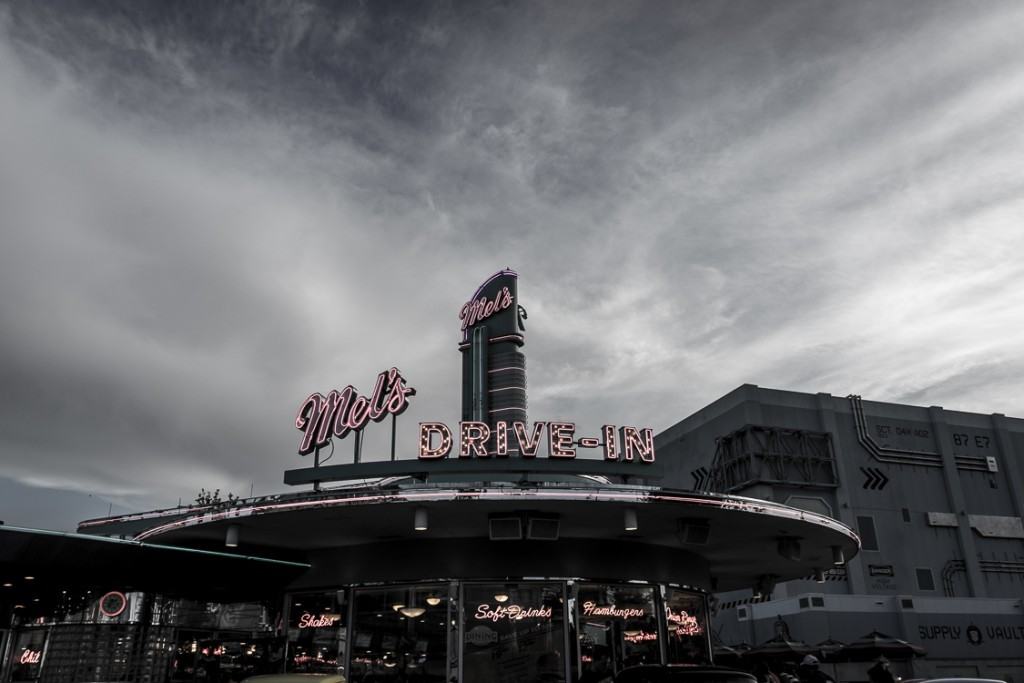 #9 – Fastest way to escape the horror
Bring your photo ID if you want to drink, and be prepared to be carded with every purchase, everywhere.
Are you going with other guests who forgot their IDs, or who are you too young to drink? The quickest way to get kicked out of the park for good is to share a beer with someone who isn't supposed to have one. Universal has a large force of uniformed security, plain-clothes security, and Orlando police all around Halloween Horror Nights, and this is the main illegal activity they're watching for.
And don't bother trying to sneak alcohol in, or anything else you're not supposed to have. The security checkpoints are amped way up for HHN – think airport-style security and scanning.
Feeling feisty anyway? Do keep in mind that Universal is private property, and, as such, the resort has the right to refuse entry to anyone for any reason they see fit (barring discriminatory practices, of course). Once in awhile we hear a guest who's getting kicked out say something like, "You can't do this because I paid for admission!" Oh yes they can, and you're not automatically entitled to a refund.
#10 – Early bird gets the scares
If you have the opportunity, be certain to take advantage of early admission to Halloween Horror Nights. This is usually available on select nights for Passholders during the first two weeks of HHN. Then, throughout the entire event, it's available to any guest who has daytime admission to Universal Studios Florida and can get inside the turnstiles by 4:30pm. Please note that you do not necessarily have to have an HHN "add-on" ticket to stay inside USF as they change it over to HHN – you just need to have admission to USF for that day and an HHN ticket for that night.
See our full guide to HHN early admission for more.
What if you can't get early admission? Then get to the event EARLY. Line up at the front gates at least an hour before opening (especially on a weekend night). Yes, it's still light out and the atmosphere may not have fully kicked in, but if you want to see the houses with the shortest possible wait, getting there early is your best option.
Can't get to HHN before 5:30pm? Keep reading…
#11 – Wait until the midnight hour
There's still some hope for short lines. A lot of those early birds start getting tired and leave the park well before the event ends. So you'll start to see the wait times drop down the later it gets. This option is not as good as using HHN early admission, but it's better than planning on arriving at 8:00pm and leaving by 11:00pm.
Keep in mind that on many dates Halloween Horror Nights is open until 2:00am.
#12 – Decide if you must express your fear
Halloween Horror Nights Express Passes are separate from the Express Passes used during the day at Universal Orlando's theme parks. HHN Express Passes are also separate from HHN admission tickets.
Equally important, the unlimited Express Pass access guest receive when staying at select Universal on-site hotels (Royal Pacific Resort, Hard Rock Hotel, and Portofino Bay Hotel) is NOT valid for Halloween Horror Nights. Do not think that you are tricking the system by having your party of four stay at Royal Pacific for $200 instead of buying four HHN Express Passes at $119 per person.
By the way, here is an easy way to identify an HHN rookie: she is using her Express Pass at 6:30pm when haunted houses have a wait time of 10 minutes. You should never, ever, use an Express Pass for a house with a short wait. Go through the regular lines first, and then use your Express Pass to go through a second time later in the evening when lines are long. (This is also great advice for using Express Passes at any of the rides.)
#13 – Face the truth
Halloween Horror Nights is scary, and the event is filled with a lot of guest who, for better or for worse, like to drink. Just as Universal states, Halloween Horror Nights is absolutely not appropriate for young children.