Former location
Hollywood
Dates of operation
April 27, 1996 to October 8, 2017
Former restrictions and access
None; had Express Pass access
Two-sentence insider summary
Get pulled into the struggle to end Skynet and save humanity as you take a special behind-the-scenes tour of Cyberdyne Systems. This is an indoor, sit-down show incorporating 3D film, live stage acting, and a few 4D in-the-theater special effects.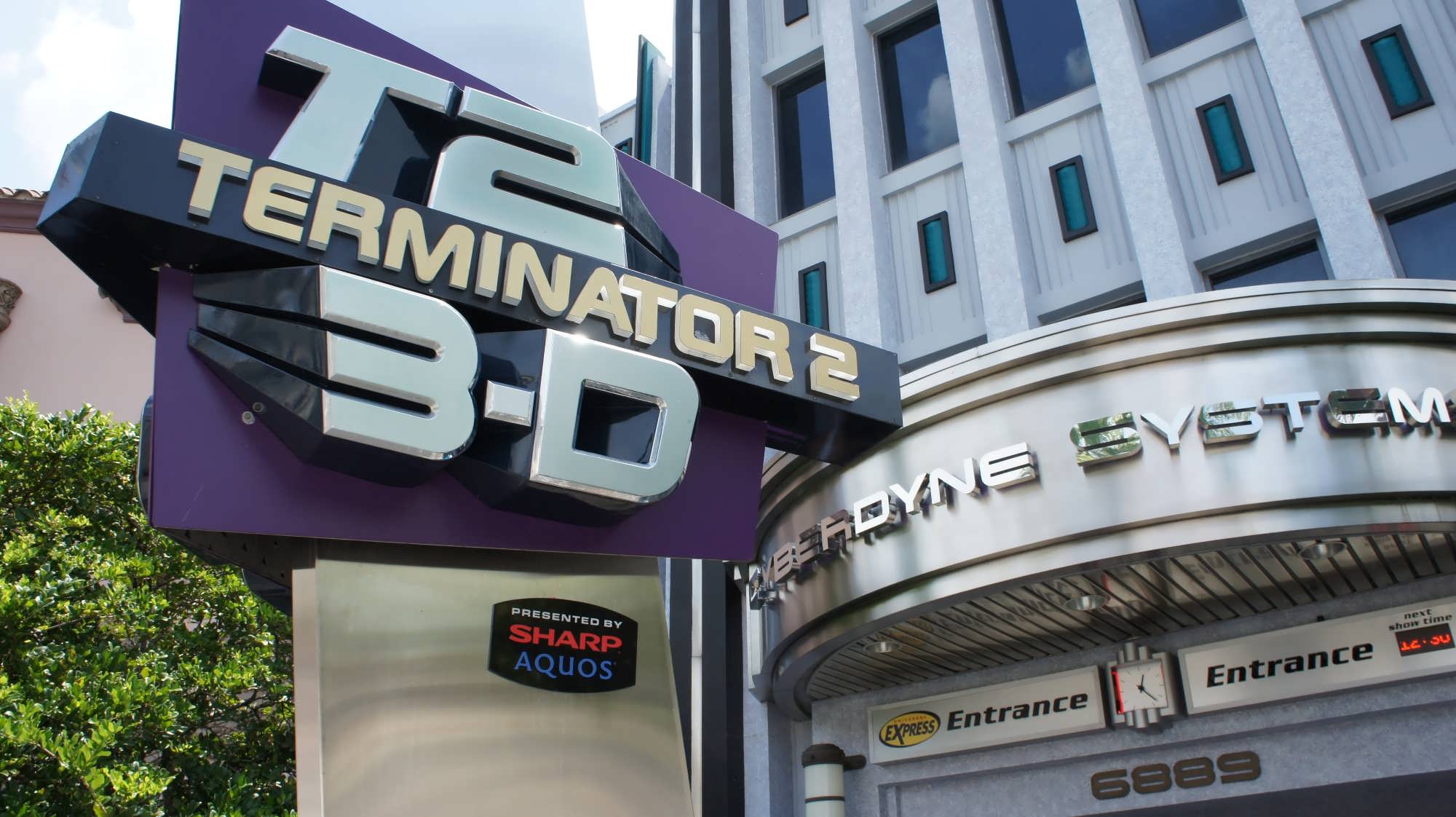 Terminator 2 3D at Universal Studios Florida
Fear factor
3 out of 5. Mostly loud sound effects from the battle.
Former wait times
First show generally is not until 10:30 am. There should never be a wait time longer than the wait until the next performance (about every 20 minutes).
What you wish you knew before you experienced it
Things go boom at the end.
OI fun facts
The film used in the show was directed by James Cameron and stars original actors Arnold Schwarzenegger, Linda Hamilton, Edward Furlong, and Robert Patrick.
The show was upgraded in November 2015 with an updated preshow and equipment.
Why did it close?
Read our analysis here.
What replaced it?
Universal hasn't said yet, although it did hint that it would be an "all-new live-action experience based on a high-energy Universal franchise," which will open in 2019.
Terminator 2 3D – HD video
Terminator 2 3D – real guest reviews
Terminator 2: 3-D
Average rating:
4 reviews
Aug 13, 2016
Always one of my stops when I visit the parks.
Date Of Last Visit:
8/12/2016
I absolutely love this attraction. I would be very sad, and maybe mad, if they removed this attraction. If anything, I'd love for them to update the show to 4K, like what someone else here suggested. Maybe add a bit more pyro effects as well - that's one of the main reasons why I love it (including the Terminator theme, since it's such a great story).
I always visit this attraction when I visit the parks (season pass holder).
Jun 27, 2016
Best 4D Show There is
Date Of Last Visit:
6/22/16
The show has some of the best in theater effects you will find at any theme park. The updated preshow is amazing. The only thing that could use changing is updating the main show to 4K.
Mar 15, 2016
Really?!? In dire need of replacement...
Date Of Last Visit:
August 2015
Has to be the worst attraction! Outdated movie and outlay. One of the robots could be displayed elsewhere and the rest auctioned for die-hard collectors. Truly a waste of time, in my opinion. So much space for something more current (New Ghostbusters,etc.)
Jan 3, 2016
T-2 Hidden Gem
Date Of Last Visit:
1/1/15
This show is a hidden gem. It's tucked in a tiny corner in the studios side of the park. The mix of 3d, live actors, pyro and stunts are amazing. Really impressed with this show, and the pre-show is new and very good.
Terminator 2 3D – map
Click any marker to display the attraction or venue name. To scroll or zoom, use the controls on the top-left of the map. You may also switch to different map views by using the buttons on the top-right of the map.