Former location
Universal CityWalk Orlando
Dates of operation
1999 to July 7, 2018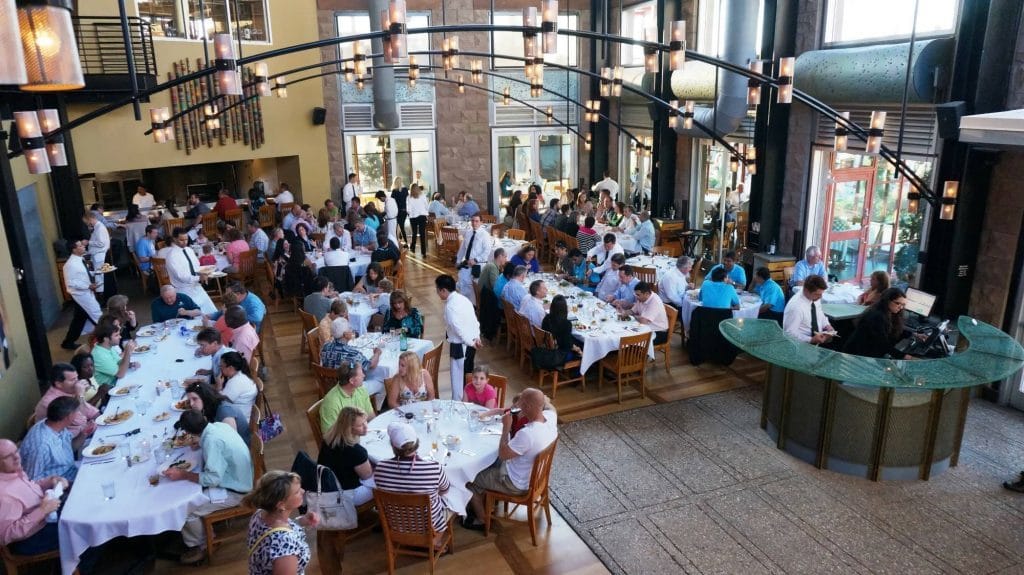 Emeril's Orlando at Universal CityWalk
Why did it close?
No official reason was ever offered for Emeril's Orlando's closure, but we do know two facts regarding the situation: Emeril Lagasse's company itself opted to pull the plug on the restaurant, and this decision came in the midst of Universal's years-long efforts to revitalize CityWalk, phasing out the older concepts (of which Emeril's was one) and instituting newer, more appealing ones that would better cater to the ever-increasing crowds descending upon Universal Orlando Resort. We can, perhaps, deduce that the famous chef didn't want to continue to face ever-stiffer competition in the area, or, perhaps, that he was in the process of closing down several locations across the country, anyway (his second establishment on-site, Emeril's Tchoup Chop over at Royal Pacific Resort, was shuttered on December 31, 2017, just seven months earlier).
You can read our full analysis here.
What replaced it?
Bigfire.
Emeril's Orlando – former overview
Guests stopped by this award-winning restaurant to indulge in New Orleans-style dishes. Emeril Lagasse called this cuisine "'New New Orleans,' with bold flavors from Southwestern and Asian cooking, yet rooted in Louisiana's Creole genre and utilizing local seafood and farm products from South Florida."
Insider tips
This two-story building was at the center of CityWalk and overlooked the lagoon. Stone walls, high ceilings, and hardwood floors set the scene as you sat down to enjoy your meal. The restaurant featured an open kitchen and food bar, where you could sit for an up-close look at the chefs preparing their masterpieces. The second floor provided a look into the main dining room and also offered two private party rooms. Finally, you could find a 10,000-bottle wine gallery, cigar bar, and 10-person chef's tasting room.
For a personalized dining experience, you could partake in a special tasting menu prepared by Emeril's chefs.
Emeril's Orlando – former hours and reservations
11:30 am – 3:00 pm (lunch); 5:00 pm – 10:00 pm (dinner).
The restaurant recommended business casual. However, since Emeril's was located at a theme-park resort, many guests were dressed even more casually than that. Really, the only clothing the restaurant specifically wouldn't allow is sleeveless shirts and swimsuits. The atmosphere was more formal in the evening.
Reservations were available at 407-224-2424. (Note: since this was fine dining, reservations were highly recommended!)
Emeril's Orlando – former menu
LUNCH
Starters
Cast Iron Skillet Corn Bread – honey butter – $5.00
Fried Green Tomatoes – Florida white shrimp, red Rémoulade – $9.00
Smoked Wild + Exotic Mushrooms – angel hair pasta, house cured tasso cream – $9.00
New Orleans Barbecue Shrimp – Florida white shrimp, petite rosemary biscuit – $13.00
Soup of the Day – $8.00
Chicken +  Andouille Gumbo – $9.00
Smoked Fish Chowder – $9.00
Salads
Emeril's Salad – Farm grown lettuces, sun dried tomatoes, brioche croutons, pepper jack cheese, extra virgin olive oil, balsamic vinegar – $9.00
Romaine Caesar – Croutons, parmesan, creamy avocado dressing – $8.00
Strawberry & Jamon – Plant City strawberries, shaved ham, citrus, arugula, pecans, goat cheese, balsamico – $13.00
Burgers & Po'Boys
Creekstone Natural Angus Cheeseburger – Lettuce, local tomatoes, red onions, dill pickle – $15.00
Catfish Po'Boy – Flash fried Okeechobee catfish, lettuce, red onion, tomato, Creole tartar sauce, pickle – $15.00
Shrimp Po'Boy – Flash fried Gulf shrimp, lettuce, tomato, red onion, mayonnaise, pickle – $16.00
Roast Beef Po'Boy – Shaved Creekstone beef simmered in beef jus, lettuce, tomato, red onion, pickle
Wood-Oven Pizzas
Caprese – Seasonal tomatoes, house made mozzarella, pesto, balsamic syrup – $13.00
Crawfish & Andouille – Three cheese blend, lemon aioli – $14.00
Prosciutto – smoked tomato sauce, Maytag bleu, baby arugula – $15.00
Entrees
Blackened Redfish – Tomato + fennel stew, Caroline rice grits, olive tapenade – $21.00
Sweet Barbecue Salmon – Andouille + potato hash, crispy onions, house made worcestershire sauce – $20.00
Pan Roasted Bell & Evans Chicken Breast – Dirty wild rice, wilted greens, maple jus – $19.00
Shrimp & Grits – Louisiana shrimp, étouffée, Anson Mills rice grits, local cherry tomatoes – $19.00
Grilled Pork Chop – Southern cooked greens, grilled asparagus – $22.00
DINNER
Starters
New Orleans Barbecue Shrimp – Florida white shrimp, petite rosemary biscuit – $13.00
Smoked Wild + Exotic Mushrooms – Angel hair pasta, house cured tasso cream – $9.00
Crawfish + Andouille Bread – Toasted baguette, creamy crawfish + andouille, lemon aïoli – $12.00
Crispy Duck Wings – Sticky chili glaze, blue cheese vinaigrette – $14.00
Fried Green Tomatoes – Poached white shrimp, rémoulade vinaigrette, frisée – $11.00
Cast Iron Skillet Cornbread – Honey butter, bacon jam – $8.00
Soups & Salads
Chicken +  Andouille Gumbo – Steamed rice, scallions – $9.00
Emeril's Orlando House Salad – Baby lettuces, sun-dried tomatoes, pepperjack cheese, croutons, balsamic vinaigrette – $9.00
Soup of the day – $8.00
Romaine Caesar – Croutons, creamy avocado dressing, parmesan – $9.00
Smoked Fish Chowder – Pork belly jam – $9.00
Strawberry & Jamon – Plant City strawberries, shaved ham, citrus, arugula, pecans, goat cheese, balsamico – $13.00
Steaks, Chops, & Poultry
Pan Roasted Bell & Evans Chicken Breast – Foie gras dirty wild rice, wilted greens, maple jus – $29.00
Grilled Double Cut Pork Chop – Caramelized sweet potatoes, tamarind glaze, green chili molé – $32.00
Braised Beef Short Rib – whipped potatoes, steamed asparagus, truffle demi – $34.00
Grilled Creekstone Beef Tenderloin – Lobster whipped potatoes, grilled asparagus, mushroom veal reduction – $59.00
Lacquered 1/2 Duck – Southern cooked caollard greens, sweet tea glaze – $36.00
Fish & Shellfish
Baked Maine Lobster – Shrimp, crawfish, lobster stuffing, creamy corn Maque Choux – MKT
Shrimp & Grits – Louisiana shrimp, étouffée, Anson Mills rice grits, local cherry tomatoes – $30.00
Blackened Redfish – shrimp tomato + fennel stew, Carolina rice grits, olive tapenade – $38.00
Sweet Barbecue Roasted Salmon – andouille + potato hash, crispy onions, house made worcestershire – $32.00
Vegetarian
Grilled Vegetable Lasagna – Squash and zucchini, eggplant and spinach, with mix greens – $29.00
Vegetarian Pasta – Trevi vesuvio pasta, local tomatoes, cauliflower, kale pesto cream, feta cheese, pistachios – $29.00
Desserts
Emeril's Banana Cream Pie – Graham Cracker Crust, Caramel Sauce, Chocolate Shavings – $10.00
Lemon Cheesecake – Blueberry sage compote – $9.00
Key Lime Pie – Toasted meringue, berry coulis – $10.00
Cinnamon + Golden Raisin Bread Pudding – Bourbon anglaise, vanilla ice cream – $9.00
Chocolate Espresso Pot de Creme – Chocolate Creme – $8.00
Emeril's Seasonal Fruit Plate – Sorbet of the day – $8.50
Tiramisu – Corn bread, whipped sweet cream, espresso syrup, frangelico chocolate – $9.00
Children's Menu
Kiddy Mocktails
Lime In De Coconut – classic piña colada with fresh lime – $5.00
Castaway – Fresh assorted fruit juices, nutmeg, coco lopez – $5.00
Mango Glacier – Emeril's delicious mango smoothie – $5.00
Cotton Candy Fizz – Cotton candy seltzer, homemade lemonade – $5.00
Emeril's Kicked Up Fruit Punch – Fresh fruit juices, pomegranate – $5.00
Ramune Japanese Soda – Original and orange flavors – $5.00
Entrees
All-Natural Fried Chicken Tenders – French Fries – $10.00
Homemade Three Cheese Pizza – $10.00
House Battered All Beef Corn Dogs – Potato salad, Honey Mustard – $10.00
Sides
French Fries – $4.00
Beans & Rice – $4.00
Glazed Sweet Potato – $4.00
Sauteed Vegetables – $4.00
Kicked-Up Kids' Menu
$18.00
Entree – Choice of one – Grilled Chicken Breast, Tortellini Pasta, Shrimp Mac & Cheese, Braised Beef Short Rib, Petite Filet Migon (+$4)
Sweets – Choice of one – Banana Split, Milk & Cookies, Fresh Fruit Cup, Ice Cream Sandwich
Specialty Cocktails
The new G and T – Nolet Gin, Jack Rudy Small Batch Tonic, Black Currant, Lime – $12.00
Monks Revolt – Fifty Pounds Gin, Green Chartreuse, Dolin Blanc, Lemon, Ginger – $15.00
Smoking Gun – Templeton Rye Whiskey, Dom de Canton, Black Walnut Bitters, Lemon Juice, Almond Orgeat – $16.00
Naval Punch – Pusser's British Navy Rum, Averna Amaro, Pineapple, Lemon, Aromatic Bitters – $15.00
Pre & Prohibition
Aviation – Plymouth Gin, Luxardo Maraschino, Lemon, Violet – $15.00
The Boulevardier – Knob Creek Bourbon, Aperol Aperitif, Carpano Antica – $16.00
The Delicous Sour – Laird's Apple Jack Brandy, Peach Brandy, Lime, Egg Whites, Soda Water – $16.00
New Orleans Libations
Sazerac – Templeton Rye Whiskey, Absinthe, Peychaud Bitters – $12.00
French 75 – Courvoisier VS, Lemon, Sugar Sparkling Wine – $18.00
Ramos Gin Fizz – Ransom Old Tom Gin, Cointreau, Lemon, Heavy Cream, Egg Whites, Orange Blossom Water – $16.00
Passion Fruit Hurricane – Cruzan Light Aged Rum, Gosling Bermuda Rum, Passion Fruit, Lime, Orange, Pomegranate – $15.00
Emeril's Orlando – photos
Emeril's Orlando – real guest reviews
Orlando Informer
Average rating:
0 reviews