Skip to: Overview | Amenities | Standard rooms | Two-bedroom suites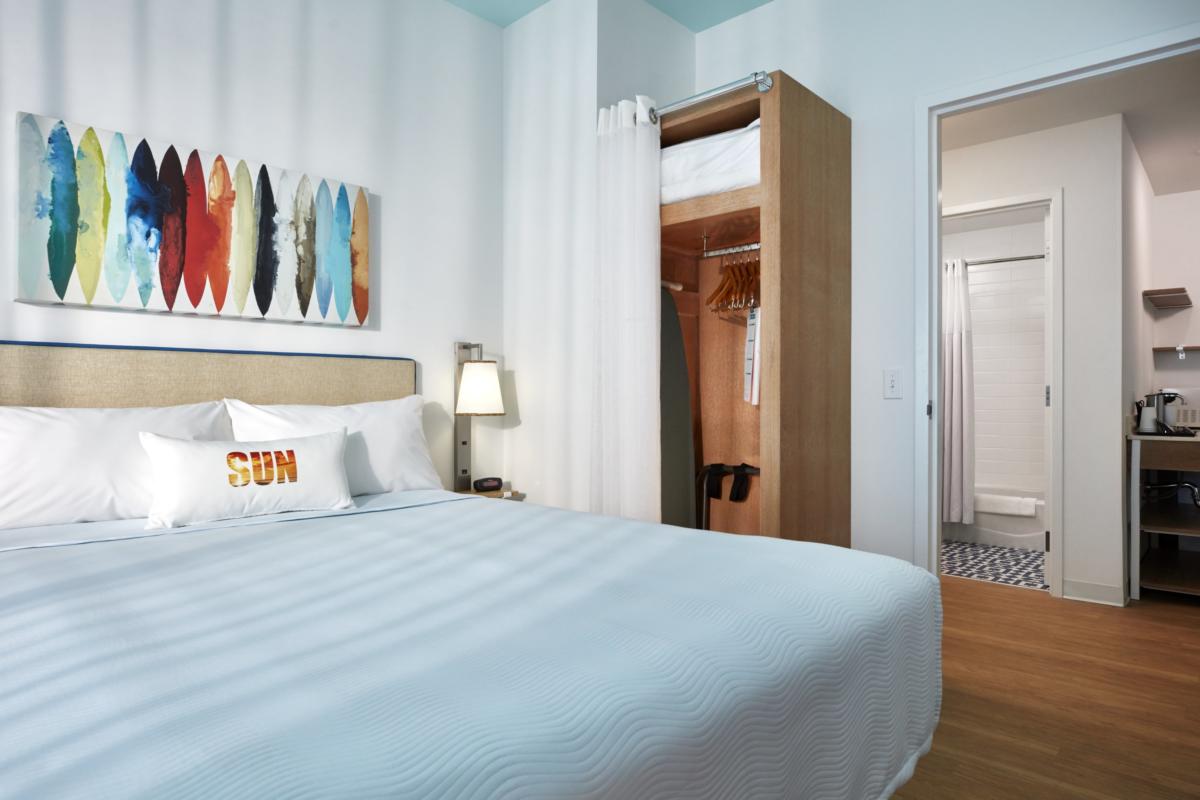 What are the rooms like at Endless Summer Resort – Surfside Inn and Suites?
With a fun surfer vibe, the Universal design team really outdid themselves with all the décor and amenities that they've packed into the family-friendly value rooms at Endless Summer Resort – Surfside Inn and Suites. With clean lines and lots of light-wood finishes, you'll also find ocean-blue accents and playful design touches, such as surf-inspired art on the walls. With only two types of rooms, booking here is pleasantly straightforward and will depend on how many people you have in your traveling party and how much space you think you'll need.
Read on for more information to compare and contrast the standard rooms and the two-bedroom suites.
Surfside Inn and Suites – in-room amenities
Here is what you can expect to find in each of the two room types at Surfside Inn and Suites:
Standard rooms
One 43″ flat-panel television, with HD channels
HVAC controls connected to smart room technology
Mini-refrigerator
Complimentary wireless internet access in each guest room and most common areas of the hotel
Upgrade to Premium Plus wireless internet access for optimal entertainment and business needs ($14.95/day)
In-room safe
Iron and ironing board
Hairdryer
Telephone
Alarm clock
Surf and Sand hair- and body-care products
Two-bedroom suites
Two flat-panel televisions, with HD channels and on-demand in-room movies (fees apply)
Kitchenette
Mini refrigerator
Microwave
Small sink
Cuisinart coffee brewer
Disposable coffee cups
Disposable plastic glasses
Disposable plastic plates
Individually-wrapped plastic flatware
Plastic ice bucket with liner
Picnic table with bench, two chairs, and a stool (seating six)
Electrical outlets, phone jack, and data port
HVAC controls connected to smart room technology, allowing guests to set desired temperature
Iron and ironing board
In-room safe large enough for laptop and camera
Free in-room wireless high-speed internet access
One telephone – single line and voicemail
What are the room types at Surfside Inn and Suites?
Surfside Inn and Suites – standard rooms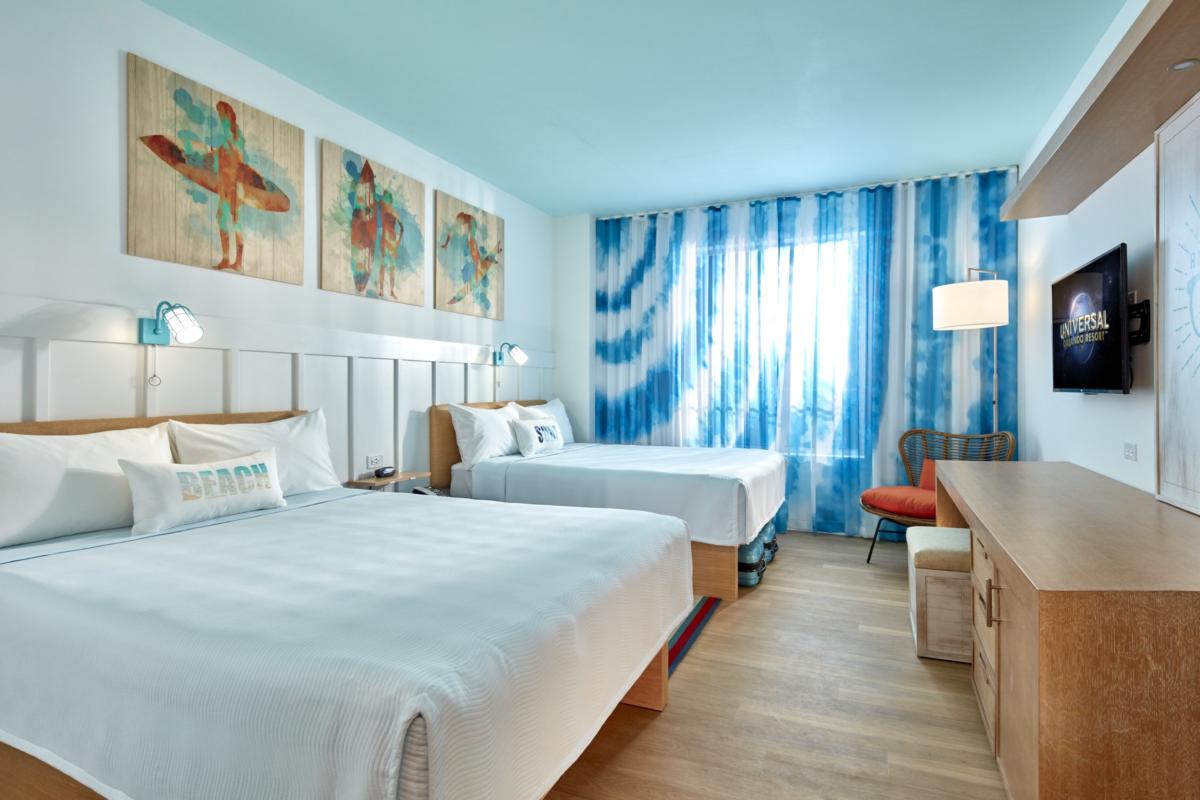 When booking a standard room, you can choose from a standard- or pool-view room. Other than the view, the room types are the same – they have two queen beds and a maximum occupancy of four guests. Surfside has 175 standard queen rooms and 185 pool-view queen rooms, and all are 313 square feet.
Surfside Inn and Suites – two-bedroom suites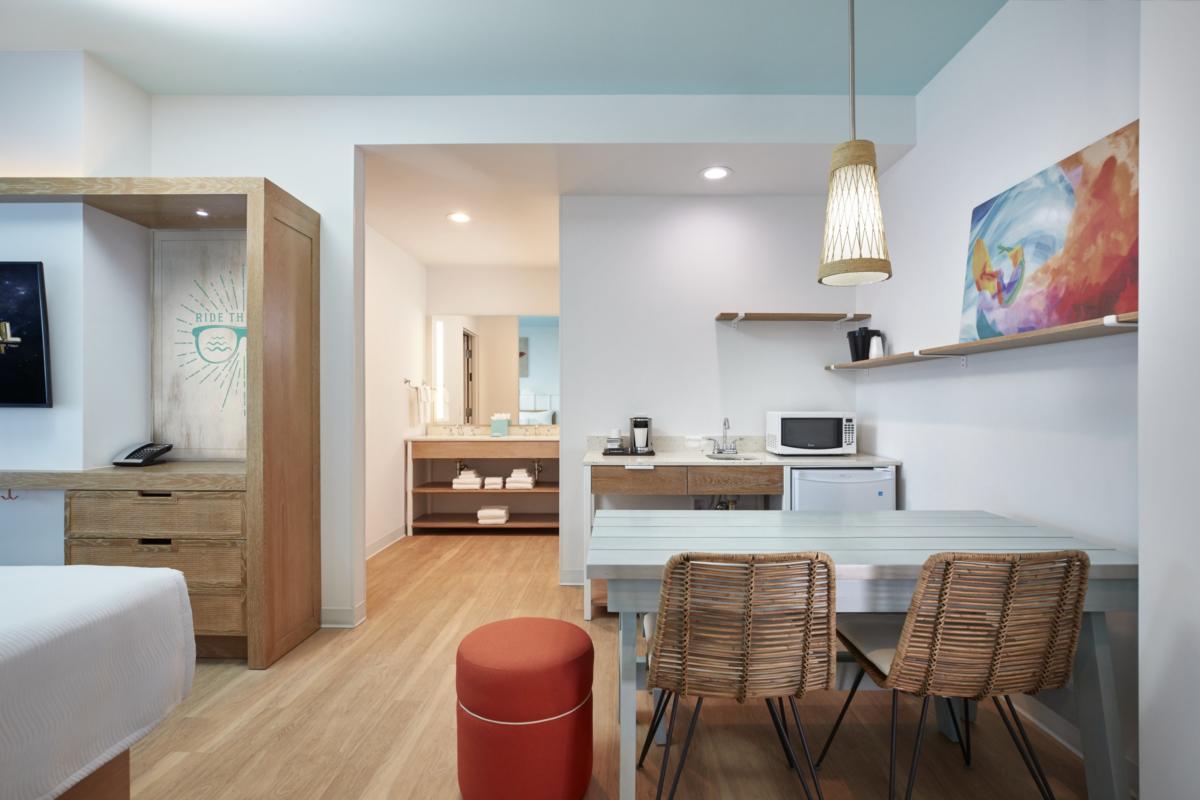 The two-bedroom suites have three viewing options – standard, pool, and water view – and are 440 square feet. The main room has two queen beds and a 49″ flat-screen TV mounted on the wall. Adjacent to the main sleeping area is a small kitchenette with drawers and shelves, a mini-fridge, a sink, microwave, and coffee maker. Each hotel room has two bathroom sinks and a separate bathroom area with a shower over the tub. The second bedroom has one more queen bed and its own (slightly smaller) 43″ wall-mounted flat-screen TV. Surfside has 261 standard suites, 75 pool-view suites, and 54 water-view suites.
Do you have a question about the information on this page, would like to provide feedback, or did you spot an inaccuracy? Please let us know by posting in our
Orlando Informer Community
on Facebook.