Skip to: Overview | Location | Hours | Fun facts | Menu | Guest reviews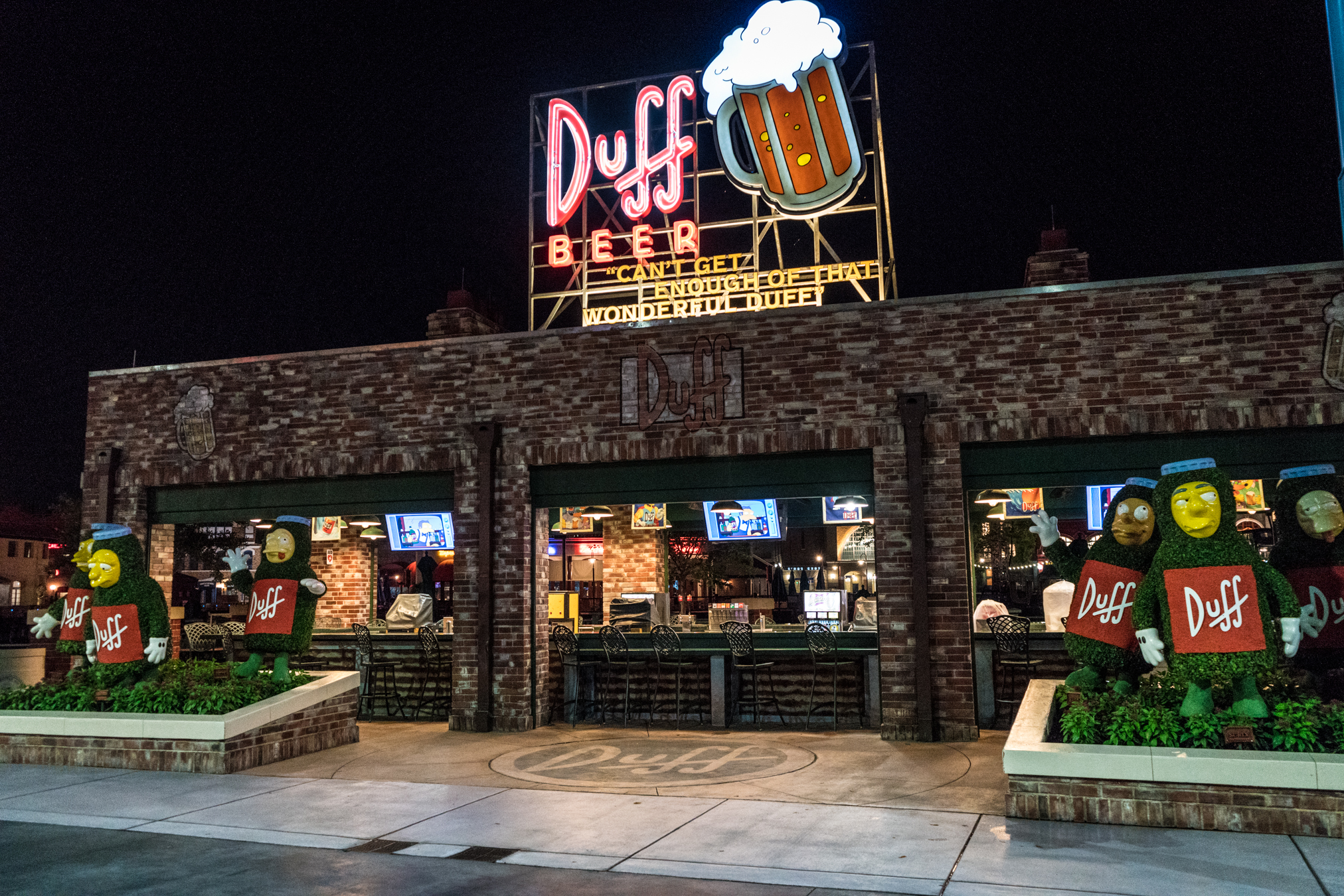 What is Duff Brewery?
Duff Brewery is the origin of Homer Simpson's beverage of choice, Duff Beer. Clips from The Simpsons play on flatscreen TVs above the bar, or you can enjoy your beverage in the lagoon-side seating area, known as Duff Gardens, in this enjoyably themed, pleasant spot to hang out.
Where is Duff Brewery located?
In Springfield: Home of the Simpsons, which is in Universal Studios Florida.
Duff Brewery – hours and reservations
Duff Brewery is open daily from 11:00 am until park close.
Duff Brewery – OI fun facts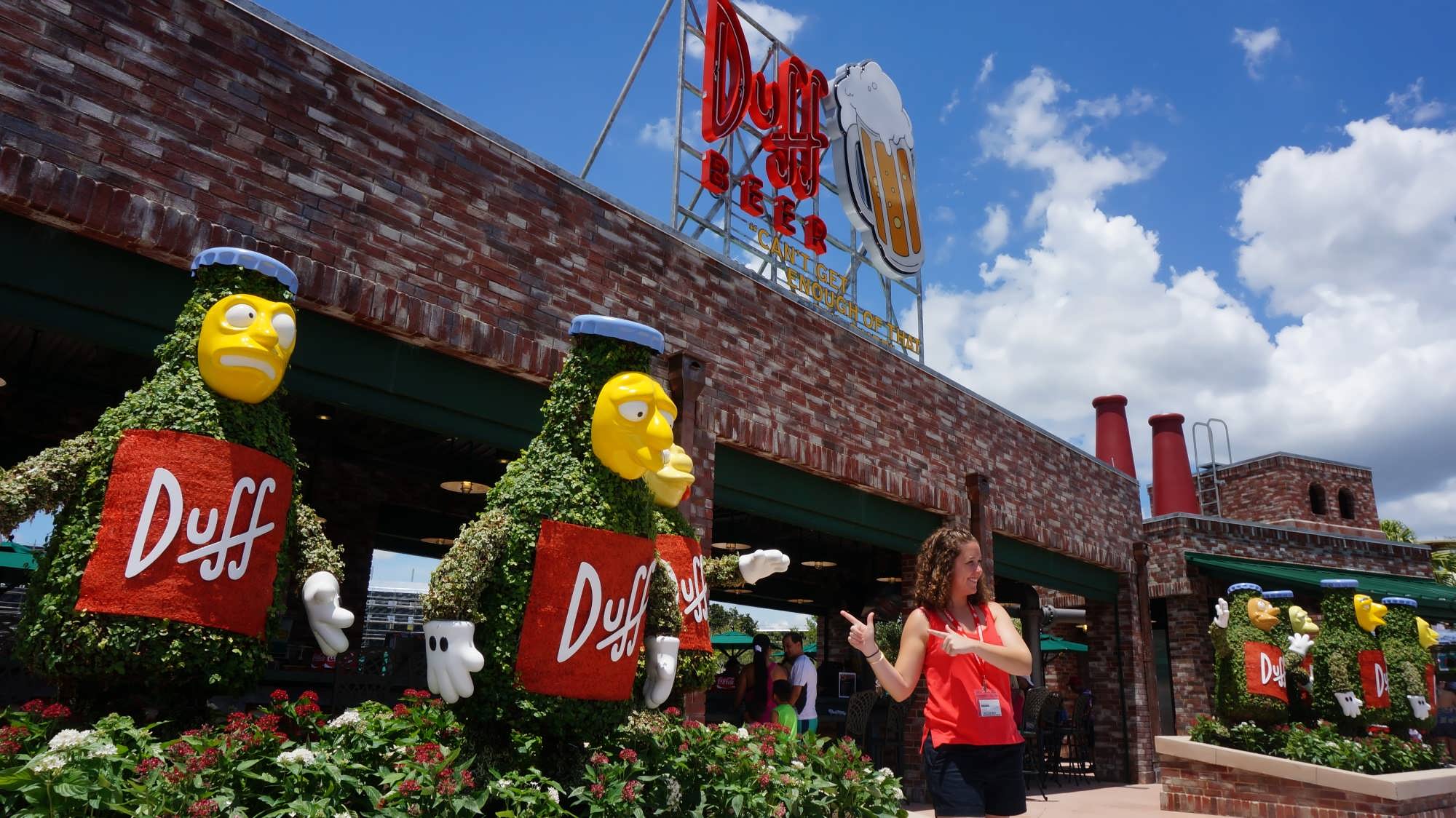 In front of the brewery, you'll find the Seven Duffs: Tipsy, Queasy, Surly, Sleazy, Edgy, Dizzy, and Remorseful.
Regardless of whether you buy your souvenir pilsner-style cup at Moe's Tavern or Duff Gardens, you can refill your mug at either location.
If you are looking for an outdoor spot to enjoy your "local fare" from Fast Food Boulevard, bring it over to the outdoor Duff Gardens and grab a seat under the shady umbrellas.
What's on the menu at Duff Brewery?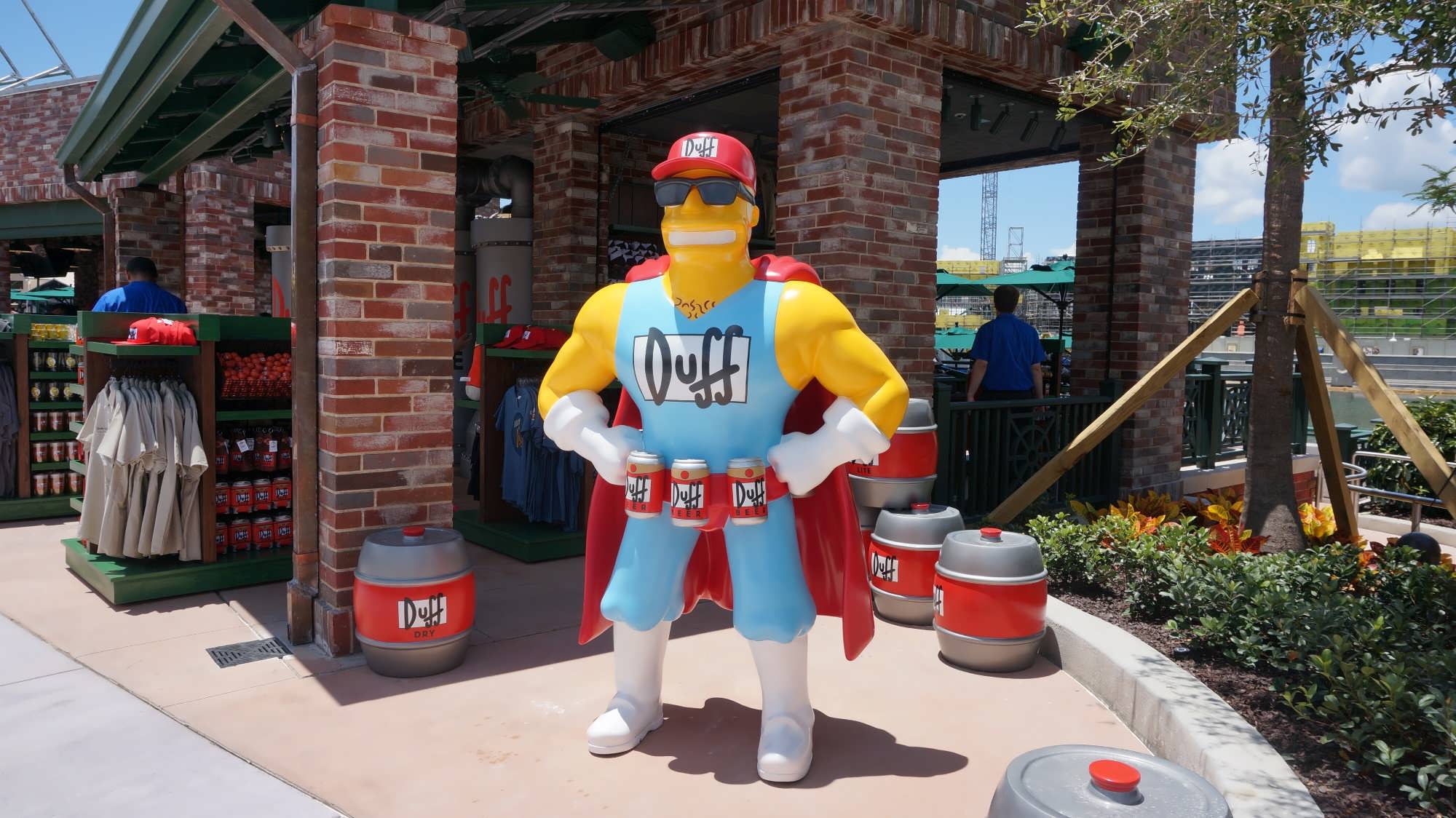 Bagged Snacks – $2.99
Pretzels, Doritos, veggie chips, Lay's potato chips, bagged popcorn
Squishee – $4.99
Raspberry lemonade, white cherry, banana
Fresh-squeezed Lemonade – $3.99
Buzz Cola – $3.99
Zero-calorie cherry-flavored cola
Fountain Beverages – $3.29
Coca-Cola, Coca-Cola Zero, Diet Coke, Sprite, Fanta Orange, Root Beer, Hi-C Lemonade
Twenty-ounce Duff Beer on Tap – $8.50
Duff, Duff Lite
Duff Beer Bottled – $7.29
Duff, Duff Lite, and Duff Dry
Duff Brewery – photo gallery
Duff Brewery – real guest reviews
Duff Brewery
Average rating:
4 reviews
Jan 25, 2015
Best Beer in the USA
Date Of Last Visit:
1/24/15
Better than Budweiser. Better than Miller. Better than Pabst. Better than Schlitz. Better than Michelobe.



Why? Because Duff beer has MORE ADDED INGREDIENTS than all of them combined.



Beat that!
Jan 20, 2015
Cinematic Spectacular offer
Date Of Last Visit:
November 2014
The area was fine to have a drink in, but just to say they weren't offering the $15 drink/cupcake for the Cinematic Spectacular show when we visited in November. We asked and they just said 'We don't do that now'.
Jun 14, 2014
Duff rocks!
Date Of Last Visit:
Sept 2013
I'm not easy to please and finding Duff's at universal was like running into heaven! The beer is so refreshing, I was pleasantly surprised. Wish there was one by my house!
May 24, 2014
Duff Beer...yuck.
Date Of Last Visit:
October 2013
Spent $8 on a plastic cup of Duff Beer. It was gross and tasted pretty watered down. Though, I'm not much of beer drinker but thought I'd try it because it was Duff.
Do you have a question about the information on this page or would you like to provide feedback? Please let us know by posting in our
Orlando Informer Community
on Facebook.